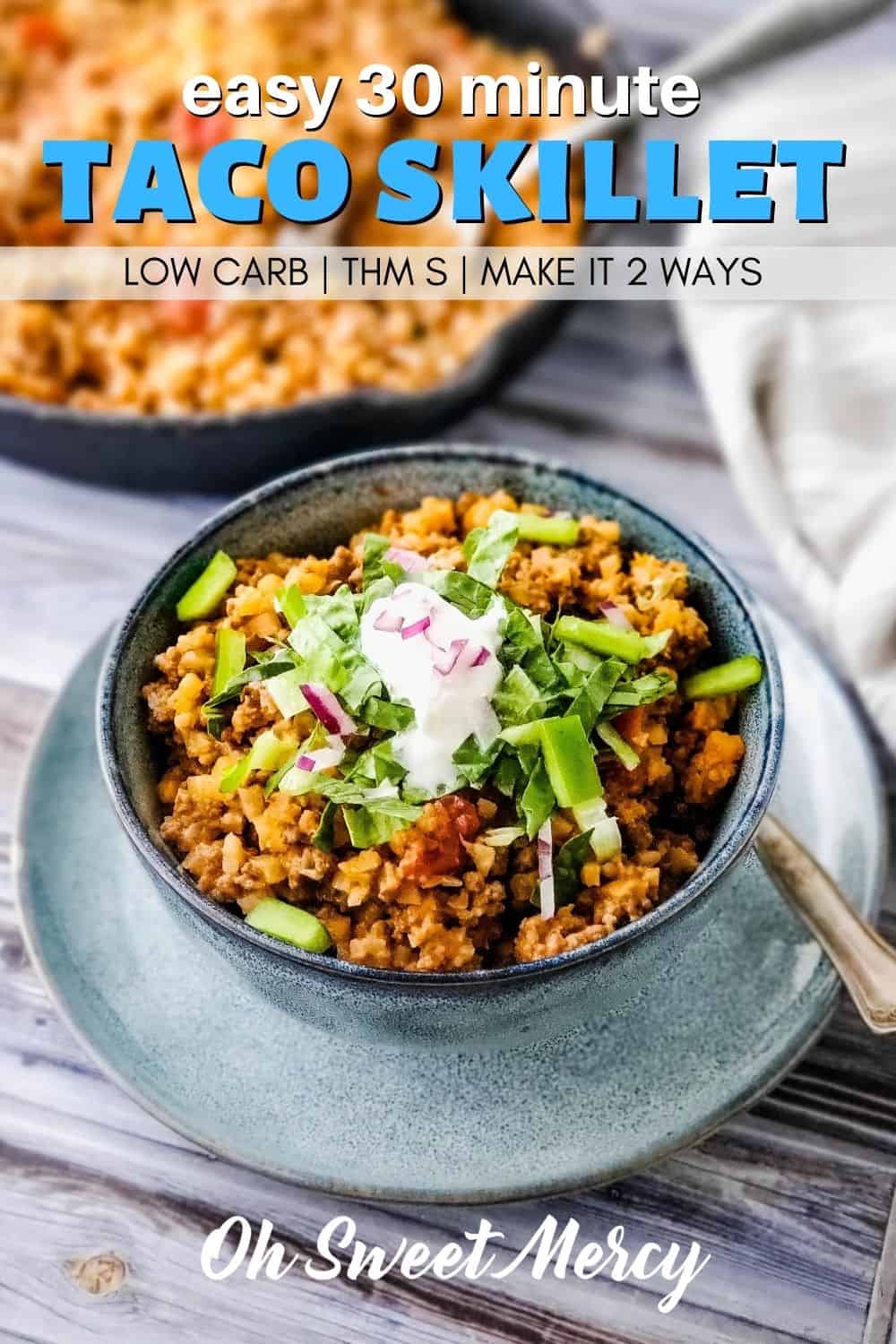 ---
When life is busy you need a quick and easy meal, right? My low carb taco skillet is ready in 30 minutes or less! Trim Healthy Mamas, if you're a DTS and use Dreamfields this is for you. Are you more of a Purist? Use the cauli rice version instead. Either way you get delicious, low carb taco flavor without a lot of fuss!
---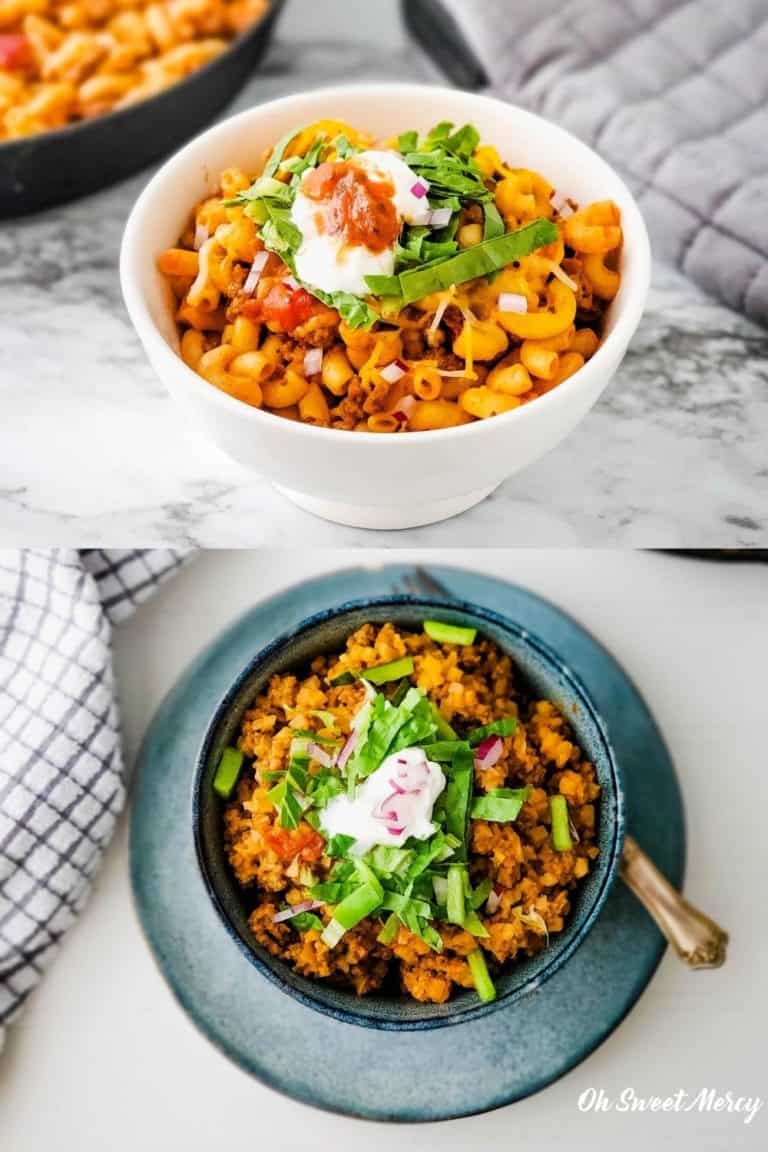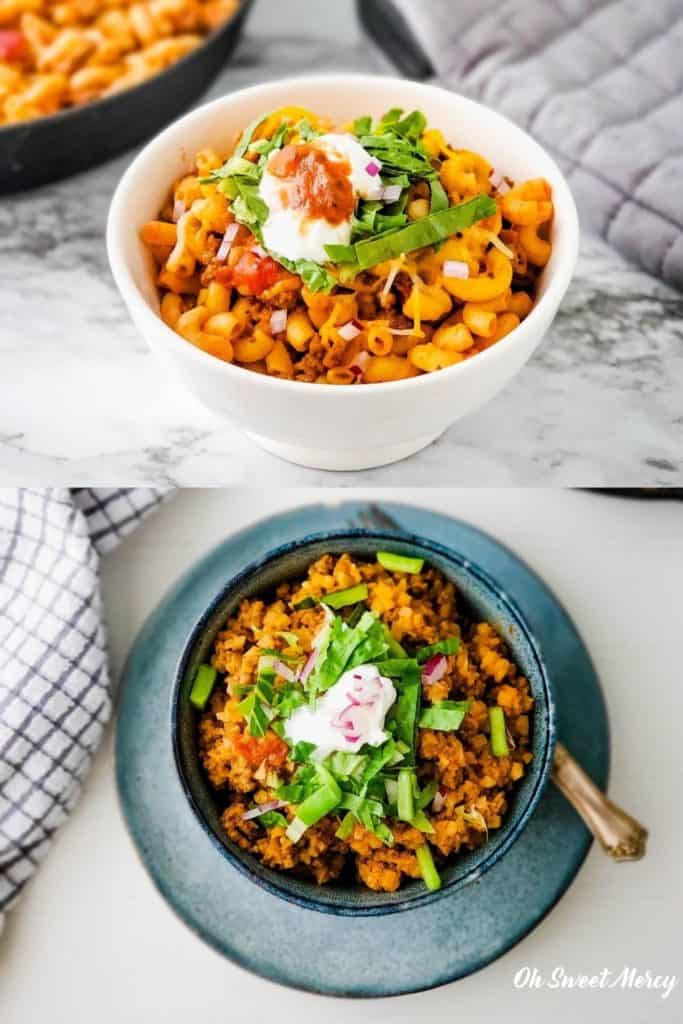 This recipe came together one busy night several weeks ago. It's nothing different than countless other taco skillets I've made in my life, except for it being THM friendly.
That, and I wrote down precise measurements. In The Time Before I Got Serious About Blogging I'd just throw in some of this and some of that and call it supper.
I realize not everyone is comfortable cooking like that. Sister, for example, prefers the structure of following a recipe. I see recipes more as guidelines.
If you're more like me feel free to sprinkle in whatever random things you like as you cook! Then come back and let me know how it turned out for you, I love to hear my readers' experiences!
How To Make This Low Carb Taco Skillet Recipe.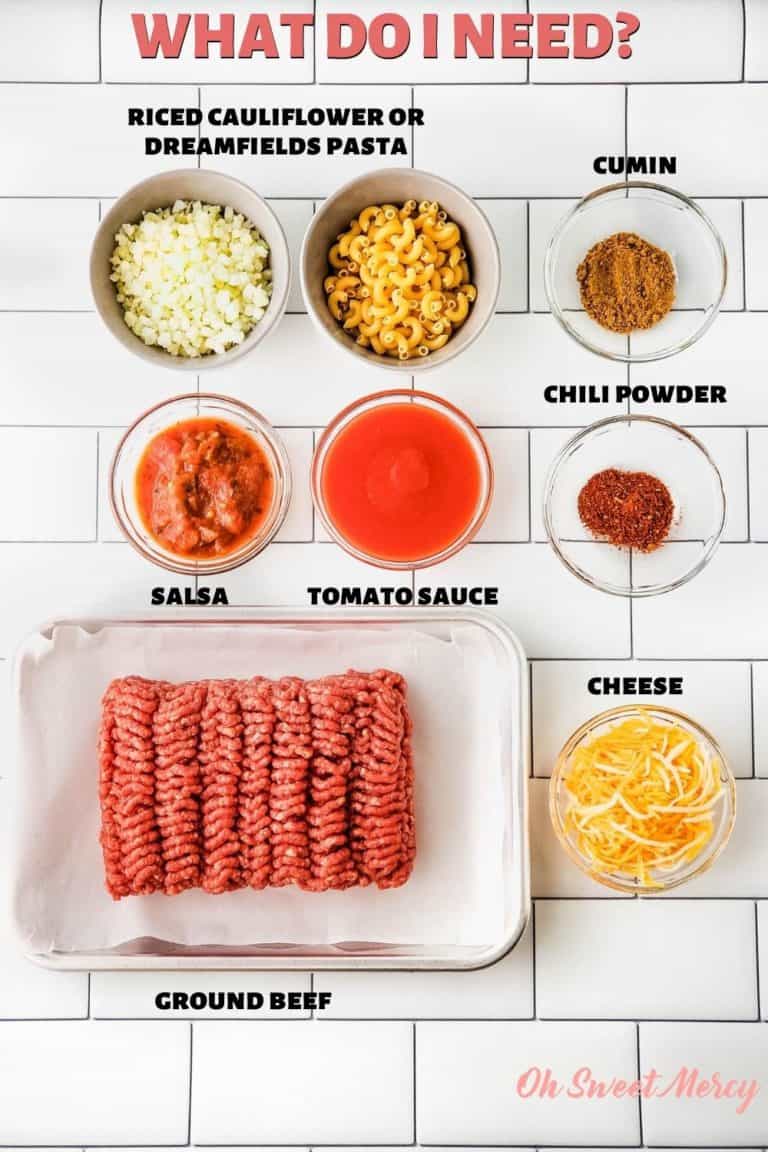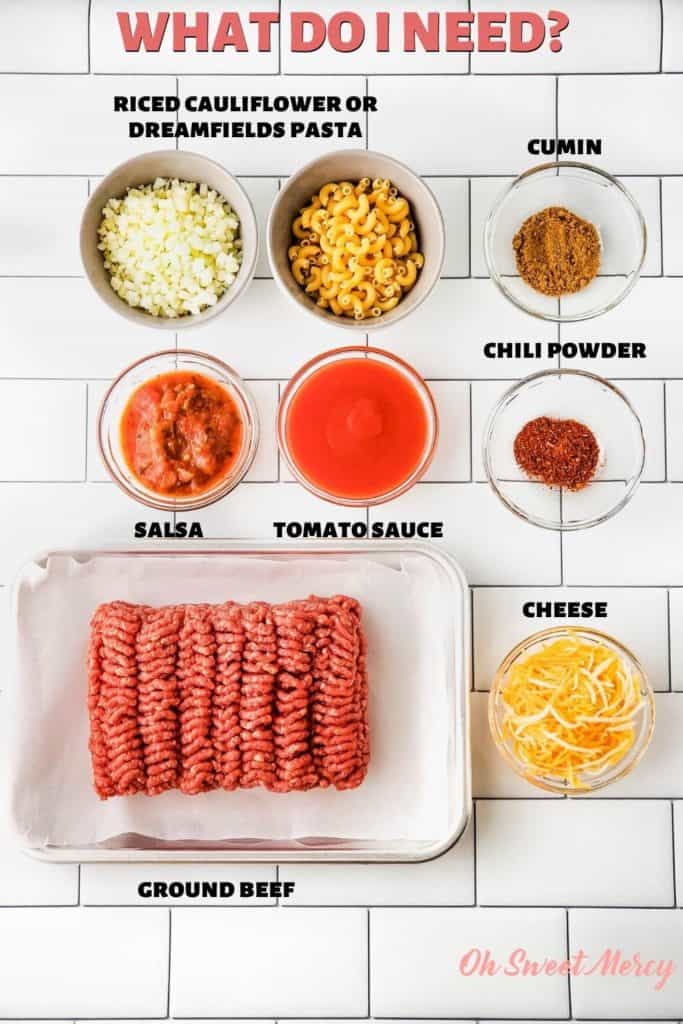 Whether your a Purist or Drive Thru Sue, it's super easy to make this recipe.
You simply cook your ground meat (boil water for pasta while doing this, if using Dreamfields), add tomato sauce, salsa, chili powder, cumin, and a bit of sweetener (if desired).
Then add either cooked Dreamfields pasta or cauli rice and cheese and heat until cheese is melted.
Supper is done!
You can eat as it is or top with your favorite taco toppings. See the end of the post for THM meal suggestions.
Did you know you can make your own chili powder? It's so easy!
For The Drive Thru Sue – Use Dreamfields Pasta.
There is controversy over whether or not Dreamfields pastas are actually low carb. The company was sued years ago and has since removed the claim that the pasta is low glycemic.
It's technically not "on plan" but considered a personal choice option. See below for how to use it on your THM journey.
However, many on the THM plan find that their blood sugar and progress are not hindered by the occasional serving of this pasta.
If you use Dreamfields for this recipe, be sure to cook it al dente before adding to the meat, cheese,and tomato mixture so you don't over cook it.
Important Tips For Using Dreamfields Pasta On The THM Plan.
There are a few things to keep in mind if you include this pasta in your cooking.
Limit to no more than once a week.
Use the serving size on the box.
Do not overcook.
Do not reheat (eating it cooked and cold, as in a pasta salad, is ok).
Use in either S or E setting.
For an E setting, include another THM E carb source such as beans, quinoa, sweet potato, etc.
If you find your blood sugar spikes after eating it then you should not use this pasta.
Also, if you find your progress stalling and realize you've been eating this regularly, try not eating it for a while to see if your stall breaks. It could be that this pasta is just not a friendly one for you!
For The THM Purist – Use Riced Cauliflower (Or Shiritaki Noodles).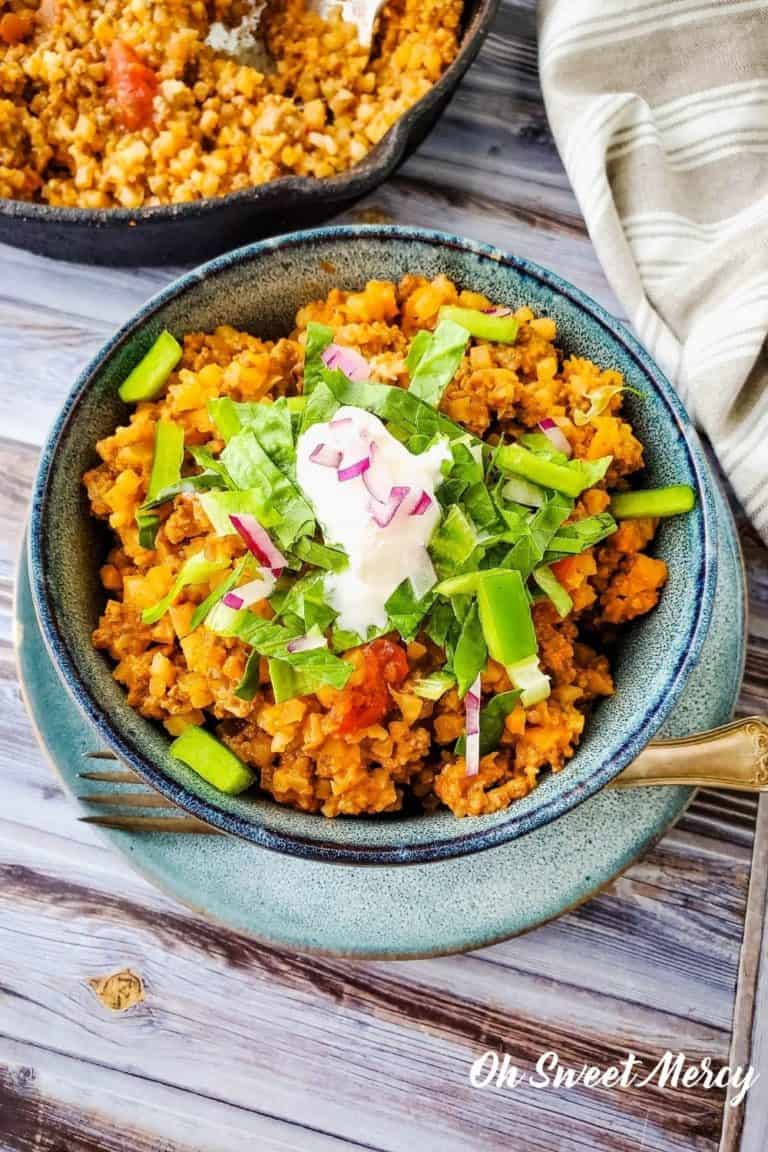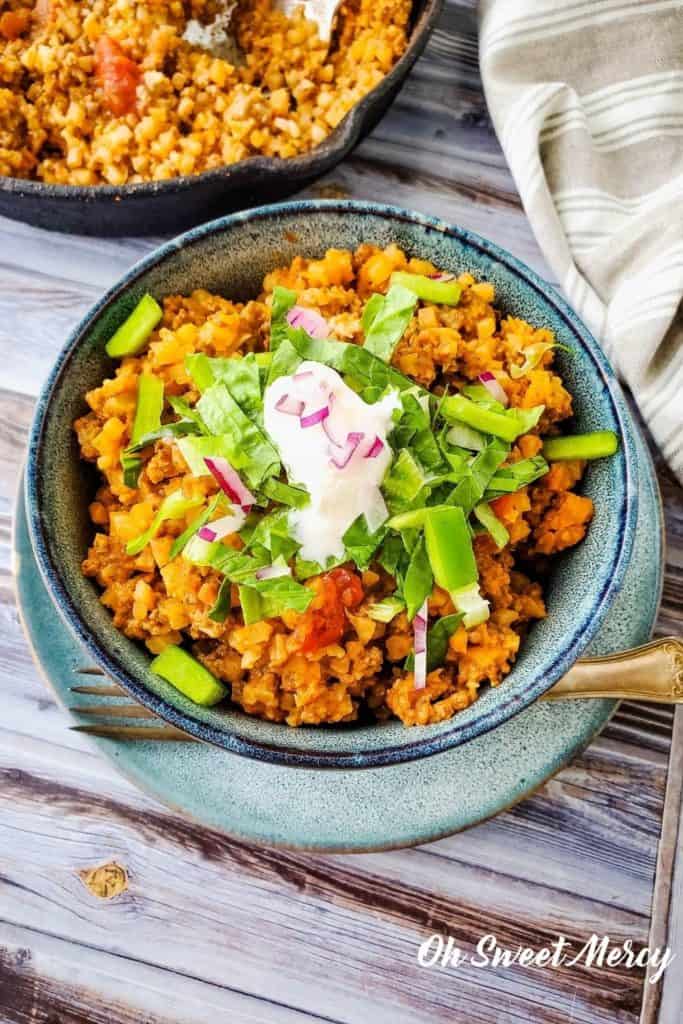 Even though I love pasta, I actually prefer this made with riced cauliflower. I love the flavor and texture and I know there's no chance of a blood sugar spike.
Shiritaki noodles are another favorite of mine and work just as well here. In fact, using one of these options is great if you're going for a keto taco skillet.
While THM embraces both fats and carbs, keto recipes are usually THM S or Deep S friendly. That makes them great to enjoy, especially if you live with or are serving to a keto dieter.
In addition, using cauli rice or shiritaki noodles means you can make this in one pan, too! Just drain the ground meat, if needed, before adding the rest of the ingredients.
TIP: Both cauli rice and shiritaki noodles can be reheated later so leftovers aren't an issue, like with the Dreamfields pasta. It also means you can make a big batch to eat on throughout the week making meal prep super easy.
Want To Include This Recipe In Your THM Meal Planning? Here's How.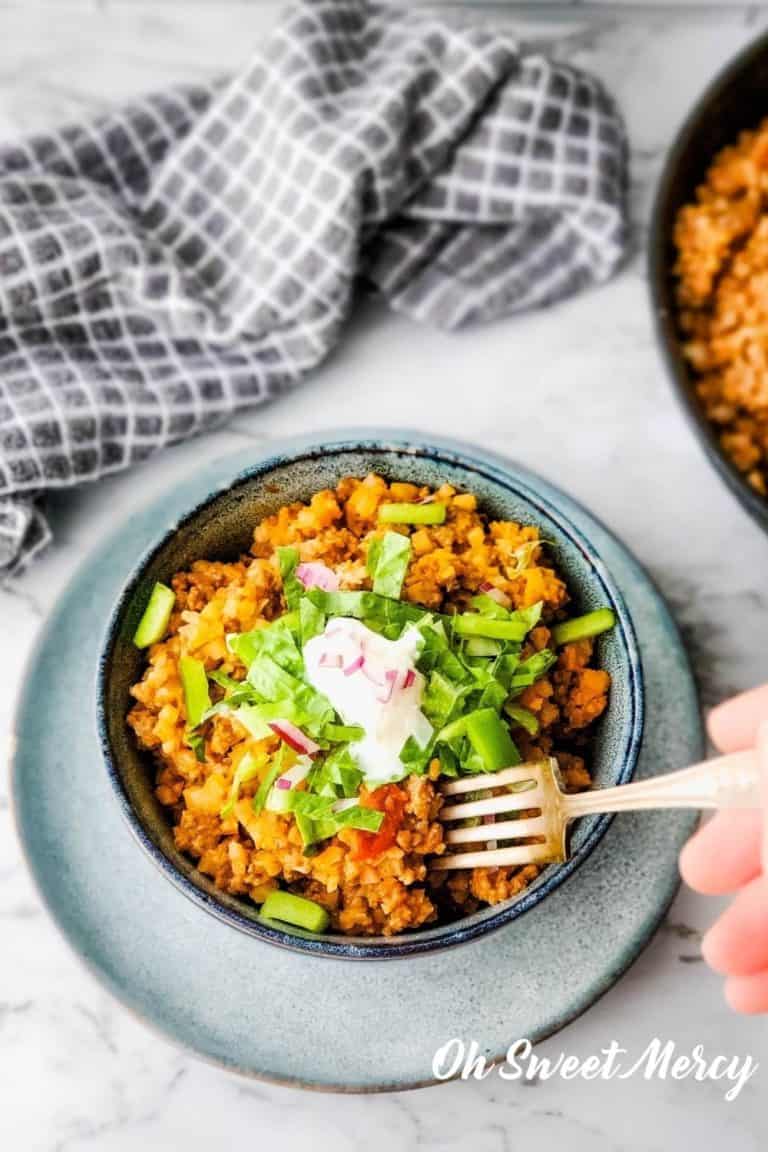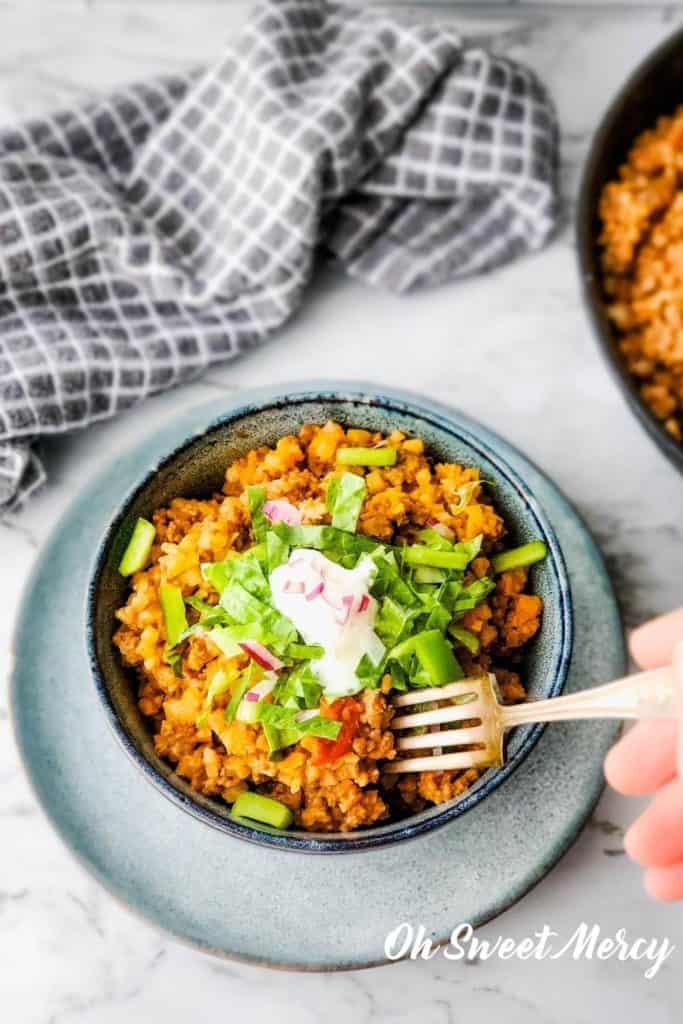 This recipe is a low carb, THM S recipe. While you can lighten it up using very lean meat and just use a garnish amount of cheese it's absolutely best in its S-ness.
Being balanced about the amount of fats you consume is always wise. Feel free to use leaner ground beef or even ground turkey or chicken instead.
Then, if you're a big fan of sour cream (like Sister) you can enjoy a big old dollop of it without pushing your fat grams into the stratosphere.
Enjoy with either traditional taco toppings, like
Shredded lettuce (or try finely shredded cabbage for crunch)
Onions
Green peppers
Black olives
Diced tomatoes
Jalapenos
More cheese
Sour cream
Hot sauce (such as this Raw Fermented Hot Pepper Sauce…one of my favorites!)
Or just make a simple lettuce salad on the side. I suggest either my Easy Ranch Dressing or Creamy Cajun Ranch Dressing. Both can be made Fuel Pull style, too.
For dessert, enjoy some fresh, cold berries. Or how about some Luscious Lemon Ice Cream? It's best made fresh, so get it started before you sit down to eat and it will be ready when you are!
I hope you enjoy this simple yet delicious low carb taco skillet. Mister (our 12 year old) loves when I make this and can't seem to get enough.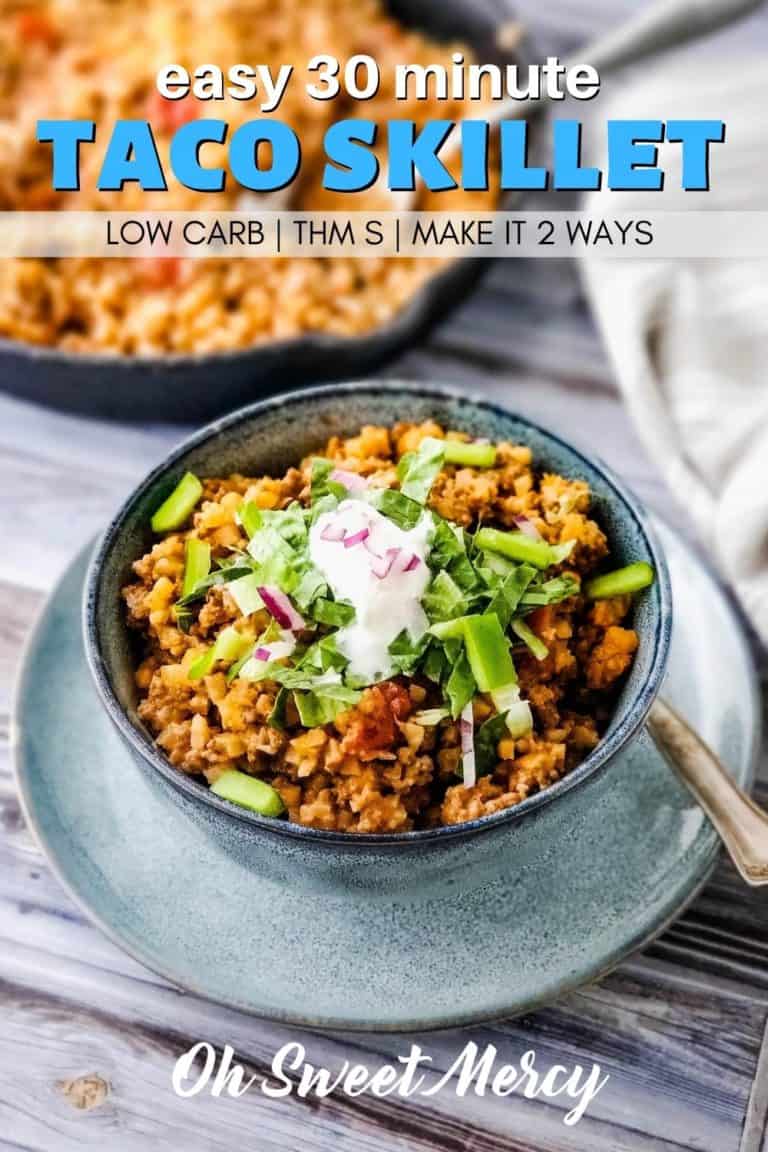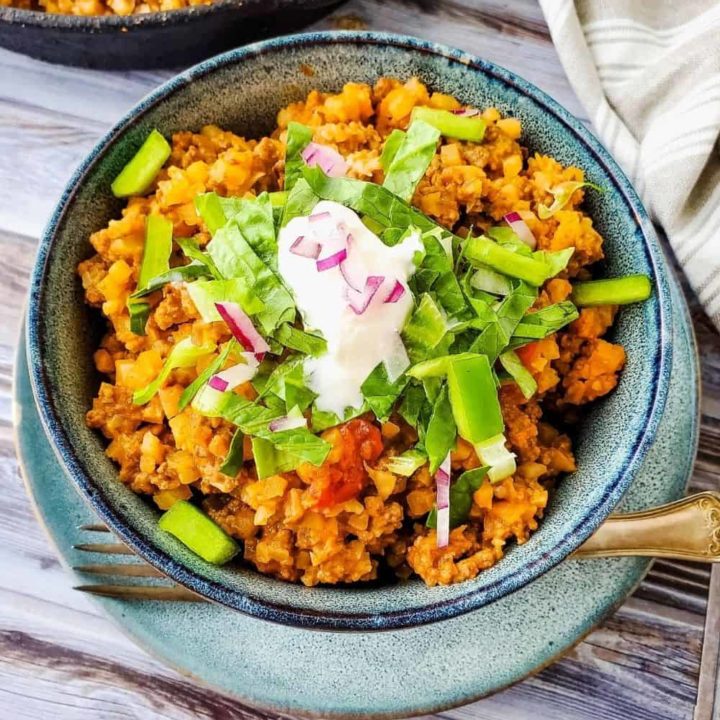 30 Minute Low Carb Taco Skillet | THM S, Keto
Yield: 5 to 9 cups
Prep Time: 10 minutes
Cook Time: 20 minutes
Total Time: 30 minutes
My easy low carb taco skillet is ready in 30 minutes or less. Choose Dreamfields pasta or riced cauliflower or shiritaki noodles. Yield will vary depending on whether you use Dreamfields or not.
Ingredients
1 pound ground beef (or other ground meat)
1 cup shredded cheese (or more as desired), I use colby jack
1 cup tomato sauce (8 ounce can) - 2 cups if using pasta
1/2 cup salsa- 1 cup if using pasta
1 teaspoon ground cumin
1/2 teaspoon granulated sweetener, optional
High mineral salt, to taste
1 box Dreamfields Elbow Macaroni, cooked al dente
OR 2, 12-ounce packages frozen riced cauliflower
Optional Taco Toppings
Shredded lettuce or cabbage
Chopped onions
Chopped bell peppers
Black olives
Diced tomatoes
Sliced jalapenos
Taco or hot sauce
More shredded cheese
Sour cream or Greek yogurt
Chopped cilantro
Instructions
If using pasta, start water boiling.
Meanwhile, brown ground beef. Drain grease if needed.
Add tomato sauce, salsa, and seasonings to cooked meat and mix well.
Heat this mixture through until steaming, then add cheese and stir until melted.
If using pasta, drain and add cooked pasta to this mixture and mix until well coated.
If using riced cauliflower, add to meat mixture and stir well. Cook and heat several minutes until taco skillet is well heated throughout and cauli rice is at the level of tendernss you prefer.
Serve with taco toppings, if desired.
Notes
Servings Information Notes
If using Dreamfields pasta, you'll get about 9 cups. One serving, for THM, should be a rounded cup or less.
If using cauli rice, you'll get about 5 1/4 cups. Servings can be more generous since it's very low carb with cauli rice.
Nutrition Information Notes
Since it's impossible to calculate the "low carbness" of Dreamfields pasta, nutrition information provided is based on using cauli rice.
When using Dreamfields on THM remember to limit to one serving per week (or less often), don't over cook, and never reheat. If you test your blood sugar, be sure to check after eating Dreamfields to see how your body handles it.
Recommended Products
As an Amazon Associate and member of other affiliate programs, I earn from qualifying purchases.
Nutrition Information:
Yield: 5
Serving Size: 1 cup
Amount Per Serving:
Calories: 294.9
Total Fat: 15.3g
Saturated Fat: 7.2g
Trans Fat: 0g
Unsaturated Fat: 0.1g
Cholesterol: 80mg
Sodium: 625.7mg
Carbohydrates: 12.6g
Net Carbohydrates: 8.1g
Fiber: 4.5g
Sugar: 6.4g
Protein: 27.6g