---
Smoothies are a great way to get your healthy fruits and veggies, but many are loaded with sugar! This easy, healthy Blueberry Lemon Smoothie is refreshing and delicious AND has a secret ingredient that can help keep you feeling full longer and control blood sugar. Totally THM friendly, too!
---
If you're a Trim Healthy Mama, you probably know that starting your mornings off with a sugar-laden smoothie is a great way to set you up for a crash later (and tighter waistbands). This healthy blueberry lemon smoothie won't do that!
In fact, you might find yourself staying full longer and your blood sugar more stable!
That can lead to looser waistbands, too.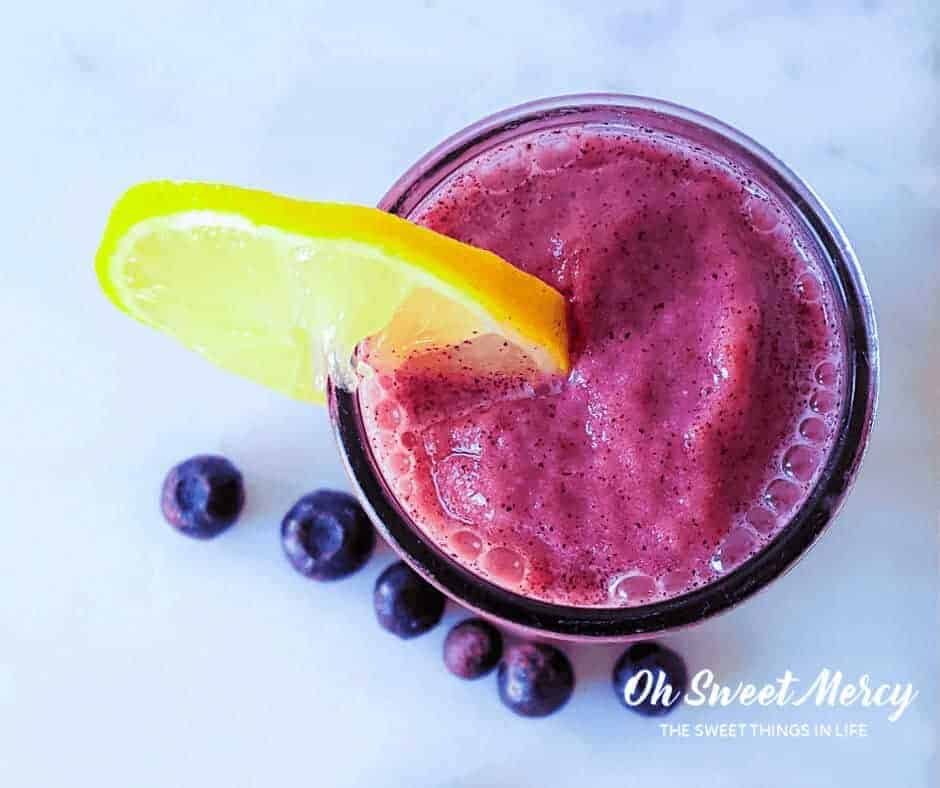 Whether diabetic or a THM, keeping blood sugar stabilized is essential for good health and conducive to weight loss. I'm going out on a limb here and saying that's good for everyone, not just diabetics and those trying to lose excess, unwanted pounds.
What's the secret?
Maybe my headline, promising you a secret, drew you to this post. If you're a THM you might already know what this secret ingredient is.
Sit down first though, because you might be shocked.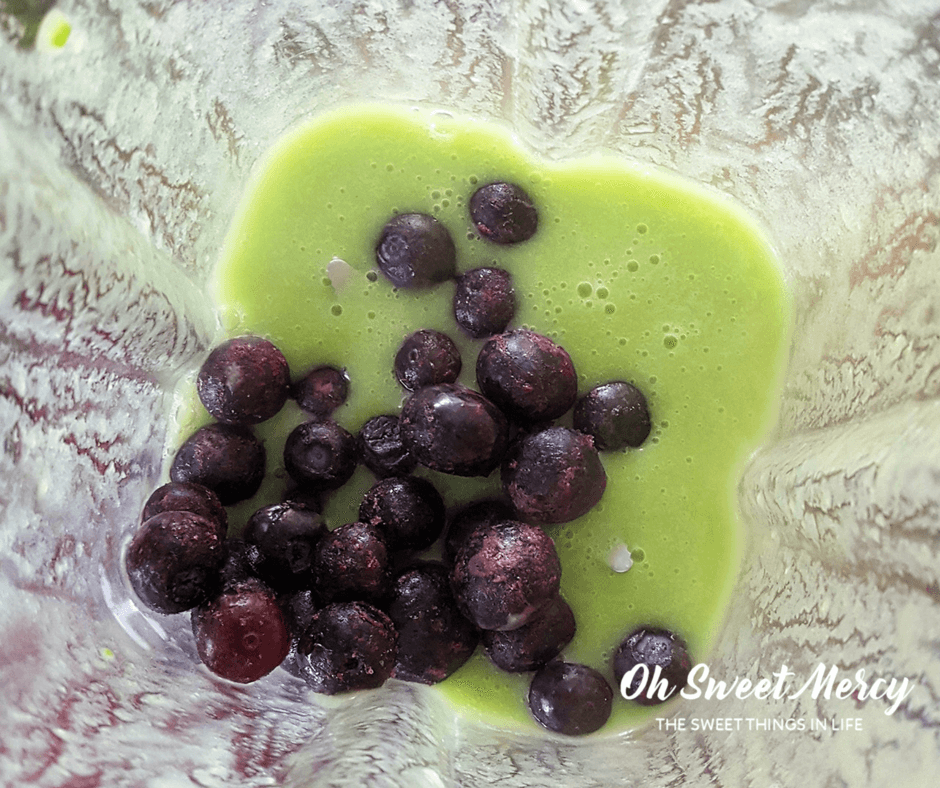 See that green stuff up there with the pretty blueberries? That is pureed okra.
My dad's heritage is Southern, and he loves him some good fried okra. I could never stand it as a kid. Along with grits…they're too gritty. Sorry dad…
Last year, Trim Healthy Mama came out with their Berry Secretive Big Boy Smoothie (page 416 of the THM Cookbook plus 4 other flavors).
THMs across the globe started putting okra in all the things. Even soups, like THM's Trim Train Taco Soup.
I was skeptical. Because okra, y'all.
It's slimy! And tastes…okra-y. Blech.
In fact, the first time I made a Secret Big Boy I didn't really like it. I drank it because it's good for me and I don't like wasting food, but it wasn't my favorite because I could definitely taste the okra.
But please don't let my experience keep you from trying it, lots of THMs out there love their Secret Big Boys!
The chocolate version was really good though. Because chocolate, y'all.
I'm probably not selling you on the okra, am I? Oh, but do please keep reading. It gets better I promise!
Some amazing benefits of okra.
Actual studies have shown that okra is beneficial for blood sugar control, as well as being helpful for other conditions.
The fiber in okra helps to stabilize blood sugar by regulating the rate at which sugar is absorbed from the intestinal tract. It is a good vegetable for those feeling weak, exhausted, and suffering from depression and it is also used in ulcers, lung inflammation, sore throat as well as irritable bowel. Okra is good for asthma patients and it also normalizes blood sugar and cholesterol levels. [Source]
Okra also has been shown to have anti-stress effects, help lower cholesterol, and help combat fatigue.
It's also rich in vitamins (especially C and K), minerals (like magnesium and manganese) and antioxidants (such as beta carotene). Find more nutrition information here.
One note of caution, however — if you take Metformin, okra can interfere with how this medication works and you should consult your healthcare practitioner.
Let's put okra in all the things!
There's an "okra challenge" out there that encourages THMs to consume one cup of okra daily. I've been wanting to try it but okra…blech.
But it's so good for you!
The other day I decided I was going to make a blueberry protein shake and put some okra in it. Because it's good for me.
Turned out that I didn't have any good protein options for a smoothie (like cottage cheese), so I made it without. Feel free to add a scoop of collagen to your blueberry lemon smoothie for a boost of protein. An on-plan whey protein powder would lend creaminess to this as well.
I was honestly surprised at how delicious this smoothie was! Smooth, slightly tart, deliciously berry-ish — it was so good, I've been making myself a yummy blueberry lemon smoothie every morning for breakfast.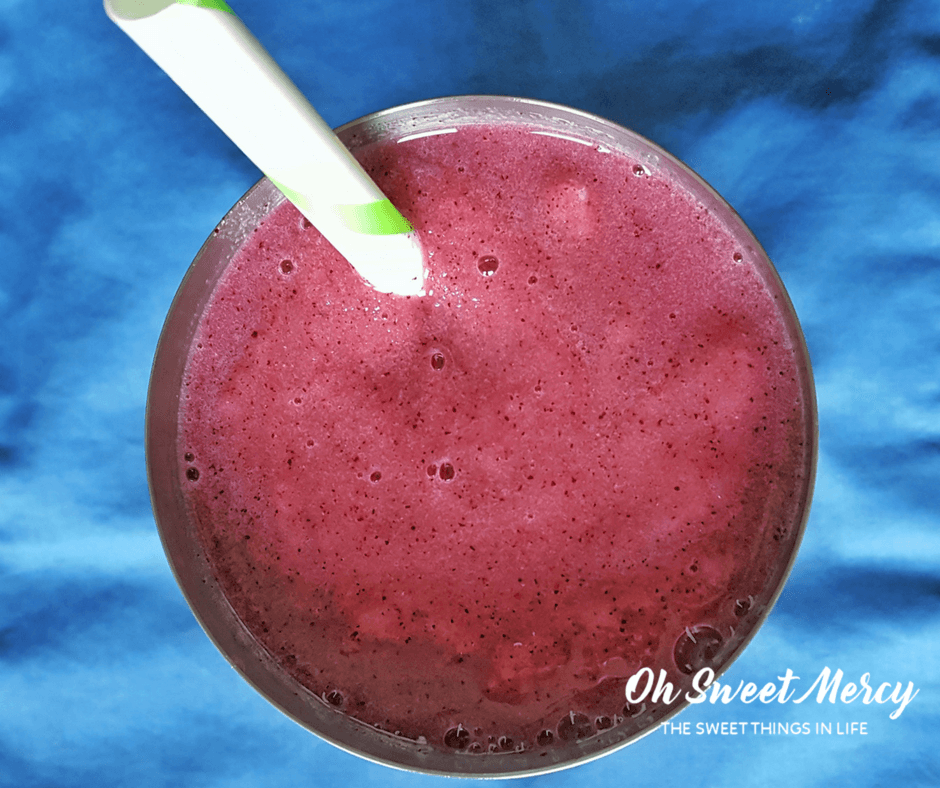 Trim Healthy Mamas, here's what you need to know…
As written, this recipe is a Fuel Pull on the THM plan. That means your healthy, delicious, blood sugar stabilizing blueberry lemon smoothie is low in fat and carbs and will go with any fuel type. It does contain a full serving of blueberries for an S or FP meal, so this would be your carb source.
Yesterday, I had an egg white omelette with my smoothie and was very satisfied. In fact, I really wasn't hungry almost 4 hours later but made myself a small snack anyway. I haven't been craving junky foods, either.
That's what happens when you put good fuel in your body. Healthy, nourishing foods give your body what it needs so it doesn't have to cry out in desperation for anything and everything!
I also added glucomannan powder to this smoothie. That is optional, but "gluccie" as THMs so lovingly call it also has fiber and blood sugar controlling properties. It also helps your smoothie stay thick longer.
But can you taste the okra?
Initially, yes, I could taste the okra a bit. But it wasn't overpowering. Since I was busy making the rest of my meal my smoothie sat there for several minutes before I could really sit down and enjoy it. I found that as it sat, the okra flavor seemed to diminish a bit.
You may have very sensitive taste buds that can pick out an okra a mile away. If that's the case, you may not like this recipe. Those that love the taste of okra or tolerate it well enough, well I think you'll love it!
My blueberries are all gone until grocery day, unfortunately. Now I'm craving the bright, fresh flavor of this delicious smoothie!
You go on and make one for yourself though, it's easy (but first, Pin it)!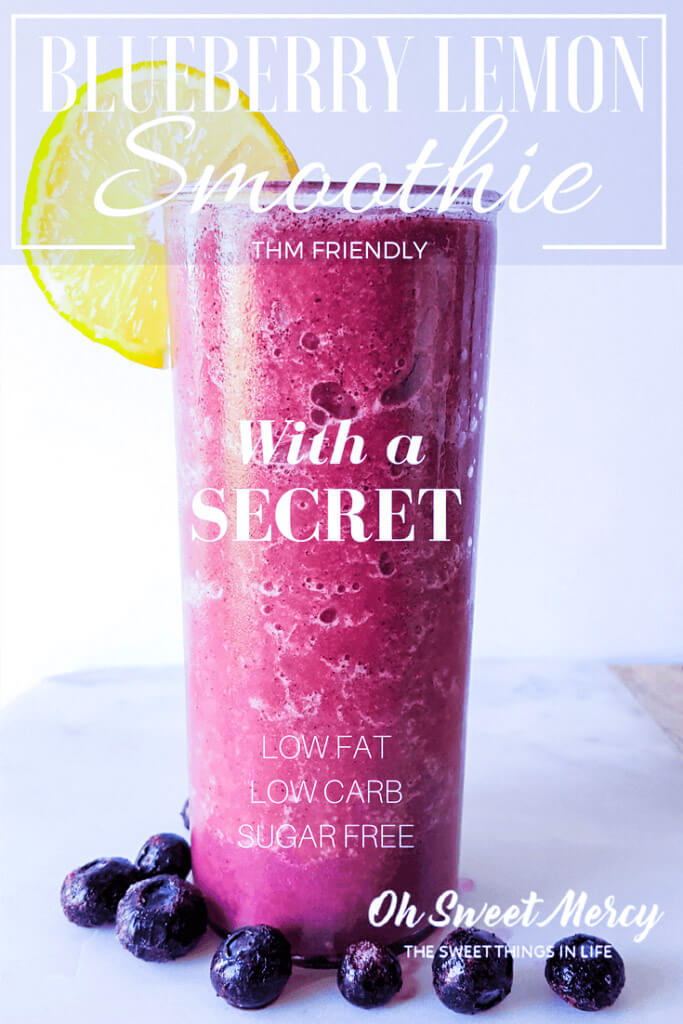 3.5.3226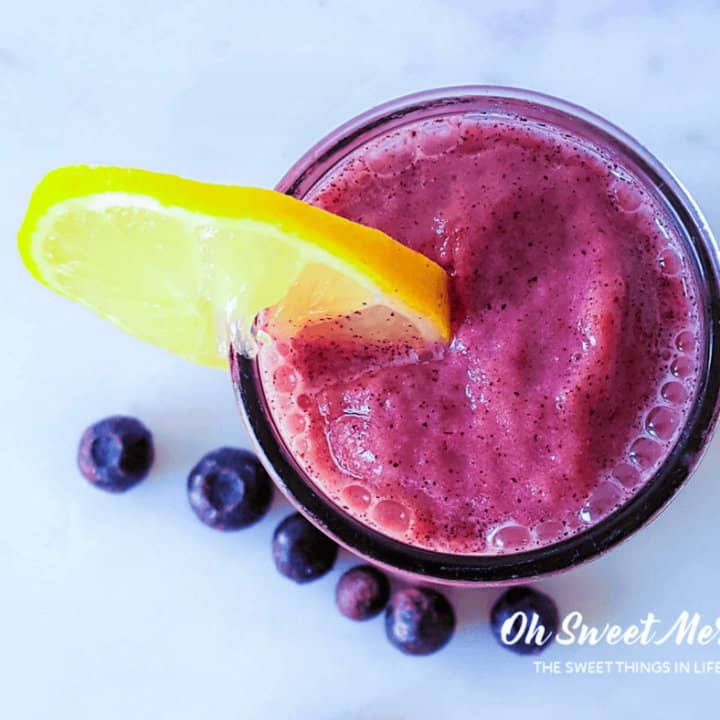 Blueberry Lemon Smoothie (With a Secret)
A delicious, healthy, no sugar smoothie that can help you stay feeling full longer and stabilize your blood sugar levels.
Ingredients
1/2 cup water
1/2 cup frozen, cut okra
1/2 cup frozen blueberries
1/2 cup almond or cashew milk
3 tablespoons lemon juice
Splash of pure vanilla extract
10 ice cubes
Instructions
Add water and okra to blender jar and blend until smooth.
Add remaining ingredients and process until completely smooth and uniform
Taste and adjust sweetness level if needed
Notes
Trim Healthy Mamas this is a Fuel Pull. It does contain a serving of blueberries for an S or FP meal so this would count as your carb source.
A high-powered blender does a great job of pureeing the okra smoothly. It took less than a minute in my blender. If you don't have a high powered blender, it may take longer or may not puree completely.
The glucomannan powder is optional, but does a nice job of helping it stay thick longer. It also has blood sugar stabilizing properties.
Recommended Products
As an Amazon Associate and member of other affiliate programs, I earn from qualifying purchases.