Jumping to the recipe? Please come back and read when you have the time, I include helpful info in my posts like how to fit my recipes into your THM meal plan! Get notified of new posts by signing up for my newsletter at the end of the page. Thanks for stopping by!
---
Ants on a log is typically a kiddie food but who says kids get to have all the fun? I've taken this easy kid-friendly snack and made it a little fancier (and THM Friendly). So feed your inner child this classic childhood snack that satisfies your cravings for crunchy, sweet, and salty.
---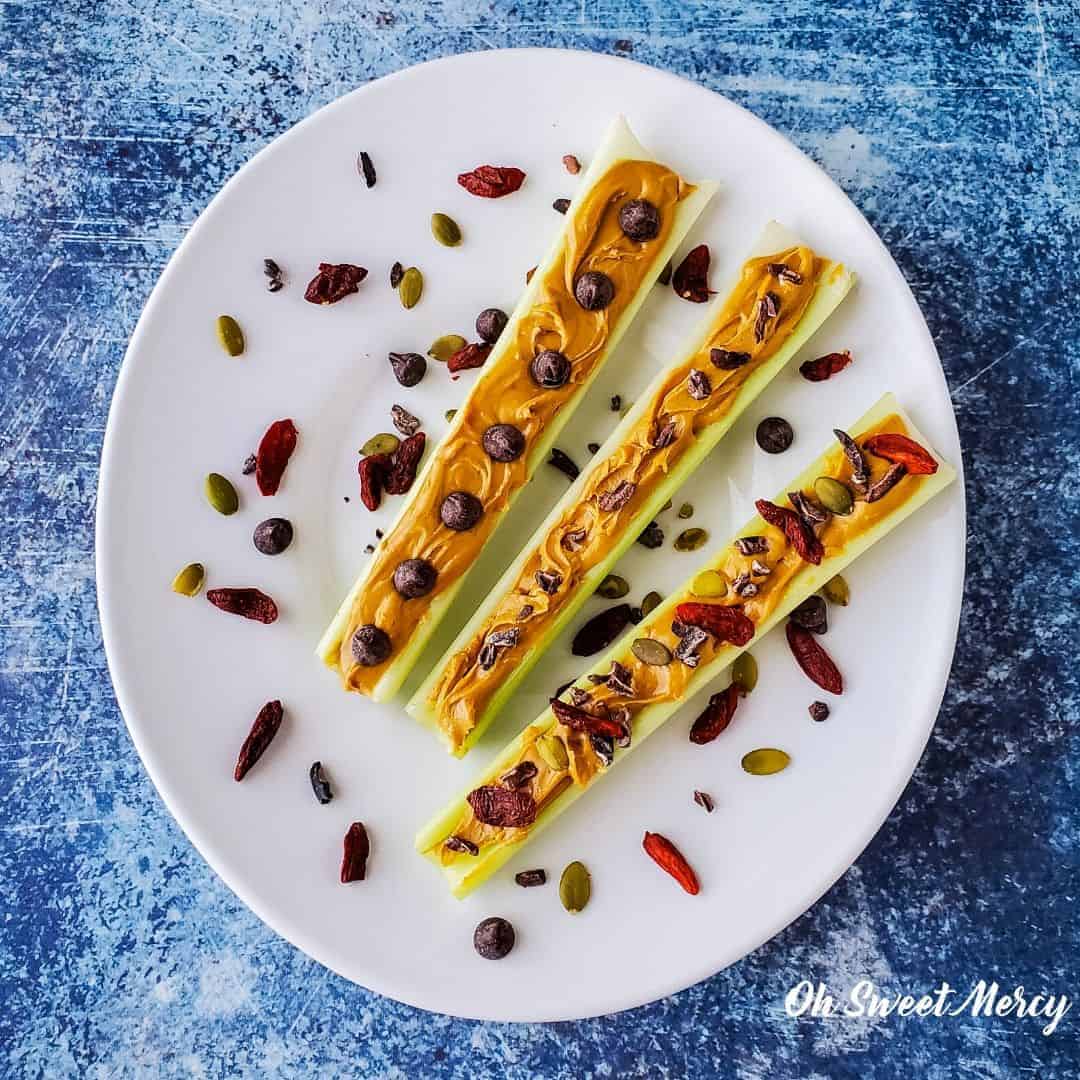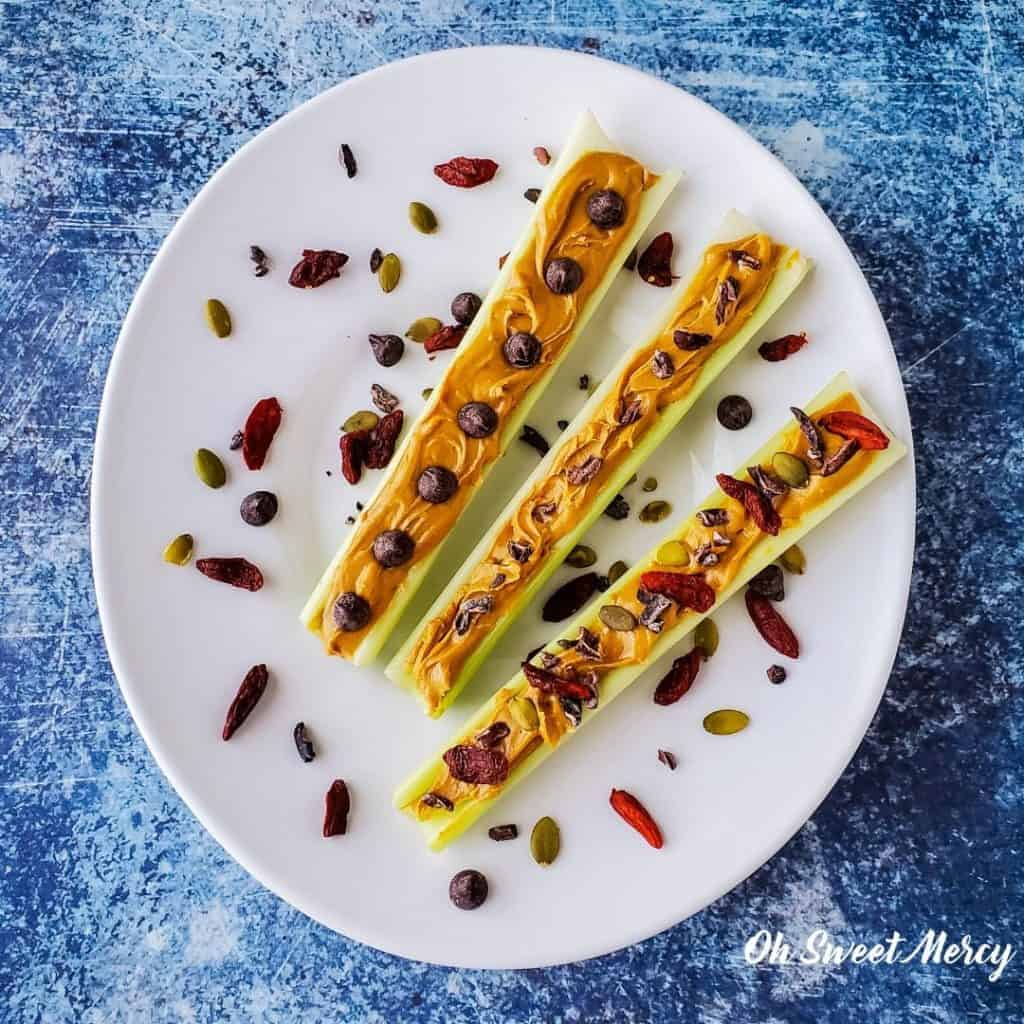 Just in case you've never heard of ants on a log, let me tell you what it is:
A celery stick with peanut butter and dotted with raisins.
It's cute and most kids love it. Unless they hate celery, peanut butter, or raisins, of course.
Ants on a log are not quite exactly THM friendly, especially when made the typical way: with regular peanut butter (that contains added sugars and often hydrogenated oils) and raisins.
What's Wrong With Raisins?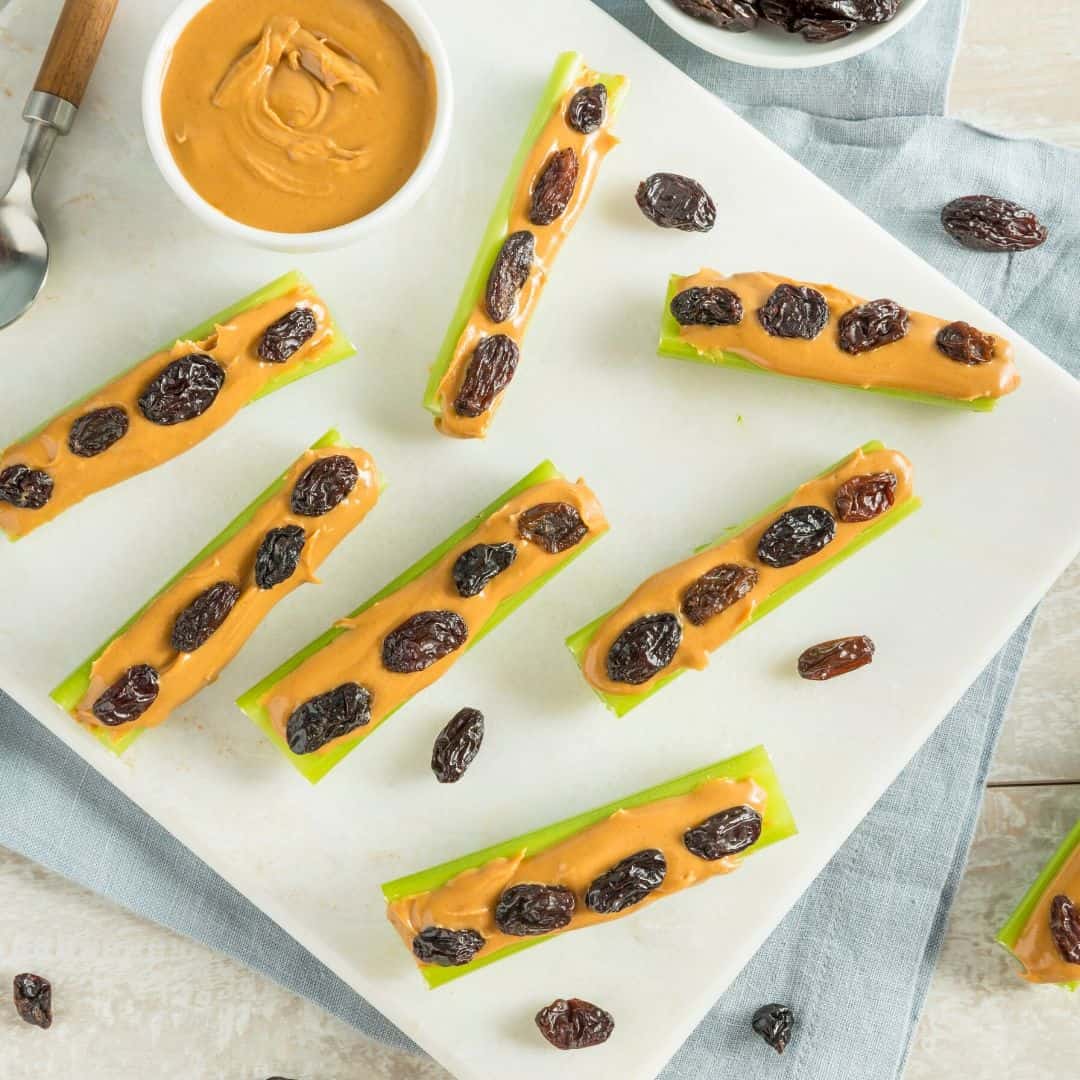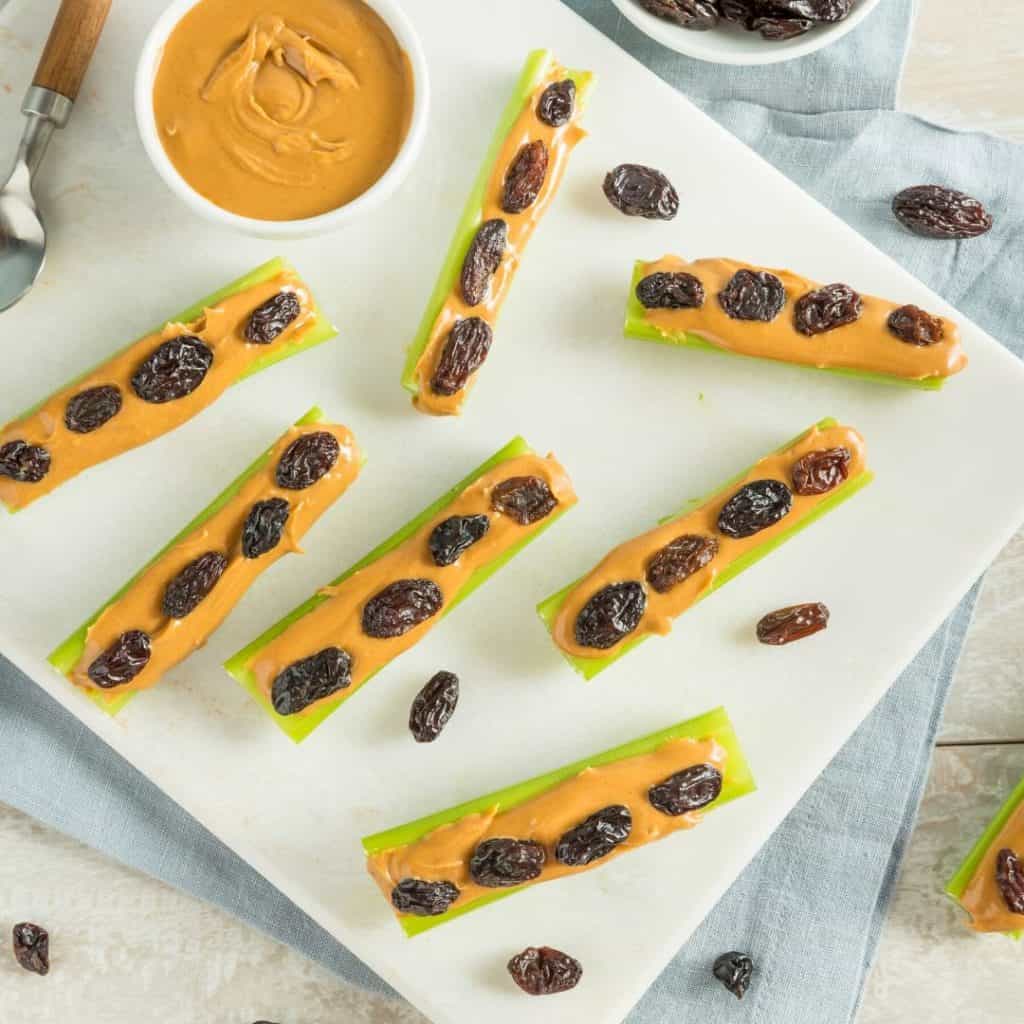 As with any dried fruit, they are highly concentrated with natural sugars. It can be a big hit to our blood sugar. When you're trying to lose weight, you don't want that!
However, with practicing THM principles and smart food freedom, we can enjoy an actual ant on a log now and then. Simply use an on-plan peanut butter (or make the Peanut Junkie Butter in the first THM cookbook, page 481).
Then, just put maybe 5 or 6 raisins (in total) on your peanut butter filled "logs." Enjoy occasionally and you should be fine.
Pearl (one of the founders of THM) puts 12 raisins in her Sweatpants Oatmeal now and then. There's quite a bit of fiber in oatmeal, which helps counteract the sugars in the raisins. I don't think that's the case with a few celery sticks so that's why I recommend maybe 5 or 6 in total.
That's not really a lot of raisins. Which basically means you're just eating celery and peanut butter, right?
But, I've got some great, THM friendly tweaks for this easy, nostalgic snack. They're also great to add to a THM Snack Box. Let's make some grown-up ants on a log, THM style!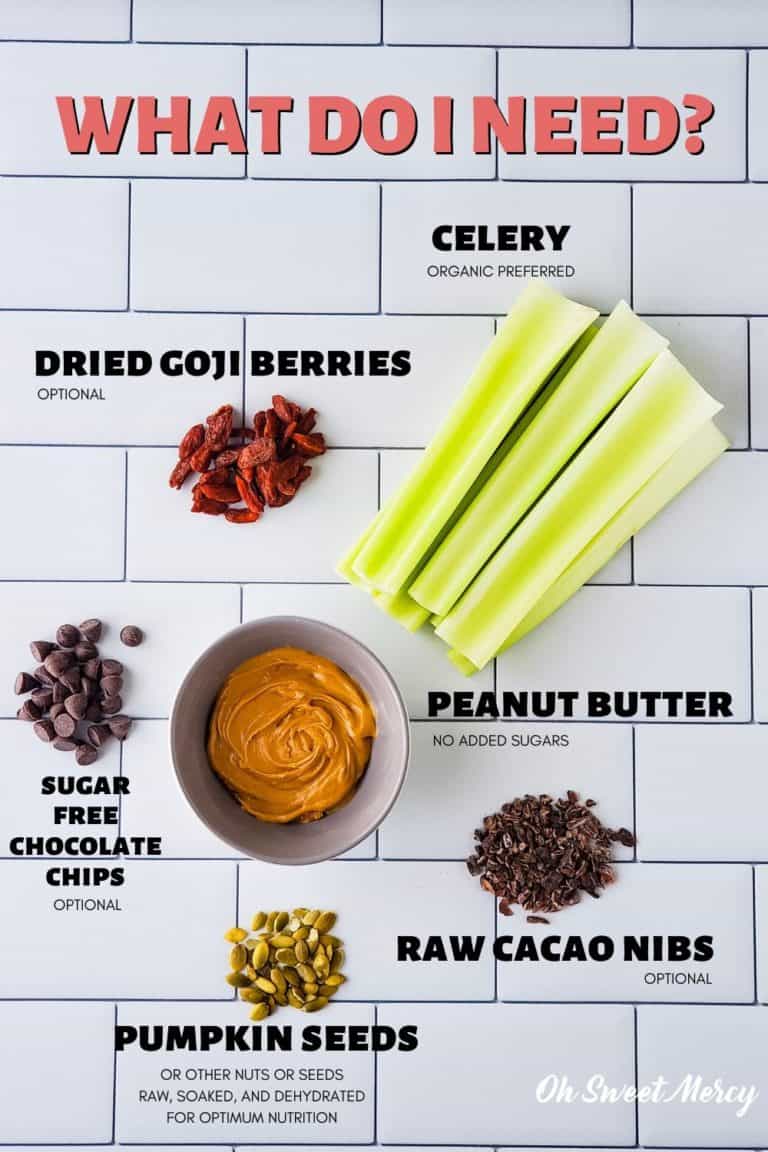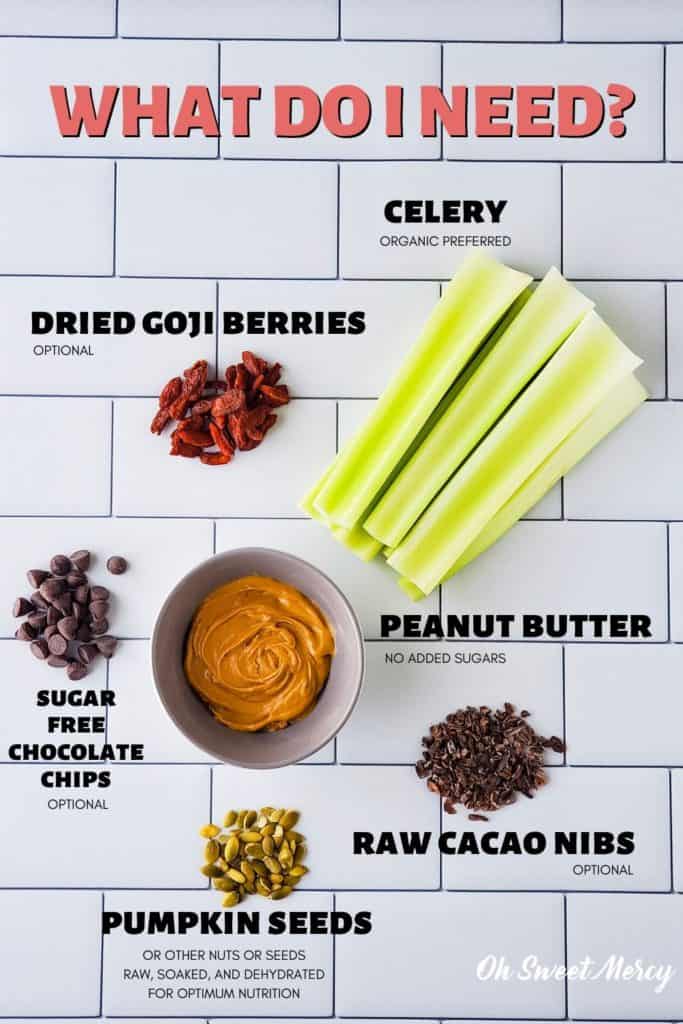 ---
Need more snack ideas? Check out my Snacks category!
---
Grown Up Ants On A Log – Low Carb, THM S Style.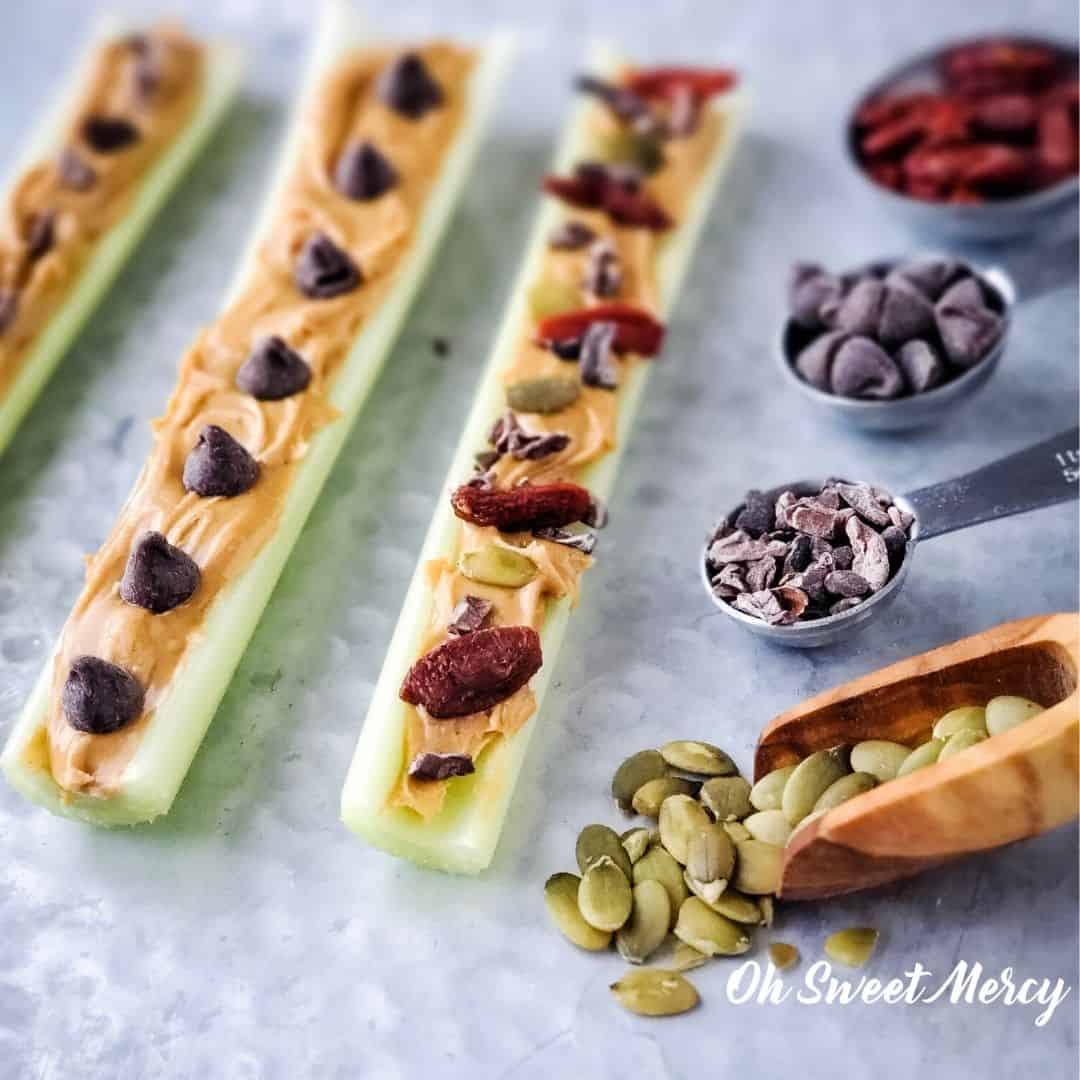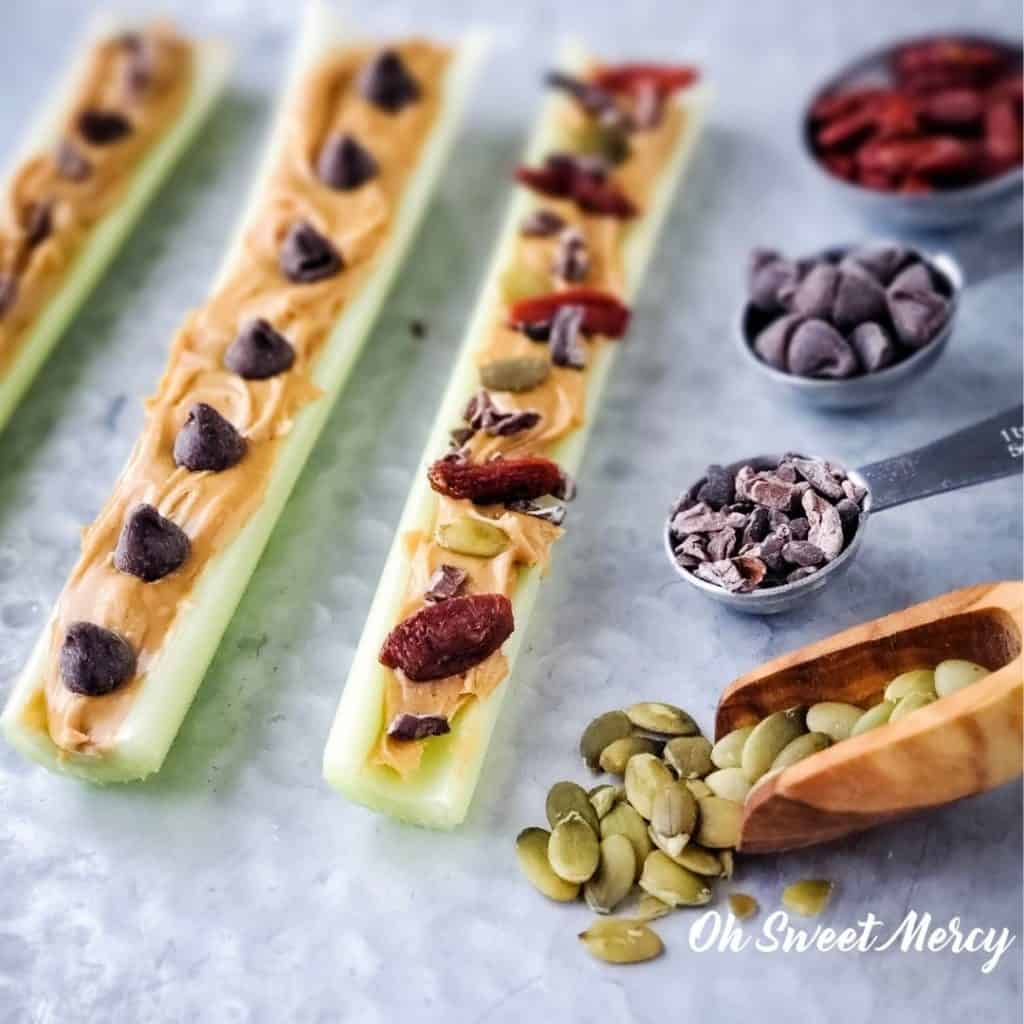 We're skipping the raisins for our ants on a log. But we want something small and dark colored, right? I've got 2 options for you. One is super healthy (though not everyone's cup of tea), and one (possibly) slightly less so, depending on what you choose.
Also, be sure to keep reading for Fuel Style information or check the recipe notes.
Super Healthy, Purist-Style Ants On A Log.
Start with organic celery sticks, if you can! Conventional celery is one of the veggies with the most pesticides. But, if you can't at least wash it very well.
Next, choose your nut butter option:
Smooth or crunchy with nothing added to it – just ground up peanuts.
Smooth or crunchy – adding a bit of salt and pure stevia extract to make it more like store-bought peanut butter
Peanut Junkie Butter
A mixture of peanut butter and Peanut Junkie Butter (to lighten it up a bit)
Cashew, almond, sunflower, or other nut butters
Now, we sprinkle on our "ants" – raw cacao nibs. These are not for the faint of heart, I'll admit. They're for hardcore dark chocolate lovers.
They come in regular and fermented varieties. I've tried both but don't notice much difference in flavors between the two. However, the non-fermented are supposed to have a milder flavor.
Raw cacao nibs are a powerfully nutritious superfood! Some benefits are fighting inflammation, supporting cardiovascular health, boosting your mood, and increasing insulin sensitivity. They're rich in magnesium, iron, and other vitamins and minerals, too!

Source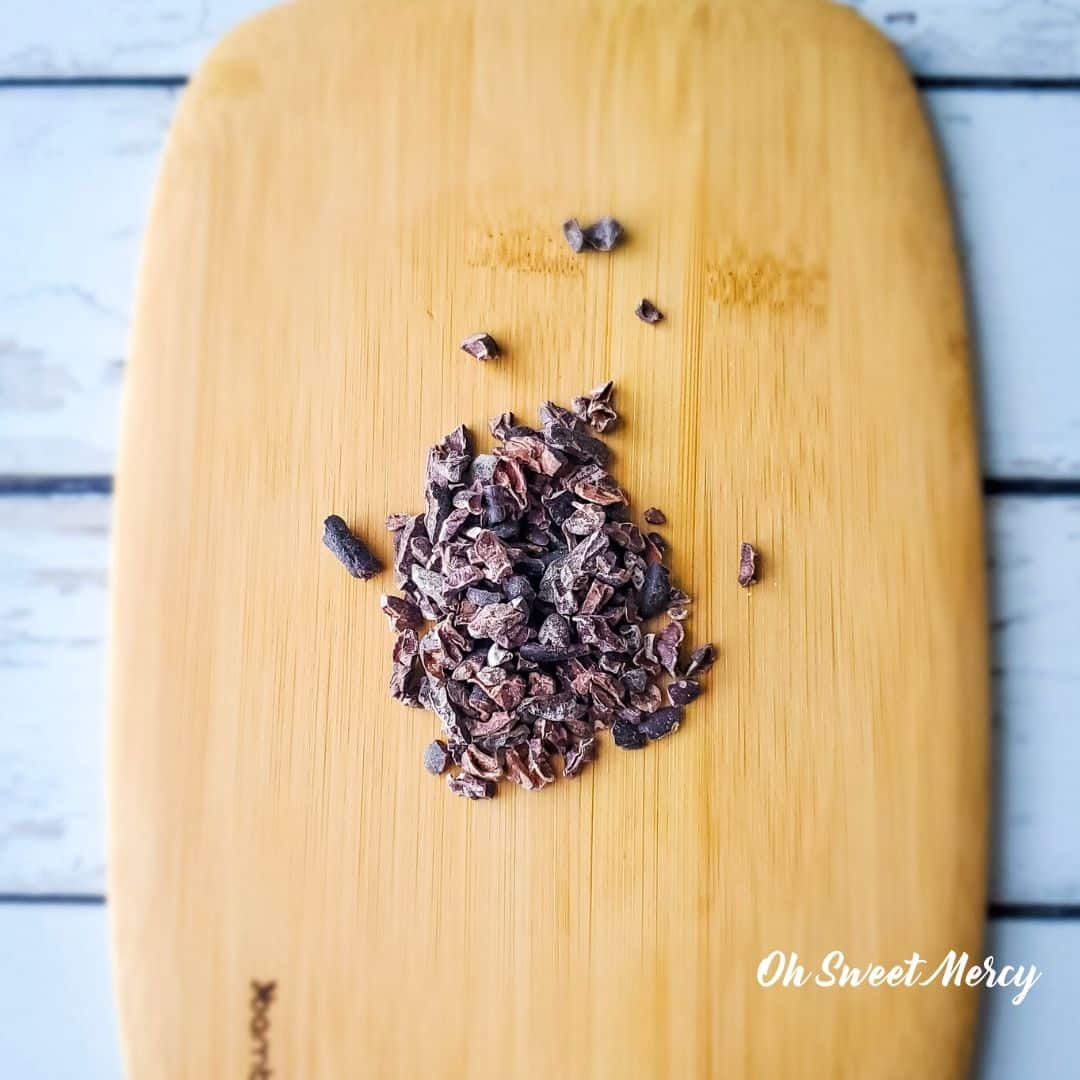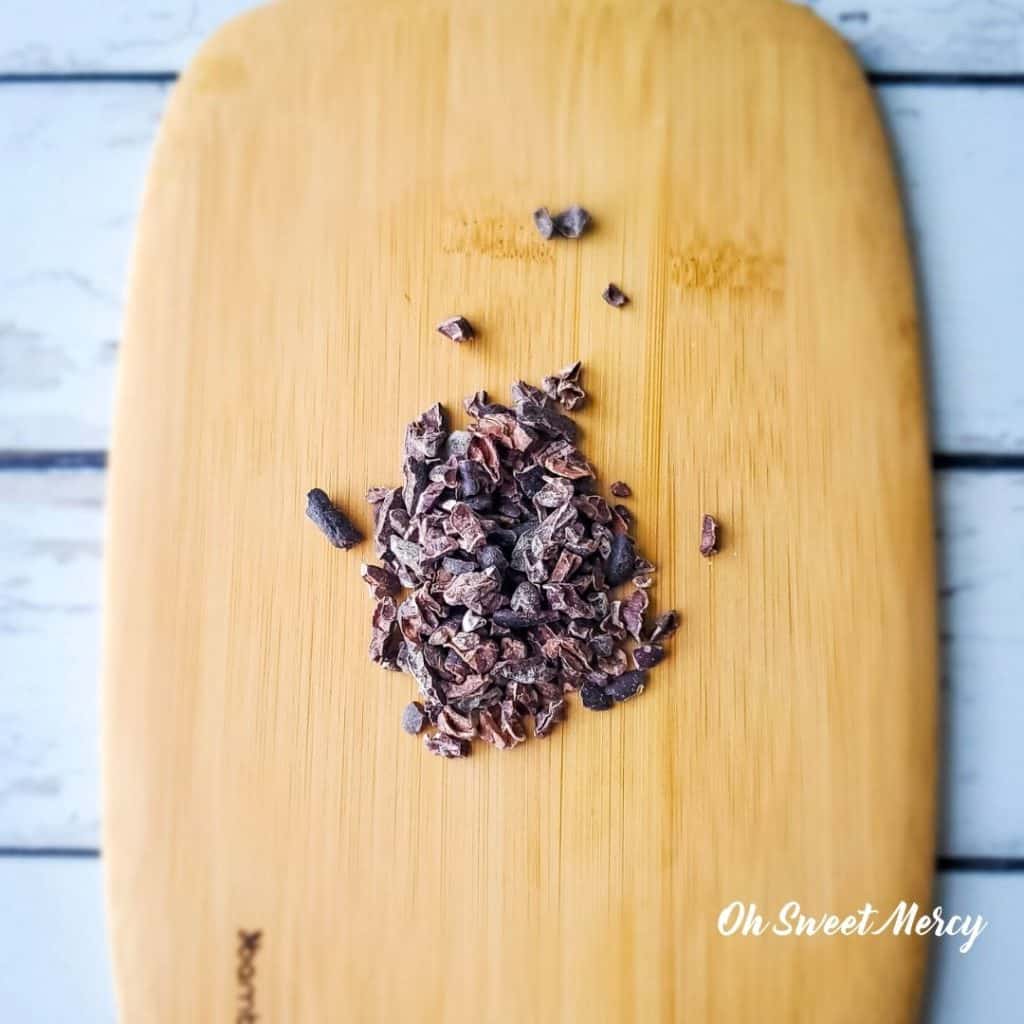 Have A Sweet Tooth? No Problem!
Make your peanut butter sweet by adding an on-plan sweetener such as THM Pure Stevia Extract. A smooth, concentrated powder, it won't leave any grittiness in your peanut butter like a granulated stevia and sugar alcohol blend might.
Then, use stevia-sweetened chocolate chips instead of cacao nibs. The THM Chocolate Chips are divine and Serene-approved, of course!
You can also easily make your own with the Skinny Chocolate recipe in the original plan book or THM cookbook.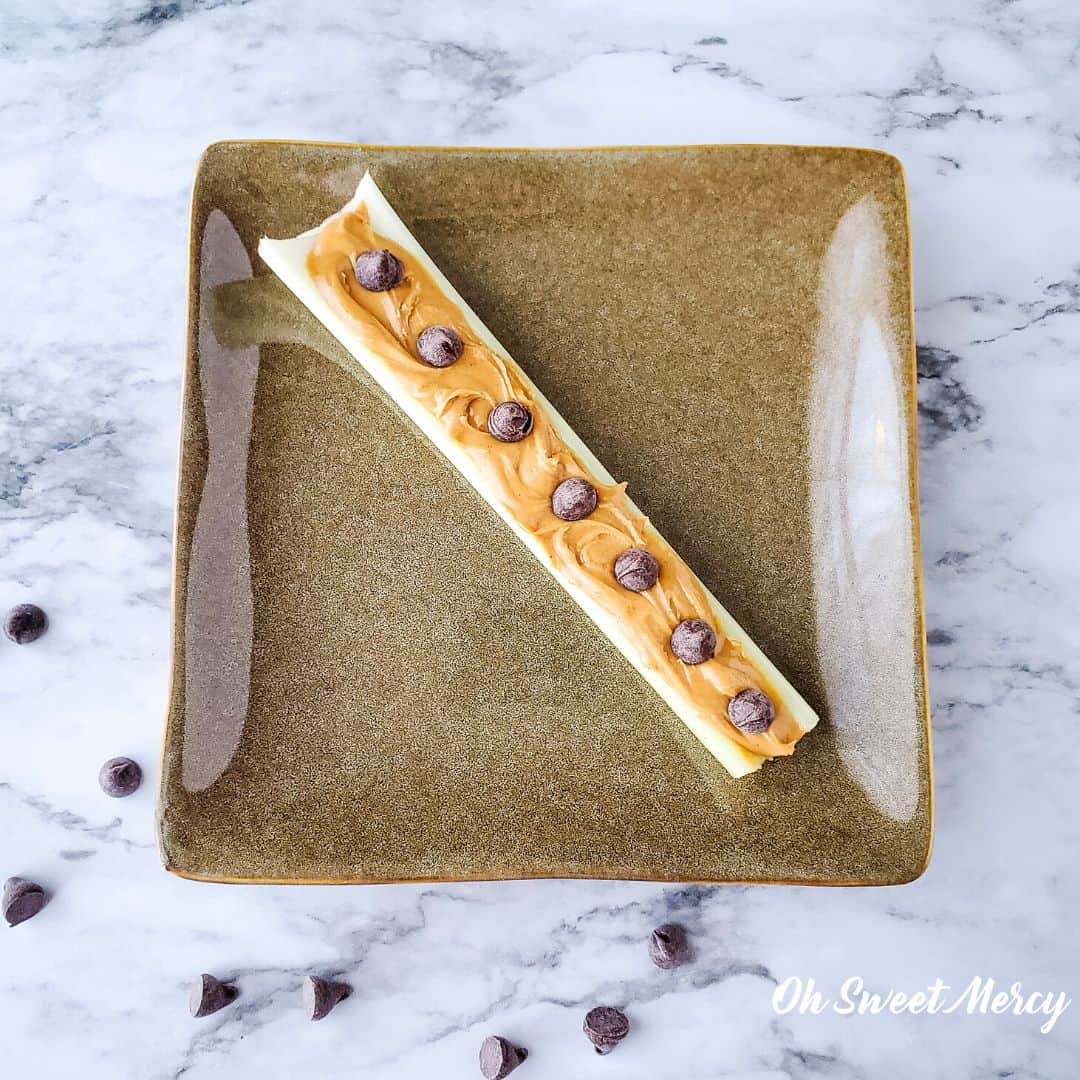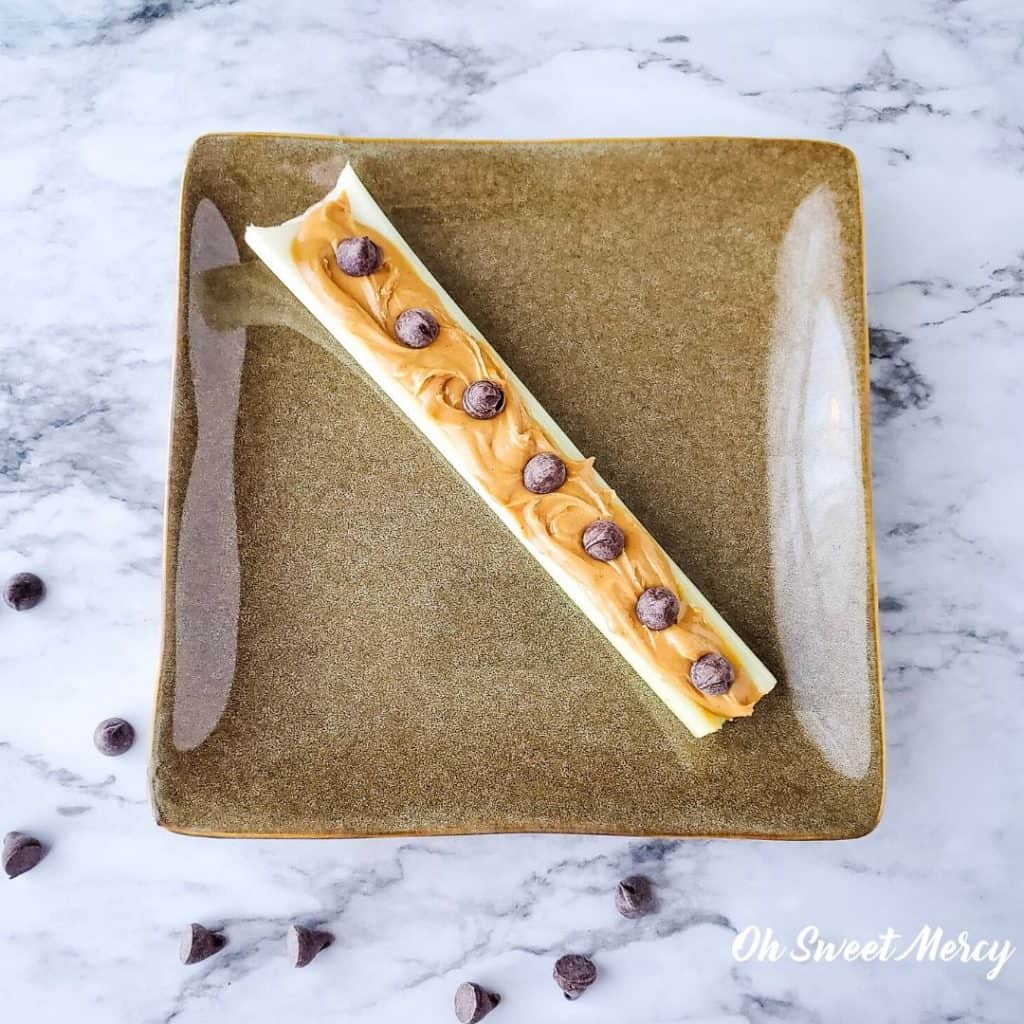 Other Healthy Options To Consider.
Since we're grown ups with more refined palates, we can sprinkle on some other healthy things if we like, right?
Try:
Sunflower seeds
Pepitas (pumpkin seeds), either plain, sweetened, or spiced
Chopped pecans
Chopped pistachios
Dried goji berries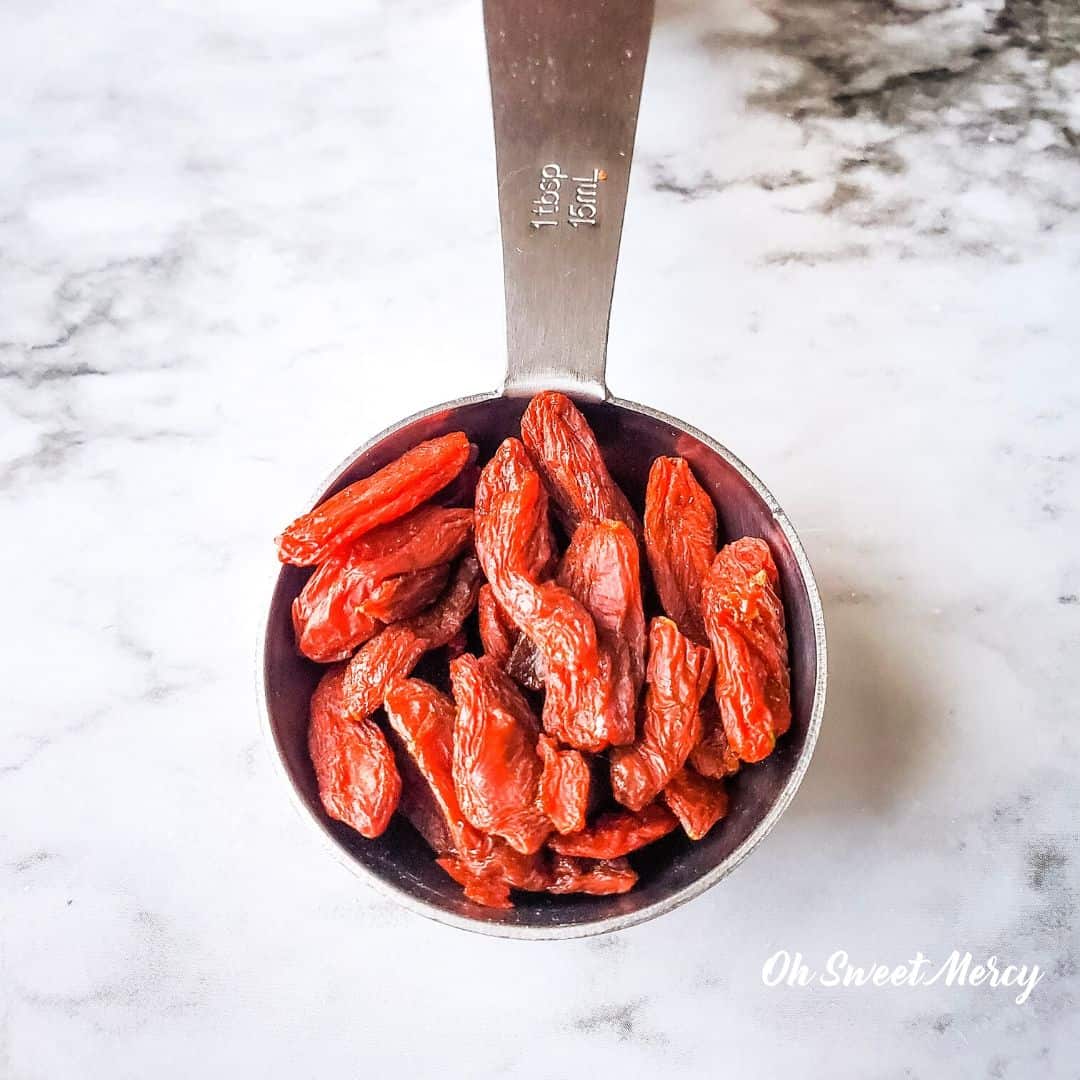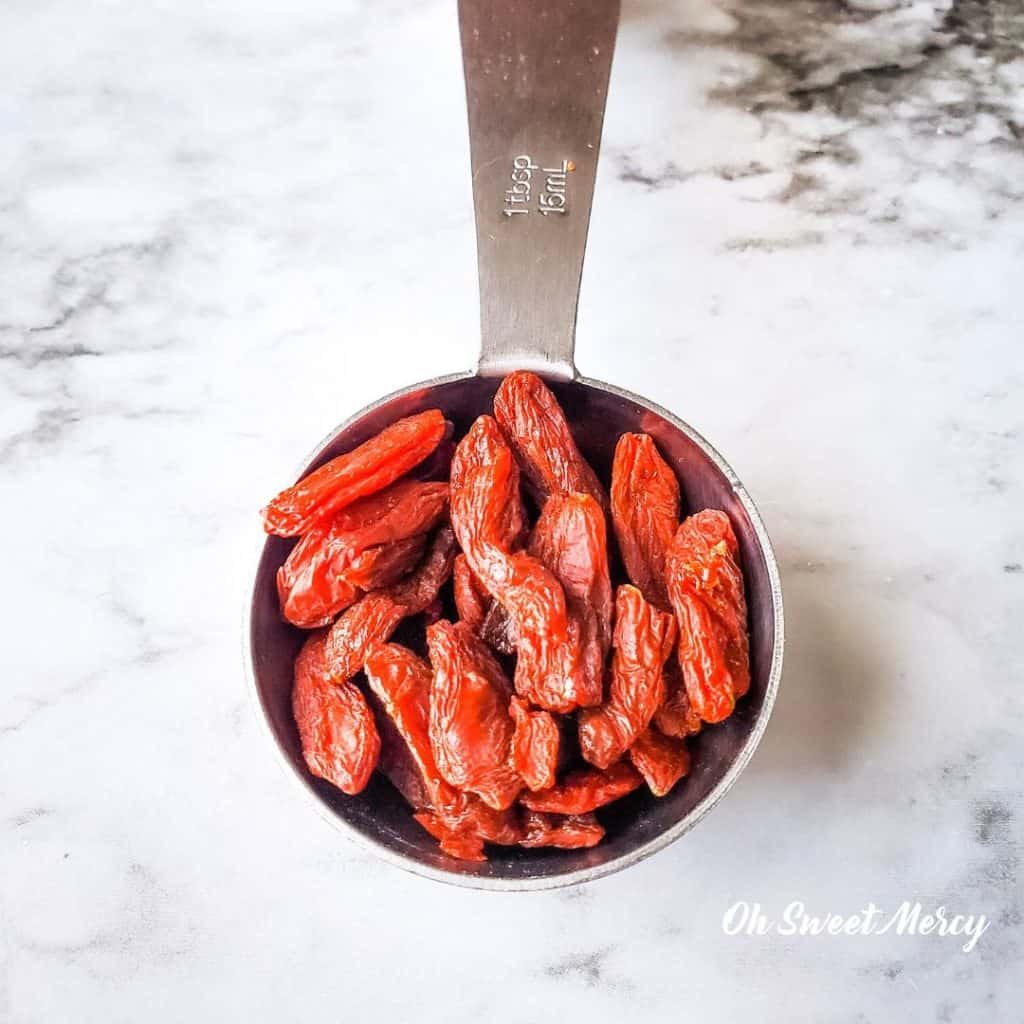 Goji berries, or wolfberries, are wonderfully healthy! Packed with antioxidants and delicious. They're far less sugary, too.
1 tablespoon, around 26 berries, has just 3.6 grams of net carbs and 2.6 grams of sugars. Compare that to raisins, which have 7.3 grams of net carbs and 5.7 grams of sugars.
Simple THM Ants On A Log For Non-Purists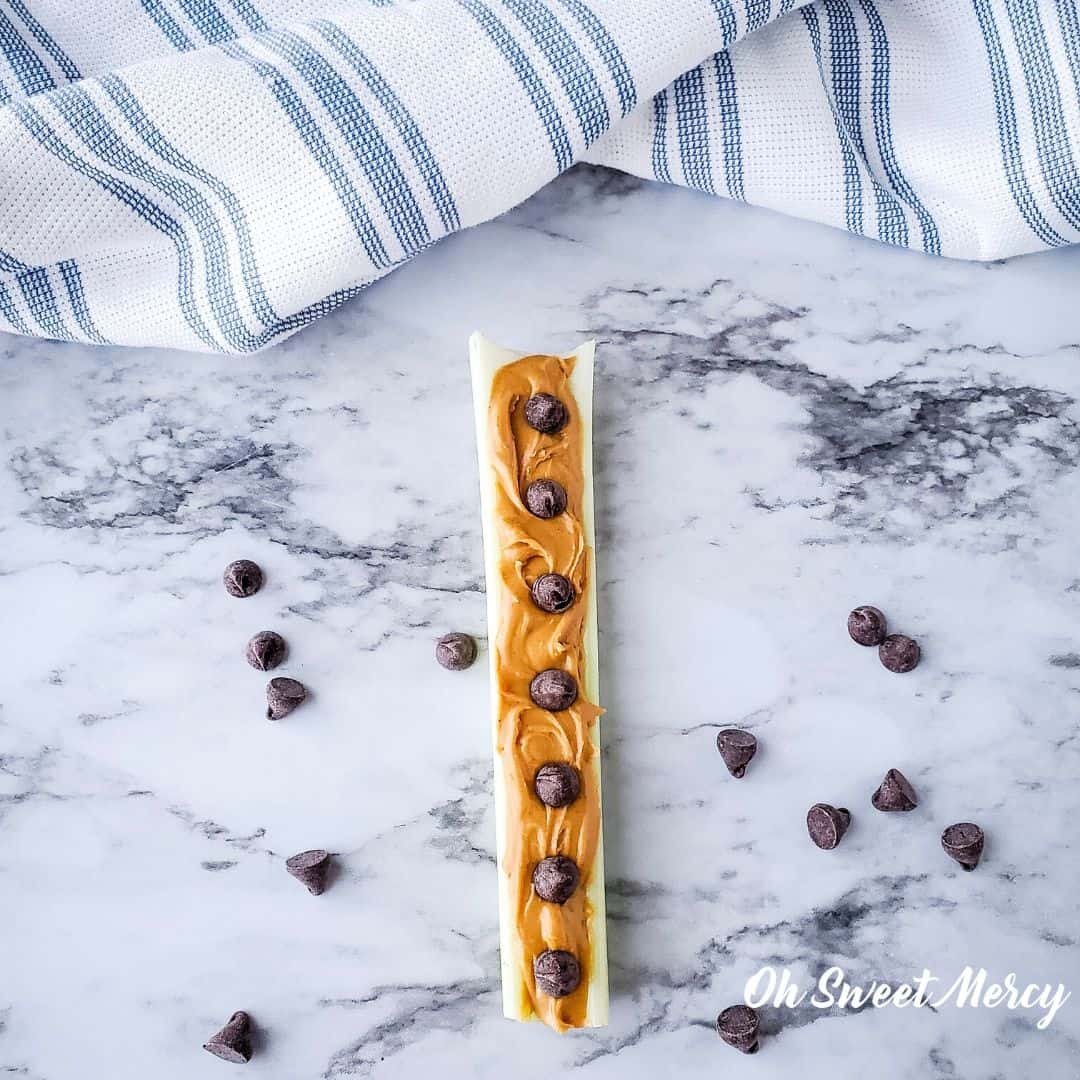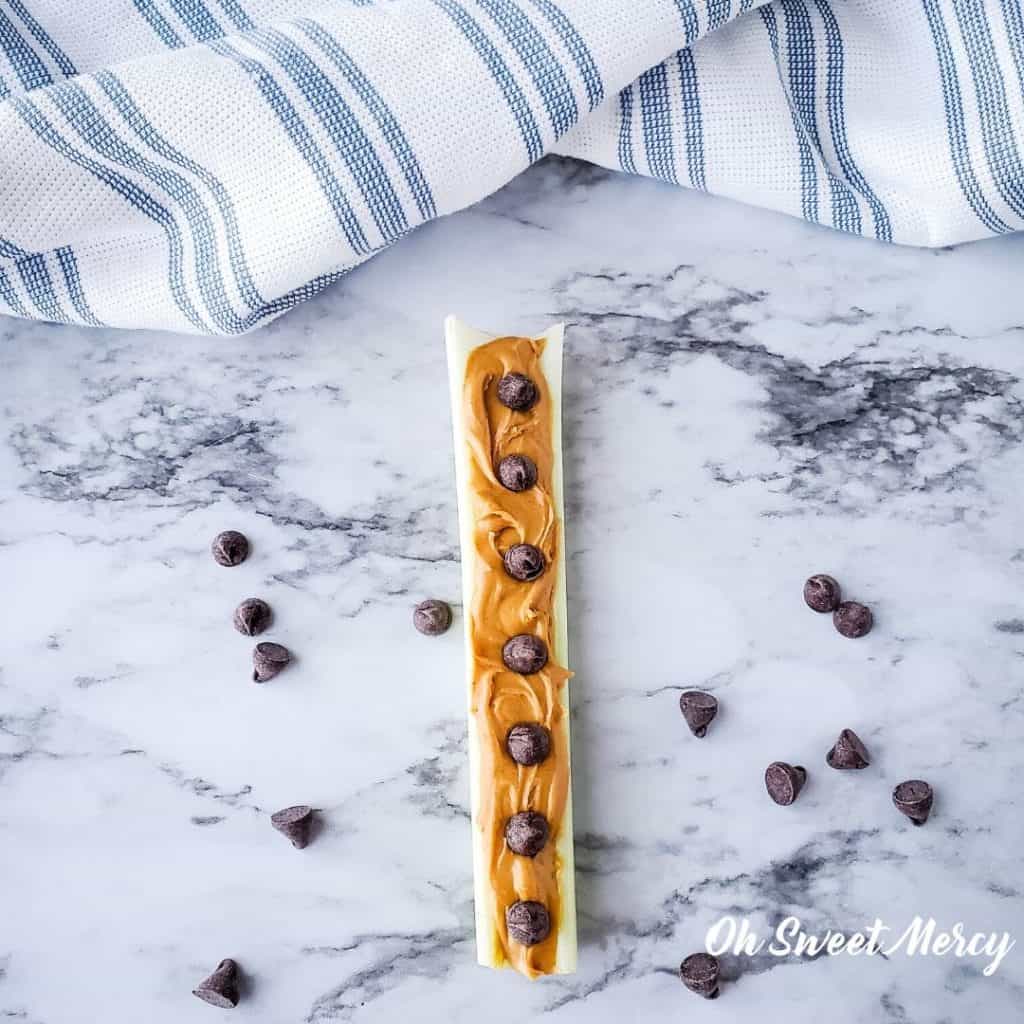 Maybe your taste buds aren't adventurous enough to try raw cacao nibs or goji berries. That's ok! We can still make ants on a log that are a bit more like the classic version.
We still start with celery of course. And if you can buy organic, please do!
Next, choose your peanut butter. Any on-plan store bought peanut butter will do. Or, choose Peanut Junkie Butter or a mixture of both to lighten it up a bit.
I definitely have purist tendencies, but I have to be honest: peanut butter without a little salt and a little sweet is not very appealing to me.
When I get my plain, just-ground-up-peanuts home from the store, I drain off most of the oil, add a bit of salt and some pure stevia extract, and give it a good mix. So much better!
Add sweetener to your peanut butter for a sweeter ants on a log.
Also, try another nut butter for something different. Cashew butter is absolutely divine!
Now for our "ants." How about on-plan chocolate chips? I'm so thankful for the abundant choices we have for on-plan, sugar-free chocolate chips!
Some brands can cause a little tummy trouble for some people. In general, homemade or THM Chocolate Chips are the most kind to our digestive systems. Here's a few of my favorite chocolate chips (plus some fun flavored chips to try making yourself):
Sugar-Free Chocolate and Other Flavored Baking Chips To Try
Photo Credit: store.trimhealthymama.com
These are terrific! No malitol or other ingredients that are often hard on tummies. Taste amazing! (affiliate link)
Photo Credit: www.amazon.com
Delicious and sugar-free!
Photo Credit: www.amazon.com
Photo Credit: wonderfullymadeanddearlyloved.com
Make your own stevia-sweetened chocolate chips with this easy recipe.
Photo Credit: wonderfullymadeanddearlyloved.com
Make your own white chocolate chips!
Photo Credit: wonderfullymadeanddearlyloved.com
Vanilla baking chips are bars are perfect for holiday baking needs.
Photo Credit: wonderfullymadeanddearlyloved.com
I don't even know if sugar free peanut butter chips are available commercially! Making your own is healthier anyway.
Photo Credit: wonderfullymadeanddearlyloved.com
Cinnamon baking chips! How fun!
Leave your ants on a log just celery, peanut butter, and chocolate chips for a simple, more classic version.
Or, get a little adventurous and sprinkle on some nuts or seeds to mix things up a bit. See the list under the purist section above for some ideas.
How To Fit This Fun Snack Into Your THM Meal Plan.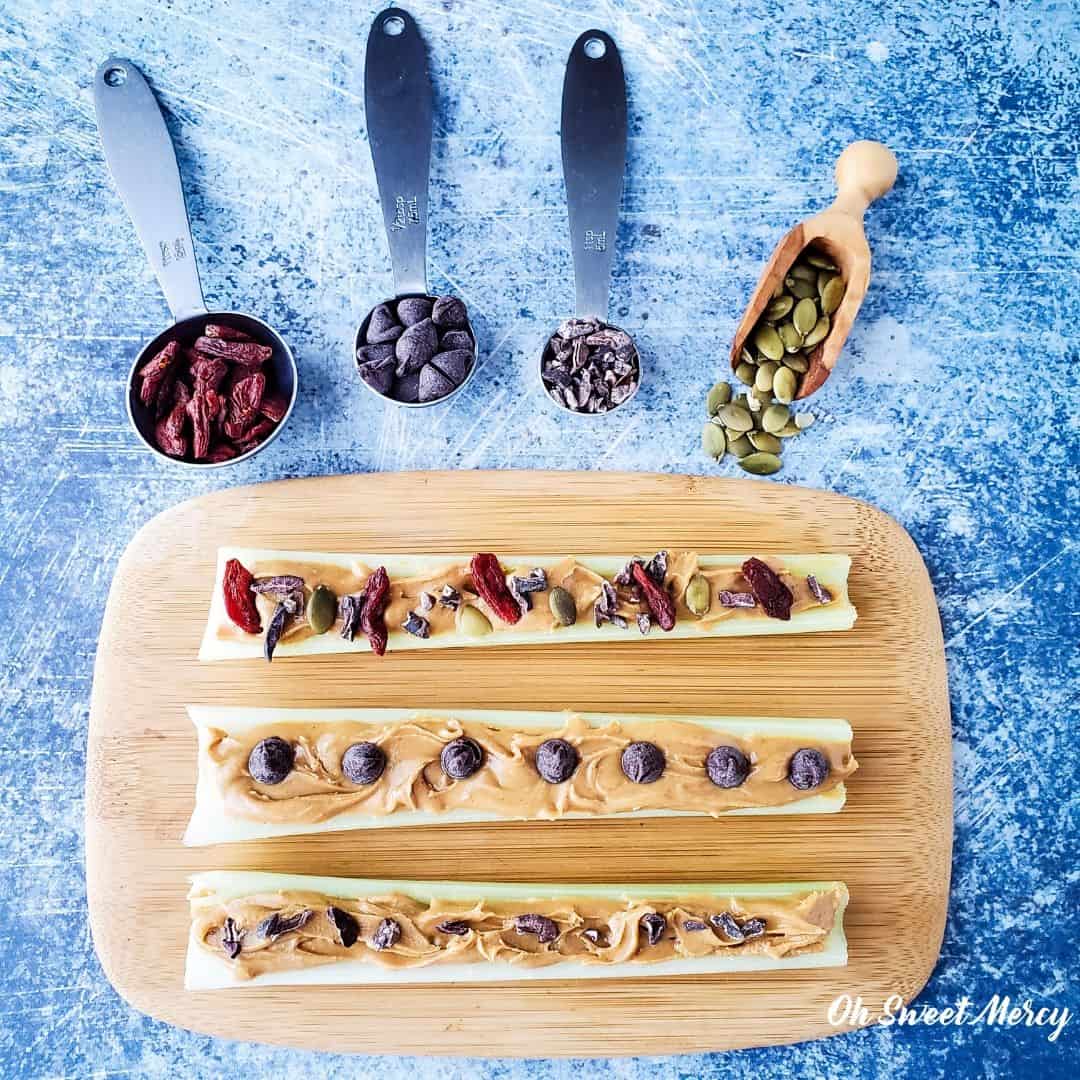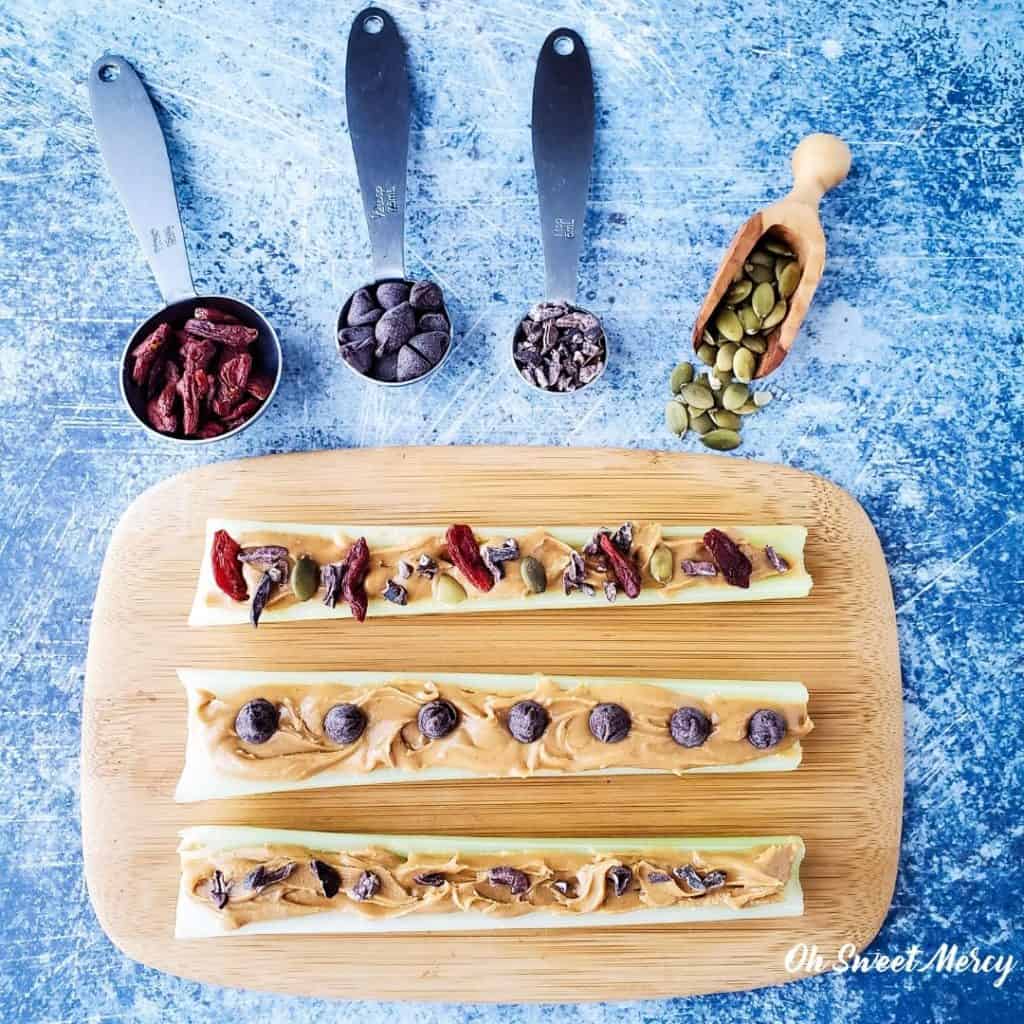 These fun little snacks are an S for the Trim Healthy Mama. What makes it S? The peanut butter, chocolate chips, and/or nuts or seeds that you add.
Using Peanut Junkie Butter for all or part of your peanut butter is a wise, lighter choice. Nuts and nut butters are easily overdone and can cause a stall (or even gains). Adding chocolate chips or nuts and seeds still makes this an S, even with lighter Peanut Junkie Butter.
But, there's nothing wrong with enjoying some good old peanut butter now and then! Just be sure to add some balance to your snacks and go for a lighter ones now and then too.
Do you like ants on a log? Can you believe I'd have so much to say about this simple, classic snack? If you read my posts often, then you know it's par for the course lol.
PIN IT!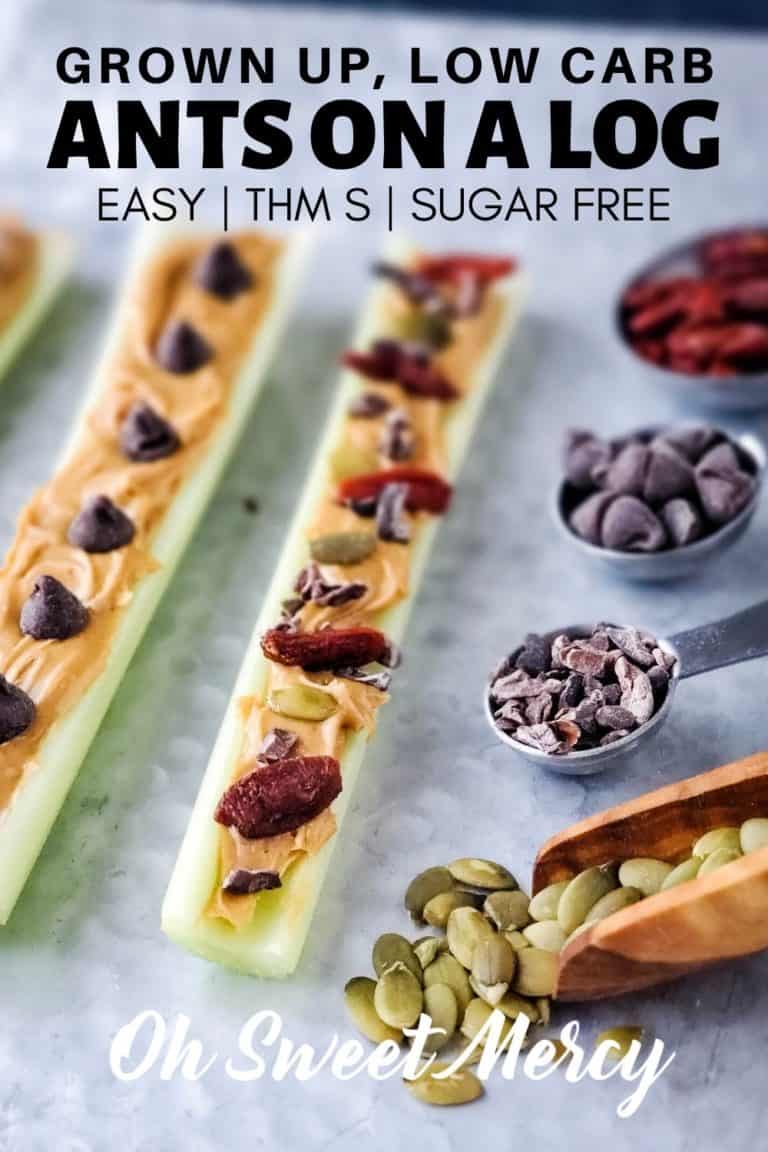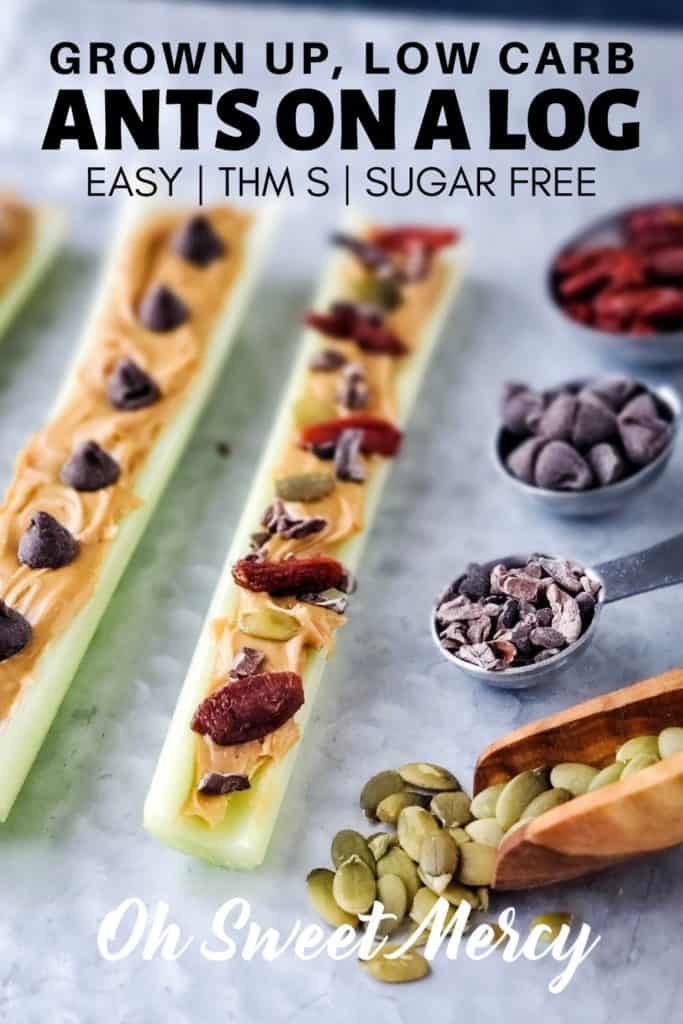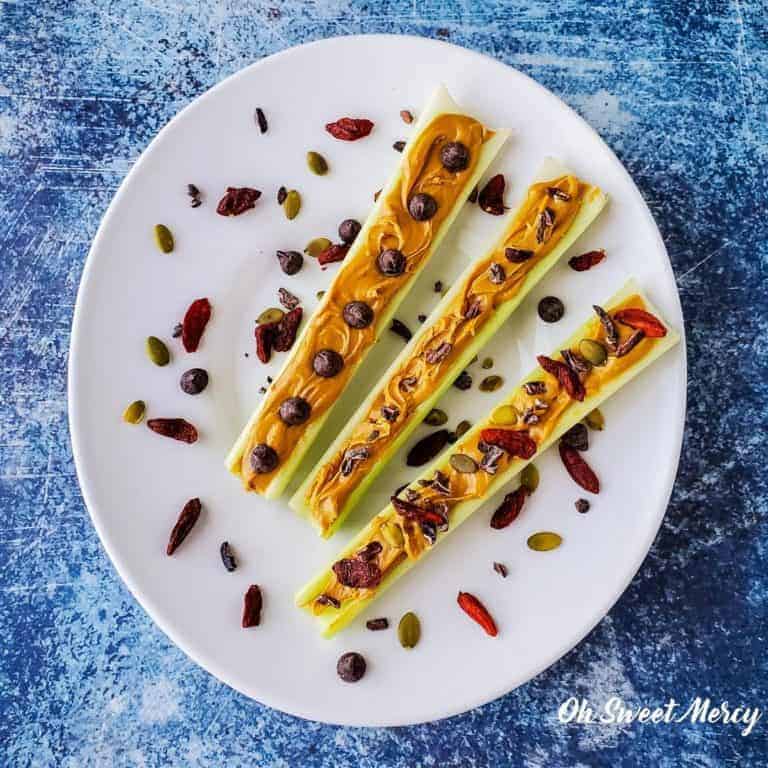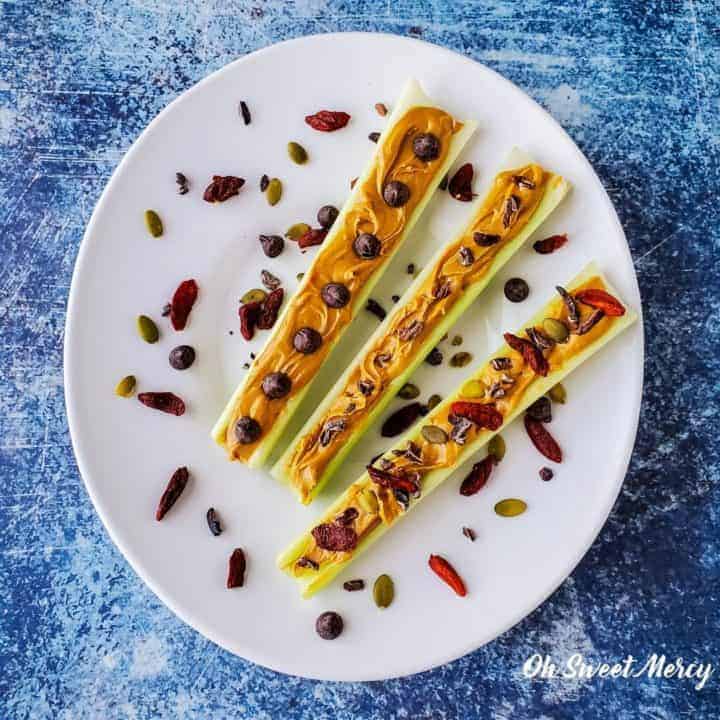 Grown Up Ants On A Log | Low Carb, THM S
Yield: Varies
Prep Time: 5 minutes
Total Time: 5 minutes
Take that childhood favorite up a notch with these easy, healthy, superfood ideas. THM S (with lighter option), vegan, and sugar free.
Ingredients
Celery stalks, washed and trimmed (organic preferred)
No sugar added nut butter of choice (peanut, almond, cashew, etc.)
OR Peanut Junkie Butter (page 481 in the first THM Cookbook) or defatted peanut flour made into peanut butter
On plan sweetener to taste, if desired
High mineral salt, if desired
Topping Ideas
Raw cacao nibs
Dried goji berries
Pumpkin seeds (soaked and dehydrated are amazing!)
Sunflower seeds
Chopped nuts
Sugar free chocolate chips
Instructions
If desired, add sweetener and salt to your nut butter.
Spread nut butter on celery stalks.
Top with desired toppings.
Be a kid again and enjoy 🙂
Notes
NUTRITION NOTES
Nutrition calculated using 3 medium celery stalks, 2 tablespoons no sugar peanut butter, 1 teaspoon cacao nibs, 1 teaspoon pumpkin seeds, and 15 dried goji berries.
Carb total includes uncounted carbs on the THM plan.
Recommended Products
As an Amazon Associate and member of other affiliate programs, I earn from qualifying purchases.
Nutrition Information:
Yield: 1
Serving Size: 3 celery stalks
Amount Per Serving:
Calories: 259.1
Total Fat: 19.6g
Saturated Fat: 3.6g
Unsaturated Fat: .5g
Sodium: 282.9mg
Carbohydrates: 14.2g
Net Carbohydrates: 12.1g
Fiber: 3.9g
Sugar: 6.4g
Protein: 11.5g