---
Packed with non-starchy veggies, this easy turkey, fennel, and swiss chard hash is simply seasoned with fresh garlic, salt, and a splash of balsamic vinegar. So easy to customize with whatever you have on hand. And, a great no-egg breakfast for the Trim Healthy Mama looking for something different or a quick and easy lunch or dinner.
---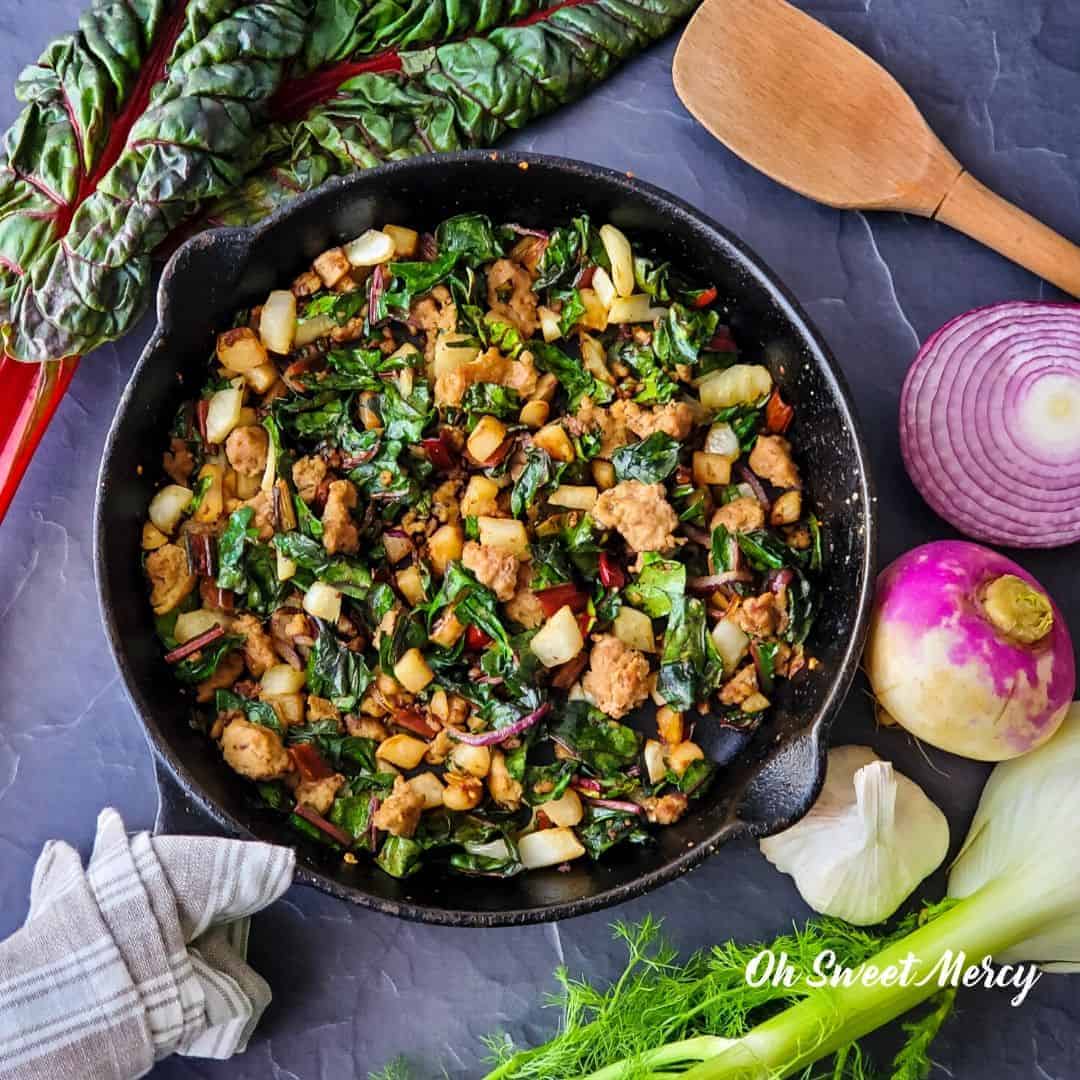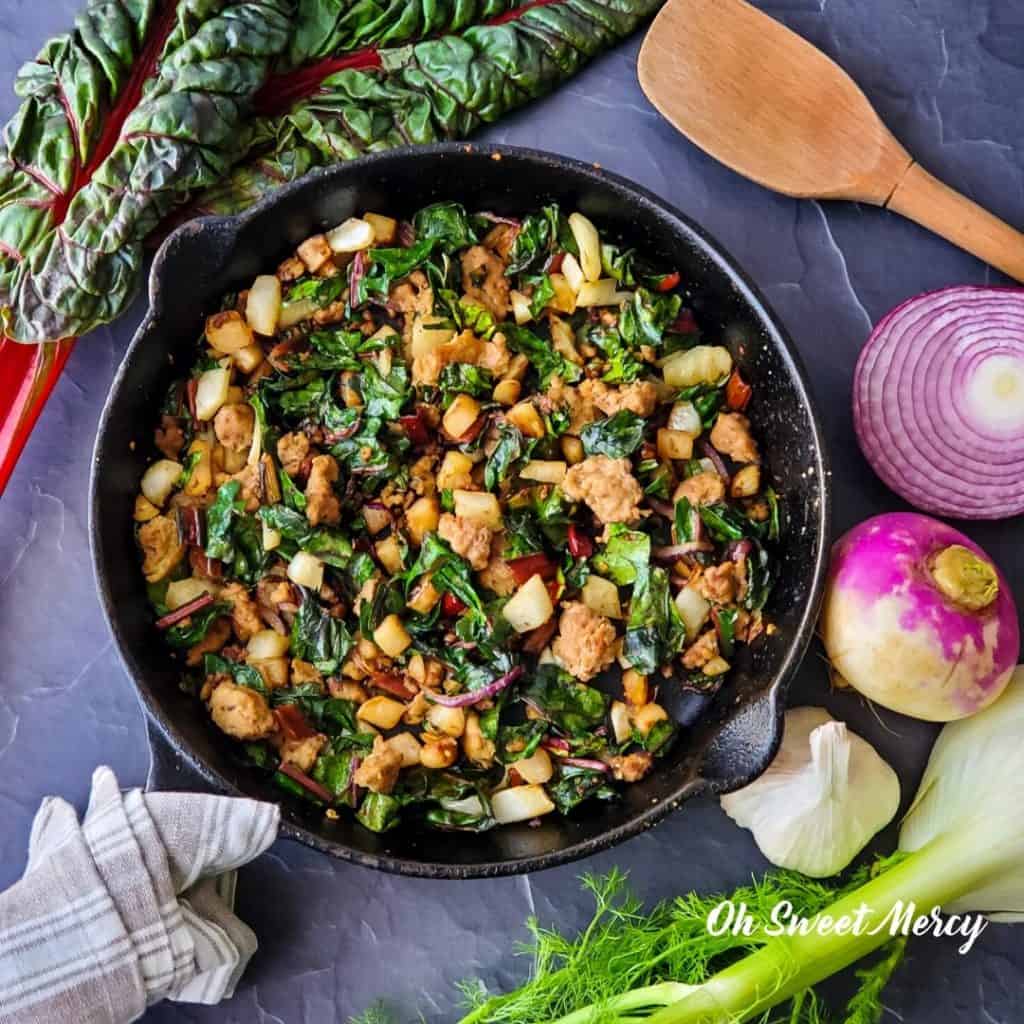 Are you adventurous with new foods? Or, do you tend to stick to the same things because they're safe and you know you like them?
I fall somewhere in between. When it comes to produce, I'll pretty much try anything once. Meats, well, I follow the dietary commands in Leviticus so there are plenty of meats that will not pass my lips.
Dietary commands aside, I'd still never eat oysters, snails, bats, snakes, or other "exotic" meats.
This month I tried a few new vegetables while developing a new soup recipe for Traditional Cooking School. I'll hopefully remember to link to it once it's published in March! It's a delicious, low fat, THM E soup.
What did I try? Swiss chard, turnips, and fennel. Although, I've actually had fennel before but have never really worked with it.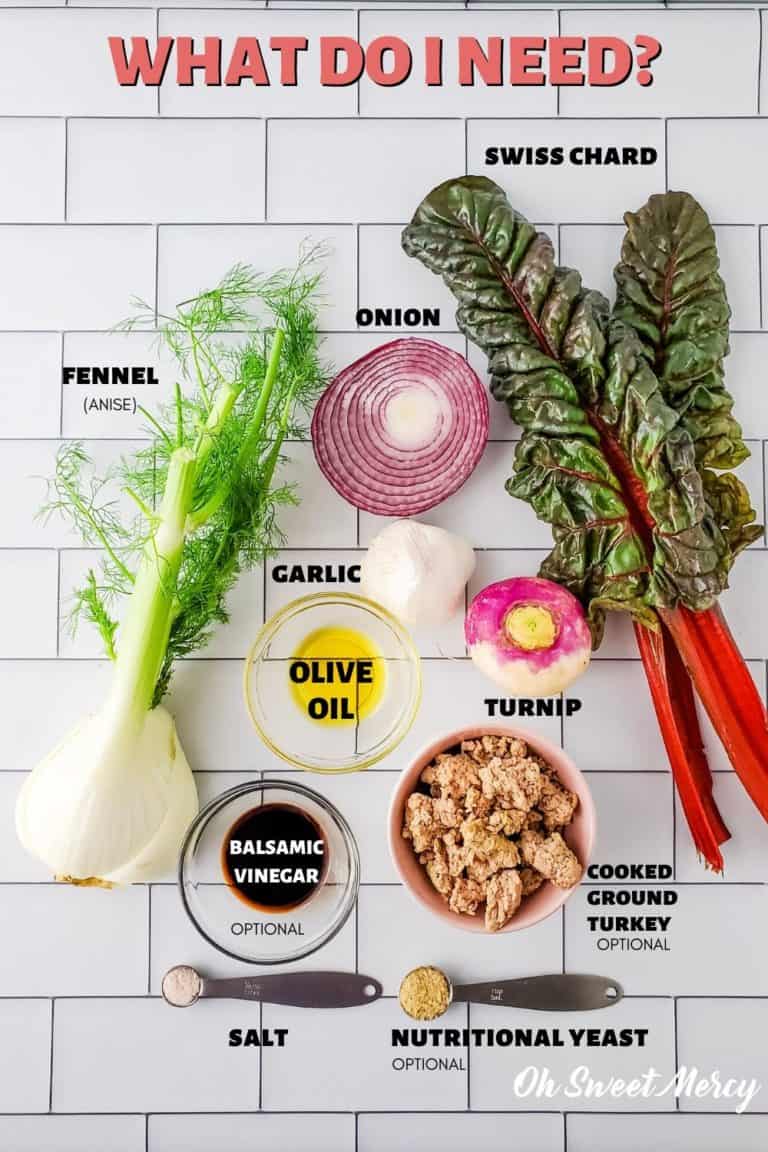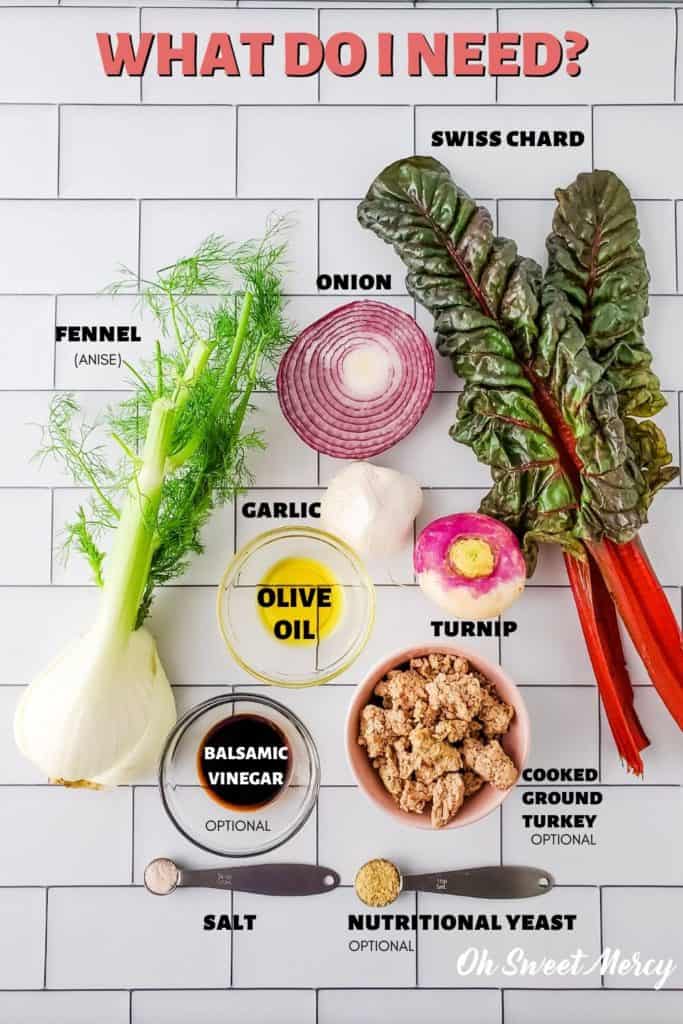 What Is Swiss Chard and Why Is It Healthy?
Swiss chard is actually a type of beet. Only the stems and leaves are used, unlike actual beets where the root is also consumed. It's even easy to grow yourself.
A dark, leafy green vegetable, Swiss chard is a very healthy non-starchy to add to your meals. It's also known as sea beet, spinach beet, or silverbeet.
Some benefits of Swiss chard include:
High in antioxidants and phytonutrients that help fight cancer such as quercitin and beta-carotene
Helpful in regulating blood sugar, thanks to the high fiber content and nutrients which appear to aid the pancreas.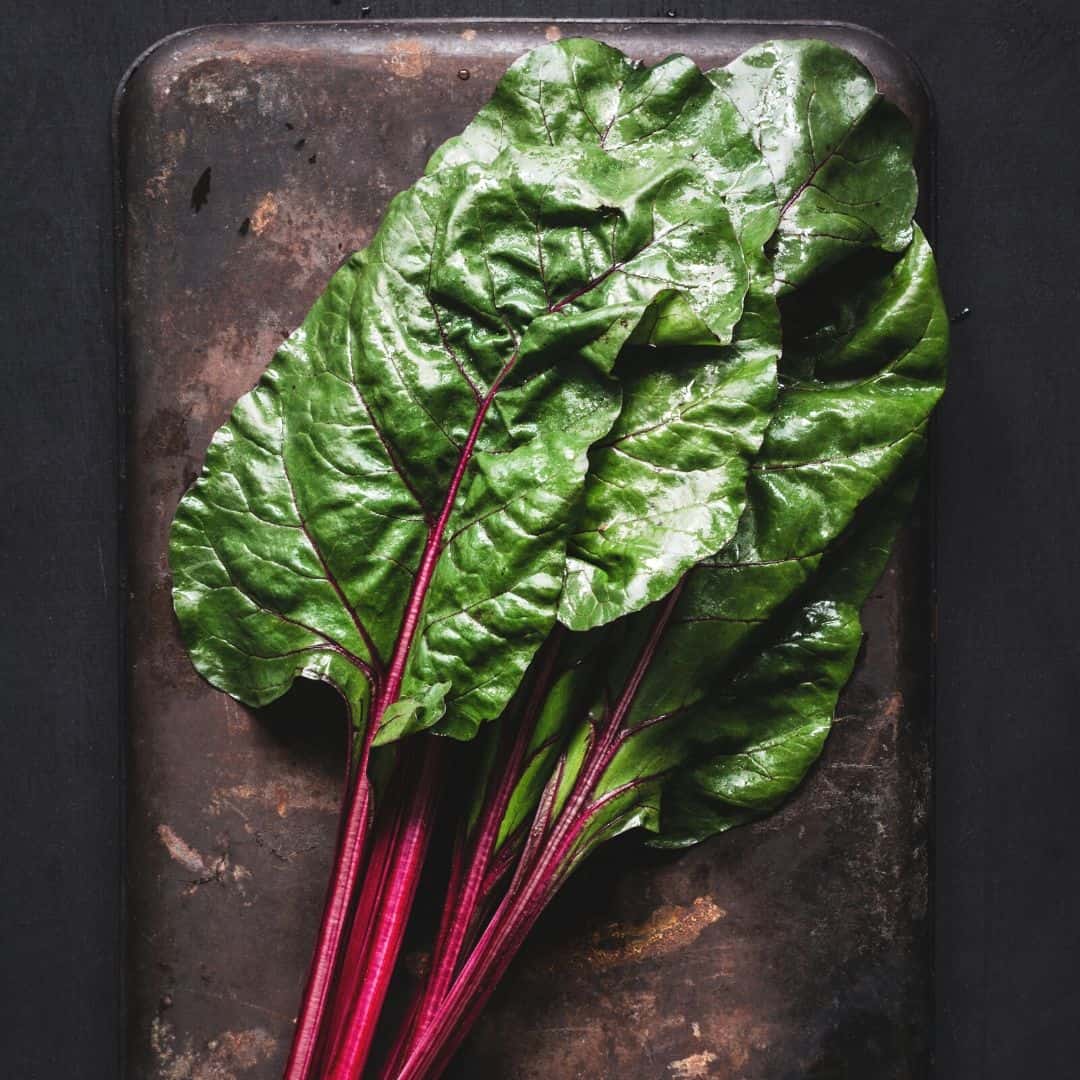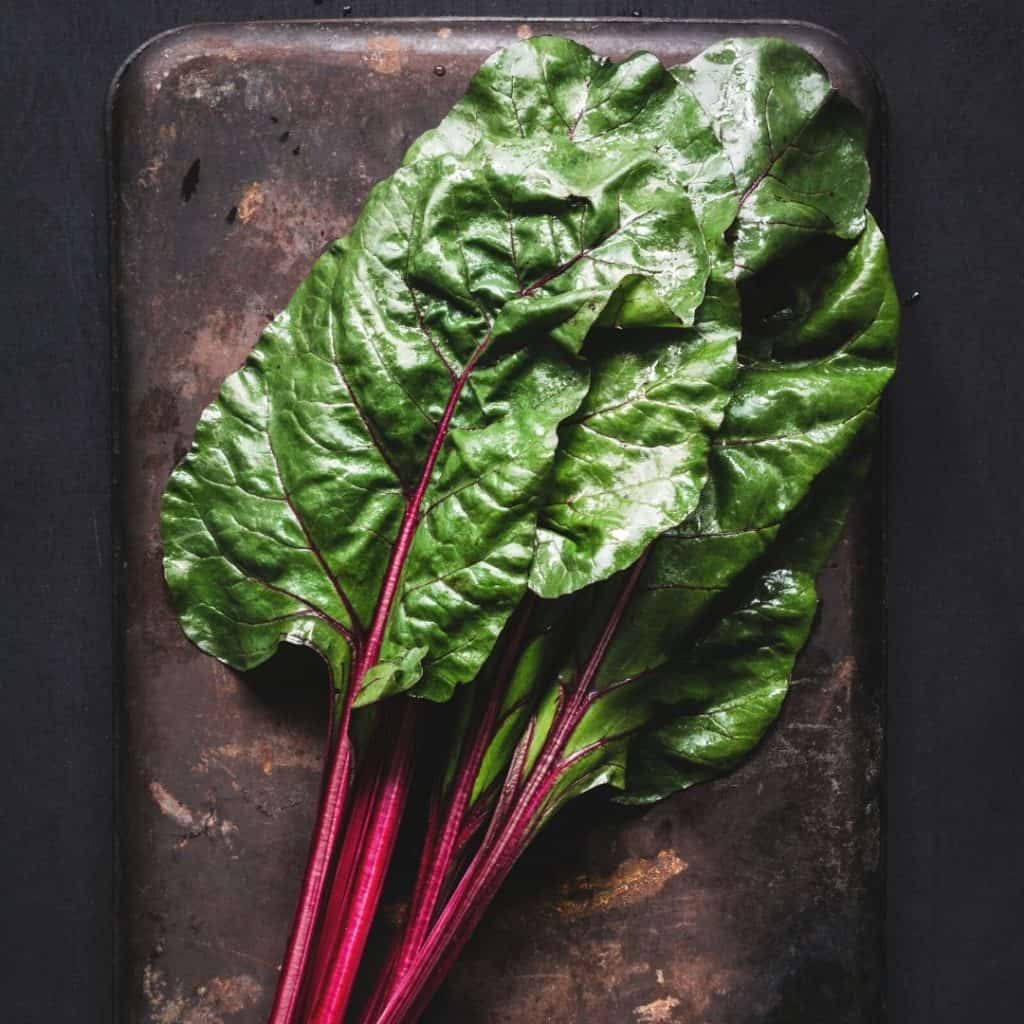 Cautions About Swiss Chard (and Other Dark, Leafy Greens).
However, be aware that it is high in oxalic acid just like kale, spinach, and other dark, leafy greens.
Oxalic acid actually binds with calcium and magnesium, which then get excreted from our bodies. We need those minerals!
Cooking helps reduce the oxalate content, making them safer to eat. However, if you're prone to developing kidney stones you might consider skipping foods with high oxalates all together.
Like to add spinach to your smoothies but concerned about oxalates? This easy way to prep spinach "pucks" for smoothies is just the thing.
What Is Fennel and Why Is It Healthy?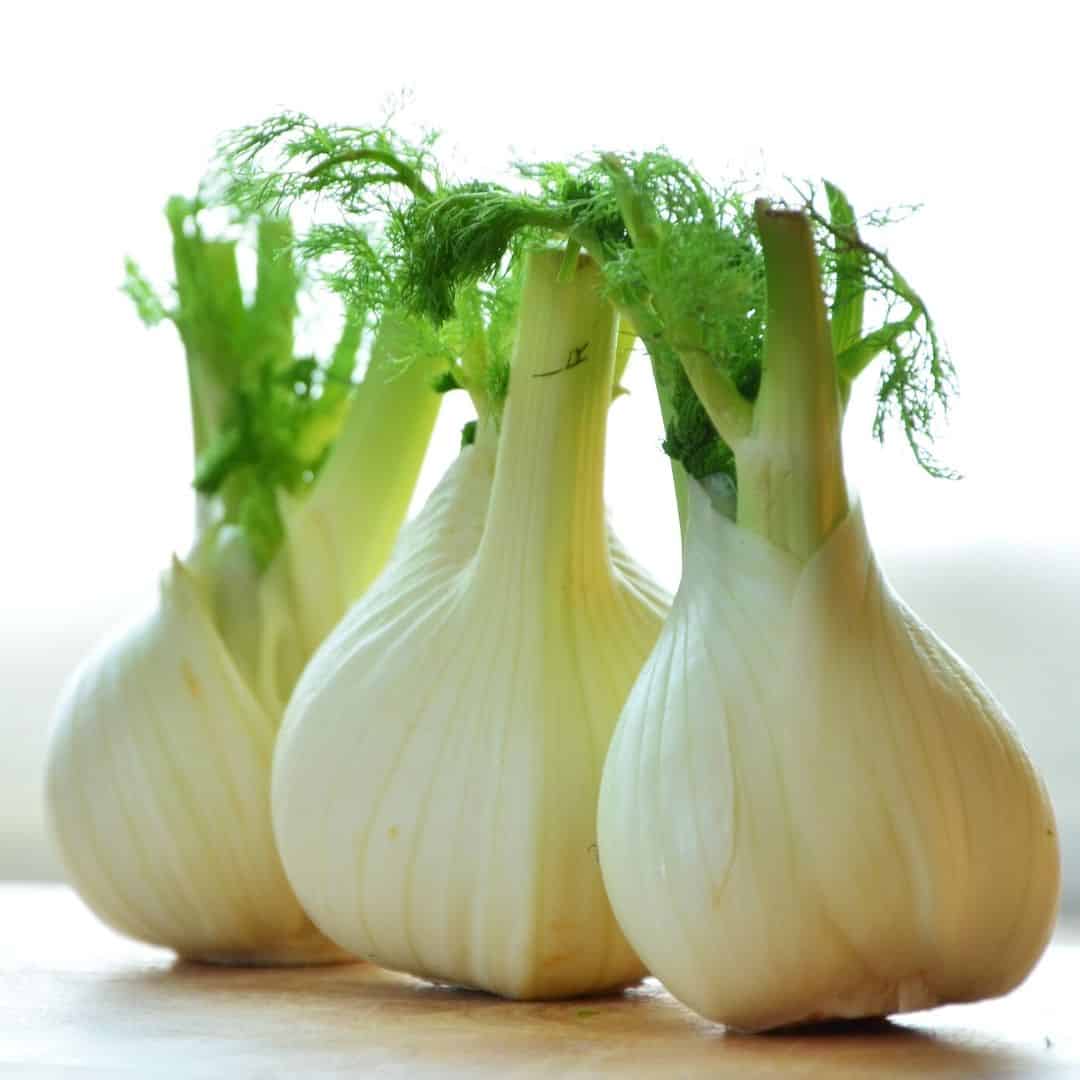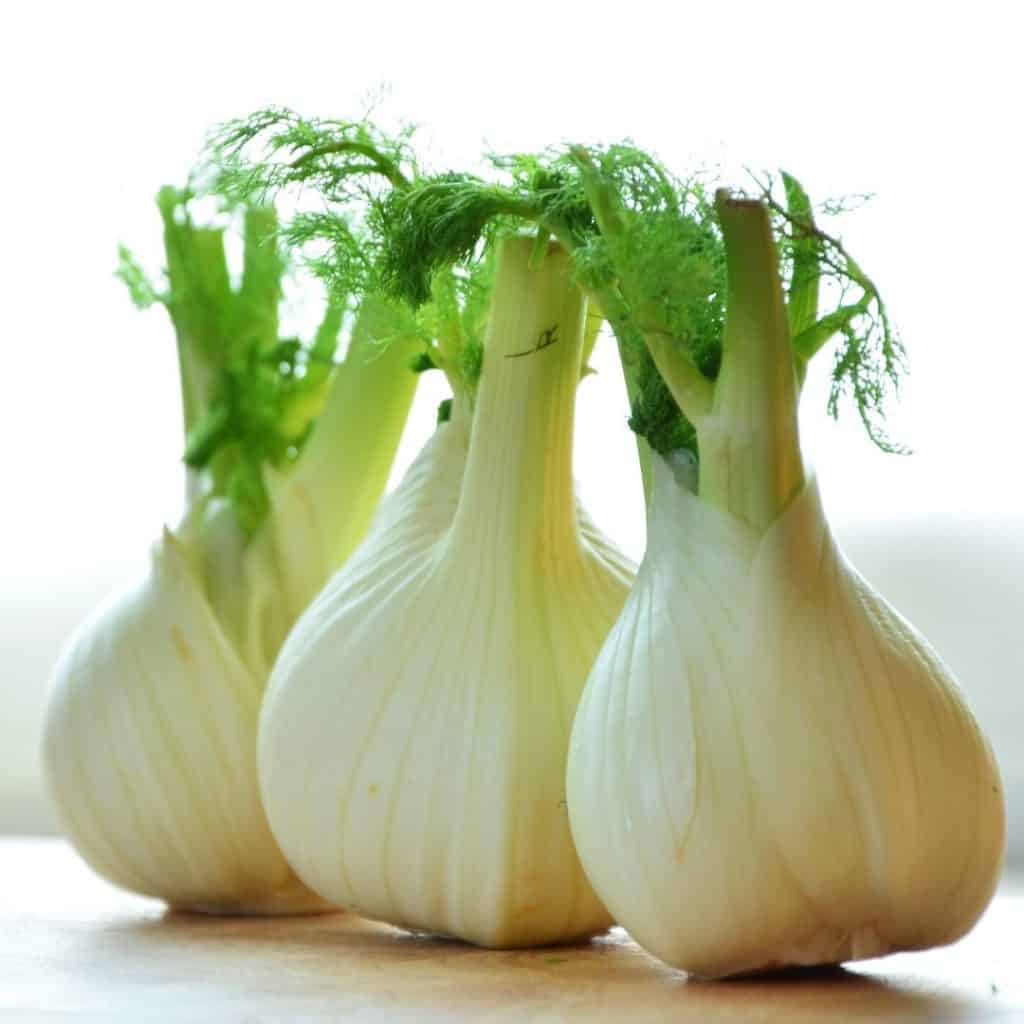 Fennel has an anise flavor, like black licorice. It's also labeled anise in some stores. The bulb, stems, and fronds are all edible. Raw or cooked, it's a delightful addition to many dishes.
Fennel has an impressive amount of vitamin C, is low in carbs, and high in fiber. It's also a good source of potassium.
It's long been used to aid digestion, either by chewing the seeds after a meal or by brewing a tea with the seeds.
The Fennel 'n Figs Feel Better Shake on page 485 in Trim Healthy Table is delicious! This recipe calls for fennel seeds and not the bulb. You don't even need to feel bad to make and enjoy it.
Also, if you're a nursing mom fennel seed can help with breast milk production.
Need shakes and smoothies ideas? I have some for you! Check out my Beverages category.
Turnips: A Healthy Sub For Potatoes.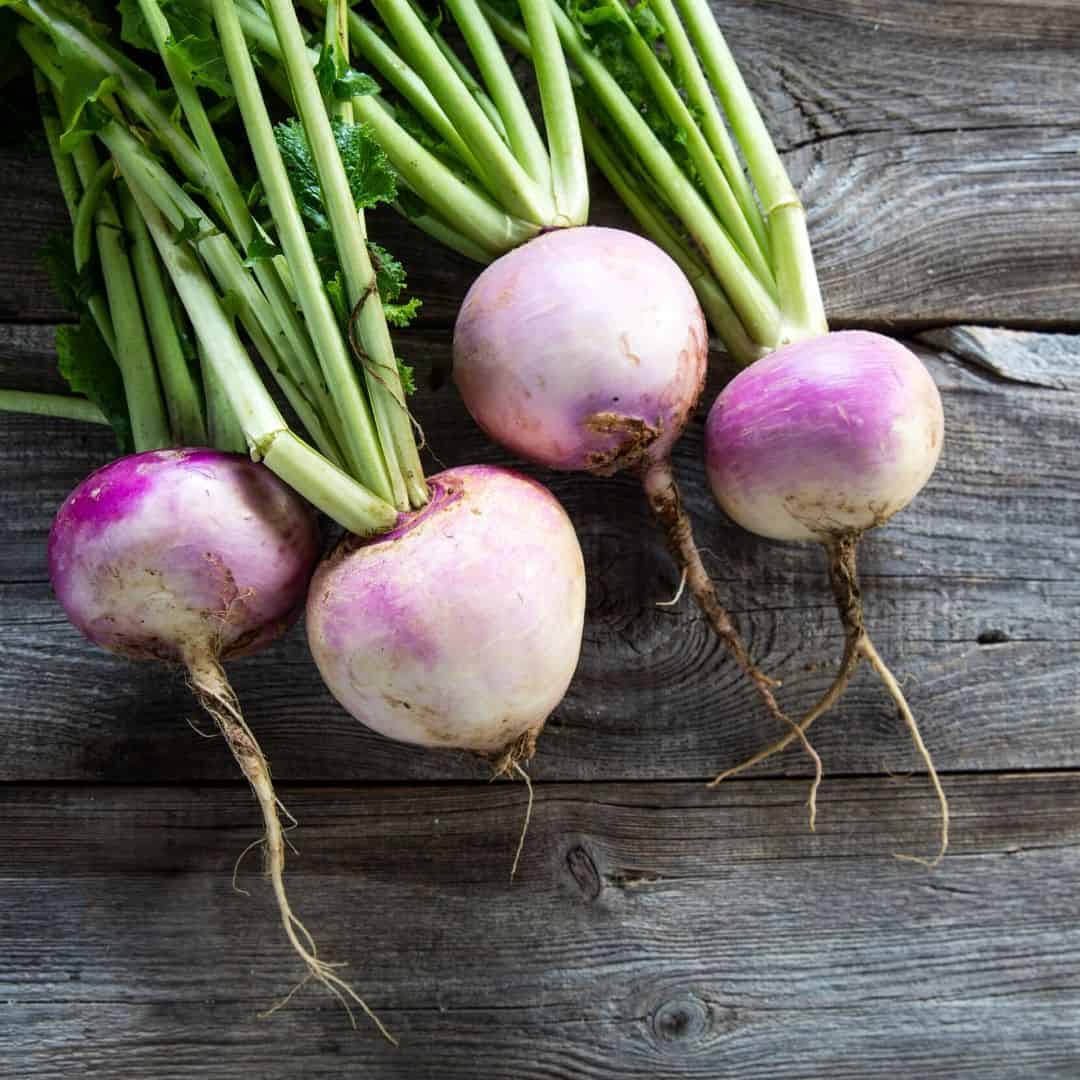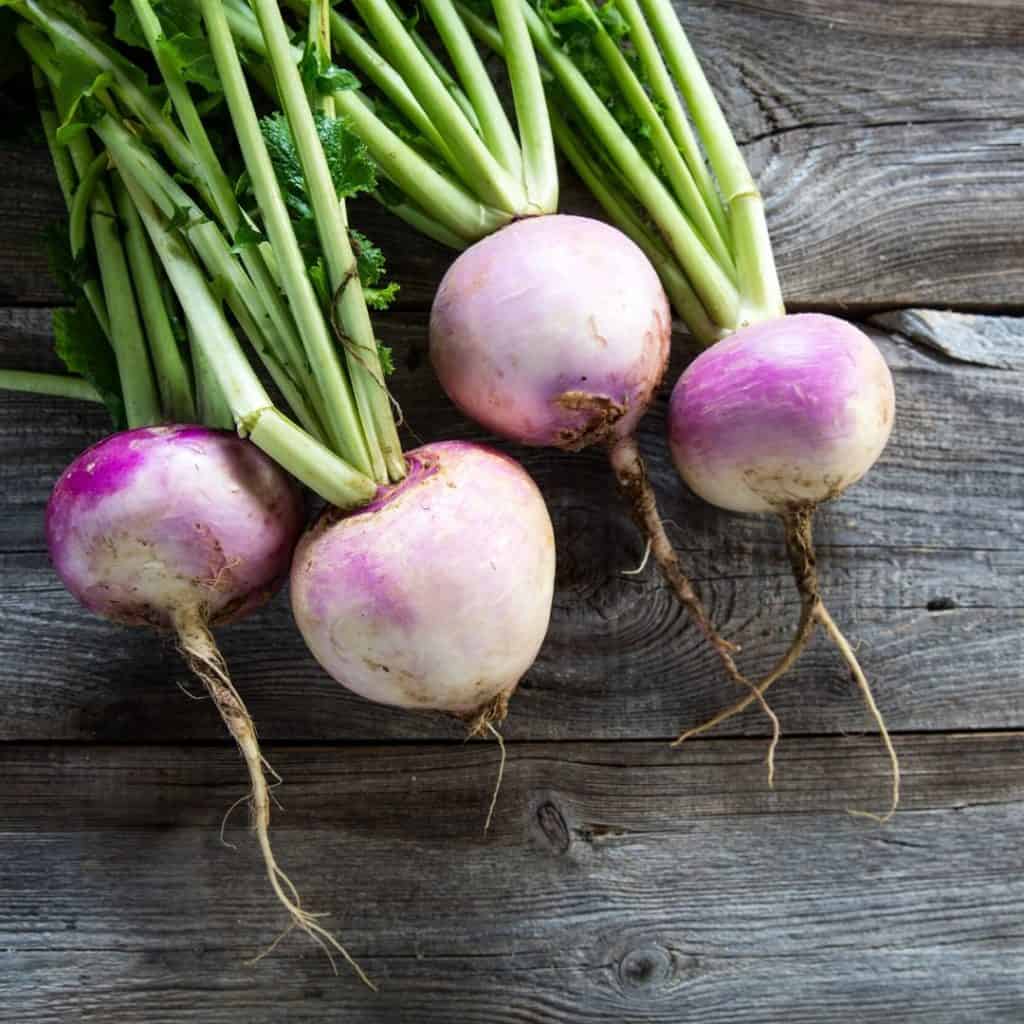 Turnips are not something I grew up eating. I don't know where I got the idea that turnips are disgusting but that's always been in the back of my mind.
Raw turnips smell somewhat like horseradish, which I do like. But once cooked, they only have a faint turnip-y flavor…kind of sort of like horseradish in a vague way.
Their texture, however, is the big winner. When cooked, turnips are remarkably like potatoes! They also brown nicely like potatoes!
Of course, I looked into what's healthy about turnips and was shocked at what these humble little roots contain. Here's just a few healthy properties of turnips (the greens have tons of nutrients, too).
Thanks to vitamin K, they have anti-inflammatory properties.
Turnips have high levels of calcium and potassium! Essential for strong bones and healthy connective tissues.
They're also rich in vitamin C.
High fiber content helps with weight loss, blood sugar regulation, and keeping the colon clean.
Have Thyroid Problems? Read This!
While turnips are full of nutritioun, people with thyroid problems should limit or avoid turnips. They're goitrogenic, which means they contain substances that can interfere with thyroid function.
THM E meals help nourish and heal your thyroid and adrenals. Give my Creamy Berry Quinoa Bowl, Loaded Sweet Potato Fries, Chicken Taco Stuffed Sweet Potatoes, or Creamy Autumn Apple Salad a try.
A Surprisingly Delicious Combination!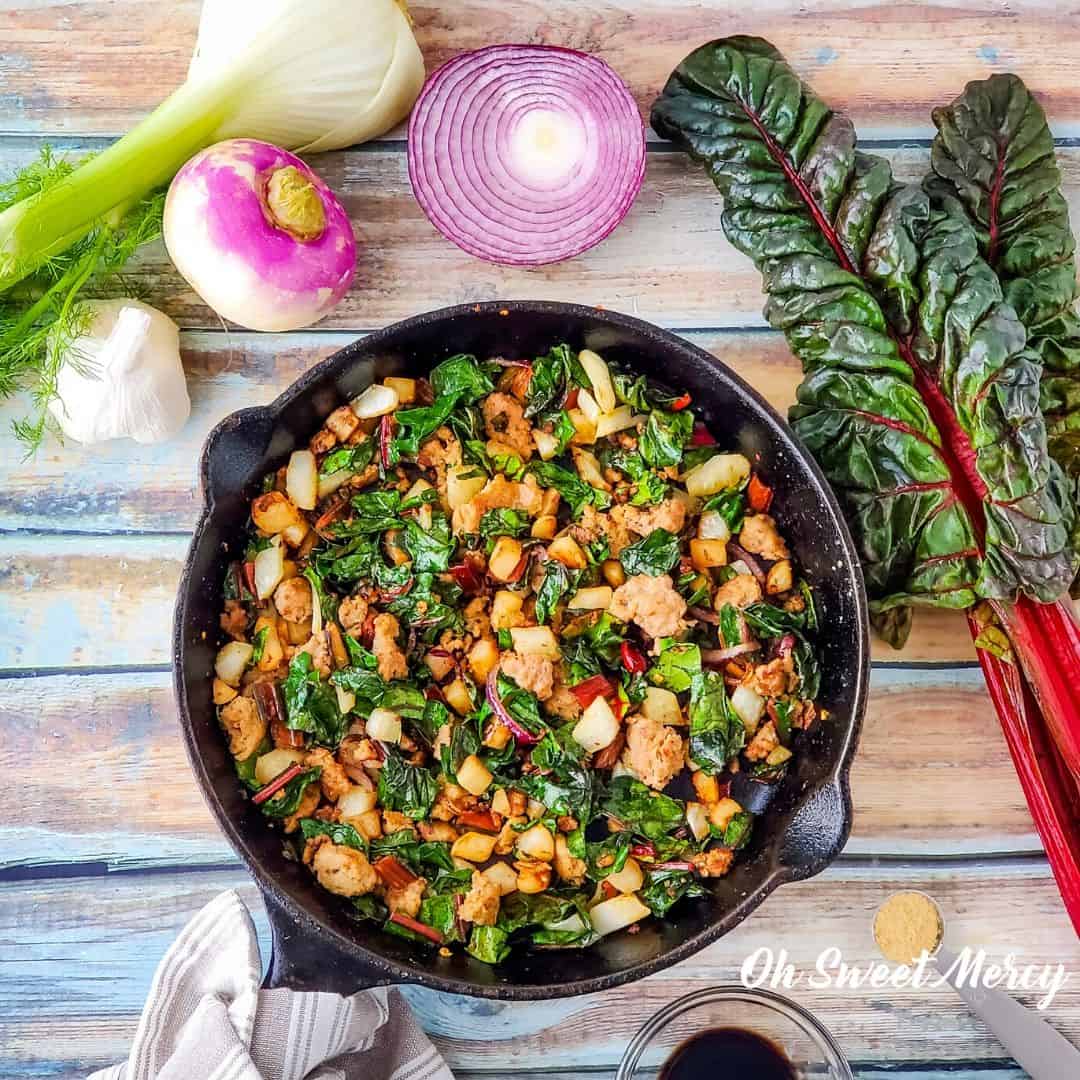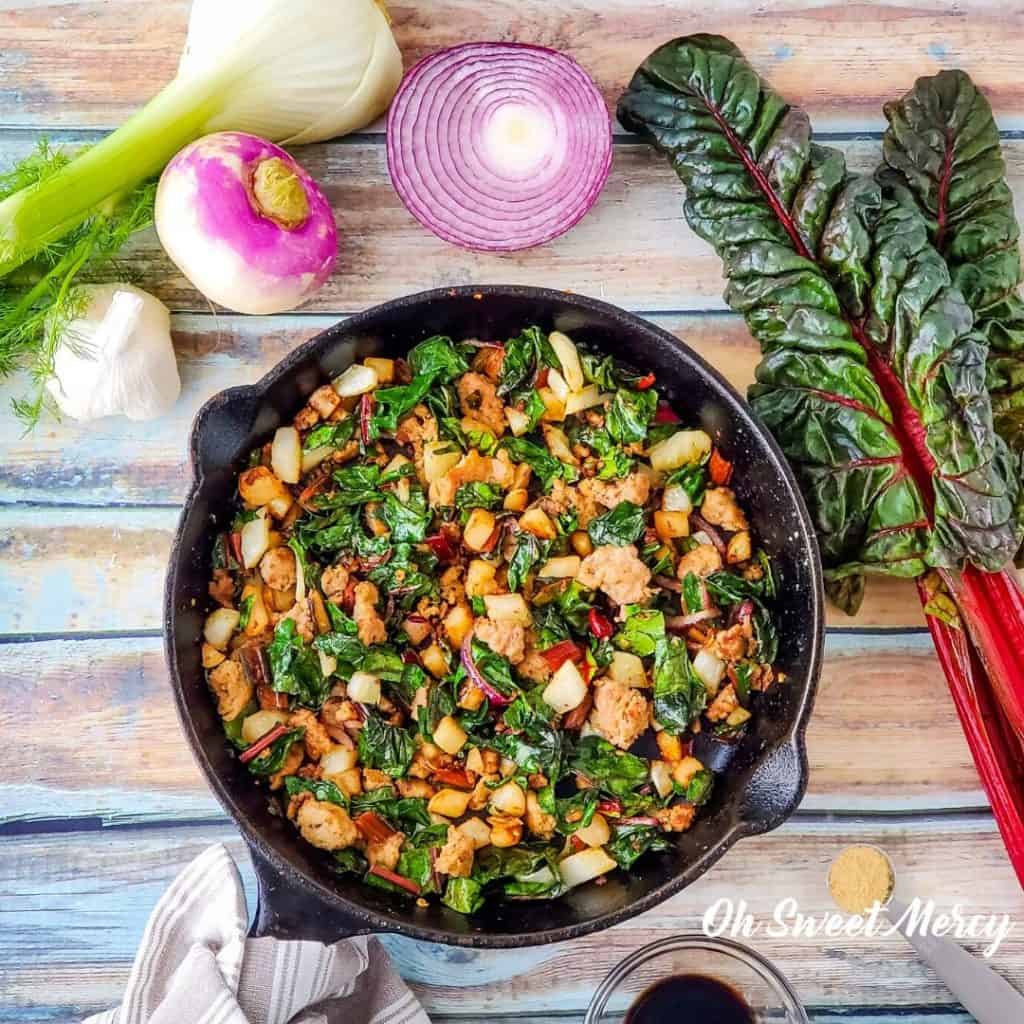 So, here's the thing…I don't like beets or black licorice. And there's the whole turnips-are-gross thing.
But, I'm SO glad I tried these healthy veggies anyway! I threw together this easy low carb hash for breakfast and it was divine!
The chard did not taste like beets (yay!), and the fennel left only a hint of anise flavor. Some bites I didn't taste any anise at all, others were a slightly stronger, but not overpowering flavor of licorice.
It was actually quite lovely! It just gave an extra dimension of flavor to the dish that's very enjoyable.
How To Make Turkey, Fennel, and Swiss Chard Hash (or Make It Your Own).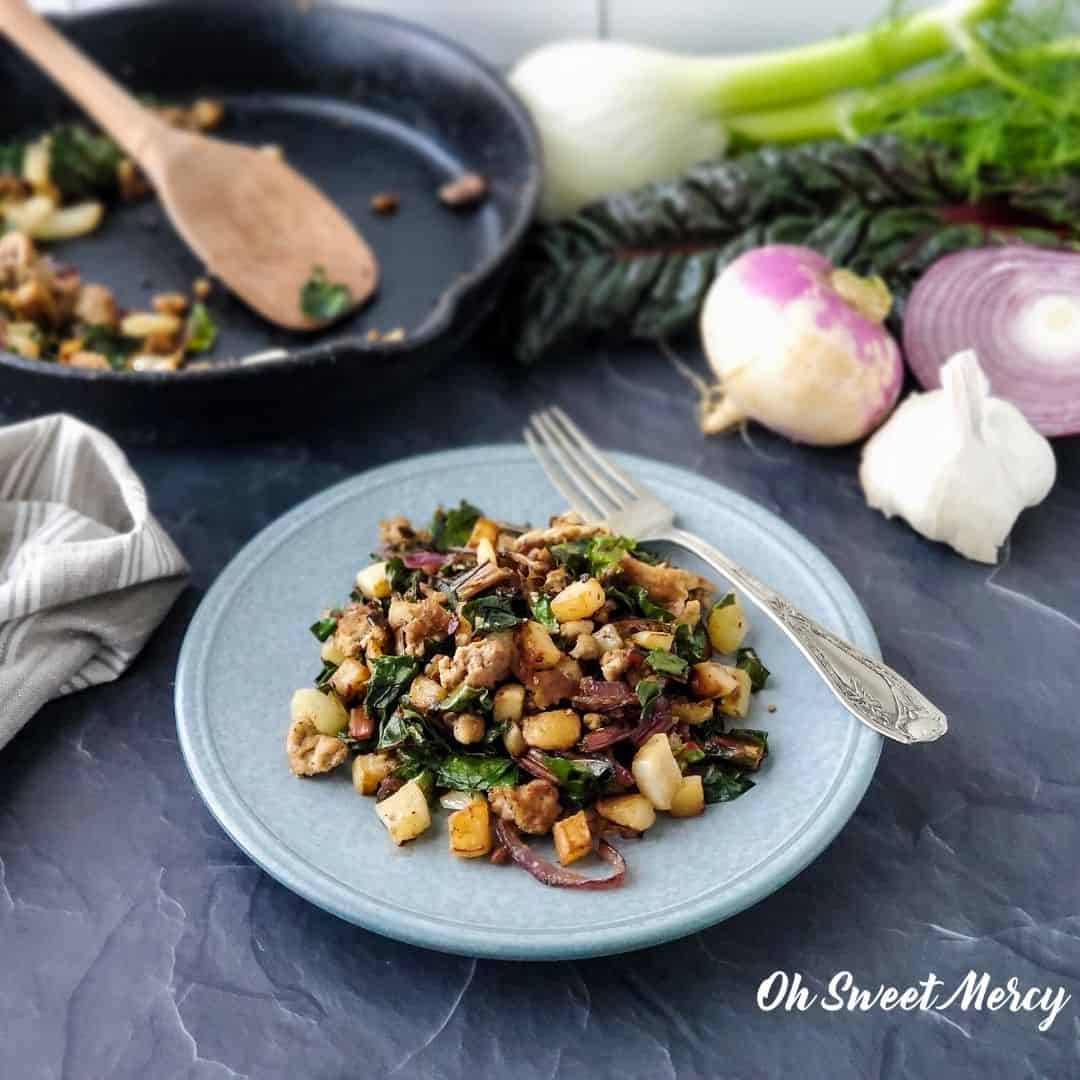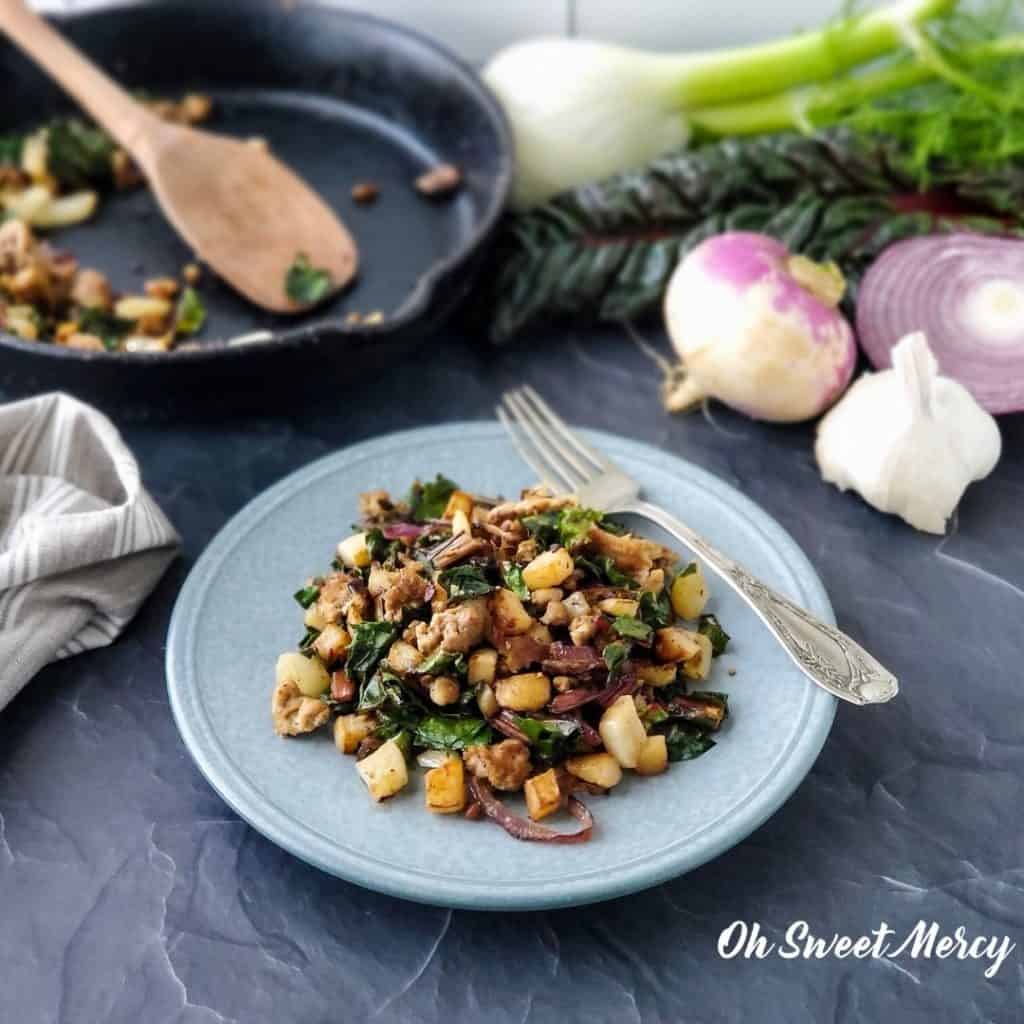 This dish is one of those not really a recipe recipes. I've given measurements below but honestly, just chop some stuff up and throw it in there.
There are a few things to keep in mind though!
Separate firm veggies (like turnips and onions) from more delicate ones, such as the leaves of the chard.
Cook your firmer veggies first, until al dente (or still a bit firm). If using turnips, cook those alone first until they start to brown a bit, then add the fennel, onions, and sliced Swiss chard stems (and meat, if using).
Finally, add your delicate greens and veggies last, along with fresh garlic, and saute for about 5 to 8 minutes.
Then, just season with salt, balsamic vinegar, and nutritional yeast if you like. So easy!
To make this your own, add or substitute your favorite veggies instead. Zucchini, mushrooms, kale, spinach, parsnips, celery, and more are great choices.
Leave the meat out for a fantastic veggie side dish along with eggs for breakfast (or add whisked eggs right to it and make it a scramble). It makes a delightful side served with your main dish for lunch or supper.
How to Fit This Turkey, Fennel, and Swiss Chard Hash Into Your THM Meal Plan.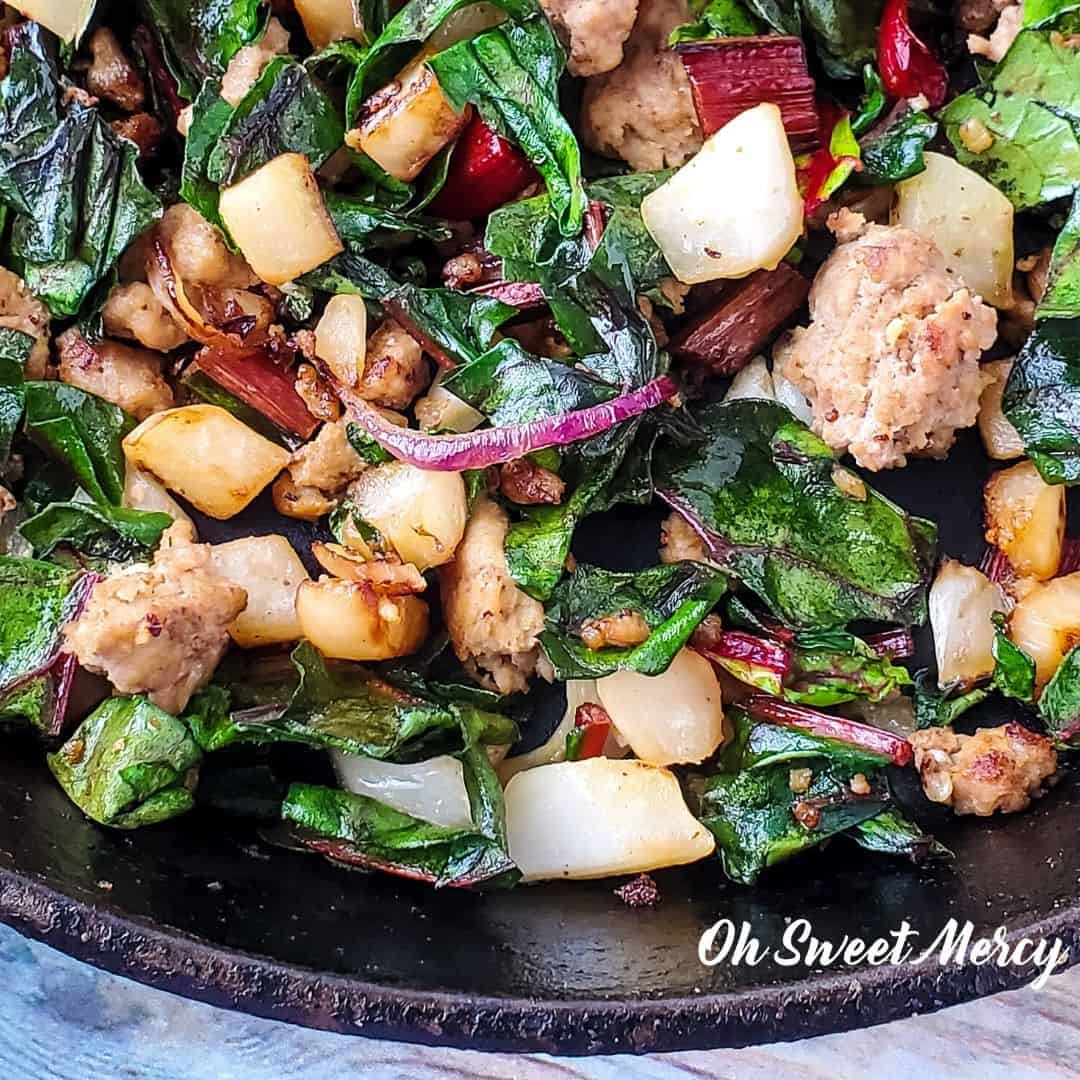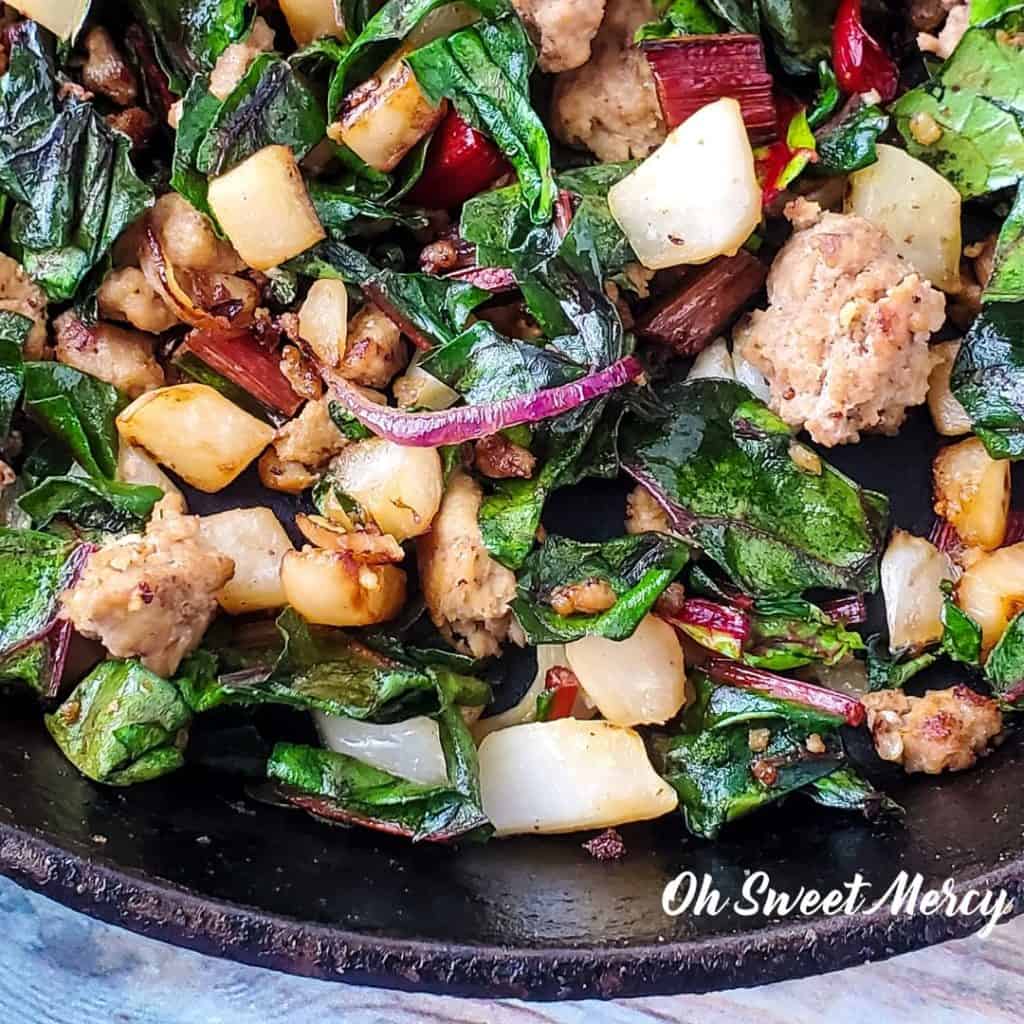 This is a nourishing, low carb, THM S meal. Easily transform this into a Deep S by omitting the onions and using lemon juice or ACV instead of balsamic vinegar.
TIP: If substituting any veggies to make a Deep S meal, be sure to avoid any that are not suitable for Deep S, such as tomatoes, peas, or even garnish amounts of carrots, for example. These are ok in moderation for regular S meals.
Since it's made with a decent amount of healthy fats, keep the carbs in the rest of your meal very low.
Whether you make easy Swiss chard hash for breakfast, lunch, or dinner it will satisfy and nourish! If you haven't tried something new lately, be brave – you just might broaden your taste horizons a bit 😉
PIN IT!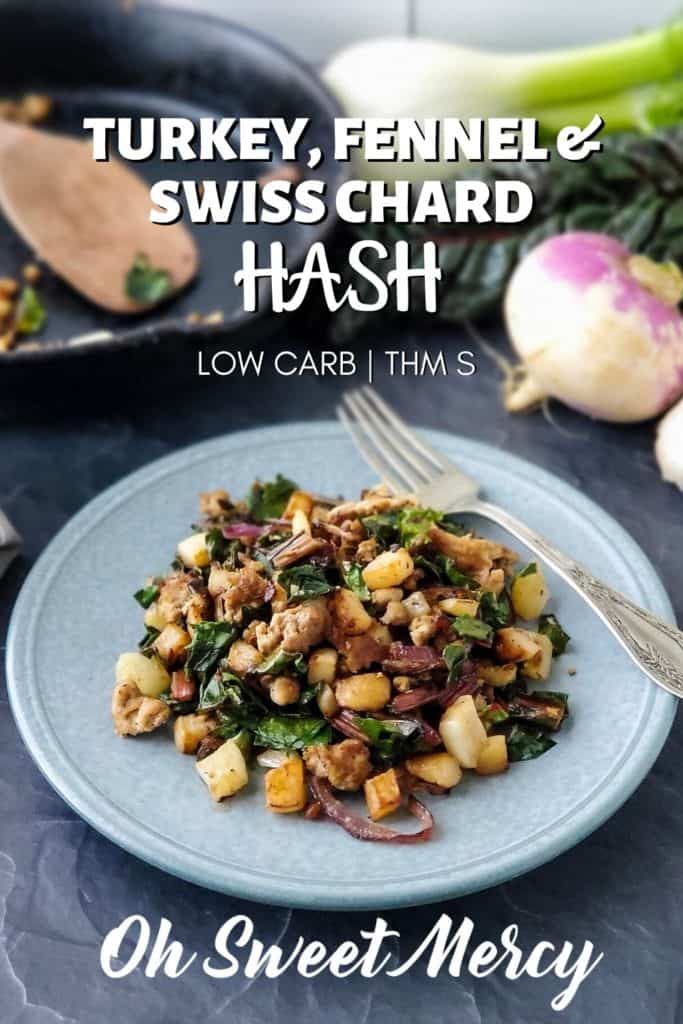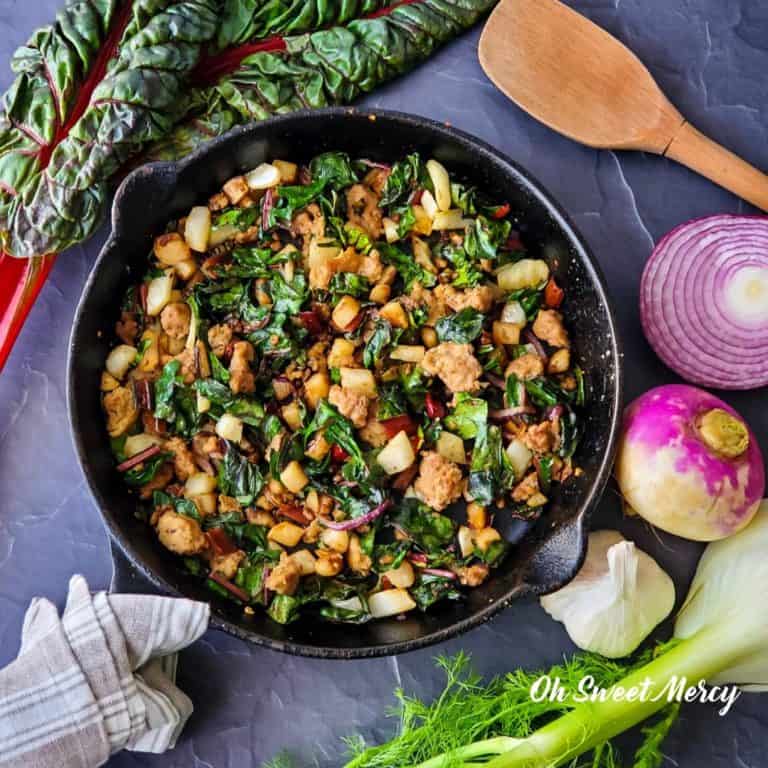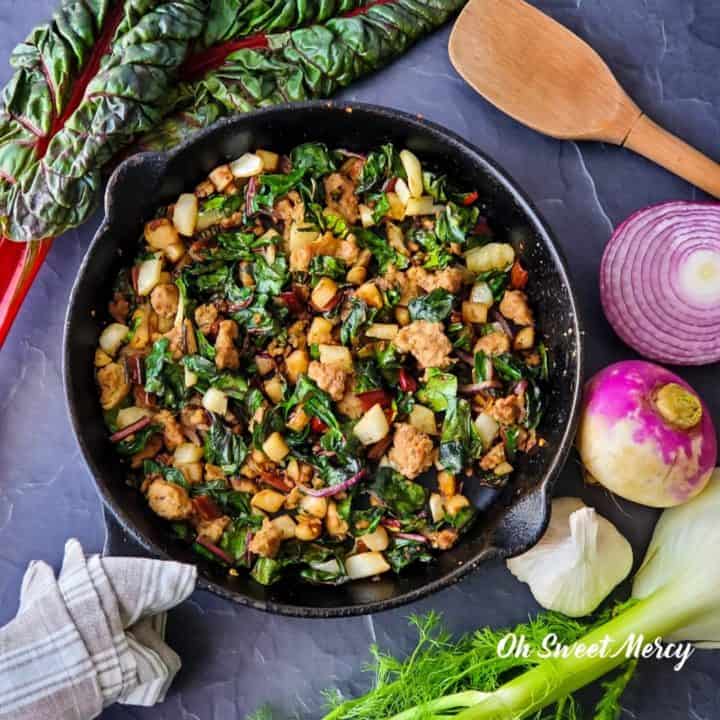 Turkey, Fennel, and Swiss Chard Hash | Low Carb, THM S
Yield: 1 serving
Prep Time: 5 minutes
Cook Time: 20 minutes
Total Time: 25 minutes
Packed with non-starchy veggies, this easy turkey, fennel, and swiss chard hash is simply seasoned with fresh garlic, salt, and a splash of balsamic vinegar. So easy to customize with whatever you have on hand. And, a great no-egg breakfast for the Trim Healthy Mama looking for something different or a quick and easy lunch or dinner.
Ingredients
1 tablespoon olive oil or other healthy fat or more as desired
1 small turnip, diced small (about 3/4 cup)
4 to 6 small Swiss chard leaves (or 2 large), stems and greens chopped and separated
1/2 cup sliced and chopped fennel
1/4 cup chopped onion
1/2 cup cooked ground turkey or meat of choice (optional)
2 cloves fresh garlic, pressed or minced
Salt to taste
Balsamic vinegar, ACV, or fresh lemon juice (optional)
Nutritional Yeast (optional)
Other non-starchy veggies as desired or to substitute
Instructions
Heat cooking fat in a skillet and add diced turnips. Sprinkle with salt and cook for around 7 to 8 minutes, turning several times, until they're beginning to brown.
Add chopped Swiss chard stalks, onion, fennel, and cooked meat and cook for 5 to 7 minutes or until fennel begins to soften. Stir frequently.
Add garlic and and chopped chard leaves and cook for 5 to 8 minutes, stirring frequently.
Salt to taste then remove to a plate. Sprinkle balsamic vinegar, ACV, or fresh lemon juice over the hash and nutritional yeast, if desired.
Notes
NUTRITION NOTES:
On the Trim Healthy Mama plan, we don't count the carbs in our non-starchy veggies so don't freak out that the nutrition information shows 24.9 grams of carbs...there's 9.2 grams of fiber so that's a net carb amount of 15.7 grams...that we don't count anyway 😉
Recommended Products
As an Amazon Associate and member of other affiliate programs, I earn from qualifying purchases.
Nutrition Information:
Yield: 1
Serving Size: 1
Amount Per Serving:
Calories: 401.7
Total Fat: 22.5g
Saturated Fat: 4.6g
Trans Fat: 0g
Unsaturated Fat: 11.8g
Cholesterol: 80mg
Sodium: 800.3mg
Carbohydrates: 24.9g
Net Carbohydrates: 15.7g
Fiber: 9.2g
Sugar: 7.6g
Protein: 30.4g
Nutrition information is approximate and based on the best knowledge available at the time of recipe publication. Your results may vary due to differences in ingredients. You can make your own calculations if this recipe does not include nutrition info by using an online calculator such as https://recipes.sparkpeople.com/recipe-calculator.asp