---
These frozen Black Forest Cherry Pops make a quick low fat, THM E snack or dessert. Dark, sweet cherries nestled in fat free vanilla and chocolate Greek yogurt and frozen on a stick. Perfect for hot summer days!
---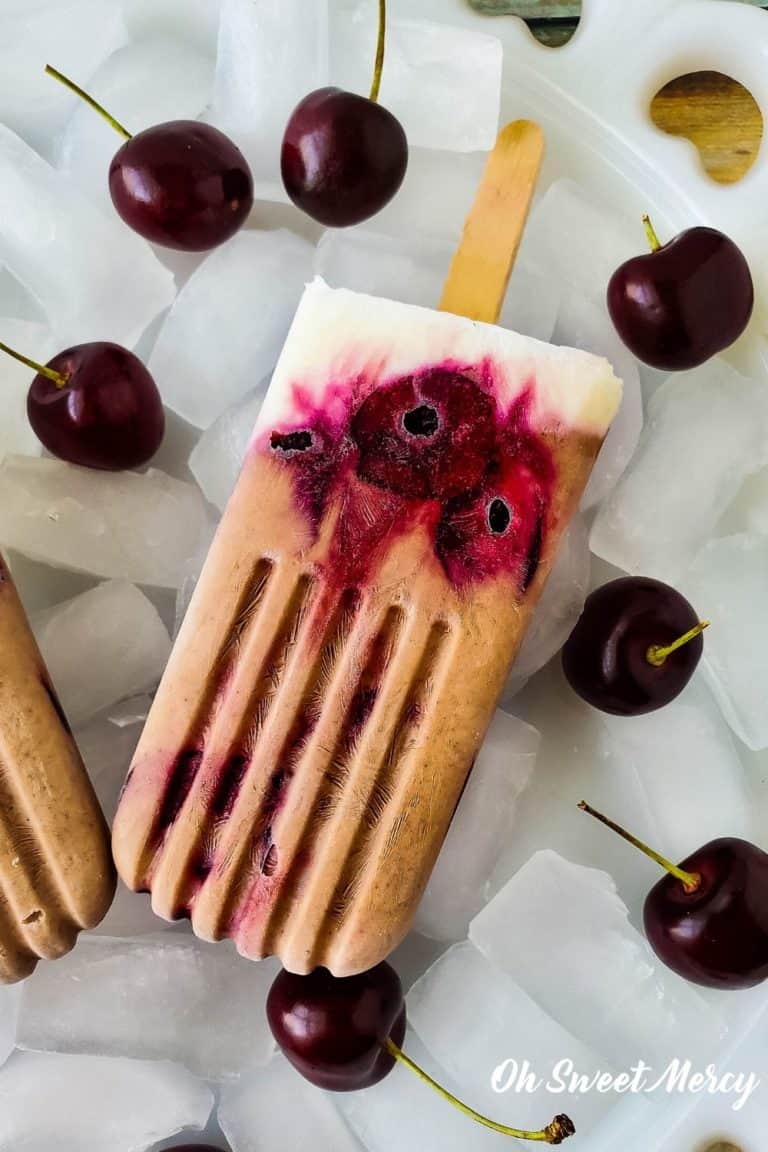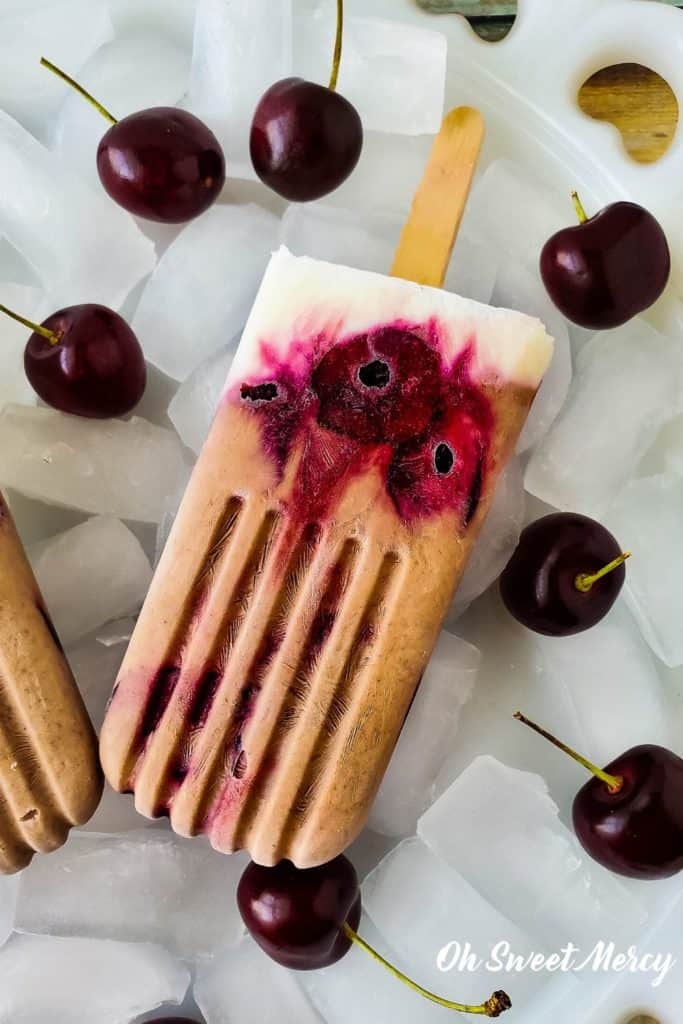 When the heat is on we want to reach for cold, refreshing treats. Make your own healthy, THM-friendly freezer treats and stay on-plan. This recipe is easy and one the whole family will enjoy.
Cherries are a THM E fruit. This means they're higher in carbs and not suitable for our low carb meals.
Low carb ice creams and other frozen treats are satisfying, that's true! But we don't want to forget the healthy, nourishing carbs in our THM E meals.
The slimming secret to eating carbs on THM is keeping the fat very low. These Black Forest Cherry Pops are also versatile – make them low fat or fat free.
Are you a big fan of Black Forest Cherry flavor? I've got a Black Forest Cherry Shake for you to try!
Benefits Of Dark Sweet Cherries.
Did you know cherries are more than just a tasty fruit? Like all deeply-colored fruits and vegetables, they're packed with healthy nutrients.
Cherries are rich in phytosterols, which are plant compounds that can help lower bad (LDL) cholesterol.
In addition, cherries contain high amounts of procyanidins and anthocyanins. These beneficial compounds help reduce inflammation, can help prevent gout, and even help you sleep better.
Thankfully, they also taste amazing! My Black Forest Cherry Pops recipe is the perfect place to use them, too.
How To Make Black Forest Cherry Pops.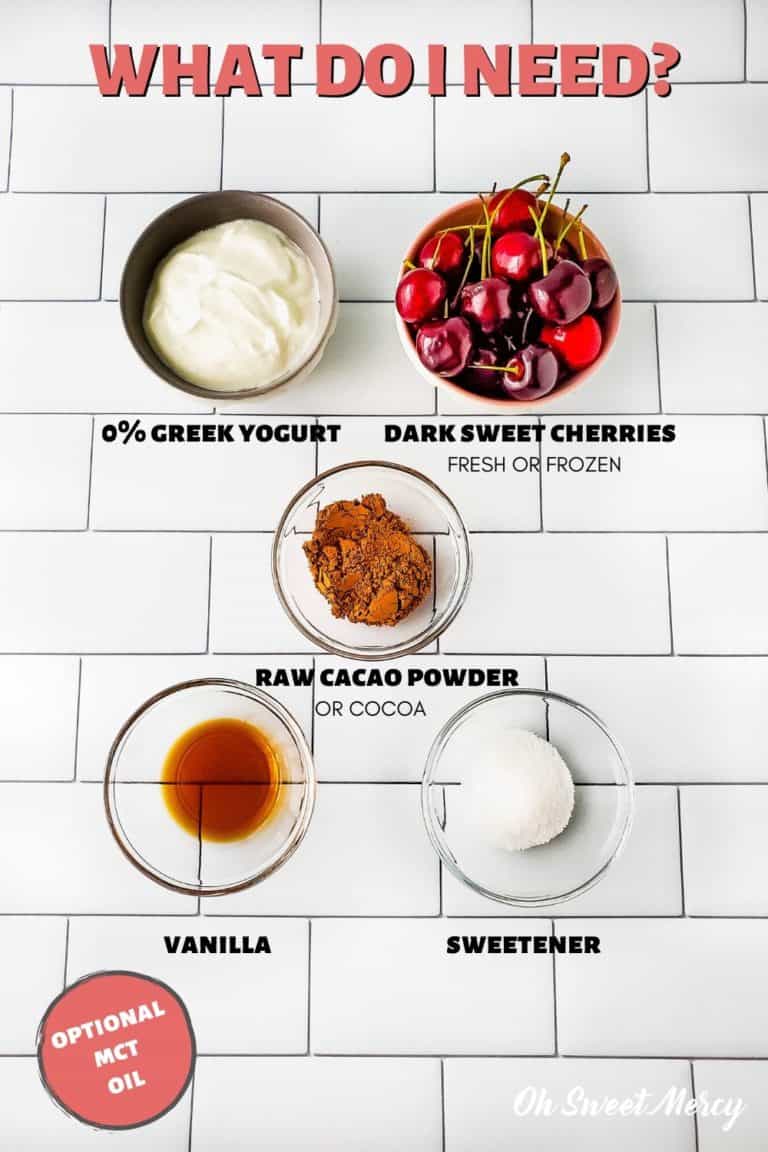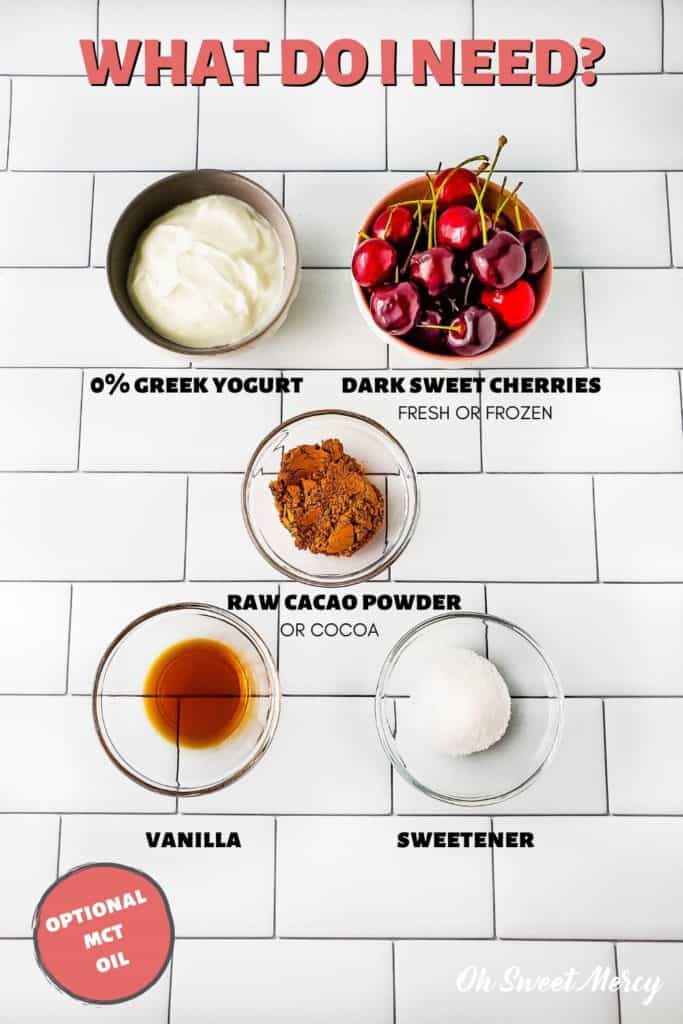 First, determine the volume of your popsicle molds. Whether you use a popscicle mold set you've purchased or just paper cups and popsicle sticks determines how much total yogurt you need.
TIP: If you don't know the volume of your popsicle molds, fill with water, just under the top, and measure the total amount of water.
Next, divide the total amount of yogurt into 2 bowls. Add vanilla, MCT oil (if using), and sweetener to both and mix well.
In one bowl, mix in cacao powder and a pinch of salt. Check the sweetness and add more sweetener if you like.
Finally, add a layer of one of the yogurts to the bottom of your popsicle mold. Drop in a few chopped cherries.
Add another layer of yogurt and more cherries and repeat until your mold is full.
Pop in a stick and freeze. How long it takes to freeze depends on the thickness of your popsicles. In general, plan at least 4 hours or overnight.
How To Include Black Forest Cherry Pops In Your THM Meal Plan.
Always consult the Trim Healthy Mama Plan Book for complete information on how to put together your meals.
Since these are low in fat and contain an E fruit, these are a THM E recipe.
NOTE: While the carb count for 1 pop is just over 6g net carbs, and falls within the guidelines for THM S meal carb allowance, cherries are an E fruit and should be eaten in E settings.
Enjoy after a low fat THM E meal for dessert.
Or, after a THM FP meal — just know that your meal then becomes a light THM E.
Finally, these pops make a great snack! Since we use Greek yogurt that means we've got some protein to help keep our blood sugar stable.
Cool, creamy, and probiotic, they're the perfect THM E summer treat!
PIN IT!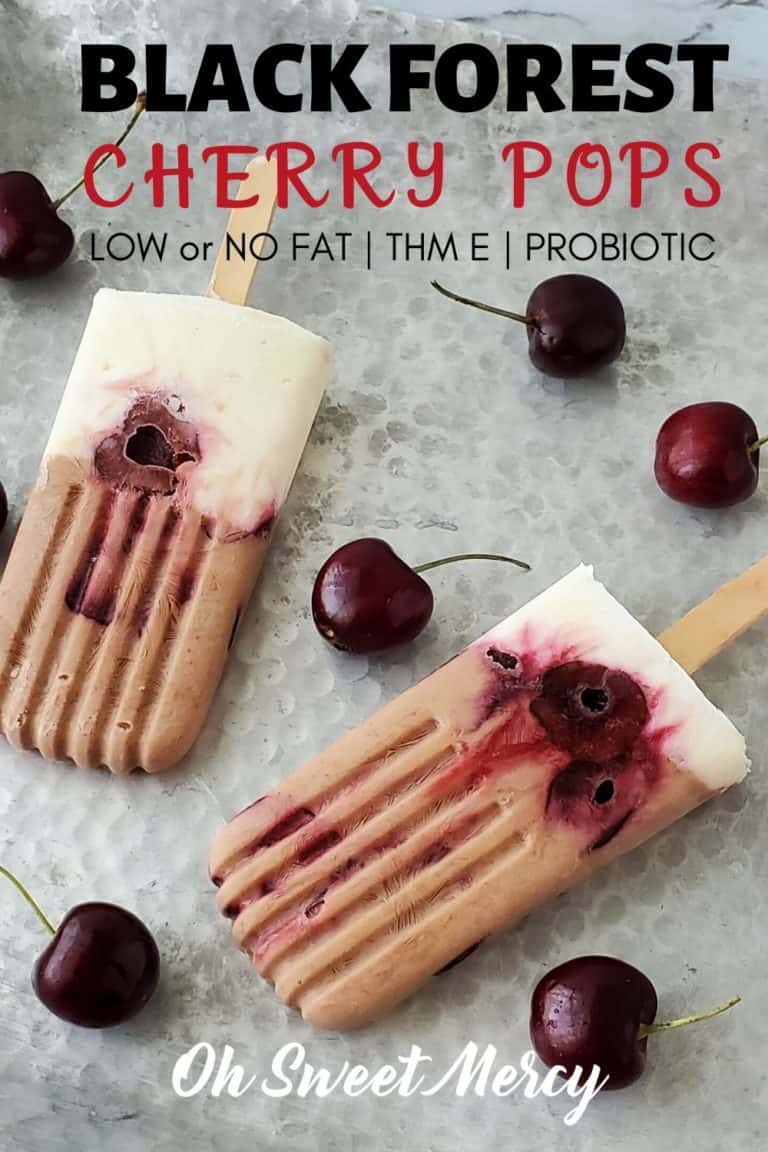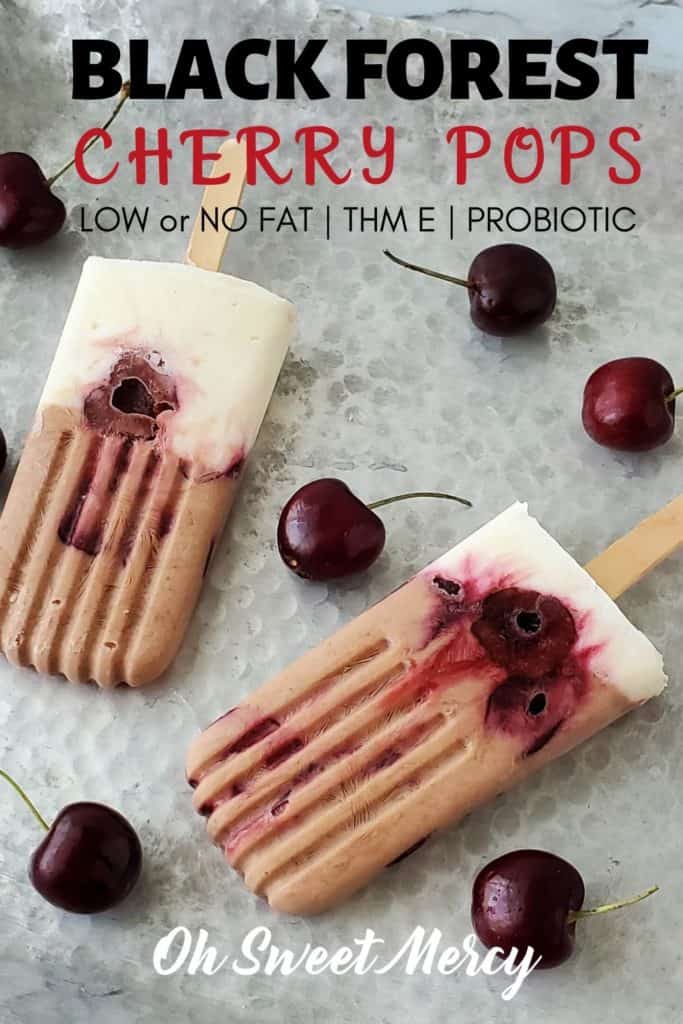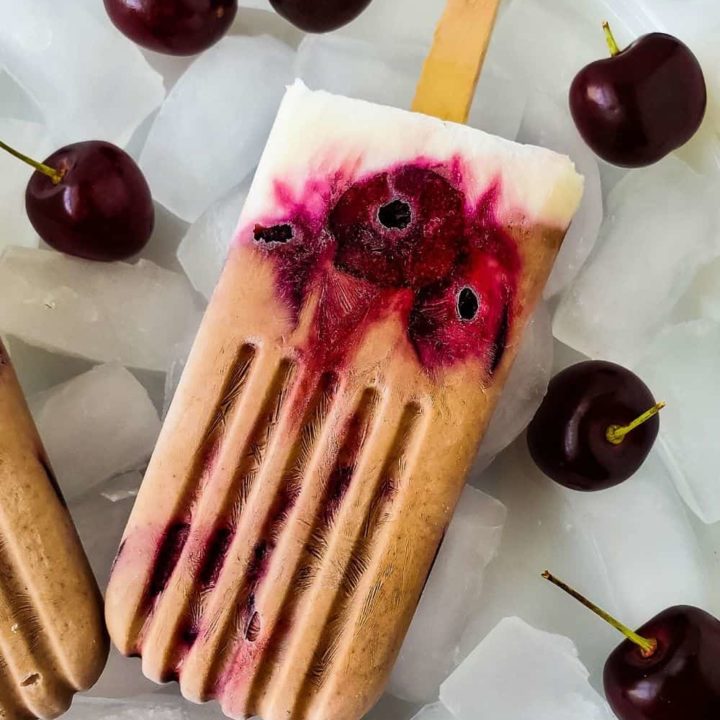 Black Forest Cherry Pops | THM E, Low Fat or Fat Free
Yield: 6 pops
Prep Time: 10 minutes
Freeze Time: 4 hours
Total Time: 4 hours 10 minutes
My low-fat Black Forest Cherry Pops layer creamy, protein-rich chocolate Greek yogurt, dark sweet cherries, and vanilla yogurt for a cool frozen treat. THM E and probiotic, too!
Ingredients
Chocolate Layer
1 cup plain non-fat Greek yogurt
Vanilla Layer
1 cup plain non-fat Greek yogurt
2 1/2 teaspoons Mercy Sweet (or desired sweetener to taste)
3 teaspoons MCT oil (optional, see notes)
1 cup fresh or frozen cherries, halved
Instructions
Put 1 cup yogurt into each of 2 small mixing bowls.
In one bowl, mix together the raw cacao powder, sweetener, and MCT oil (if using) until well combined and smooth.
In the other bowl, mix together the yogurt, vanilla, sweetener, and MCT oil (if using).
Place a couple cherry halves in the bottom of each popsicle mold.
Divide the chocolate yogurt between the popsicle molds.
Tuck a few cherry halves into the chocolate yogurt and add a layer of cherries on top.
Dived the vanilla yogurt evenly among the popsicle molds, making sure to get the vanilla yogurt around the cherries, and insert a stick into each one.
Freeze until frozen solid, at least 4 hours or overnight.
Carefully remove the pops from the mold, pulling gently to keep them intact. Use hot water to loosen the pops from the mold.
Notes
MCT OIL NOTES
MCT oil is entirely optional. If you can't tolerate it, don't have it, or want a fat-free pop, just omit it.
You can have up to 2 teaspoons of added fat in a THM E meal or snack but it's not mandatory. Feel free to use less if you like.
As written, each pop would essentially have 2 teaspoons of MCT oil, or the full amount of allowable added fat. This makes a great snack.
If you're wanting these as a dessert after an E meal, reduce or omit the fat so you don't go over your allowable added fat grams in the entire meal.
Recommended Products
As an Amazon Associate and member of other affiliate programs, I earn from qualifying purchases.