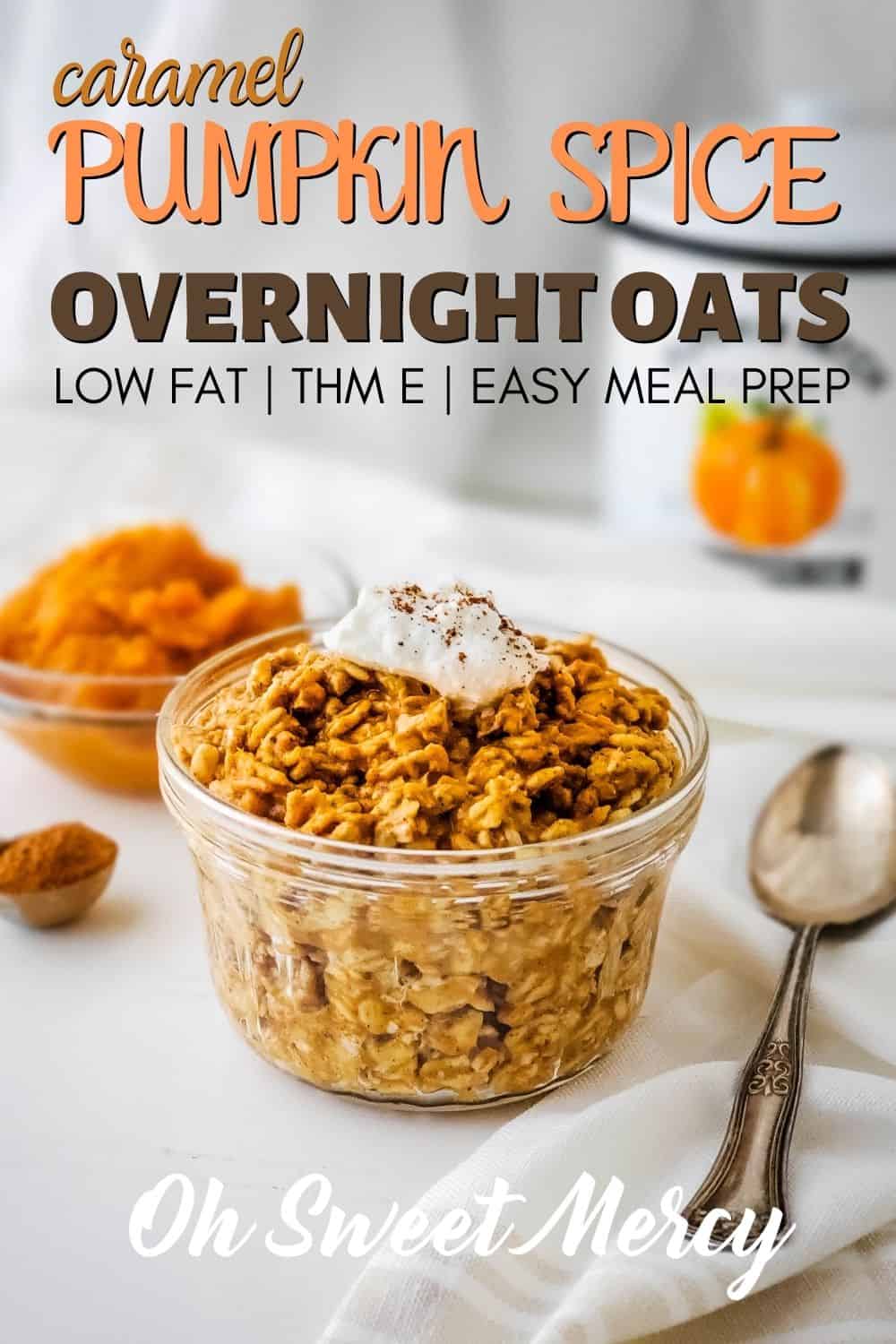 ---
Low in fat, these easy pumpkin spice overnight oats have a hint of caramel. Eat them cold or warm them quickly if you want an easy, hot breakfast. They also make great snacks and are very portable!
---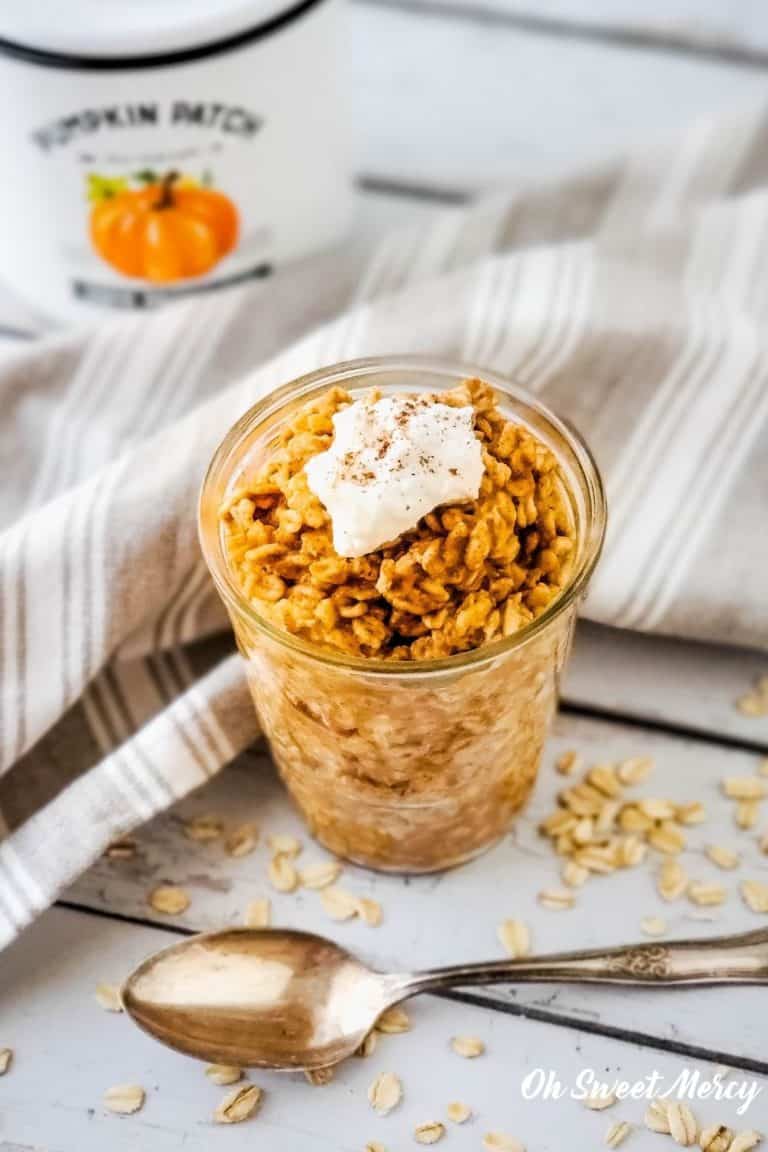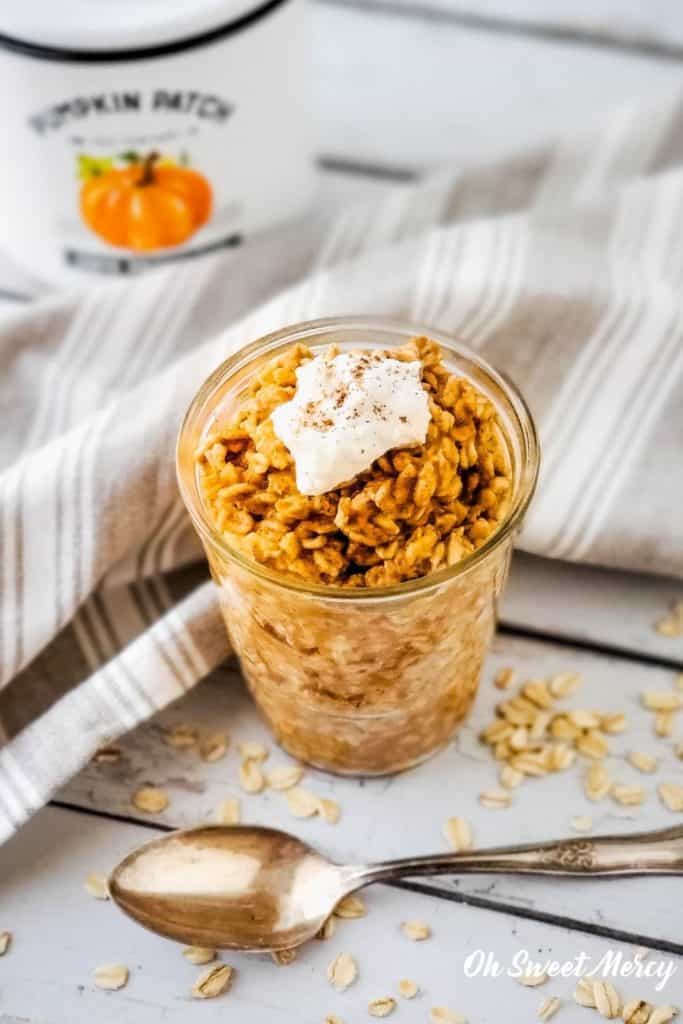 While I don't eat oats often, my kids love them. Overnight oats are such an easy way to prepare oats, and these Caramel Pumpkin Spice Overnight Oats are the perfect fall breakfast.
Don't limit them to breakfast, though! Since they're perfectly packable, take them along in your lunch, on a picnic, or even when doing a little Fall camping.
Overnight oats are also wonderful for prep-ahead meals and snacks. Pint jars are just right for meals, and half-pint jars make great snack-sized servings.
What Do I Need To Make This Recipe?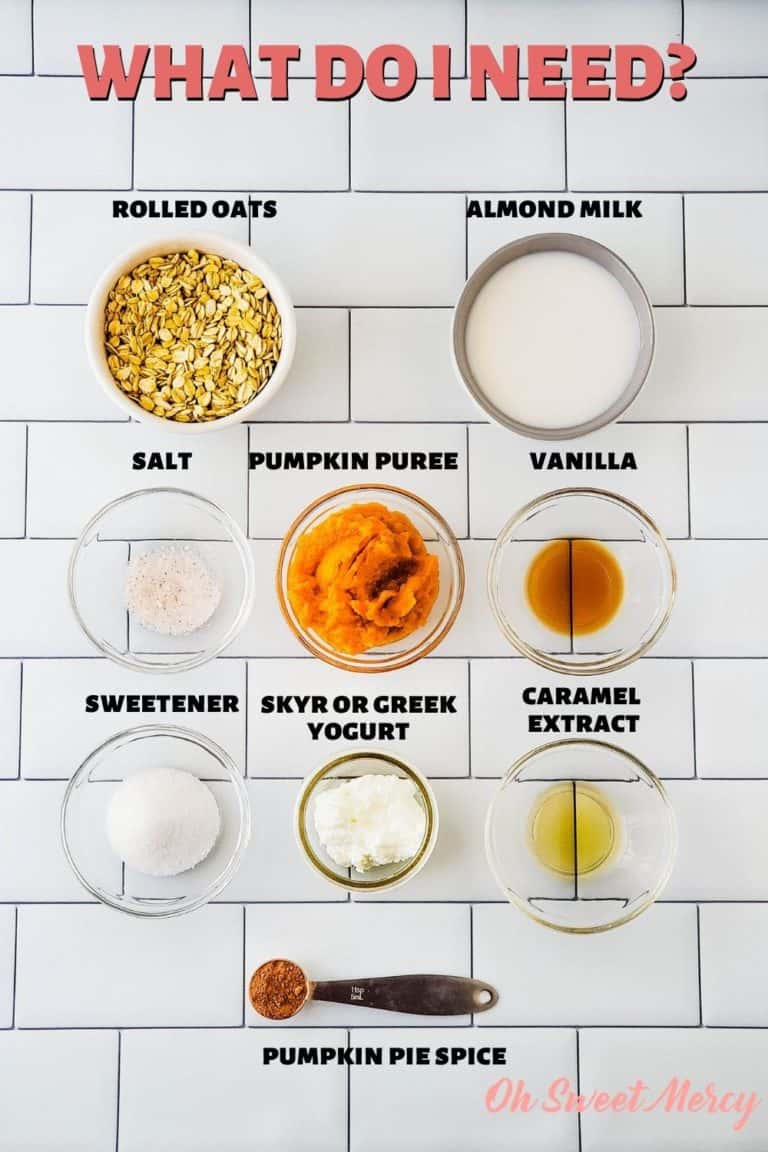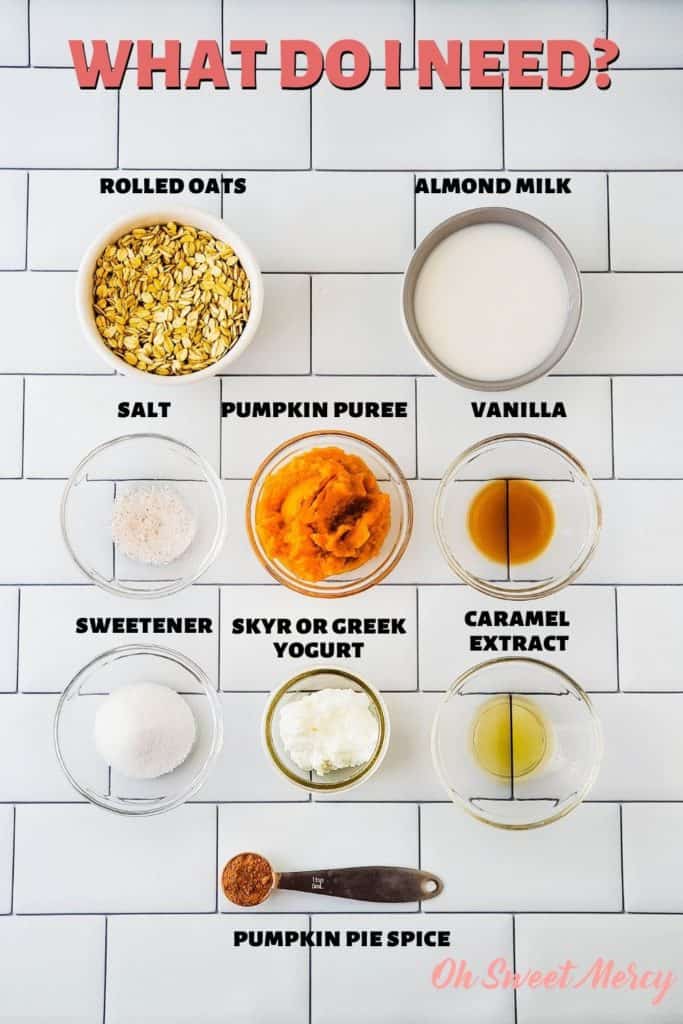 This is another recipe using simple ingredients. Feel free to add on-plan whey protein powder or collagen powder if you want more protein. However, it's not crucial for recipe success!
I personally prefer them made with yogurt instead of whey or collagen, but they're still delicious with those protein options too.
You'll need:
Regular rolled oats (not the quick-cooking oats)
Almond milk (or other on-plan, non-dairy milk)
Non-fat Greek yogurt (or skyr)
Pumpkin puree
Pumpkin pie spice
Vanilla extract
Caramel extract
Sweetener
High mineral salt
Whey protein powder OR collagen powder (optional)
Soaked Oats Are Better For Digestion And Nutrition.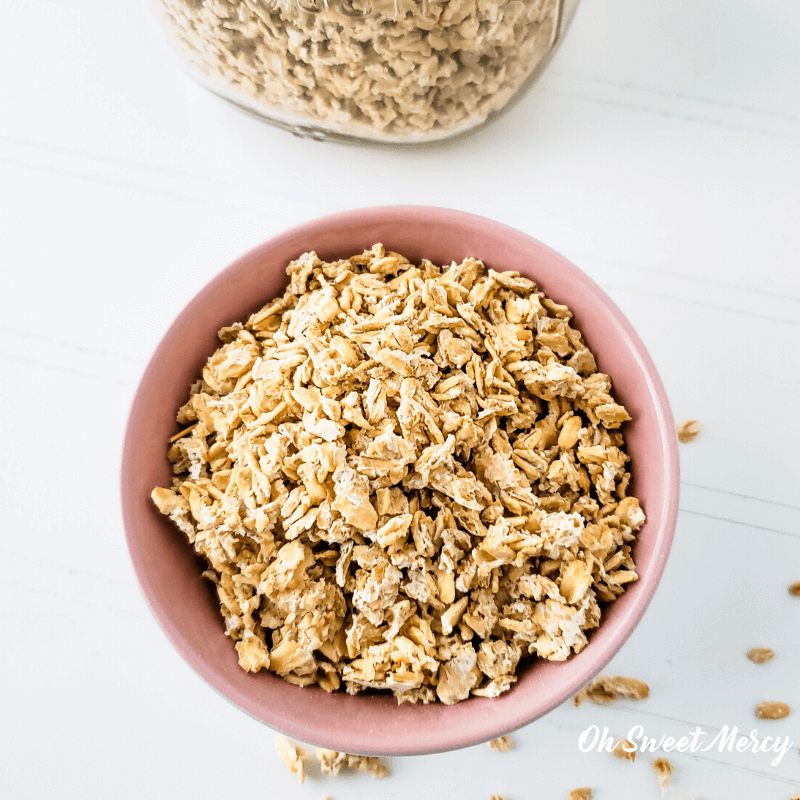 Another benefit of making overnight oats, if you use yogurt, is it makes them more digestible and nutritious.
Grains, along with nuts, seeds, and dry beans and legumes, contain anti-nutrients such as phytic acid. Phytic acid, if not neutralized, prevents your body from properly absorbing the nutrients in the oats.
Soaking in a liquid with something acidic added to it neutralizes those anti-nutrients, making the oats healthier. They're easier to digest and your body absorbs the nutrients in the oats properly.
If you don't want to use yogurt, add a teaspoon of lemon juice or ACV (apple cider vinegar).
SOAKED OATS TIP: If you don't want to use yogurt but want the benefits of properly soaked oats, use pre-soaked oats. Using the method at Traditional Cooking School you get perfect soaked and dehydrated oats (that are not rock hard) and have soaked oats on hand when you need them.

They're super easy to make (I've made them many, many times) and they always turn out perfectly!
How To Make This Easy, Healthy Recipe.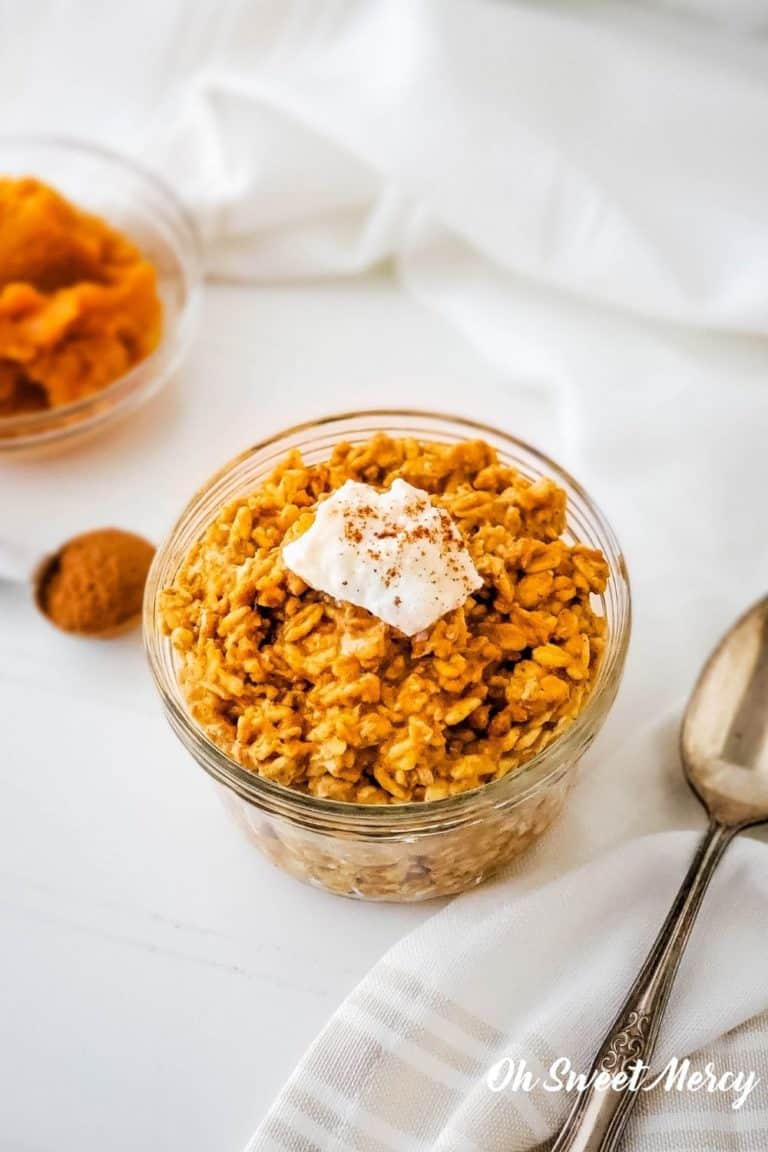 Making overnight oats is so easy! You can mix all the ingredients together in a mason jar, which means no pans to clean. Then pop in the fridge for 8 hours or longer. They keep well, so making several at the beginning of the week means easy grab and go meals and snacks later.
I love these stainless steel "jars" – great for packing on the go and no worries about glass breaking!
Check out my Lemon Blueberry Overnight Oats, too!
My Best Tip For Easy Mixing: Whisk together the wet ingredients, seasonings, and sweeteners (right in the jar) until well mixed first, then stir in the oats.

Taste and adjust sweetness before refrigerating and you're good to go.
How To Fit Caramel Pumpkin Spice Overnight Oats Into Your THM Menu Planning.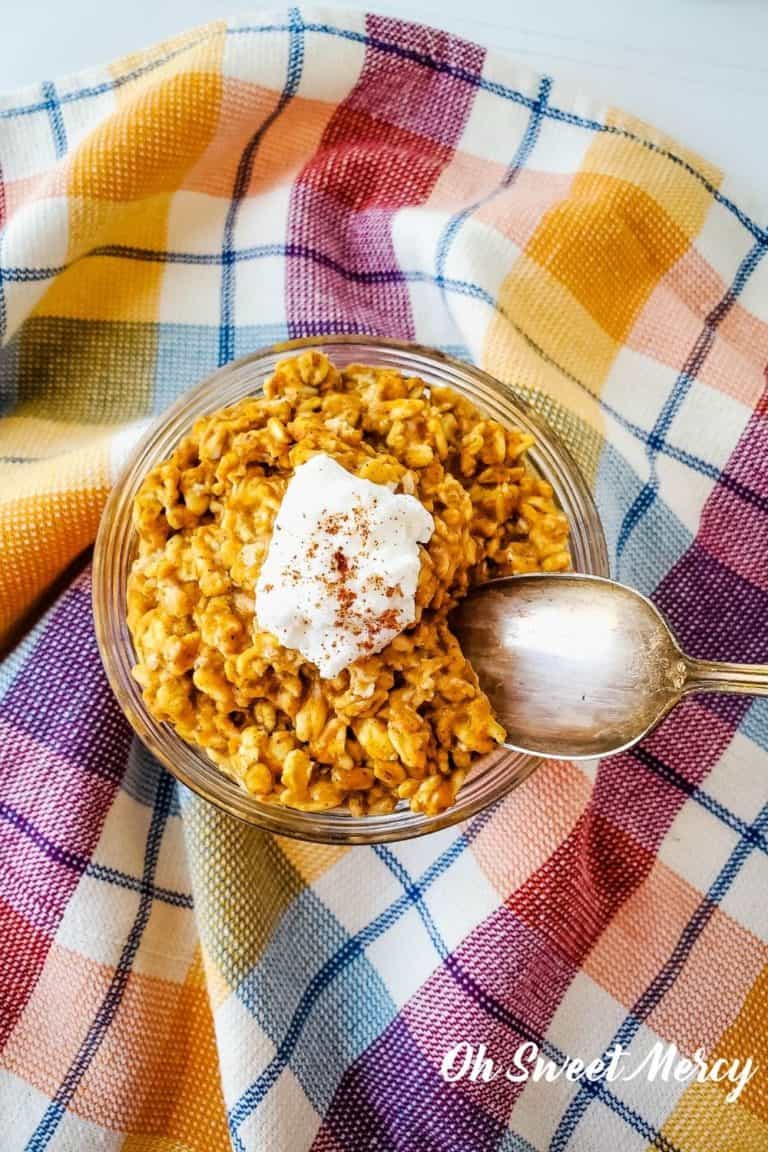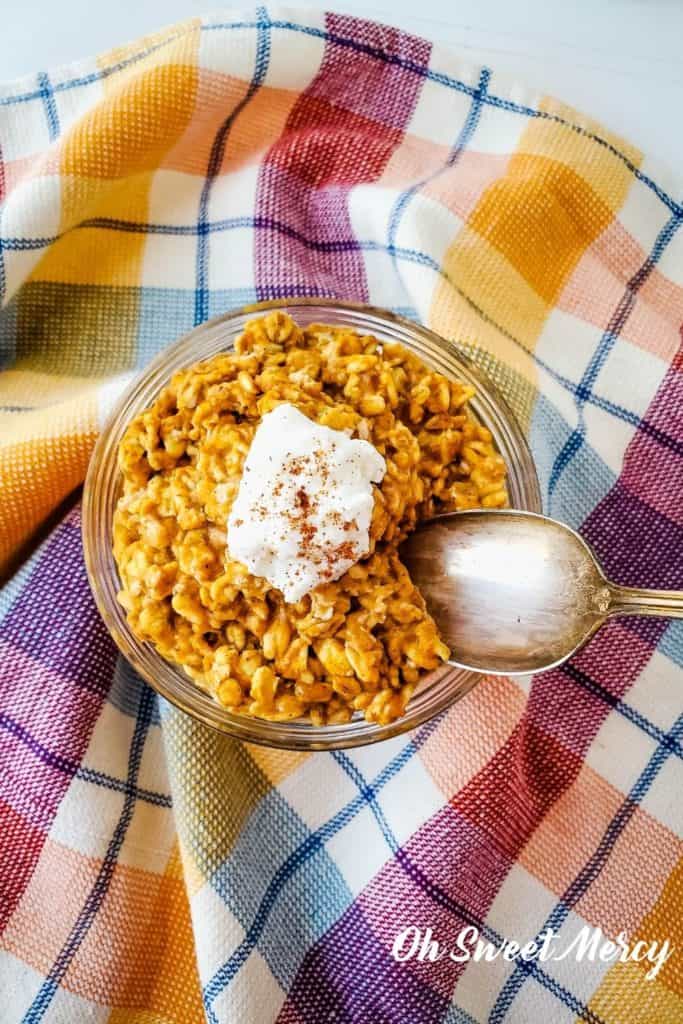 Oats are a THM E fuel. While you can have a small amount in a THM S meal, generally we reserve oats for our low fat, energizing E meals.
Many people do fine with the protein that's naturally found in oats. Some of us need more protein. There are several options for increasing protein in this meal:
Stir on-plan whey protein powder or collagen right into your oats.
Add collagen to your tea, coffee, or other hot beverage (try my Gingersnap Steamer).
Make an egg white omelette.
Have some of my Homemade Breakfast Sausage (made THM FP style)
Eat some hard cooked egg whites.
Have a serving of non-fat Greek yogurt or skyr, with a bit of vanilla and sweetened with stevia.
So many options here to make this recipe fit with your lifestyle!
No matter how you make them, these easy, low fat Caramel Pumpkin Spice Overnight Oats are a perfect addition to your fall THM menu plan.
They're also good all year long, if you're like me and think pumpkin season never ends!
PIN IT!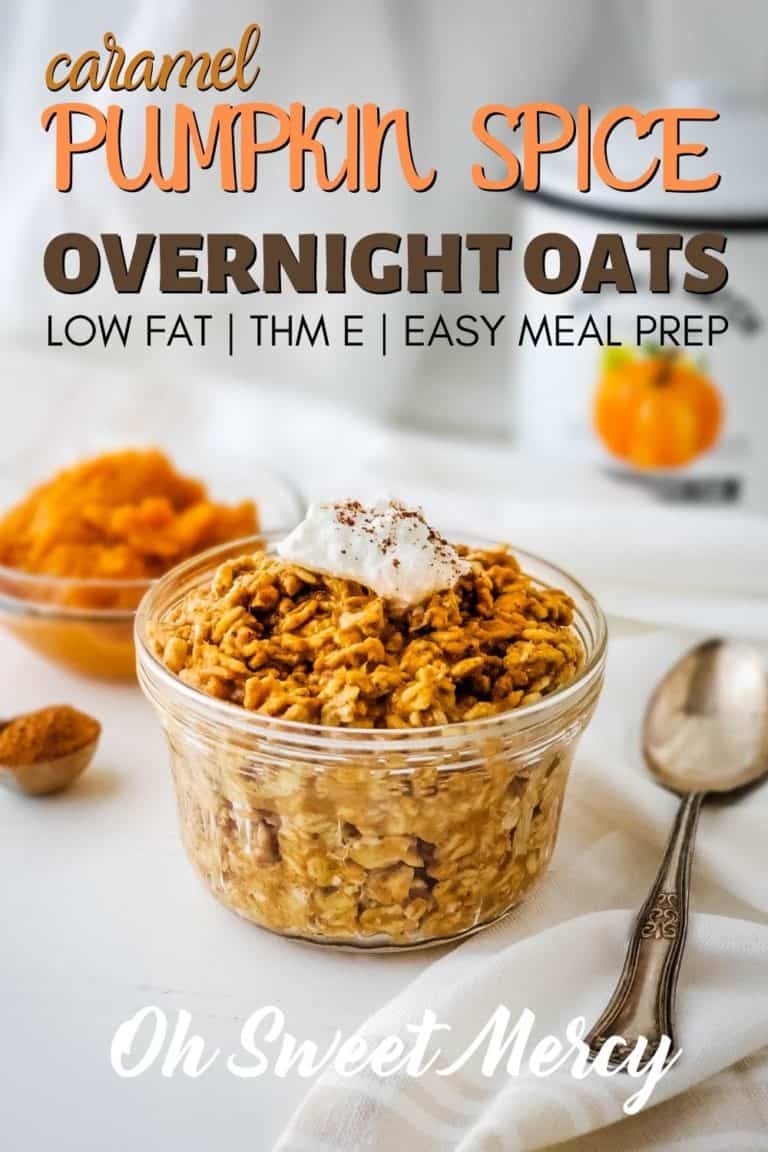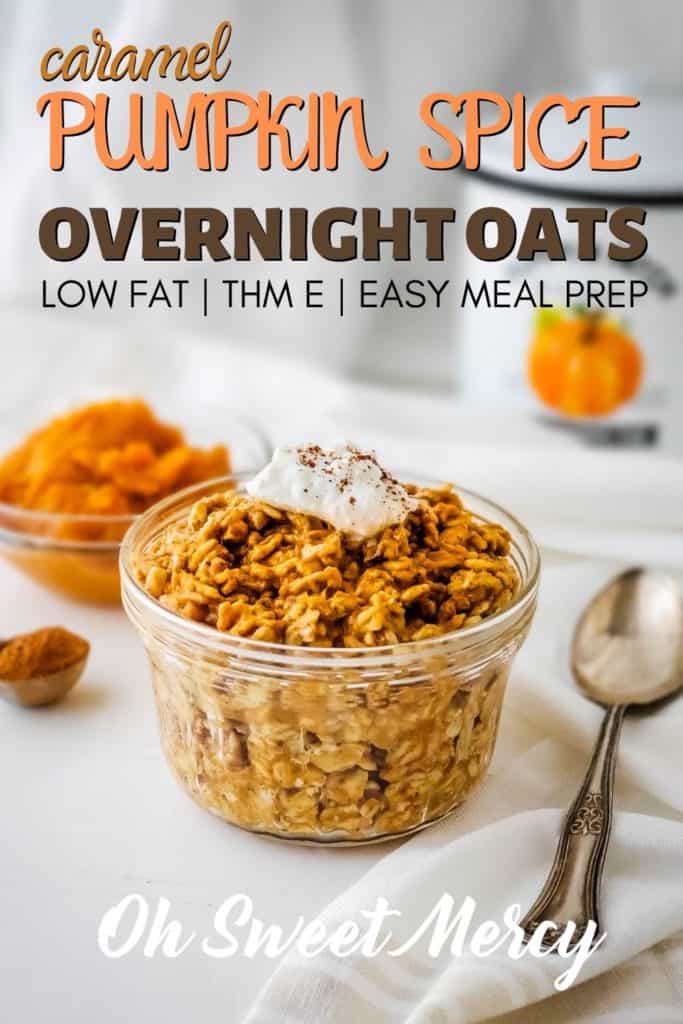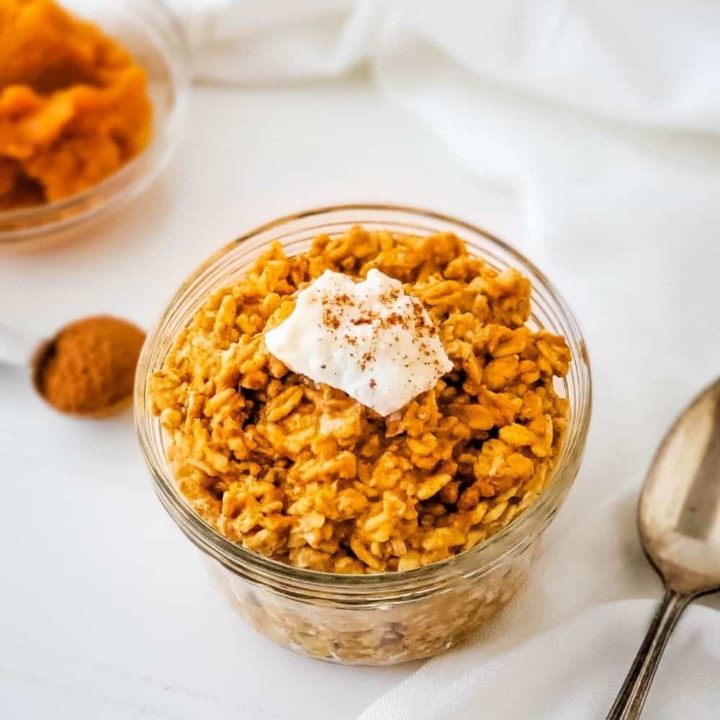 Caramel Pumpkin Spice Overnight Oats | THM E, Low Fat
Yield: 1 to 2 servings
Prep Time: 5 minutes
Chill Time: 8 hours
Total Time: 8 hours 5 minutes
Easy, no-cook overnight oats with the goodness of pumpkin and spice and a hint of caramel. This tasty, low fat, THM E recipe is perfect for quick breakfasts or snacks. Or, quickly warm them for a fast, hot breakfast.
Instructions
In a pint-sized mason jar or 2 cup container, whisk together all ingredients, except oats, until smooth.
Add oats and stir until well combined.
Cover and refrigerate for 8 hours or overnight.
Notes
IF MAKING WITHOUT YOGURT
Add a teaspoon of something acidic, like lemon juice or ACV. Or, use Pre-Soaked Oats from Traditional Cooking School.
You can also omit adding something acidic, it's just best for neutralizing phytic acid and making the end result more healthy.
Nutrition Information:
Yield: 1
Serving Size: 1 recipe
Amount Per Serving:
Calories: 203.3
Total Fat: 4.2g
Saturated Fat: 0.6g
Trans Fat: 0g
Unsaturated Fat: 3.3g
Cholesterol: 1.7mg
Sodium: 120.2mg
Carbohydrates: 34.3g
Net Carbohydrates: 28.3g
Fiber: 6g
Sugar: 3.8g
Protein: 9.5g
Nutrition information is approximate and based on the best knowledge available at the time of recipe publication. Your results may vary due to differences in ingredients. You can make your own calculations if this recipe does not include nutrition info by using an online calculator such as https://recipes.sparkpeople.com/recipe-calculator.asp