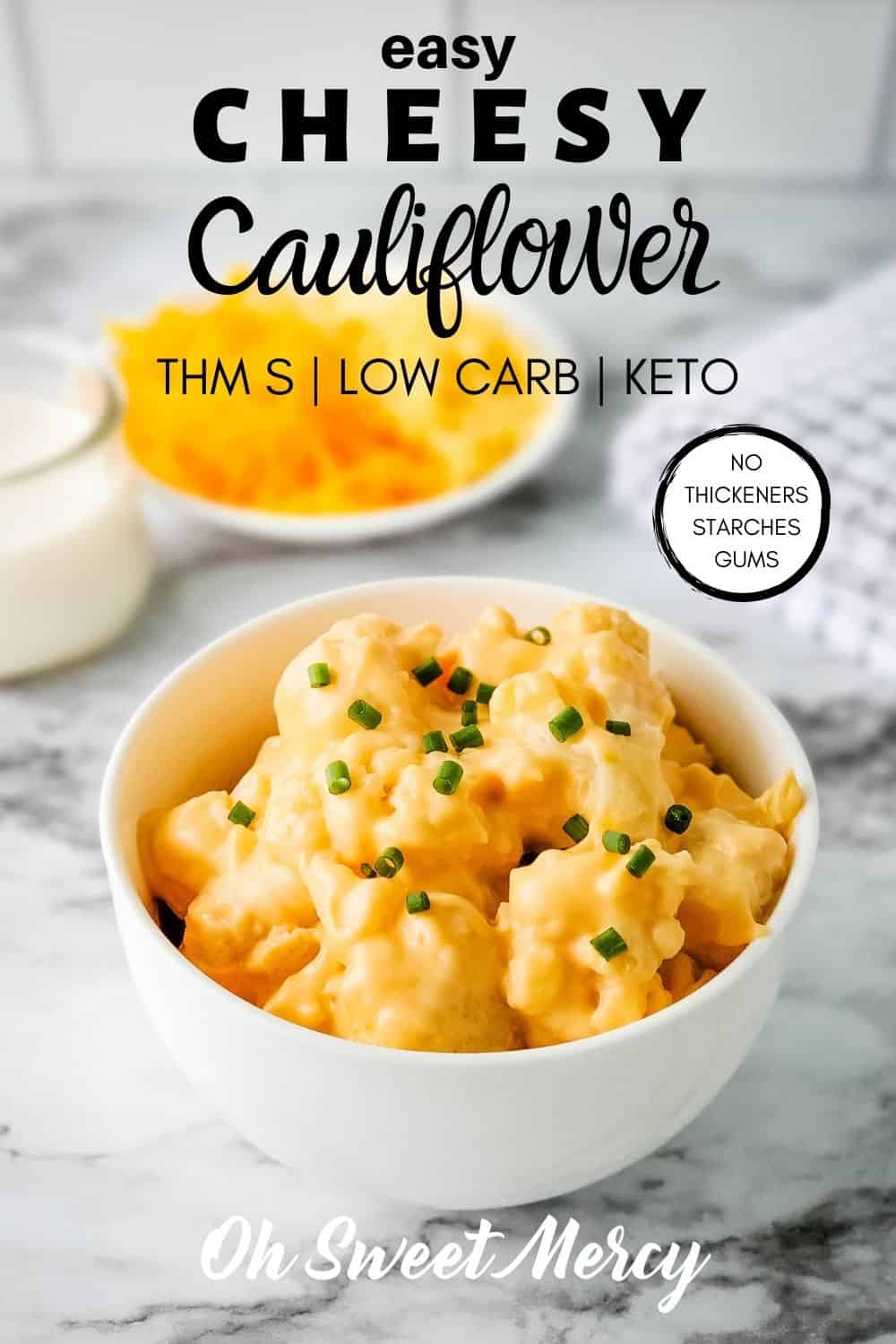 ---
Rich, cheesy sauce over tender cauliflower florets makes a delicious, healthy, and THM-friendly side dish for just about any low carb meal. Super easy to make with my Easy Low Carb Cheese Sauce (no thickeners needed) and the whole family will love it.
---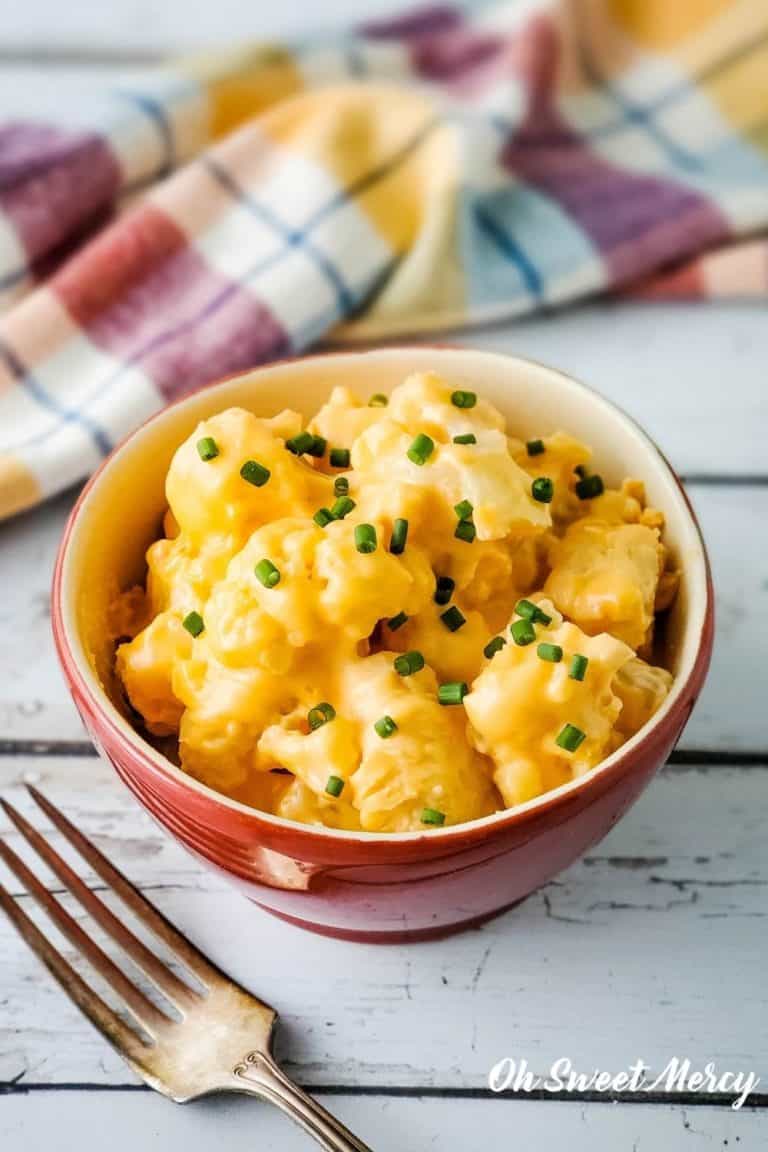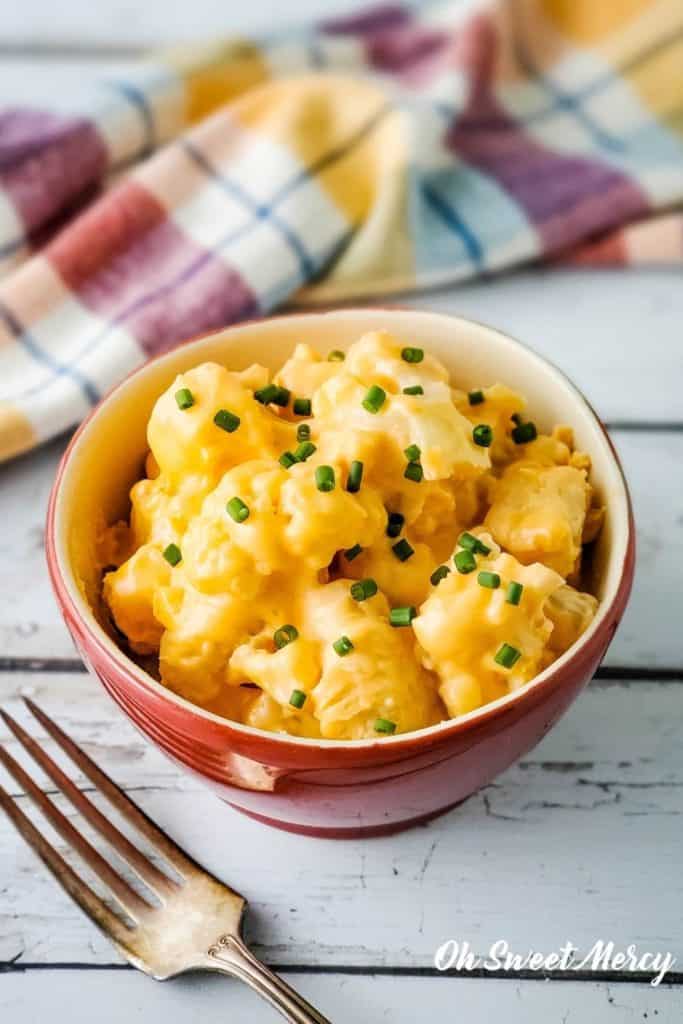 One of my husband's favorite veggie side dishes is cheesy cauliflower. It's one my whole family enjoys, actually. So you know that's got to be on the rotation!
The key is not overcooking the cauliflower. You want it just cooked…al dente I suppose you'd say. Soft, but still has a bit of crunch or bite to it.
Mushy cauliflower is not pleasant, at least not to us. When that happens…or if we have leftovers, it's best to just puree it and call it cheesy cauliflower soup.
Of course, if you prefer your cauliflower more cooked than that, go right ahead! It's your meal, make it like you want, right?
What Do I Need For This Recipe?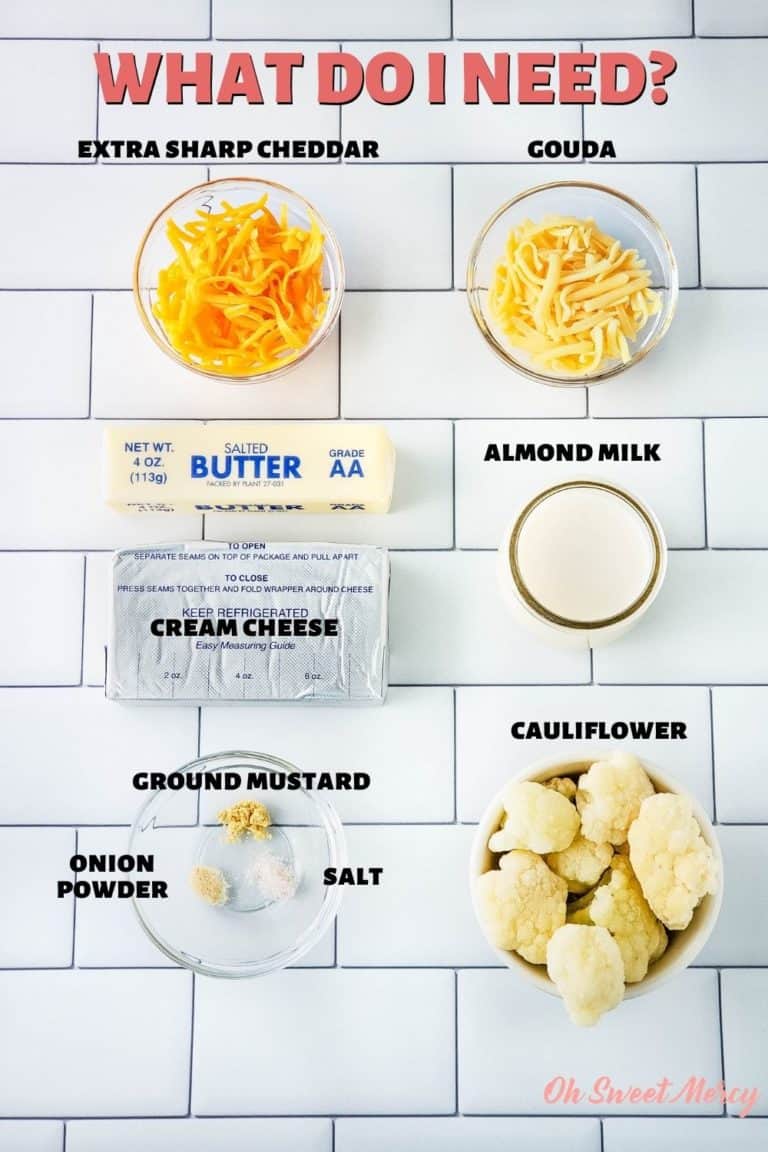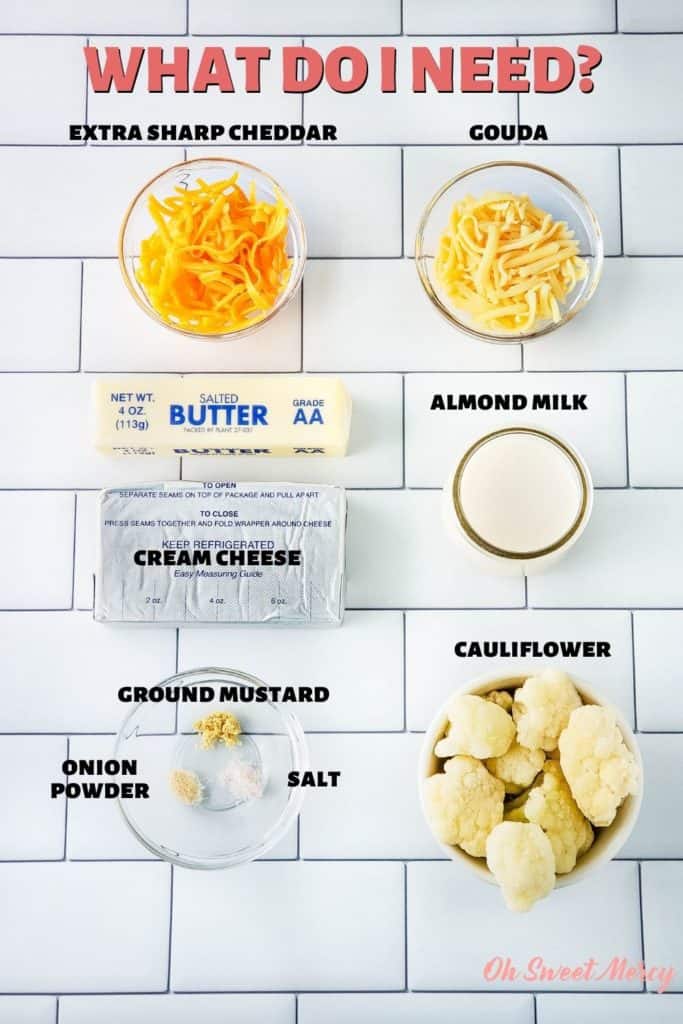 You'll need some of my Easy Low Carb Cheese Sauce and frozen cauliflower florets. I've reduced the recipe for the cheese sauce for this cheesy cauliflower recipe for 16 ounces of frozen cauliflower florets.
If you need to make more, check out my original Easy Low Carb Cheese Sauce recipe.
You can use fresh cauliflower if you prefer, too. It should cook in about the same amount of time as frozen.
The Best Way To Cook Cauliflower For This Recipe.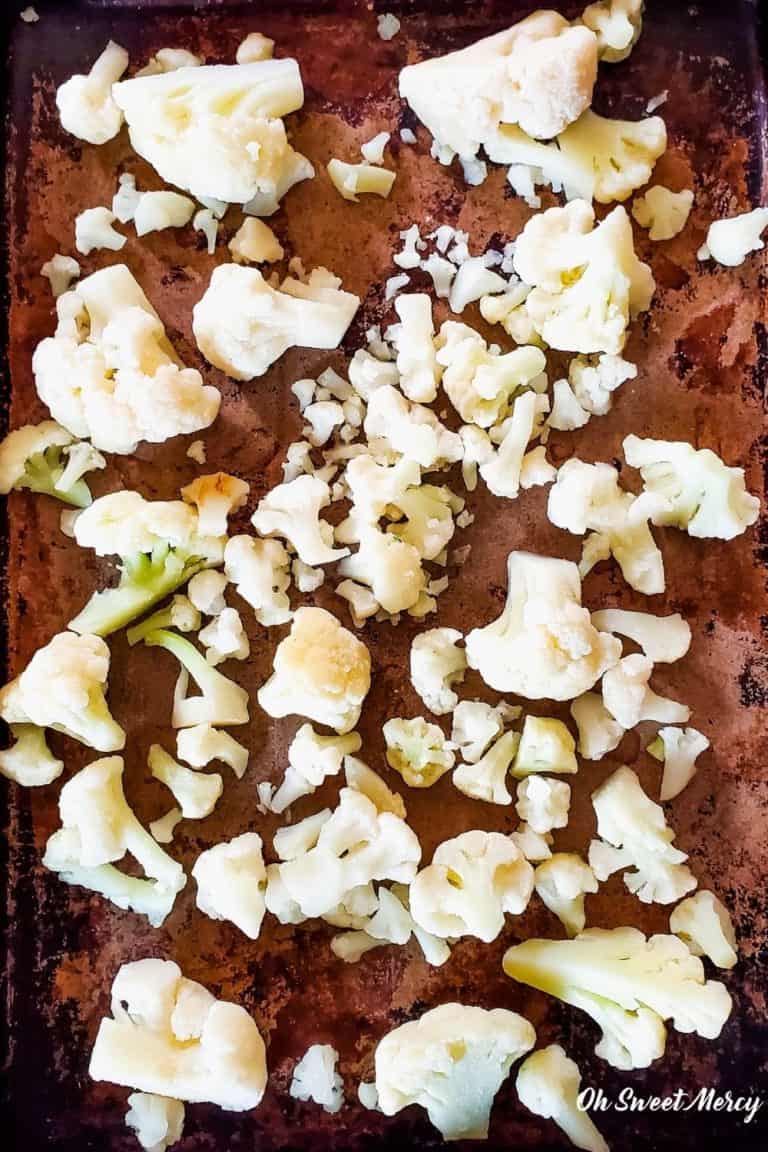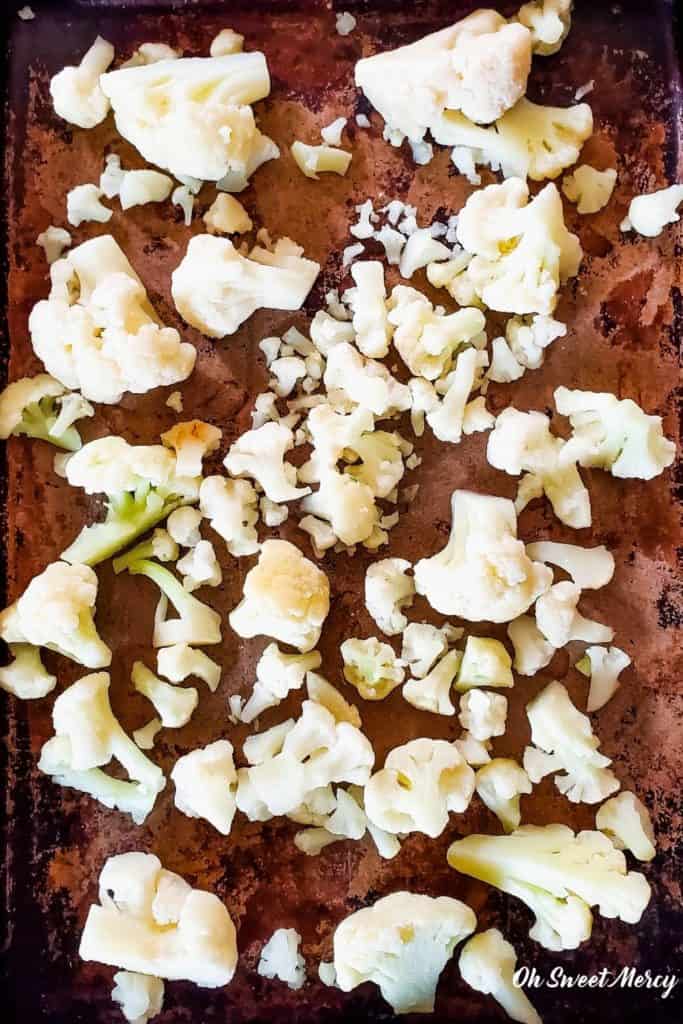 Frozen cauliflower, like all frozen veggies, is watery when cooked on the stove top. While you can cook frozen cauliflower that way if you prefer, I've found it's best to oven roast it.
Oven roasting also speeds up the process for making this easy low carb cheesy cauliflower side dish.
Simply make the cheese sauce while your cauliflower is roasting. Then, add the roasted cauliflower to your cheese sauce, stir it well to make sure all the florets are coated in cheesy goodness, and serve!
If you do choose to cook your frozen (or fresh) cauliflower in water on the stove top, be sure to let it drain well before adding to your cheese sauce. Allow the steam to evaporate as long as possible, too.
Adding water-logged cauliflower to your cheese sauce waters down the sauce.
How To Include This Easy Low Carb Cheesy Cauliflower Recipe In Your THM Meal Plan This Week.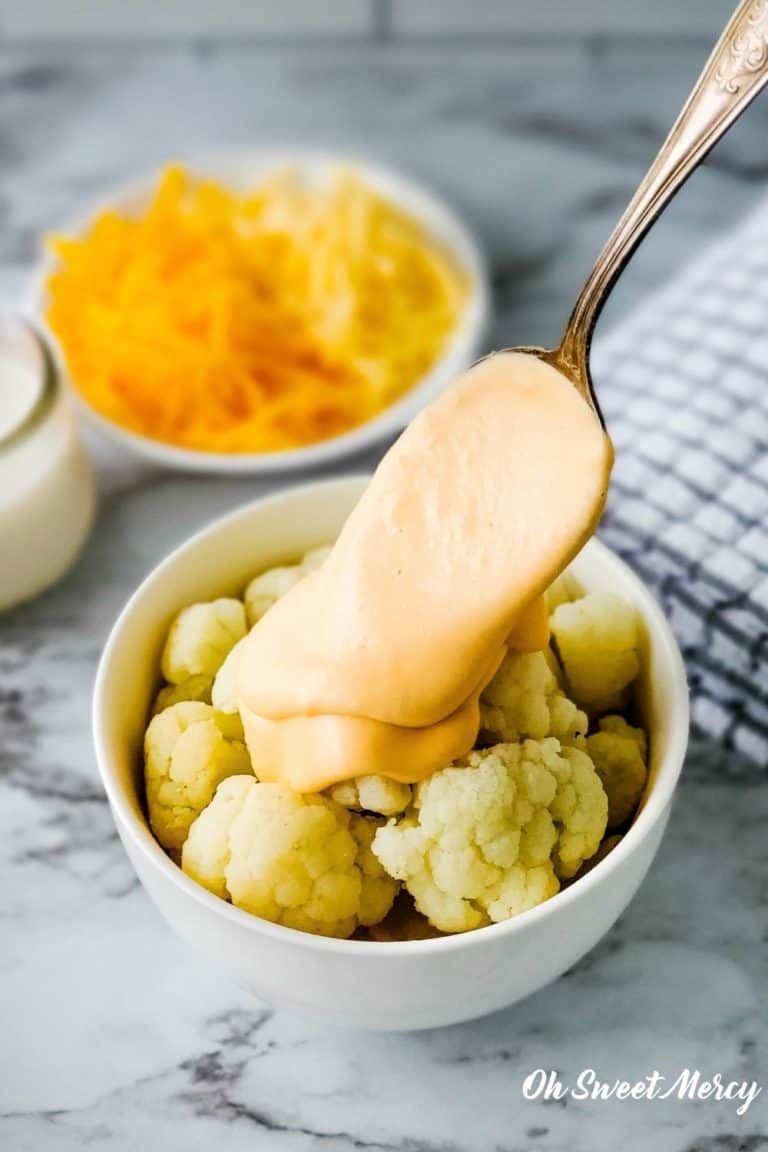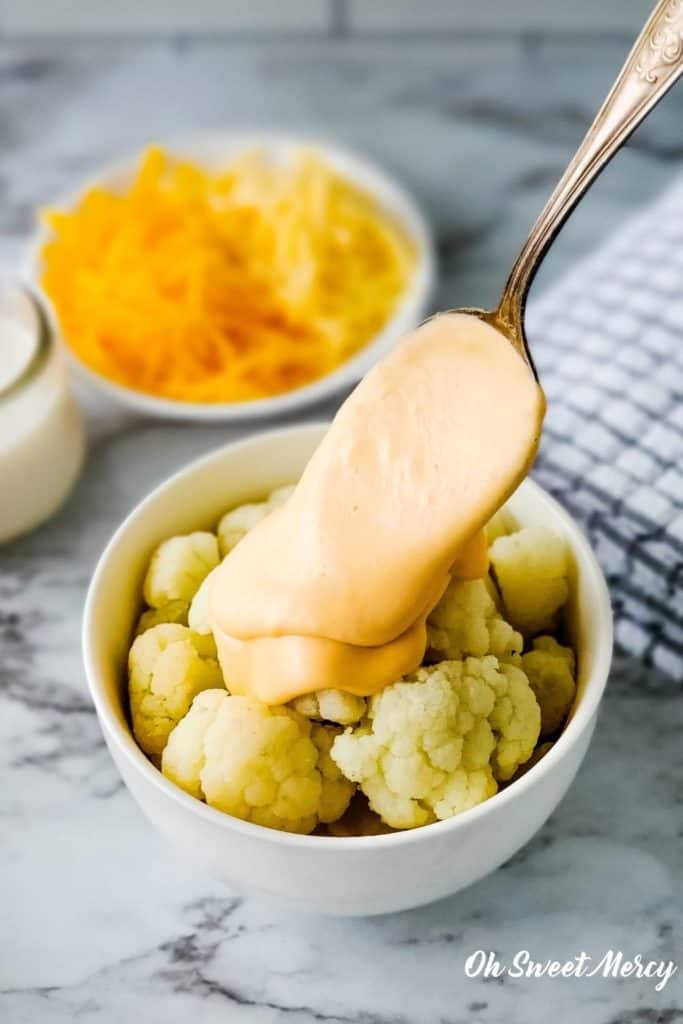 Since this is a low carb, higher fat side dish enjoy it in a low carb setting. Always center your meals around a healthy protein option that suits your THM meal type.
In this case, we're having a THM S meal so choose any kind of meat (light or dark, lean or fatty).
Be sure to include plenty of non-starchy veggies! Even though we're having an S meal, which is higher in fats, steamed veggies with just a touch of butter (or none at all) help keep your meal from being over-the-top with the fat.
Since this recipe is heavy on the cheese, keep that in mind as well. Too much cheese and heavy-fat dairy products can cause a stall in your progress if indulged in too often.
Here's a sample meal idea to try:
Roast Chicken Provencal with Whole Garlic (a family favorite and so easy! I use boneless, skinless chicken thighs for this. Be sure to schmear the roasted garlic onto the chicken…divine!)
Low Carb Cheesy Cauliflower
Steamed green beans
Small side salad with non-starchy veggies and Creamy Citrus Salad Dressing (or your favorite on-plan dressing).
Fresh berries for dessert
That makes me hungry just typing it out!
If you need a Crossover, add an E fuel source such as a baked sweet potato or a serving of my Easy Herbed Quinoa (or Brown Rice).
Need an S Helper? A slice of sprouted bread with herbed butter is delicious.
This easy, cheesy, low carb side dish pairs so well with just about anything! I've made it on nights when hubby grills in the summer and it's great with anything charbroiled.
Most of all, I love that the whole family loves it and it's on-plan. That makes mealtime so much easier!
PIN IT!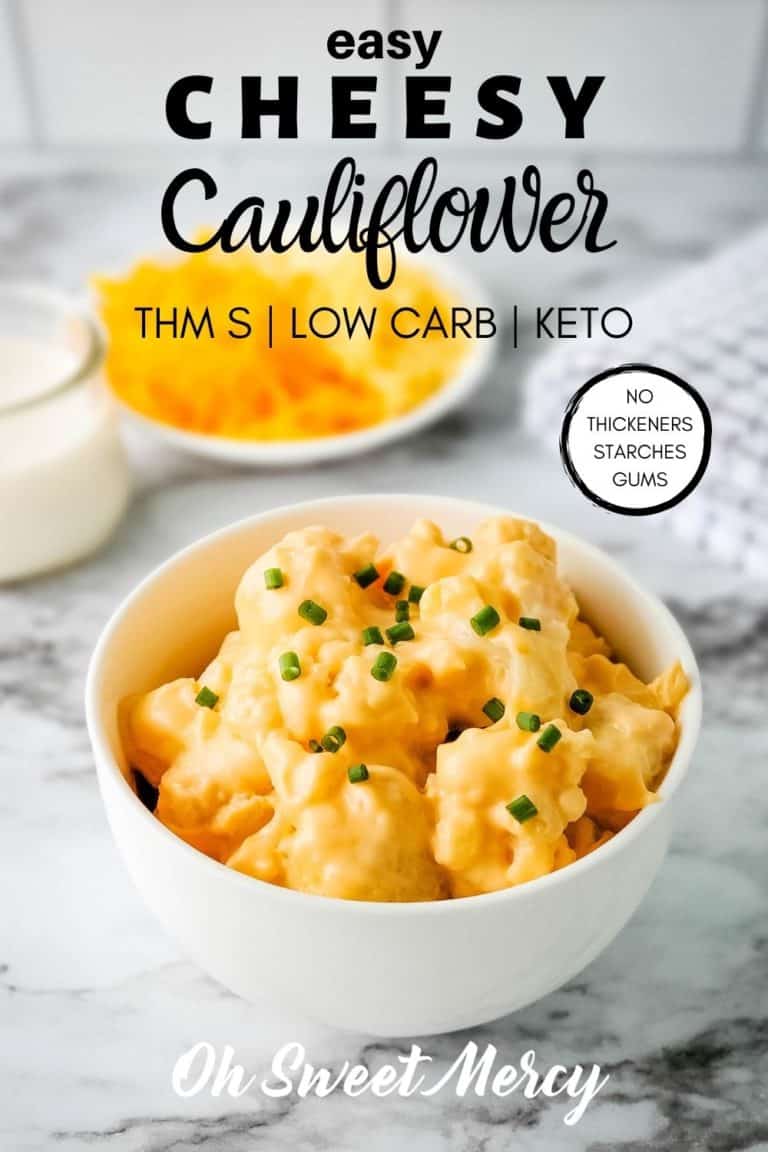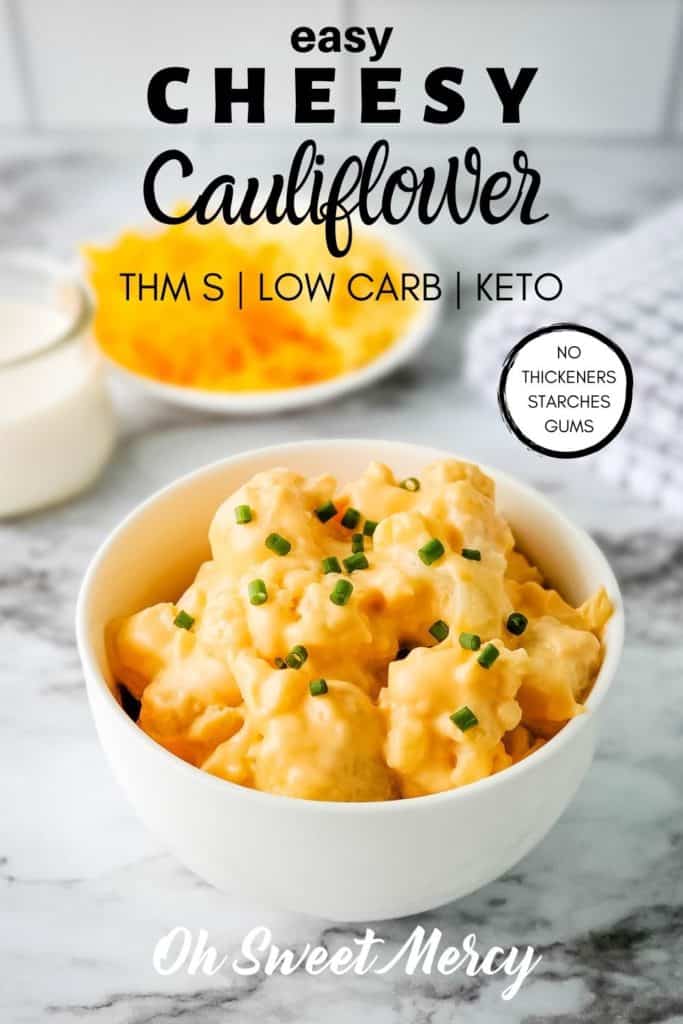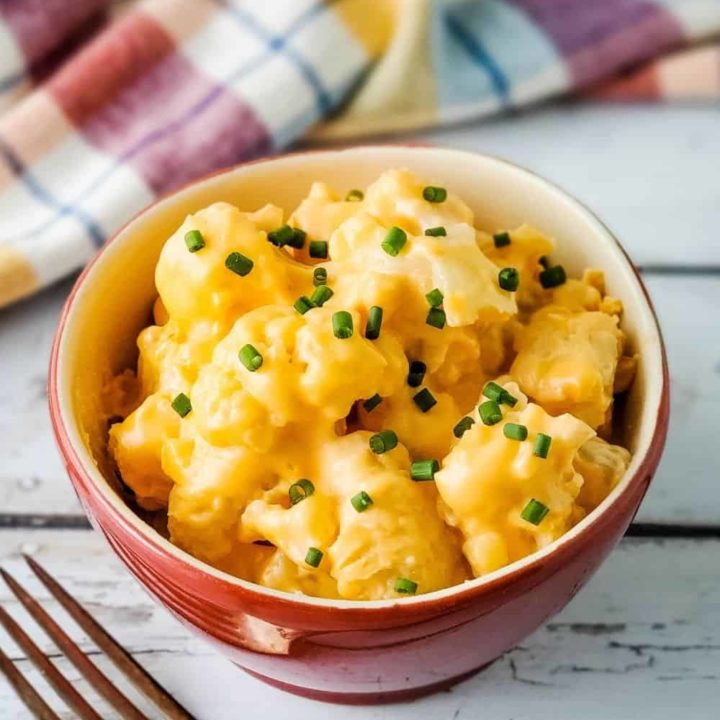 Easy Low Carb Cheesy Cauliflower | THM S, Keto
Yield: 4 servings
Prep Time: 5 minutes
Cook Time: 20 minutes
Total Time: 25 minutes
Creamy, cheesy cauliflower makes a delicious side dish. My easy cheese sauce uses no thickeners, too. Ready in 30 minutes or less! THM S and keto friendly, gluten, corn, and grain free.
Ingredients
16 oz frozen cauliflower florets
1 1/2 teaspoon butter
2 oz cream cheese
1/4 cup unsweetened almond milk
1 cup extra sharp cheddar, shredded
1/2 cup gouda, shredded
1/8 tsp onion powder
Generous pinch ground mustard (optional)
Instructions
Preheat oven to 375 degrees.
Spread cauliflower evenly on baking sheet and bake in preheated oven for 20 minutes.
Meanwhile, prepare cheese sauce by melting butter and cream cheese in a sauce pan, whisking until smooth.
Whisk almond milk into cream cheese and butter until smooth.
Add shredded cheese, onion powder, and ground mustard and whisk until melted and smooth.
Taste and add salt if desired.
Add baked cauliflower to cheese sauce and stir until all cauliflower is covered with cheese sauce.
Notes
If cooking cauliflower on the stove top in water, make sure to drain cauliflower very well and allow steam to evaporate to help prevent making the sauce watery.
If you need a bigger amount, use the full Easy Low Carb Cheese Sauce recipe.
Recommended Products
As an Amazon Associate and member of other affiliate programs, I earn from qualifying purchases.
Nutrition Information:
Yield: 4
Serving Size: about 3/4 cup
Amount Per Serving:
Calories: 214.2
Total Fat: 16.9g
Saturated Fat: 10.3g
Trans Fat: 0g
Unsaturated Fat: 5g
Cholesterol: 5361mg
Sodium: 293.8mg
Carbohydrates: 5.1g
Net Carbohydrates: 4g
Fiber: 1.1g
Sugar: 2.7g
Protein: 10.1g
Nutrition information is approximate and based on the best knowledge available at the time of recipe publication. Your results may vary due to differences in ingredients. You can make your own calculations if this recipe does not include nutrition info by using an online calculator such as https://recipes.sparkpeople.com/recipe-calculator.asp