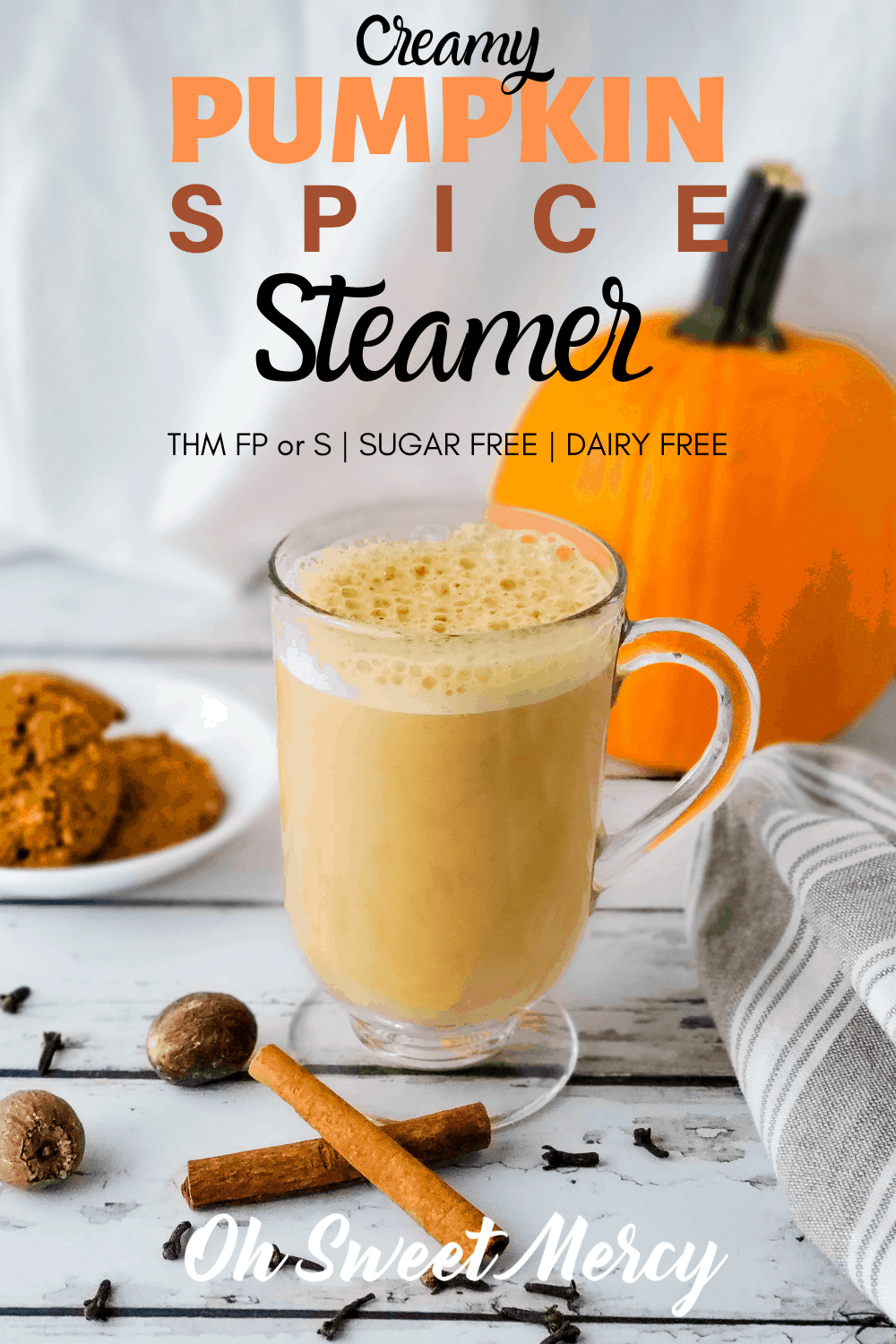 ---
My warm, creamy, pumpkin spice steamer is just the thing on a cold, fall day. The delicious, spiced, pumpkiny goodness warms you inside without sugar, dairy, and tons of fat. Of course, if you like dairy and want something with more fat, you can certainly add it and enjoy!
---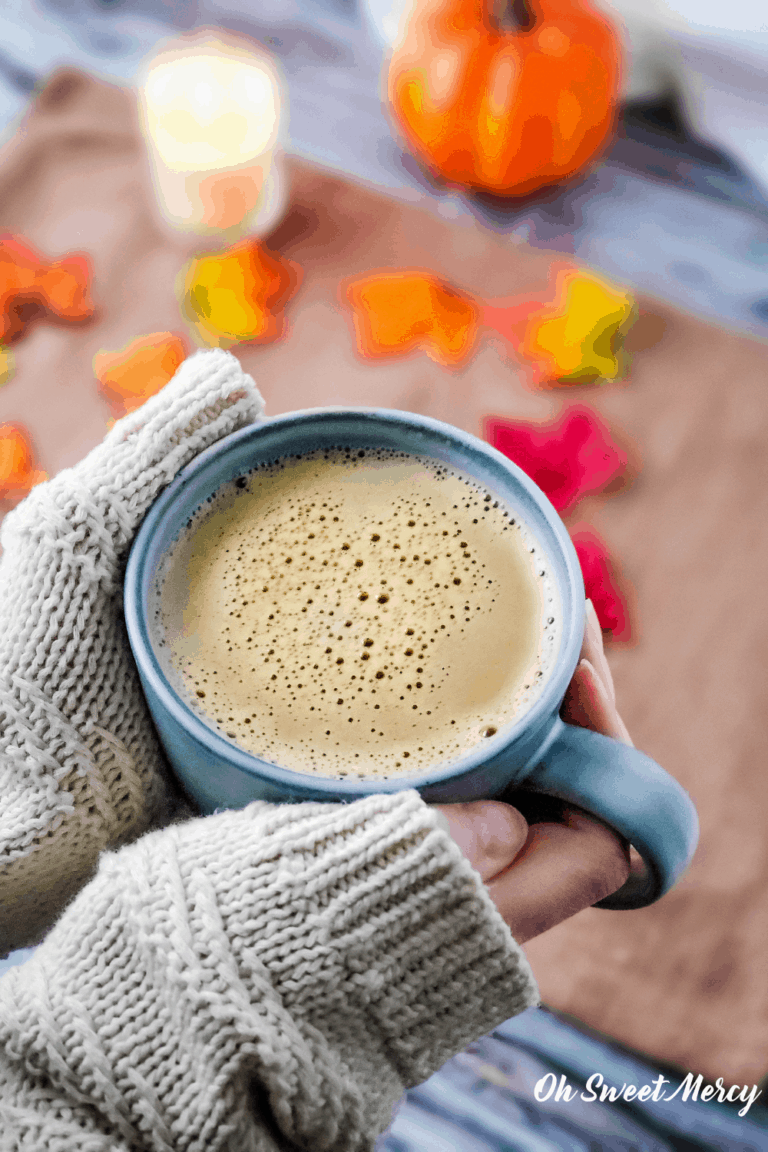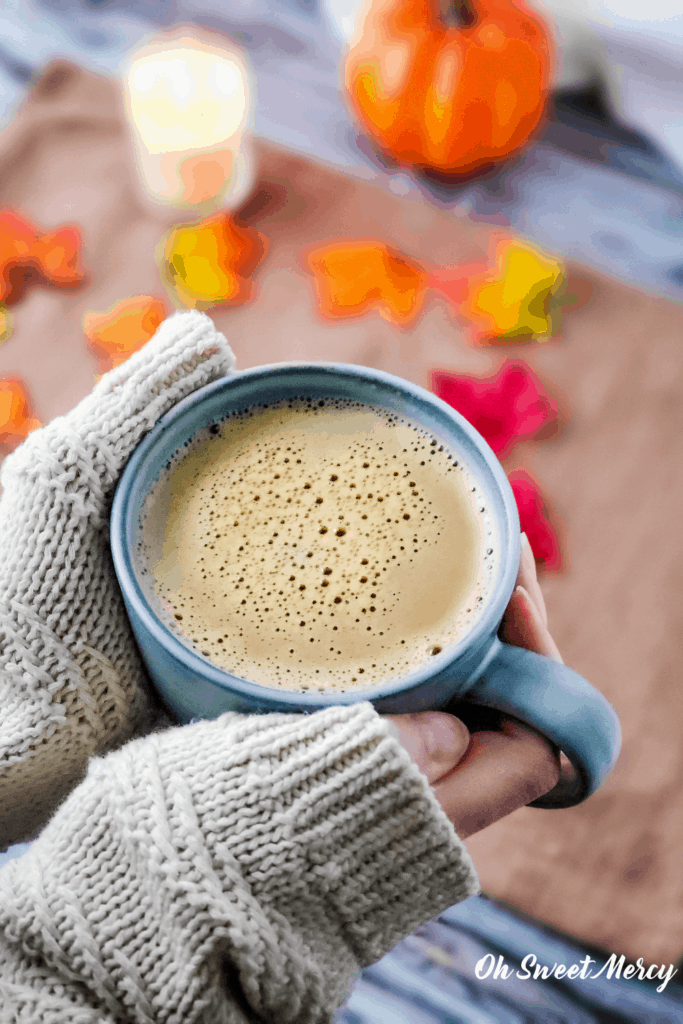 Whether or not you drink coffee, you'll enjoy this warm, low carb pumpkin spice steamer.
Even better, make it to suit either THM FP or S styles. I do so love versatile recipes!
There's nothing better on a cold, fall or winter day than your favorite sweater or hoodie, cozy blanket, and mug of something warm, pumpkin-y, and spiced.
My pumpkin spiced steamer is just what you need in your mug this season!
What Do I Need To Make This Recipe?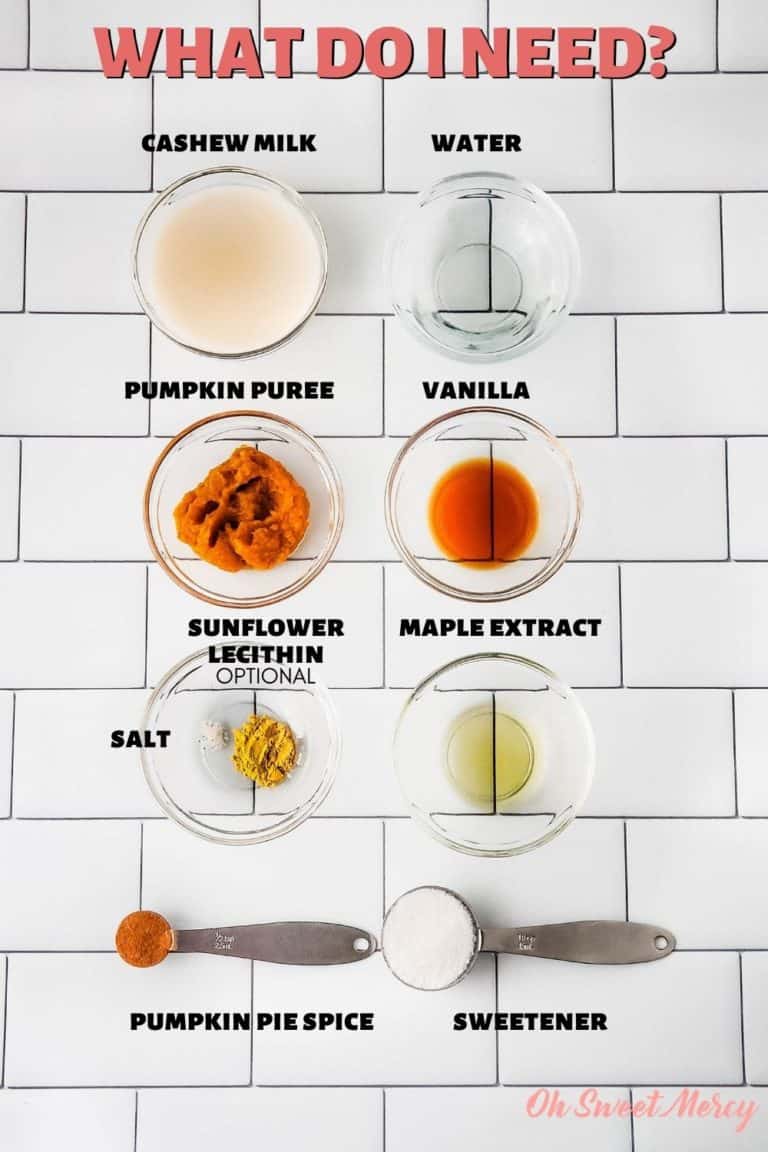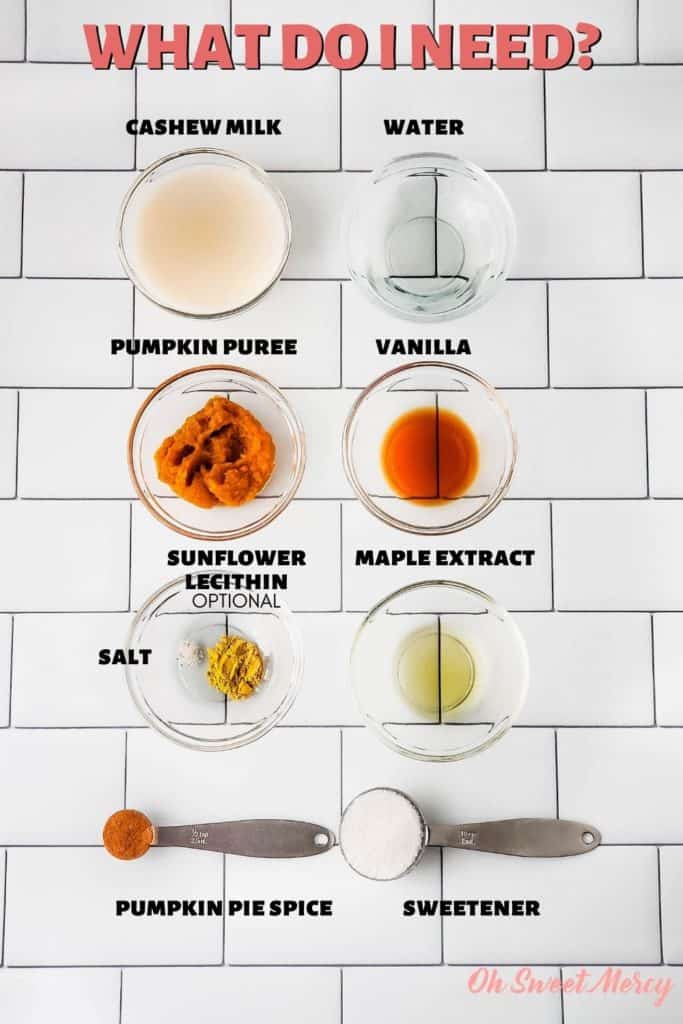 My daughter, Sister, is needing to cut back on dairy and she loves this delicious, creamy drink.
She also loves my Dairy Free Gingersnap Steamer. I'm glad she can test my dairy free recipes for me!
I always try to create recipes that are versatile and and don't require special ingredients. There is one special ingredient – THM Simply Sunflower Lecithin – I love to use in hot beverages, but it's not absolutely necessary.
In addition, using simple, whole food ingredients as much as possible means healthier (and often tastier) results.
Creamy without dairy? How is that possible?
For one, adding pumpkin puree gives this drink more body and a more weighty mouthfeel.
Also, I choose cashew milk over almond milk as it tends to be more creamy. However, almond milk works just fine.
Finally, adding THM Simply Sunflower Lecithin also helps make this drink creamy without dairy. If you don't have it, no worries, it's still delicious!
Want a dairy free S version? Add MCT oil, coconut oil, or coconut cream. Just make sure your coconut cream doesn't have sugar added or use the cream that separates in a can of full-fat coconut milk.
Of course, if you can have dairy and want an indulgent THM S warm beverage to sip on, just add some heavy cream.
How To Make A Creamy Pumpkin Spice Steamer.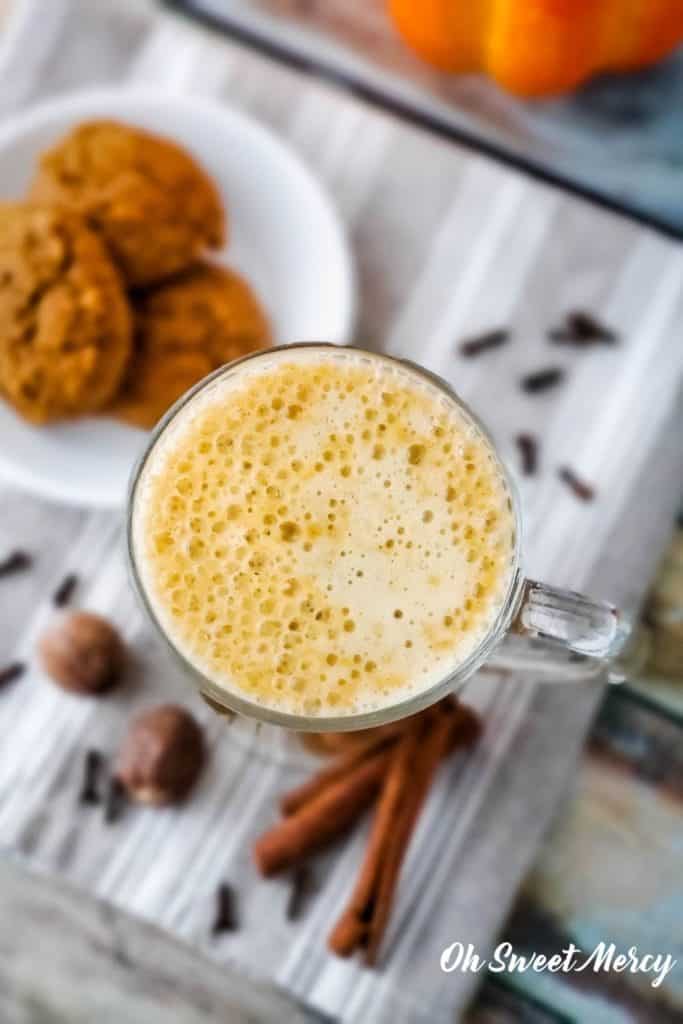 This one is seriously easy! Simply add your ingredients to a sauce pan and whisk while heating.
Once it's steaming and warmed to your liking, pour it into a mug and enjoy.
If you're going the dairy route, top with some sugar free whipped cream. Or, add some THM Pristine Whey Protein Powder and whip it until it gets frothy.
Use a frother or stick blender. Or, put some old fashioned arm-power into it and use a regular whisk.
Want To Add Whey Protein? Do It Carefully!
While adding whey protein powder to this pumpkin spice steamer is not necessary, sometimes we like some protein in our drinks.
If you've ever added whey protein powder to a hot drink and it looked like you stirred in cottage cheese, you know how unpleasant that is.
What happens is protein becomes denatured.
Denaturing occurs when a substance is altered from its natural form in some way. In the case of protein, acid and extreme heat will change its structure, breaking down the amino acids. The chains of amino acids will denature when they begin to be "unfolded" from their natural state. Basically, the protein begins to be broken down or digested.

Wellwisdom.com
According to the Whey Protein Institute (did you know such a thing existed?), the best ways to add whey protein to hot liquid are:
Stirring – Sprinkle whey protein slowly into the coffee while stirring constantly. This works pretty well. It results in just a few clumps that are soft and easy to smoosh against the side of the mug with a spoon.
Blending – Place the coffee in a large blender and add whey protein after you have started the blender. Make sure you remove the plastic insert in the cover so that steam can escape. The result is a foamy cappuccino-like product. Total blend time: about 8-10 seconds. Note – Bullet-type blenders can be dangerous for hot liquids as the steam has no escape and there are reports of the blend containers bursting, severely burning the users.
Immersion blending – Like using a regular blender, a large blending container is recommended. Add the whey protein once you have started blending. This also results in a foamy coffee.
Adding to creamer or milk – If you use a lot of creamer or milk, adding whey protein first to the creamer/milk works well. Then add the creamer/milk to the coffee. Or add creamer/milk to the coffee first to cool it slightly, then sprinkle/stir or blend in whey protein as above.
If this sounds too complicated in the morning, try adding THM Integral Collagen (or your favorite collagen product) instead.
You don't have to add either whey or collagen, though!
How To Include This Delicious Hot Beverage In Your THM Meal Planning.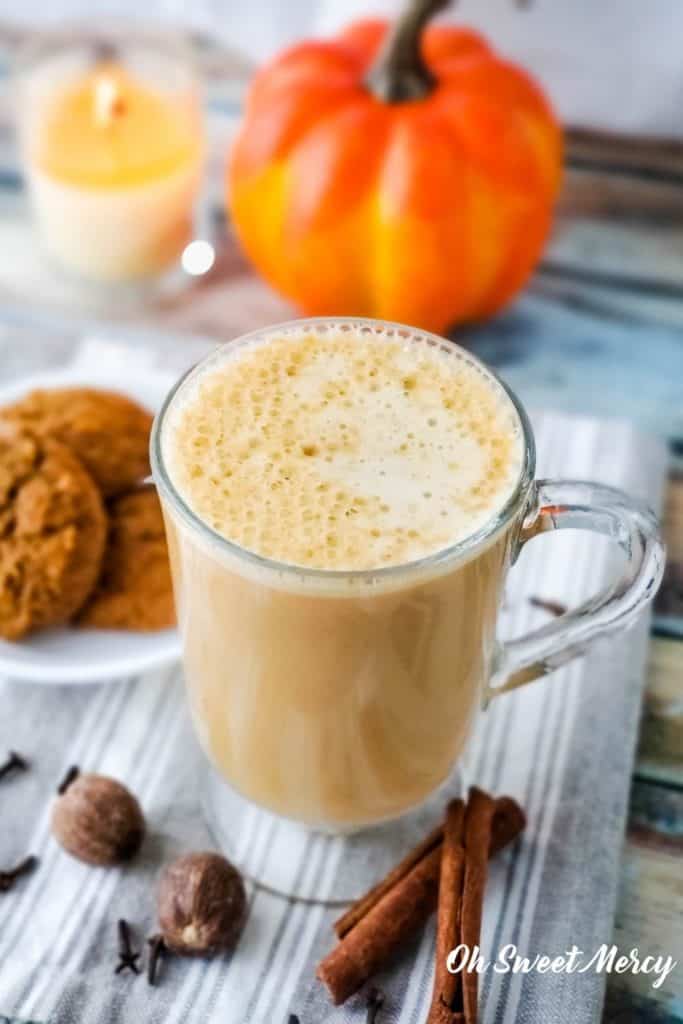 Made THM FP style, my Pumpkin Spice Steamer has just 2 grams of fat and 4.5 grams of carbs.
Enjoy it as part of your THM S, E, or FP meal. Just make sure the fats and carbs in the rest of your meal stay within the Plan guidelines.
NOTE: The pumpkin in this steamer means it's not suitable for Deep S.
If you'd like something more rich, add MCT oil, coconut oil, or coconut cream for a dairy free THM S.
Or, if dairy free isn't a necessity for you, add a tablespoon of either half and half or heavy cream.
NOTE: the nutritional information in the recipe card is for the FP style steamer with no added fats.
Enjoy this drink as a dessert beverage or a snack.
SNACK IDEA:Why not try a mug of this delicious steamer with my Low Carb Molasses Ginger Cookies? Add half a scoop of collagen for a little protein, if you like.
Made FP style, enjoy with your morning oatmeal for a satisfying breakfast treat! An egg white omelete on the side gives you more protein if you need it.
I hope you'll enjoy this creamy Pumpkin Spice Steamer this fall and winter. May it warm and nourish you and help you reach your THM goals!
PIN IT!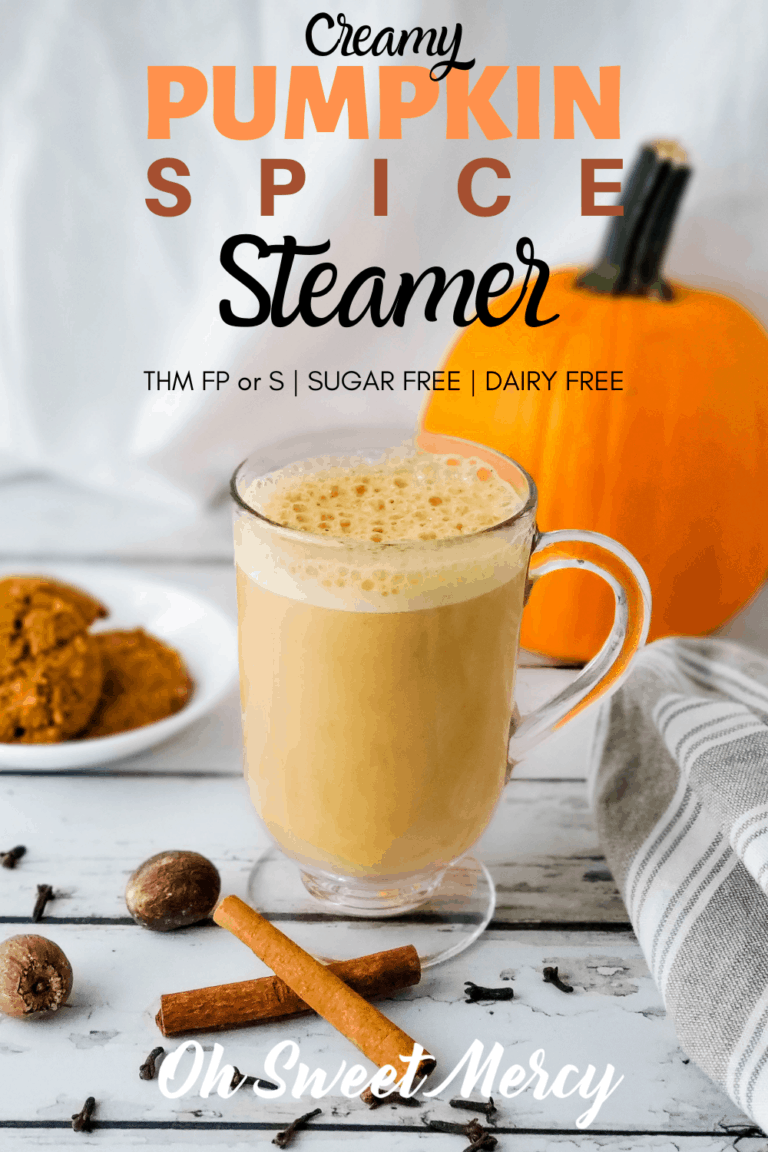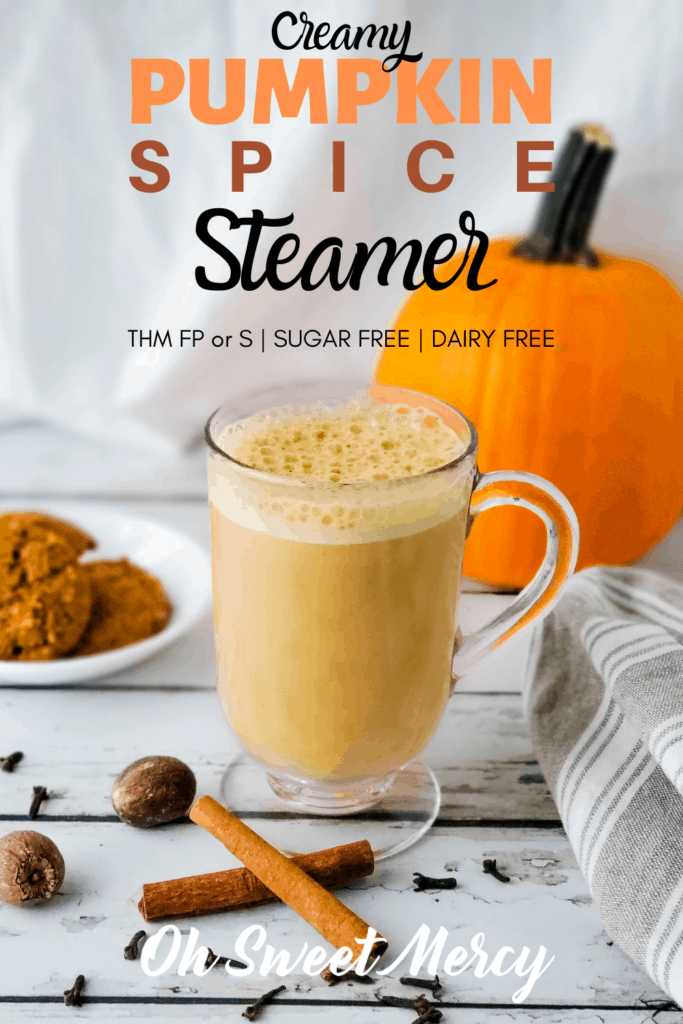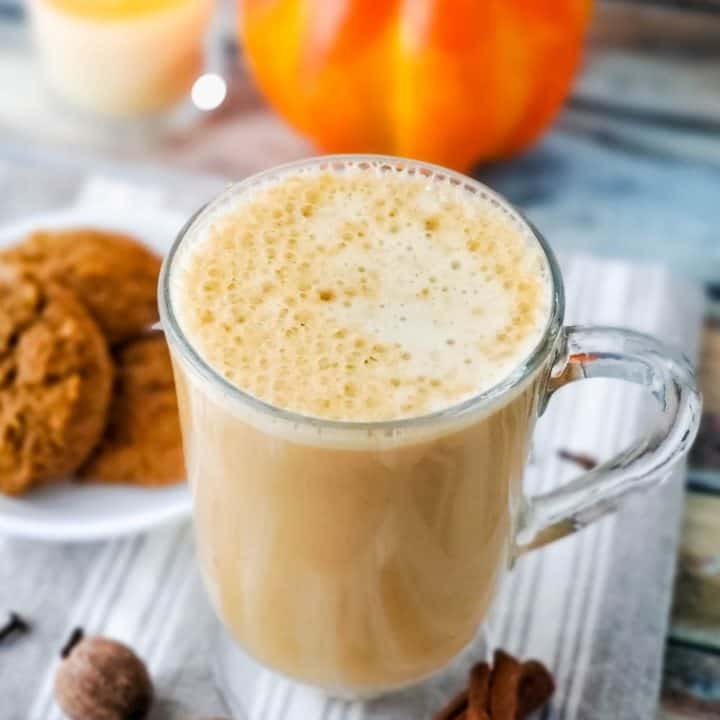 Creamy Pumpkin Spice Steamer | THM FP or S, Dairy Free
Yield: 1 serving (1 2/3 cup)
Prep Time: 3 minutes
Cook Time: 7 minutes
Total Time: 10 minutes
My Creamy Pumpkin Spice Steamer will warm and nourish you this fall and winter, all without dairy, sugar, and loads of carbs and fat. Add dairy if you like, though! Quick 5 minute recipe means a warm, steaming mug of delciousness in no time. THM friendly!
Ingredients
1 cup unsweetened cashew milk (or other on-plan dairy free milk)
1/2 cup water
1/4 cup pumpkin puree (NOT pumpkin pie filling)
Sweetener to taste (I used 3 doonks Pure Stevia Extract or 2 to 3 teaspoons Pyure Organic Stevia)
OPTIONAL: MCT oil, coconut oil, coconut cream, butter, half and half, or heavy cream
OPTIONAL: collagen or whey protein powder
OPTIONAL: whipped cream to top (or whipped coconut cream for dairy free)
Instructions
In a small sauce pan, whisk together cashew milk, water, pumpkin puree, pumpkin pie spice, sweetener, extracts, lecithin, and salt.
Heat over medium heat until steaming, whisking occasionally to make sure all ingredients are well blended.
If using collagen or whey, add carefully after steamer is heated (read the section in the post about adding whey).
Pour into a mug and top with whipped cream, if desired, and sprinkle a bit of pumpkin pie spice, cinnamon, or nutmeg on top.
Notes
For a THM S style steamer, add up to 1 tablespoon of one of the following:
Coconut oil (refined if you don't like coconut flavor)
Butter
Half and half
Heavy whipping cream
Nutrition Information:
Yield: 1
Serving Size: 1
Amount Per Serving:
Calories: 45
Total Fat: 2g
Saturated Fat: 0g
Trans Fat: 0g
Unsaturated Fat: 1g
Cholesterol: 0mg
Sodium: 162.5mg
Carbohydrates: 6g
Net Carbohydrates: 4.5g
Fiber: 1.5g
Sugar: 2g
Protein: 1.5g
Nutrition information is approximate and based on the best knowledge available at the time of recipe publication. Your results may vary due to differences in ingredients. You can make your own calculations if this recipe does not include nutrition info by using an online calculator such as https://recipes.sparkpeople.com/recipe-calculator.asp