---
This gingersnap spiced steamer will warm you from the inside out. It's a perfect combination of classic gingersnap flavors in a frothy, creamy drink but without the dairy and sugar. Settle in, watch the snow fall, and enjoy a serene moment with your favorite mug.
---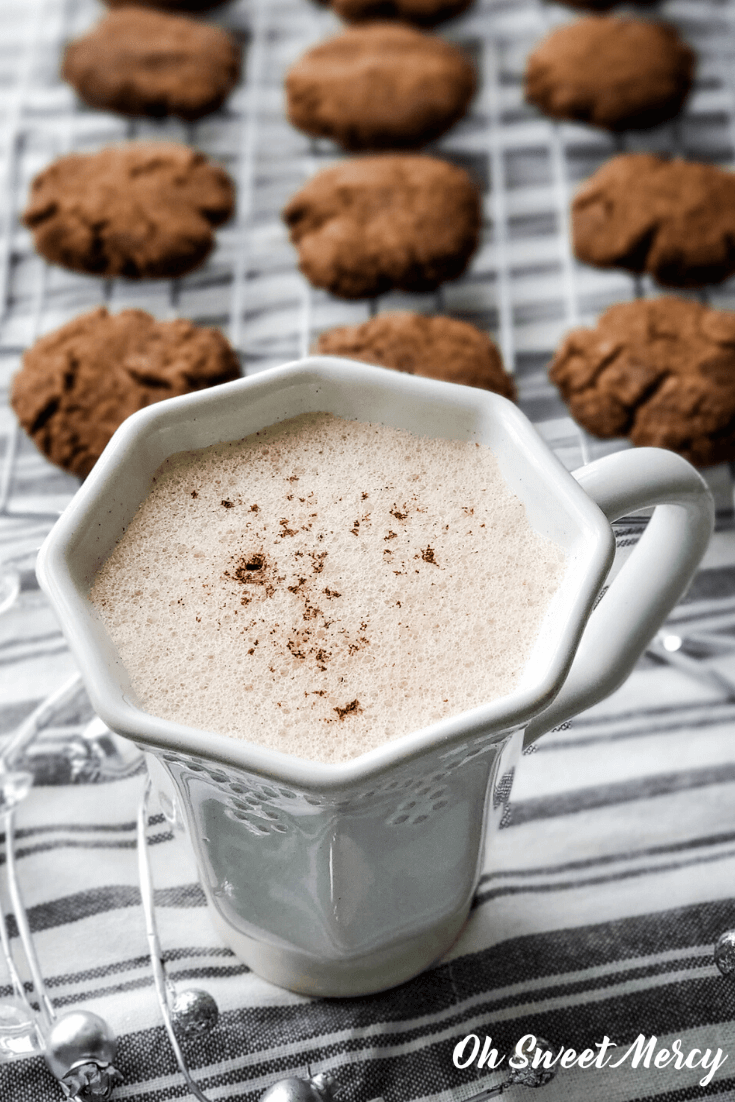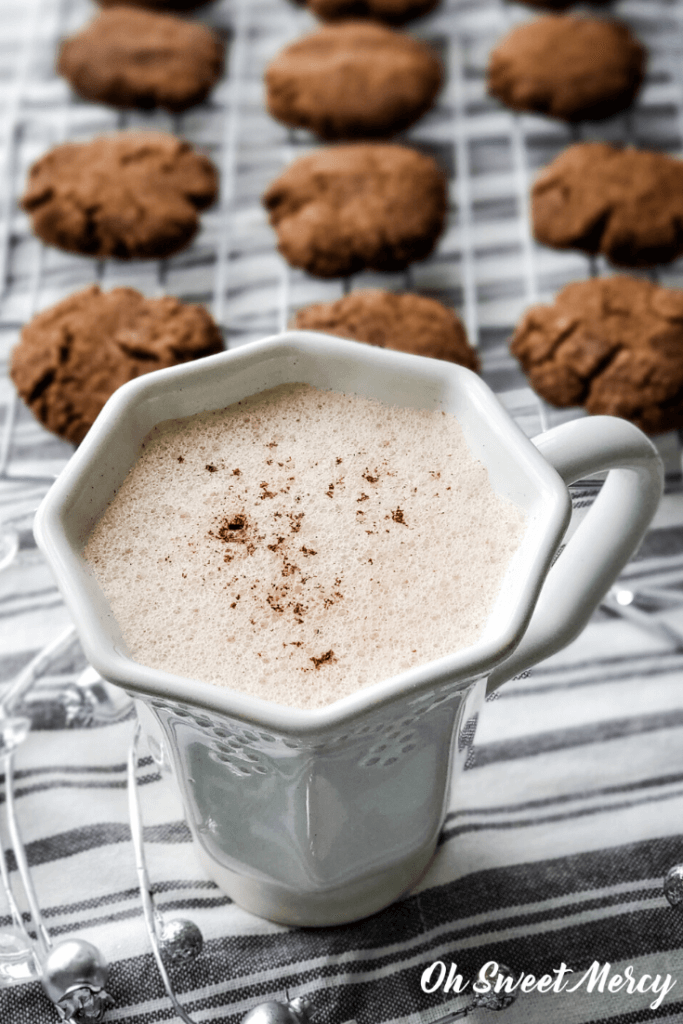 Years ago when I worked as a barista I made steamers for kids and other people who don't drink coffee. I've given up coffee myself this year so I'm bringing steamers back into my life.
If you've never had a steamer you might wonder just what that is.
It's basically a flavored latte but without the coffee. Steamed and frothed milk and your sugar-laden, artificially-flavored syrup of choice.
At least that's what you get at the big-chain coffee shop I used to work for, anyway. When I make them at home, that's not what I use!
Flavored Syrups Vs. Real Spices In A Homemade Steamer Recipe.
You certainly can use flavored syrups in your steamer recipes. The problem with most commercially available flavored syrups? Sugar and artificial stuff.
As a Trim Healthy Mama plan follower, you know that sugar is definitely not on plan. And while there are sugar free syrups available at most coffee shops, they're typically made with artificial sweeteners like sucralose.
Those sweeteners are not considered on-plan for THM because of the health concerns surrounding them.
So, I'm using real, actual spices in my Gingersnap Steamer. I use my easy 3 Ingredient Gingerbread Spice Mix. You'll want to mix up a batch of this for the winter for making all things gingerbready and gingersnappy.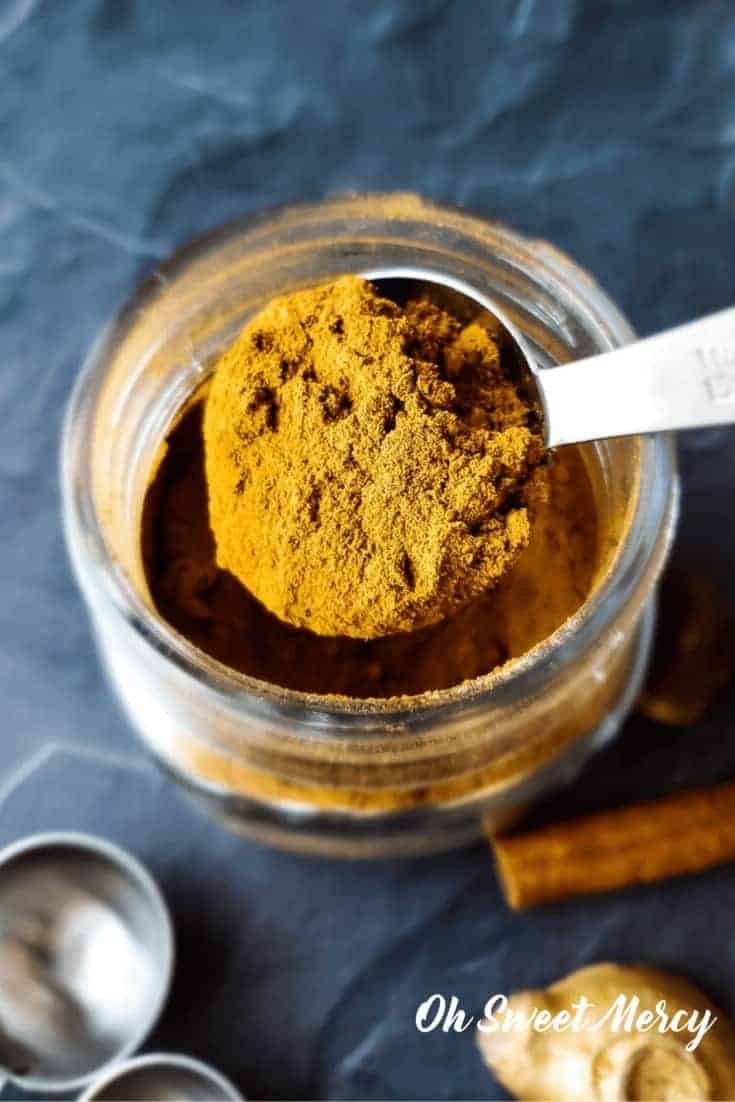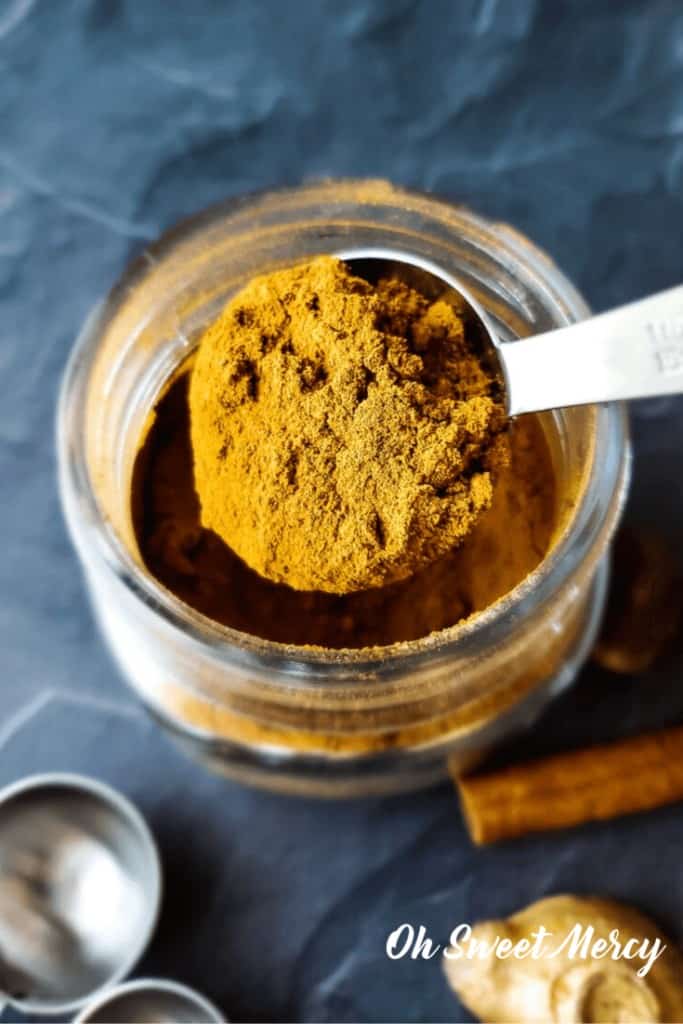 Since we use real spices, guess what happens as your mug sits? The spices tend to settle to the bottom over time.
Simply give it a stir or swirl if your mug has been sitting for a bit, no problem!
How To Make A Frothy Dairy Free Steamer.
I don't have one of those fancy milk steamers in my kitchen. But back in my barista days I used to steam soy milk all the time and it would get frothy, just like real milk. If you have one give it a try.
What do I use now? A $3 milk frother from Ikea. I've had it for a couple of years and it's still working fine. And we just replaced the original batteries not to long ago!
Prefer ordering from Amazon? I found this milk frother (that comes with a travel case for portability) for just a few bucks more.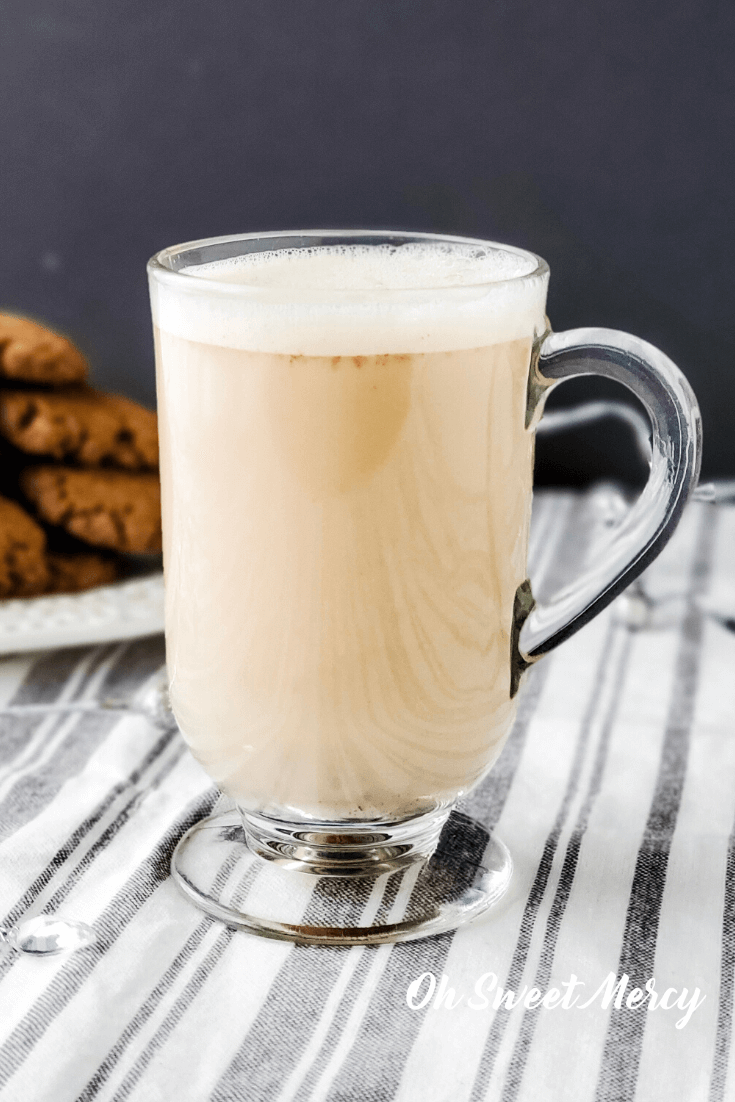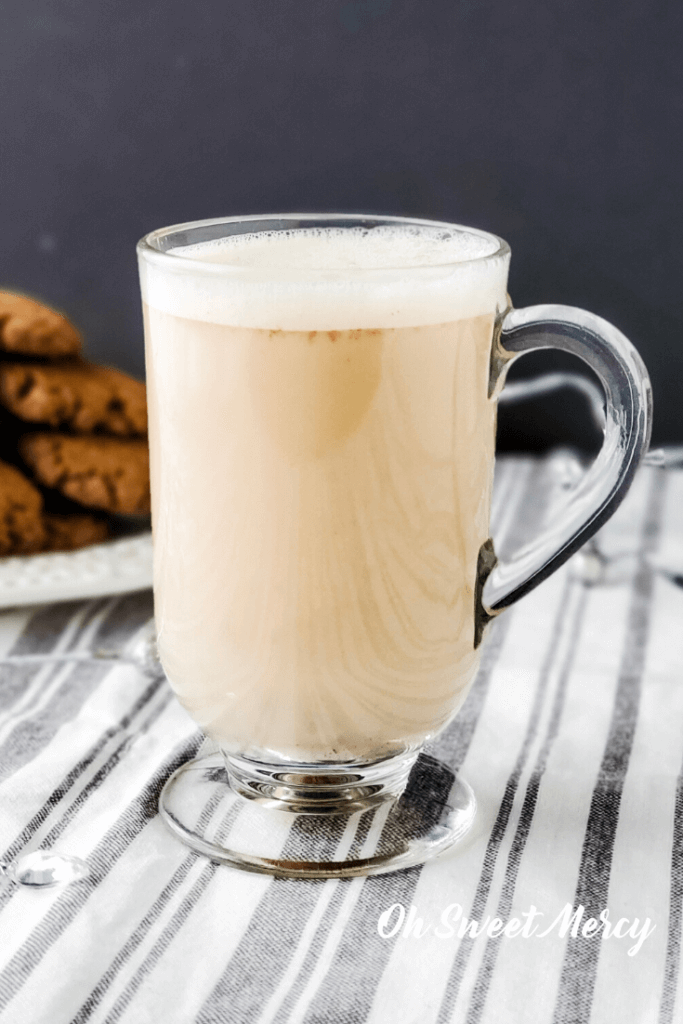 I do advise using your handheld milk frother in the pan instead of in your mug. That way you can really get a good froth whipped up without worrying about the contents flying out all over.
Not that I would know anything about that. >cough<
No handheld milk frother in your kitchen? You can also pour the Gingerbread Steamer into your blender and give it a whirl, or pour it into a mason jar and use a stick blender.
If using your blender, be sure to not heat your beverage too much. That is also asking for a disaster. >cough<
Finally, if you don't care about frou-frou beverage froth anyway, just use a whisk. You'll definitely still get some bubbles this way but the main point is whisking all the ingredients together, right?
Check out my Dairy Free Hot Creamsicle Cocoa, too!
Do I Need Any Special Ingredients To Make This Recipe?
No, although I do recommend THM Simply Sunflower Lecithin. It's a wonderful alternative to soy lecithin and helps give a creamier mouth-feel to this dairy free beverage.
Be sure to whisk well if using the sunflower lecithin to ensure it is completely mixed in and not clumpy.
Sunflower lecithin is also a brain-boosting food! Now that I'm a couple years away from 50 taking care of my cognitive health is even more important. Making sure to consume foods that nourish the brain is good no matter what your age, though.
However, if you don't have any sunflower lecithin no worries. This drink is still delicious without it.
I also use a great low carb "brown sugar" recipe from Wonderfully Made and Dearly Loved. Gingersnaps have molasses, and while it's OK to use molasses on plan – spread out in a multi-serving recipe like cookies – it shouldn't be a primary source of sweetening.
Since a teeny-tiny bit of molasses is hard to measure I decided to use the low carb brown sugar. You can omit this if you don't have it or the ingredients to make it on hand.
How To Enjoy My Dairy Free Gingersnap Steamer During Your THM Day.
This lovely spiced beverage is a THM FP (Fuel Pull), which means it's low in both fat and carbs.
While we don't make a big fuss over numbers on the Trim Healthy Mama plan we do need to be mindful when we have foods with fats and carbs in them.
This drink (made with the lecithin) has 4.2 grams of fat, which is close to the allowable added fat limit for a THM E and THM FP setting so keep that in mind.
Enjoy it on its own with a half scoop of collagen for an afternoon snack.
Or enjoy with low carb, S-style cookies. How about my Ginger Molasses Cookies? That's what's in the picture behind the mug.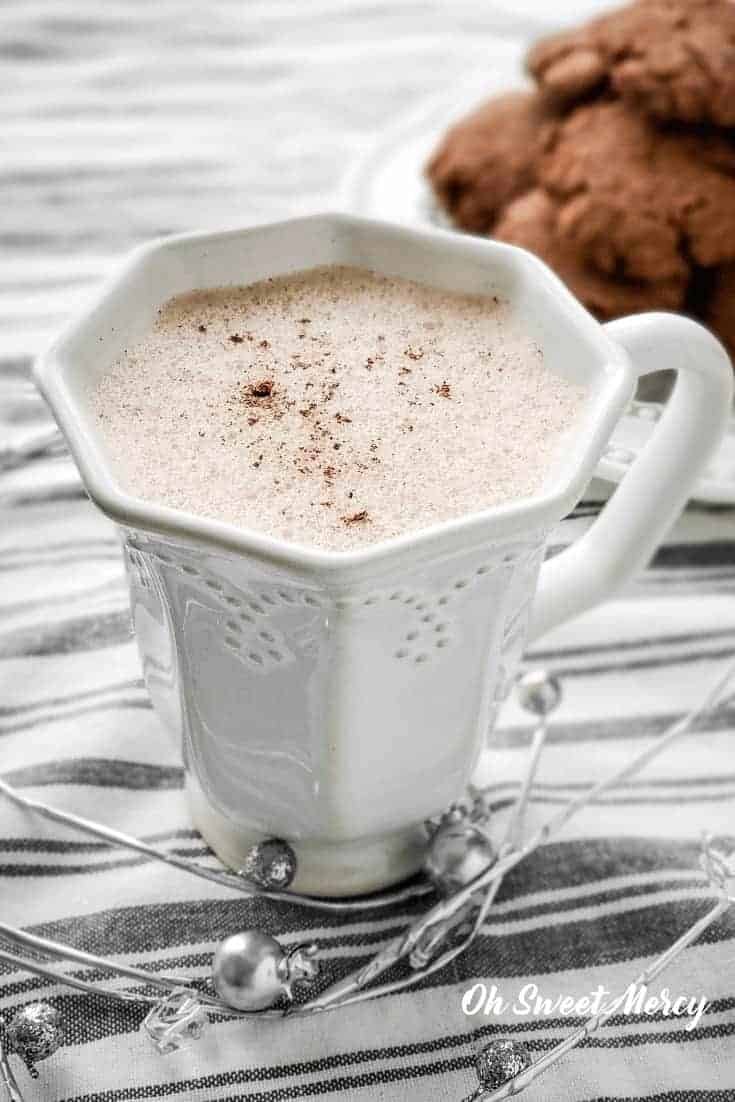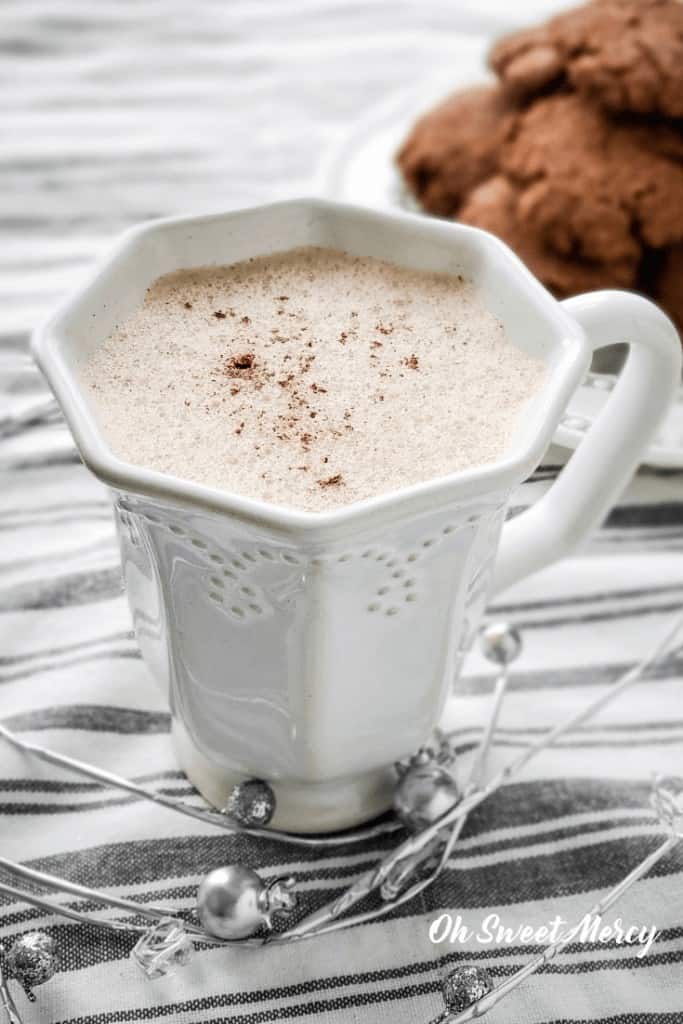 If you'd like to enjoy this with your morning oatmeal (a THM E), leave the added fat out of the oatmeal.
Going over a gram or 2 of fat in an E or FP on occasion is nothing to stress over. However, we don't want to do that all the time (those extra grams add up during the day). We also want to avoid fuel stacking.
The THM Plan Book explains this very well so be sure to read it for the full details.
If you leave out the the lecithin this steamer has just 3 grams of fat.
You can also make this a luxurious S steamer by adding some butter, coconut oil, or MCT oil. Just be sure to enjoy it this way with low carb foods.
Be Sure To Drink This In Your Favorite Mug!
Everything is better in a favorite mug, don't you think? Maybe that sounds silly but there's just something about a mug you really love that makes enjoying a warm, cozy beverage all the better.
I shared a story recently about an important lesson I've learned…from my favorite mug. While I didn't use it in the photos for this post, you can bet I'll be cozily sipping my Gingersnap Steamer from my favorite mug this winter!
If you make this and enjoy it in your favorite mug, snap a photo and share it with me. You can email me or tag me on Instagram – @ohsweetmercy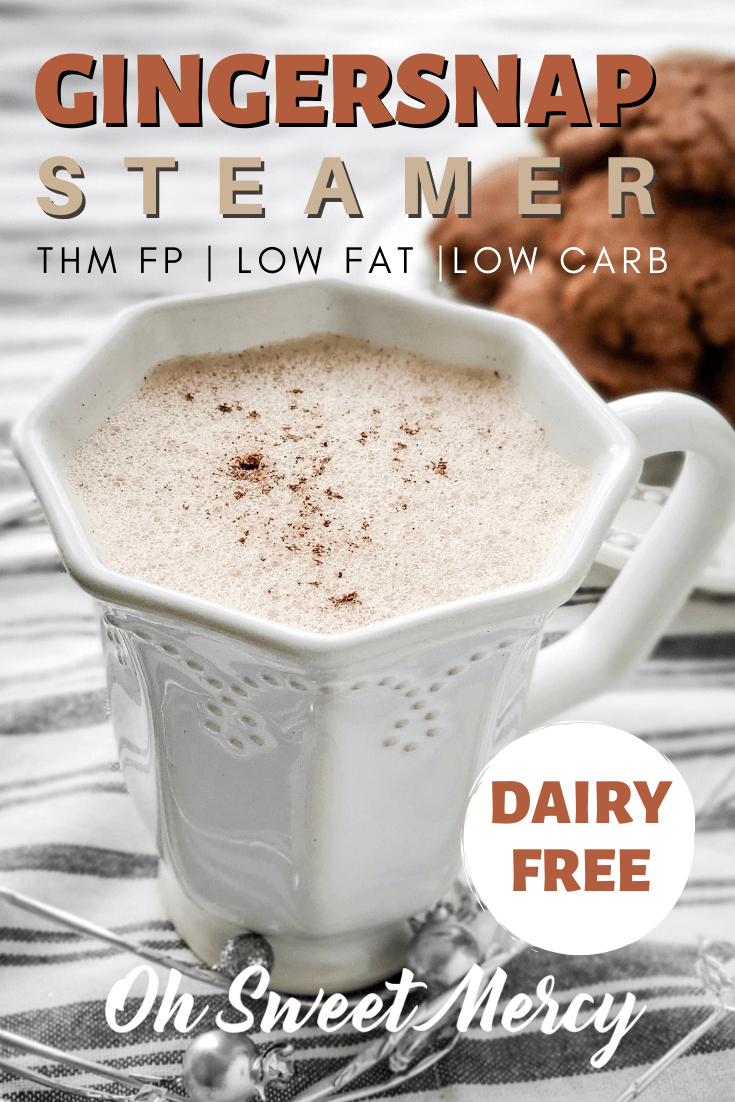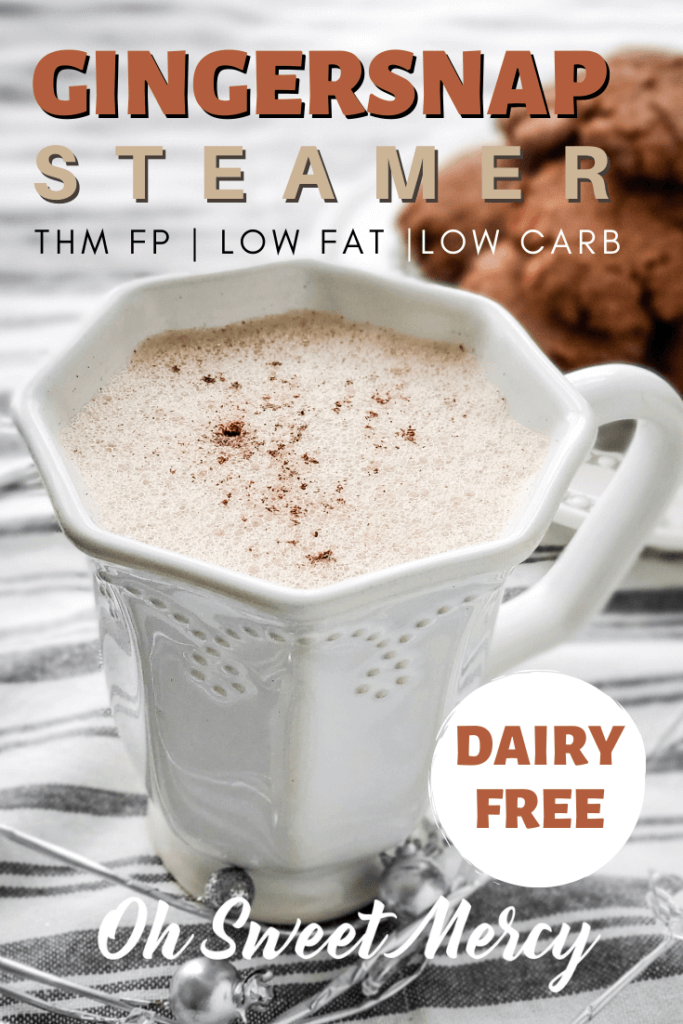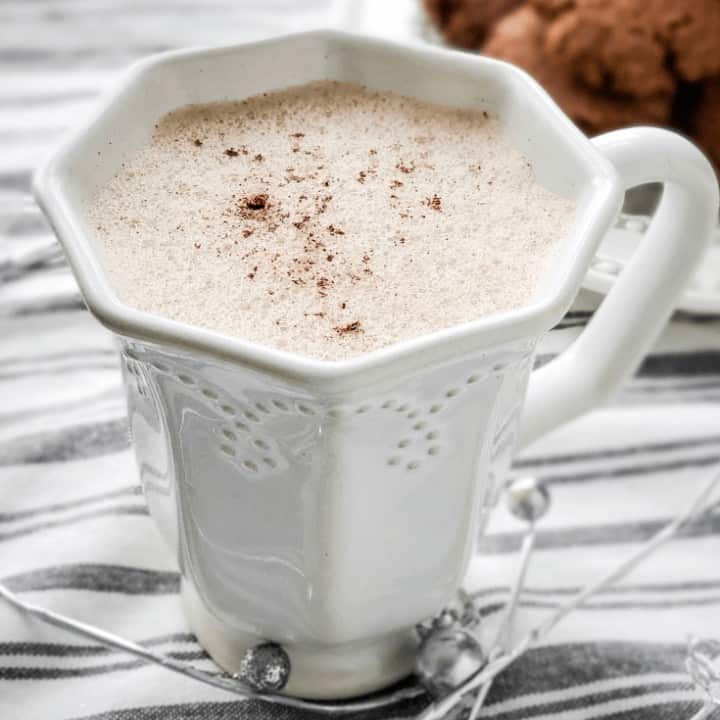 Dairy Free Gingersnap Steamer | THM FP, Sugar Free
Yield: 1 serving
Prep Time: 2 minutes
Cook Time: 4 minutes
Total Time: 6 minutes
Classic gingersnap flavors whipped into a creamy, frothy beverage - all without dairy or sugar! Perfect for sipping on a cold winter day, especially with some low carb gingersnap cookies.
Ingredients
1 cup unsweetened almond milk
1/2 cup water
1/4 teaspoon pure vanilla extract
Spices for sprinkling, if desired, such as more Gingerbread Spice Mix, or your favorite individual gingersnappy spice.
Instructions
In a saucepan, add all ingredients and whisk well to combine.
Heat until steaming.
Use a milk frother to whip up a nice froth in the pan, if desired.
Pour into your favorite mug, snuggle up under a blanket and sip while watching the snow fall.
Notes
If using THM Simply Sunflower Lecithin be sure to whisk very well to avoid clumps.
If the beverage sits for long some of the spices will settle out to the bottom of the mug. Give it a stir or a swirl to mix it back up again.
You can also skip the low carb brown sugar if you don't have it or have the ingredients to make it, just taste first and increase the sweetness if desired.
Recommended Products
As an Amazon Associate and member of other affiliate programs, I earn from qualifying purchases.
Nutrition Information:
Yield: 1
Serving Size: 1
Amount Per Serving:
Calories: 42
Total Fat: 4.2g
Saturated Fat: .3g
Trans Fat: 0g
Unsaturated Fat: 3.6g
Cholesterol: 0mg
Sodium: 180mg
Carbohydrates: 2.1g
Net Carbohydrates: 0g
Fiber: 1g
Sugar: 1.1g
Sugar Alcohols: 0g
Protein: 1g
Nutrition information is approximate and based on the best knowledge available at the time of recipe publication. Your results may vary due to differences in ingredients. You can make your own calculations if this recipe does not include nutrition info by using an online calculator such as https://recipes.sparkpeople.com/recipe-calculator.asp