---
These low-carb and sugar-free Caramel White Chocolate Macadamia Blondies are a perfect afternoon treat. You won't miss the waist-expanding sugar and white flour in my rich, buttery blondies. Trim Healthy Mamas know we can enjoy them any time of day and keep on trimming so go ahead and have them for breakfast.
---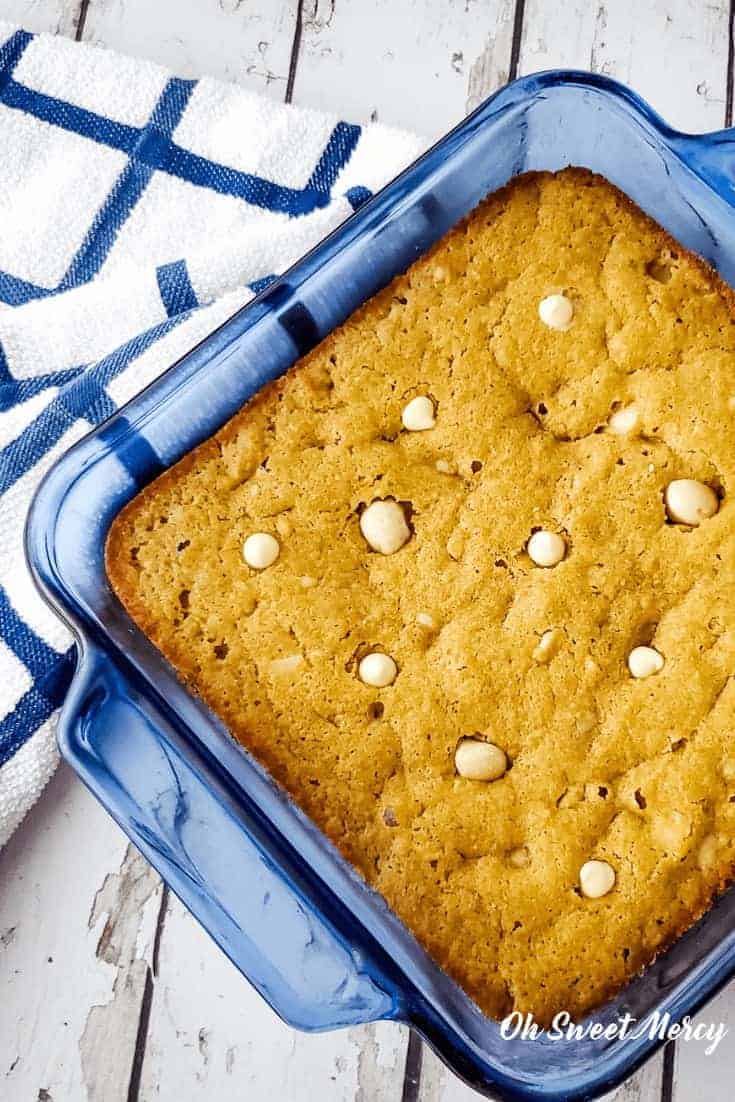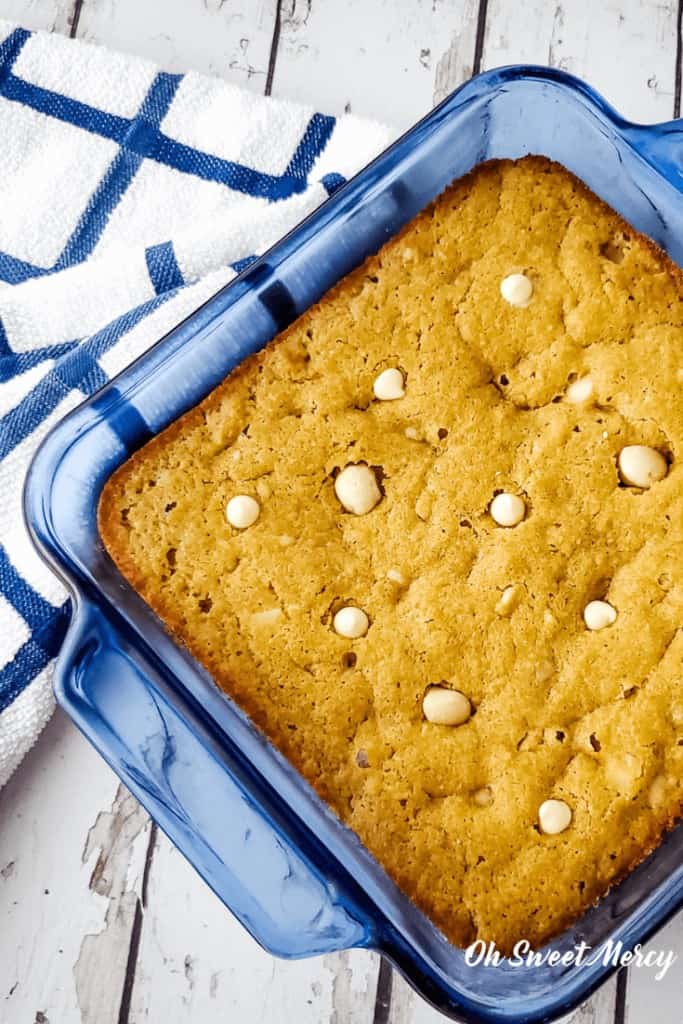 White chocolate and macadamia nut are two of my favorite flavors in a cookie or blondie. It's a classic and delicious combination.
But when there's no room for sugar in your baking then your white chocolate options are somewhat limited.
Where To Get Sugar-Free White Chocolate Chips.
You can make your own sugar-free white chocolate chips (see this recipe from Wonderfully Made and Dearly Loved). However, if that's not your jam I've got good news for you!
There's a new sugar-free baking chip brand out now called Bake Believe. It's rolling out in select Wal-Mart stores across the country. Use their store locator and see if they're in your area yet.
The THM groups on Facebook have been all abuzz over Bake Believe sugar free white chocolate chips (as well as the dark chocolate and semi-sweet chocolate chips). So, of course I had to check them out myself.
These sugar-free baking chips are plan-approved, which is great news! However, be aware that they do contain inulin. Inulin can cause tummy troubles for some people.
Most people, however, won't have any issues. Just be sure to eat them wisely. For example, don't sit and munch down an entire bag while watching a movie 😉
Note: I am not affiliated with Bake Believe and this post is solely inspired by my experience with their products. But if anyone from Bake Believe sees this post and wants to work with me I'd love to hear from you 😉
Pin It!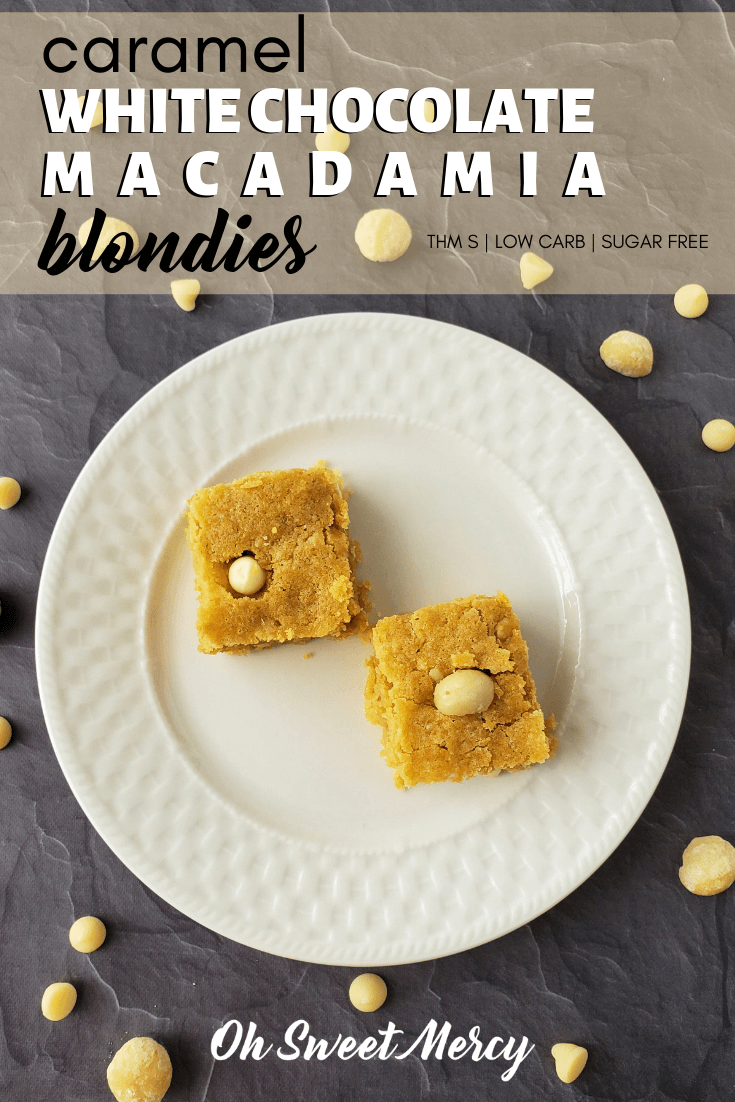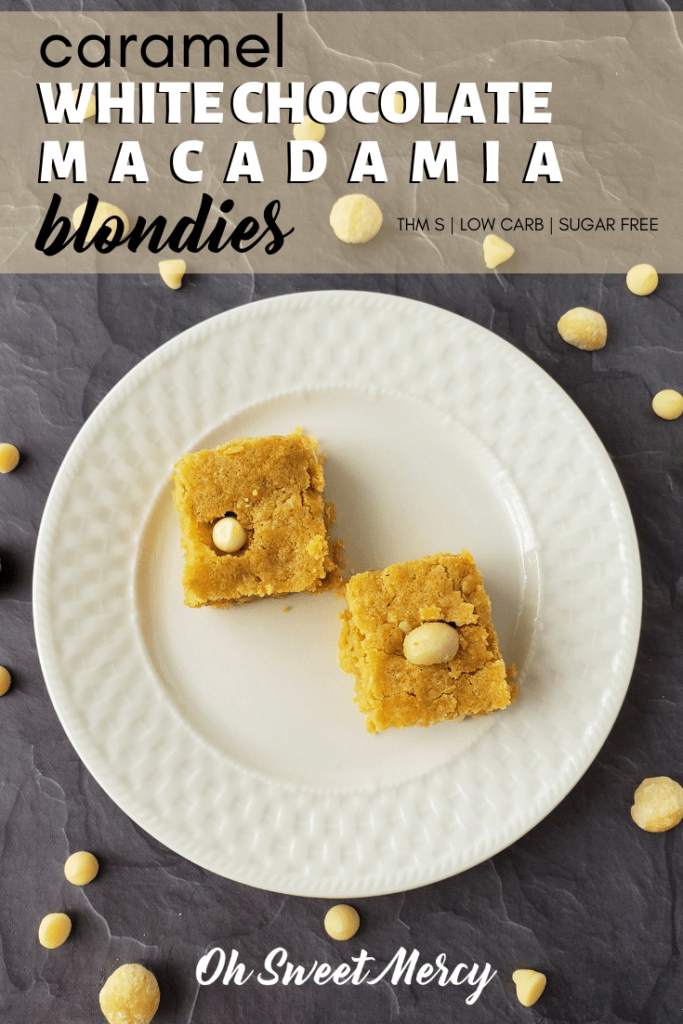 How To Make Low Carb Caramel White Chocolate Macadamia Nut Blondies.
I used THM Baking Blend and Trim Healthy Naturals Caramel Natural Burst extract for this recipe. I'm also working on versions using a homemade baking blend as well as single ingredients instead of baking blends.
However, I didn't want to wait to get this recipe up on the blog for you! It's so good!
Feeling adventurous? Try a homemade baking blend recipe if you like. Just be aware that some DIY baking blend recipes are more "thirsty" than others. You may need to use less (or add more liquid if the mixture is too dry).
If you do try a DIY baking blend please come back and let us know how they turn out!
Give these a try if you need a homemade baking blend recipe:
Just a note…the mixture consistency should be like a thick cake batter. If your mixture is crumbly it's too dry. Try adding a bit of almond milk or heavy cream (or even just water) to make it less dry.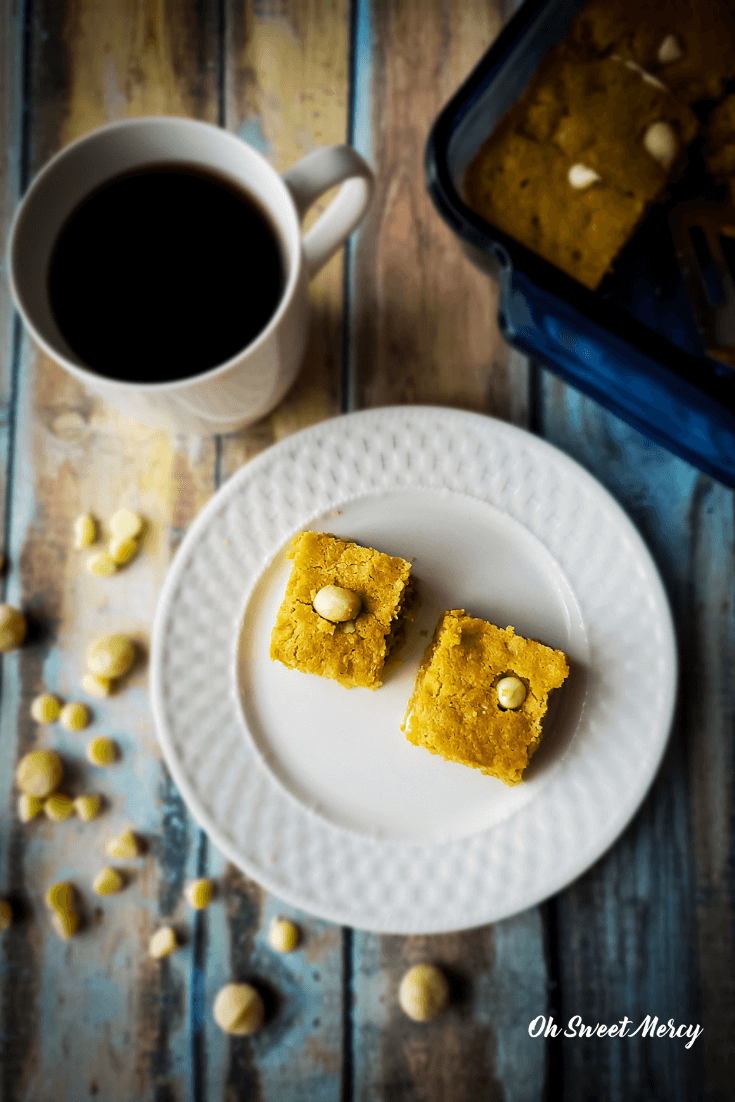 How To Fit Low Carb Caramel White Chocolate Chip Macadamia Blondies Into Your THM Meal Plan.
This is an S recipe so enjoy them in low carb settings.
Enjoy with a mug of your favorite hot beverage with some collagen for a snack
After a FP (Fuel Pull) or Light S meal for dessert
With a FP protein shake for a quick and easy meal
Using THM Baking Blend helps keep them a little lighter on calories and fat, too. Nothing wrong with fat of course but responsible enjoyment, y'all.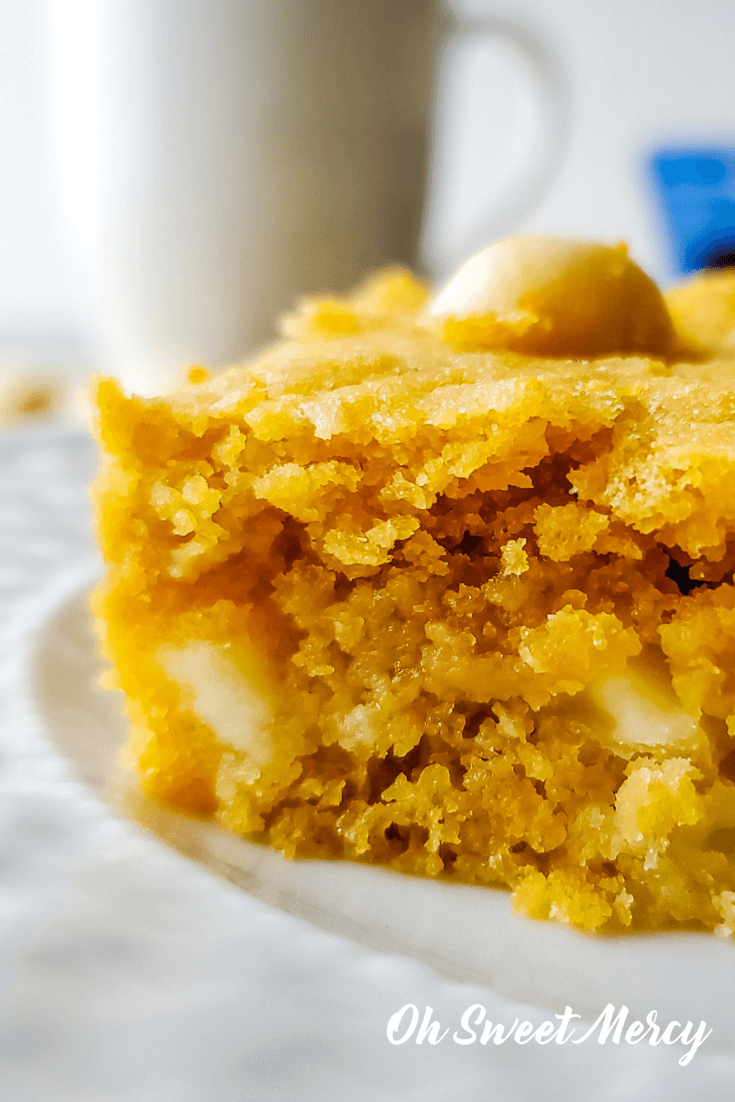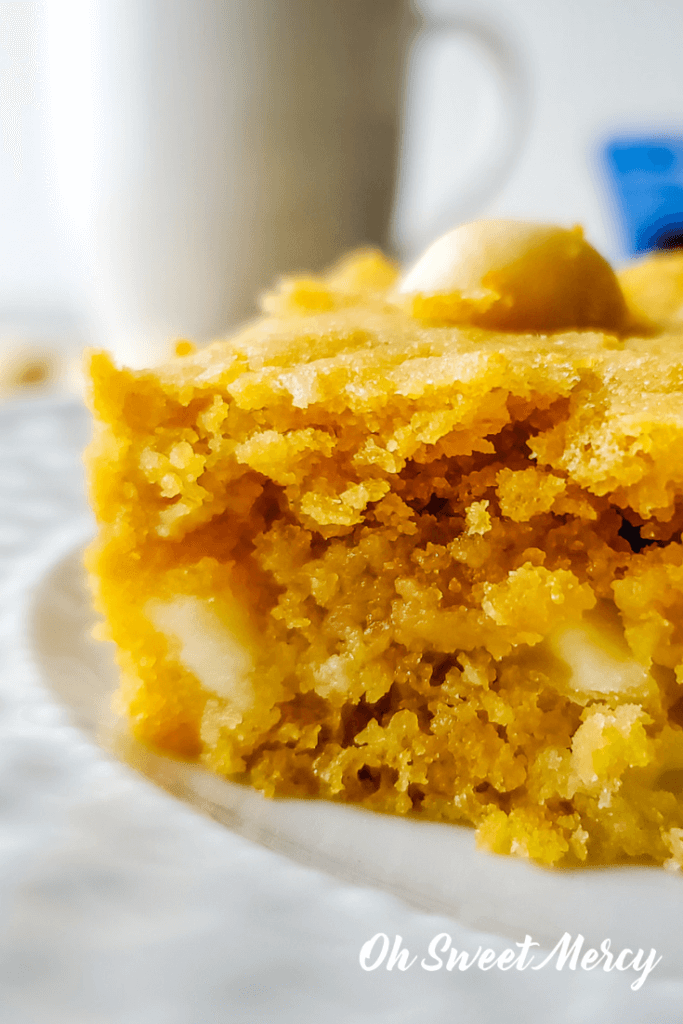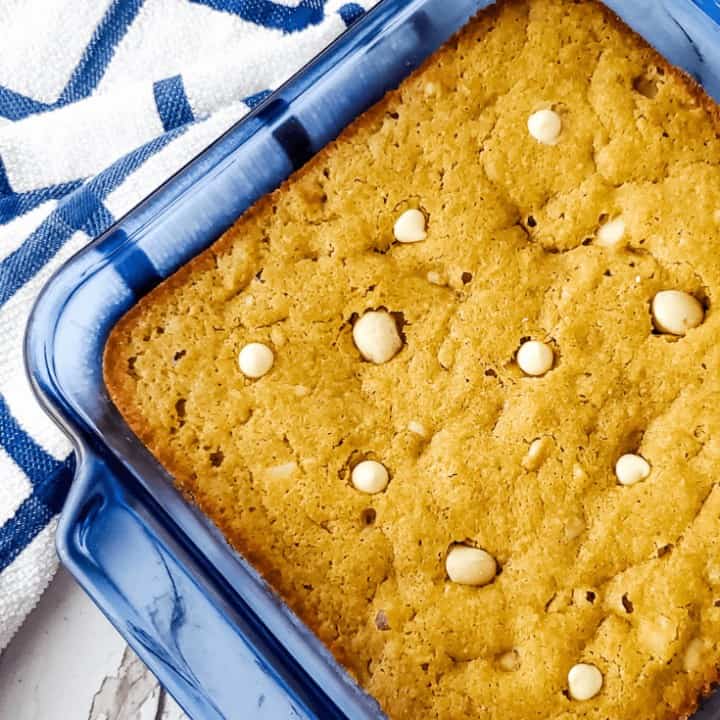 Caramel White Chocolate Macadamia Blondies | THM S, Low Carb, Sugar Free
Yield: 16 blondies
Prep Time: 10 minutes
Bake Time: 20 minutes
Cooling Time: 30 minutes
Total Time: 1 hour
Rich, buttery, and with a hint of caramel my sugar-free Caramel White Chocolate Macadamia Blondies make a perfect low carb, THM S snack or dessert.
Ingredients
1 1/2 teaspoons baking powder
1/2 cup melted butter
2 eggs PLUS one egg yolk
1 teaspoon molasses
1 teaspoon pure vanilla extract
1/2 cup chopped macadamia nuts
1/2 cup Bake Believe White Chocolate Chips
Instructions
Preheat oven to 350 degrees.
Lightly grease an 8" x 8" baking dish and set aside.
In a mixing bowl, combine Baking Blend, sweetener, baking powder, and salt and mix well.
In a separate bowl, whisk togther the melted butter, eggs, egg yolk, molasses, vanilla, and caramel extract.
Gently mix into dry mixture.
Wait a few minutes to see if it's going to be too dry.
If mixture seems too dry, add almond milk, heavy cream, or water a tablespoon at a time until the right consistency is reached.
Fold in macadamia nuts and white chocolate chips.
Press into greased baking dish.
Bake for 25 to 30 minute or until cooked through in the center.
Don't overbake.
Allow to cool completely before cutting.
Notes
Feel free to use a DIY baking blend recipe if you don't have THM Baking Blend. You may need to adjust the amount of liquid or baking blend if you do.
If using a granulated stevia that measures cup for cup like sugar, use 1/2 cup.
Recommended Products
As an Amazon Associate and member of other affiliate programs, I earn from qualifying purchases.
Nutrition Information:
Yield: 16
Serving Size: 1/16 recipe
Amount Per Serving:
Calories: 134.7
Total Fat: 12.8g
Saturated Fat: 5.7g
Trans Fat: 0g
Unsaturated Fat: 4.8g
Cholesterol: 50.4mg
Sodium: 121.2mg
Carbohydrates: 14.5g
Net Carbohydrates: 9.9g
Fiber: 4.6g
Sugar: .7g
Protein: 3.1g