Red palm oil…what in the world do you do with that stuff, anyway?
Red palm oil is one of those good-for-you fats you want to include in your healthy eating plan. It's deep, red-orange color may be a bit strange if you're used to butter and coconut oil, but don't let that scare you! With such a color just what would you do with red palm oil?
You'd make something yummy, that's what. Something that color just seems natural with, too. Like carrot cake.
But first, here's why you want to include red palm oil in your diet.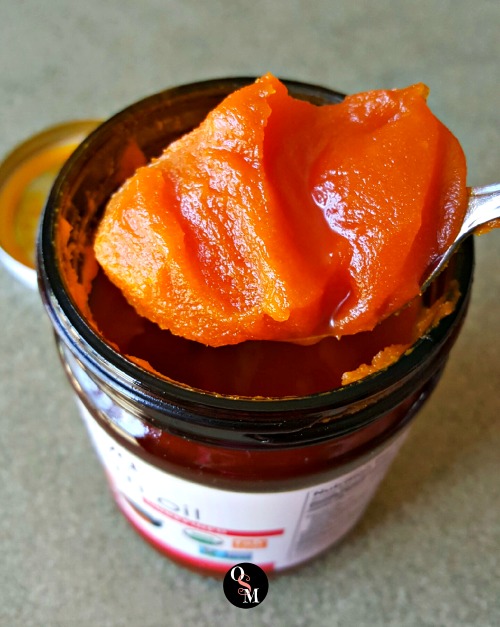 It's a recommended "superfood" on the Trim Healthy Mama plan because it has many of the same benefits of coconut oil such as medium-chain triglycerides. If you don't care for the taste of coconut but still want the benefits of an unrefined tropical oil, give red palm oil a try.
It's packed with antioxidants too, and its deep red-orange color comes from the abundant tocotrienols, tocopherols, and carotenoids it contains. It's one of the safest oils to fry in, too. If you have the Trim Healthy Mama plan book, check out page 150 to read more about it.
Including healthy fats in your eating plan nourishes your body and helps you lose weight.
I know, sounds crazy…but it's true. It's the massive amounts of sugar we consume that is making many Americans fat, not the fat. And guess what's in many "healthy" fat-free products? Sugar. They have to put something in there to make it taste good once they take out the fat.
I'm not saying you need to eat a stick of butter at every meal – moderation is a good thing! But completely avoiding fat is not going to help you lose weight, your body needs those nourishing fats to run properly.
Are all red palm oils the same?
Unfortunately, no. There are concerns over deforestation and destruction of habitats because of the production of red palm oil. Please do your due diligence and look for ethically produced sources of this wonderful oil! In fact, I will help you out and recommend an organic, non-GMO, and Fair Trade product – Nutiva's Organic Red Palm Oil.
Nutiva sent me a jar to try and I'm loving it!
I was a bit apprehensive about what the flavor would be like because of the color…I'm just kind of weird like that. I was afraid to try balsamic vinegar for years because of its dark color. But oh sweet mercy what I missed for all those years. I wasn't going to make that mistake again, so I opened up that jar and tasted it right away.
I don't quite know how to describe it, but it was a mild flavor and not at all unpleasant. Nutiva's website describes it like this:
Our unrefined red palm oil has a mild carrot-like flavor, with a rich, buttery texture. Some red palm oils have a strong or harsh flavor, however, our proprietary cold-filtration process removes any strong flavor while retaining the nutrients. It's ideal for soups, sauces and sautéing. It also turns regular popcorn into delicious (and healthy!) movie theater-style popcorn.
That gorgeous deep orange-red palm oil just begs to be used in carrot cake.
I whipped up this single-serve Carrot Cake recipe in just a few minutes. The aroma of the cinnamon and nutmeg had my mouth watering, and I could hardly wait for it to cool so I could slather that creamy frosting on it and get it in my belly.
The next day, I made a bigger cake in an 8 x 8-inch baking dish.
If you have leftover cooked carrots…because you keep buying those frozen veggie blends with carrots even though no one really eats them…not that I would know anything about that of course…do yourself a favor and use those for this recipe. They're easier to dice than raw carrots. Or you can use a shredder and shred fresh, raw carrots if you want.
You can frost this Carrot Cake with a traditional cream cheese frosting or use your favorite. I made a basic cream cheese frosting and added a splash of caramel and vanilla.
If you'd like a sugar-free and THM approved frosting recipe for the 8 x 8-inch cake, my blogging buddies can help you with these recipes:
Cranberry Bliss Bars – Joy Filled Eats
Christmas Sugar Cookies – Gwen's Nest
Cream Cheese Strawberry Dip – Nana's Little Kitchen
This Carrot Cake is also good plain or with a schmear of healthy, grassfed butter on top.
Need a dairy free frosting? Nana's Little Kitchen has just the thing: Dairy Free Coconut Whipped Cream (plus tips on how to make it successfully)!
Trim Healthy Mamas, here's how this Carrot Cake recipe fits in the Plan.
This is an S dessert, because of all that healthy fat goodness! It's naturally low in carbs and high in fiber thanks to the coconut flour and ground flax meal. You can enjoy a piece or two after a light S or Fuel Pull style meal.
If you want carrot cake for breakfast, no problem! Just be sure to pair with some protein such as an egg scramble, Egg White Omelette, Cheesy Spring Chive Egg Puffs, 3 Ingredient Greek Yogurt, or add collagen to your morning coffee or tea. I love the THM Integral Collagen, myself. Great Lakes also offers a great collagen too…just be sure you get the green can, not the orange!
You can bake this in an oven or microwave. I love this cute little CorningWare Etch dish for baking single serve cakes, muffins and bread. It's the perfect size!
Let's make some Carrot Cake!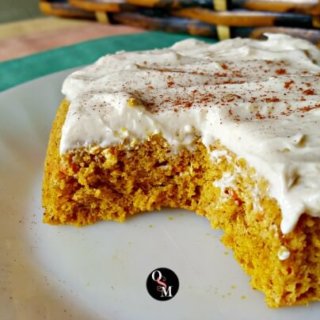 The Antioxidant Rich Carrot Cake You NEED to Make
Yield: 1 or multiple servings
Prep Time: 10 minutes
Total Time: 10 minutes
Include the healthy power of red palm oil in this delicious sugar/gluten/grain free carrot cake. THM friendly - S.
Ingredients
SINGLE SERVING
1 egg
1 Tbs unsweetened Cashew, Almond or other milk alternative
1 1/2 Tbs diced carrot (about 3 baby carrots, used leftover cooked if you have them)
1/2 tsp baking powder
1/2 tsp vanilla
Single Serve Caramel Cream Cheese Frosting
Splash of vanilla
Splash of caramel flavoring[br]
1 tsp THM Gentle Sweet, Pyure, or equivalent amount of preferred sweetener
1 tsp Buttery Coconut Oil
1 Tbs 1/3 less fat cream cheese
MULTIPLE SERVINGS (For an 8 x 8" Cake)
6 Tbs (or a rounded 1/3 cup) diced carrot (about 3 baby carrots, used leftover cooked if you have them)
1/2 tsp nutmeg
1 tsp cinnamon
1/2 tsp Mineral Salt
2 tsp baking powder
4 Tbs THM Gentle Sweet
4 Tbs ground golden flax meal
4 Tbs coconut flour
2 tsp vanilla
1 Tbs Buttery Coconut Oil OR coconut oil OR butter
2 Tbs Nutiva Red Palm Oil
1 tsp Simply Sunflower Lecithin (optional)
4 eggs, beaten
4 Tbs unsweetened Cashew, Almond or other milk alternative, or as needed for consistency[br]
Instructions
FOR SINGLE SERVING
Mix all ingredients EXCEPT carrots in a microwave or oven safe dish, mug or bowl
Add more cashew milk if needed for a cake batter consistency
Fold in diced carrots
Microwave for 1 minute 30 seconds, or until cooked through completely
OR bake in a preheated 350 degree oven for 20 minutes or until cooked through completely
Cool, then frost with Caramel Cream Cheese Frosting
FOR MULTIPLE SERVINGS
In a medium mixing bowl, whisk together dry ingredients
Add liquid ingredients, including palm and coconut oils (if coconut oil is hard, stir a bit with a spoon to soften before adding) and mix well to combine
Fold in diced carrots
Pour batter into a greased 8 x 8" cake pan
Bake for 30-45 minutes or until center is cooked completely
Cool and frost as desired
CARAMEL CREAM CHEESE FROSTING
Cream together frosting ingredients until creamy and smooth
Allow cake to cool before frosting.
For large batch quadruple ingredients.
Notes
Trim Healthy Mamas, enjoy this Carrot Cake after a light S or Fuel Pull style meal, as a snack, or for breakfast! If you're having for breakfast, be sure to include some protein, such as collagen in your coffee or tea, an S or FP shake, or a cup of fat free Greek yogurt.
Recommended Products
As an Amazon Associate and member of other affiliate programs, I earn from qualifying purchases.
Nutrition Information:
Amount Per Serving:
Calories: 0
Cholesterol: 0mg
Sodium: 0mg
Carbohydrates: 0g
Fiber: 0g
Sugar: 0g
Protein: 0g
You might want to save those poor, unwanted carrots from veggie blends just so you can make this cake every week. Carrots want love too, and your body will love you for giving it the antiodixant goodness it needs.
Like this recipe? Your friends will too! Please share and pin to your favorite Pinterest boards…