Low carb and corn can never go together, right? WRONG!
A while back, I made In a Jiffy Corn Muffins from Gwen's Nest and could NOT believe how amazingly delicious they were. And to top it off, those tasty little wonders are FUEL PULL, which means both low fat AND low carb.
Low carb?? How can that possibly be? It's got CORN in it. We all know corn is starchy and fattening, which is why farmers feed their beef cows corn – to fatten them up before shipping them off to market.
If "you are what you eat" comes to mind…yeah, exactly.
But there's this little secret about corn that I just recently learned, thanks in part to Gwen's post…and an episode of Good Eats.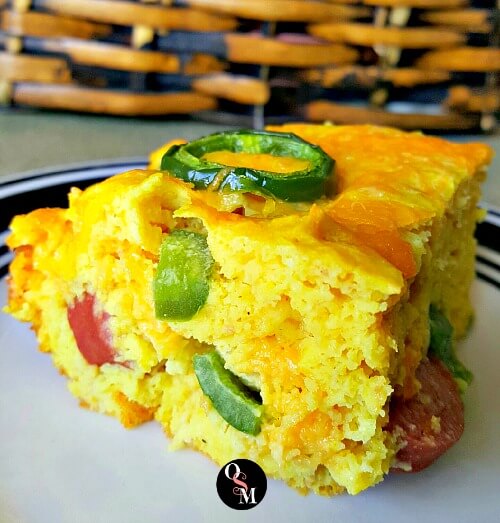 Nixtama-what?
Corn Masa is made by a special process called nixtamalization, where the corn is soaked in an alkaline solution. This process makes the corn more nutritious, and apparently lowers the glycemic impact of the corn. Great news for low carbers!
You can find Masa in the ethnic section of your grocery store. Just make sure you see "lime" listed on the label and you've got the right stuff.
If you're an Aldi shopper, you'll find this lovely stuff there, too. I love that store!
Can't find it in your area? No problem! My affiliate partner can hook you up with this, or if you prefer organic, this.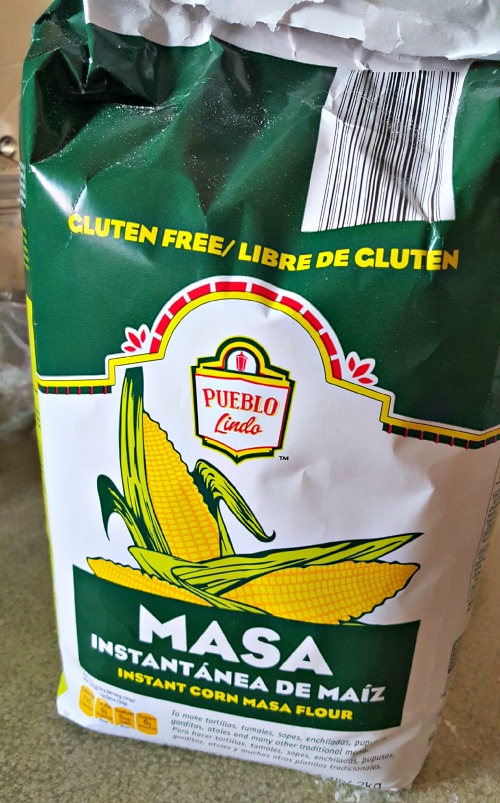 Inspiration hit the other day and I whipped up this super easy and tasty Cheddar Jalapeno Corn Dog Bake.
Initially, I made a single serving in my very favorite single-serving baking dish, this cute CorningWare Etch. It's perfect for making my Bread in a Mug, Dark Chocolate Coconut Cake in a Mug, Balsamic Berry Muffin in a Mug, Carrot Cake with Caramel Cream Cheese Frosting and the very popular Coconut Chai Muffin in a Mug. It's also perfect for mixing up a quick single serve meal or side like my Easy Peasy Pea Salad, Sriracha Chicken Salad, Sriracha Egg Salad or Tuna and Capers.
I seriously love that dish!
But one serving may not be enough, so I made an 8 x 8″ pan. The tricky part is evenly distributing the hot dogs throughout. I had just mixed them in with the jalapeno peppers. and some pieces were a little light on the hot dog part.
Next time, I think I'll poke them in the batter evenly after I pour it in the baking dish, to ensure an even distribution of hot dog pieces. Otherwise, you risk some pieces being more like Cheddar Jalapeno Cornbread…which is still delicious of course.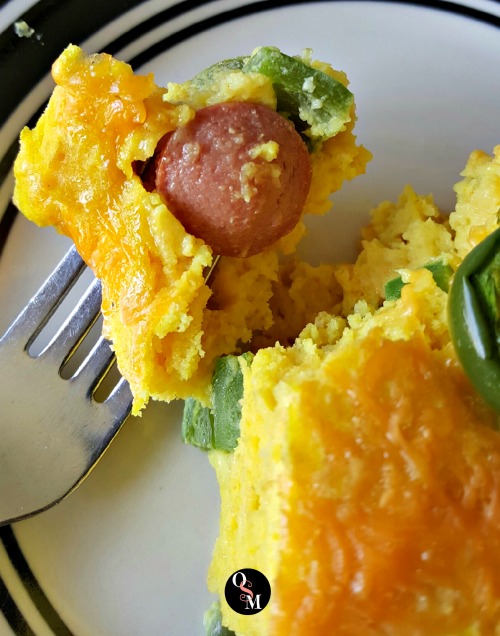 Trim Healthy Mamas, here's the dish on the numbers:
Cut this into nine servings, and each serving will have less than three grams of carbs. I didn't calculate the fat grams, as that will vary depending on the type of hot dogs you purchase. Gwen's recipe makes 3 muffins just with .75 grams of fat, so the batter (without the additions of cheese and hot dogs) when quadrupled would have 9 grams of fat and each serving will have one gram of fat.
BUT since this is an S style dish, you don't need to count the fat grams, isn't that great! You do need to mind carbs, though and hot dogs can have more carbs than you think. Look for a brand with no sugar, ideally, and 1-2 g of carbs or less. Hebrew National and Nathan's are great choices.
Your total carbs per serving will range from 2.2 to 2.4 grams of carbs per serving. You can enjoy FOUR pieces but be sure not to have any other carbs with your meal…you wouldn't have room anyway, it's very filling.
Have a couple pieces with a big green salad or side of fresh, steamed green veggies and sliced tomatoes for a delicious meal. Top your Cheddar Jalapeno Corn Dog Bake with a dab of salsa and sour cream, if desired, too.
So go ahead and get your corn dog fix with this easy and tasty Cheddar and Jalapeno Corn Dog Bake.
If you don't like spice, leave out the peppers for just a Cheddar Corn Dog Bake. I love the spice, and those spicy peppers help rev up your metabolism! And impress your family and friends by slipping the word "nixtamalazation" into the convo when you tell them you CAN have corn on your low carb diet.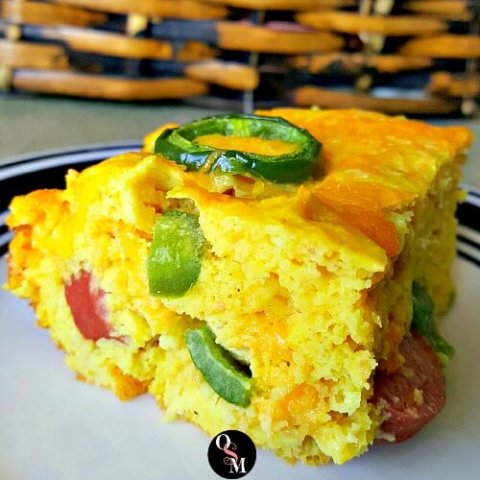 Low Carb Cheddar Jalapeno Corn Dog Bake | THM S, Low Carb
Yield: 1 to 9, depending on how you make it
Prep Time: 15 minutes
Bake Time: 40 minutes
Total Time: 55 minutes
The special nature of corn masa makes a little bit ok for a low carb dish like this Low Carb Cheddar Jalapeno Corn Dog Bake. A tasty THM S style dish, just add some fresh veggies, or a salad. My Garden Fresh Pepper Salad would make a perfect side!
Ingredients
Single Serving
1 hot dog, 1-2 grams carbs or less, sliced
1 jalapeno pepper, seeded if desired and sliced into rings or chopped
3 Tbs shredded extra sharp cheddar cheese plus some for topping
Multiple Servings
4 low carb hot dogs, 1-2 grams carbs or less, sliced
4 jalapeno peppers, seeded and sliced into rings or chopped, reserve 9 rings for topping OR slice a 5th pepper for topping
3/4 - 1 c shredded extra sharp cheddar cheese, plus some for topping
Instructions
Preheat oven to 350
In a mixing bowl, mix up a QUADRUPLE batch of In a Jiffy Corn Muffin recipe (combine wet ingredients and dry ingredients separately, then mix together)
Fold in peppers and cheese, reserving a 9 slices of peppers and about 2 tablespoons of cheese for topping
Pour into a greased 8 x 8" baking dish
Push the hot dog slices into the batter, evenly spacing throughout the dish
Sprinkle with remaining cheese and arrange pepper rings so there are 3 rows of 3 peppers, like a tic tac toe game (makes for easy portioning)
Bake for 40 minutes or until a toothpick inserted near the center comes out clean
Recommended Products
As an Amazon Associate and member of other affiliate programs, I earn from qualifying purchases.
Nutrition Information:
Amount Per Serving:
Calories: 0
Cholesterol: 0mg
Sodium: 0mg
Carbohydrates: 0g
Fiber: 0g
Sugar: 0g
Protein: 0g
Like this recipe? Your friends will too! Please share and pin to your favorite Pinterest boards…