---
My Decadent Dark Chocolate Raspberry Mocha Frappe is a satisfying, low carb, and sugar free coffee treat you can make at home. I've got a slick trick for making frappes like a barista. Trim Healthy Mamas this makes a fantastic afternoon pick-me-up.
---
I proved in my Salted Caramel Frappe post that you don't have to give up your favorite frozen coffee drinks when you start THM.
You just need to know how to make them to fit the THM guidelines. And, I discovered, that basic recipe can be tweaked to suit whatever flavor you crave.
Craving something dark chocolate and raspberry-ish? I got you covered with this Dark Chocolate Raspberry Mocha Frappe, my friend. Read on…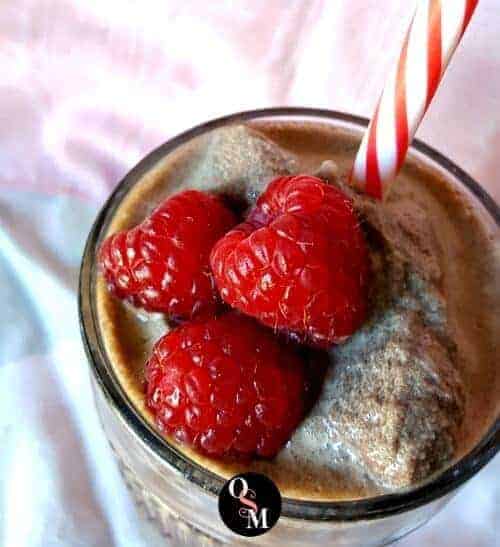 The other day, that's exactly what my taste buds were requesting.
A dark, chocolatey, raspberry mocha frappe. Something that tastes decadent and naughty.
Normally, I'm not a fruity-coffee person but I did learn something interesting during my stint as a barista for a famous coffee chain. Some coffees actually pair very well with fruits. Blueberry is also one flavored coffee I've seen, and while not my favorite it's still not too bad.
But I tell you what, throw some dark chocolate in the mix with some raspberry flavoring and wowzers!
You could try frozen raspberries in this mocha frappe instead of flavoring.
If you're following THM, you can have up to a cup of most berries in an S setting (less for blueberries as they have more sugar). I haven't tried this yet, but I'm definitely going to soon! I had some Watkins Raspberry Flavoring that I used, with fantastic results.
Just be mindful that those raspberries will count toward your carb allowance in an S setting (which is what the base recipe is). I have, on occasion, used two scoops of collagen (I recommend the THM Integral Collagen and Great Lakes Collagen Hydrolysate brands) and called this a meal.
I don't recommend that you do that all the time – it's too easy to start relying on easy "meal replacement" type drinks. Your body needs the nutrition found in real foods. Sometimes, though, that's just how the day goes! If you're having one of those woke-up-late-and-everything-is-falling-apart mornings, a cup of fresh or frozen raspberries with the added collagen would be fine.
If you're curious about Trim Healthy Mama, check out my reviews: 5 Reasons Why You Need the New Trim Healthy Mama Plan and the Trim Healthy Mama Cookbook Review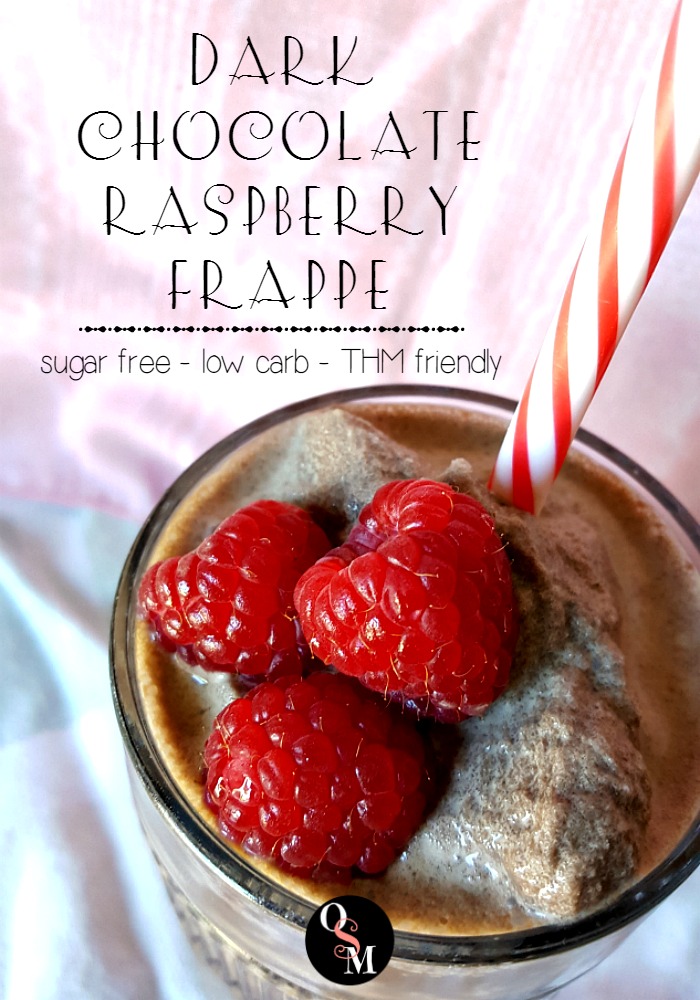 What sweeteners work well in this recipe?
If you follow the Trim Healthy Mama plan, then you know that artificial sweeteners such as aspartame are not recommended. My favorite stevia-based sweeteners are the THM Gentle Sweet and Pyure Organic Stevia. I have also used stevia packets in a pinch, but find that these granulated stevia products just taste best.
Check out my Best THM Products Page for my recommendations and links.
So go ahead, indulge in this decadent, naughty-tasting beverage with no guilt. Because one reason you follow THM is for food freedom, right? Another reason, well, it just might be because of recipes like this.
Are you ready to get your frappe on? Let's go!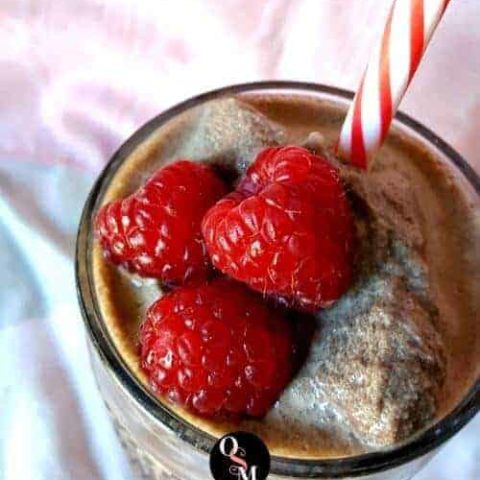 Decadent Dark Chocolate Raspberry Mocha Frappe
The trick to making coffeehouse frappes at home is in the cubes. Freeze leftover coffee and stockpile coffee cubes for making this amazing sugar free Dark Chocolate Raspberry Frappe. It's just as good as that $6 drink you'd buy but without the sugar overload so you're saving money and being kind to your body.
Ingredients
1 c unsweetened cashew milk
2 Tbs heavy whipping cream
2 tsp raspberry flavoring
1 Tbs dark cocoa (regular cocoa works too)
Splash of vanilla
10-16 coffee ice cubes (more or less depending on size of cubes)
Instructions
Add all ingredients to blender jar
Pulse briefly to get it going, then blend on high until smooth
Use the tamper, if your blender has one, to guide the coffee cubes to the blender blades
If you don't have a high powered blender with a tamper, you may need to stop the blender and move the contents around a bit a few times until it is blended smoothly
Notes
This is a sugar free and low carb treat. If you leave out the collagen, it's a perfect dessert after a Light S or Fuel Pull style meal for the Trim Healthy Mama.
Add a scoop of collagen if your meal is short on protein or recovery drink after a workout.
Recommended Products
As an Amazon Associate and member of other affiliate programs, I earn from qualifying purchases.

Like this Dark Chocolate Raspberry Frappe recipe? Your friends will too! Please share and pin to your favorite Pinterest boards.