---
Missing latkes? Craving fried potato goodness? Spaghetti squash makes a great substitute for potatoes! I've kicked my low carb spaghetti squash latkes up a notch with some spicy seasoning, too. Not a fan of spice? You can easily leave it out to suit your taste buds. This recipe is perfect for the Trim Healthy Mama wanting to stay on plan during Hanukkah!
---
If you're a Trim Healthy Mama and celebrate Hanukkah you might be missing those yummy fried potato pancakes right now. Even if you're just a lover of fried potato things, once you make the switch to a lower glycemic lifestyle, there's just not much room in your life for fried, white potato things anymore.
All's not lost, however! I've got a super easy, grain free, low carb latke recipe that's perfect for the Trim Healthy Mama plan. It's also perfect for gluten- and grain-free peeps and keto diets.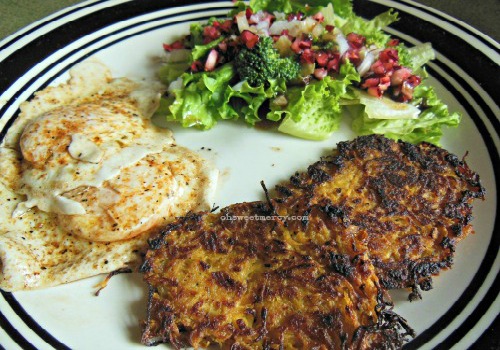 Spicy Spaghetti Squash Latkes For A Trim & Healthy Hanukkah.
Let's face it. No matter what holidays you celebrate they're usually not THM friendly, are they? I'm so thankful there are so many on-plan variations of our favorite holiday foods!
Since traditional latkes are made with shredded white potatoes and fried in oil they're totally not on plan! Especially when topped with applesauce and sour cream, right?
Spaghetti squash makes a perfect sub for potatoes (see my squashbrowns recipe). That definitely brings a little light into my life this time of year!
These low carb spaghetti squash latkes were inspired by this post at Running to the Kitchen. Paired with a couple fresh, fried eggs from my sweet little bantam hen (RIP little Hendini…sniff) and a salad with Easy Balsamic Mustard Vinaigrette Dressing this made a delicious, low carb THM S meal.
What makes it an S? Whole eggs and a low carb veggie fried in healthy fats!
You can certainly lighten up this meal a bit by using just fresh squeezed lemon juice or raw ACV for dressing for your salad, or choosing a lean protein such as chicken breast. You'll still be in S territory (you don't want to try non-stick spray, they won't fry quite right without the fats in the pan) but a lighter S.
Holiday fare or every day, they're perfect!
Latkes are traditionally eaten for Hanukkah and if you celebrate it, rejoice for this low carb option! These low carb spaghetti squash latkes are also great any time of year for any meal. Just be sure to serve with an appropriate amount of healthy protein and load up on those non starchy veggies for a complete and healthy THM friendly meal.
Let's get our latke on!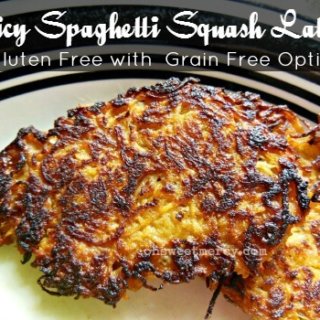 Spicy Spaghetti Squash Latkes | Low Carb, THM S, Keto
A delightful, low carb and grain free alternative to traditional potato latkes. If you're not following Trim Healthy Mama or otherwise restricted on grains, try adding oat flour in place of the almond flour.
Ingredients
1-2 cups of baked spaghetti squash, with excess liquid squeezed out
1 egg
1/4 cup diced, sweet onion. More if you like.
2 Tbs almond flour or flax meal
salt and black pepper to taste
Healthy fat for frying, such as coconut oil or butter
Instructions
In a mixing bowl, whisk together egg and seasonings.
Mix in spaghetti squash, onions, and almond flour or ground flax. (or oat flour, if using)
Heat a cast iron skillet over medium high heat then add fat to melt.
When water droplets skitter around the skillet it is ready.
To make the spaghetti squash latkes, add a couple heaping spoonfuls of spaghetti squash mixture to the pan for each latke and shape into patties.
Fry for several minutes until it begins to brown on the bottom, then flip and cook for several more minutes or until the other side gets nice and brown too.
Recommended Products
As an Amazon Associate and member of other affiliate programs, I earn from qualifying purchases.