---
I grew up eating raw cookie dough. With raw flour and raw eggs. Gasp! Seriously though, those carb and sugar laden bites of cookie dough may be tasty but they're so not on plan for the determined Trim Healthy Mama. Instead, try these Low Carb Chocolate Chip Cookie Dough Bites. They've got that buttery, sugar-like crunch with a hint of salt reminiscent of cookie dough.
---
I've tried all kinds of low carb cookie doughs. There are some really good recipes out there, and some that are just OK. Sister thinks what I've mixed up in the Oh Sweet Mercy Kitchen is spot on!
I've got another new variation for you (and will be working on more): Salted Caramel Cookie Dough Bites with White Chocolate Mocha Drizzle! And my Easy No Bake Peanut Butter Cookies are essentially cookie dough 😉
You're in for a real treat today too, this post will be short(er) and sweet! I've got a lot on my to-do list but I wanted to get this recipe up on the blog and out into my subscriber's inboxes asap.
Because cookie dough cravings can strike at any moment.
I want you to be prepared so you stay on plan!
Speaking of being prepared, that is one of the Trim & Healthy Habits I focus on in my FREE 12 Months of Trim & Healthy Habits Habit Tracker printable. Want to know more? CLICK HERE.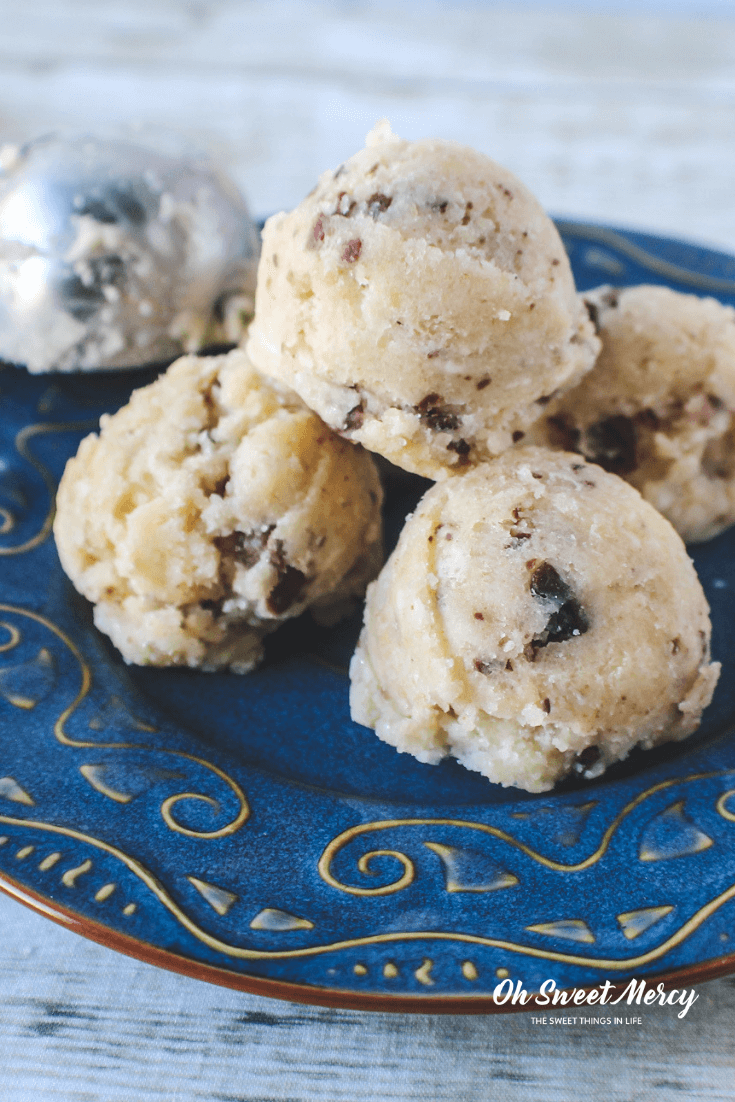 Making Low Carb Chocolate Chip Cookie Dough Bites Is Super Easy.
Mixing up this sugar free "cookie dough" starts out like you would regular cookie dough. Cream together butter, sweetener, and vanilla. Add your dry ingredients and mix well, then add some liquid. Throw some chocolate chips in and mix a little more.
Then scoop the dough out into little balls onto a cookie sheet with a small cookie scoop. I picked one up at Michael's for under $3 or you can order one on Amazon.
Finally, pop those bad boys into the freezer for half an hour or so. Store in an airtight container, or freezer bag, in the freezer.
You now have totally on-plan cookie dough to snack on when the crave hits! Just remember – since this is a THM S recipe, you need to keep 3 hours between it and any THM E meal or snack.
Alternatively, just skip the dough-ball step and just keep a bowl of low carb cookie dough in the freezer.
However, keeping preformed snackable cookie dough bites in the freezer means better portion control. It's way too easy to absentmindedly go overboard with a bowl of cookie dough and a spoon.
Just like Danny always says:
Just because you can, doesn't mean you should.
What Chocolate Chips Work Best?
I'm a huge fan of Trim Healthy Mama's chocolate chips. If you have those do yourself a solid and use them in this recipe.
If you don't have those, then any plan approved chocolate chips will work fine. Also, you can use chunks of skinny chocolate. That's what I used in the cookie dough bites in the photos. Sadly, I have no THM chocolate chips on hand!
You can also make your own chocolate chips with this recipe from Wonderfully Made and Dearly loved.
Another yummy recipe here on the blog using chocolate chips is my Special Occasion Chocolate Chip Parfaits.
Whatever chocolate chips you use, these little low carb chocolate chip cookie dough bites make a perfect snack!
Reader Question: Can I Just Use Baking Blend?
Ally asked if you can just use baking blend instead of almond flour and oat fiber. I have not been doing any THM baking for quite some time so rarely have THM Baking Blend (or a DIY version) on hand. I figured you probably could and suggested that she try it and report back.
She wasted no time in trying it and reported back that it works fine! She used 3/4 cup Baking Blend in place of the almond flour and oat fiber in my recipe. She also recommended a bit more liquid. That's not surprising since Baking Blend contains coconut flour, which is quite thirsty.
If you use a DIY blend you may or may not also need to add more liquid.
Thanks for trying this substitution and letting us know it works!
Now, Let's Make Some Low Carb Chocolate Chip Cookie Dough Bites!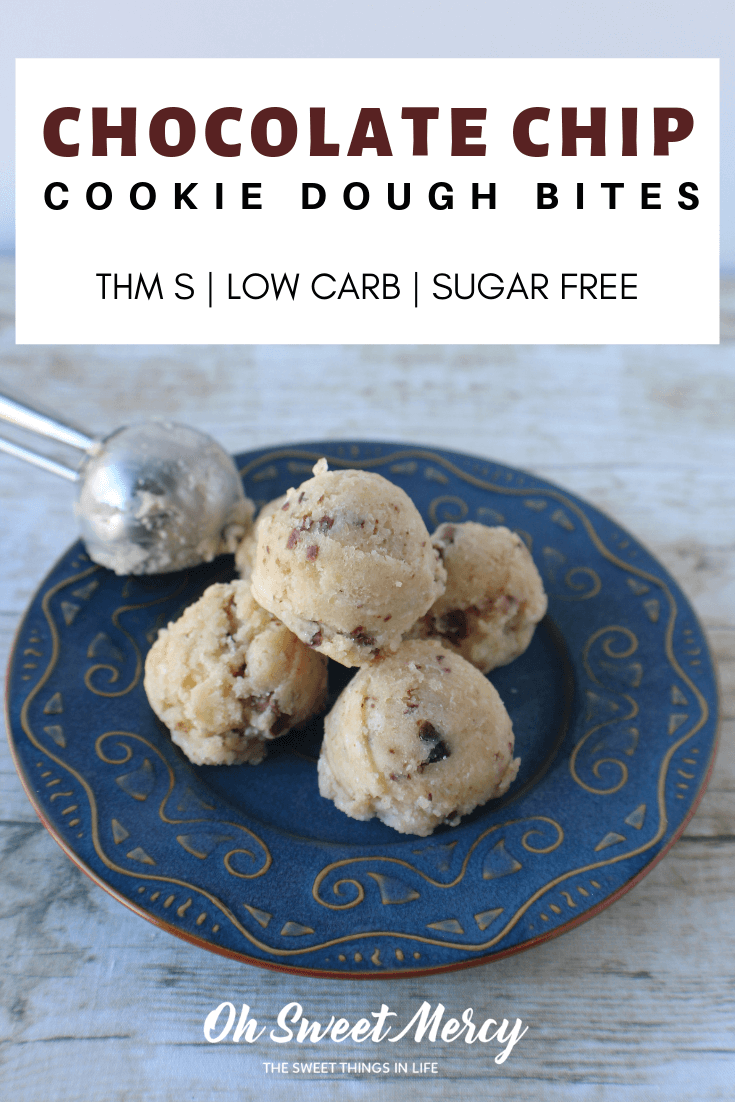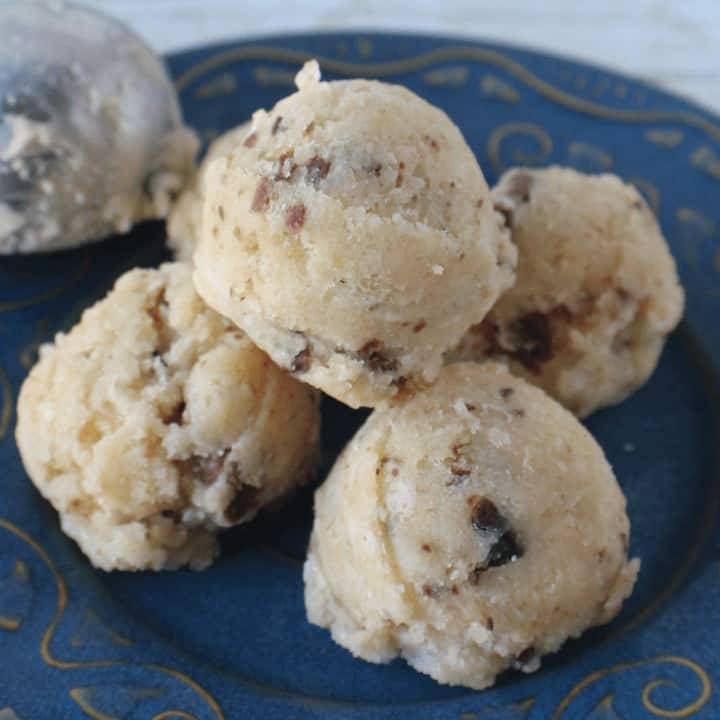 Chocolate Chip Cookie Dough Bites | THM S, Low Carb
Yield: 12 to 14 bites
Prep Time: 15 minutes
Freeze Time: 30 minutes
Total Time: 45 minutes
Low carb, sugar free Chocolate Chip Cookie Dough Bites are just what you need when that craving for cookie dough hits. THM S and low carb, so it won't jack up your blood sugar like regular cookie dough.
Ingredients
1 stick butter (or 1/2 cup coconut oil - refined, buttery, or virgin - for dairy free)
1/4 cup granulated stevia (see notes)
1 teaspoon pure vanilla extract
2 tablespoons almond milk
Instructions
In a mixing bowl, beat together the butter, granulated sweetener, and vanilla until fluffy
Add almond flour, oat fiber, protein powder, and salt and beat briefly until well combined.
Add almond milk and beat again until a soft dough forms.
Stir in chocolate chips.
Scoop dough out onto a cookie sheet and freeze for half an hour or so, until firm.
Store in the freezer in an airtight container or freezer bag.
Notes
SWEETENER NOTES:
Use a granulated sweetener, so a mix of stevia and erythritol for example. If your granulated sweetener measures cup for cup like sugar, use 1/4 cup as directed.
If using a sweetener that is more sweet, such as THM Super Sweet, start with 2 tablespoons and check for sweetness. Add more if desired.
Different sweeteners will usually give different results.
CHOCOLATE CHIPS:
Use on plan chocolate chips (be mindful of the net carb counts and remember to subtract sugar alcohol and fiber from the total carb count). If using Skinny Chocolate I'd recommend 1/4 cup chopped skinny chocolate chunks.
SUBSTITUTIONS:
If you don't have oat fiber or protein powder, you may need to increase the almond flour, or add coconut flour (in small amounts), to achieve a dough-like consistency.
You can also use 3/4 cup THM Baking Blend, or a DIY version. You may need to add more liquid to get the right consistency
NUTRITION NOTES:
Carb and fat amounts will vary depending on what you use for chocolate chips.and if you use Baking Blend or not. Baking Blend will reduce the fat and calorie content.
Nutrition Information:
Yield: 14
Serving Size: 1 bite
Amount Per Serving:
Calories: 105
Total Fat: 10g
Saturated Fat: 4g
Trans Fat: 0g
Unsaturated Fat: 5g
Cholesterol: 18mg
Sodium: 92mg
Carbohydrates: 6g
Fiber: 1g
Sugar: 0g
Protein: 3g
Nutrition information is approximate and based on the best knowledge available at the time of recipe publication. Your results may vary due to differences in ingredients.