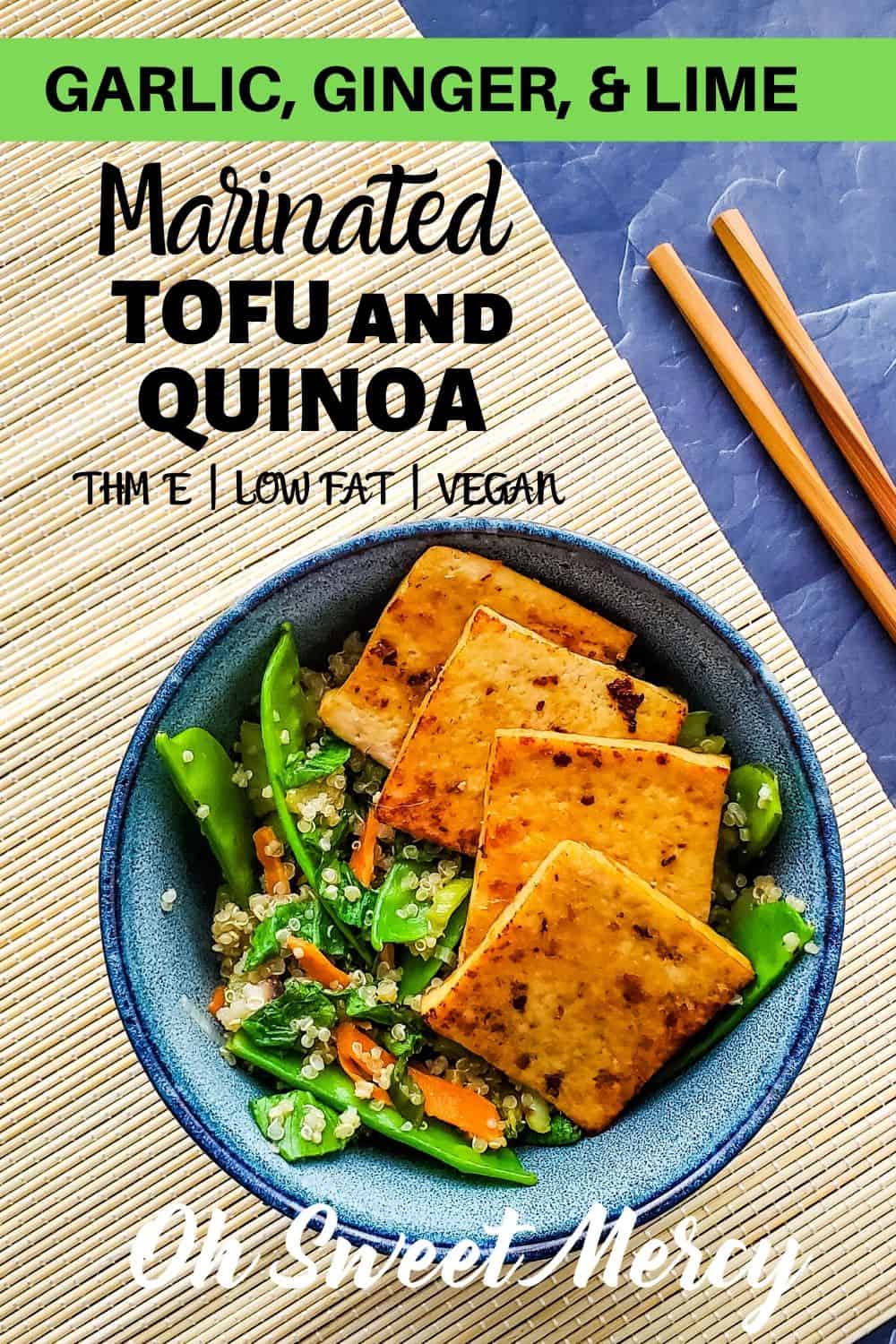 ---
Looking for tasty, THM-friendly, meatless meal ideas? My Garlic, Ginger, and Lime Tofu and Quinoa is packed with flavor (not fat)! Quinoa is a fabulous THM E carb source, and organic, sprouted tofu is on plan on occasion. I like the tofu air fried, but cooked in a skillet is good, too. Tofu not your jam? Try chicken breast instead.
---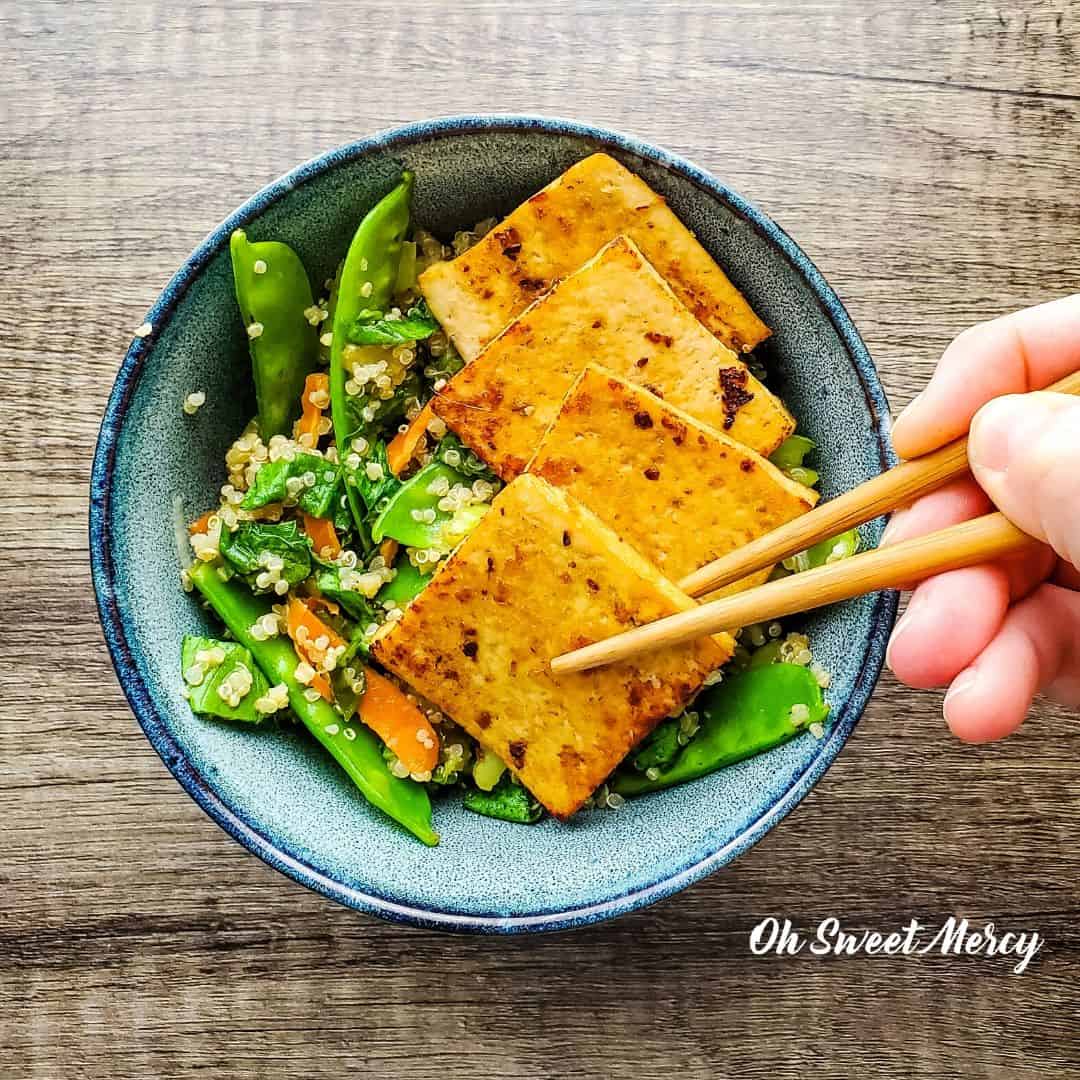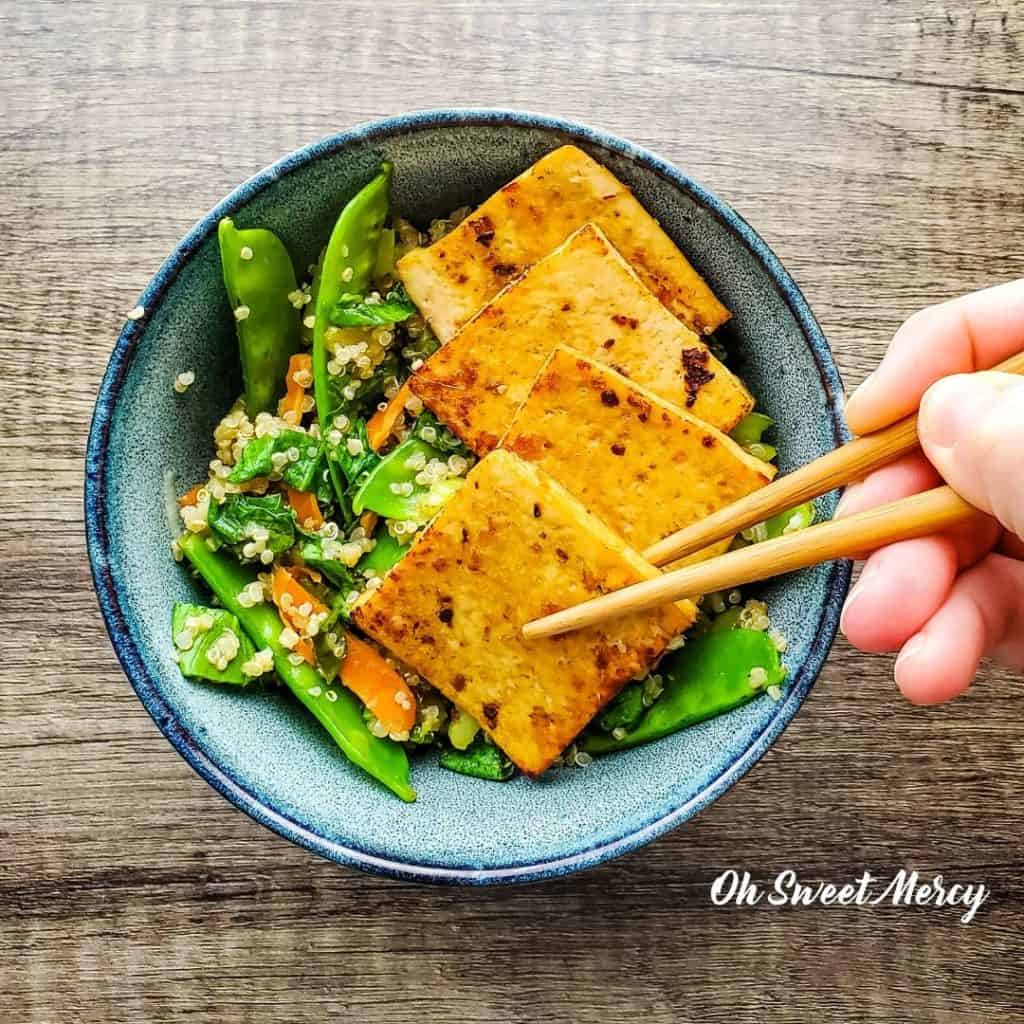 "This tofu is amazing!"
Let me tell you, those are 5 words I never expected to utter in my life. Tofu…it's soy, and I'm not convinced that lots of soy is good for us. Especially the cheap, GMO soy that's in everything these days.
Why Is Organic Sprouted Soy OK On Trim Healthy Mama?
Organic, sprouted soy that's another story. It's not been tinkered with and sprouting makes its nutrients more easily absorbed.
Sprouted soy is also higher in protein. For vegetarians and vegans wanting to follow the THM lifestyle it's a good source of protein.
However, if you have hormonal imbalances THM cautions you to be very careful about how much soy you consume. Read more about the Trim Healthy Mama stance on protein in the revised plan book on page 234
I personally feel comfortable eating it on occasion, especially after I made this delicious dish.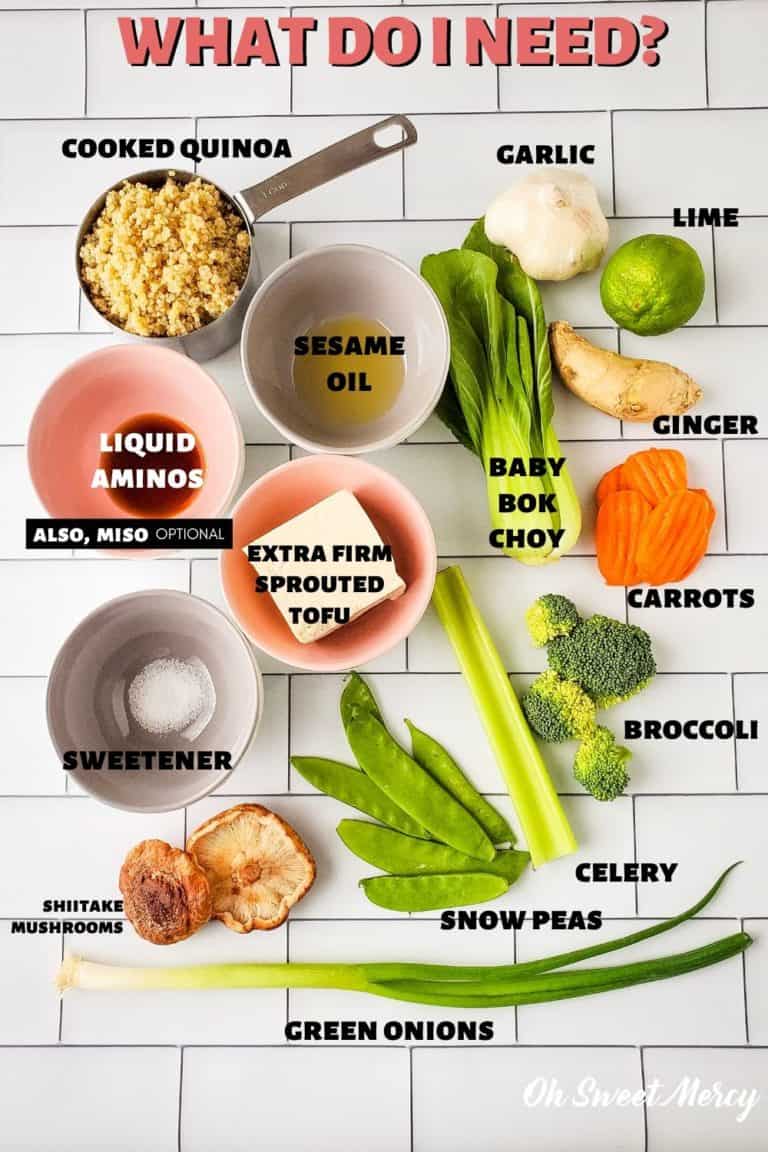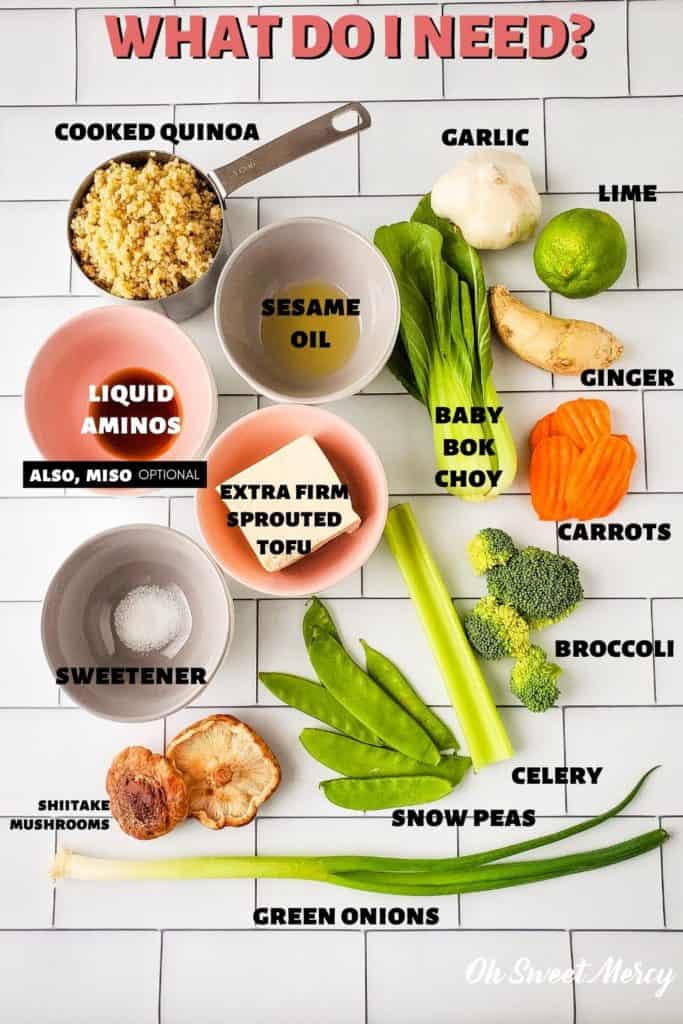 How Do I Marinate Tofu?
Marinating tofu is super simple! Mix up your marinade and add the tofu.
NOTE: I use extra firm tofu for this recipe. Firm tofu should work fine if that's what you have. Be sure to blot the tofu well with a towel or paper towels to remove excess moisture, or use a tofu press. I don't have a tofu press and find that just pressing the tofu a bit in my hands between some towel works just fine.
I've done both slices of tofu and chunks. Both work well, so it just depends on how you want to eat it.
Use a container with a lid that allows the marinade to cover as much of the tofu as possible. Or, use a zippy sandwich bag.
Then, like with meat, gently shake or agitate the container or bag several times. This helps get all the delicious flavor into your tofu.
Marinate for at least 30 minutes (an hour is better if you have the time). Overnight is even better! Don't discard the marinade, though, we'll use it in the tofu and quinoa dish.
What's The Best Way To Cook Tofu?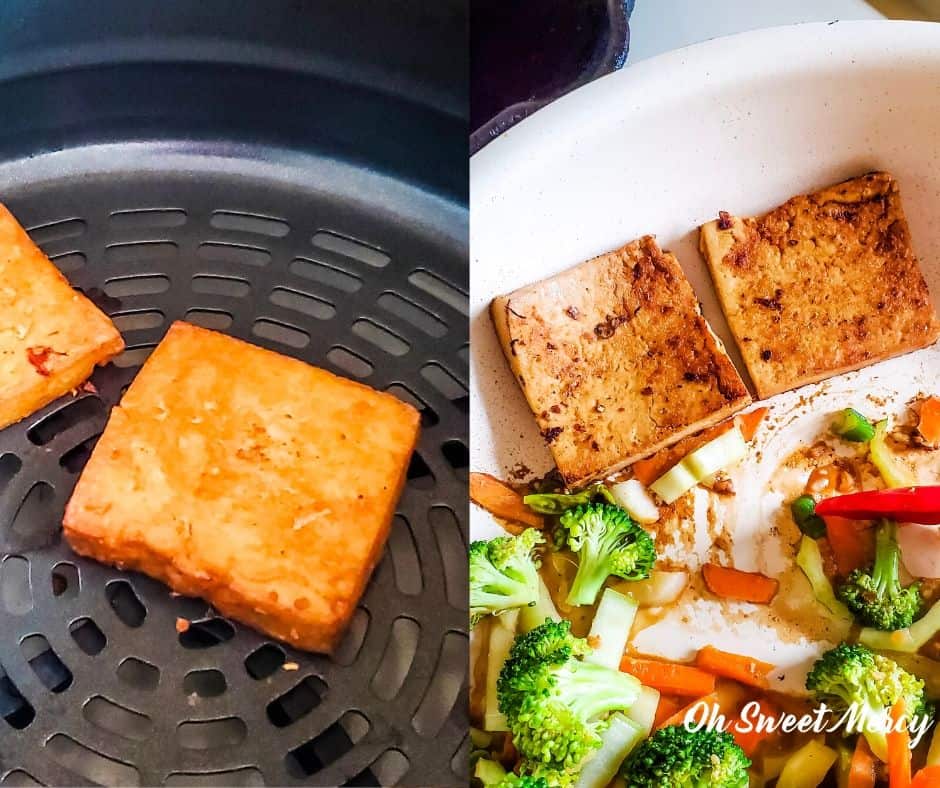 My first attempt at cooking this marinated tofu and quinoa dish, I used my Ninja Foodi to air fry the tofu. Being the first time I'd ever cooked (or eaten) tofu, I had no idea what to expect.
It was so good! I loved the texture – firm and rather meat-like – and the garlic, ginger, and lime marinade is so flavorful.
I've also pan fried tofu slices and air fried to compare. I personally prefer the air fried but the pan fried are easy and delicious too.
This tofu and quinoa recipe is a THM E, so be sure to cook the tofu like you would any very lean protein. Very little to no fat is best. Since the marinade contains sesame oil, you shouldn't need much if any.
A ceramic coated non-stick skillet or well-seasoned cast iron skillet work great. If needed, just use a light spray of healthy oil to prevent sticking.
What's The Best Way To Cook Quinoa?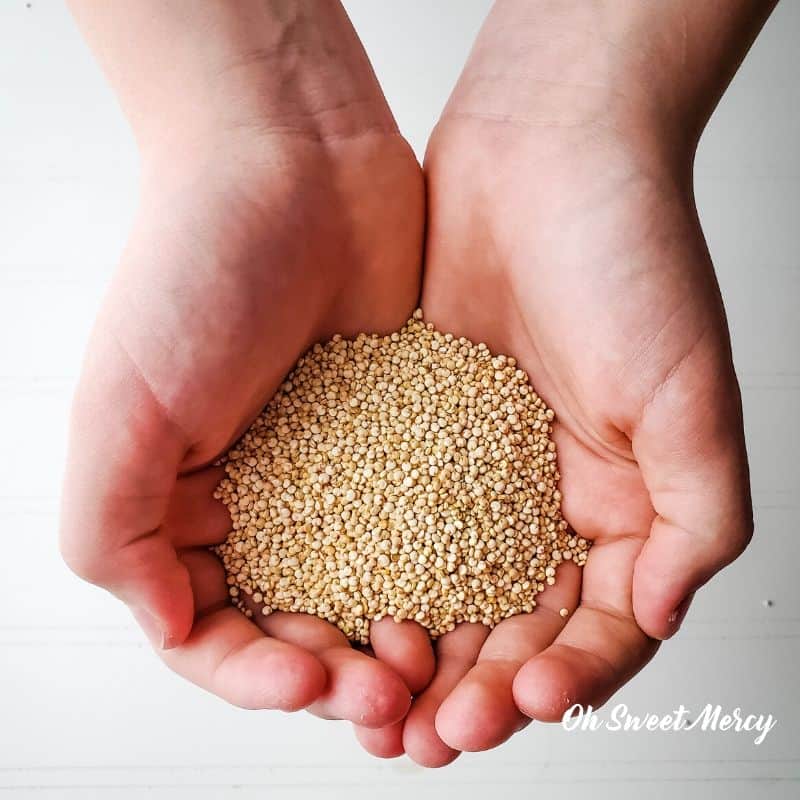 The best and healthiest way to cook quinoa starts with soaking. Quinoa is a seed, not a grain. However, seeds (and nuts), just like grains, contain phytic acid. Phytic acid is an "anti nutrient" that prevents our bodies from absorbing nutrients within the grains, nuts, and seeds.
Soaking at least 7 hours in a mixture of water and something acidic (like apple cider vinegar) neutralizes the phytic acid. This makes the quinoa easier to digest and the nutrients more bioavailable.
After soaking, cook on the stove top or use your pressure cooker. My favorite way to cook perfect, fluffy quinoa in my pressure cooker? Following the method from All The Nourishing Things.
IMPORTANT TIP: soaking or not, be sure to rinse quinoa well (unless your package says pre-rinsed). Quinoa has a natural saponin coating. It's very bitter! Rinsing well removes the saponin and prevents your quinoa from tasting bitter. Should you forget this step, chickens don't mind bitter quinoa. Or so I hear… 😉
Even if you choose not to soak your quinoa first, it's still very quick-cooking! Generally it only takes 15 minutes on the stove, once the water is boiling.
The Best Vegetables For a Garlic, Ginger, and Lime, Tofu and Quinoa Bowl.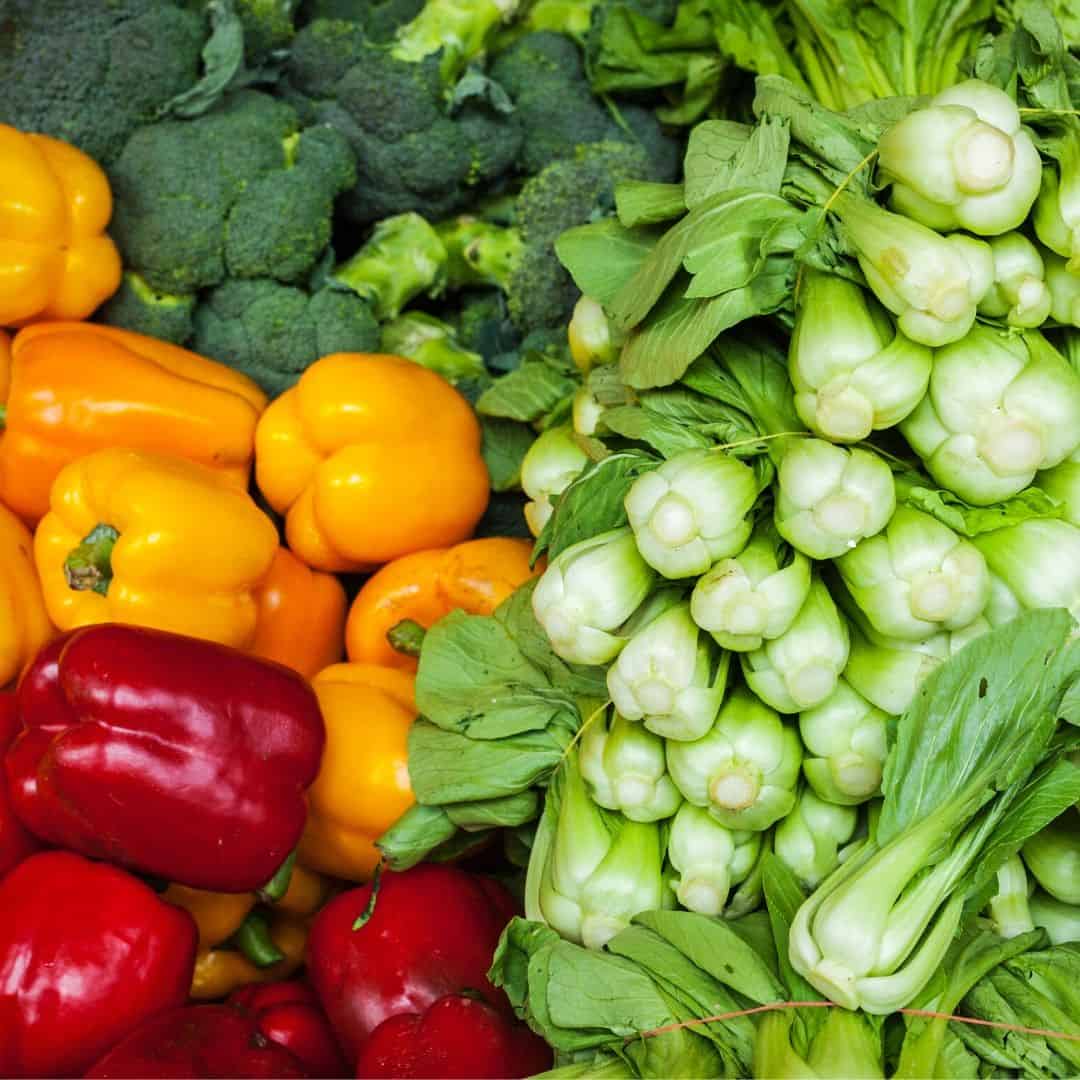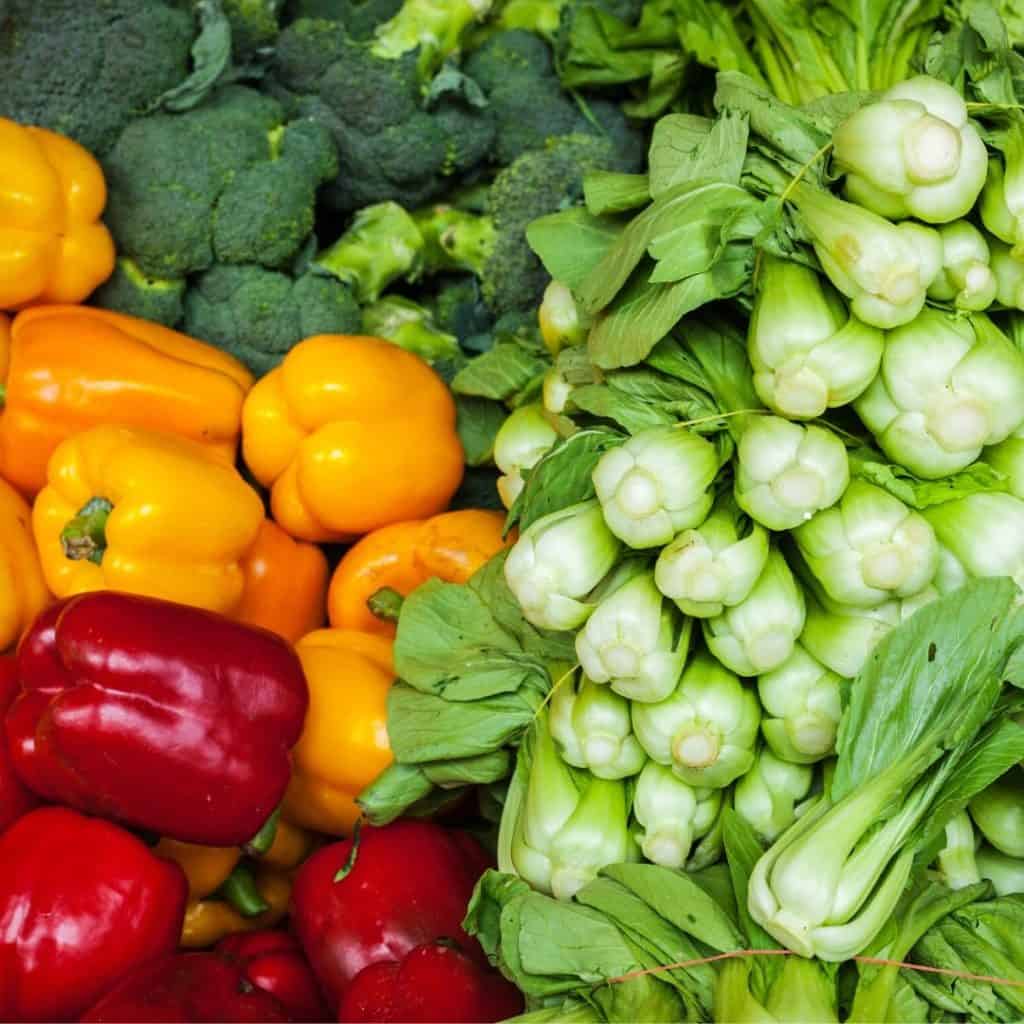 The options are limitless, really! Packing this tofu and quinoa dish full of healthy veggies has several benefits:
Fills you up! Using lots of non-starchy veggies helps fill you up and keep you satisfied, even without a lot of fat.
Extra fiber! Fiber is super important in keeping blood sugar stable (along with protein).
Eye Appeal! A beautiful-looking dish is more satisfying as well. On their own, tofu and quinoa are bland looking. Adding lots of colors and textures elevates not only the way it looks, but also the nutrition value and the eating experience itself.
Choose your own favorite blend of vegetables or go with what I suggest in the recipe below. Most supermarkets carry a wide variety of Asian produce these days so experiment with new vegetables!
How To Fit Garlic, Ginger, and Lime Marinated Tofu and Quinoa Into Your THM Meal Plan.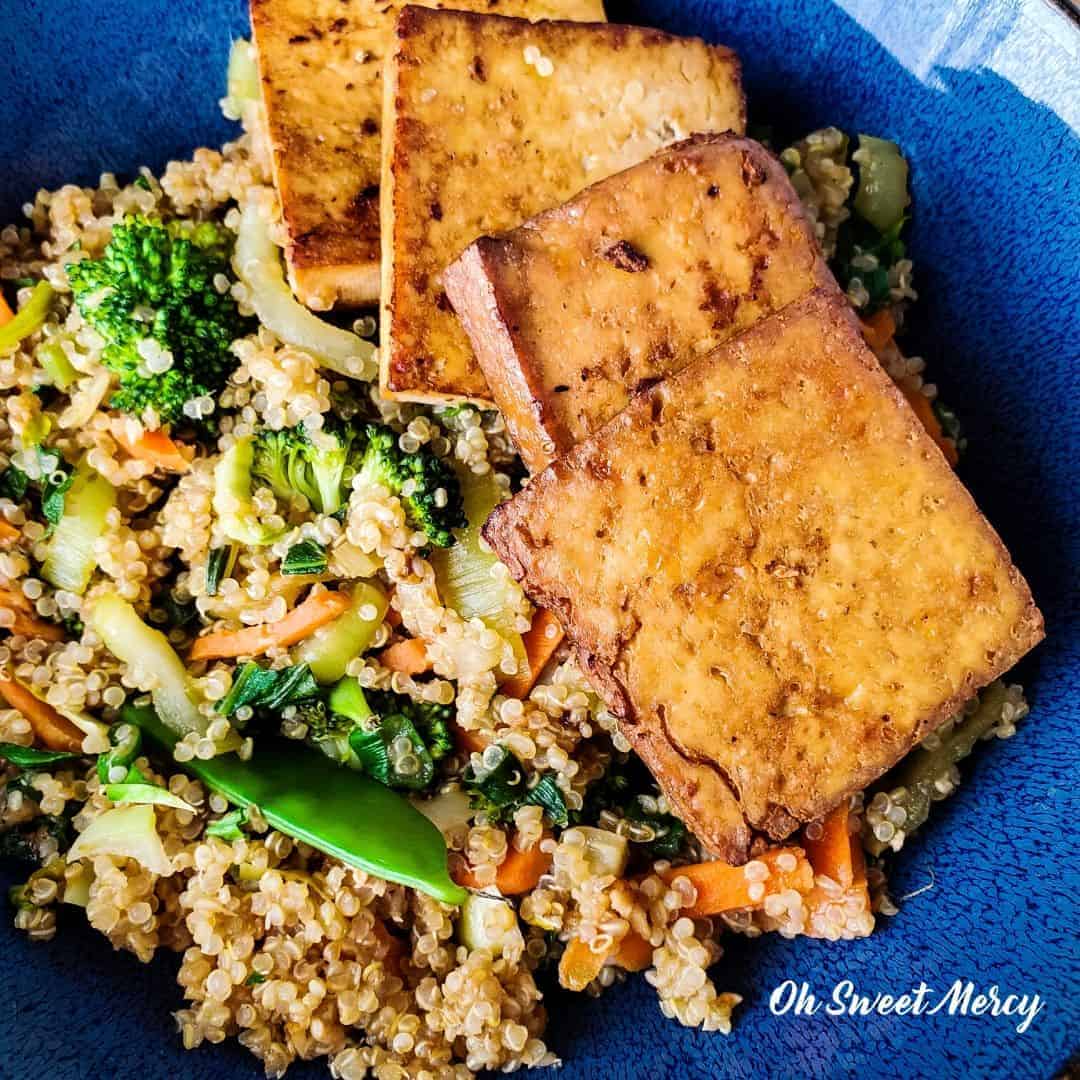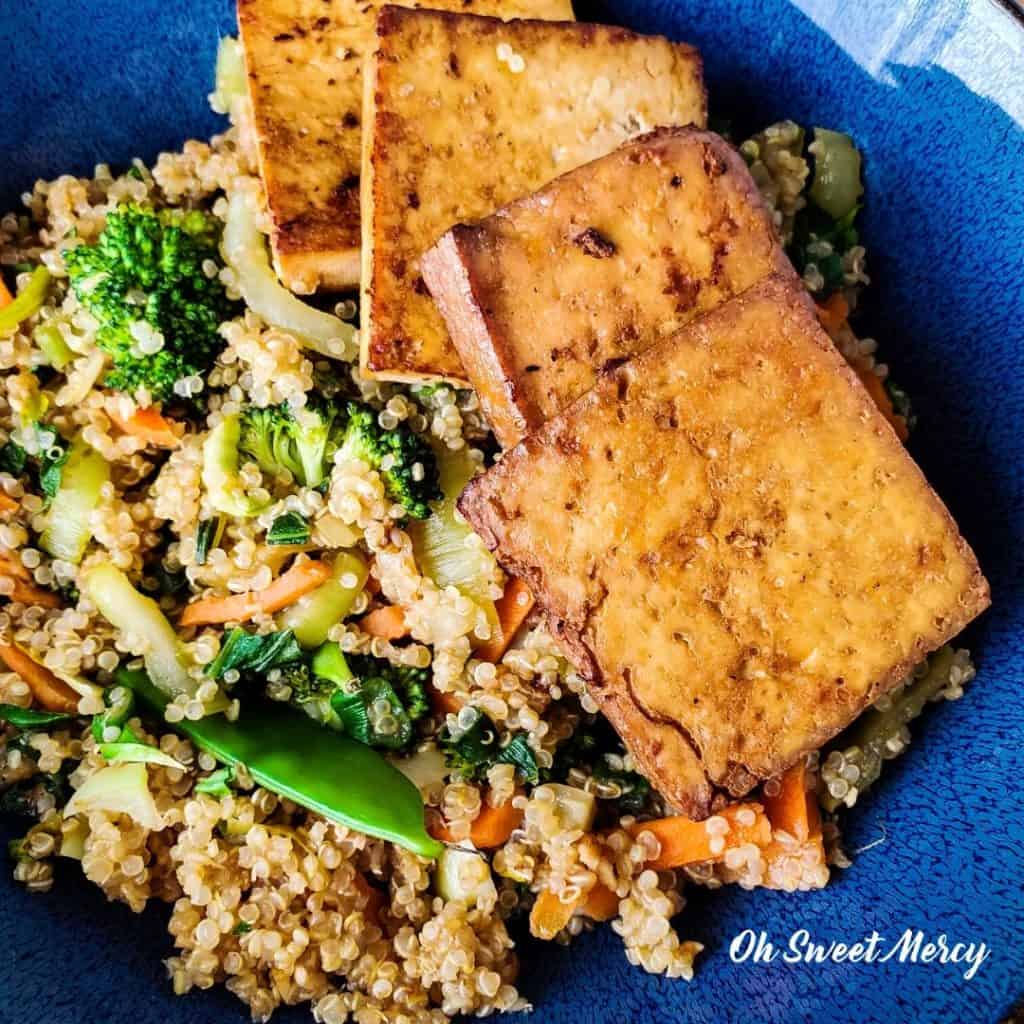 This tasty dish is a low fat, THM E recipe. Be sure to include plenty of non-starchy veggies – either in the dish itself or on the side.
Don't like quinoa? Try soaked brown rice or black rice instead.
As written, your allowable added fat is accounted for. If you prefer, use only half as much sesame oil in your marinade and save the other half teaspoon of fat for something else in your meal.
Whether you choose tofu or another ultra-lean protein, such as chicken breast, be sure to include enough protein when eating E meals.
TIP: This is a single-serving recipe. If you'd like to make it to serve a family, just increase as needed. Plan for 4 ounces of tofu and 3/4 cup quinoa per person.
Pin It!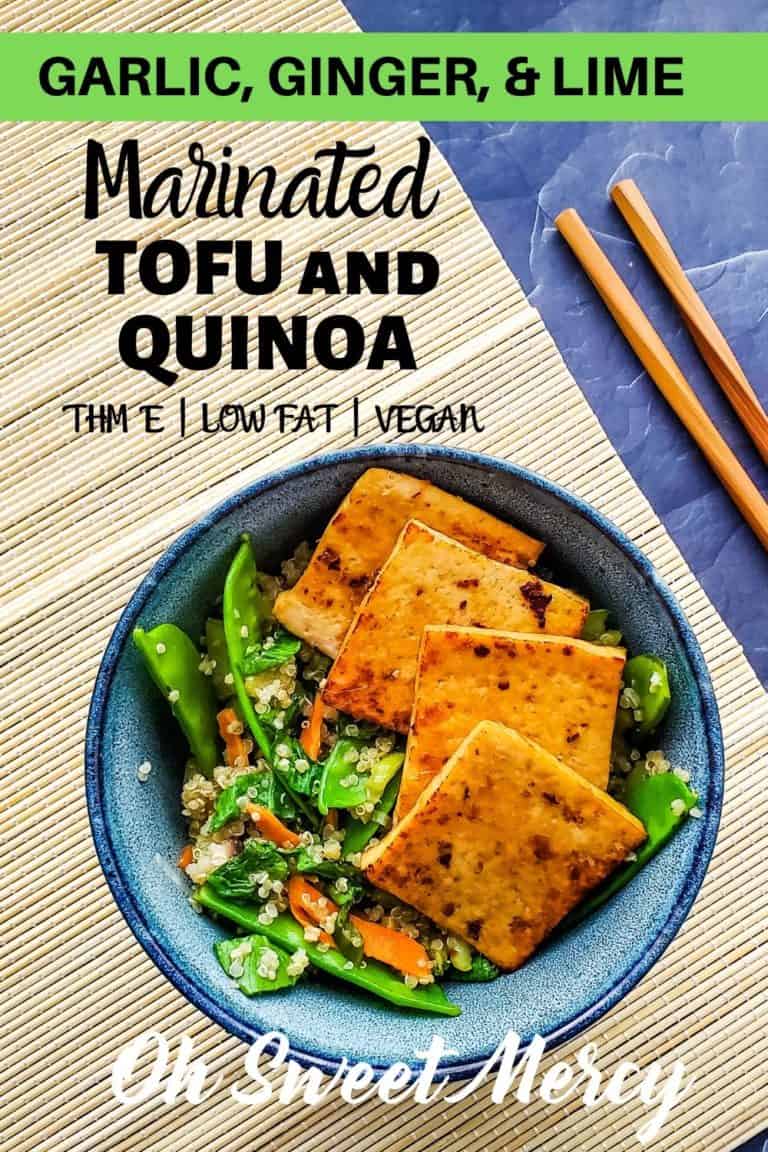 Will You Try This Easy Marinated Tofu and Quinoa Recipe?
Garlic, Ginger, and Lime Marinated Tofu and Quinoa | Low Fat, THM E, Vegan
Yield: 1 serving
Prep Time: 20 minutes
Cook Time: 20 minutes
Marinating Time: 1 hour
Total Time: 1 hour 40 minutes
An easy, delicious, and healthy meatless option for the Trim Healthy Mama! The garlic, ginger, and lime marinade infuses the tofu with Asian flavors. Add plenty of non-starchy veggies with the quinoa for a balanced, low fat THM E meal. Don't like tofu? Substitute chicken breast instead.
Ingredients
Marinated Tofu
3 to 4 teaspoons liquid aminos (or soy sauce)- use 3 if also using miso
Juice of 1 lime
1 teaspoon miso (optional but recommended)
1 teaspoon sesame oil (or less, as desired)
2 cloves garlic, pressed or minced
1 teaspoon grated fresh ginger
1 teaspoon granulated stevia, such as THM Gentle Sweet
4 ounces extra firm, organic, sprouted tofu - sliced or cut into chunks
Quinoa and Veggies
3/4 cup cooked quinoa
1/2 to 1 head baby bok choy (or as desired), thinly sliced and greens separated
2 green onions, thinly sliced and greens separated
1/2 cup thinly sliced celery
1/4 cup matchstick cut carrots (or cut as desired, just thinly)
1/2 cup snow peas
1/2 cup fresh broccoli florets
1/4 to 1/2 cup shiitake mushrooms, sliced or chopped, optional
Red pepper flakes or hot sauce, optional
Instructions
MARINATE THE TOFU
Combine the aminos, lime juice, sesame oil, garlic, ginger, and sweetener in a small bowl or right into a zippy sandwich bag.
Add the tofu and be sure to coat each slice or chunk well.
Refrigerate for at least 30 to 60 minutes, gently shaking or agitating the bag or container several times to ensure even marination.
COOK THE TOFU
To AIR FRY, preheat your air fryer to 360 degrees for 5 minutes.
Add the tofu slices or chunks in a single layer (DO NOT DISCARD THE MARINADE), spreading out as much as possible so they don't touch.
Air fry for 9 minutes, shaking or flipping several times.
To PAN FRY the tofu, gently heat a ceramic non-stick skillet over medium-low heat until water droplets sizzle and skitter over the surface.
Add the tofu (DO NOT DISCARD THE MARINADE) and fry for minutes on each side or until browned and crispy. Remove from pan.
COOK THE VEGGIES AND QUINOA
MAKE SURE ALL YOUR VEGGIES ARE PREPPED AND READY TO GO FIRST, THIS MAKES IT MUCH EASIER!
Add the reserved marinade to the skillet, then add the carrots, celery, and broccoli.
Cook for several minutes, stirring constantly, until the carrots begin to soften.
Add the whites of the green onion and sliced stalks of the baby bok choy.
Cook, stirring constantly, for 2 to 3 minutes.
Add the sliced green onion tops, baby bok choy greens, shiitake mushrooms, and quinoa and stir well to make sure everything gets coated well with the marinade/cooking liquid.
Add the tofu back into the pan and heat until the quinoa and tofu are heated through.
Serve and enjoy!
Notes
COOKING TIME NOTES:
Cooking time assumes you already have cooked quinoa. If you don't, plan another 30 minutes for cooking your quinoa if not soaking first.
Since there's a mixture of firmer veggies and greens you'll be cooking the firmer veggies first and adding the quicker-cooking ones later. Having all the veggies prepped and ready first ensures that you don't end up overcooking something!
NUTRITION NOTES:
Fat includes the fat naturally present in quinoa and tofu. The ADDED fat to this recipe is the sesame oil - 4.5 grams. We only count the added fat in THM E meals.
Recommended Products
As an Amazon Associate and member of other affiliate programs, I earn from qualifying purchases.
Nutrition Information:
Yield: 1
Serving Size: 1 serving
Amount Per Serving:
Calories: 374.2
Total Fat: 11.5g
Saturated Fat: 1.4g
Unsaturated Fat: 8.5g
Sodium: 994.6mg
Carbohydrates: 48.4g
Net Carbohydrates: 39.7g
Fiber: 8.7g
Sugar: 6.7g
Protein: 23.6g