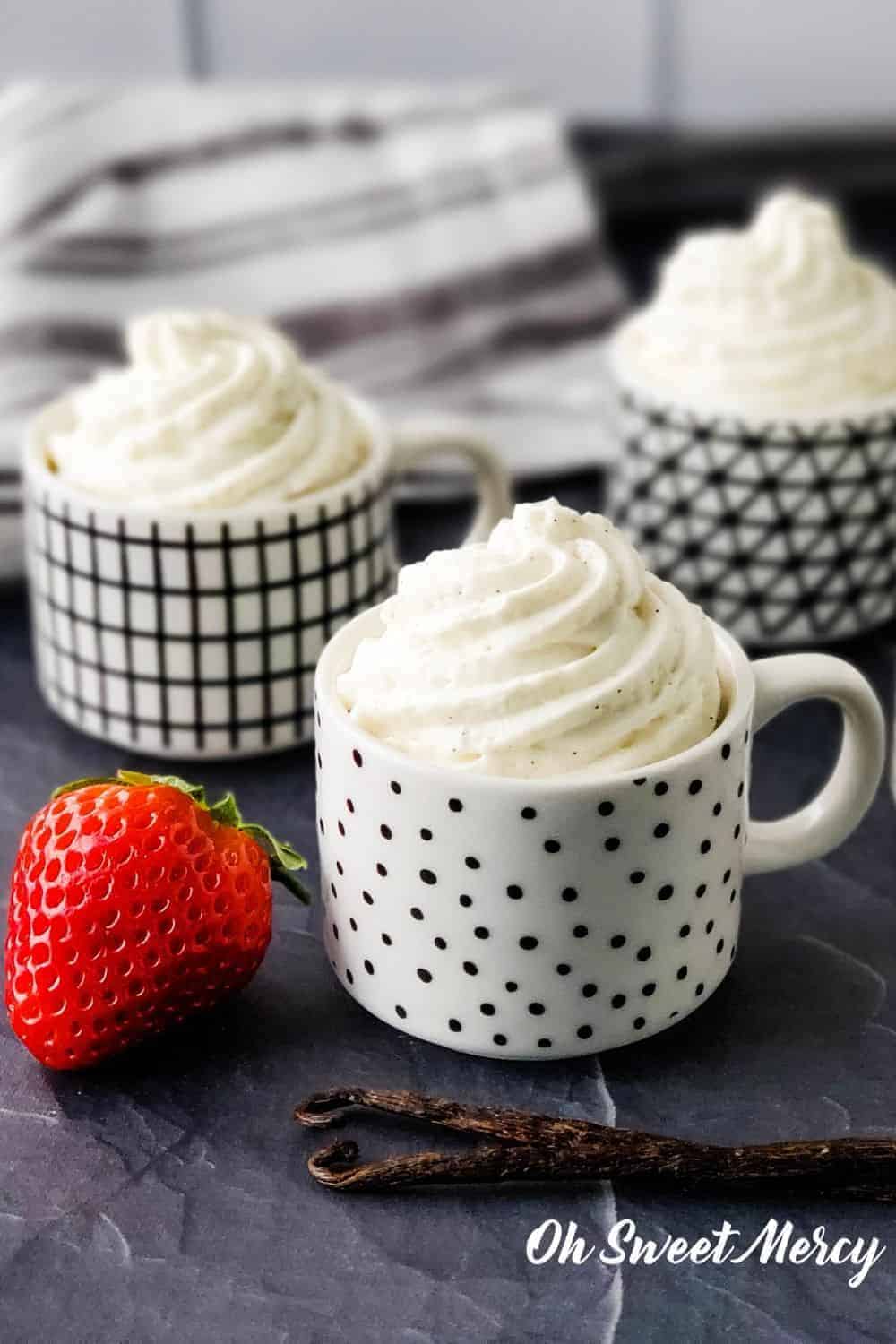 ---
Creamy, airy, lightly sweetened, and infused with vanilla bean, this sugar free vanilla bean mousse makes an elegant dessert for special occasions. Perfect with fresh berries, a sprinkle of cacao, or even espresso powder. Trim Healthy Mamas, this is a low carb S treat the whole family will enjoy!
---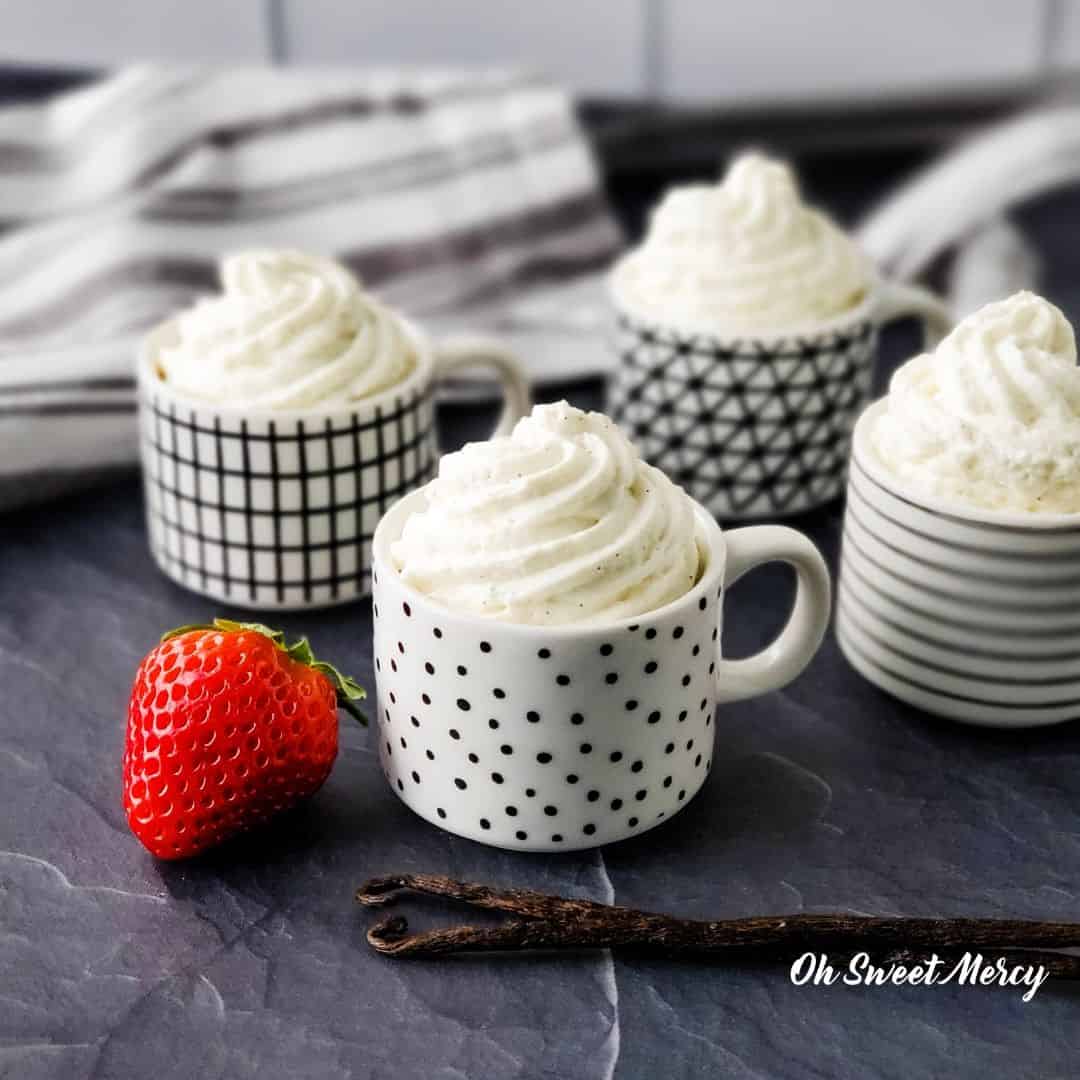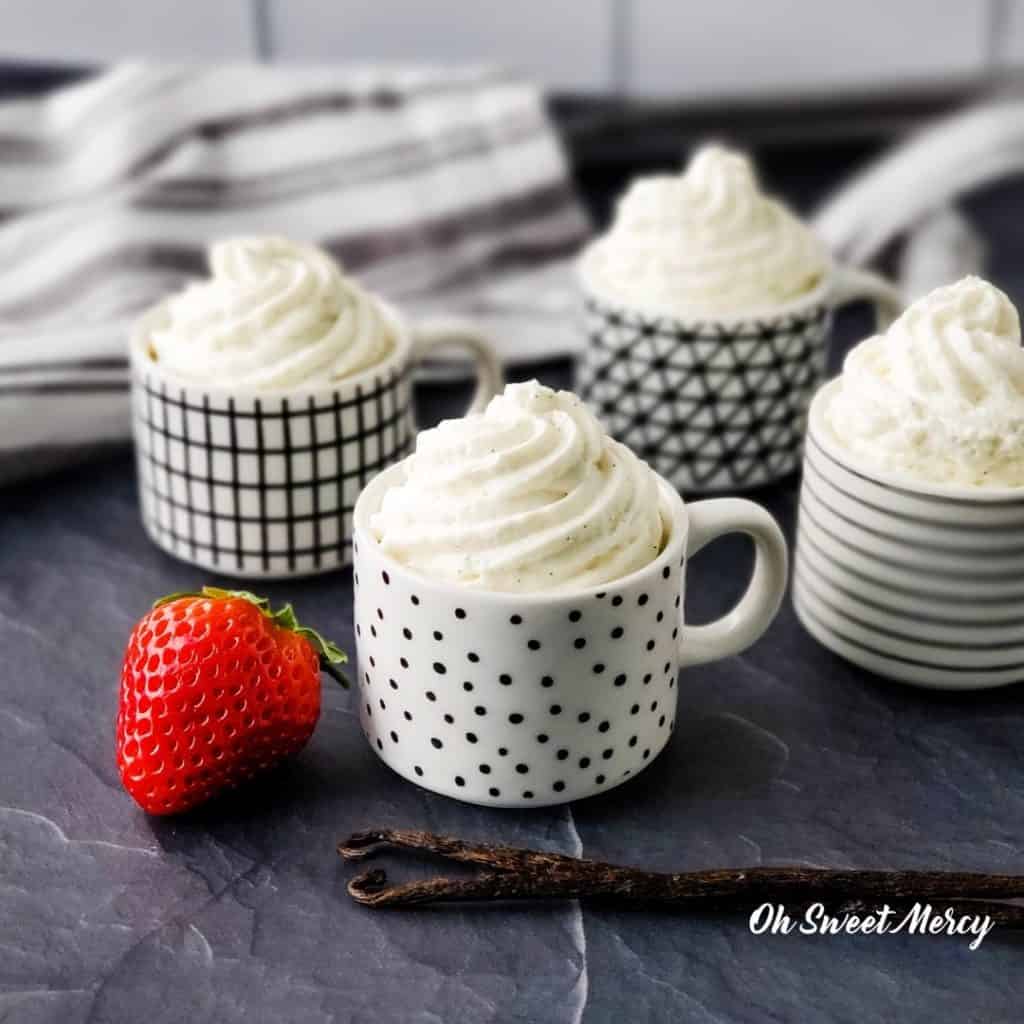 Mousse seems like a complicated, fancy French dessert but it's really very easy to make.
Some easy mousse recipes call for cream cheese. However, if you're a Trim Healthy Mama plan follower you know it's wise to be moderate with Heavy S foods. So, to keep the Heavy S aspect of this dessert a little less heavy we'll use gelatin instead.
If you don't like cream cheese then this is the perfect easy mousse recipe for you. Also, sometimes the tanginess of cream cheese is just not what you want.
This homemade vanilla bean mousse keeps it simple. Just the rich, creaminess of heavy cream, a little sweetener, and vanilla are the all the flavors you need for a delicious dessert.
Want more sweet treat recipes? Check out my Desserts and Sweets category page.
How To Make Low Carb Vanilla Bean Mousse.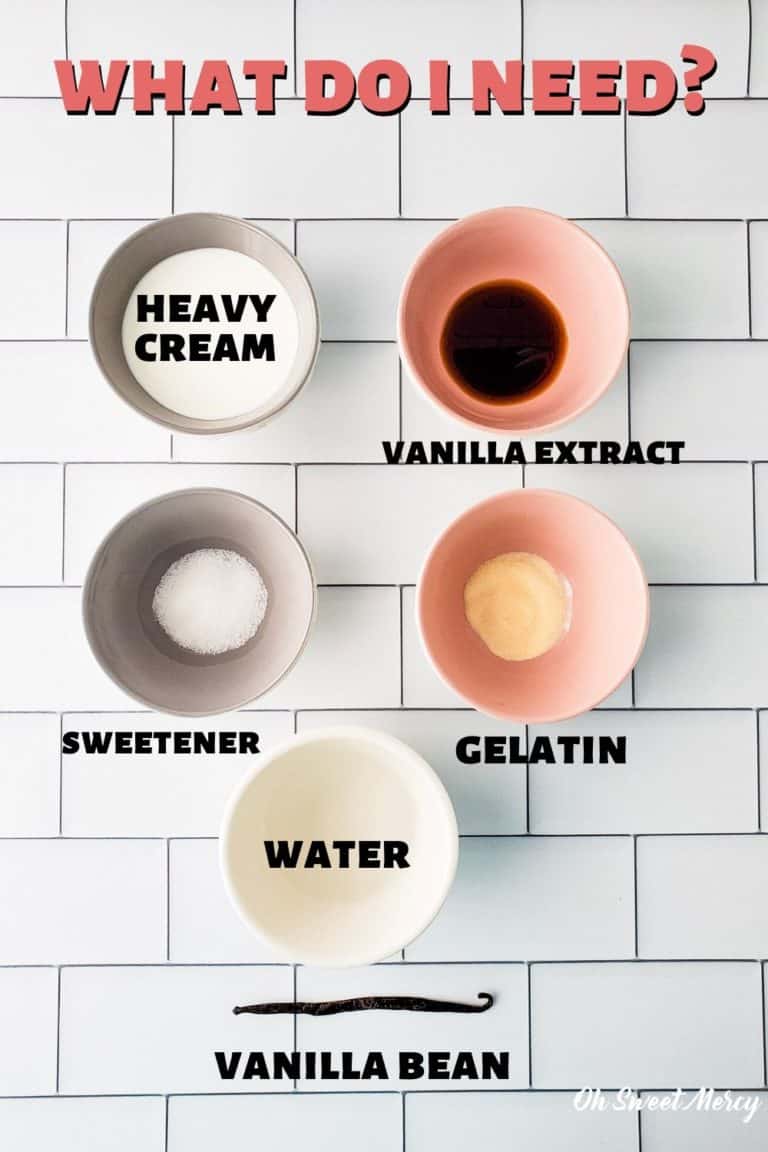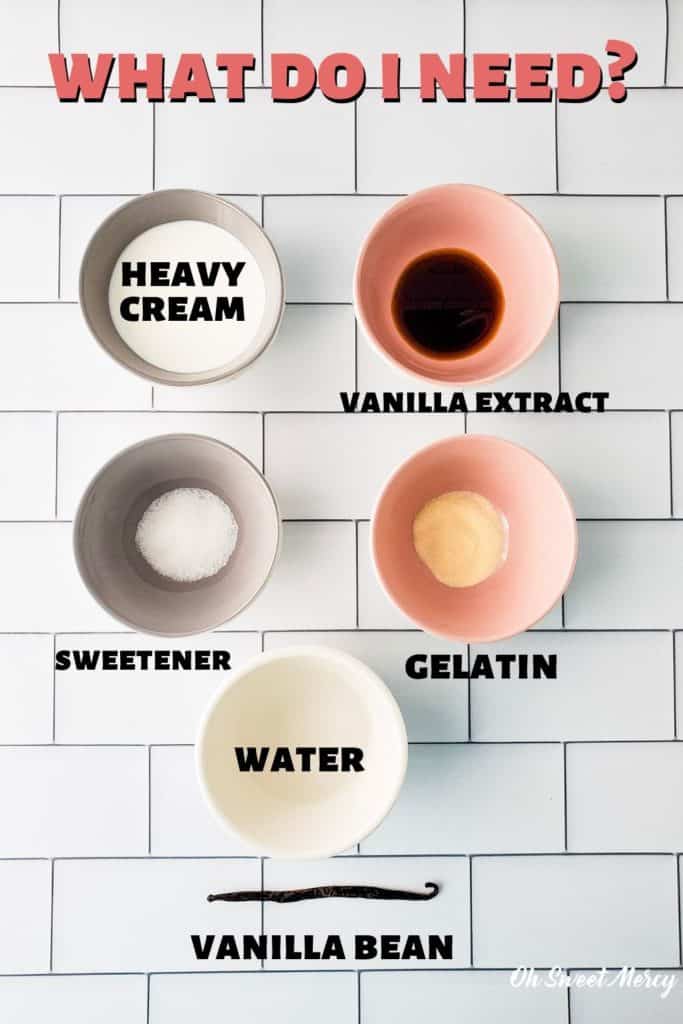 With just 6 ingredients and about 45 minutes you'll have a beautiful, low carb dessert ready to enjoy.
I use the whisk attachment on my immersion blender and the whipping cream whips up less than 5 minutes. A hand mixer will take a little longer, depending on how powerful it is.
And of course, the Cadillac of stand mixers, a Kitchen Aid, whips up this elegant mousse in no time flat!
This recipe comes together in 4 easy steps:
Bloom the gelatin by sprinkling over a bowl of cool water and set aside. Sprinkle slowly, if you put too much in at once it doesn't bloom as well and you end up with weird gelatin clumps.
Whip together the heavy cream, vanilla extract, scraped vanilla bean paste, and sweetener until stiff peaks form.
Dissolve the bloomed gelatin by adding boiling water and stirring until completely dissolved. Then cool a few minutes until lukewarm to the touch.
Slowly add the gelatin to the whipped cream while whipping and whip well to combine. Just don't overwhip or you'll get butter.
You can then spoon into dessert dishes and refrigerate or just refrigerate the whole bowl of mousse.
Or, to pipe fancy bowls of vanilla bean mousse refrigerate the whole bowl first. The mousse mixture will be a bit slack after adding the gelatin but will firm up after at least 30 minutes in the fridge.
Then, put into a piping bag or decorator and attach the desired tip to pipe a beautifully shaped mousse.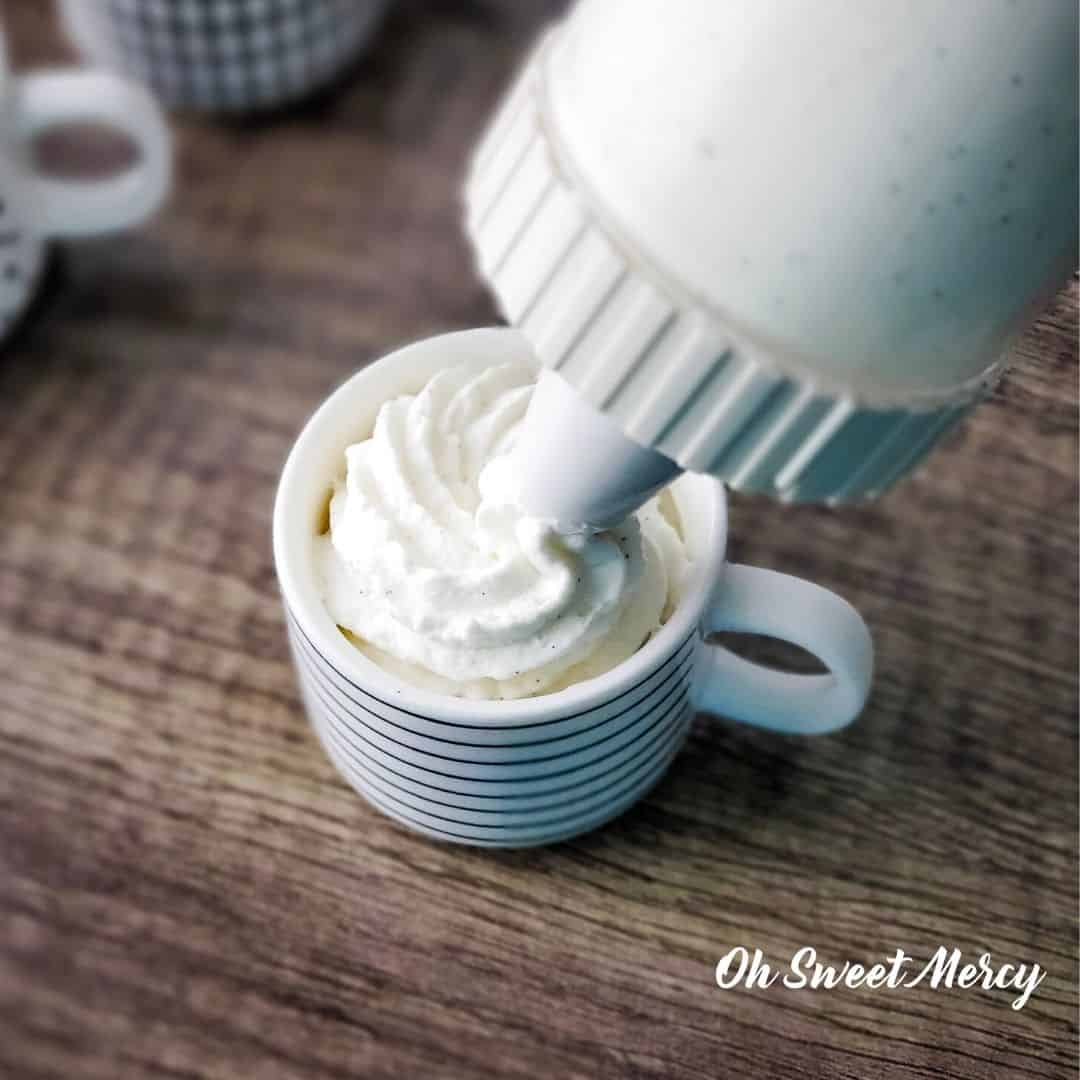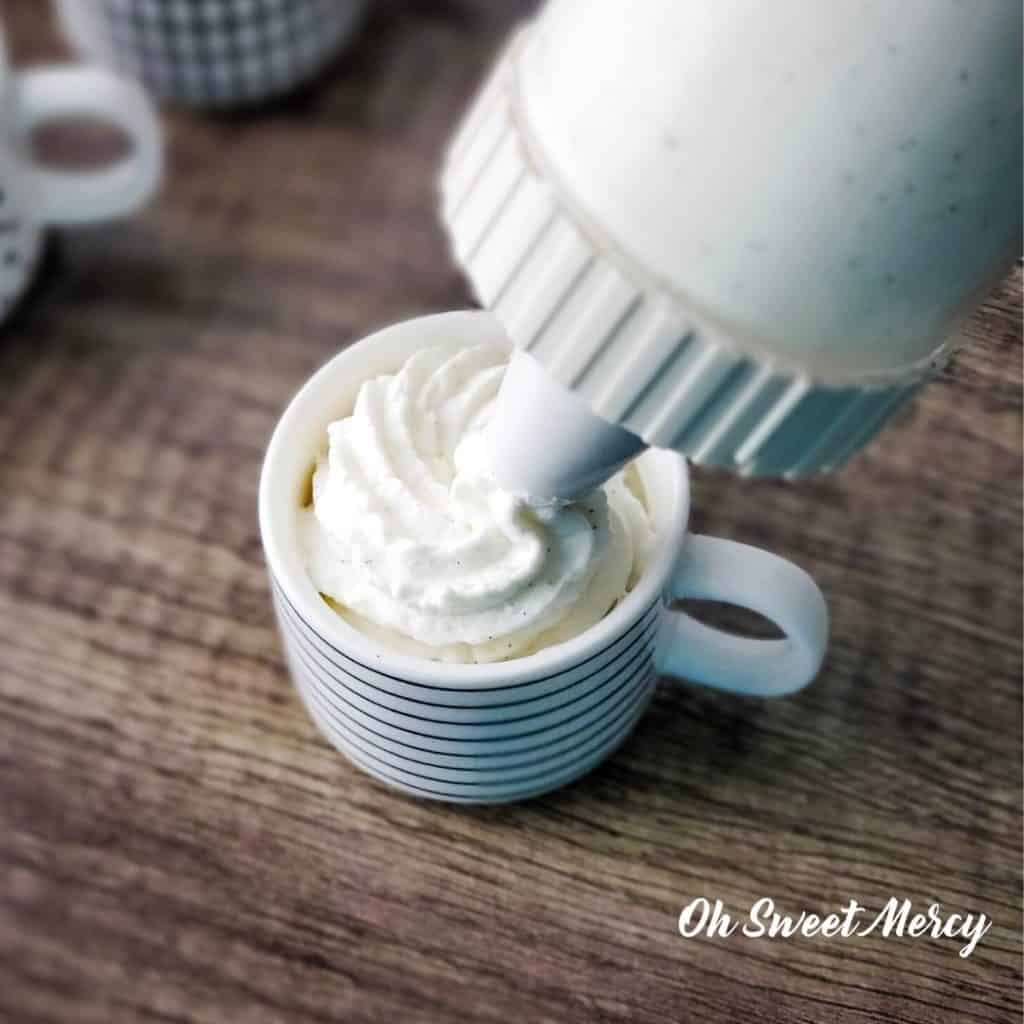 Important Tips For Making Sugar Free Vanilla Bean Mousse.
While making mousse really isn't complicated, here's a few things to keep in mind for the best results:
The Colder The Better, Especially In Summer.
For heavy cream to whip properly, it's best that the cream and your utensils are very cold. In the winter, room temp shouldn't be an issue. However, in the summer, especially if you don't have AC, it's often harder to make whipped cream.
Put your bowl and the whisk attachment or beaters into the freezer for a few minutes before making the mousse.
I worked on this recipe in February and my kitchen tends to be on the cooler side. I had no trouble with room temp equipment, just as a comparison.
Use A Finely Powdered Sweetener To Avoid Grittiness.
The first test of this recipe, I used only THM Pure Stevia Extract. If you're a purist then that's probably your go-to for non-glyemic sweetening. It's delicious! I love the THM Pure Stevia Extract because it has the best flavor of all that I've tried. It's smoother and has no harsh flavor.
As it's already a fine powder, grittiness isn't a problem. Not so with stevia and erythritol (or other on-plan sugar alcohols) blends. The sugar alcohols are grainy and don't always dissolve easily especially in cold liquids.
I also tested with Pyure Organic Stevia. This is a blend of stevia and erythritol and similar to THM Super Sweet for most people. It's also a granular stevia blend and often found in grocery stores.
To make sure your vanilla bean mousse stays smooth and creamy when using a granulated sweetener like this, powder it first. This is easily done in a coffee grinder but if you don't have one, a mortar and pestle will do the trick.
You can also use a blender. However, you might want to blend up more than just the tablespoon or so this recipe needs and keep it on hand for future recipes needing a finely powdered sweetener.
Add The Gelatin Mixture Slowly While Whipping.
You'll first bloom the gelatin powder in cool water. It will look a bit like applesauce after it sits for several minutes and absorbs water.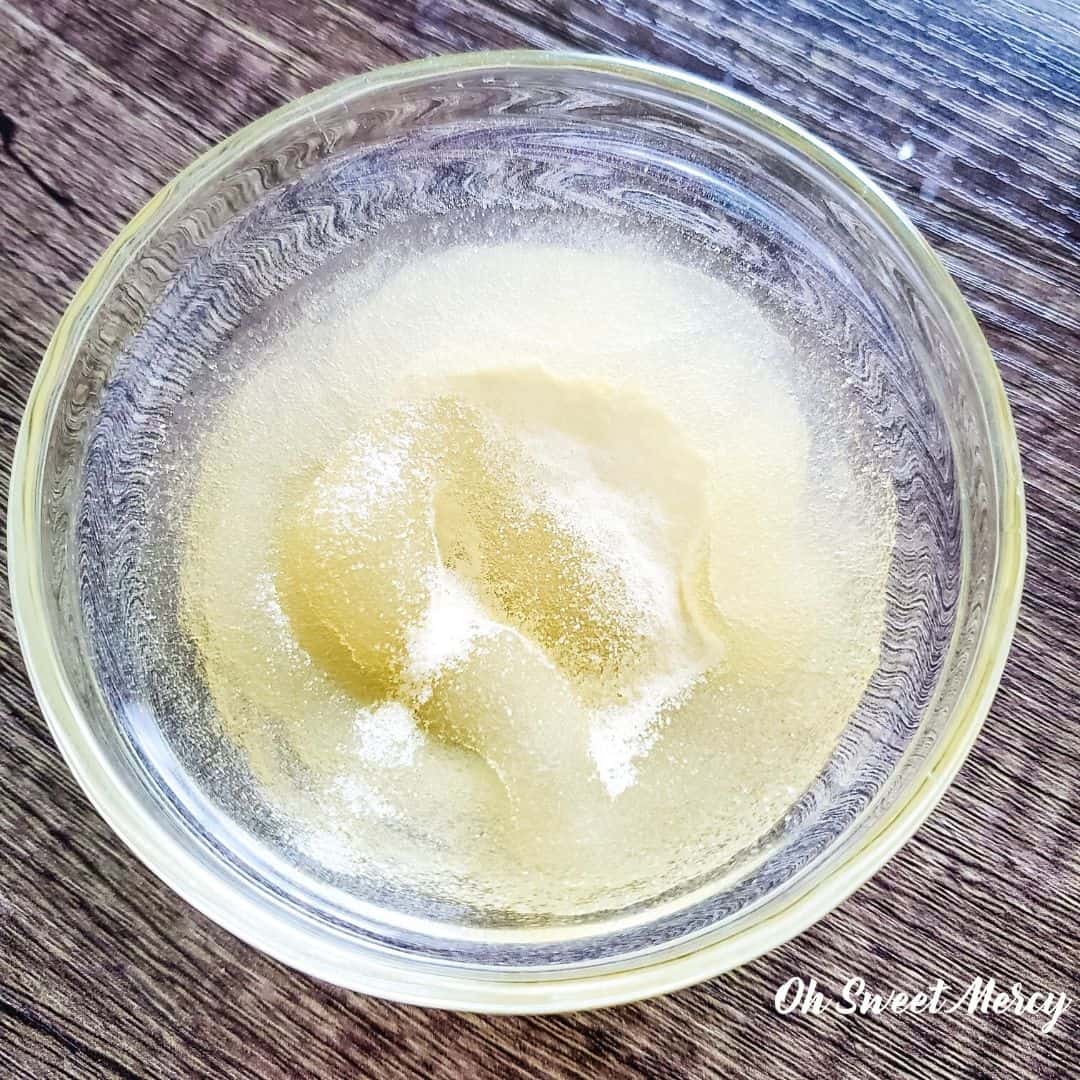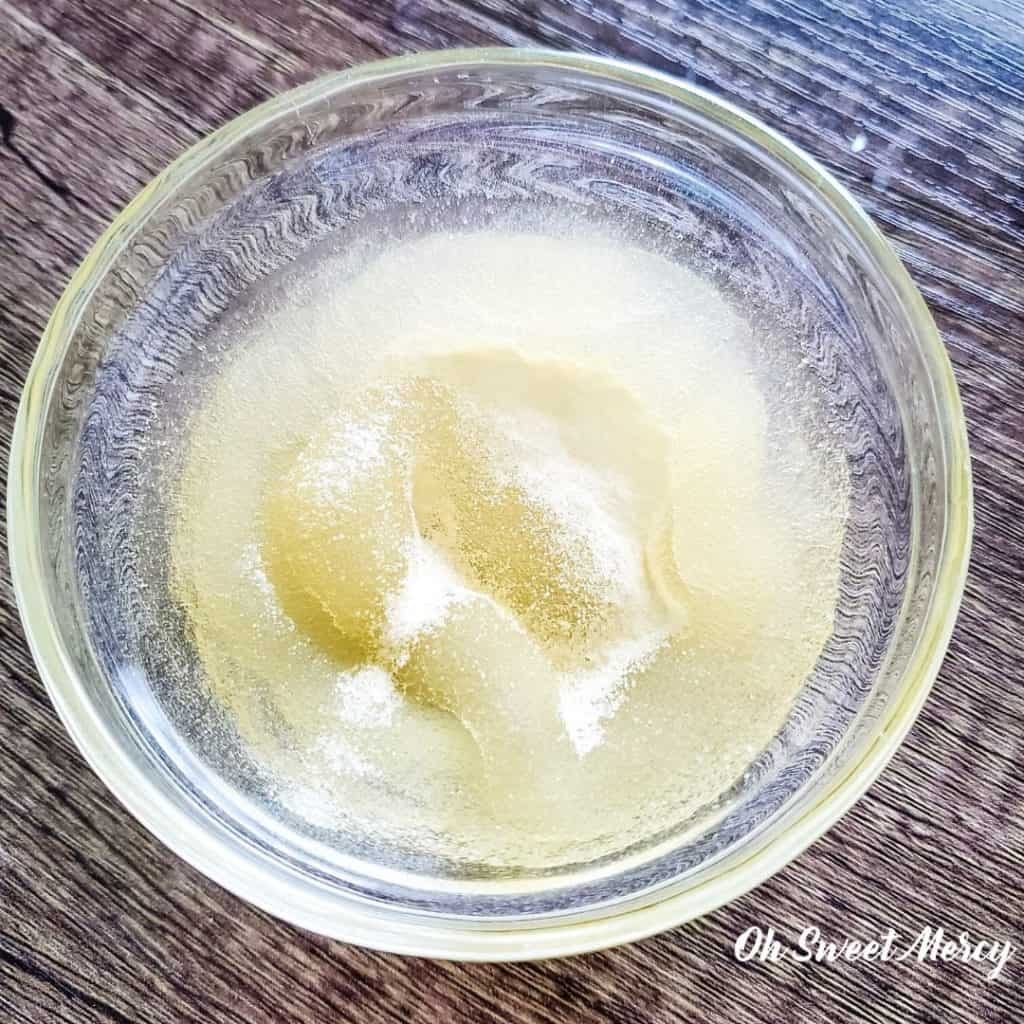 Then dissolve it with the boiling water. Let it cool a bit before adding to the whipped cream.
Then, pour in a thin stream while whipping or add by the tablespoon, mixing after each addition. Adding it all at once runs the risk of the gelatin clumping up before it can be fully incorporated into the mousse.
How To Include This Dreamy Vanilla Bean Mousse To Your Trim Healthy Mama Meal Plan.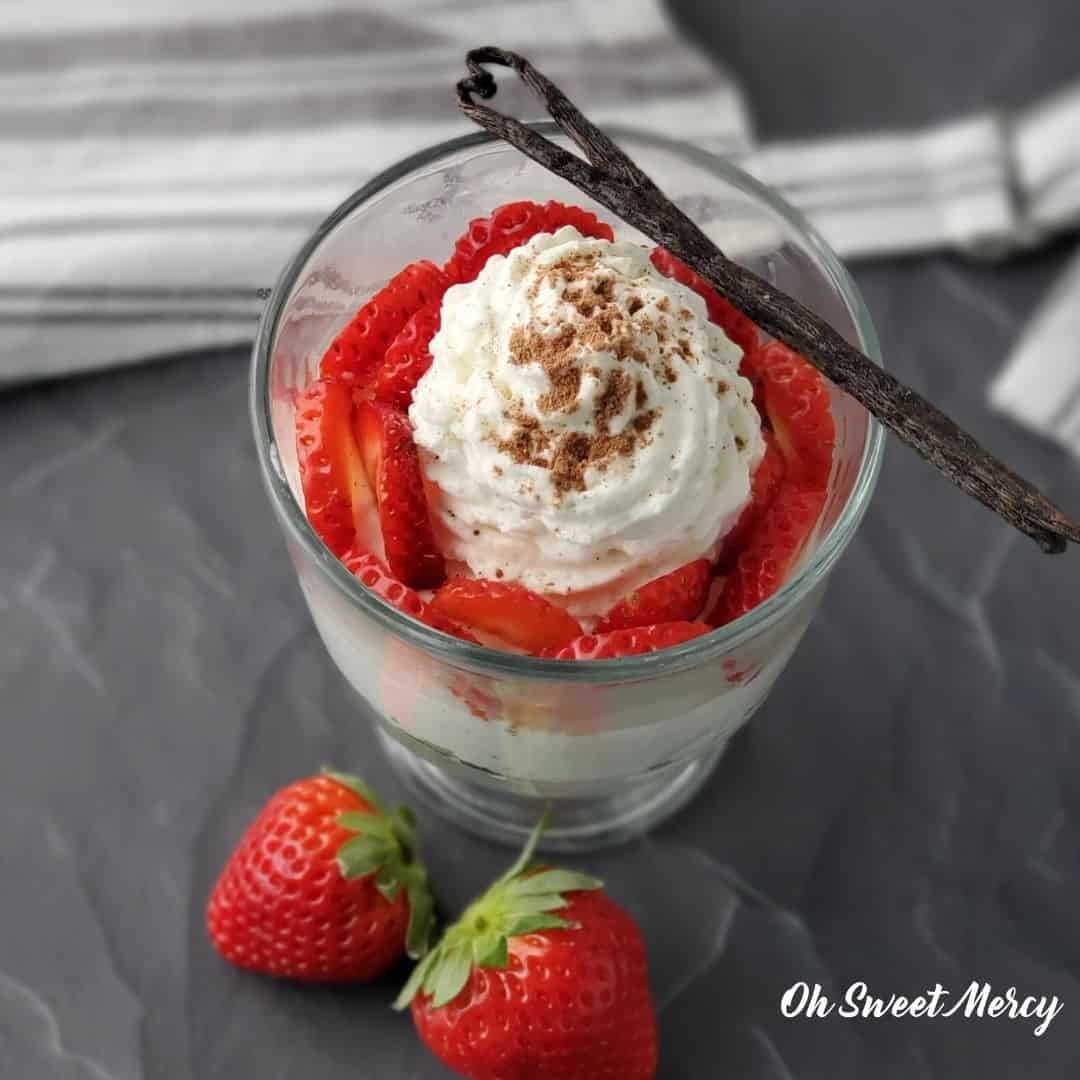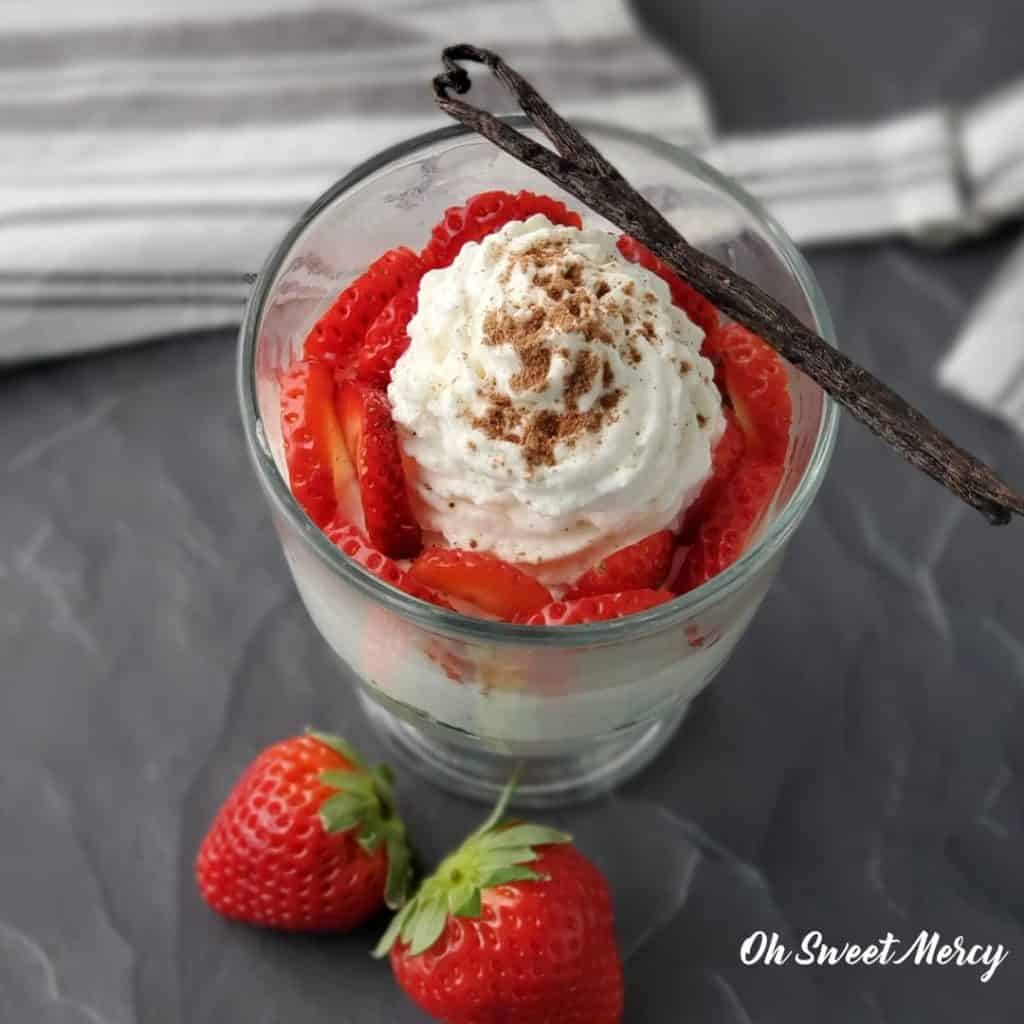 As I mentioned above, this is an S recipe – specifically, a Heavy S due to the use of heavy whipping cream.
It's best to enjoy this as a dessert after a lighter S or even a FP (Fuel Pull) meal. However, it's still suitable after a heavier low carb S meal. Just don't do that too often!
Making this easy vanilla bean mousse for a party or other gathering is also a great idea. You'll get to have a little without the whole recipe staring at you every time you open the fridge and tempting you.
You know, when you should be eating an E or FP and not getting stuck in an S rut!
Here's a few ways to enjoy this delicious, low carb mousse recipe:
With fresh berries
Piped on top of a FP cake or muffin in a mug (or just plopped beside it)
On top of an on-plan ice cream
Layered in a glass with sliced strawberries and a sprinkle of cacao or dark chocolate curls
With a spoon for ultra-low-carb enjoyment 😉
However you choose to enjoy this creamy, airy treat you can relax knowing you're eating an on-plan dessert!
PIN IT!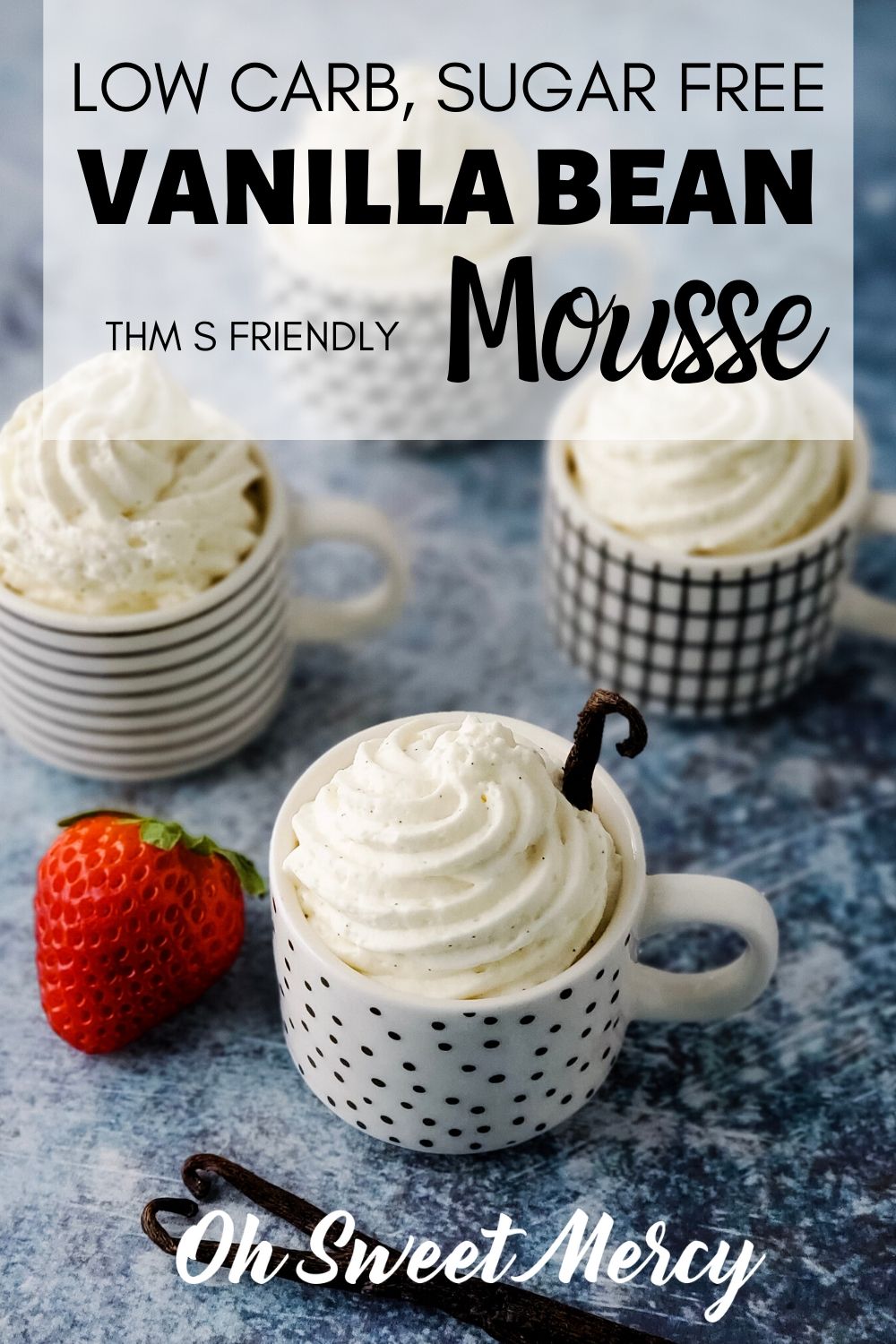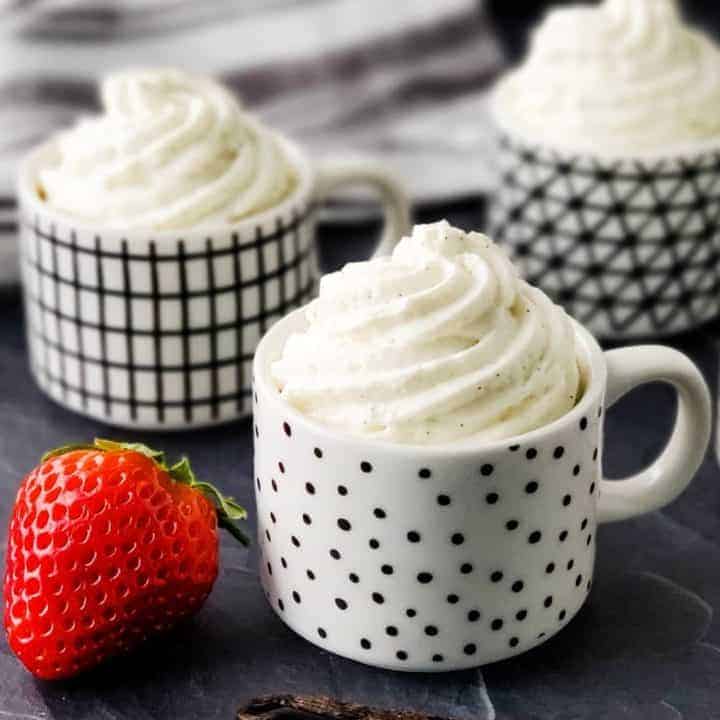 Low Carb Vanilla Bean Mousse | Sugar Free, THM S
Yield: 16 - 1/4 cup servings
Prep Time: 15 minutes
Chilling Time: 30 minutes
Total Time: 45 minutes
Light, creamy, airy mousse infused with vanilla bean makes this THM S dessert elegant and delicous. Perfect for parfaits or piping into dessert bowls and something everyone will enjoy.
Instructions
In a small bowl, place the 2 tablespoons of cool water and evenly sprinkle the 2 teaspoons of gelatin powder over the top. Don't just dump it all in or it will clump up. Sprinkle slowly, the water starts absorbing right away. Set aside.
In a mixing bowl, add the 2 cups of heavy whipping cream, desired sweetener(s), and 1 1/2 teaspoons of vanilla extract.
Carefully split the vanilla bean pod in half and scrape out the heavenly vanilla bean goodness and put it in the bowl with the whipping cream.
Using the whisk attachment on your stand mixer or immersion blender (or beaters on your hand mixer), beat the cream mixture until stiff peaks form.
Take the bowl of bloomed gelatin and add 4 tablespoons of boiling water to it, stirring until the gelatin has completely dissolved. Let it cool a few minutes until it's lukewarm to touch.
With the mixer running, slowly pour the gelatin into the whipped cream. Or, add by the tablespoon, mixing well after each addition, until it's all added.
Mix well, but don't overmix and get butter 😉
Spoon into dessert bowls and refrigerate or refrigerate the entire bowlful for at least 30 minutes.
Notes
Sweetener Notes
If you're tasting for sweetness before adding the gelatin, keep in mind that the gelatin will reduce the sweetness a bit after you add it.
A finely powdered sweetener works best to prevent grittiness.
Gelatin Notes
I tested this recipe using Great Lakes Grassfed Beef Gelatin. I do not use pork gelatin like Knox so I'm not sure how that compares.
Recommended Products
As an Amazon Associate and member of other affiliate programs, I earn from qualifying purchases.
Nutrition Information:
Yield: 16
Serving Size: 1/4 cup
Amount Per Serving:
Calories: 119
Total Fat: 12g
Saturated Fat: 7g
Trans Fat: 0g
Unsaturated Fat: 4g
Cholesterol: 38mg
Sodium: 12mg
Carbohydrates: 14g
Net Carbohydrates: 2g
Fiber: 0g
Sugar: 0g
Sugar Alcohols: 12g
Protein: 2g
Nutrition information is approximate and based on the best knowledge available at the time of recipe publication. Your results may vary due to differences in ingredients. You can make your own calculations if this recipe does not include nutrition info by using an online calculator such as https://recipes.sparkpeople.com/recipe-calculator.asp