We've got a heatwave going on around here, how about you? When it's hot the last thing you want to do is turn on the oven to make supper, right? This Quick and Easy Instant Pot Chicken 'n Peas will have a tasty, low fat, low carb and THM friendly meal on your table in no time, and you'll hardly break a sweat.
Meanwhile, you can sip on a cold, refreshing Good Girl Moonshine and not wilt in the kitchen while your Instant Pot does all the work for you.
Minimal prep is what you need on a hot (or busy) day!
When it's so hot the thought of moving makes you break out in a sweat, you don't want to fuss with lots of prep. For this easy Instant Pot chicken dish, you'll just need to chop a few onions. Or use dry minced onions, I won't judge.
Only have whole, fresh mushrooms? Just skip the slicing, no problem. Canned will work too for even less fuss.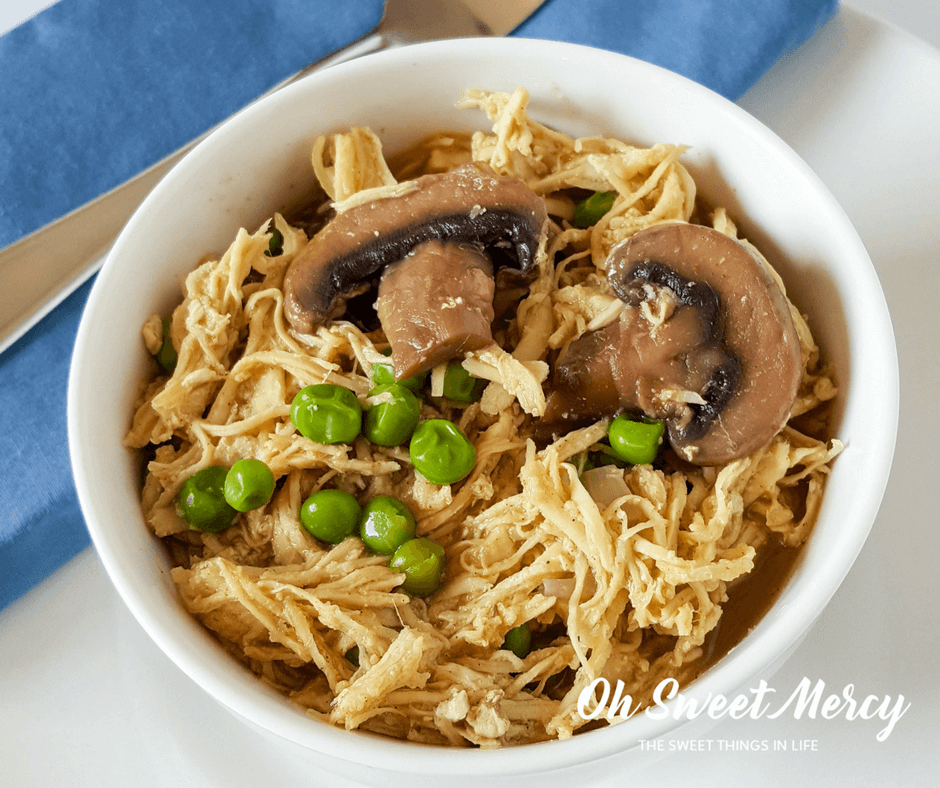 Trim Healthy Bouillon is one of my favorite secrets! Adding that healthy mix of ingredients to your recipes will up the nutrition. You can get the recipe in the original Trim Healthy Mama cookbook.
If you don't have it, don't stress – just season with some basic seasonings such as garlic and onion powders, salt, pepper, and paprika.
If you have nutritional yeast on hand, but not the Trim Bouillon Mix made up, no problem. Just add those basic seasonings I just mentioned and a tablespoon or so of nutritional yeast. It won't taste exactly the same, but it's still good.
Glucomannan powder is optional – if you don't mind a brothy result leave it out. You can also substitute xanthan gum if you prefer.
Just like in my 30 Minute Chicken Tacos for the Instant Pot, use your hand mixer to shred the cooked chicken. In less than 30 seconds you have perfectly shredded chicken! You might want to drain off some of the hot broth first to prevent splashing (just be sure to save it for later, you'll need it).
Quick and Easy Instant Pot Chicken 'n Peas works with all the THM fuels.
I've really been trying to do something other than chicken in my Instant Pot, but it's just such an easy, versatile protein I can't help but use it. Lean chicken breast works for ALL the Trim Healthy Mama fuel styles, too. I typically make neutral Fuel Pull things with chicken as my centering protein for the meal.
Then you just need to simply add sides to round out your THM meal. Here's a few ideas for serving this Quick and Easy Instant Pot Chicken 'n Peas.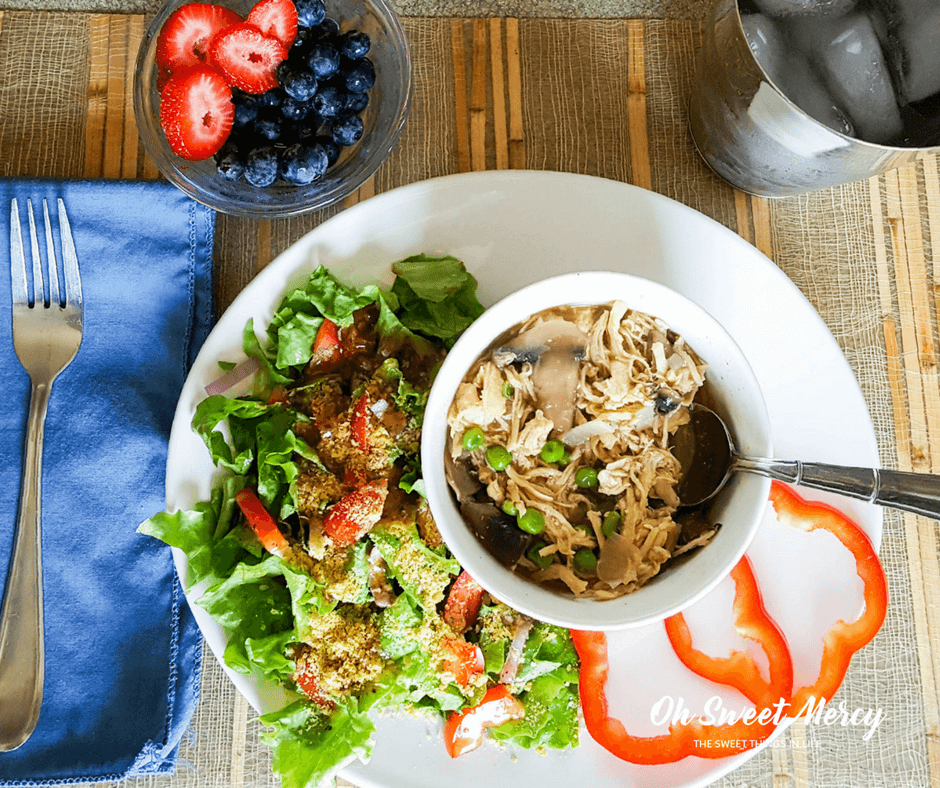 Satisfying S style: serve over cauli rice or konjac noodles, have a big, green, leafy salad with olive oil and lemon juice for dressing, and fresh berries drizzled with cream and a sprinkle of stevia for dessert. Or, if you're needing something decadent for dessert try my Decadent Salted Caramel Whip.
Energizing E style: serve over 1/2 cup brown rice or quinoa, or top a small baked sweet potato, add some steamed green beans or broccoli, and for dessert enjoy Mango Lime Instant Pudding. Feel free to have a bit more rice or quinoa if you need it, I tend to stick to the lower end of the carb range for E meals.
Neutral Fuel Pull style: serve a half cup of chicken mixture over a big pile of fresh spinach (or other low-carb options such as cauli rice or konjac noodles), with fresh veggies on the side such as cherry tomatoes, cucumber slices, bell pepper strips, a few baby carrots, and celery. Make my Creamy Cajun Ranch dressing to dip! For dessert, a light Gluccie Pudding from the THM Cookbook will help you feel full longer.
For more information on the Trim Healthy Mama plan specifics, be sure to read the THM Plan Book! Not sure if THM is for you? Check out my 5 Reasons You Need the New Trim Healthy Mama Plan post.
Grab your GGMS and Instant Pot and let's get cooking!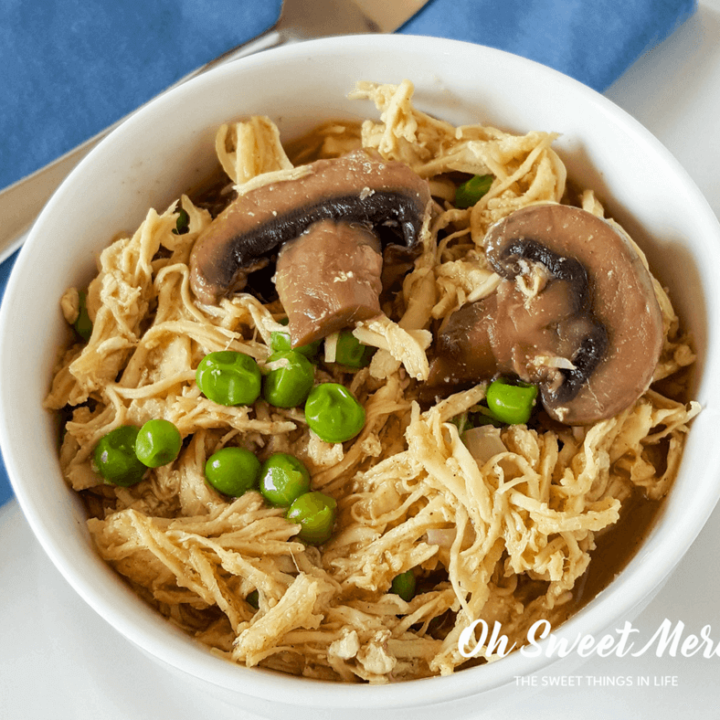 Quick and Easy Instant Pot Chicken 'n Peas
This quick and easy chicken dish comes together quickly in your Instant Pot. It's low in fat and carbs, and works with any Trim Healthy Mama fuel style. Perfect for busy and hot summer days when you don't have time or feel like cooking!
Ingredients
4 boneless, skinless chicken breasts
8-12 ounces water (depending on how "saucy" you want it)
2 teaspoons butter
1/3 cup red onion, chopped
1 cup frozen peas
1 cup sliced mushrooms (optional, more or less as desired)
1/3 cup 0% Greek yogurt (E or FP) OR sour cream (S)
1 heaping tablespoon Trim Bouillon Mix (or alternative seasonings, to taste)
1/2 teaspoon paprika
Salt and pepper to taste
Instructions
Cook The Chicken
Put chicken and water in Instant Pot and secure the lid, making sure the vent knob is set to sealing.
Set the Instant Pot on Poultry setting for 25 minutes.
After the cooking is complete, use NPR (Natural Pressure Release) for 10 minutes, then release the remaining pressure with QPR (Quick Pressure Release)
Open the lid and shred the chicken (a hand mixer gets this done in under 30 seconds, just be mindful of hot splashes! Or drain the liquid into a bowl first)
Remove the chicken to a bowl and set aside
Put It All Together
Set the Instant Pot to Saute (normal setting)
Add butter and onions and saute for a couple minutes
Add mushrooms and peas and saute for a couple minutes
Add the chicken and cooking liquid back into the Instant Pot and bring to a simmer
Meanwhile, add seasonings (except gluccomannan powder) and stir well to combine
Sprinkle gluccomannan powder over the chicken mixture and quickly stir well
Simmer until thickened to your preference
Stir in yogurt (or sour cream) and serve
Notes
As written this is a THM Fuel Pull. Enjoy with E, S, or FP meals.
Recommended Products
As an Amazon Associate and member of other affiliate programs, I earn from qualifying purchases.
Nutrition Information:
Yield: 6
Serving Size: 1
Amount Per Serving:
Calories: 194
Total Fat: 5g
Saturated Fat: 2g
Trans Fat: 0g
Unsaturated Fat: 2g
Cholesterol: 73mg
Sodium: 401mg
Carbohydrates: 8g
Fiber: 2g
Sugar: 4g
Protein: 28g
Nutrition information is approximate and based on the best knowledge available at the time of recipe publication. Your results may vary due to differences in ingredients.
Check out my other easy Instant Pot chicken recipes below
. We're getting some beef for the freezer soon, so I'll be able to broaden my Instant Pot horizons!
Quick Tomato Basil Chicken for the Instant Pot
Mushroom Bay Chicken for the Instant Pot
Smoked Paprika Chicken and Mushrooms for the Instant Pot
Be ready for hot summer days with this Quick and Easy Instant Pot Chicken 'n Peas, Pin below!