Like this post and don't want to miss more like it? Be sure to sign up for my newsletter at the end!
To say the humble spaghetti squash has got me all excited is an understatement.
One bite of this fabulous, low carb squash and I began to envision all kinds of ways to use it. Ways to replace your former high carb favorite foods (like pasta and potatoes) so you can still enjoy comfort foods without  the glycemic payload delivered by pasta and potatoes. This Mock Baked Spaghetti is a comfort food you're sure to love.
This recipe is super easy to throw together using ingredients you have on hand. I'm somewhat of a "purist" and prefer to not use prepackaged foods, but if you're not you can use what you have.
If you're following the Trim Healthy Mama plan (read my book review and progress update posts!) just be sure to watch fat, carbs and any hidden sugars. This can be made either S or E style.
Trim Healthy Mamas, here's the skinny on this Mock Baked Spaghetti dish.
Mock Baked Spaghetti PLUS Easy Marinara Recipe
This easy, gluten free Mock Baked Spaghetti uses spaghetti squash instead of pasta. Make it to suit any THM fuel type! Includes a recipe for Easy Marinara Sauce, too.
Ingredients
4 c baked, shredded spaghetti squash. Read how to easily bake a whole spaghetti squash here
1 pound lean ground meat, any percent lean is fine for S (For an E meal, use either grass fed beef, ground chicken or turkey breast (96% lean or higher), or venison OR any % ground meat rinsed in hot water after cooking)
3 c homemade marinara (recipe below)
2 Tbs "nooch" (nutritional yeast)
1 tbs butter (optional)
1/2 tsp salt
1/4 tsp pepper
1/2 c shredded mozzarella
1/2 tsp Greek or Italian seasoning, if desired
Easy Marinara
3 cups tomato sauce
1/4 c diced onion, or more as desired
1 clove of garlic, pressed OR 1 tsp granulated garlic
1 Tbs olive oil
2 tsp Greek or Italian seasoning, or as desired
1 to 2 Tbs nutritional yeast, optional
salt and pepper as desired
stevia or other healthy sweetener if needed
Directions
Make the Easy Marinara Sauce (or use store bought)
Saute onions in olive oil over medium high heat until soft.
Add garlic and saute a minute or two…don't let it burn!
Add tomato sauce and seasonings.
If needed, add a pinch or so of stevia.
Bring to a simmer and cook for five minutes or longer if desired or use right away.
Make the Mock Baked Spaghetti
Brown ground meat.
Drain and rinse if needed.
If your spaghetti squash is freshly baked and warm, mix in a tablespoon of butter (for S version, omit for E or FP version).
Add salt, pepper and nutritional yeast.
Combine meat, sauce and spaghetti squash.
Pour into a lightly greased 2½ quart baking dish or casserole and top with mozzarella and a sprinkle of Greek or Italian seasoning.
Bake at 350 for 30 minutes or until bubbly and browned on top. Makes four very generous servings, or serves a family of four with a bit of leftovers.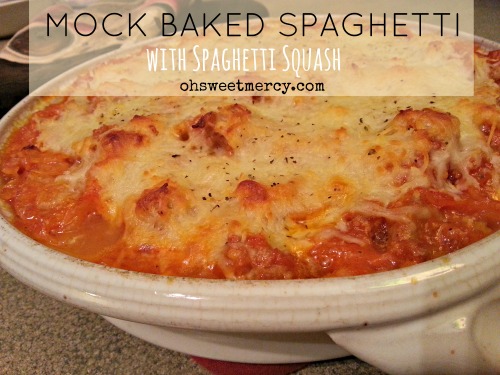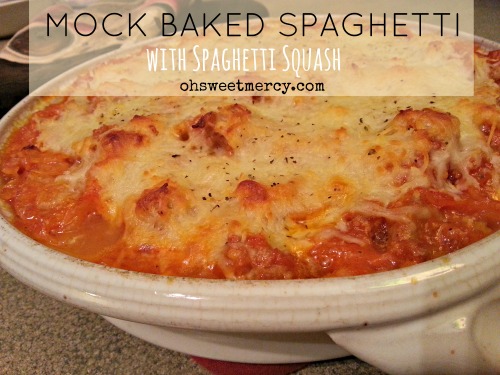 While my recipes are not officially endorsed by Trim Healthy Mama, I do my best to ensure they meet plan guidelines. Always refer to the THM plan book for complete information.
Be sure to pin the image below to your favorite Pinterest board, and follow Oh Sweet Mercy for more low-carb recipes!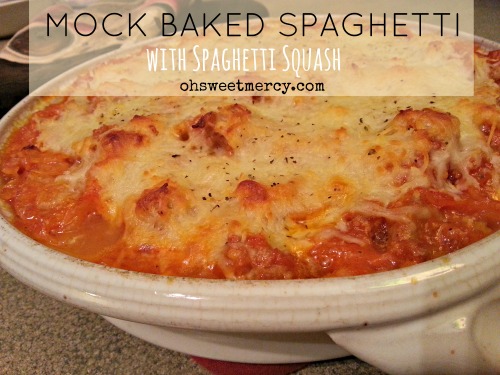 This post was shared on Lou Lou Girl's Fabulous Linky Party!