---
Spaghetti Squash Hash Browns are a lovely, low-carb substitute for blood sugar spiking white potatoes! Getting them crispy requires a heavy hand, but the end result is worth it! Perfect for the THM who misses hash browns with eggs.
---
Missing Hash Browns now That You're Low-Carbing? Spaghetti Squash Hash Browns to the Rescue!
So, you've ditched the white potatoes on your low carb diet but now you're craving hash browns with that egg friend in coconut oil. Is there anything you can substitute to satisfy that carby crave?
What if I told you yes, there was indeed something you could sub for potatoes, and it was really good for you? Would you be surprised if I told you it was spaghetti squash hash browns?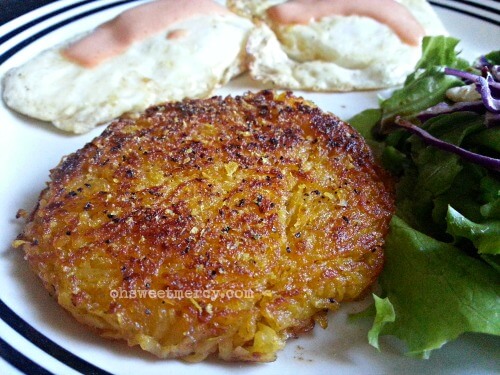 Spaghetti squash? You've got to be kidding, right?
Hey, I hear you on this one. I was actually afraid to try spaghetti squash not so long ago. I envisioned some stringy sweet potato-y thing going on and since I don't like sweet potatoes…well, let's just say the idea of stringy sweet potatoes was not even remotely appealing.
Boy was I wrong! (I was also wrong about sweet potatoes, these Loaded Sweet Potato Fries (with Creamy Cajun Ranch) changed my mind!)
Not stringy! Not smushy! And no sweet potato taste! There is a mild sweetness which is easily overpowered by a savory sauce, like in my Mock Baked Spaghetti.
It is remarkably in texture like the low-carber's arch nemesis…the potato. Half a cup of shredded potato has 14 grams of net carbs compared to the 4 grams of net carbs in spaghetti squash.
Don't get me wrong, potatoes taste wonderfully. Especially when crisply fried in buttah. But that combination of high carb and high fat fuels wreaks havoc on the metabolism of many. This in turn causes a major insulin response in our body which leads to weight gain. This is one principle that is makes the Trim Healthy Mama plan successful – don't load up on those fuels!
How to Cook Spaghetti Squash.
Yesterday I shared how easy it is to bake a whole spaghetti squash. You can cut them open first, but it is really hard to cut them raw. Cooking them first makes them easier to open and reduces the risk of chopping off a finger or two.
Have an Instant Pot? Just wash the outside of your whole spaghetti squash, cut the stem off, and put it in your pot on the trivet. Add 1 cup of water, secure the lid and make sure to set the vent to SEALING. Set to MANUAL for 20 minutes. You can use NPR (Natural Pressure Release) or QPR (Quick Pressure Release) OR even forget about it for a while…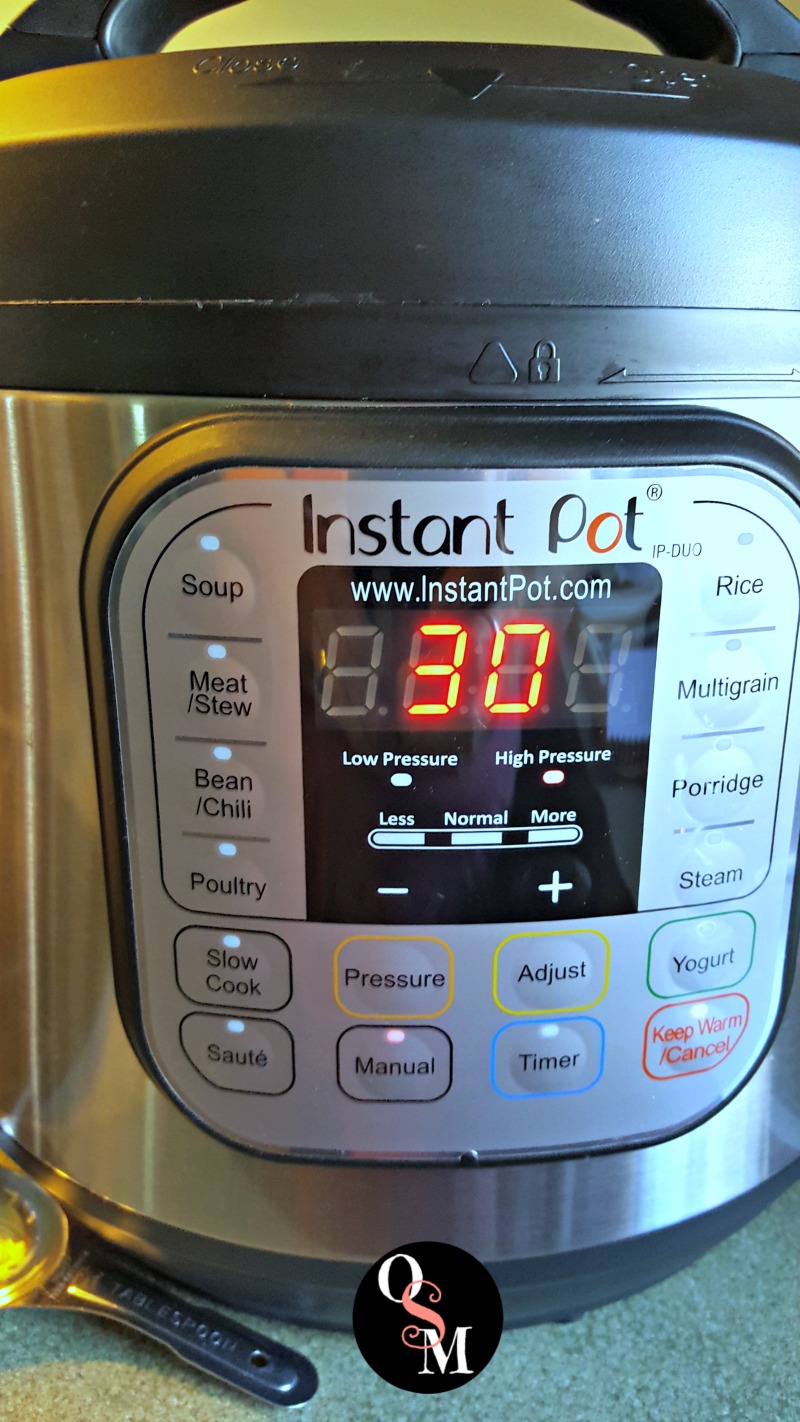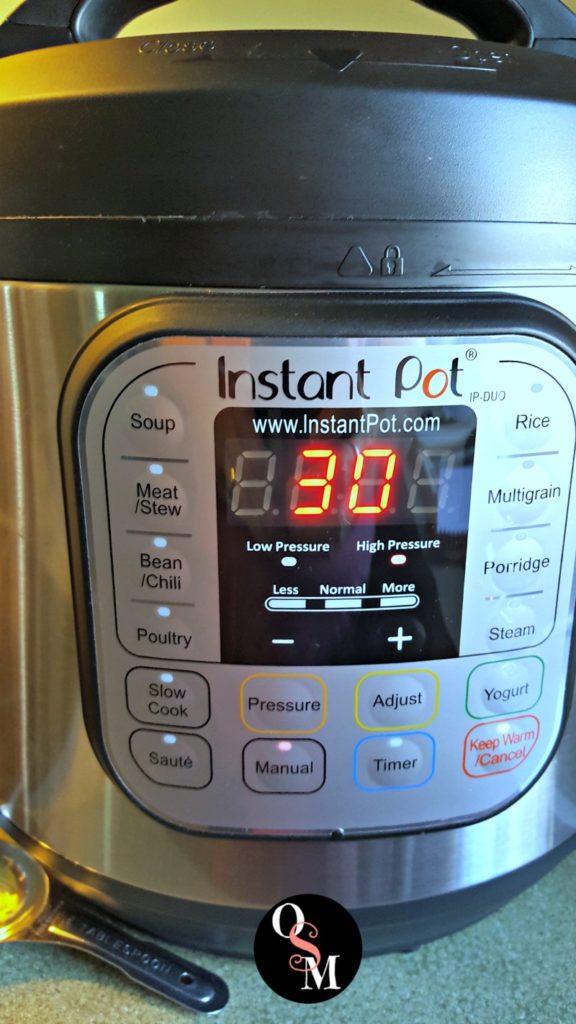 The benefit to pressure cooking your whole spaghetti squash is that the peel just easily peels away, getting more low-carb goodness out of your squash!
So, once you've got your spaghetti squash cooked, what do you do with this thing anyway? Eat it for breakfast! Make Spaghetti Squash Hash Browns – what I have affectionately dubbed Squashbrowns – and serve them alongside eggs for a very traditional but very low carb breakfast.
The Easy Trick to Getting Spaghetti Squash Hash Browns to Brown.
I found this great post from Empowered Sustenance that explained the trick to getting spaghetti squash hash browns to actually brown. Since spaghetti squash is mostly comprised of water, you have to squeeze out as much water as you possibly can.
She recommended using a towel to wrap the shredded spaghetti squash in, but I just used my hands and squeezed it over the sink with no problem. Less laundry 😉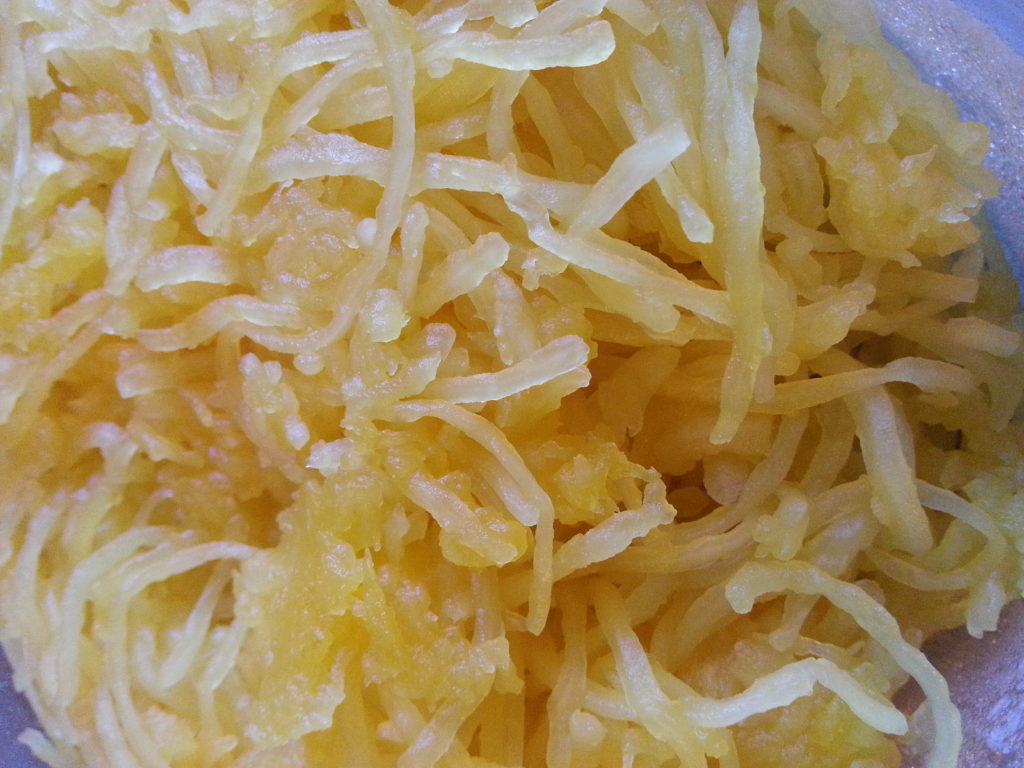 Important Note!
When making Spaghetti Squash Hash Browns, keep in mind that squeezing the liquid out of the squash will result in a reduction of volume – around half. I like to make spaghetti squash hash brown patties, so I tightly pack a half cup measure with spaghetti squash for each patty.
Seasoning your baked spaghetti squash with butter, salt and pepper ahead of time makes it quick and easy to use. So, when I make my spaghetti squash hash browns, I use leftover squash and don't need to add much seasoning at all unless I'm feeling spicy.
Gently Fry Your Spaghetti Squash Hash Browns in a Cast Iron Skillet.
Form the squeezed squash into a patty and fry in buttah or coconut oil, preferably in a cast iron skillet. Those healthy fats won't be a problem with the very low carb count in these Spaghetti Squash Hash Browns.
Fry over medium high heat for several minutes until golden brown, then gently flip and do the same for the other side. Resist the urge to flip several times, they are somewhat fragile, but are easily coaxed back into shape if some of the shreds step out of line.
Season however you like if you haven't already seasoned your spaghetti squash. Simple salt and pepper is wonderful, as is a sprinkle of Hippie Dust (nooch, or nutritional yeast…which adds protein!). Serve alongside some dippy eggs, or your favorite style of eggs…you won't even miss "real" hash browns!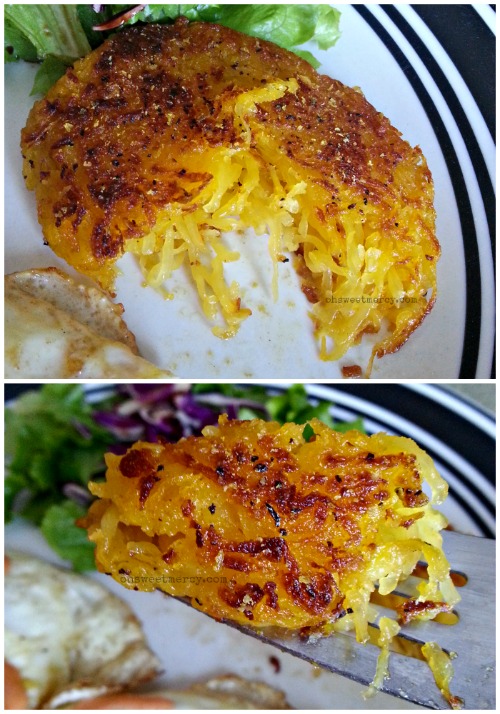 Trim Healthy Mamas Love Spaghetti Squash!
If you're a Trim Healthy Mama plan follower, you probably already love the humble spaghetti squash. If not, you really should get to know it – it's a low-carber's best friend! With only 4 grams of net carbs per half cup, you can have a big steaming pile of spaghetti squash on your plate, smothered with rich, meaty spaghetti sauce and cheese and not feel guilty.
These Spaghetti Squash Hash Browns are an S style recipe, so enjoy with whole eggs and other S style proteins. We still need a few carbs in an S setting so a cup of fresh berries is a great option!
Just remember to keep blueberries to a plan-approved serving as they are higher in sugar than other berries.
Spaghetti squash is great for any meal of the day! You may also want to try my other delicious, low-carb, spaghetti squash recipes:
Have You Ever Made Spaghetti Squash Hash Browns? Let's Get Cooking!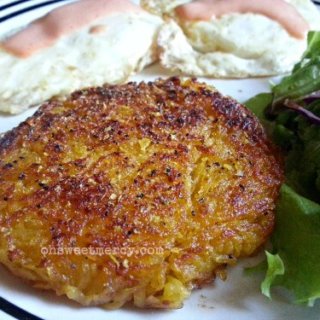 How to Make Spaghetti Squash Hash Browns | THM S, Low Carb
Yield: 4 squashbrowns
Prep Time: 10 minutes
Active Time: 30 minutes
Total Time: 40 minutes
Low-carb spaghetti squash is a perfect sub for starchy potatoes! Use this easy trick to get them to brown.
Ingredients
4 heaping cups cooked spaghetti squash
salt, pepper, or other seasonings to taste
healthy fat to cook in
Instructions
Squeeze out as much water as possible from your spaghetti squash. This will reduce the volume to about half.
Pack a half-cup measure with squeezed and drained spaghetti squash, you should get 4 round hash brown patties this way.
Fry in healthy fat, such as coconut oil or red palm oil, for several minutes until they start to brown.
Gently flip, reshaping if needed. Don't flip repeatedly as they will fall apart!
Notes
Nutrition Notes
Nutrition info does not reflect the fat you cook with. The fat amount varies depending on how much you use to cook them.
Recommended Products
As an Amazon Associate and member of other affiliate programs, I earn from qualifying purchases.
Nutrition Information:
Yield: 4
Serving Size: 1 squashbrown
Amount Per Serving:
Calories: 43
Total Fat: 0g
Saturated Fat: 0g
Trans Fat: 0g
Unsaturated Fat: 0g
Cholesterol: 0mg
Sodium: 173mg
Carbohydrates: 10g
Fiber: 2g
Sugar: 4g
Protein: 1g
Nutrition information is approximate and based on the best knowledge available at the time of recipe publication. Your results may vary due to differences in ingredients.
Hey there, would you kindly share this Spaghetti Squash Hash Browns Recipe by Pinning to your Favorite Pinterest Boards? Thanks so much!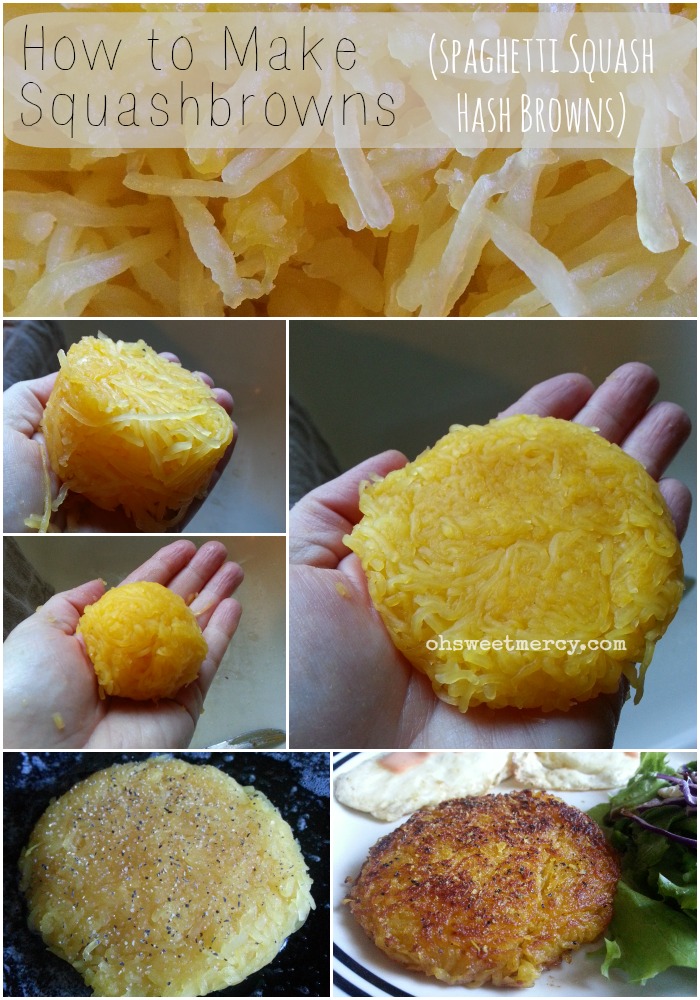 This post was shared on the From the Farm Blog Hop and Lou Lou Girl's Fabulous Linky Party! Also partied at Motivation Monday with this post!
---