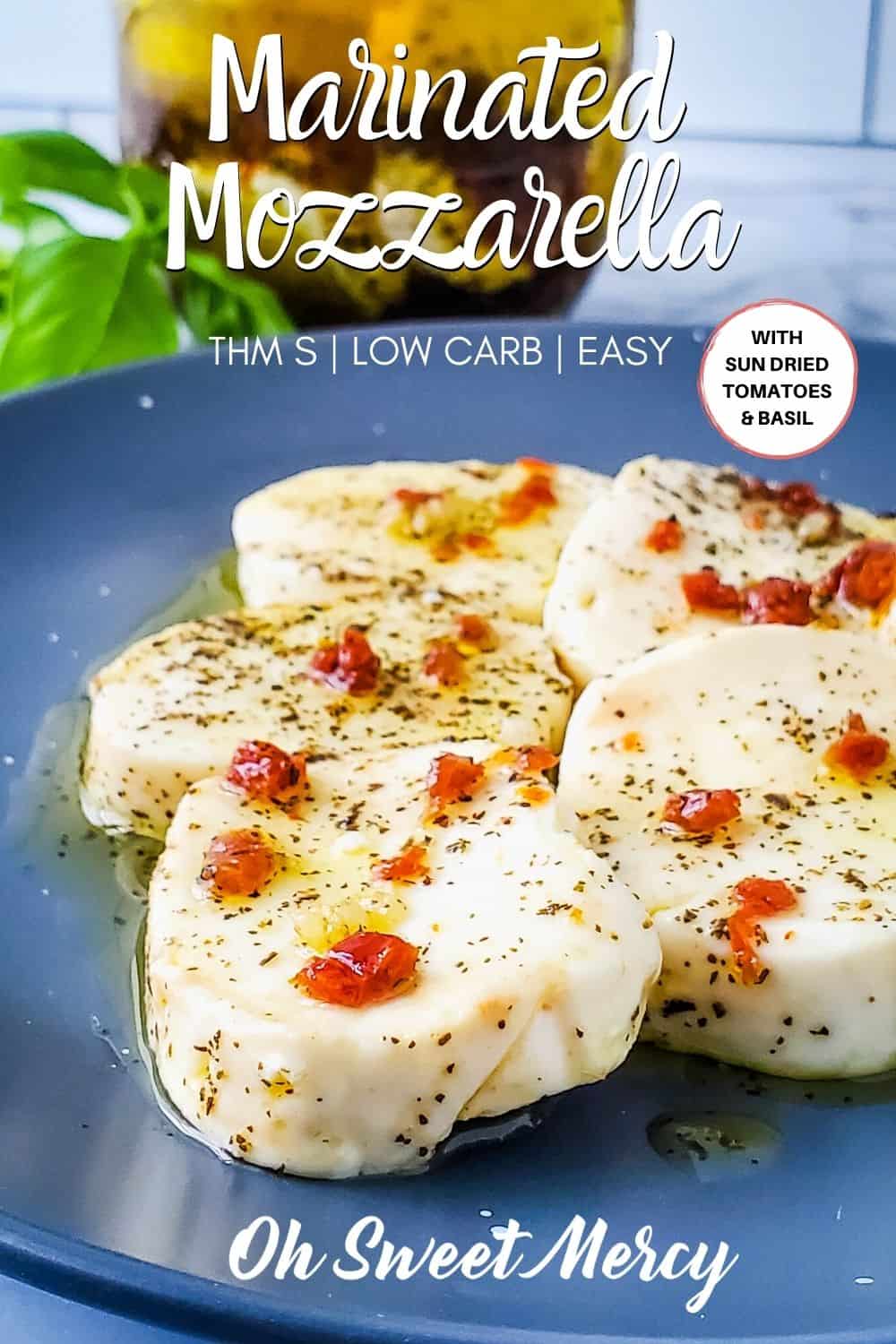 ---
Creamy, fresh mozzarella bathed in heart-healthy olive oil infused with garlic, basil, and sun dried tomatoes? Yes please! This easy marinated mozzarella recipe costs less than store bought, too. Makes a wonderful low carb snack or appetizer.
---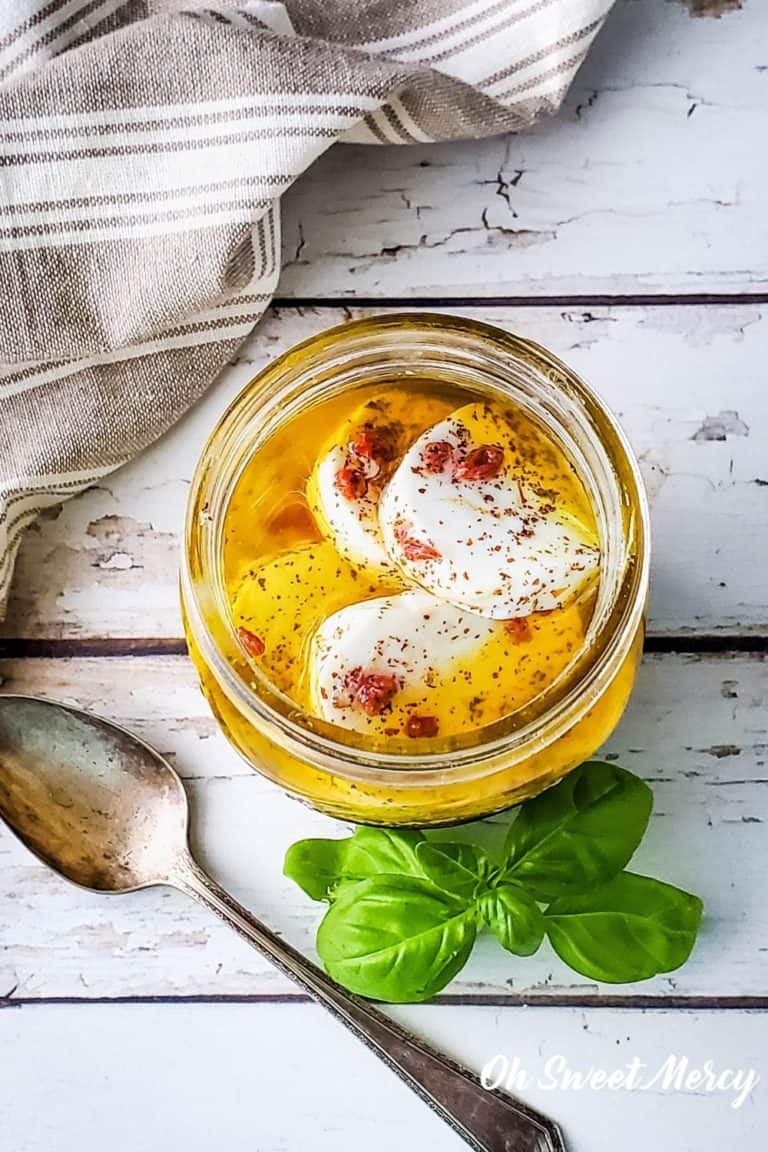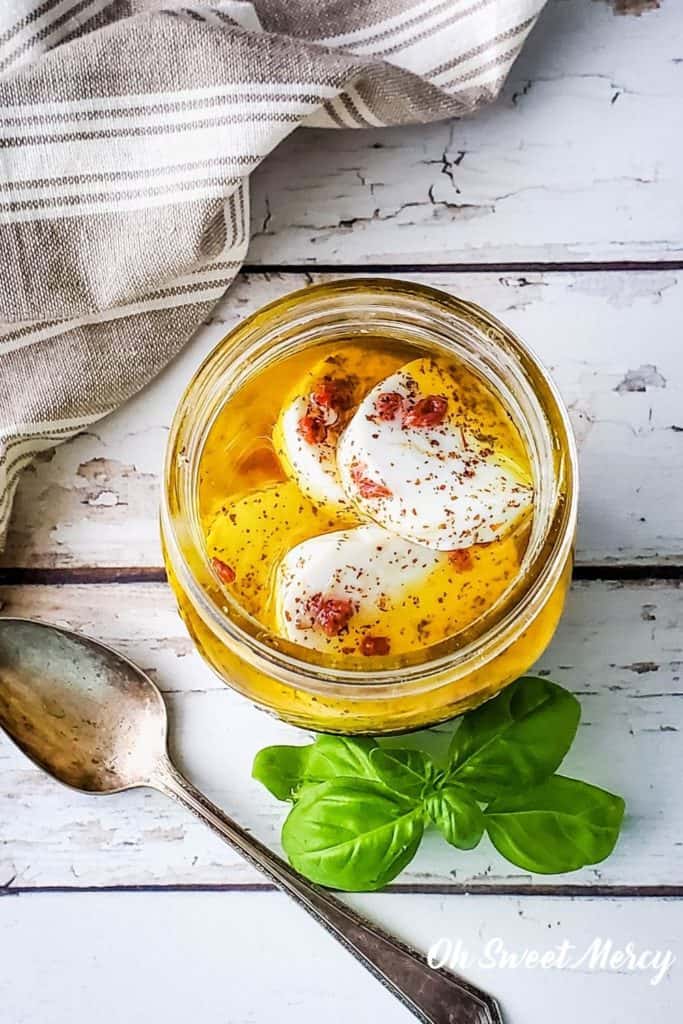 I used to be weirded out by fresh mozzarella. So weird, right? I don't know what made me apprehensive about it.
But one day I tried some and oh sweet mercy! What I'd been missing! I love the fresh, creamy texture and mild flavor.
That mild flavor lends itself well to an amazing array of seasoning possibilities. Here's just one way to make marinated mozzarella at home.
There are so many herbs and spices that go with fresh mozzarella and olive oil. Your imagination is the only limit.
Why Make Marinated Mozzarella Yourself When You Can Buy It?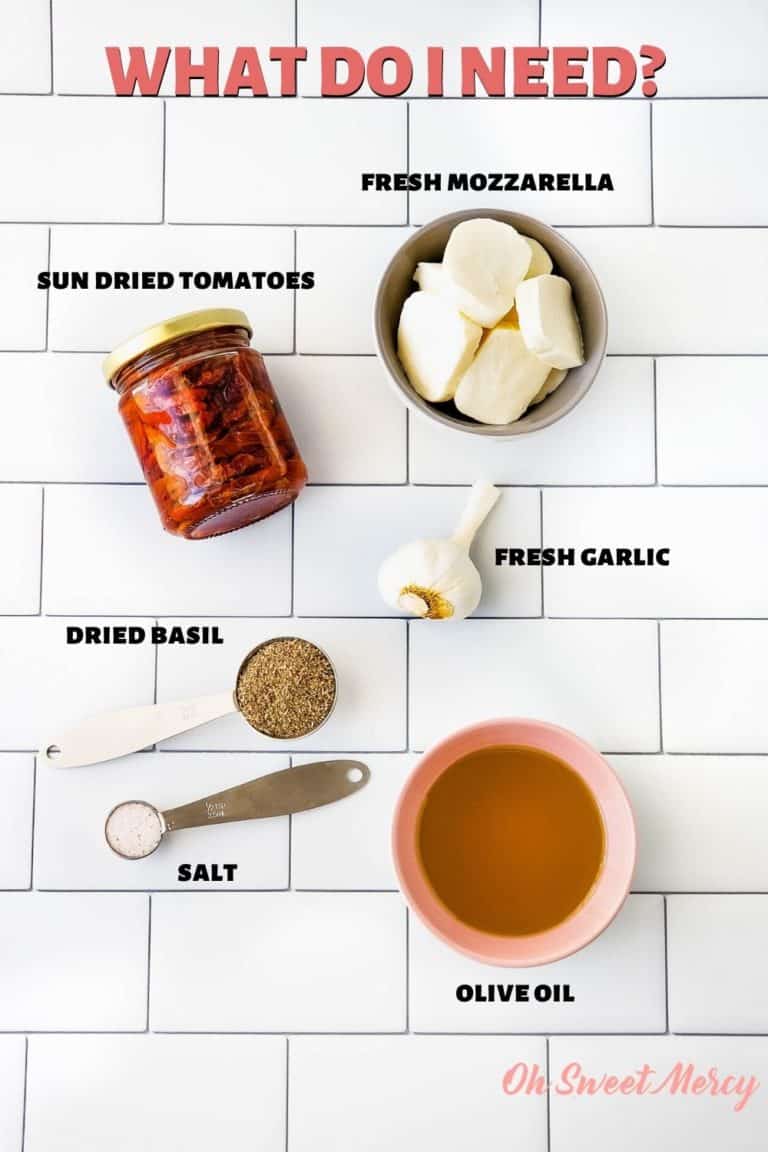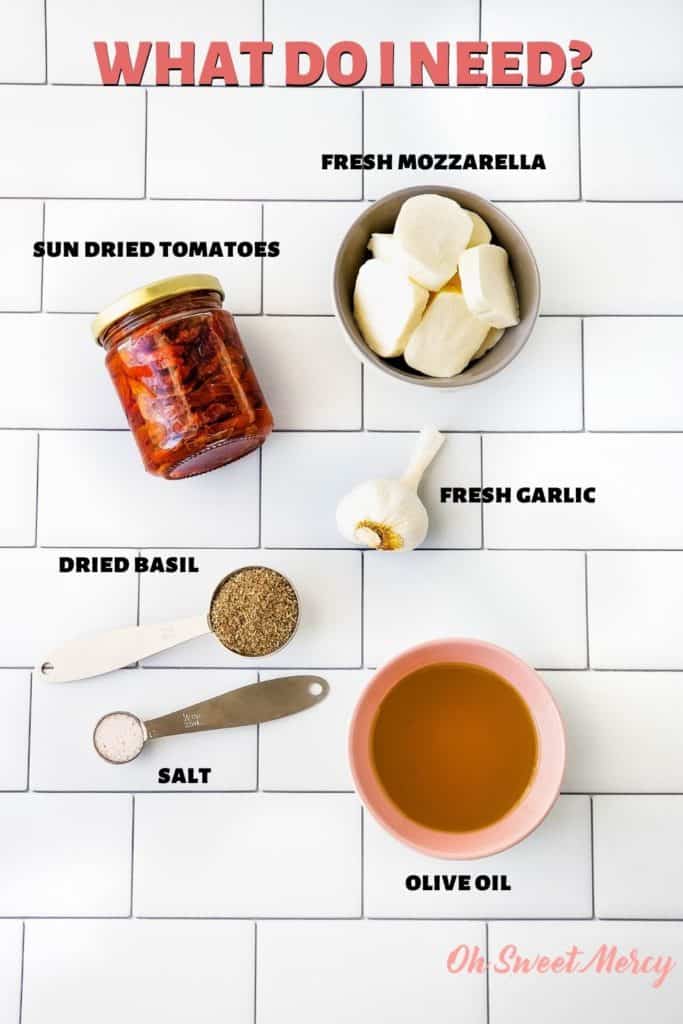 While you can find this delectable snack in most grocery stores please consider making it yourself.
Why? For 2 reasons: controlling ingredients and saving money.
If avoiding certain ingredients is necessary for you or your family, making your own is almost always the safest way to go. You choose the ingredients to use so you know they're safe.
And, if saving money is your jam then it's definitely the way to go. Prepackaged marinated mozzarella at the store can be pretty pricey.
Chances are you already have olive oil and herbs in your pantry. You can even leave out the sun dried tomatoes if you don't have them on hand and still have a delicious low carb cheese snack.
Try different combinations, too:
Garlic, oregano, and red pepper flakes
Rosemary and shallot
Black peppercorn and lemon zest
Saffron, garlic, and cilantro
I've used presliced fresh mozzarella in this recipe. Mozzarella pearls also work well, especially for an appetizer.
How To Fit This Easy Low Carb Snack Into Your THM Meal Plan.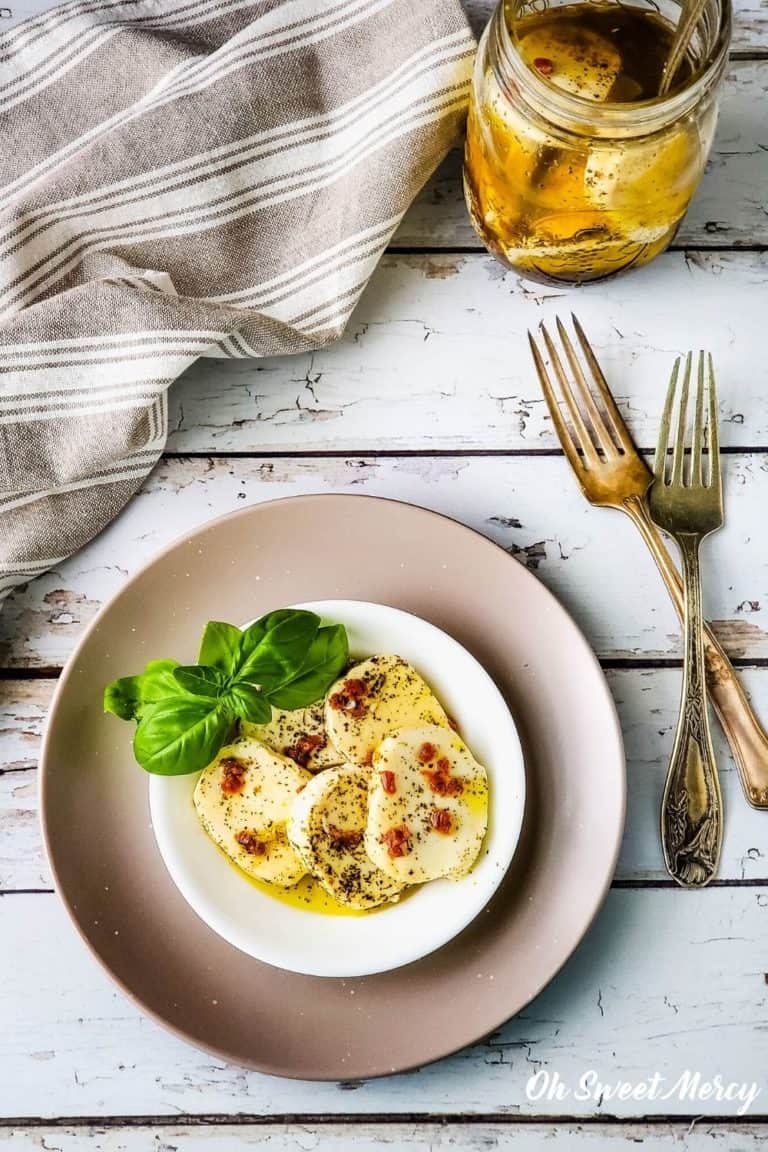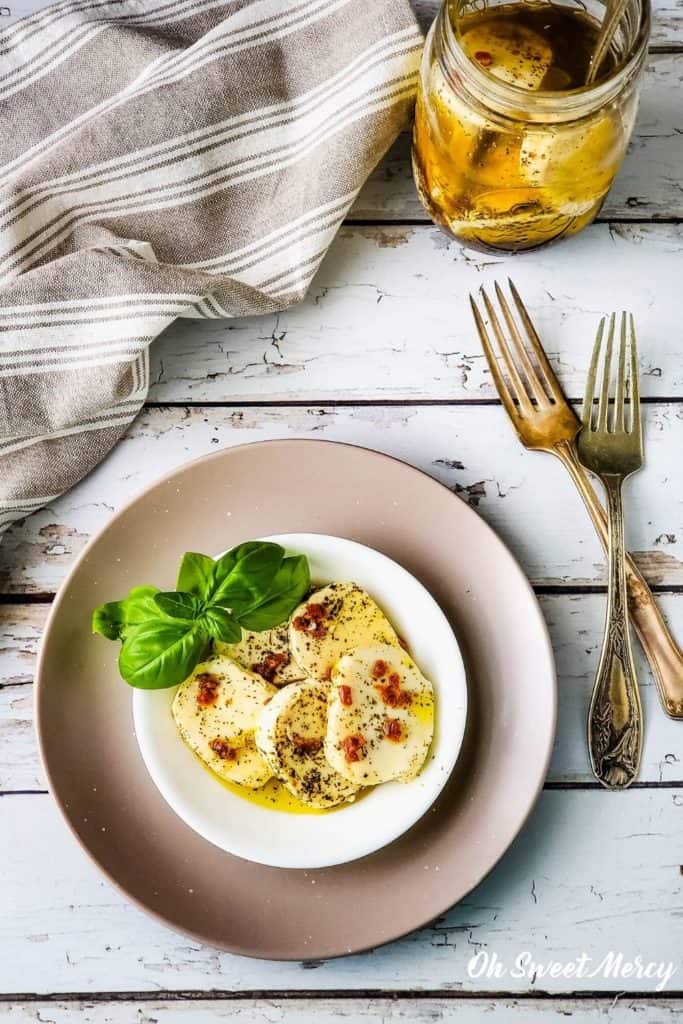 This is a low carb THM S recipe, so it's best to enjoy this in a low carb setting.
NOTE: this is not suitable for a THM Deep S meal or snack because it includes dairy.
Snacking? Be sure to include fresh, non-starchy veggies on your plate. A cup of fresh blackberries make a delicious, sweet and tart contrast to the richness of cheese and olive oil.
On the go? My THM Snack Box ideas have room for this flavorful fresh mozzarella cheese.
Entertaining? Add it to a meat and cheese board. Or fill a pretty bowl and include on your buffet.
No matter how you serve this delicious marinated mozzarella it's sure to be a hit!
PIN IT!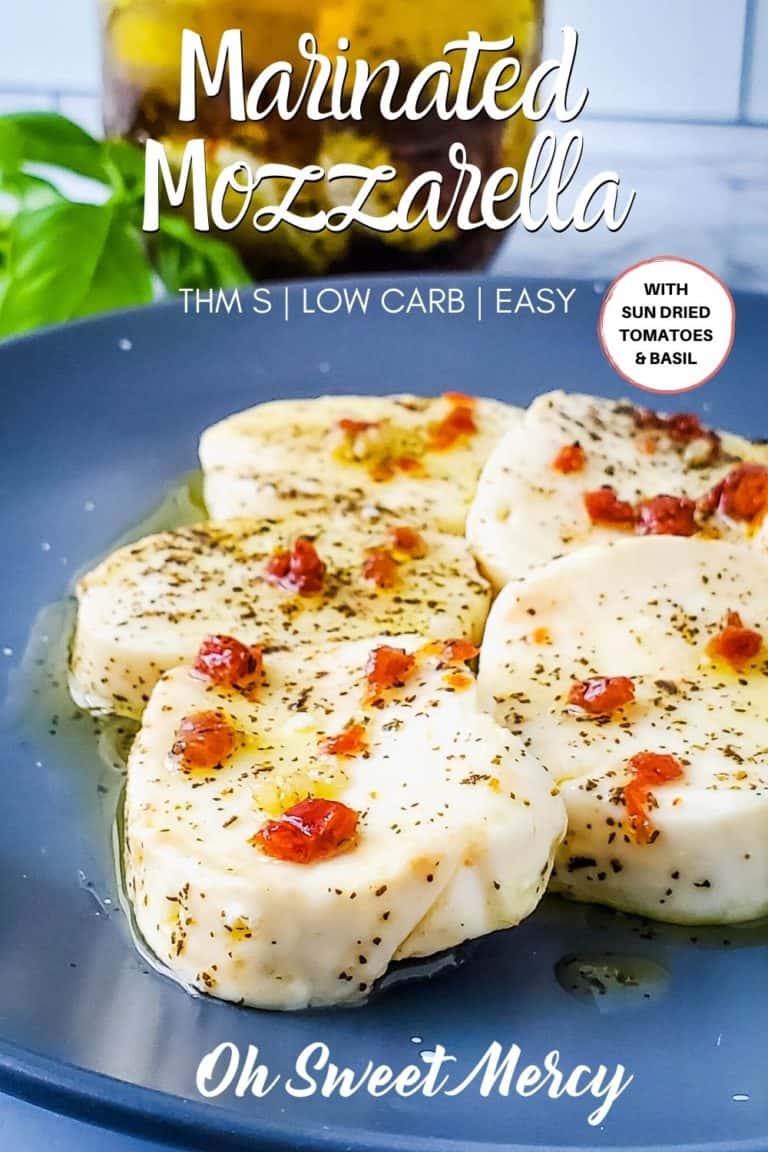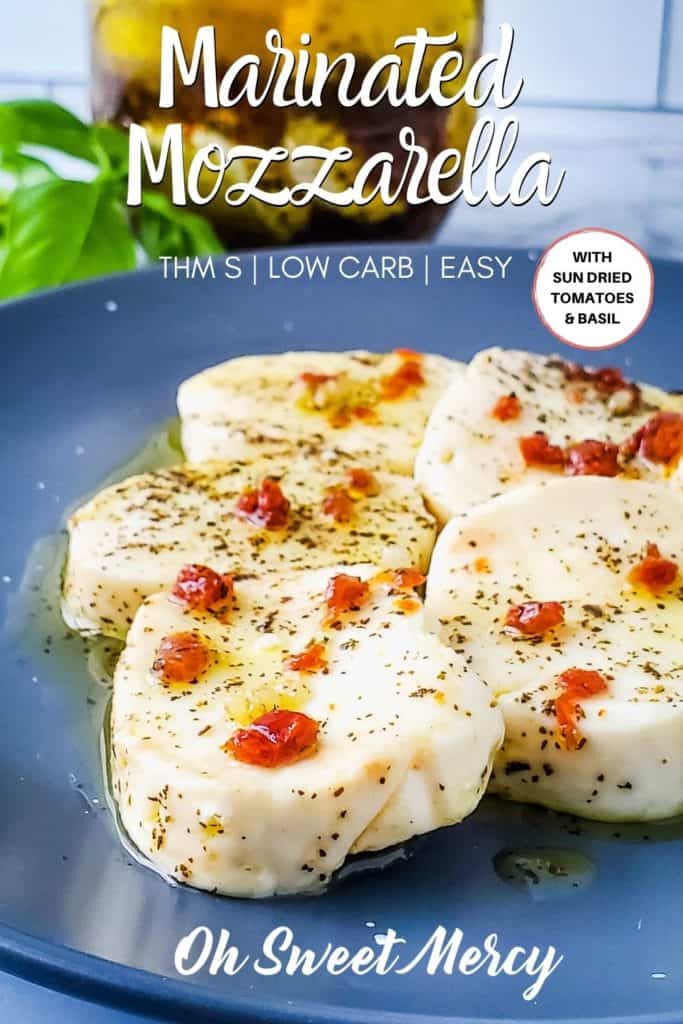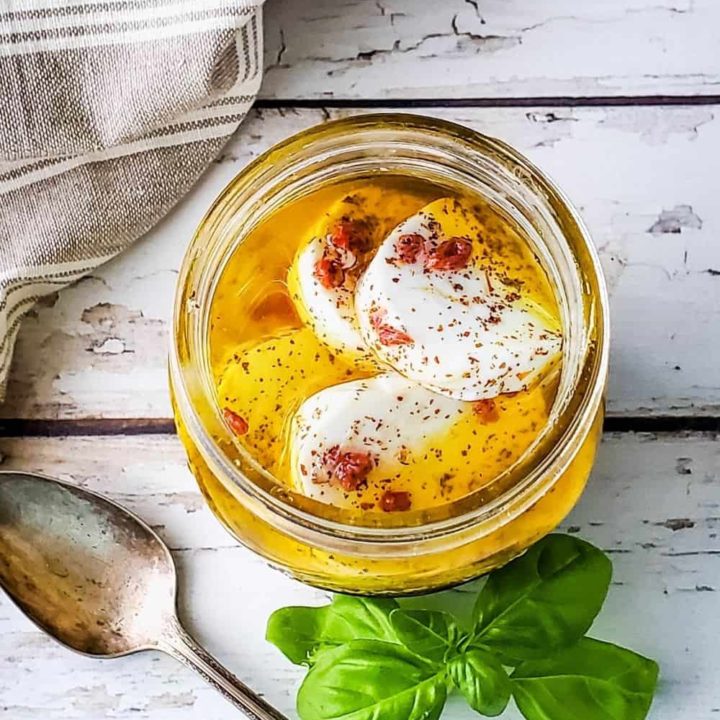 Sun Dried Tomato & Basil Marinated Mozzarella | THM S, Keto, Low Carb
Yield: 8 servings
Prep Time: 8 minutes
Chill Time: 12 hours
Total Time: 12 hours 8 minutes
Fresh mozzarella marinated in olive oil infused with sundried tomato, basil, and garlic -- a delightfully delicious snack or appetizer! It's super easy to make, just add all the ingredients to a pint sized mason jar, secure a lid, and shake it up. Then, a chill overnight in the fridge and it's ready for your snacking pleasure.
Ingredients
8 ounces fresh mozzarella, sliced
1 to 2 cloves fresh garlic, pressed or minced
Instructions
If your fresh mozzarella is not sliced, slice into 8 portions.
Place into a pint sized mason jar.
Add minced sundried tomato, garlic, dried basil, and salt.
Pour olive oil into jar until it covers the sliced mozzarella. You'll need just under 1 cup.
Securely attach a lid to the jar then shake gently until all the seasonings are well mixed.
Refrigerate 12 hours or overnight.
Store in the refrigerator and consume within a week.
Notes
You can also use fresh mozzarella pearls.
Your olive oil may solidify slightly, this is normal. Just allow it to sit at room temp for several minutes and it will liquify.
Nutrition information is approximate due to it being very difficult to know how much olive oil is attached to each slice of cheese.
Trim Healthy Mamas, this is a low carb THM S snack or appetizer. It is not suitable for Deep S as it contains dairy.
Recommended Products
As an Amazon Associate and member of other affiliate programs, I earn from qualifying purchases.