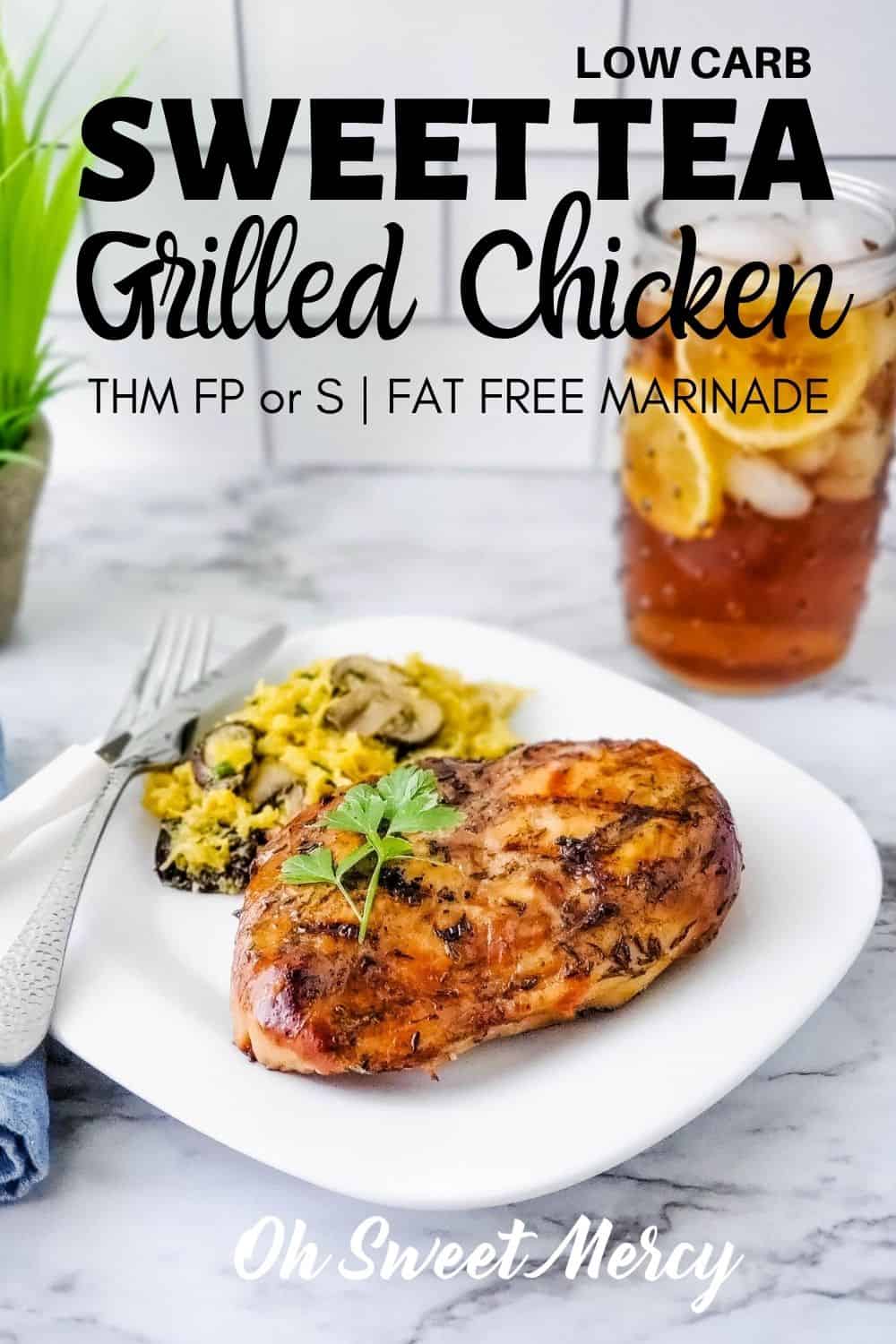 ---
Sweet tea brined chicken might sound odd but it's tender and delicious! Marinate your chicken in my sugar free tea marinade infused with lemon, garlic, onion, thyme, and a hint of molasses then grill to perfection. Trim Healthy Mamas, make this sweet tea grilled chicken FP or S style by simply choosing light or dark meat chicken. No fat in the marinade!
---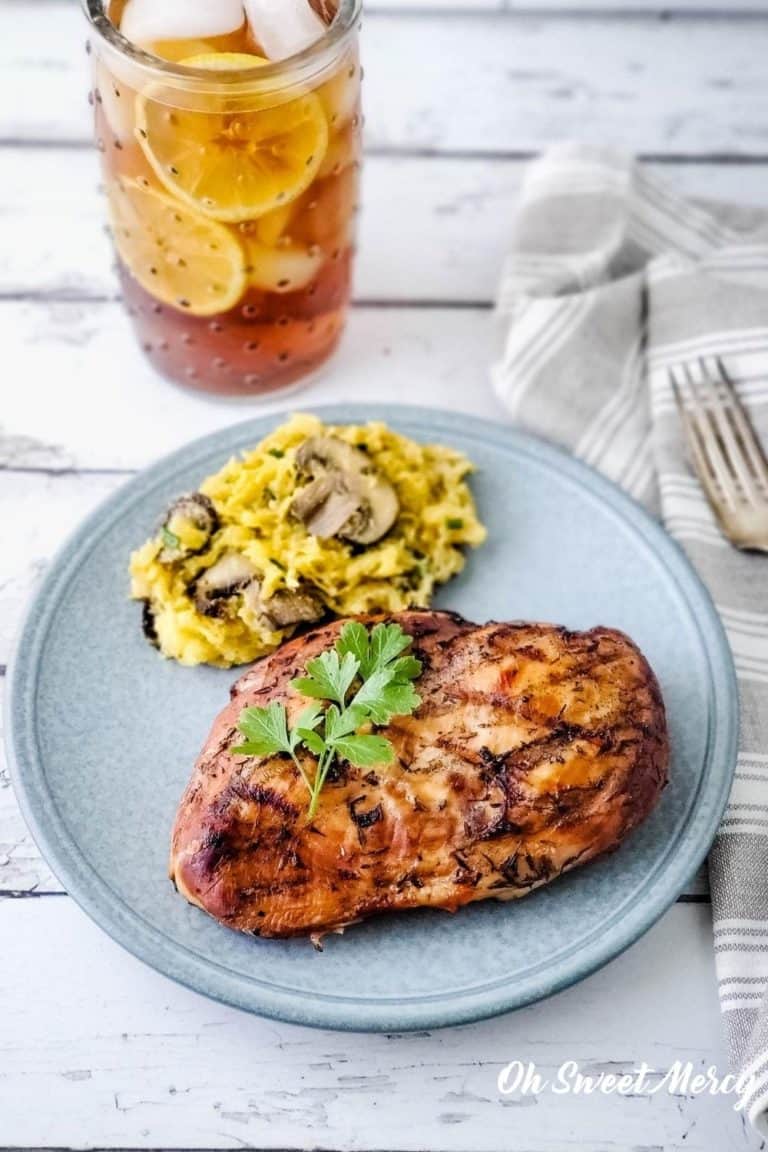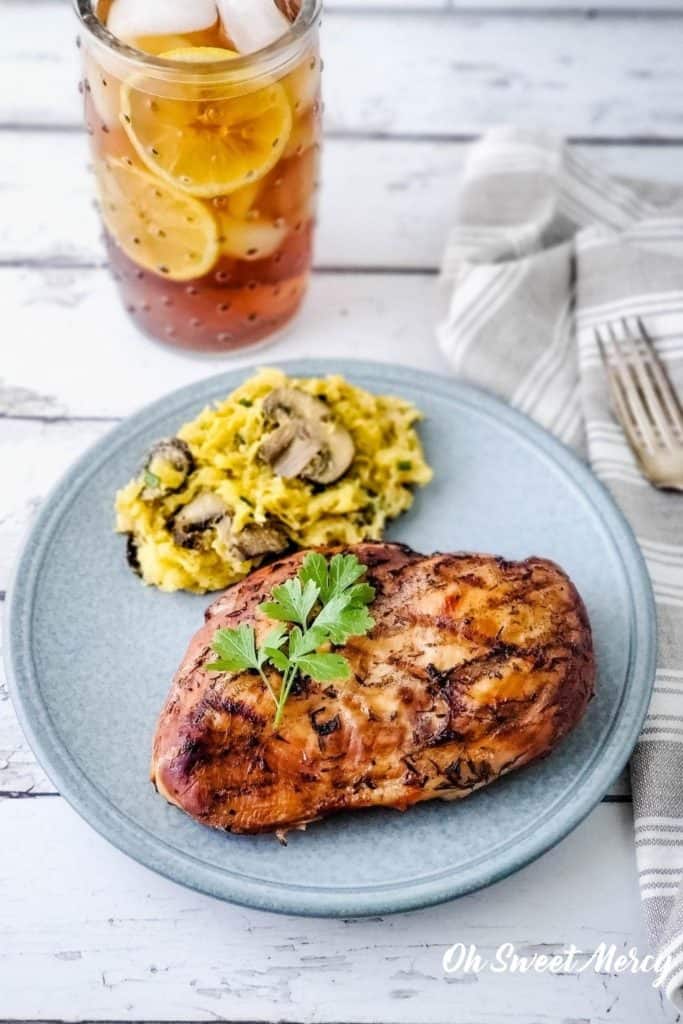 The first time I heard of sweet tea grilled chicken I thought…eeww, I don't know about that…
I can't remember now why I went ahead and tried it but it was delicious!
At the time I used tea sweetened with sugar. But, there's no reason you can't make this intriguingly delicious recipe with a healthy sugar substitute like stevia.
This recipe's been on my to-do list for the blog this summer and I'm pleased to finally share it with you!
I'm also blessed with a husband with mad grilling skills. He cooked these chicken breasts to juicy perfection. But, I do believe the soak in the sugar free sweet tea brine helps keep them tender, juicy and not dried out.
Of course, having skills with the grill when it comes to cooking chicken breast is definitely a plus.
How To Make Sweet Tea Grilled Chicken.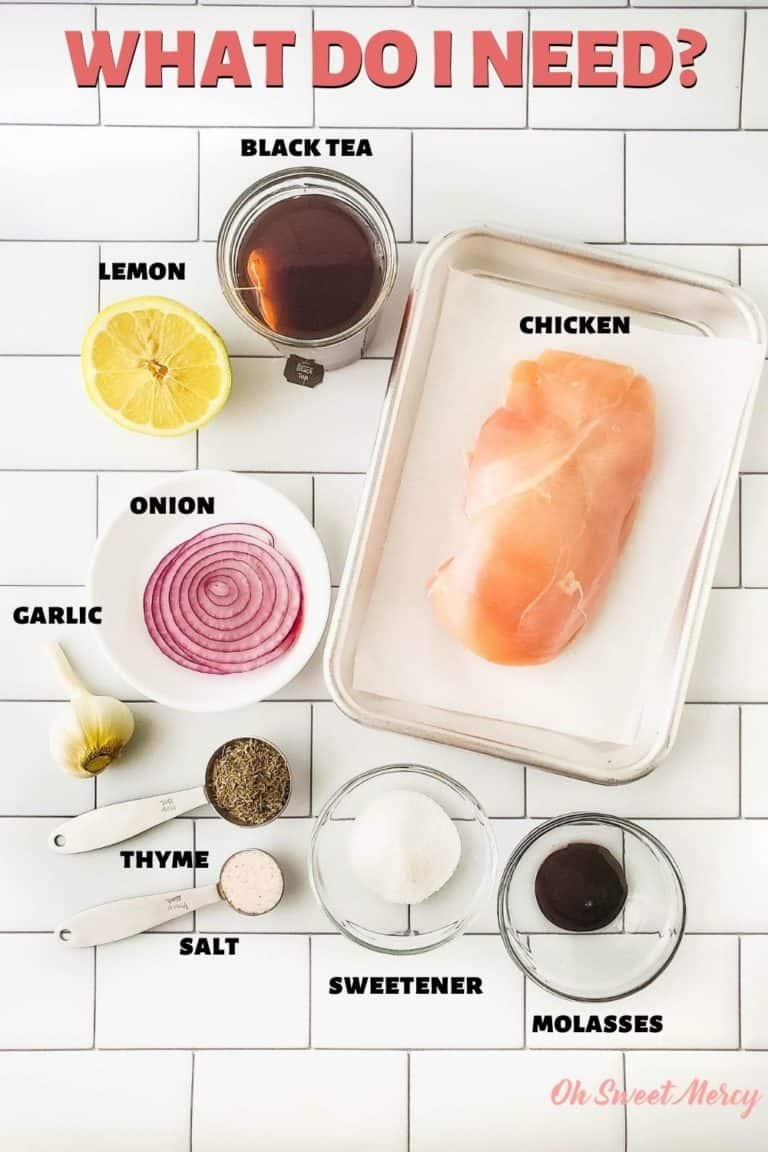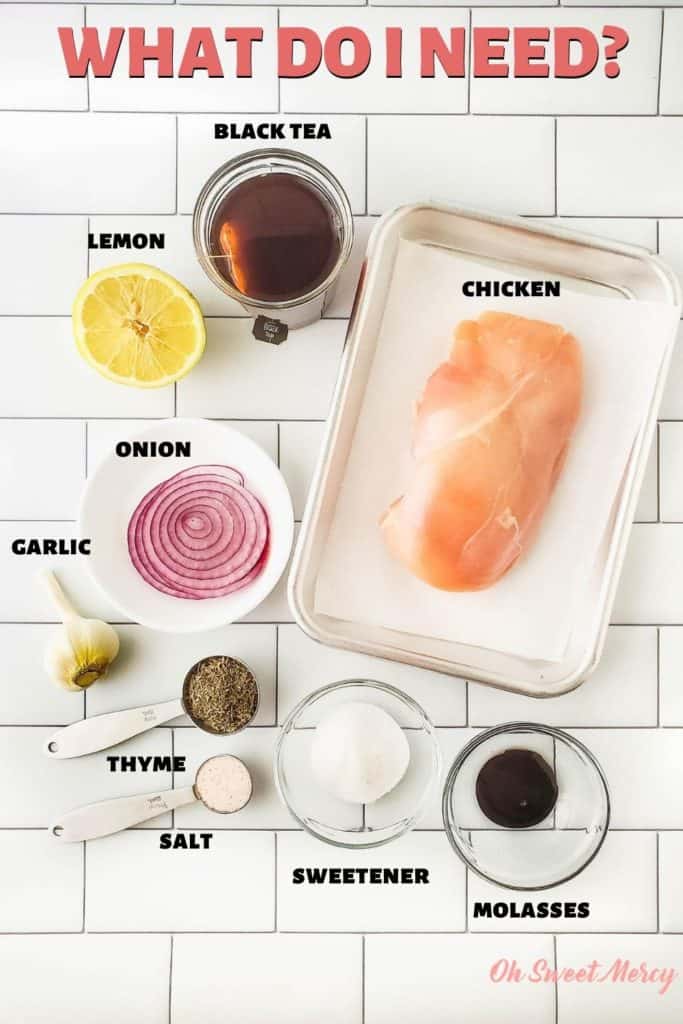 You must plan ahead for this one! Your chicken needs a good 24 hour soak in the sweet tea brine.
So, start by brewing some strong black tea. I used 8 regular sized tea bags and 4 cups of boiling water. You could also start the night before if you want to make your marinade and make cold brew tea.
While your tea brews, slice your lemon and onion and smash a couple cloves of garlic. More or less…depending on how much you love garlic.
You'll need to let the tea cool down before adding the chicken to it but while it's still hot, stir in the seasonings, sweetener, and molasses.
Once the tea is fairly cool (just above lukewarm is fine), add the chicken, lemon, onions, and garlic.
Store in a covered container, marinating tray, or large zipper bag in the fridge for 24 hours.
Then, grill away!
Tea to Tenderize Meat?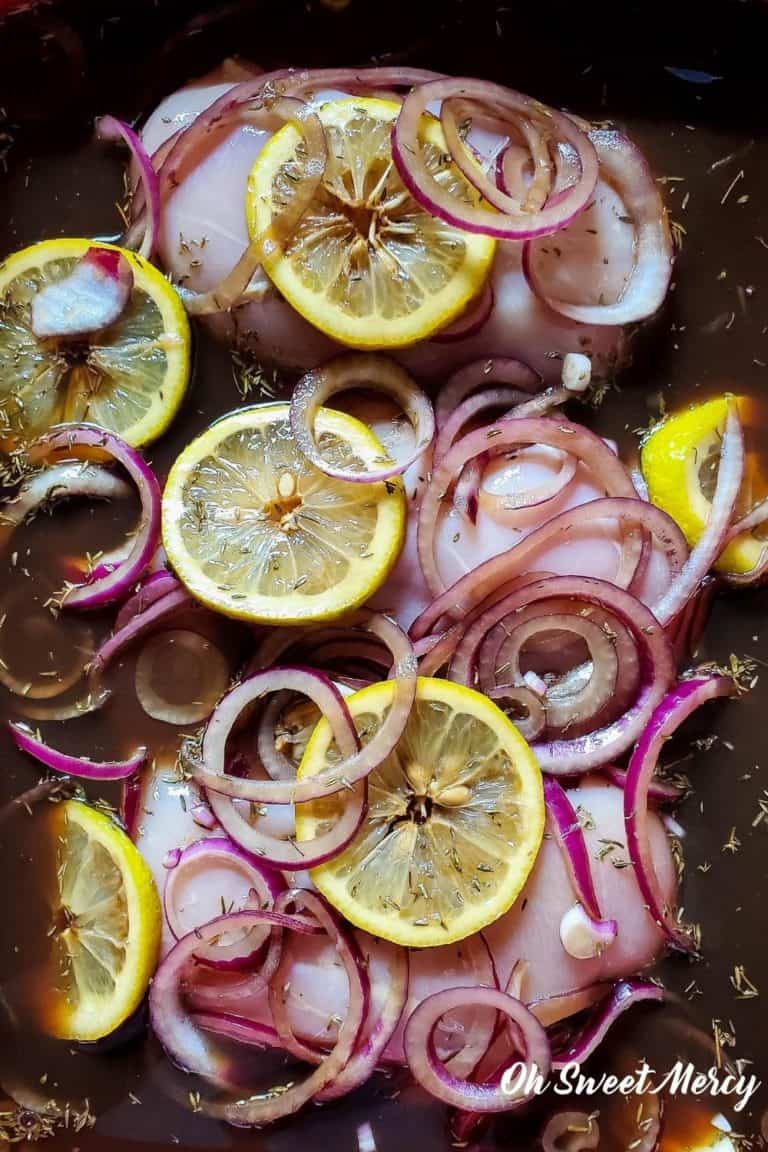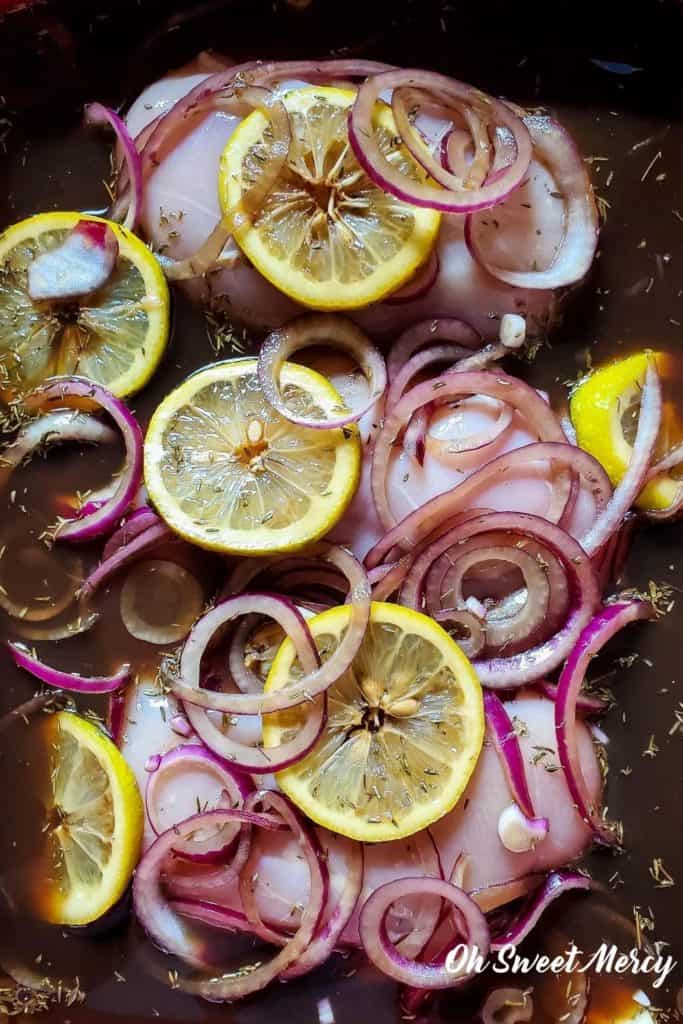 Does tea seem like a strange thing to use as a marinade? Does it just impart flavor or does it actually tenderize meat?
It turns out that it does both. The tea you use obviously makes a difference in the flavor. But, it's the tannins in tea that do the tenderizing.
Tea is a thrifty and healthy meat tenderizer! Some meat tenderizer mixes contain ingredients you may not want to consume — like MSG.
How To Fit This Versatile Recipe Into Your THM Meal Plan This Week.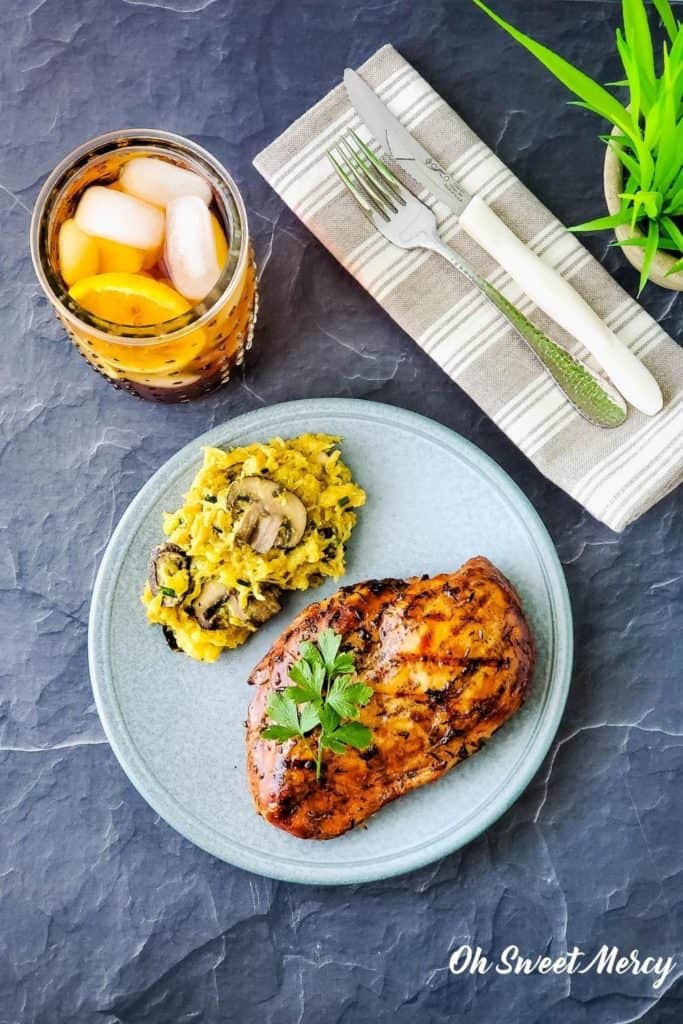 As written, this recipe is a low fat THM FP. There is no fat in the marinade and chicken breast is ultra-lean.
NUTRITION INFO NOTE: It is practically impossible to determine how much of the sugar in molasses actually makes it into your chicken. 2 teaspoons in a 4 cup marinade, which obviously will not all soak into the chicken, should not give a significant amount of carbs to the chicken.

I've given it a 1 gram amount to err on the side of caution but it could be a completely negligible amount.

The fat shown per serving is the fat naturally present in chicken breast. Remember, we don't count that fat in our ultra lean proteins when calculating for THM E or FP meals, only the added fat in the meal.
THM S Suggestions…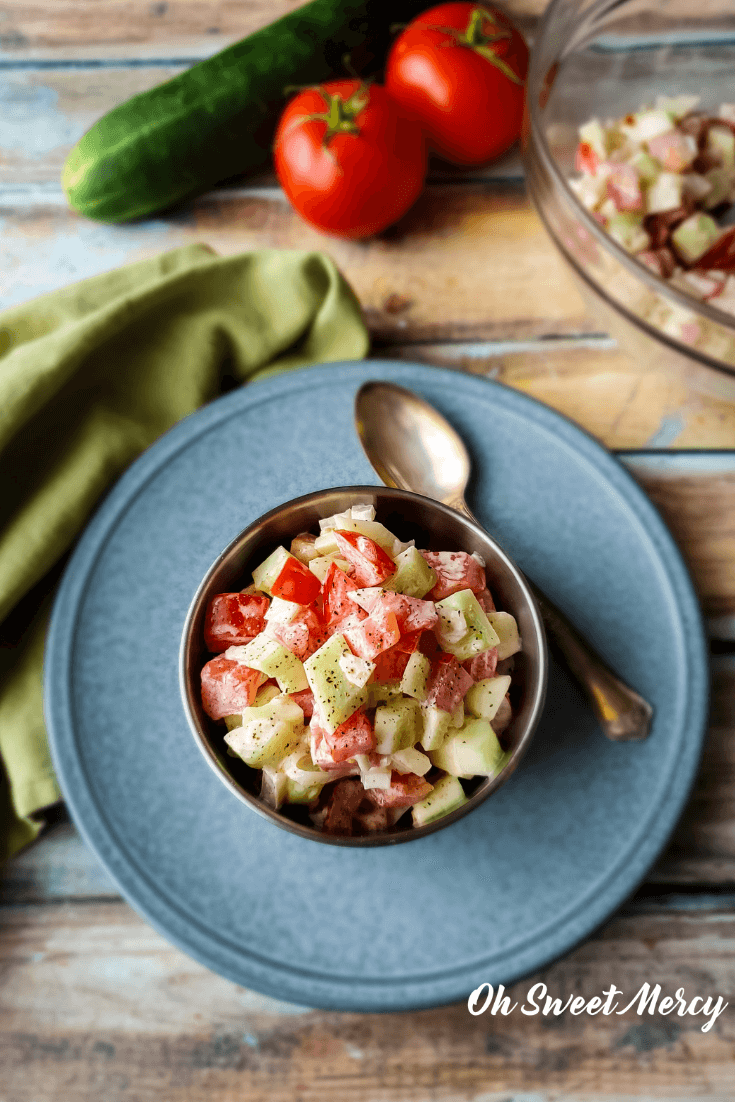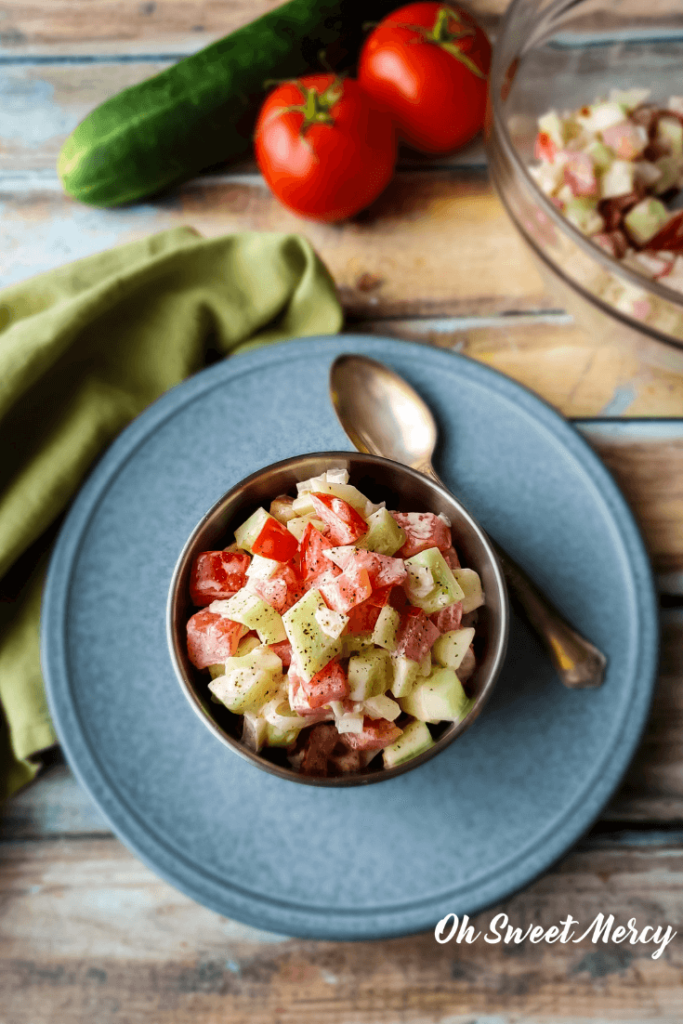 For a THM S meal you can choose dark meat chicken instead of breast meat. Or, simply serve with a THM S side.
One of our family's summertime favorites is my Creamy Cucumber Tomato Salad. It is absolutely divine with anything grilled!
In the photo is my scrumptious Buttery Garlic, Mushroom, and Chive Spaghetti Squash. It went spectacularly well with this chicken, along with a big pile of non-starchy green beans!
Or, simply choose a large salad with a healthy THM S dressing, like my Creamy Citrus Salad Dressing (dairy free).
Maybe you'd like to save your fat for dessert? In that case, choose steamed non-starchies and enjoy a rich, decadent treat like my No Bake Chocolate Chip Cheesecake with Peanut Butter Crust.
Feeling fruity? Maybe a Layered Berries and Cream Dessert or Strawberry Rhubarb Swirl Ice Cream is more your style.
THM Deep S
Deep S meals are pure proteins, ultra low carb veggies, and healthy fats. Be sure to check the plan book for the details!
Slice this sweet tea grilled chicken and top your big old salad with it. Then drizzle a delicious, healthy vinaigrette over the top and dig in.
Or cover your chicken breast with sauteed mushrooms, onion, and garlic, and serve with green beans or other super non-starchy veggies.
For dessert, I highly recommend the Creamy Vanilla Custard Shake from Wonderfully Made and Dearly Loved. It's Deep S friendly but tastes like a vanilla shake made with dairy!
THM E Suggestions…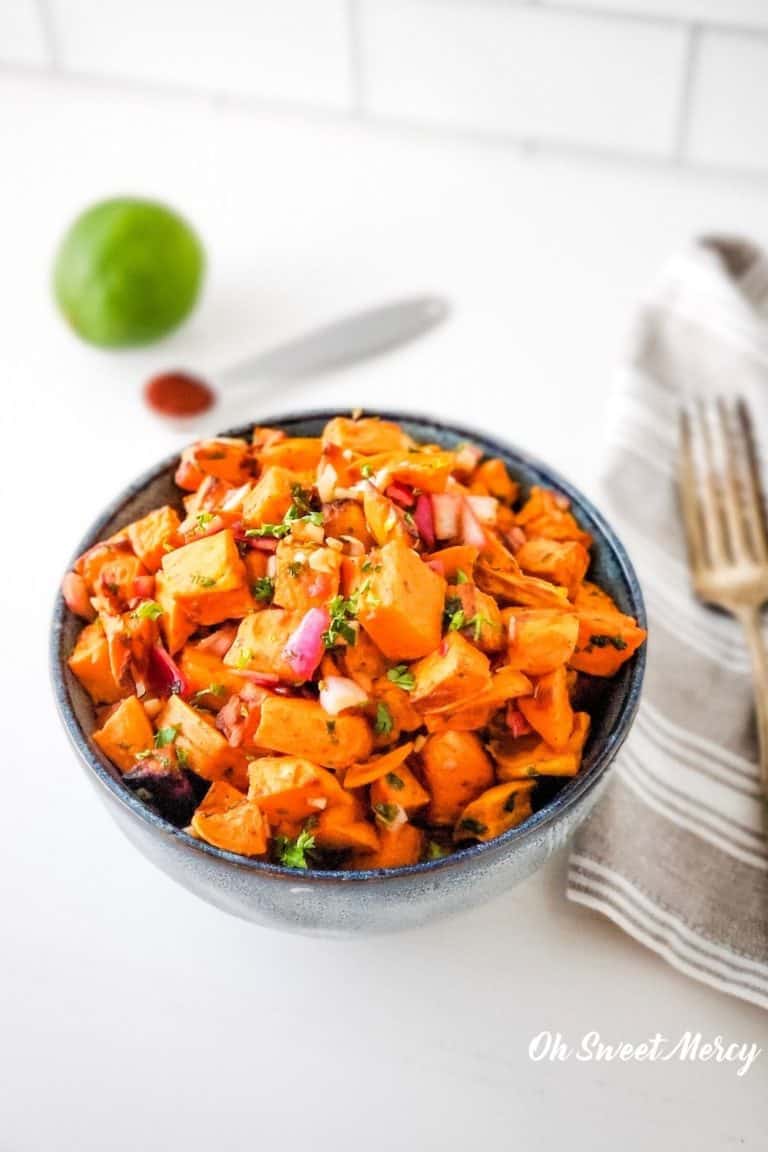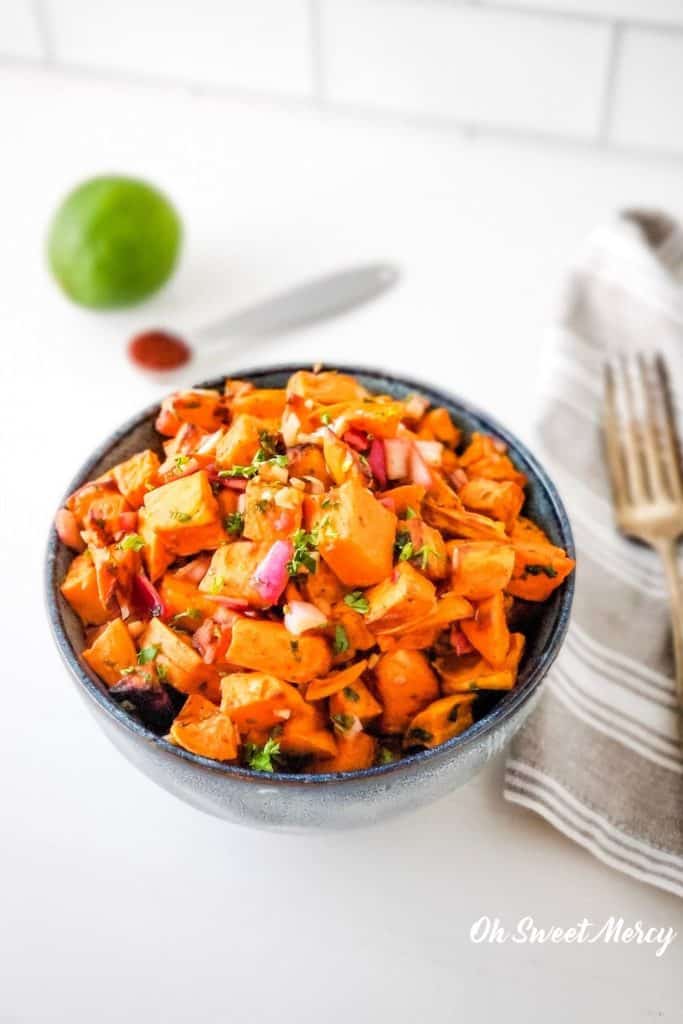 For an E meal you need an E fuel. So, healthy complex carbohydrates like sweet potatoes, sprouted or sourdough bread, and most fruits are perfect choices.
How about my Chipotle Lime Roasted Sweet Potato Salad? It's delicious warm or cold.
My Sweet Potato Kale Tots With Creamy Balsamic Dipping Sauce are a fun way to eat sweet potatoes.
Maybe you love quinoa or rice? My Easy Herbed Quinoa (or Brown Rice) is flavorful and delicious.
Black rice is an antioxidant-rich carb source and so delicious! I show you several ways to cook this healthy rice in this post.
Lentils are also a super healthy option for THM E meals. I've got a Simple Seasoned Lentils recipe that is perfect for grilled chicken.
Since we need plenty of non-starchies in a THM E meal too, a salad with a fat-free or low fat dressing makes a smart choice.
And what about dessert? Tennessee Peach Pudding, maybe? I recommend having non-starchies and this as your E carb source.
Feeling like something cold? I've got a Peach Mango Kefir Smoothie and Black Forest Cherry Shake…or, Black Forest Cherry Pops!
THM FP Suggestions…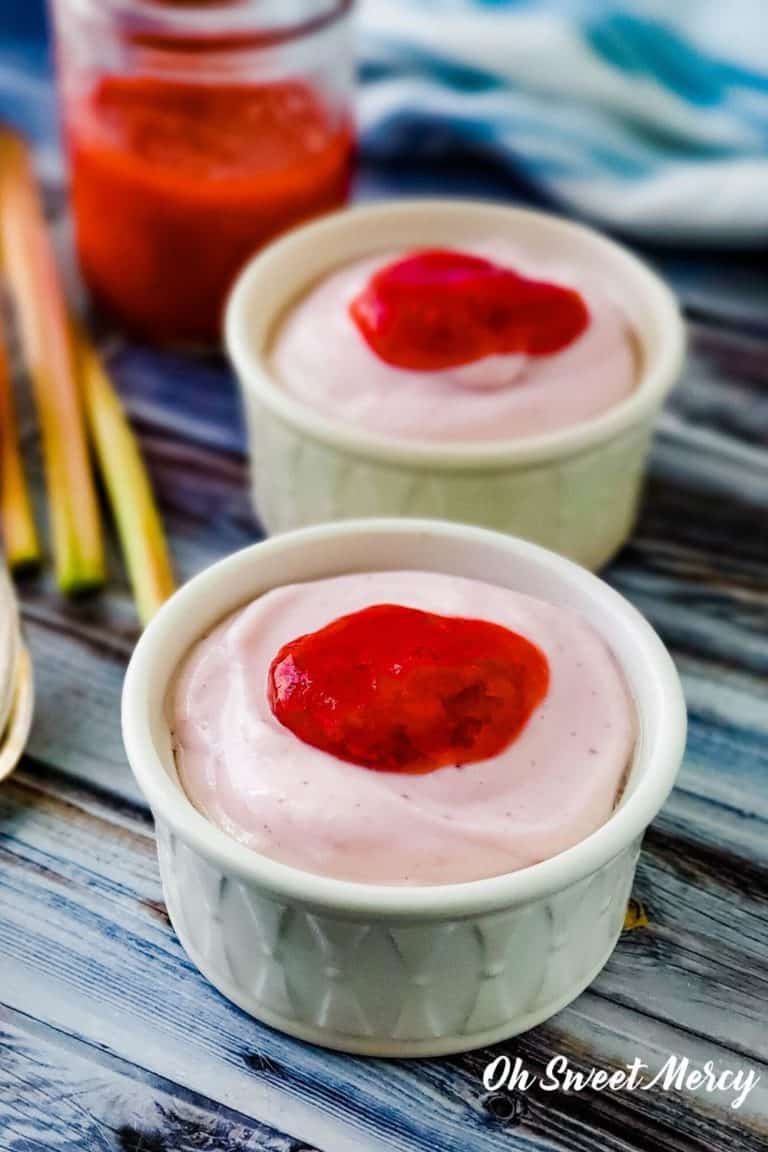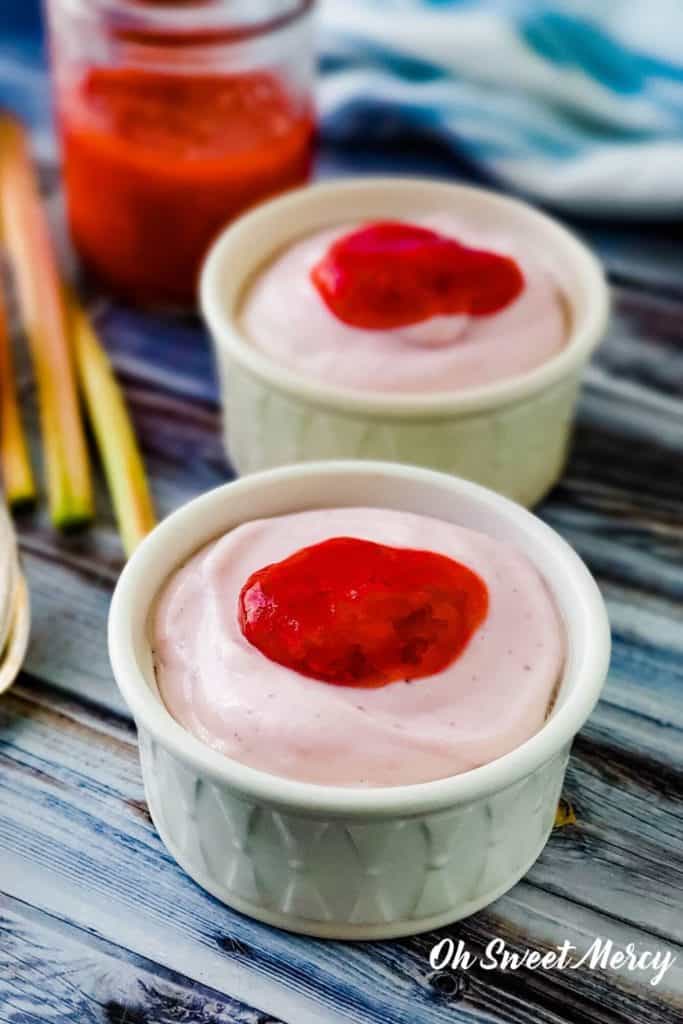 THM FP (Fuel Pull) meals are low in both fat and carbs. While that might sound sad and unsatisfying, it really is possible to enjoy a delicious FP meal.
First, keep your chicken serving to 3 to 4 ounces. A kitchen scale is super helpful for this!
If you don't have a kitchen scale, a general rule of thumb is about the size of your palm or a deck of cards.
Next, load up on the non-starchies!
To finish off your meal with something sweet, choose a cupful of fresh berries or an easy FP treat:
Strawberry Rhubarb Whipped Cottage Cheese
Chocolate Covered Strawberry Smoothie
Easy Peanut Butter and Jelly Smoothie
FP Dessert Roundup from Chrissy Benoit
I'm a big fan of recipes that work for multiple THM meal styles. It makes it so easy to plan your meals that way! Even if you decide to change your fuel type, with just a few tweaks you're still on track.
Have you ever made sweet tea grilled chicken?
PIN IT!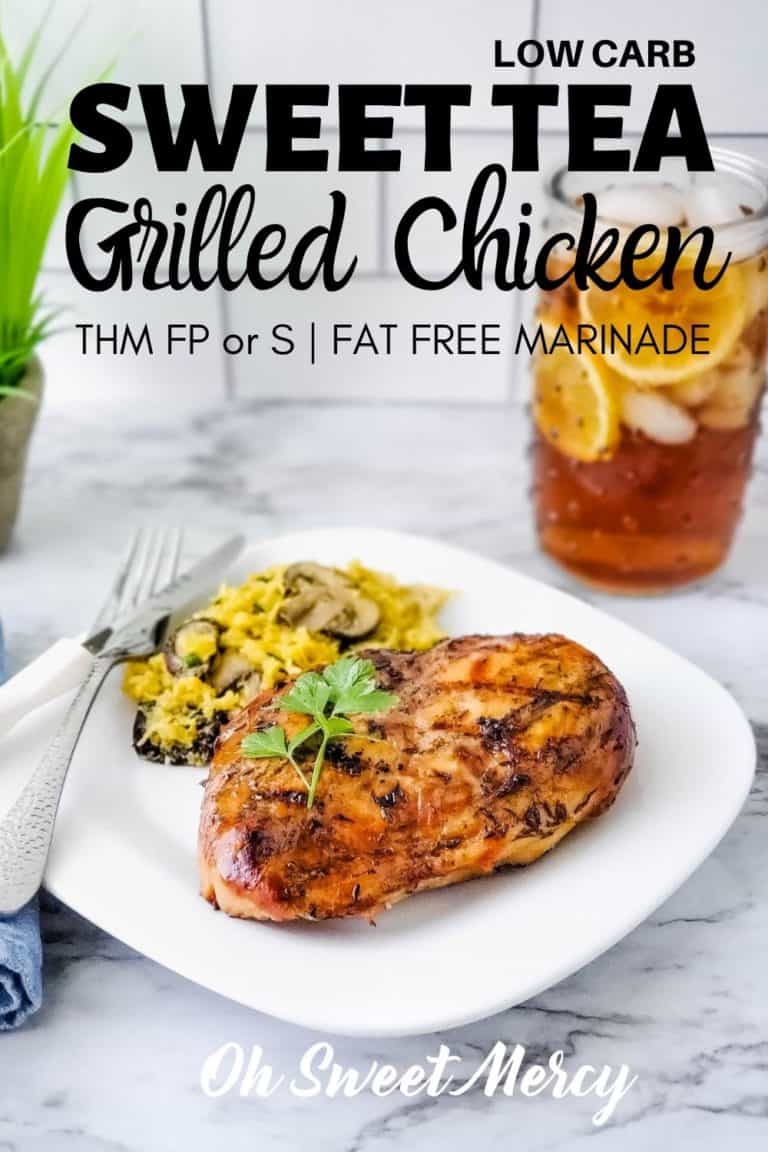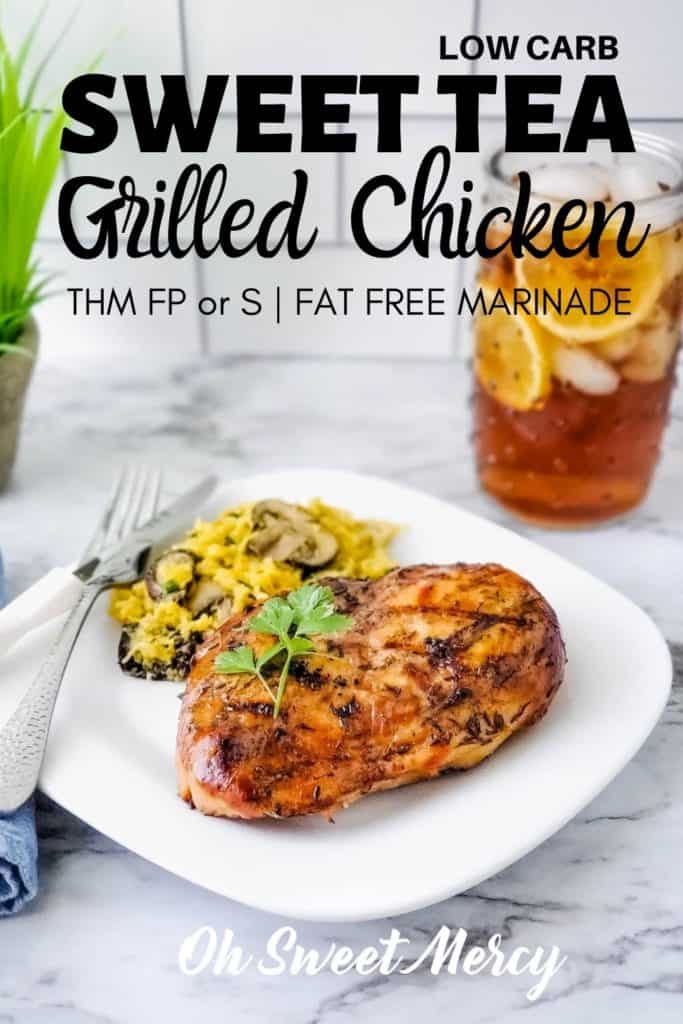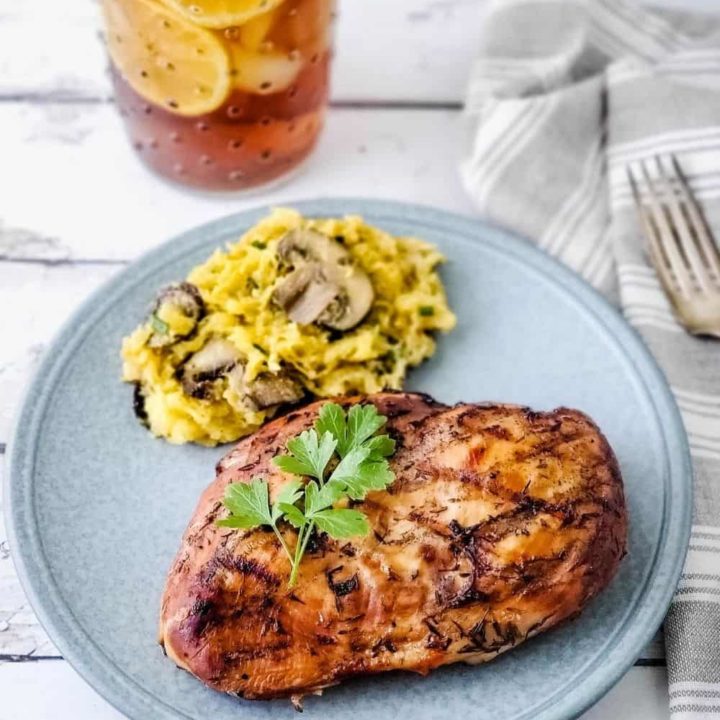 Sweet Tea Grilled Chicken | THM S or FP, Sugar Free, Low Carb
Yield: 6 servings
Prep Time: 20 minutes
Marinade Time: 1 day
Grilling Time: 20 minutes
Total Time: 1 day 40 minutes
Sugar free sweet tea, lemon, garlic, onions, and thyme infuse flavor and tenderize for delicious, juicy summer grilled chicken. Trim Healthy Mamas, there's no fat in this marinade so your chicken can be suitable for S, E, and FP styles.
Ingredients
8 black tea bags
4 cups boiling water
2 teaspoons blackstrap molasses
5 to 6 teaspoons Mercy Sweet, or preferred sweetener to taste
3 tablespoons salt
1 small red onion, thinly sliced
2 teaspoons dried thyme
2 to 3 cloves garlic, smashed, minced, or pressed
1 lemon, sliced
2.5 pounds boneless, skinless chicken breasts (3 large) or chicken of choice
Instructions
Brew tea for 5 minutes then remove tea bags and let tea cool down to a temperature just above lukewarm or lukewarm
Meanwhile, slice lemon and onion and either smash, mince, or press garlic. Smashing is just fine.
Add molasses, sweetener, salt, and thyme to tea and stir well to dissolve sweetener.
Place chicken in a large zipper bag, container with a lid, or marinating tray.
When tea mixture is cooled down, pour over chicken.
Refrigerate for 24 hours.
Discard marinade before grilling.
Grill for 15 minutes or until chicken reaches an internal temperature of 165 degrees.
Notes
Use chicken breasts for THM E and FP meals, dark meat chicken for THM S and Deep S.
Nutrition Notes
Serving size is 1/2 of a large chicken breast.
Carbs may be negligible, but I calculated 1 gram to err on the side of caution.
Recommended Products
As an Amazon Associate and member of other affiliate programs, I earn from qualifying purchases.
Nutrition Information:
Yield: 6
Serving Size: 1/2 large chicken breast lobe
Amount Per Serving:
Calories: 228
Total Fat: 5.1g
Saturated Fat: 1/3g
Unsaturated Fat: 2.7g
Cholesterol: 117.1mg
Sodium: 101mg
Carbohydrates: 1g
Protein: 42.8g