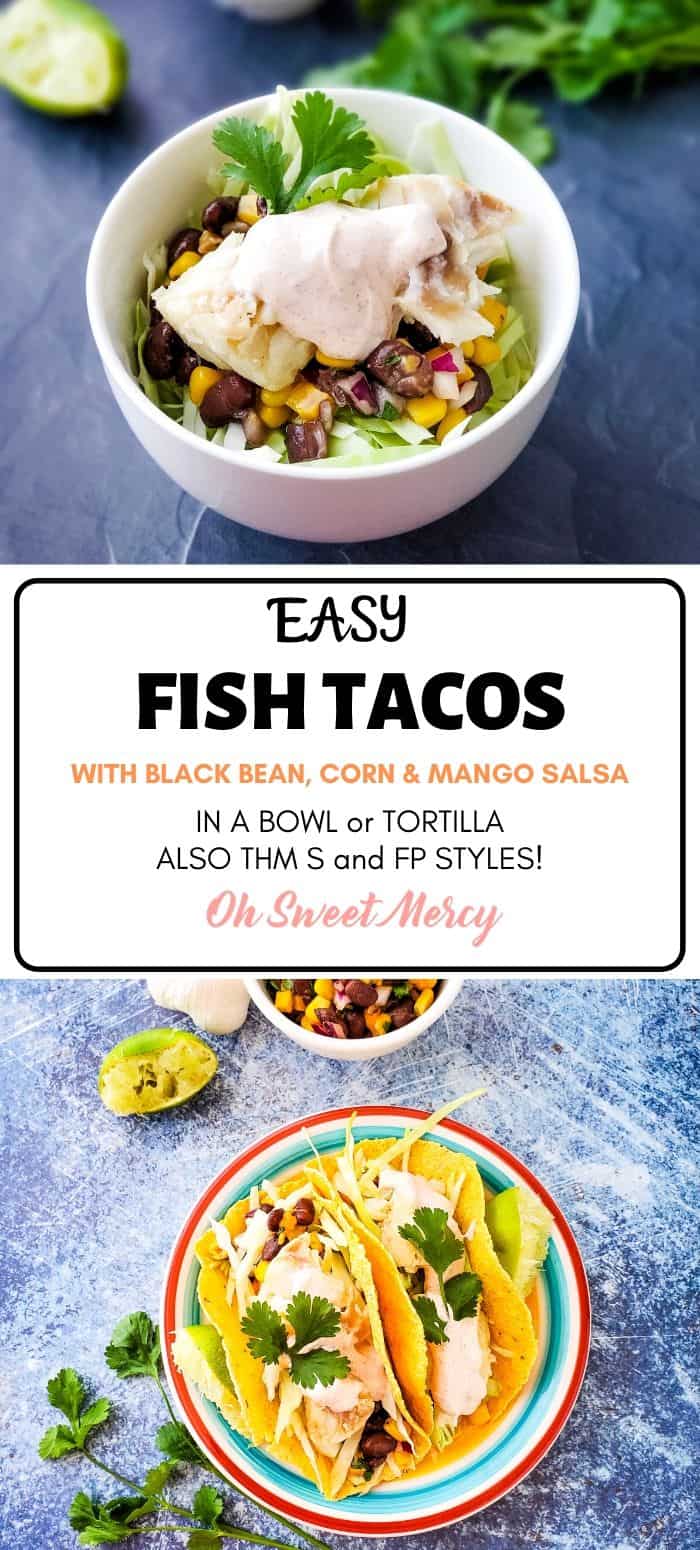 ---
My easy, low fat fish tacos recipe is super versatile! Make them to suit THM E, S, and FP meal styles. A simple marinade of lime, garlic, and cumin for the fish plus a low or no fat chili cream sauce brings all the fish taco flavors to your plate.
---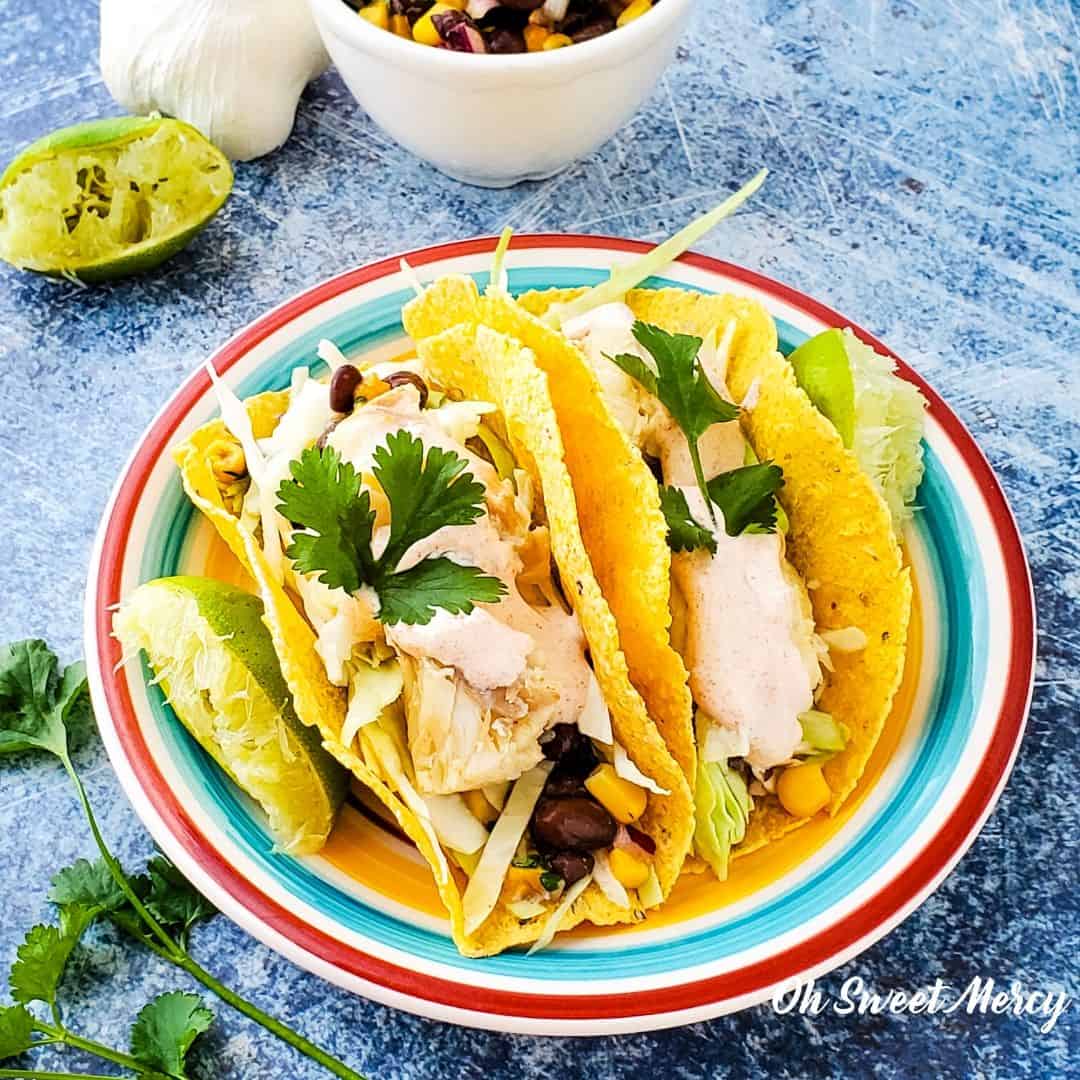 If you caught Episode 159 of the Poddy (The Trim Healthy Podcast) last week you know you should eat more fish. There are lots of ways to eat fish and today I'm sharing one of the ways I like it – Fish Tacos.
The first time I heard the term fish tacos I thought eeewww, that sounds gross.
I was imagining fish with your typical ground beef taco seasonings, salsa, cheese, etc. That did not sound even remotely appetizing to me at all.
One day at a restaurant I decided to try them. Why? Because I saw that they aren't prepared at all like regular tacos.
Shredded cabbage, seasoned fish, a spicy creamy sauce? That actually sounds good!
That was years ago, before I started Trim Healthy Mama. Those restaurant fish tacos weren't on plan at all. But I've created an easy, on-plan version for you!
What about chicken tacos? I've got a great Instant Pot Chicken Taco recipe that's on the table in 30 minutes (or less)!
How To Make THM Friendly Fish Tacos – 3 Ways!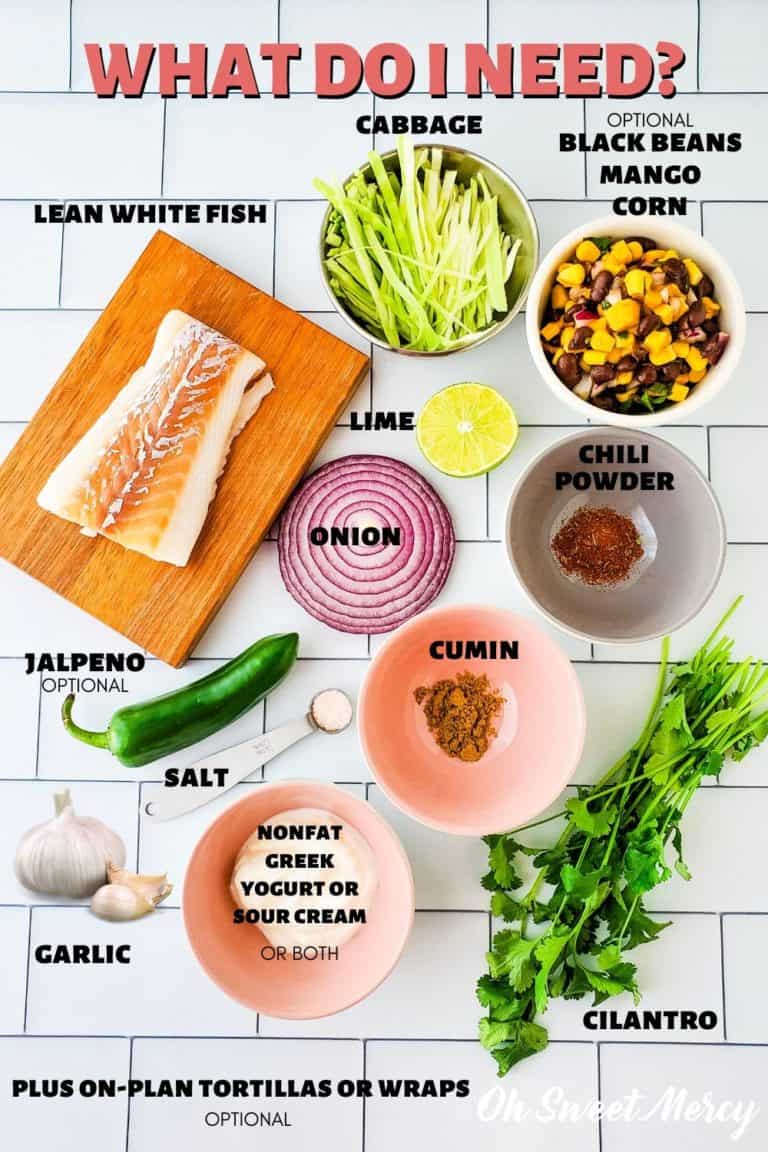 As written, this is a low fat, healthy carb THM E recipe.
But with just a few tweaks you'll have low carb S and low fat/low carb FP fish tacos in no time at all.
THM E Style – Low Fat, Healthy Carbs.
Making this recipe THM E style is a great choice. For one, you can enjoy sprouted corn tortillas and my easy black bean, corn, and mango salsa (recipe post coming soon but it's included below).
For two, it's good to mix up your fuels on THM, remember? We aren't afraid of fat at all we just eat it in a smart and balanced way.
For E style fish tacos:
Use a lean, white, firm-fleshed fish such as cod or mahi mahi. I've also made these with ice-fished bluegill caught from the lake we live near and that's spectacular!
Cook your marinated fish without fat or just a small amount (1 teaspoon or less)
Use nonfat Greek yogurt for the spicy creamy chili sauce (or 2 parts yogurt, 1 part sour cream)
Ideally, use organic sprouted corn tortillas like these from Food For Life. If you can't find them, white corn tortillas you can find at most grocery stores made from masa flour are fine – just limit to 2 tortillas.
Enjoy with a black bean, corn, and mango salsa or simply add cooked black beans.
Add cooked rice, such as soaked brown or black rice.
Don't want to mess with tortillas? Make it a bowl and add rice and more black bean salsa!
TIP: Did you know you can make your own chili powder? It's not just ground up chilies, either! There are so many ways to get creative with homemade seasonings and they're healthier too. No worries about unwanted, off plan ingredients! See how I make my chili powder here.
THM S Fish Tacos (or Taco Bowls) – Low Carb, Healthy Fats.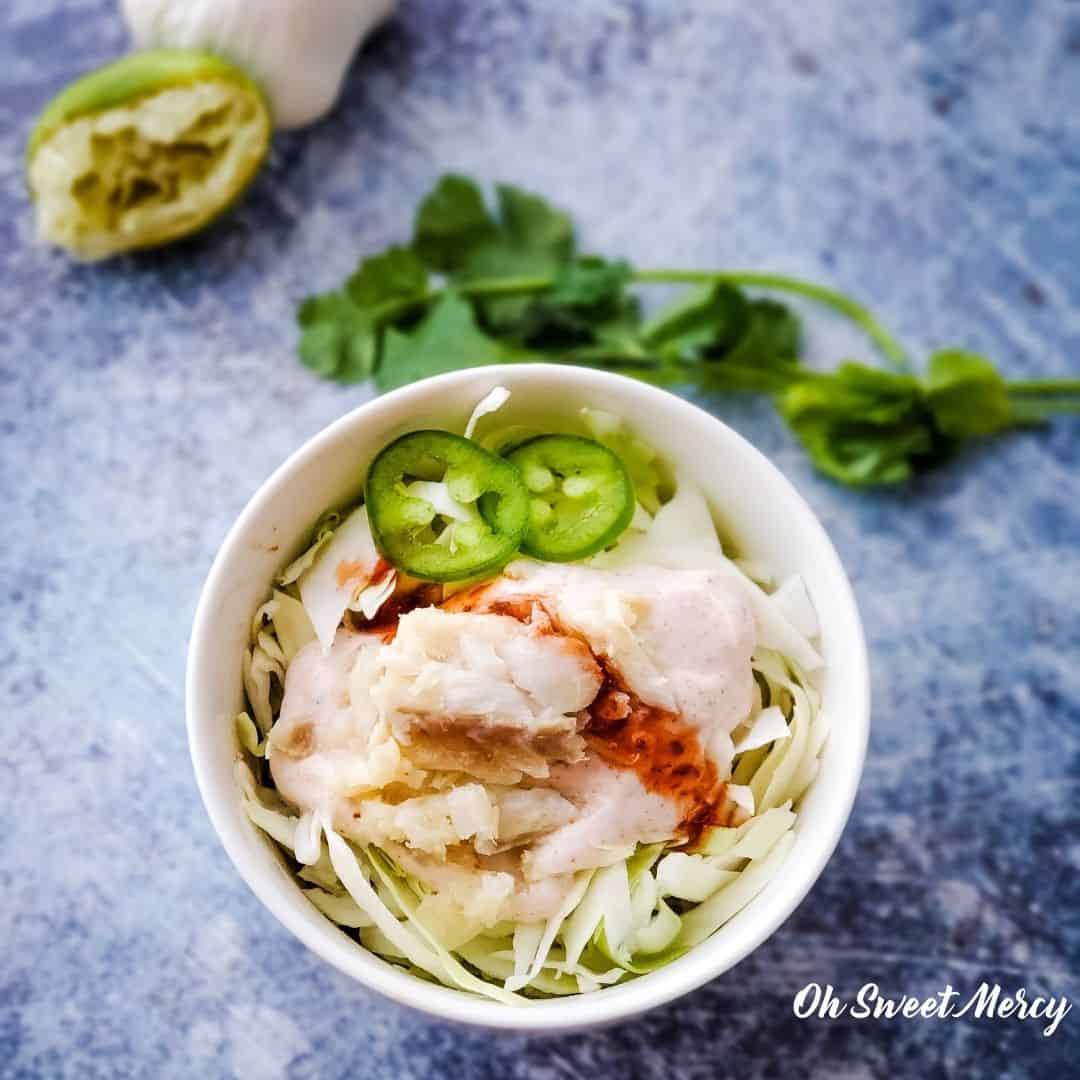 For these low carb fish tacos you'll need to keep your carbs low. Here's how to enjoy them low carb style:
Use full fat sour cream to make the chili cream sauce.
Cook your marinated fish in healthy cooking fat such as coconut oil (use refined if you don't want coconut flavor in your dish).
You can add a garnish amount of cooked black beans if you like but generally, keep the starchy things like corn, mango, and beans in your E meals.
Add diced red onion, jalapeno peppers, bell peppers, etc. instead of bean salsa.
Use low carb taco shell options. Thankfully, Nana's Little Kitchen has some great Masa Wraps you can easily make yourself. They're even a FP recipe for THM! Or use plain Wonder Wraps (page 204 in the Trim Healthy Mama Cookbook) or on-plan low carb tortillas.
Or, skip the tortillas and go for a low carb fish taco bowl instead. Use lots of finely shredded cabbage, toss it with the spicy chili cream sauce, add some peppers for more crunch, and top with your cooked, marinated fish. Add a squeeze of fresh lime juice and your favorite hot sauce (if you like it spicy).
THM FP Style – Low Fat and Low Carb.
A low fat, low carb Fuel Pull meal now and then is always a great idea. It's part of how we bring balance into our diets with the fats and carbs. And, FP meals do NOT have to be boring or dull.
Latin flavors are vibrant and a great choice for meals lacking much fat. If you like spicy, be generous with the chili powder, add jalapenos, and top with your favorite hot sauce.
Keep your fish serving to 4 ounces or less for the whole meal.
Use low carb tortillas.
Skip the tortillas and make a fish taco bowl.
Use nonfat Greek yogurt for the spicy chili cream sauce.
Always consult the Trim Healthy Mama Plan Book for complete information on how to put together your meals.
Tips For Making THM Friendly Fish Tacos.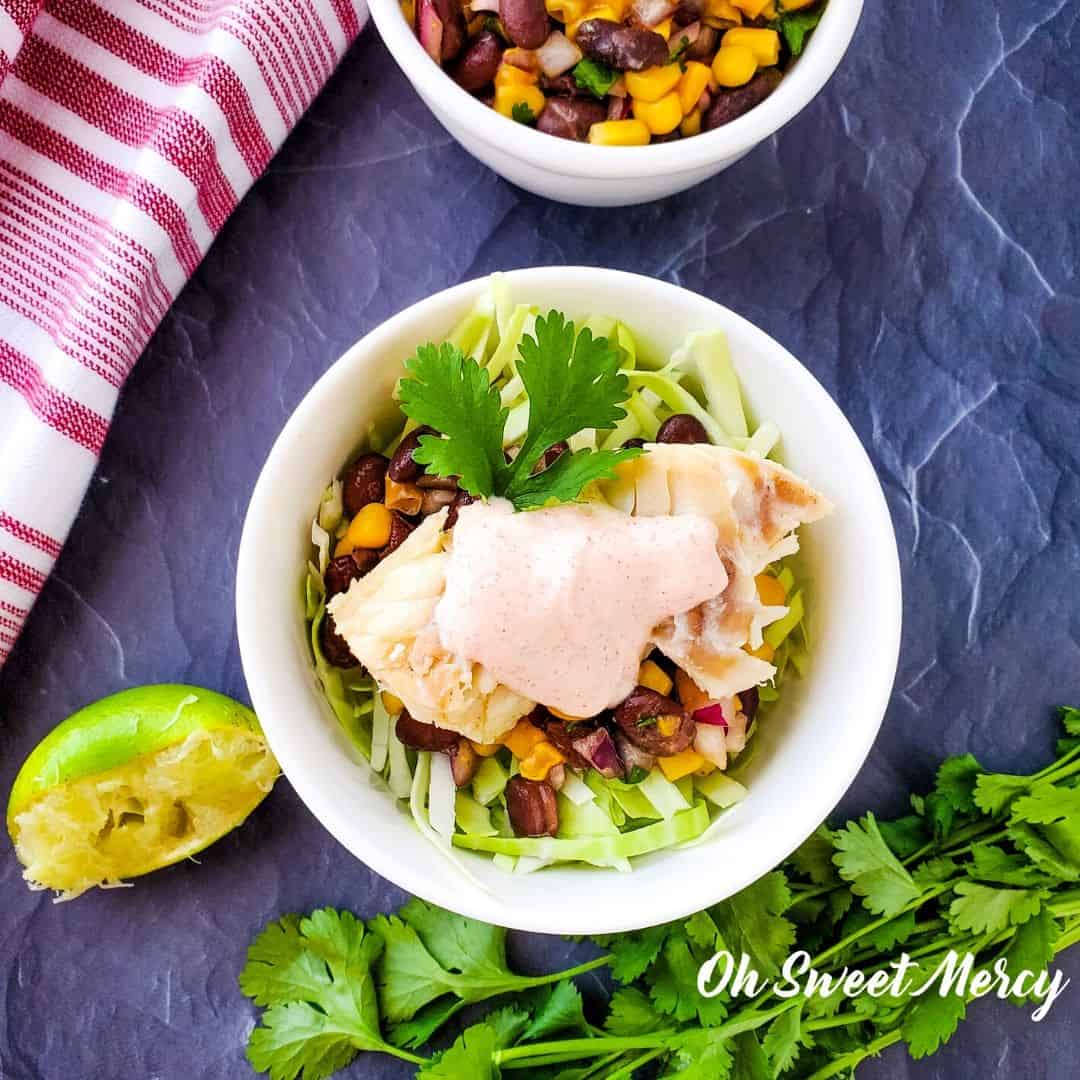 Get your fish marinating first thing, then make your salsa. While that's marinating you can make wraps if you need to.
Use a food processor to finely shred your cabbage. It takes practically no time at all! Shred a whole head of cabbage and then you've got shredded cabbage prepped for another meal or two.
TIP: My very best tip for you is do not overcook your fish. Fish cooks very quickly, especially if you have thin fillets.
Cook your fish until it starts to flake. Generally speaking just 3 minutes or so per side is all you'll need (depending on thickness). Then, remove from the pan and flake the fish with a fork.
Spread some spicy chili cream sauce on a tortilla, top with shredded cabbage, black bean salsa, and fish. Top with a dollop of chili cream sauce and your favorite spicy toppings, as desired.
As always, taste as you go along and adjust the seasonings to suit your tastes! This is pretty mild, my family doesn't like things spicy. But it's easy to add heat to your own serving.
Whether making actual tacos, or taco bowls, this is a great way to get more fish into your meal plans! And, since this recipe is so versatile, you can simply put "fish tacos" down on the menu and decide later what fuel type you want to have.
More fish recipes to try on OSM:
Fried Okra and Blackened Salmon S, Keto
Salmon with Blueberry Sauce S, E, FP
Spicy Dry Rubbed Grilled Tuna S, E, FP
Tuna And Capers S, Keto
Tuna Stuffed Pepper for One S, FP
Mediterranean Tuna Zucchini Salad S, Keto
Have You Ever Tried Fish Tacos?
Pin It!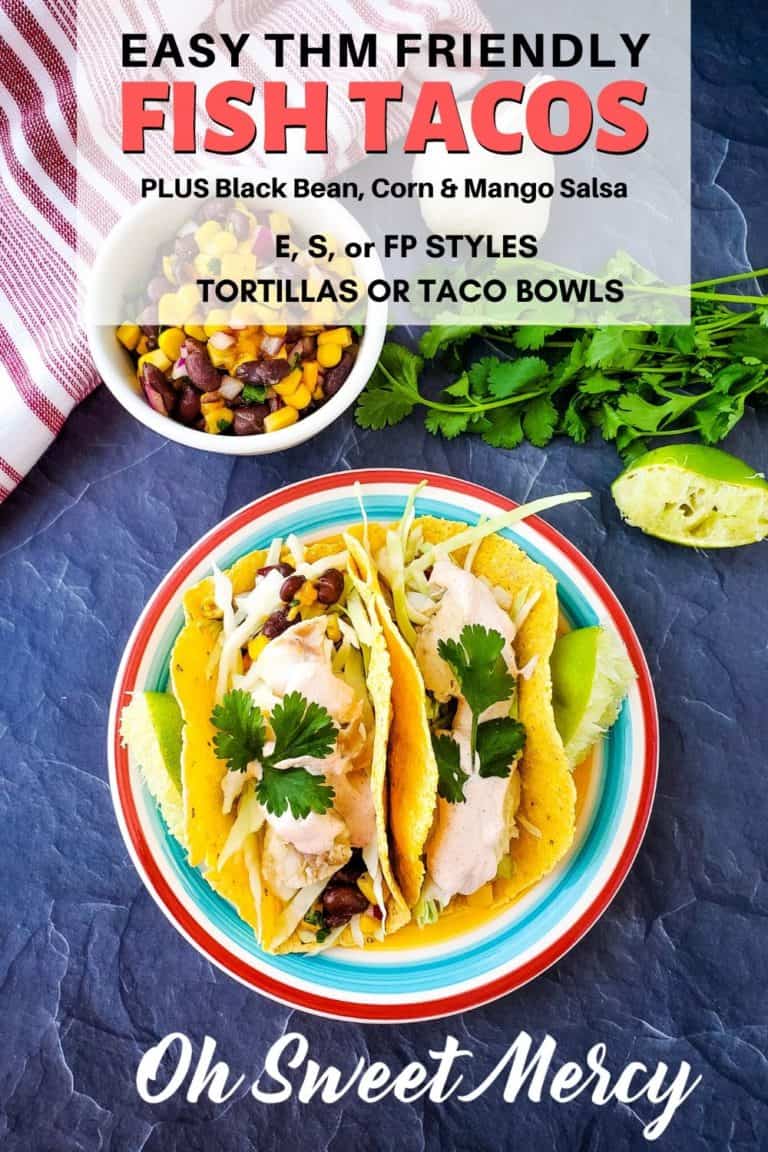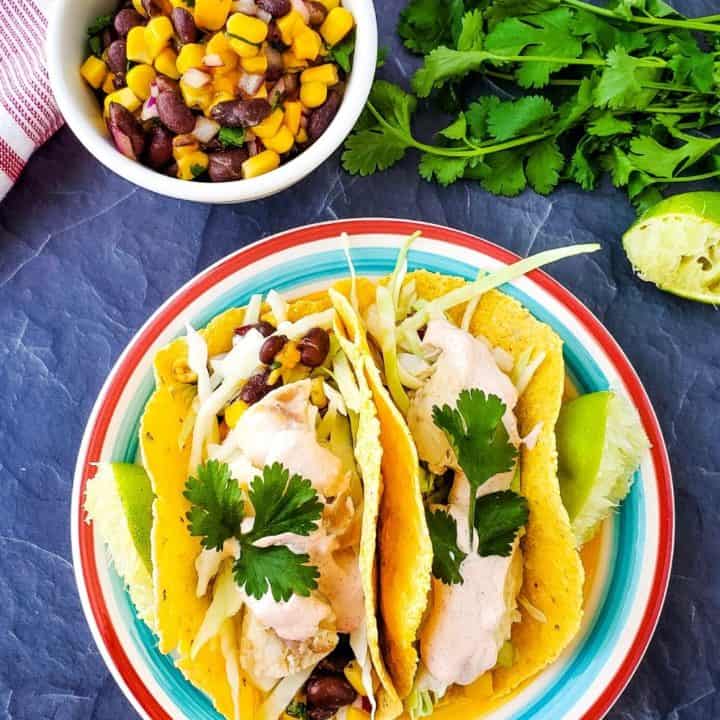 Easy Fish Tacos | THM E with S and FP Options.
Yield: 4 servings
Prep Time: 20 minutes
Cook Time: 6 minutes
Additional Time: 15 minutes
Total Time: 41 minutes
Easy and versatile, my fish tacos can be made to suit THM E, S, and FP meal styles with just a few tweaks. Lean white fish is marinated with lime, garlic, and cooked. Shredded cabbage, black bean, corn and mango salsa, and a spicy chili cream sauce bring it all together into one tasty taco.
Ingredients
Fish Marinade
1/4 cup fresh lime juice
2 cloves fresh garlic, pressed or minced
1 teaspoon ground cumin
1/4 teaspoon salt
1 pound skinless, lean, white fish such as cod or mahi mahi
Black Bean, Corn, and Mango Salsa
1/2 cup cooked black beans
1/2 cup sweet corn kernels
1/2 cup diced mango (fresh or frozen)
Juice of half a lime
1 to 2 tablespoons chopped fresh cilantro
Salt to taste
Spicy Chili Cream Sauce
1 cup nonfat Greek yogurt (E or FP styles) or sour cream (S style) or combination
Salt to taste
Suggestions For the Tacos
Tortillas (for E style use sprouted corn or masa tortillas, for S or FP style use low carb Wonder Wraps, low carb Masa Wraps, or store bought on-plan low carb tortillas.
Finely shredded cabbage
Diced red onion
Sliced jalapenos
Hot sauce
Instructions
MARINATE THE FISH
Combine the lime juice, garlic, cumin, and salt and put the fish into a zippy bag along with the marinade.
Marinate for 15 minutes, flipping the bag over several times.
MAKE THE BLACK BEAN, CORN, AND MANGO SALSA (OPTIONAL)
In a bowl, combine the black beans, corn, mango, onion, salt, cilantro, and lime juice and mix well.
Set aside while preparing the rest of the meal.
MAKE THE SPICY CHILI CREAM SAUCE
In a bowl, mix together the yogurt or sour cream, chili powder, and salt.
Set aside.
COOK THE FISH AND ASSEMBLE THE TACOS
For E or FP styles, cook with cooking spray or in a non-stick skillet. Depending on the thickness of your fish it can take as little as 3 minutes per side.
Cook until the fish flakes easily then remove from the pan and flake.
For each taco, spread a small amount of spicy chili cream sauce on the taco, top with shredded cabbage, black bean, corn, and mango salsa, cooked fish, and more chili cream sauce.
Top with hot sauce, jalapenos, or other toppings as desired.
See notes for each THM Fuel Type.
Notes
NUTRITION NOTES:
Nutrition information calculated for THM E style using organic sprouted corn tortillas, nonfat Greek yogurt for the chili cream sauce (1 tablespoon), and 1 heaping tablespoon black bean, corn, and mango salsa.
THM E STYLE:
Use sprouted corn tortillas or low fat tortillas made with masa flour (limit to 2 masa tortillas). Cook fish with cooking spray or no fat at all. Use either all nonfat Greek yogurt for the chili cream sauce or part yogurt and part sour cream (such as 3/4 cups yogurt and 1/4 cup sour cream). Enjoy with bean salsa or black beans as desired.
THM S STYLE:
Cook fish in healthy cooking fats such as coconut oil. Use sour cream for the chili cream sauce. Use Wonder Wraps, Masa Wonder Wraps, or store bought low carb tortillas, OR make a fish taco bowl and skip the tortillas all together. Skip the bean salsa.
THM FP STYLE:
Keep fish serving to 4 ounces or less. Make the chili cream sauce E style (low fat) and use S style tortillas or make a fish taco bowl. Skip the bean salsa.
Recommended Products
As an Amazon Associate and member of other affiliate programs, I earn from qualifying purchases.
Nutrition Information:
Yield: 4
Serving Size: 2 tacos
Amount Per Serving:
Calories: 258.2
Total Fat: 2.6g
Saturated Fat: 0g
Trans Fat: 0g
Unsaturated Fat: 0g
Cholesterol: 41.3mg
Sodium: 129.6mg
Carbohydrates: 31.1g
Net Carbohydrates: 26.6g
Fiber: 4.5g
Sugar: 4.3g
Protein: 27.5g
Nutrition information is approximate and based on the best knowledge available at the time of recipe publication. Your results may vary due to differences in ingredients. You can make your own calculations if this recipe does not include nutrition info by using an online calculator such as https://recipes.sparkpeople.com/recipe-calculator.asp