---
Are you prepared for emergencies? While a natural disaster, pandemic, or financial crash may seem unlikely most days, being prepared is wise. Planning now for an emergency helps you stay on plan with THM as much as possible. Here are the best THM friendly foods for emergencies to have on hand in case disaster strikes. Plus, download a free checklist and get your THM Emergency Pantry stocked!
---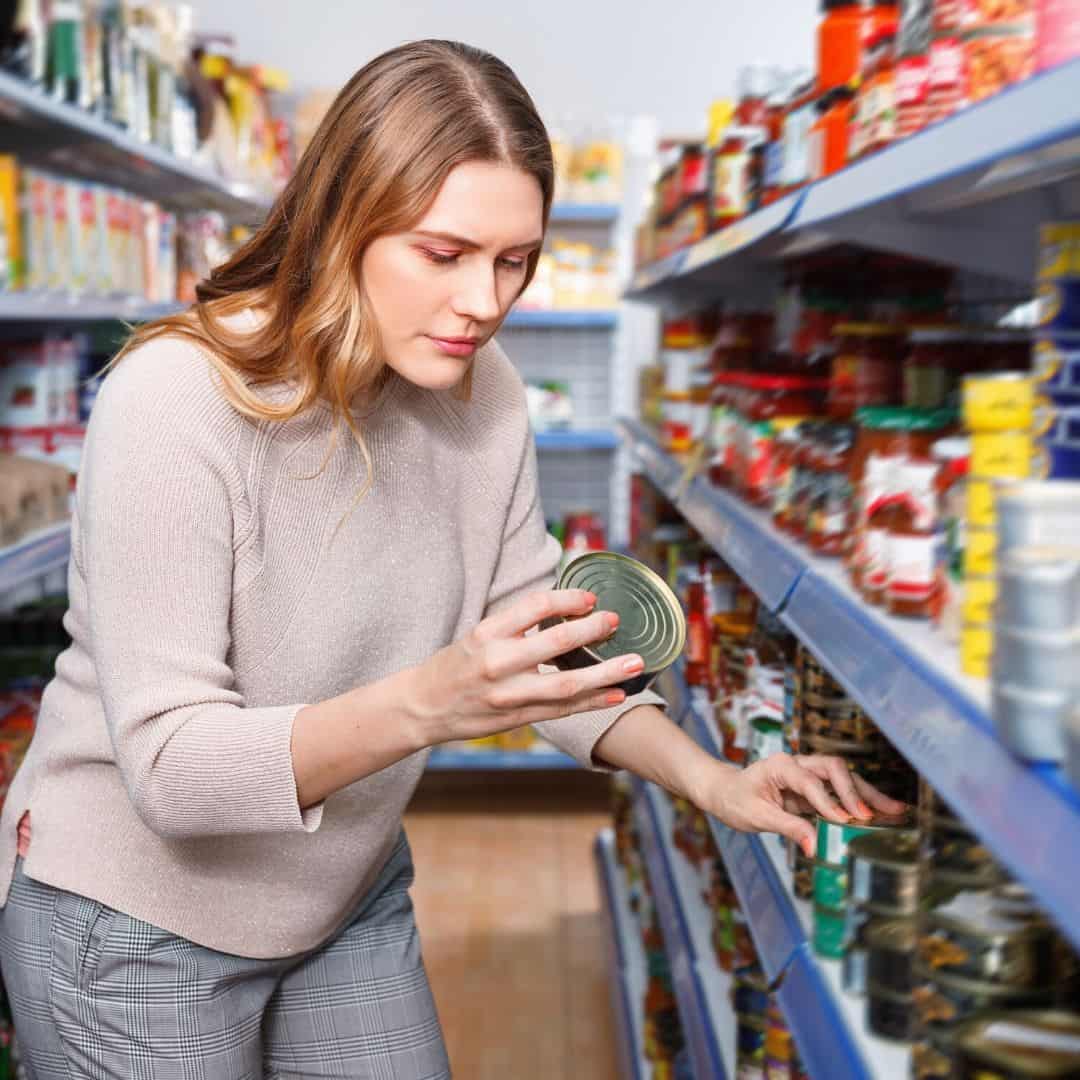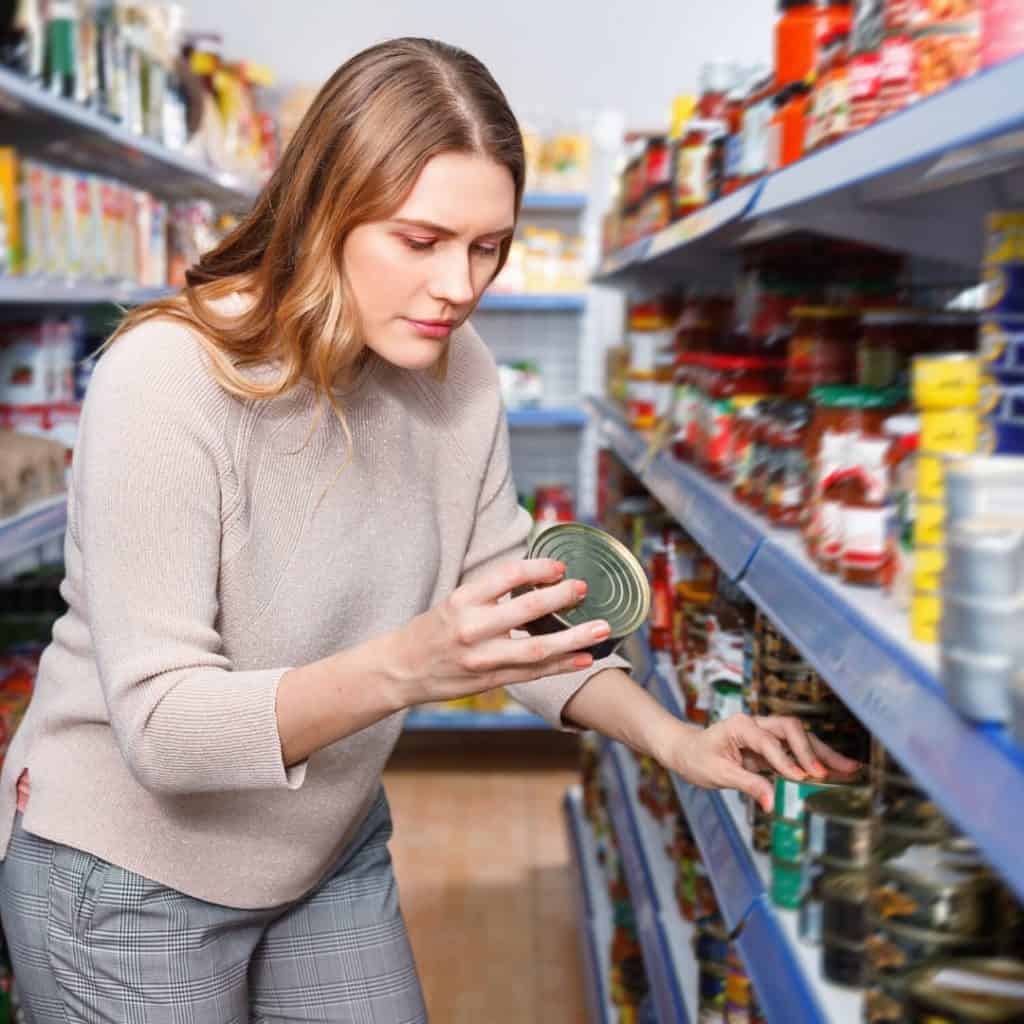 For many of us in the US, we are blessed with a peaceful existence. Worrying about disasters, terrorist strikes, or other emergency situations isn't always on our radar.
Of course, if you live near fault lines, volcanoes, or the coasts you likely think more about this than us flatlanders in Indiana do. We have tornadoes on occasion in the summer and in the winter there maybe could be a blizzard (though not since the 70's) or an extended power outage.
With the recent health worldwide health crisis and Spring storm season just around the corner, I've really been assessing our family's readiness. Seeing what other countries are going through with the virus just makes me want to make sure we've got some emergency canned food and supplies on hand.
Better safe than sorry, right?
Do we have enough supplies for an extended period of time? Canned food (and other shelf-stable packaging), water, medicine, feminine hygiene products, toilet paper, batteries…so many things we kind of take for granted!
Since it's wise to be prepared in general, I've been trying to pick up a few extra things with each weekly shopping trip. Since I also follow the Trim Healthy Mama Plan, I've really been thinking about what kind of THM friendly foods are good for emergencies.
First And Foremost – Keep Yourself And Family Safe And Alive!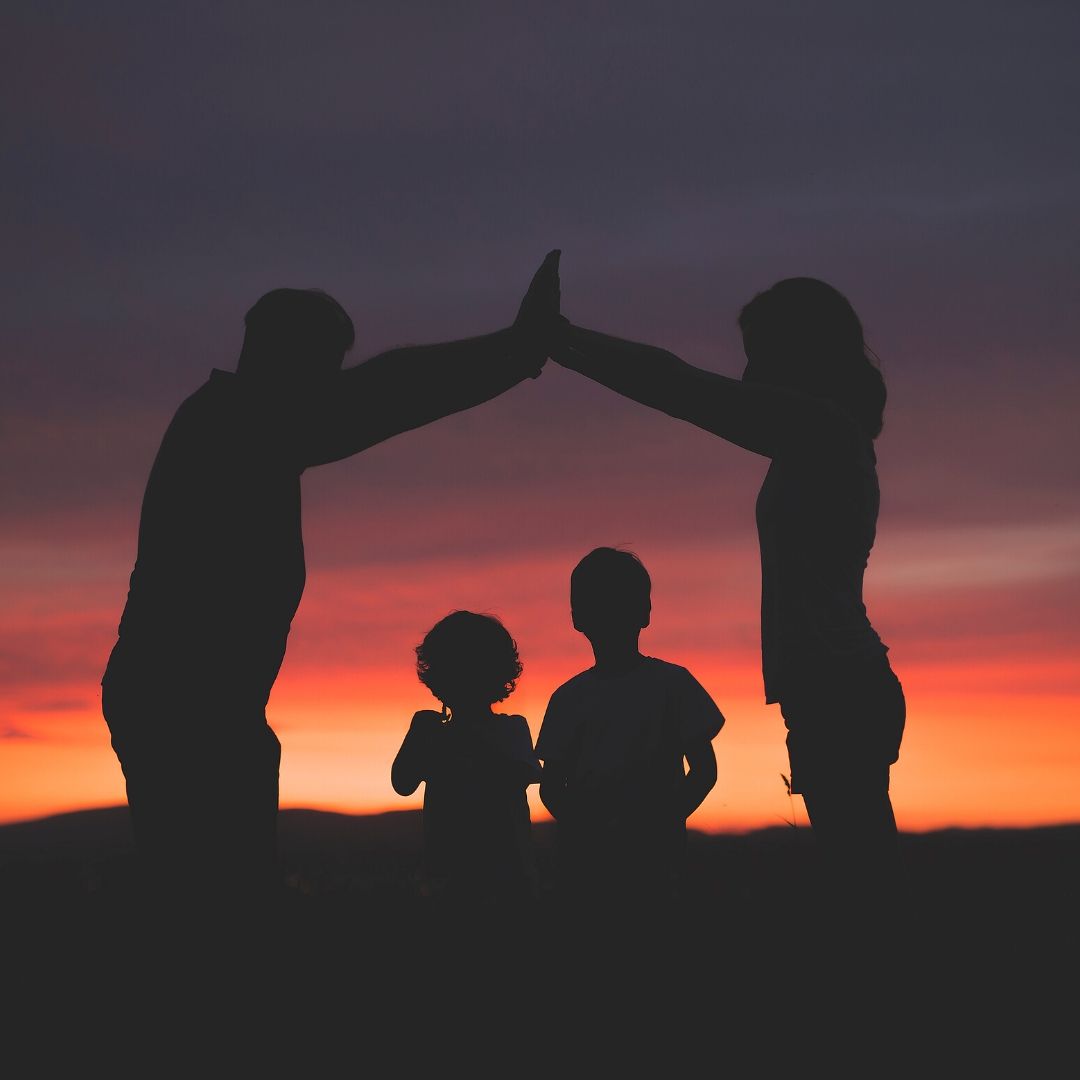 I'll preface the following suggestions with this: in a disaster or emergency situation, what you eat is not nearly as important as whether you eat. If all you have available is off-plan foods, don't give it a second thought. Eat what you have.
Once life returns to normal, the "trim train" will be waiting for you to hop on and get right back on track.
However, if you do have time and resources to start building an emergency pantry, why not make sure you include THM friendly options? Sometimes just having something familiar is a comfort in a stressful emergency situation.
Also, well-fueled bodies tend to handle stress better. When your brain is nourished, you can think more clearly. When you get enough nutrients, your immune system stays stronger.
Being able to think clearly and stay healthy increases your ability to survive a disaster.
Get your FREE downloadable THM Emergency Pantry Checklist!
Where To Find Inexpensive Shelf Stable Foods For Emergencies.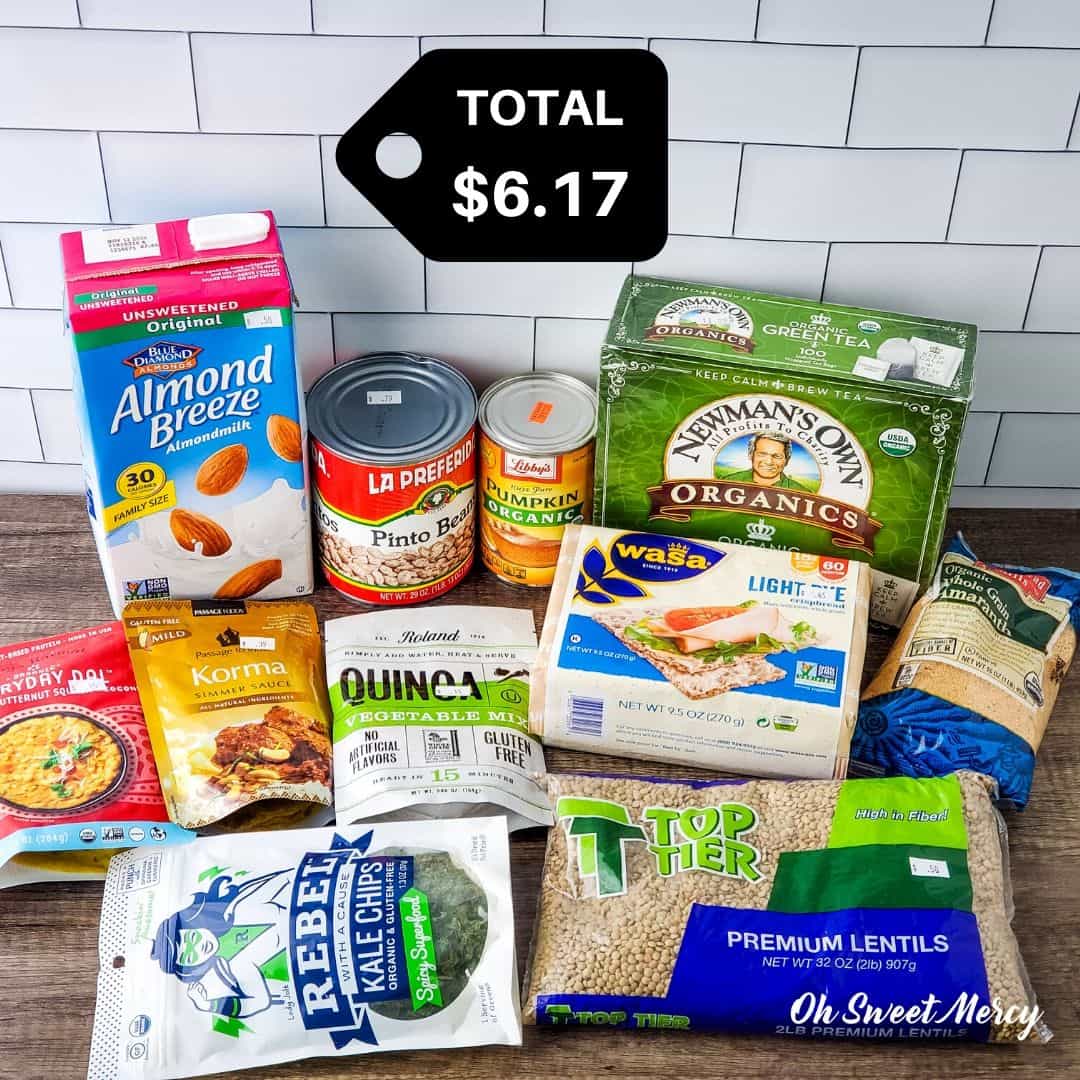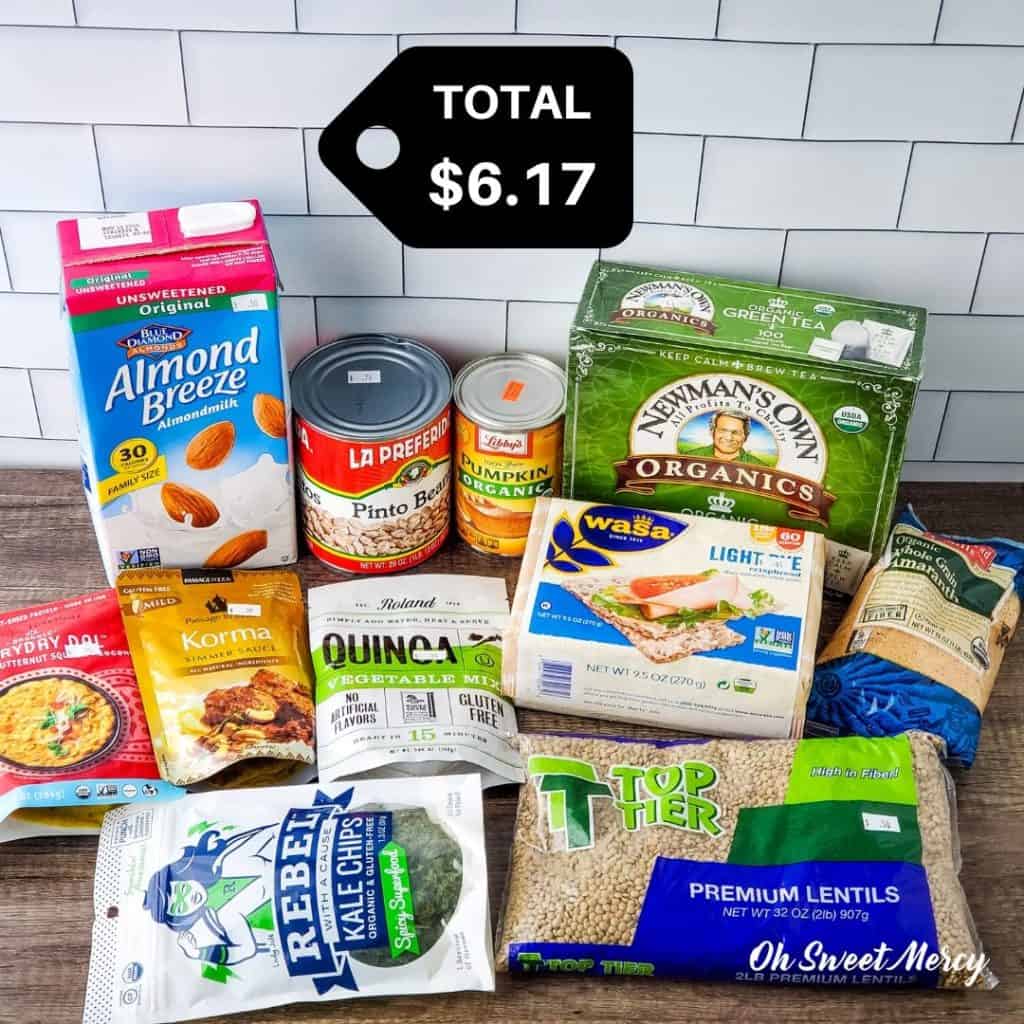 We are blessed in our area to have many "dented can" type stores. Some carry mostly food items. Others get big pallets at auctions that may contain Amazon returns or store overstocks.
Both types of stores are great for finding inexpensive items to add to your emergency preparedness supplies, such as camping gear and shelf-stable and canned foods.
I often even find organic, shelf-stable foods very inexpensively. Some are a little past the "best by" date but are still very much edible. Many times they're still within date and may have a torn box or slight dent in the can.
The photo above shows a few of the easy to prepare foods I've picked up. For under $10 there are the makings for at least 2 or 3 meals there for the 4 of us.
Cosmetic damage to the packaging should be no concern. With canned foods, however, very badly dented cans can possibly be compromised so use caution.
TIP: To ensure food safety, always inspect your emergency food supply for items too far past the best by date, bulging or leaking cans or containers, or pest infestation. Replace these items as necessary.
If you don't have any stores like this in your area, check your local grocery store for markdown areas. If you find cans that are dented, ask for a discount.
Watch sales circulars for deals like "10 for 10, 11th item free". You'll often find things like chicken or tuna pouches included or other shelf-stable items that are at least somewhat THM friendly.
Buy things like beans and grains in bulk. Look for a natural foods co-op or an online one like Azure Standard. Going in with friends and family members helps reduce the cost for everyone.
Things To Keep In Mind While Choosing Foods For Your THM Emergency Food Supply.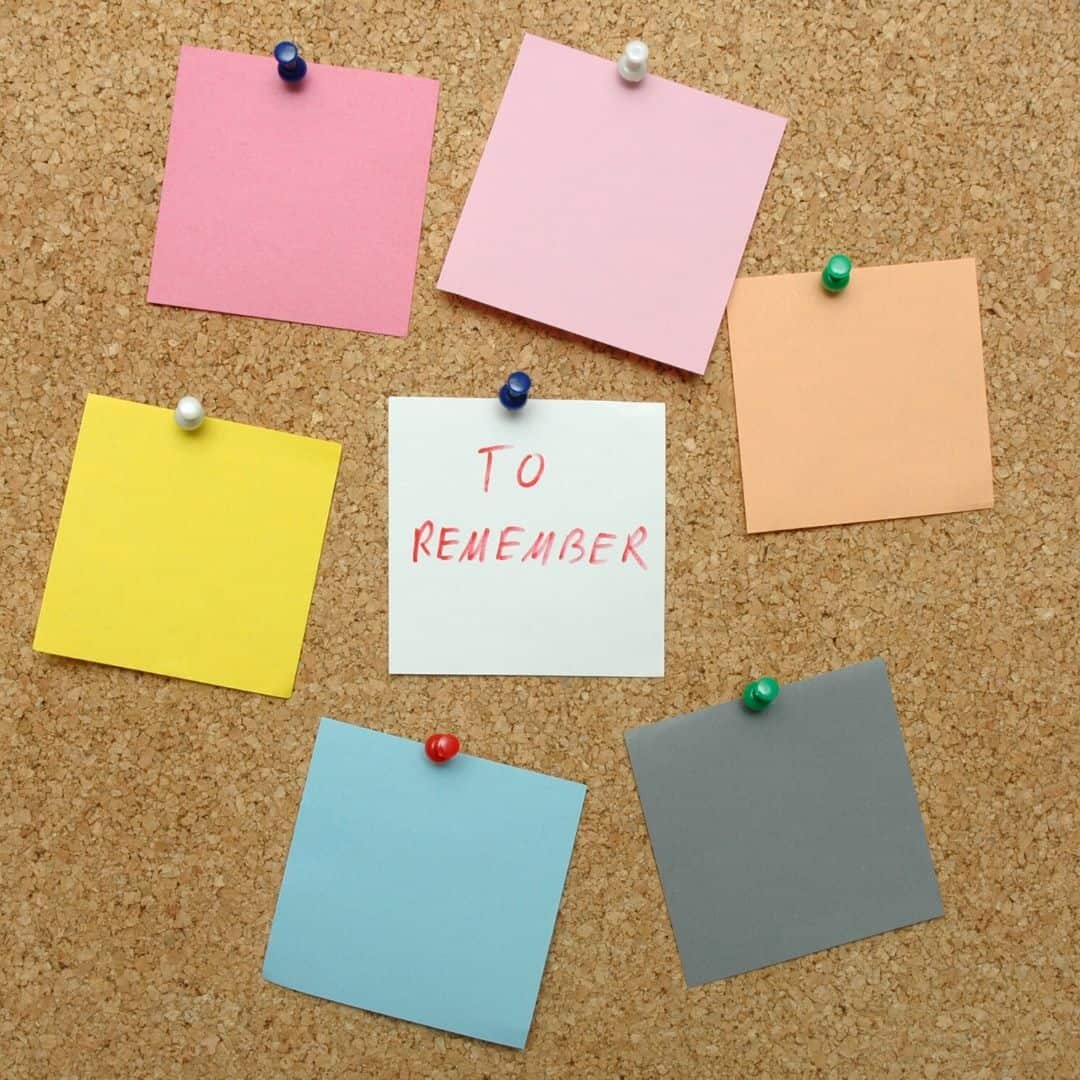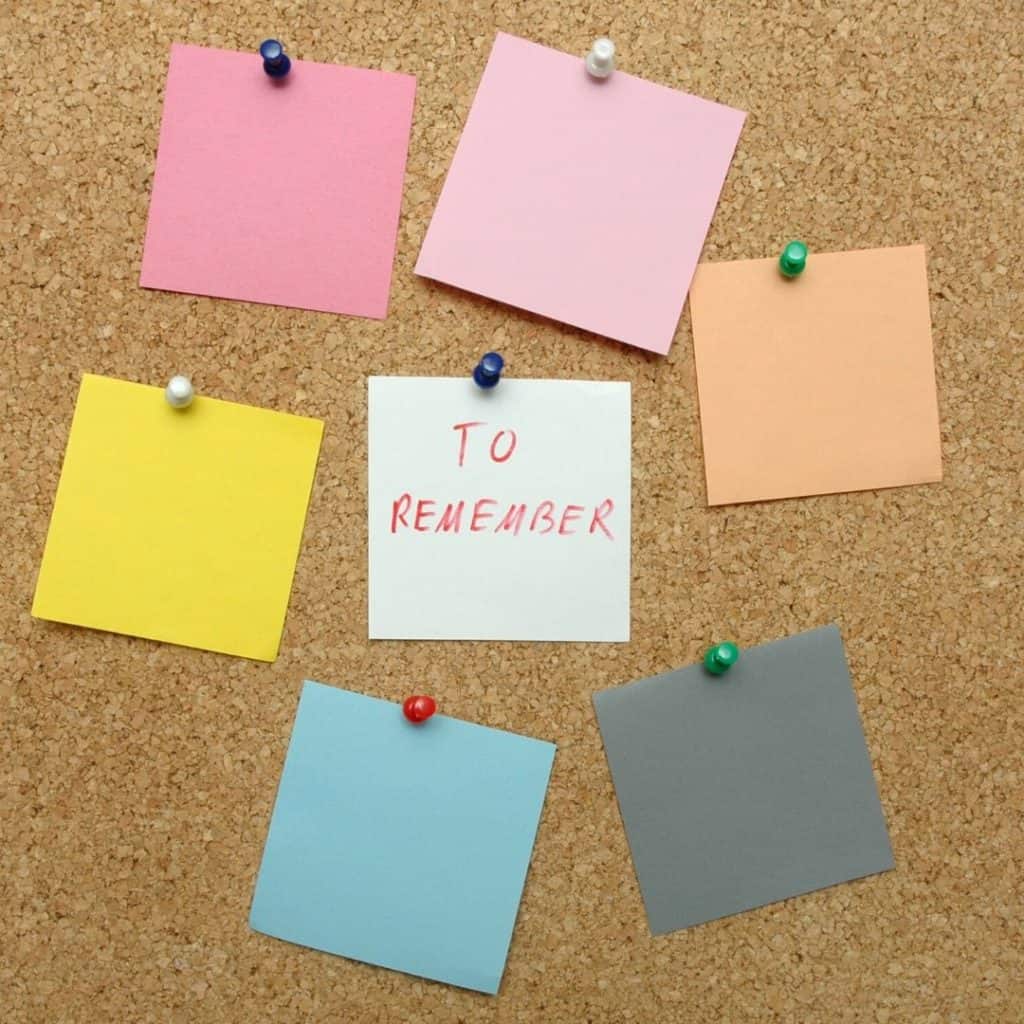 Get your FREE downloadable THM Emergency Pantry Checklist!
There are a few guidelines to keep in mind while choosing foods to store for emergencies, whether THM friendly or otherwise. The price is certainly a big factor, but don't just start grabbing cans and packages just because they're cheap.
Look for organic foods.
Avoid too many high-sodium and thirst-provoking foods, especially if a disaster that interrupts your ability to get clean, fresh water is a high probability for you. Many canned "meal" type foods and soups are high in sodium but often have a low-sodium variety.
Choose foods that are easy to store.
Include foods that are easy to pack in case you need to evacuate. Many meats, fish, and even vegetables come in pouches, take up little room in a backpack, and are lightweight.
Freeze-dried "prepper" food is a great option if you can afford it. I've seen freeze dried meals in the camping section of Walmart and Meijer in my area, fairly reasonably priced.
Have an idea how much food you'll need and how long you'll need it. This website has a calculator that can help you decide by inputting how many weeks and how many adults and children are in your home. It then breaks down foods into general categories with a recommendation for each in pounds.
Start With Protein For Your THM Emergency Food Pantry.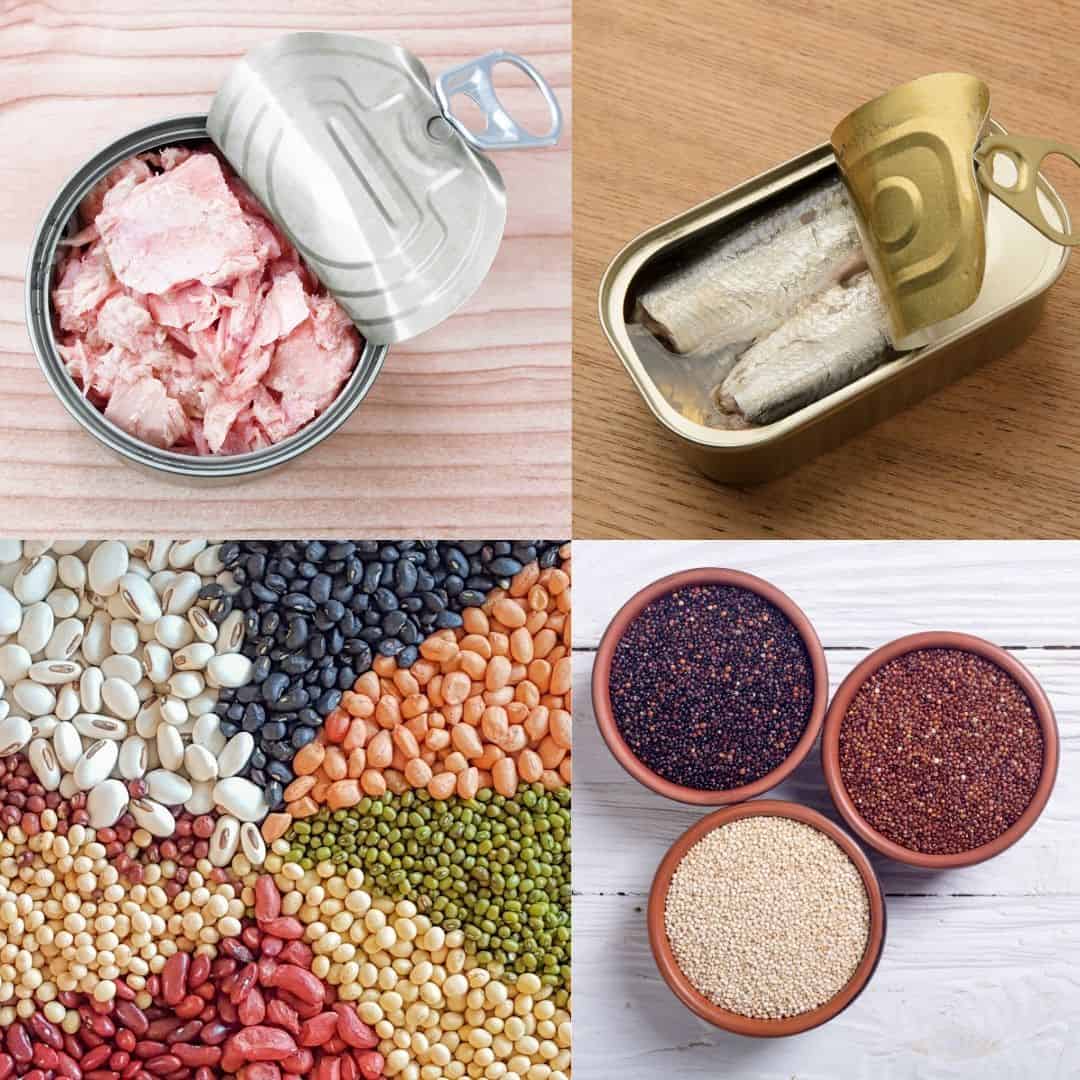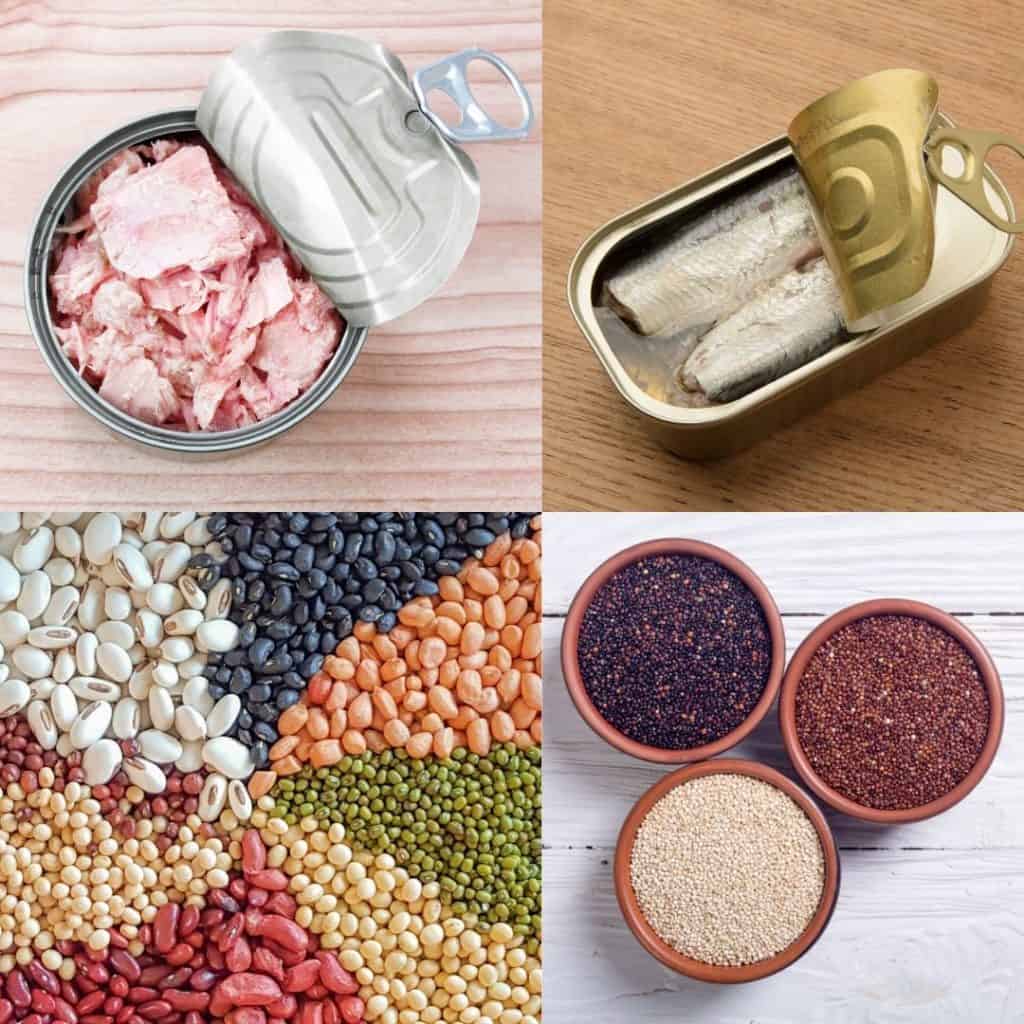 Protein is the anchor of every THM meal and essential in every day life, even more so in a stressful emergency situation. While canned and pre-packaged foods may not be as tasty or nutritious as fresh, they're still an essential part of emergency preparedness.
Shelf-Stable Meats And Beans.
If you don't have power to cook with, you'll still be able to eat healthy proteins with shelf-stable protein sources such as:
Canned chicken, turkey, beef, fish – such as tuna, mackerel, salmon, and sardines. Chicken and fish often come in easy to open pouches that don't take up much space, too.
Canned beans like black beans, pintos, refried beans, and garbanzo beans.
Lentil soups – check for off plan ingredients and make sure the fat content is reasonable. A few Crossovers or S Helpers during an emergency aren't going to hurt a thing!
Canned hummus (in the World Foods section of your grocery or at ethnic markets).
Bean dips. While Frito Lay bean dip is not necessarily ideal, in an emergency it's better than nothing! 1 serving has 3 grams net carbs and 1 gram of fat. Only 2 grams of protein but as part of a meal it's still a protein source.
Meats such as pepperoni, often in pillow-packs or vacuum packs. These are often high in sodium so keep that in mind if water is an issue in your area or situation.
Ready to eat pouch meals, like this grassfed beef and mushroom soup.
Dried beans and legumes store well, but do require resources such as water and fuel to prepare so keep that in mind.
[convertkit form=1959247]
Easy To Store (And Prepare) Plant-Sourced Complete Proteins.
When choosing a plant-sourced protein it's best to pick a complete protein. Complete proteins contain the 9 essential amino acids our bodies needs. Animal foods contain these amino acids, but only a few plant foods are complete proteins.
Quinoa – cooks quickly, especially if soaked at least 8 hours. Or save the soaking step and get sprouted quinoa instead.
Buckwheat – can prepare like oats for a hearty breakfast.
Chia seeds – add to water, tea, or juice and allow to gel. Also doubles as an egg replacer.
Hemp seeds.
Pumpkin seeds or pepitas.
Plant-Sourced Complete Protein Combinations.
Sometimes combining two plant sourced foods together results in a complete protein. Generally speaking, combining beans and grains gives you a complete protein.
Rice and beans – Brown, black, or wild rice is best. If you have to get white rice go for jasmine.
Hummus and Light Rye Wasa Crackers.
Lentils and any whole grain. Lentils are a great source of protein and fiber, too! Also, very cheap and easy to prepare as they cook quickly.
Roasted nuts and seeds.
Dehydrated And Freeze Dried Proteins
If you have a dehydrator, you can easily make your own dehydrated eggs, and meat jerky. Home freeze drying systems are available, however they are quite expensive from what I've seen.
No dehydrator (or desire to dehydrate those items)? You can purchase them, thankfully!
On-plan whey protein isolate, CFM, with no added sugars or fillers
Collagen hydrolysate (will not gel liquids), ideally sourced from grassfed cows
Gelatin (will gel liquids), ideally sourced from grassfed cows
Bone broth powder (also in single serve packs and low sodium options)
Easy Carb Fuels For Your THM Emergency Pantry.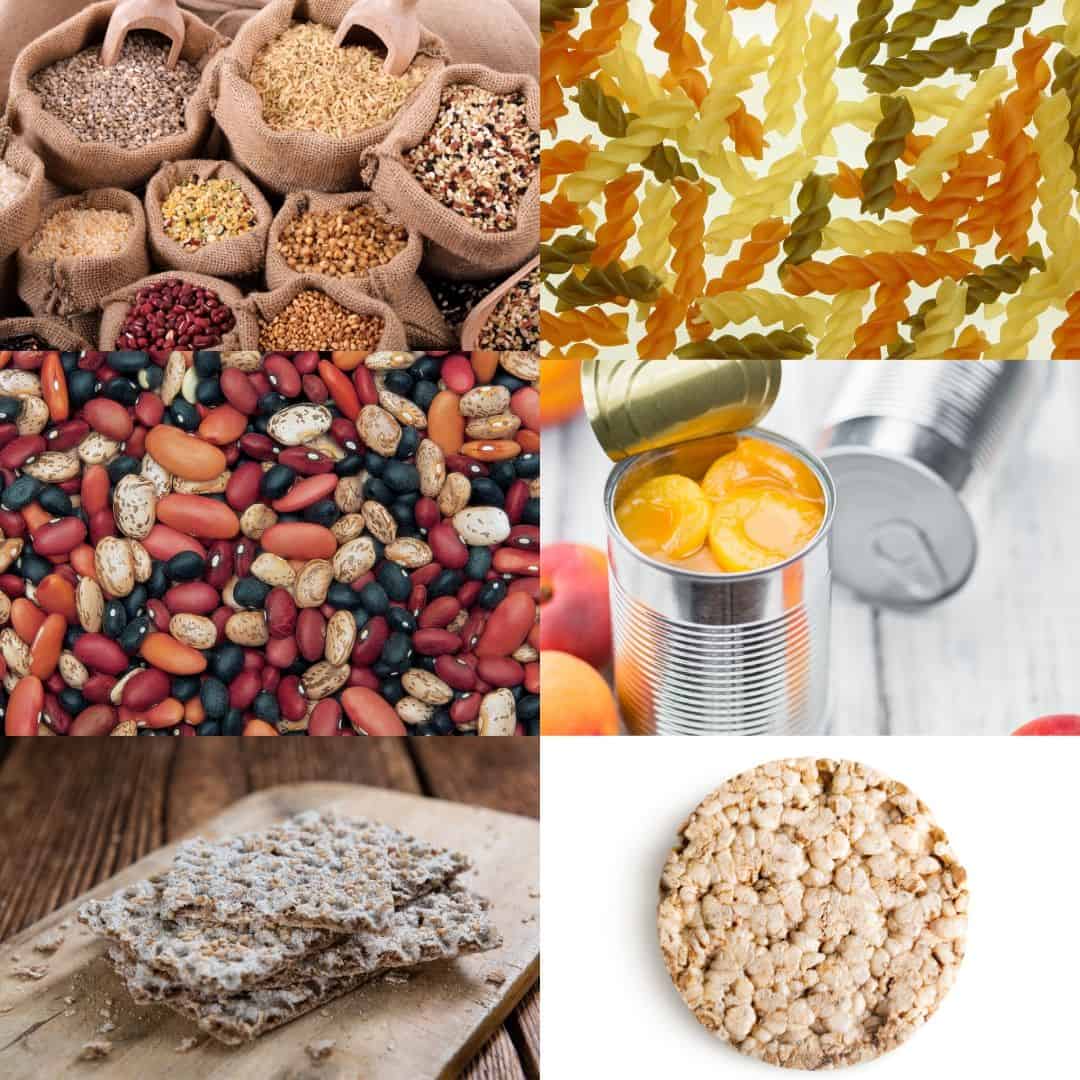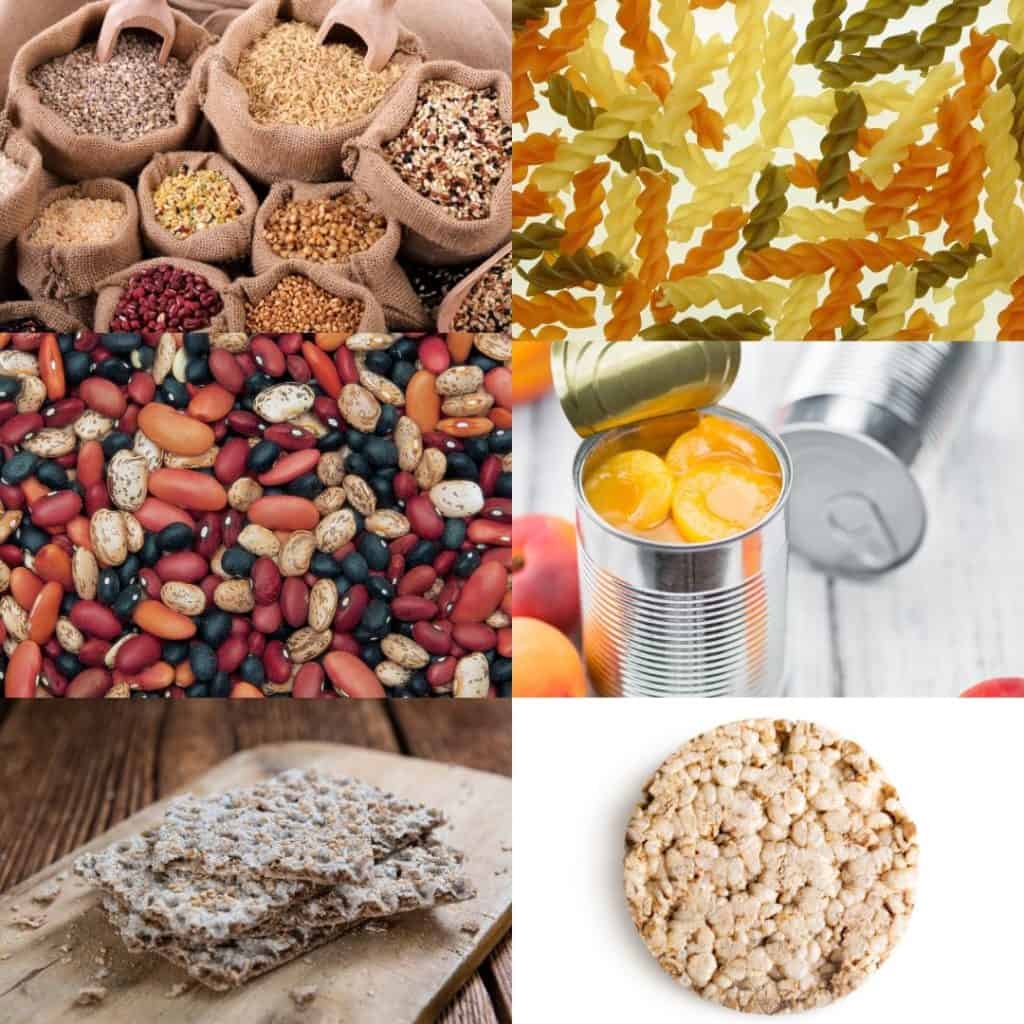 THM E meals are our carby, low fat meals. While bread won't hold up long if the power is out, having some loaves of sprouted or true sourdough in your freezer is perfect for emergencies that don't involve power outages.
Another great option, for those who like to soak their grains, is to have a supply of Pre-Soaked Oats on hand. These are soaked rolled oats that are then dehydrated. They cook quickly and easily and can even be eaten without cooking.
I make them often! If you follow this method from Traditional Cooking School, you'll end up with perfect pre-soaked oats that are NOT rock hard. It works every time! A dehydrator is best but dehydrating in an oven, on the lowest temp with the door cracked open, also works.
Grains and dry beans require water and some kind of cooking source, so keep that in mind. Make sure you have a variety of different carb sources in both dry and ready-to-eat forms.
Rolled oats
Brown, black, or wild rice
Quinoa
Buckwheat
Beans, dry or canned: navy, black, red, pinto, garbanzo, etc.
Legumes, dry or canned: lentils, split peas, chana dal – all easy to cook and very nutritious
Peas (small amounts are allowed in S or FP meals but they're more starchy so best kept to an E in larger amounts.)
Corn (not necessarily ideal but in an emergency, great to have on hand)
Canned fruit in juice or water such as peaches, pears, pineapple, plums, etc.
Unsweetened applesauce – small packs or pouches travel well
Dried fruits – stores well, small amounts can be rehydrated or added to other foods.
Rice cakes
Light Rye Wasa crackers
Bean/lentil/brown rice pasta
While dried fruit is not encouraged often for regular consumption under normal circumstances, in an emergency situation you may need the extra energy they provide. It's also a healthier way to sweeten other foods such as oatmeal.
Rehydrating dried fruit and just eating the fruit, not the water you soak it in, also makes it a bit easier on blood sugar.
Healthy Fat Fuels For Your Emergency THM Food Stash.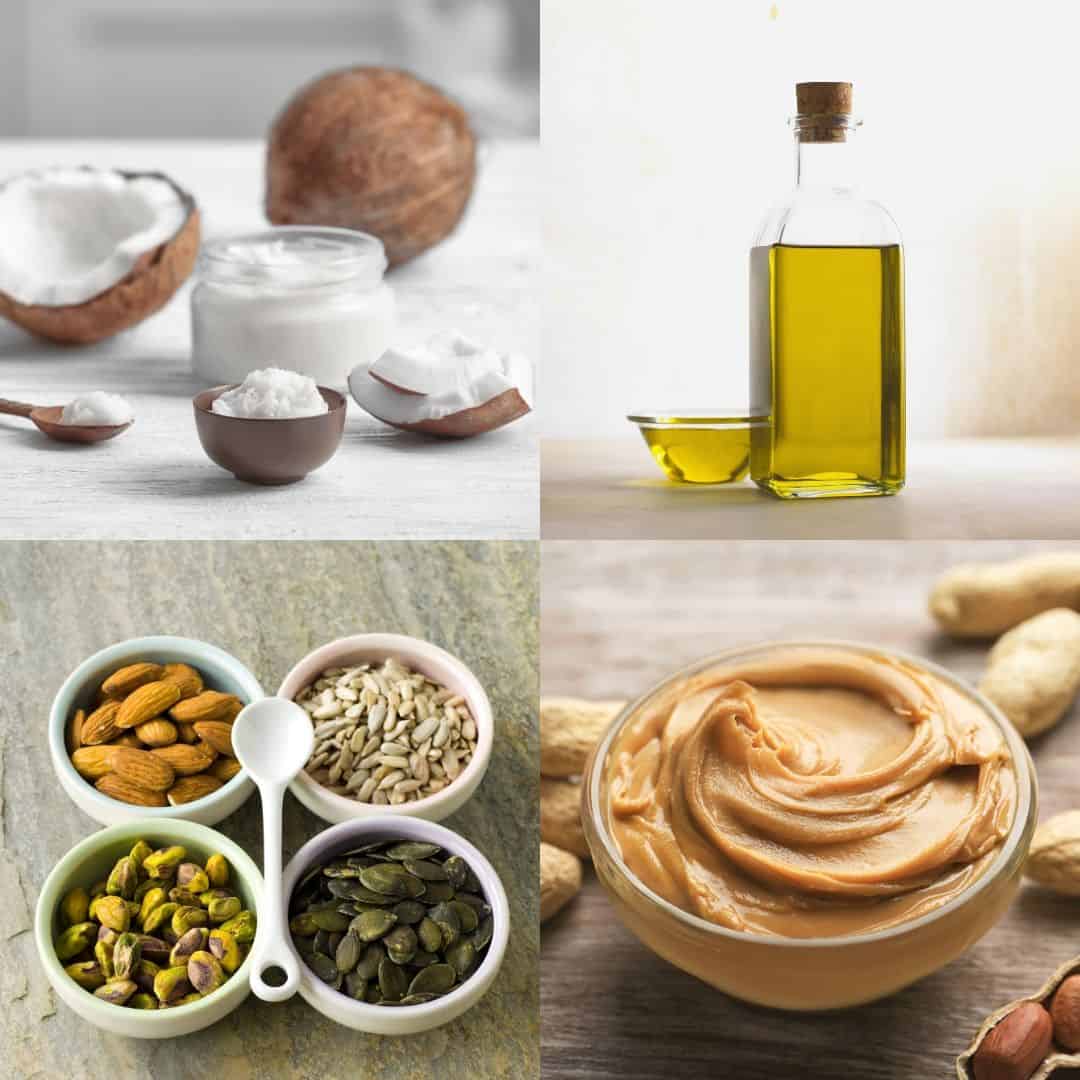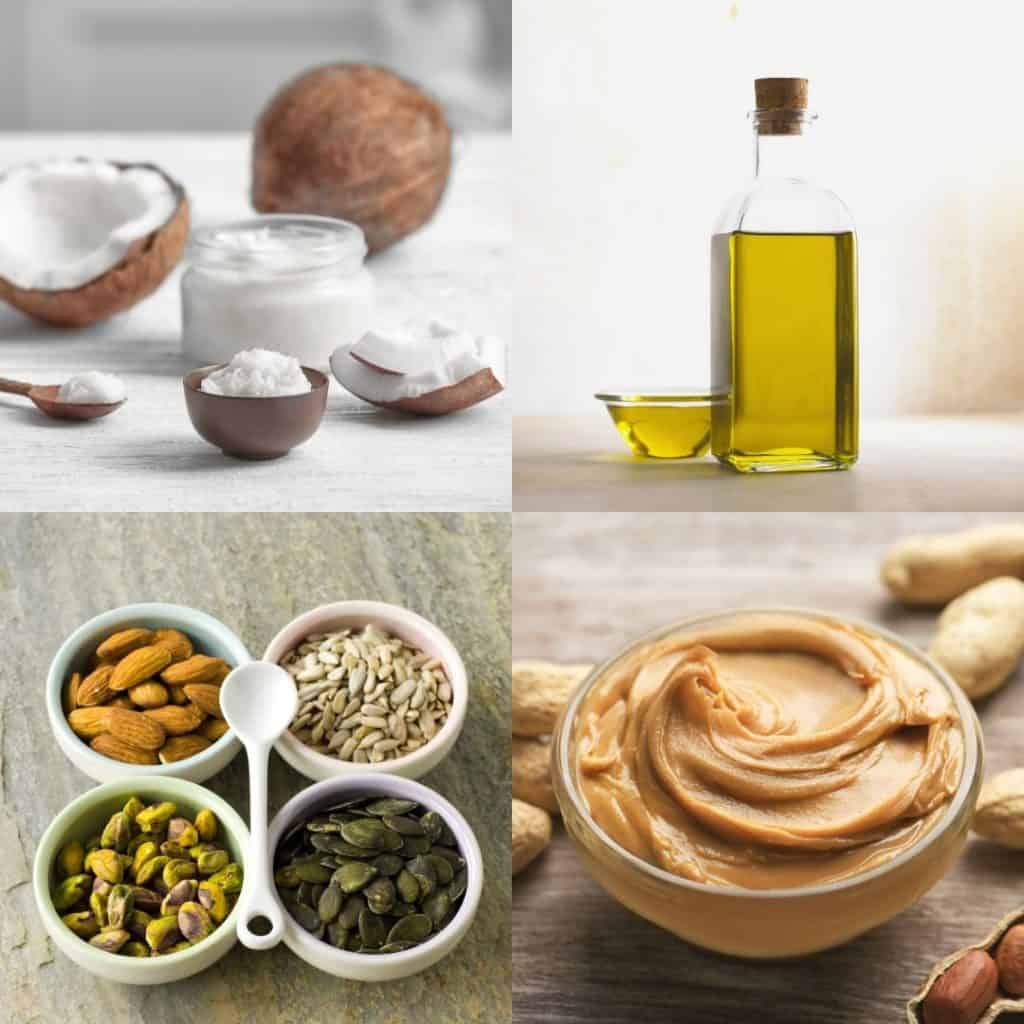 Healthy fats are essential for all THM meal types. They are liberally used in THM S meals but kept to a minimum in THM E and FP meals.
The healthy fats we enjoy on THM include:
Coconut oil (choose unrefined for no coconut flavor)
Butter (real butter, not margarine) can be frozen!
Ghee (clarified butter that is shelf-stable)
Coconut milk and cream (just check for added sugars)
Shredded coconut or coconut flakes (unsweetened)
Nuts and seeds
Nut butters such as peanut, almond, cashew, etc. with no added sugars or hydrogenated oils. Also a source of protein!
Tahini – essential for hummus, another great protein source.
Olives
In general, choose minimally processed whole food sources of oil and fats.
Vegetable oils such as canola are touted as healthy but are, in fact, highly inflammatory. They may also be rancid – just chemically treated to hide the unpleasant odor. Yuck!
Healthy oils and fats can go rancid over time, and if not stored properly. Be sure to check your supply and rotate out products that are near expiration. Replace with fresh products.
Butter can actually be home-canned, and you can also purchase canned butter! I've not tried it myself but have seen several YouTubers trying it and they've all said it tastes just like butter.
I've also found some powdered fat products! Look for products without fillers and off-plan ingredients. There are quite a few "keto friendly" products out there, most of which are suitable for THM.
One of my favorite sources for healthy foods such as olive oil, coconut oil, coconut flour, nuts, and seeds is Wildly Organic.
Non Starchies To Store For Emergencies.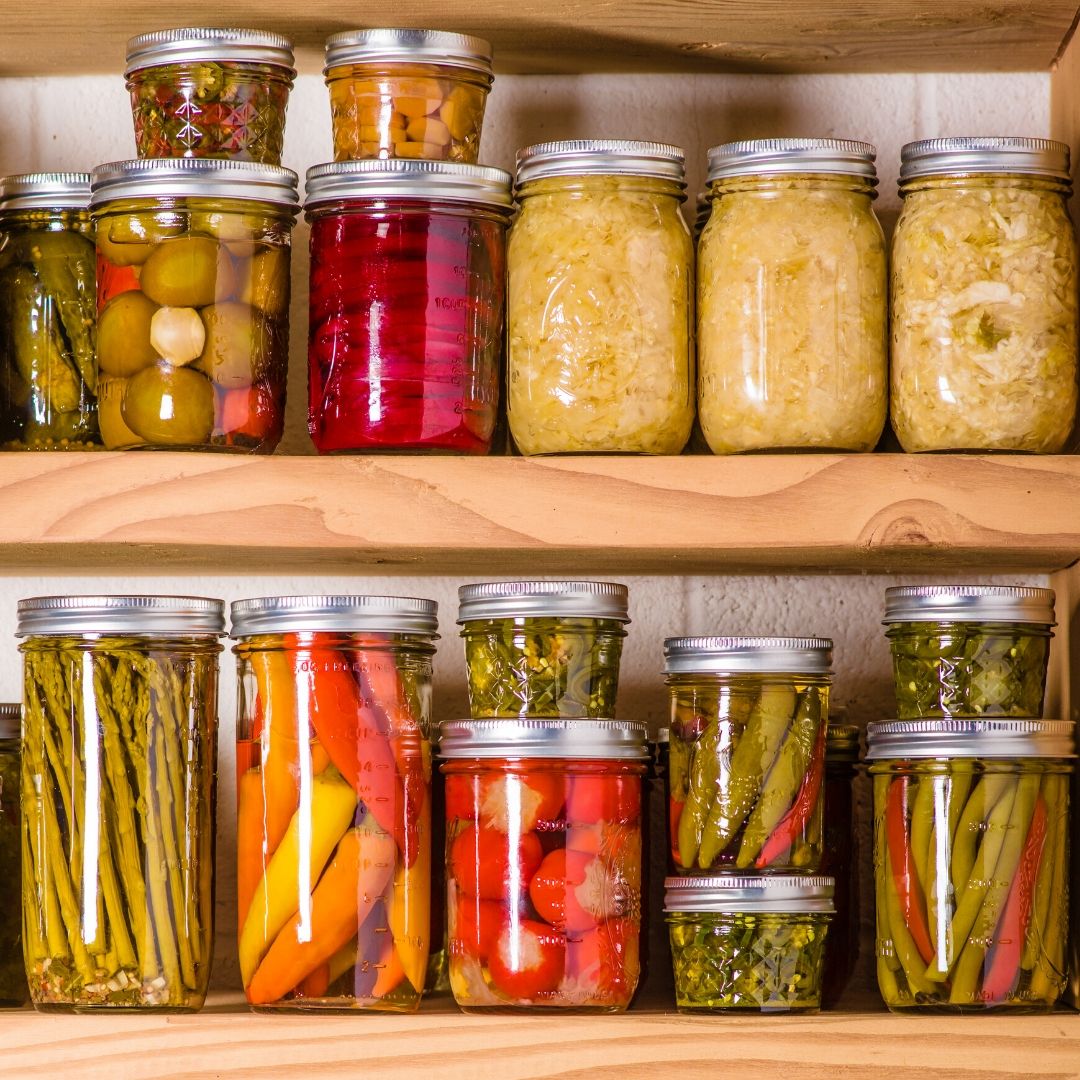 Canned veggies may not be your favorite, but in an emergency situation you'll be happy to have them! Many vegetables can be found either in cans or pouches. Other options include freeze dried or dehydrated products.
Green beans
Asparagus
Turnips
Mushrooms (canned or dried)
Artichokes
Tomatoes (sauce, paste, diced, dried)
Spaghetti sauce
Spinach and other greens
Pickles (you can also find pickles in pouches instead of jars, great for packing if necessary)
Sauerkraut
Kimchi
Pickled non-starchy veggies of all kinds – capers, chow chow, mixed pickle, dilly beans, etc.
Dried kale or other greens, especially delicious seasoned with your favorite seasoning blends and nutritional yeast.
Powdered greens, great for adding to soups and beverages
Dried veggies for soup (this soup blend does contain potatoes)
In general, dried veggies take up the least amount of room and are easiest to carry if necessary. But if you're in a shelter-in-place situation, canned food will likely be more appetizing.
Dehydrating dark, leafy greens like kale, spinach, chard, etc. and making a powder out of them is a great way to get some of the nutritional benefits of greens when they're just not available. Sprinkle the powder into soups, stews, and even sweet things.
Trim Healthy Mama Products To Have On Hand In Case Of Emergency.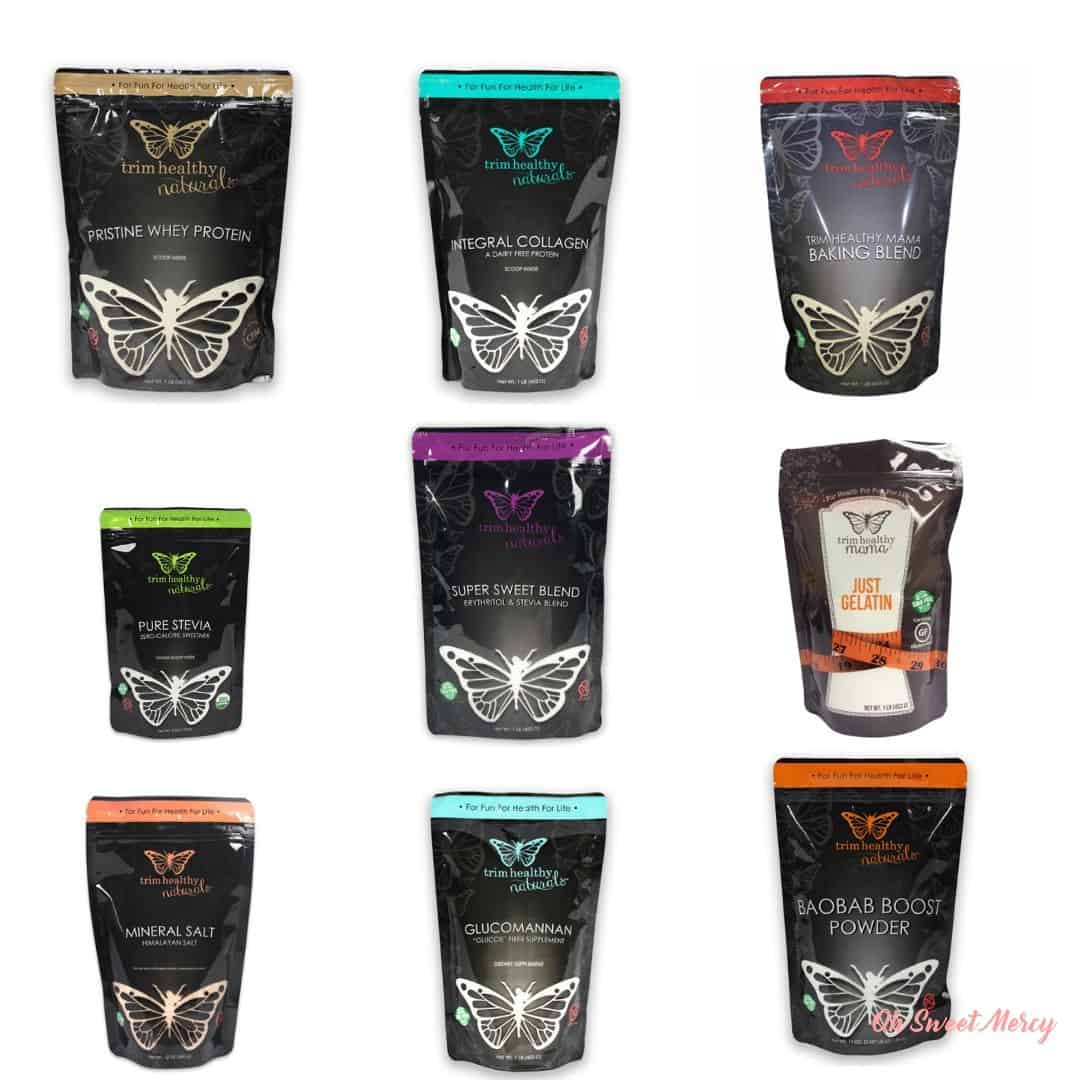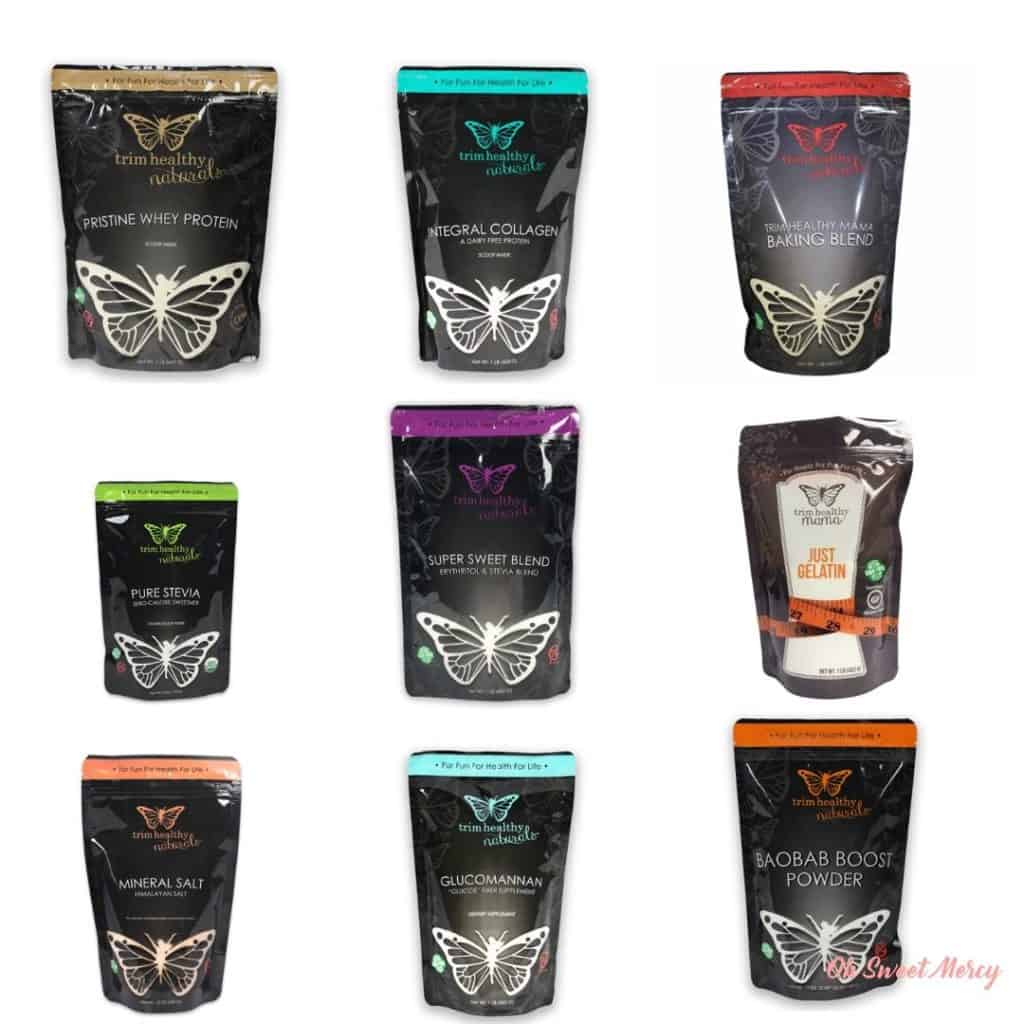 Get your FREE downloadable THM Emergency Pantry Checklist!
While the products offered by Trim Healthy Mama are not mandatory, many of them make our THM life easier. That also goes for doing our best to stay healthy and on-plan during a disaster.
All of the products listed below can be found by other manufacturers so if you can't purchase through my THM affiliate links, please look around your local area to find comparable products if you can.
These are also products you're likely to use daily on THM anyway, so purchasing an extra when you can and adding to your emergency preparedness food pantry is easy to do.
Just remember to make sure your stored food items stay fresh and in good condition. Checking every few months and rotating out soon to expire foods is smart.
Miscellaneous Items To Make Emergency Food Better.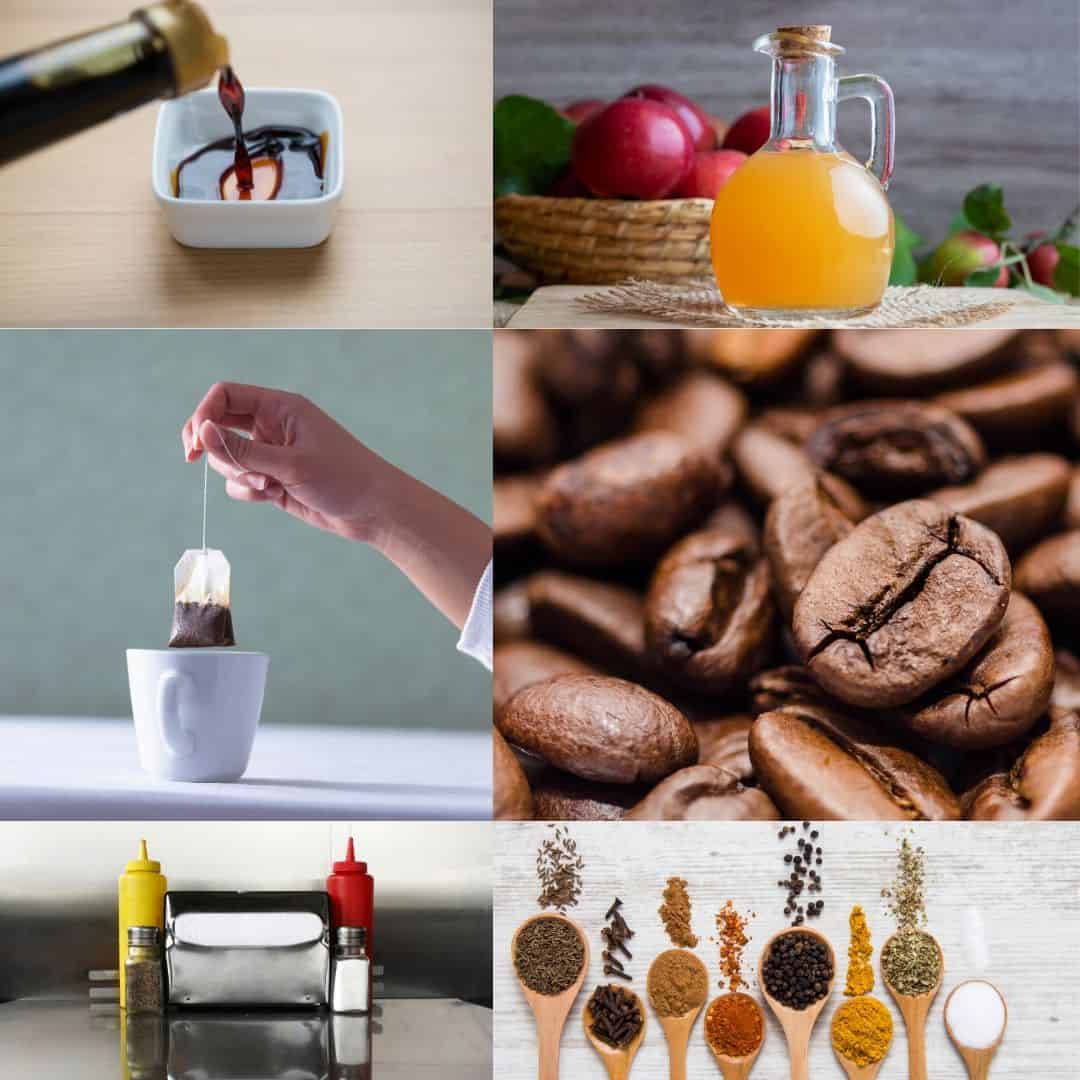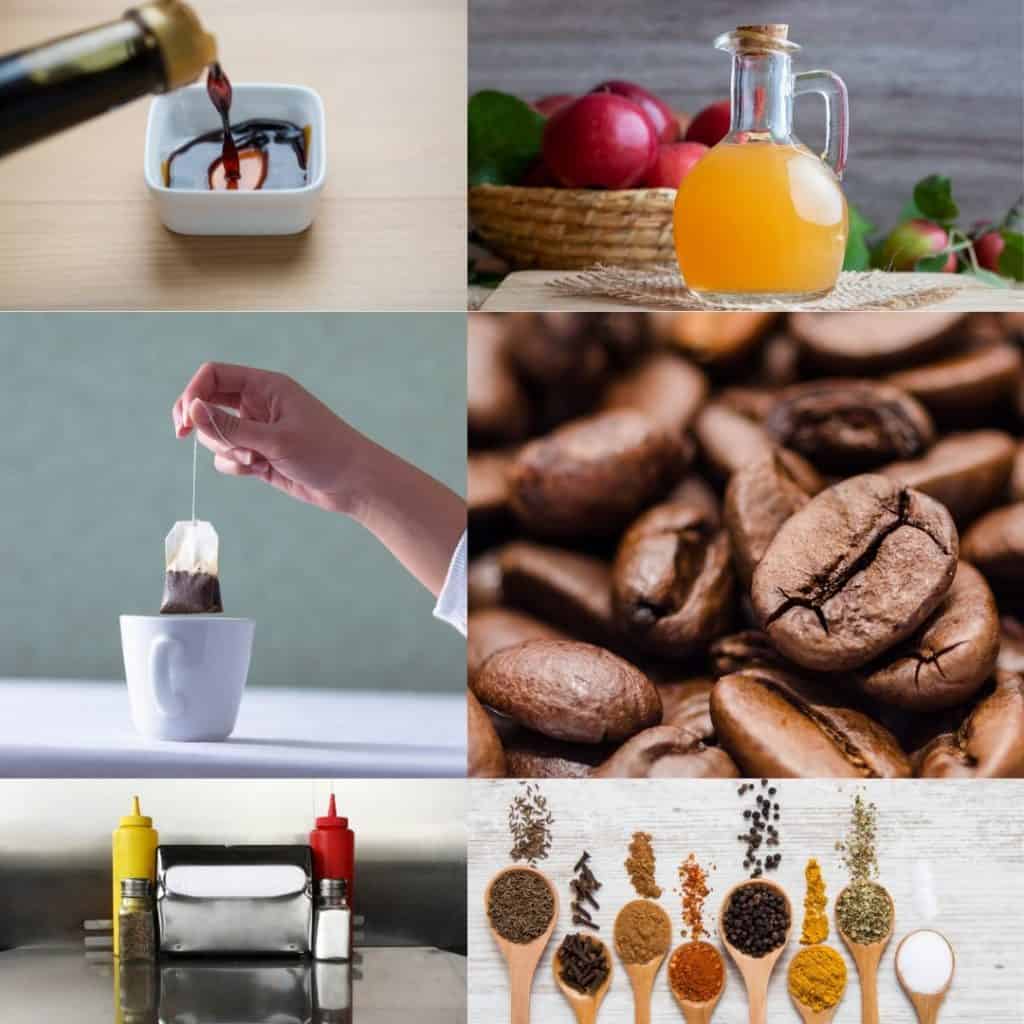 When thinking of stocking our pantries for an emergency, we typically think of the main food items. But, don't forget the incidentals!
Spices, seasonings, and convenient forms of foods we use daily make the task of preparing delicious, healthy, and satisfying meals much easier.
Coffee – instant is easiest and packable
Tea – like oolong so you can keep making your Shrinker, Mama!
Apple cider vinegar – good for Good Girl Moonshine as well as medicinal.
Liquid aminos – great for making sure you get the necessary amino acids, especially if you're eating meatless. Just use sparingly if water is hard to come by, it is high in sodium.
Spices and seasonings – make your own or purchase
Condiment packs – ask for extra if you're at a fast food place, gas station, or grocery store with a deli area and add them to your emergency food stash. Mayo packets are particularly great to have as they keep without refrigeration. Tuna, chicken, and other salads can quickly be made without cooking by adding a little mayo and seasonings.
Almond and coconut flour (or other nut flour blends)
Shredded coconut (unsweetened)
Also consider honey and molasses. Raw honey can be used medicinally and molasses is a rich source of iron and other minerals.
And, a collection of your favorite, easy canned food recipes that also work when camping helps you make THM meals when your normal routine is interrupted due to a disaster or other emergency. If you're someone who needs recipes and isn't comfortable just throwing meals together, this is an essential thing to have in your THM survival kit!
Many recipes can be made with canned food and other pantry staples. Substitute canned meats for fresh, canned vegetables for fresh, and dried herbs (unless you have herbs growing in your yard or kitchen).
Easy Canned Food Recipes That Are THM Friendly.
Many recipes can be made by simply swapping canned foods for the fresh. Beans can often be substituted for meats as well, or added along with meats to make your meat supply stretch farther.
TIP: In general, one cup of cubed or shredded cooked chicken roughly equals one breast (actually, one breast lobe). This can vary greatly due to the difference in sizes. But it's a good rule of thumb and easy to remember.
Here are some recipes on OSM that you could easily prepare with canned foods. If they are Instant Pot recipes, you can easily just cook on the stove.
Other Items To Add To Your Emergency Preparedness Plan.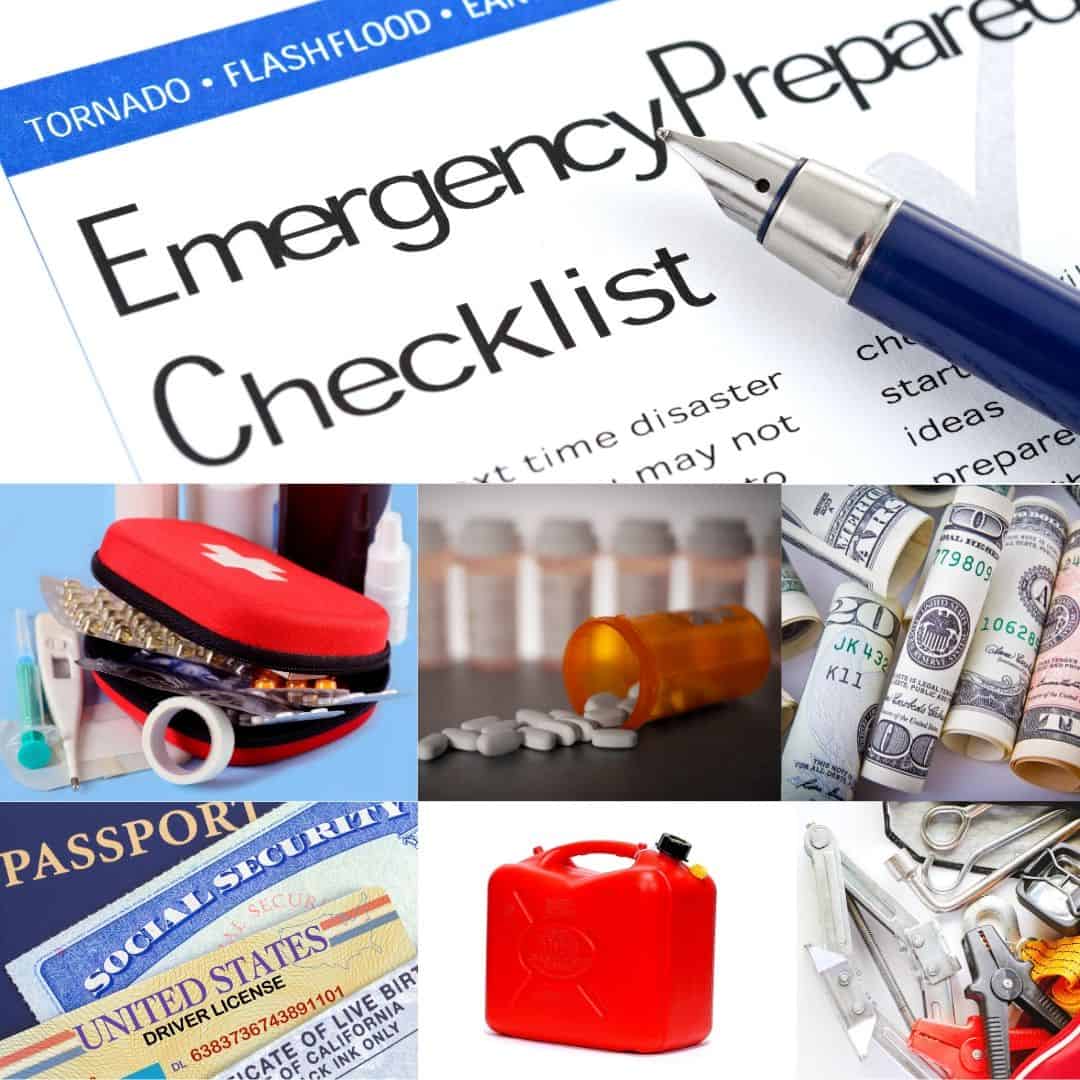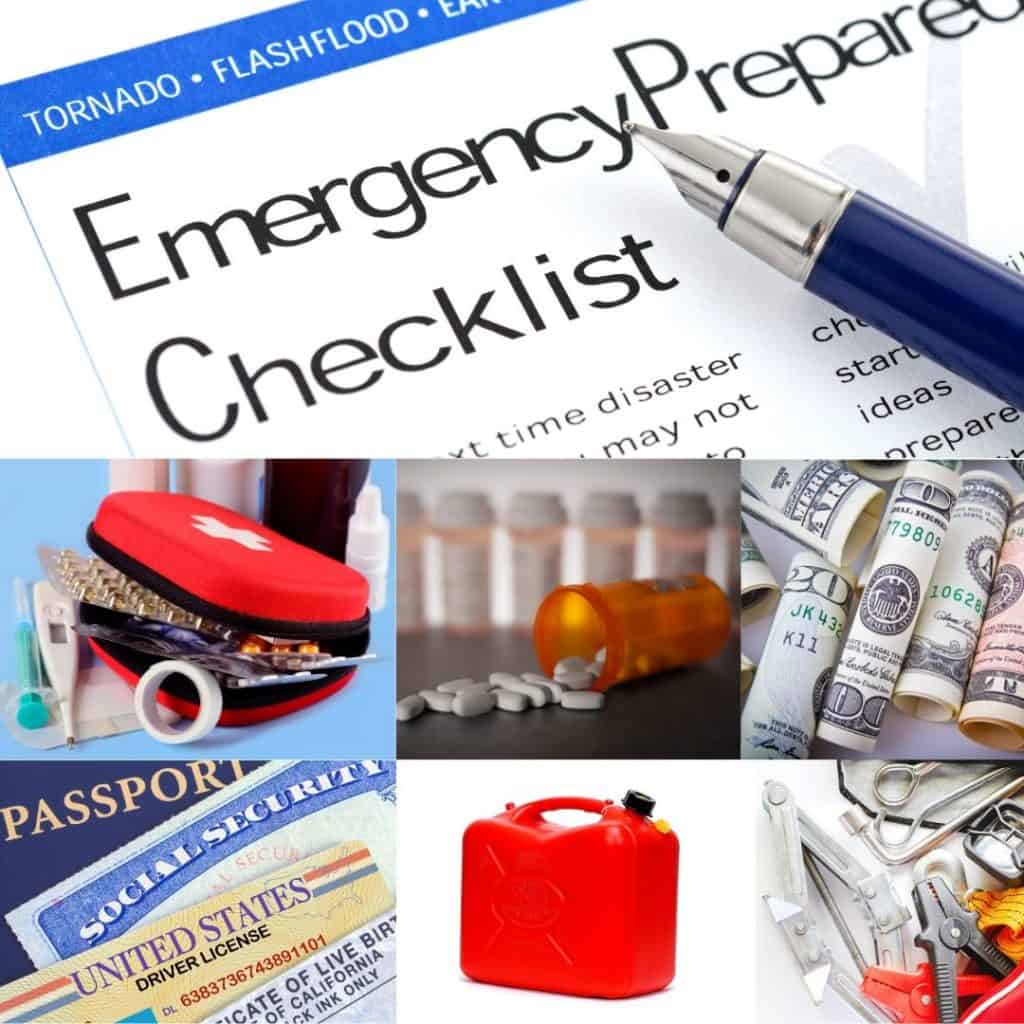 It's great to have a fully stocked emergency food store, even better if it's stocked with healthy, THM friendly food options. But if you can't open it or prepare it, that food is not going to do much good, right?
Here are some items I recommend having in your THM-friendly emergency preparedness kit:
Can opener (don't skimp and buy the cheapest, you want it to be able to open canned food for as long as you need to!)
At least one sharp knife
Small cutting board
Small whisk
Small mixing bowl – stainless steel can also double as a cooking pot if necessary
A mixing spoon
At least one cooking pot for food – camping cookware is great in case you need to evacuate, too
A pot just to boil water
Eating utensils and bowls for each person in the family
Cooking fuel, such as Sterno cans, emergency candles, emergency camp stove, or other cooking source
Matches, lighters
Dish pan
Dish soap and dish cloth
Towels – kitchen and paper
Bleach or other disinfectant
And finally, in general your disaster preparedness kit should also include:
Bottled water or a way to purify water
A good first aid kit
Disposable gloves
OTC Medicines – pain reliever/fever reducers, cold or allergy medicines, heartburn medicine, anti-diarrhea meds
Prescription medicines, especially if you are on any kind of maintenance medications.
Diabetic supplies – insulin, meter and test strips, glucose tablets
Toilet paper, feminine hygiene, diapers, wipes
Soap, shampoo, toothpaste, deoderant
Baby formula and sterile water
A few books, toys, games, etc for the kids/family
Pet/livestock foods and medications
Totes or other sturdy, vermin-proof containers to store your supplies
Backpacks, in case you need to quickly evacuate
Tools
Small sewing kit
Flashlights/lanterns
Batteries
Fuel for vehicles, heaters, etc.
Important papers such as birth certificates, social security cards, passports, banking information, medical information (including blood types of family members), etc.
Contact numbers for family members and next of kin
Your family's needs may include other things not listed above. Be sure to include things specific to your own family/location/situation.
Prepare Mentally, Emotionally, And Spiritually.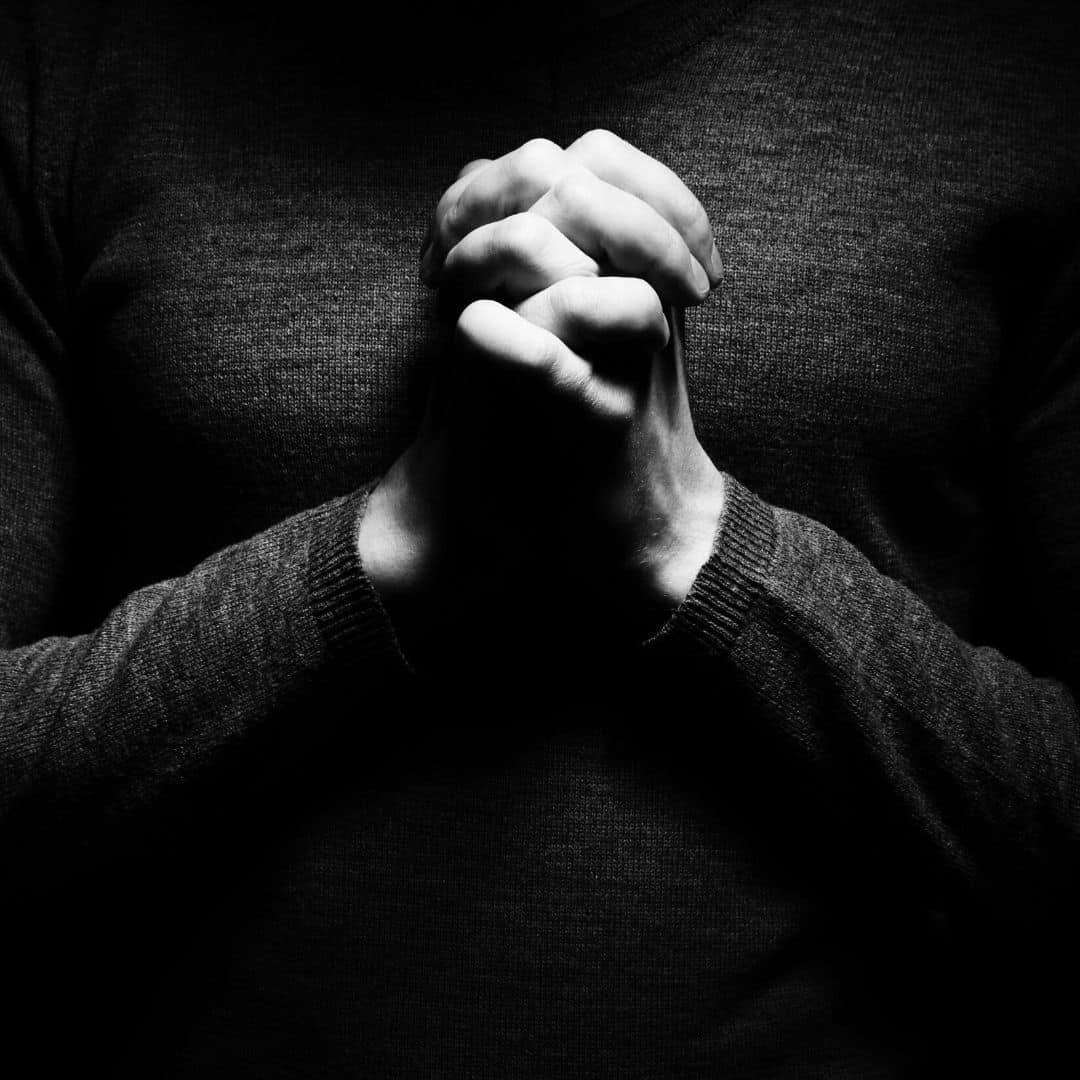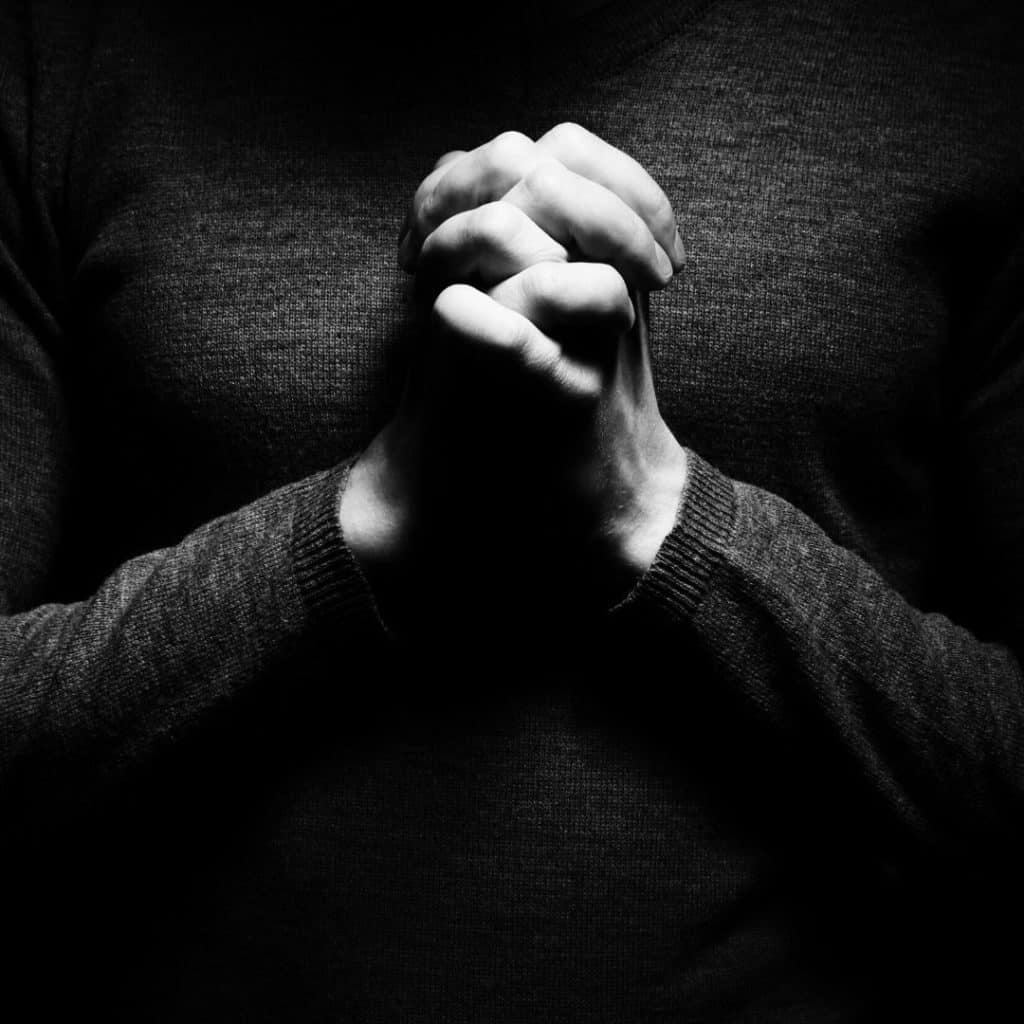 After doing all you can do to prepare with food, water, first aid, and other survival-necessary essentials, take some time to also prepare your heart, mind, and soul.
Panic never does anyone any good. More people are hurt or killed because of panic sometimes than the actual disaster. Having a clear head and being able to take a breath and think through a situation instead of reacting out of fear will likely save your life and the lives of those around you.
Having a detailed plan and knowing what you should do in the event of any number of emergencies is so helpful. Practice as a family for evacuation, in case you are all separated when disaster strikes, and for various situations as much as you are able. Make sure everyone knows where to meet or what to do if something happens and they're on their own.
Prepare spiritually and emotionally as well. If you're a person of faith, pray for guidance and wisdom as well as protection. Accept that some things are beyond your control and all you can do is prepare the best you can and have faith for the rest. Worrying and stressing over what might happen won't help you either, so try to keep that to a minimum.
It's good to be aware of potential dangers and situations that may come up, not so good to live in a constant state of fear and panic over it.
Is Your THM Pantry Prepared For An Emergency?
Get your FREE downloadable THM Emergency Pantry Checklist!