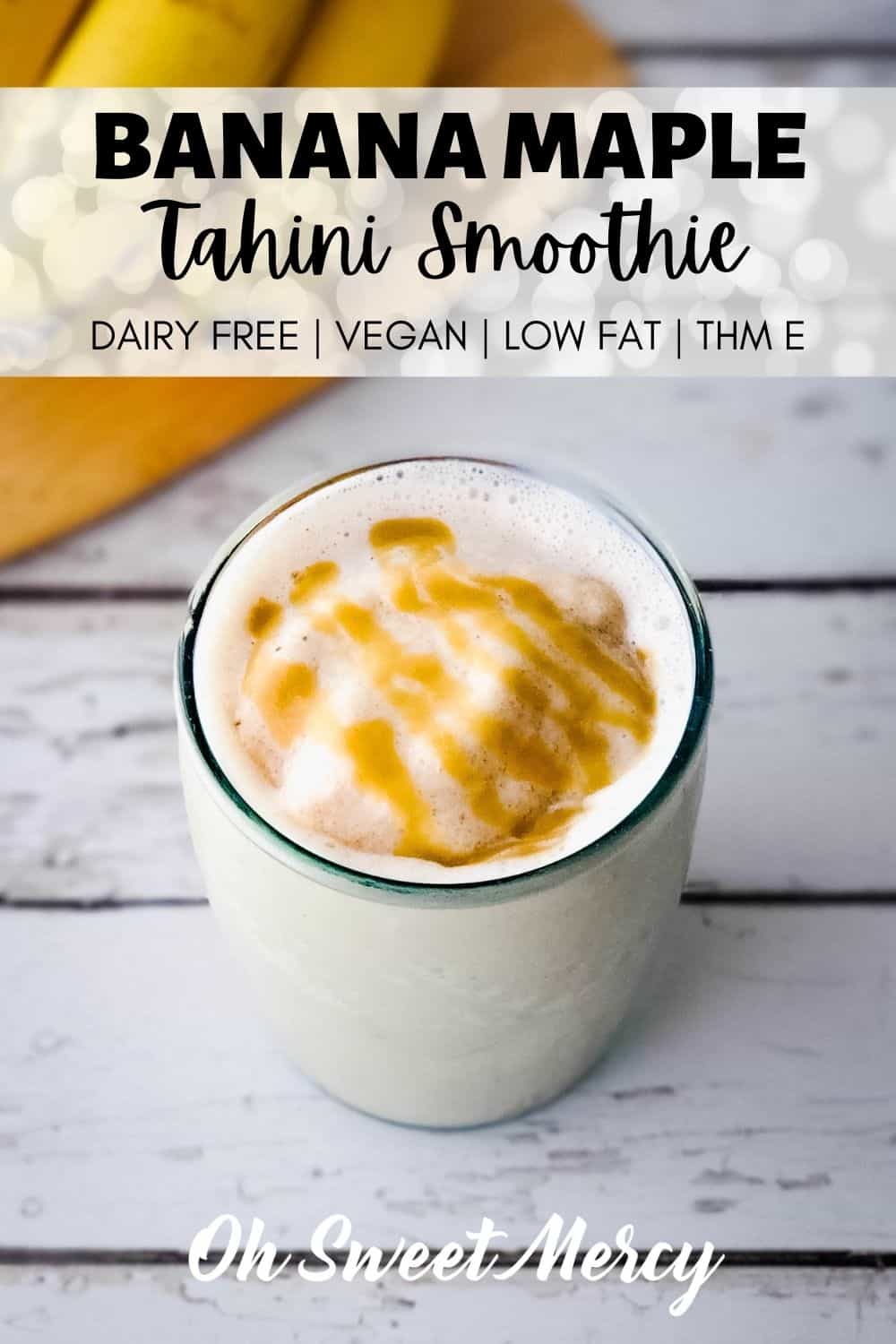 ---
Bananas make smoothies nice and creamy without dairy! My Banana Maple Tahini Smoothie is a creamy, dreamy, low fat THM treat perfect for breakfast or any time of day. Dairy free and vegan means this recipe's terrific for just about anyone!
---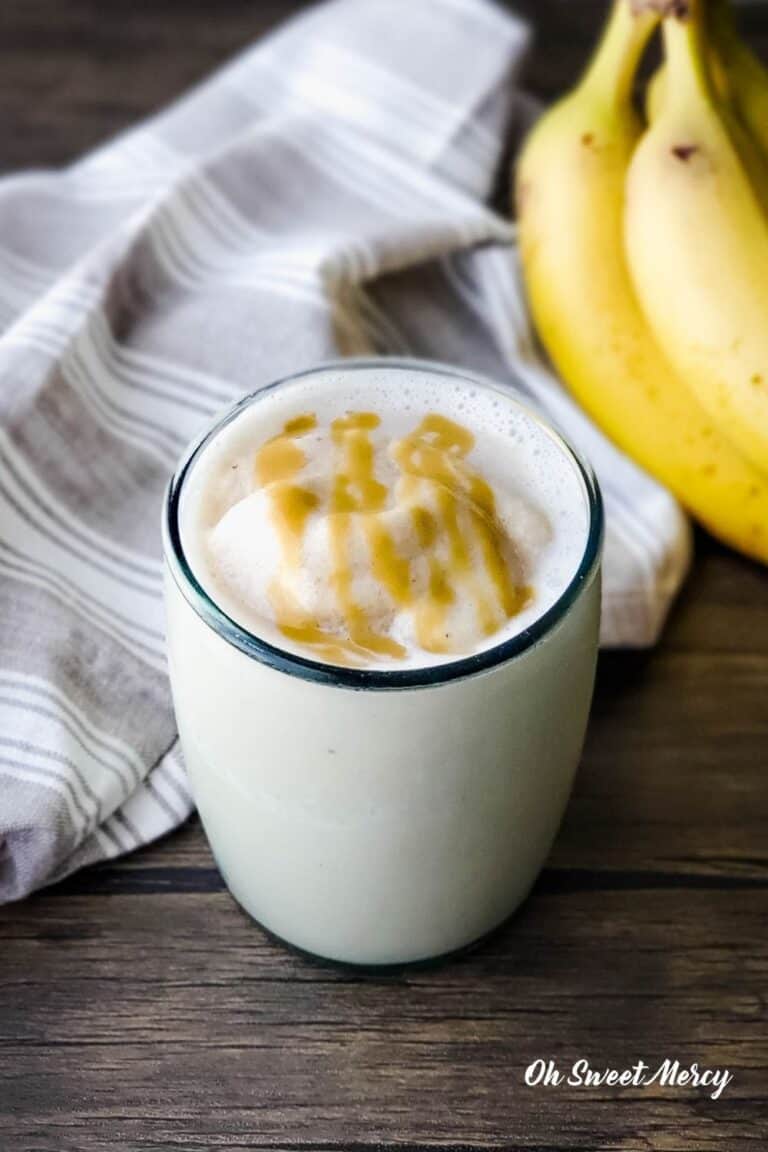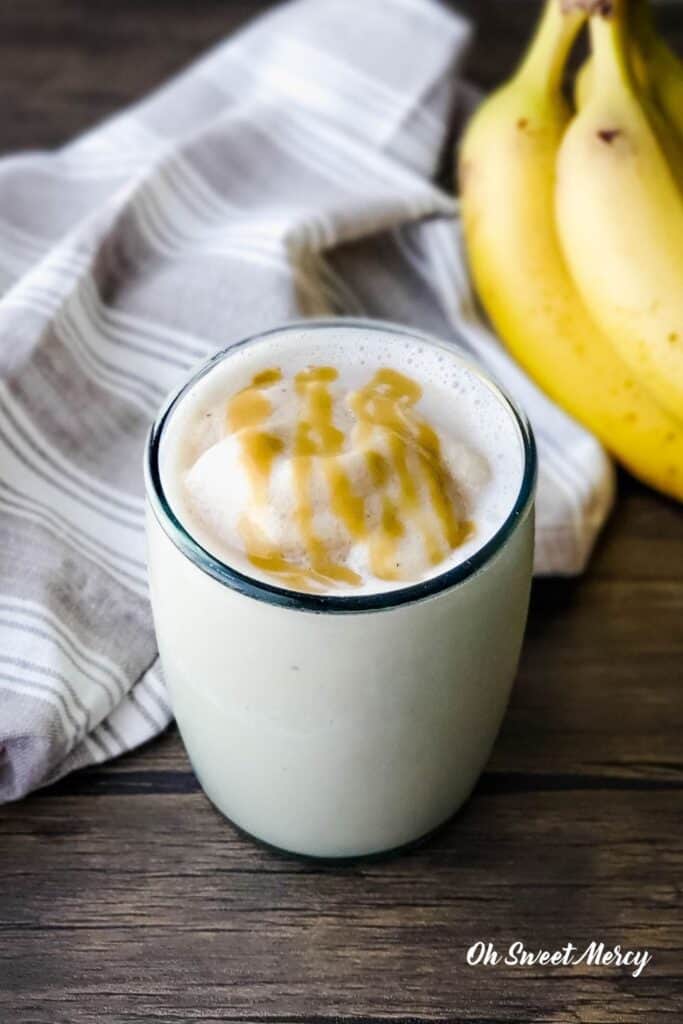 Smoothies are a go-to for me many days. Too busy to cook? Make a smoothie. Hot outside? Smoothie. Don't feel like chewing? Yep, smoothie time.
Since I'm dairy free these days that means no whey protein powder for me. However, Trim Healthy Mama's Creamy Dreamy Plant Protein Powder never lets me down! It's truly creamy and dreamy and I love it so much.
No, this is not a sponsored post from THM. I just REALLY love this product! It's simply pure, defatted hemp protein powder. It's not gritty like every other vegan protein powder I've tried, though like any plant-based protein powder it doesn't completely dissolve like whey protein or collagen does.
I can detect a very faint hempy nuttiness to it, but most of the time that flavor gets covered up by the other ingredients I use. In this recipe I think it's a terrific compliment to the nutty flavor of tahini (which is made with sesame seeds) and really makes this banana smoothie scrumptious.
What Do I Need For This Recipe?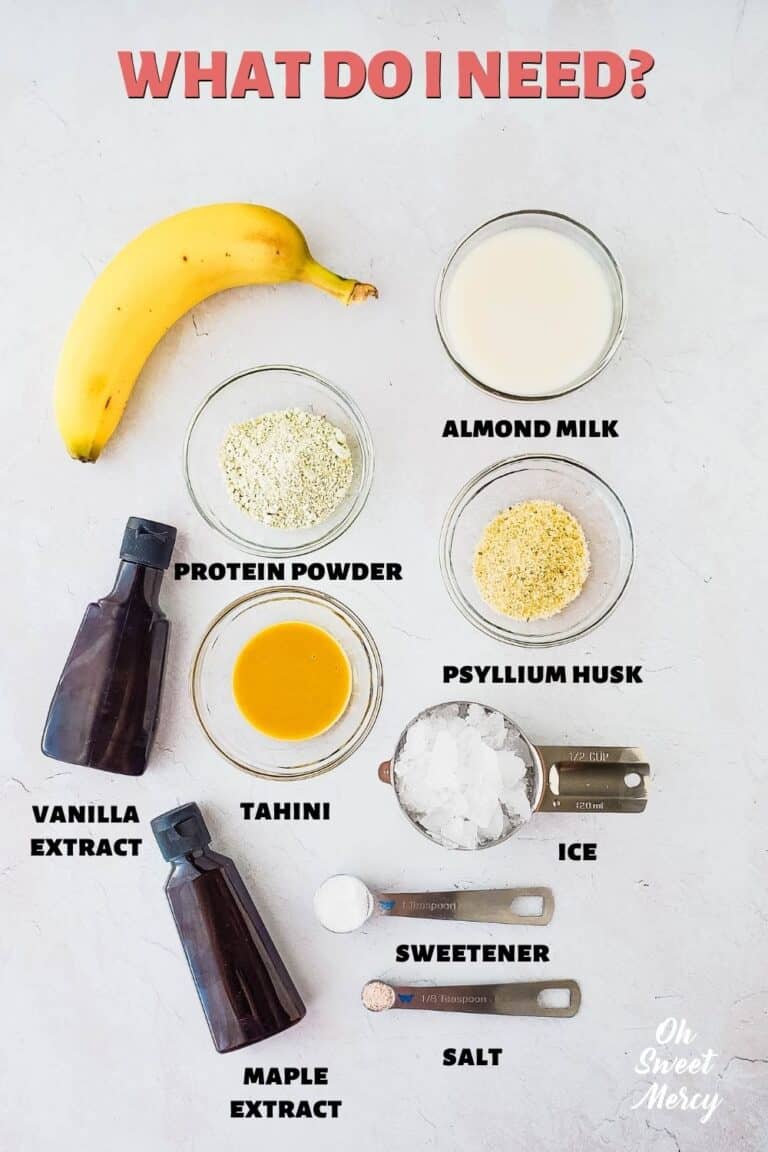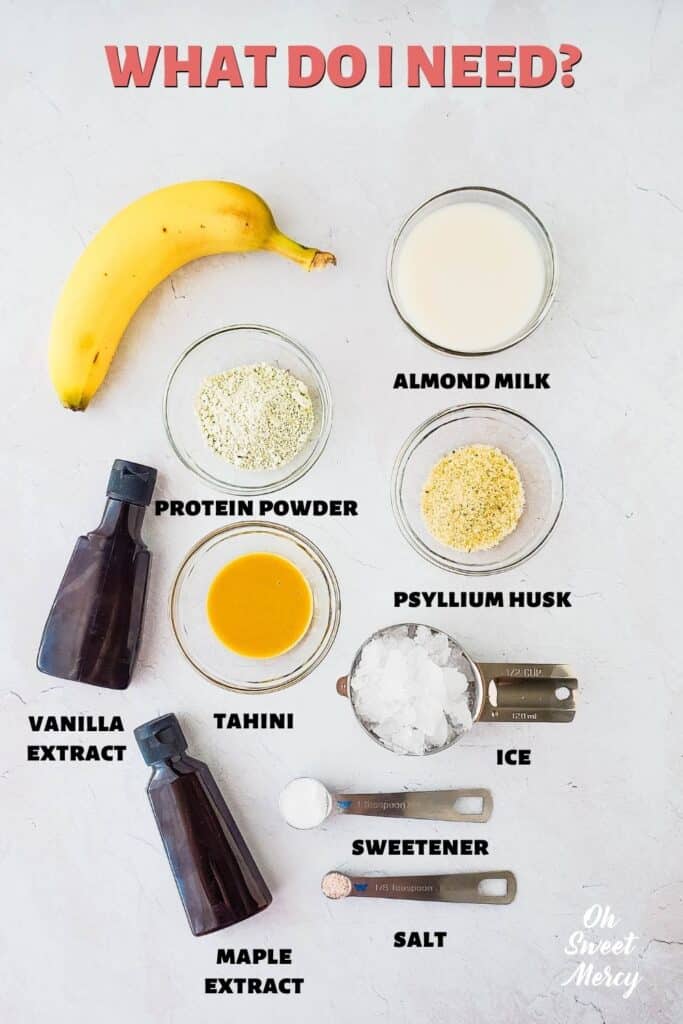 Feel free to use any protein powder you like, just be aware it may change the flavor of this banana smoothie recipe. I've found other plant-based protein powders often have a rather prominent flavor that's hard to disguise. Not necessarily a bad flavor, just really "in your face" so to speak.
For this smooth and creamy THM E banana smoothie, you need:
unsweetened almond milk, or other non-dairy milk
ripe banana (frozen bananas also work)
tahini
maple extract
vanilla extract
psyllium husk (optional but added fiber is good for blood sugar control)
Creamy Dreamy Plant Protein Powder
sweetener
high mineral salt, such as pink Himalayan
crushed ice
If using frozen bananas you might need more than 1/2 cup of liquid. I recommend using water to keep the fats low for THM E purposes.
Did You Know This About Bananas?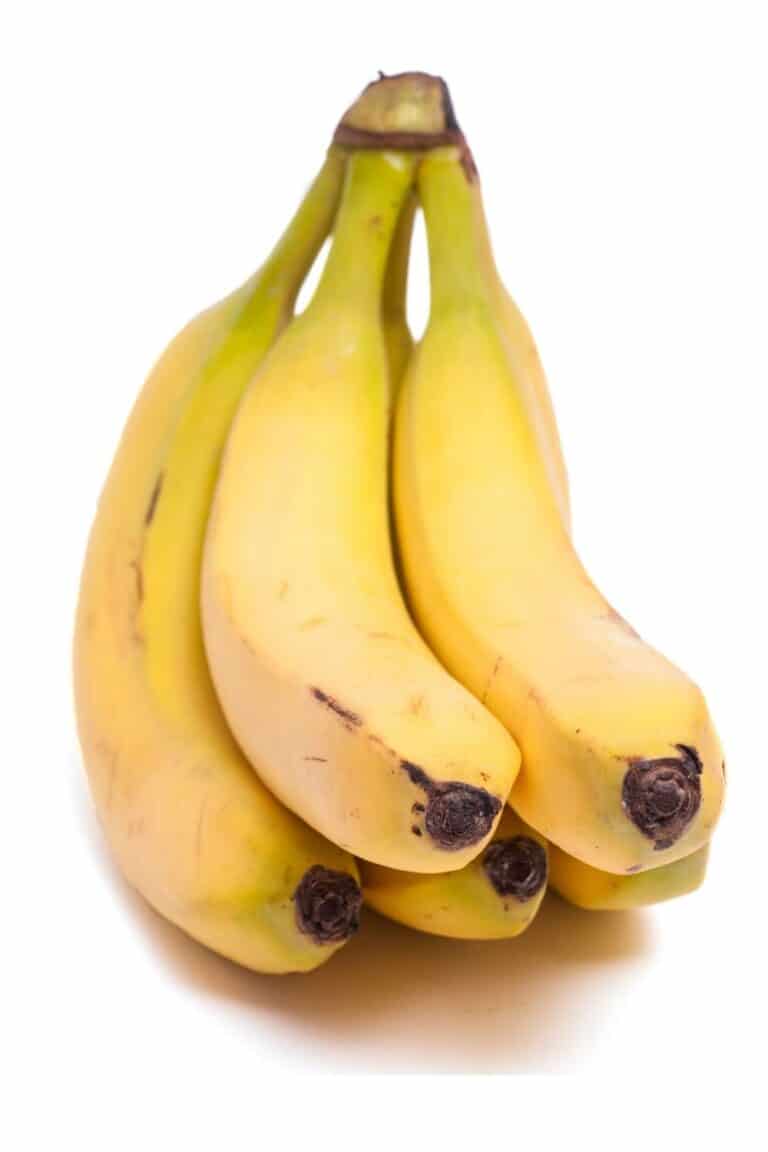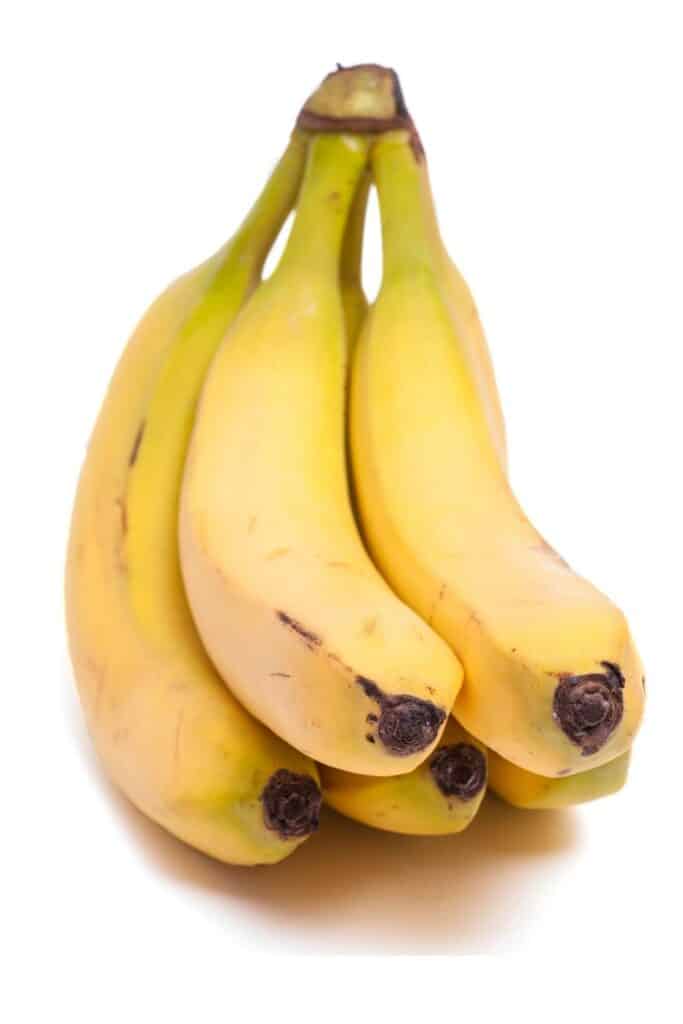 Bananas are not only tasty but may also help improve your mood. How's that? They contain tyrosine, which your body uses to produce dopamine.
They also contain serotonin, however it is not able to cross the blood-brain barrier. But, bananas can help support your body's production of this important neurotransmitter.
Vitamin B-6 is important for both dopamine and seratonin production and bananas are a great source of that, too.
While eating a banana may not instantly improve your mood, this fruit is one of many foods containing nutrients that support mood. Check out this list of healthy foods that support mood plus foods that may deplete dopamine over time.
One thing I can attest to is that eating lentils, which are high in B vitamins, makes me feel fantastic! What we eat is so important to our overall health – not just physically but mentally and emotionally, too.

While we may not be able to eat perfectly all the time, choosing foods that support good mental and emotional health more often can help in the long run.
Lately, I've been craving bananas a LOT. It's odd as I've gone years basically not eating bananas at all. I typically take one with me to our twice-a-week karate class because I've been wanting one after karate. Perhaps I need the potassium after all that exercise, too?
How To Fit This Healthy Maple Banana Tahini Smoothie Into Your THM Meal Plan This Week.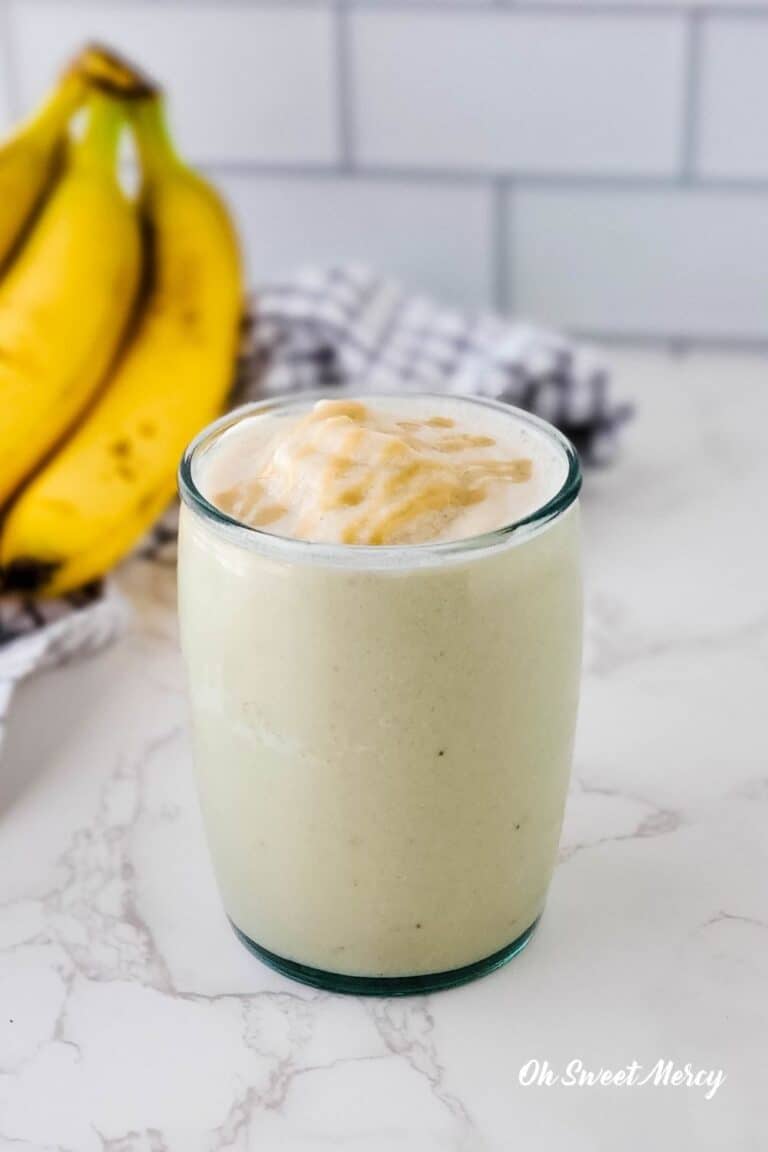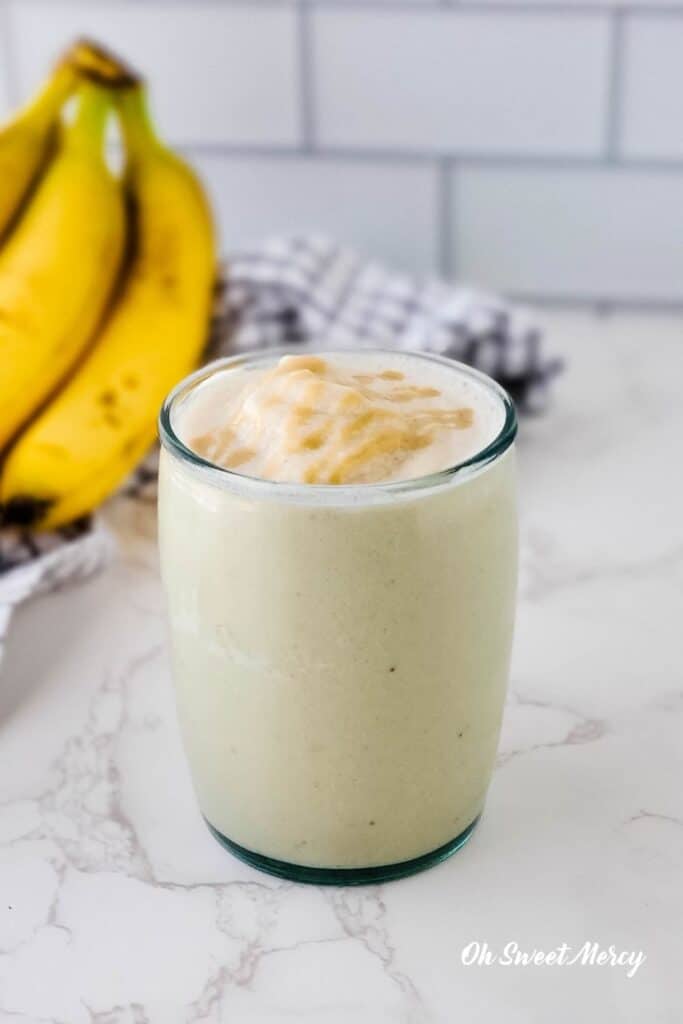 Always consult the Trim Healthy Mama Plan Book for the most accurate information on how to put your meals together.
As written, this smoothie is a delicious THM E option. Our added healthy fats come from the tahini. It makes a quick and easy breakfast (or any meal of the day, really)!
NOTE: The photos shown have tahini drizzled on top for visual appeal. Adding more tahini to this recipe as written will turn this THM E into a THM XO (Crossover). Still on plan, but not as conducive to weight loss!
In addition, a cool, creamy, Banana Maple Tahini Smoothie works as a snack or dessert. I'd recommend reducing the protein powder if having as a snack or dessert.
Of course, if you need that much protein then feel free to use the full amount. Many times, when I'm eating an entirely plant based meal, I'll use a smoothie like this as my main protein source.
But, if you're having a grilled chicken breast in your THM E meal, you don't necessarily need 20 grams of protein in your smoothie. You can, of course, omit the protein powder all together if needed.
If you like banana smoothies I hope you'll give this a try!
Pin It!
Pin the image below to your favorite Pinterest boards: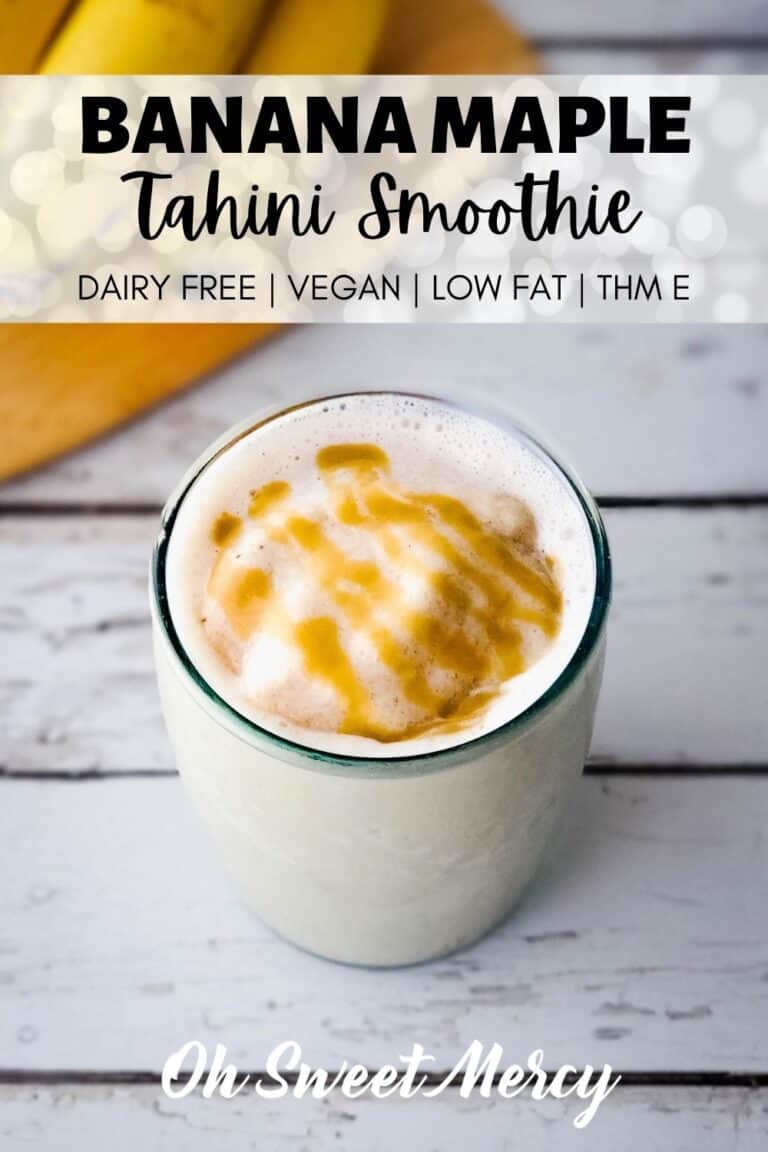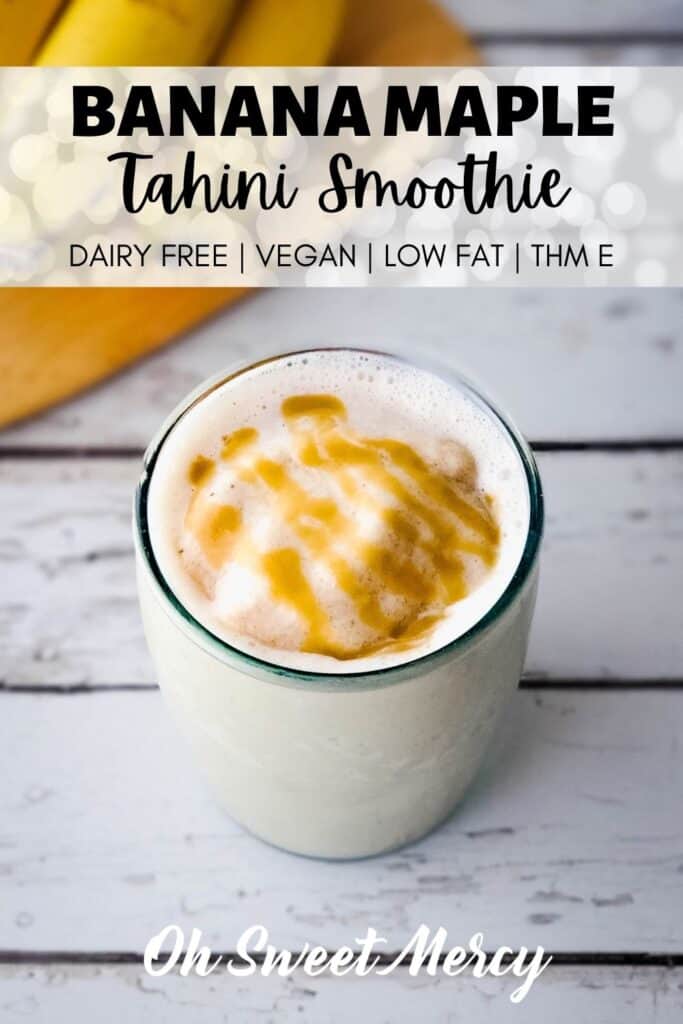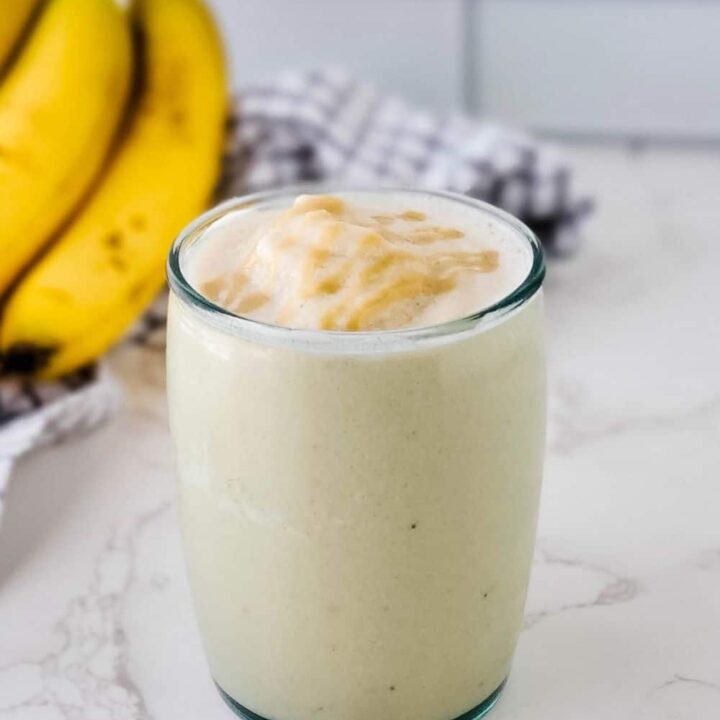 Banana Maple Tahini Smoothie | THM E, Low Fat, Dairy Free
Yield: 1 serving
Prep Time: 5 minutes
Total Time: 5 minutes
Cool, creamy, and dairy free, this scrumptious Banana Maple Tahini Smoothie is a satisfying low-fat THM E option. Any protein powder options can be used but my favorite is the THM Creamy Dreamy Plant Protein Powder.
Ingredients
1/2 cup unsweetened almond milk
1 banana
2 teaspoons psyllium husk
1 1/2 teaspoons maple extract
1 teaspoon tahini
1 teaspoon vanilla extract
1 teaspoon THM Super Sweet or preferred sweetener to taste
1/8 teaspoon high mineral salt (sea salt, pink Himalayan, etc.)
1 cup crushed ice
Instructions
Add all ingredients to a blender jar and blend until smooth and creamy.
Taste and adjust for preferred tastes, if needed.
If using frozen bananas, you may need additional liquid. Use water to keep in THM E range for added fats.
Recommended Products
As an Amazon Associate and member of other affiliate programs, I earn from qualifying purchases.
Nutrition Information:
Yield: 1
Serving Size: 1
Amount Per Serving:
Calories: 299
Total Fat: 5g
Saturated Fat: 1g
Trans Fat: 0g
Unsaturated Fat: 4g
Cholesterol: 5mg
Sodium: 318mg
Carbohydrates: 38g
Fiber: 9g
Sugar: 16g
Protein: 29g
Nutrition information is approximate and based on the best knowledge available at the time of recipe publication. Your results may vary due to differences in ingredients. You can make your own calculations if this recipe does not include nutrition info by using an online calculator such as https://recipes.sparkpeople.com/recipe-calculator.asp