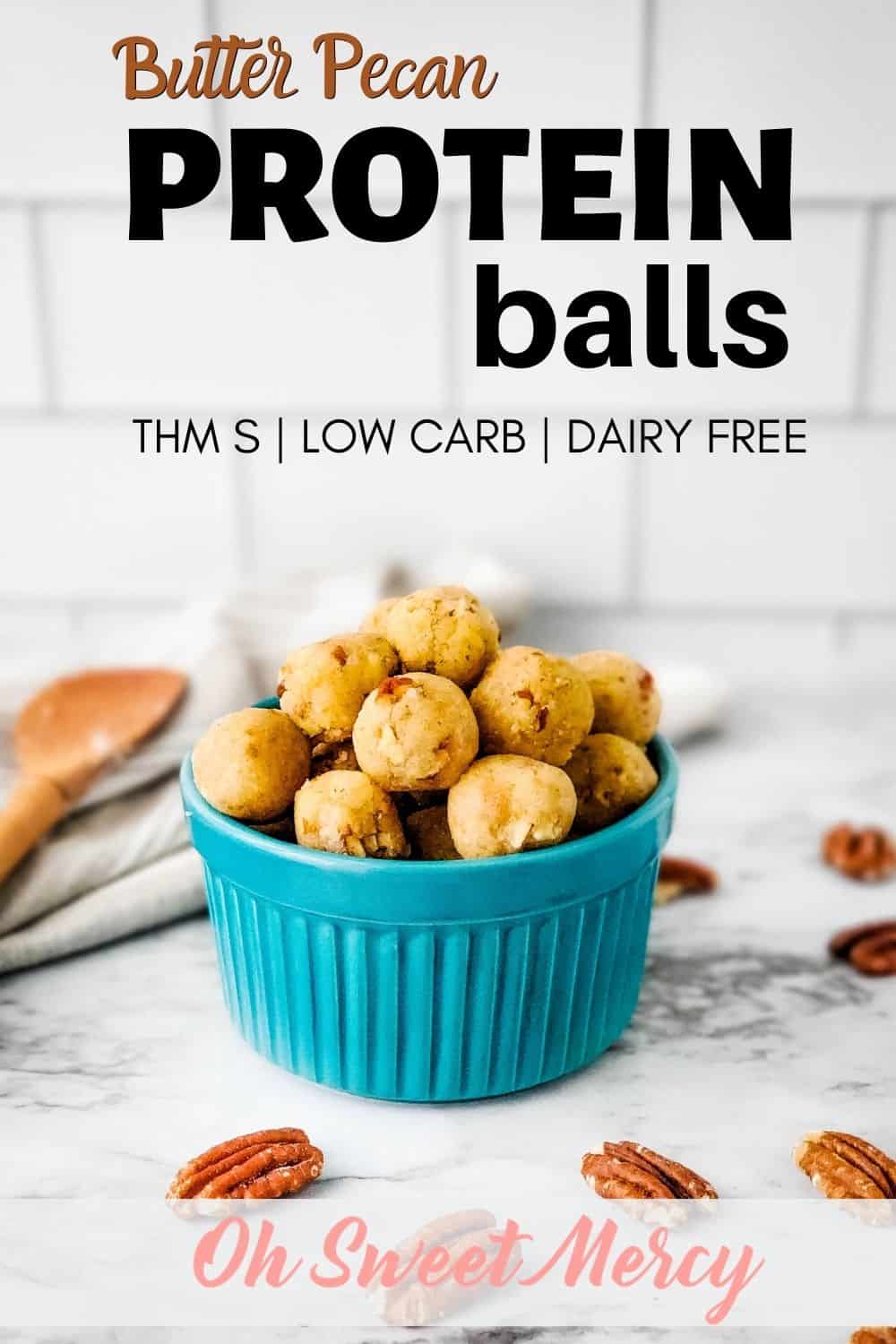 ---
Rich and buttery with crunchy bits of pecans, these Butter Pecan Protein Balls satisfy that craving for butter pecan desserts. Quick and easy to make, each one has almost 4 grams of protein and less than 1 gram of carbs. A perfect quick and portable THM S snack or dessert! Best of all, they're completely dairy free!
---
Butter pecan has always been a favorite ice cream flavor of mine. I haven't yet developed a THM-friendly ice cream, though it's on my list.
These little protein balls, even though they're not ice cream, satisfy my craving for that classic flavor.
They're perfect for a quick snack on a busy day or packing in your lunch (or for a long day of errand running).
My low carb Butter Pecan Protein Balls also make a delicious dessert. It's a bit like eating cookie dough. And we all love cookie dough, right?
What Do I Need To Make This Recipe?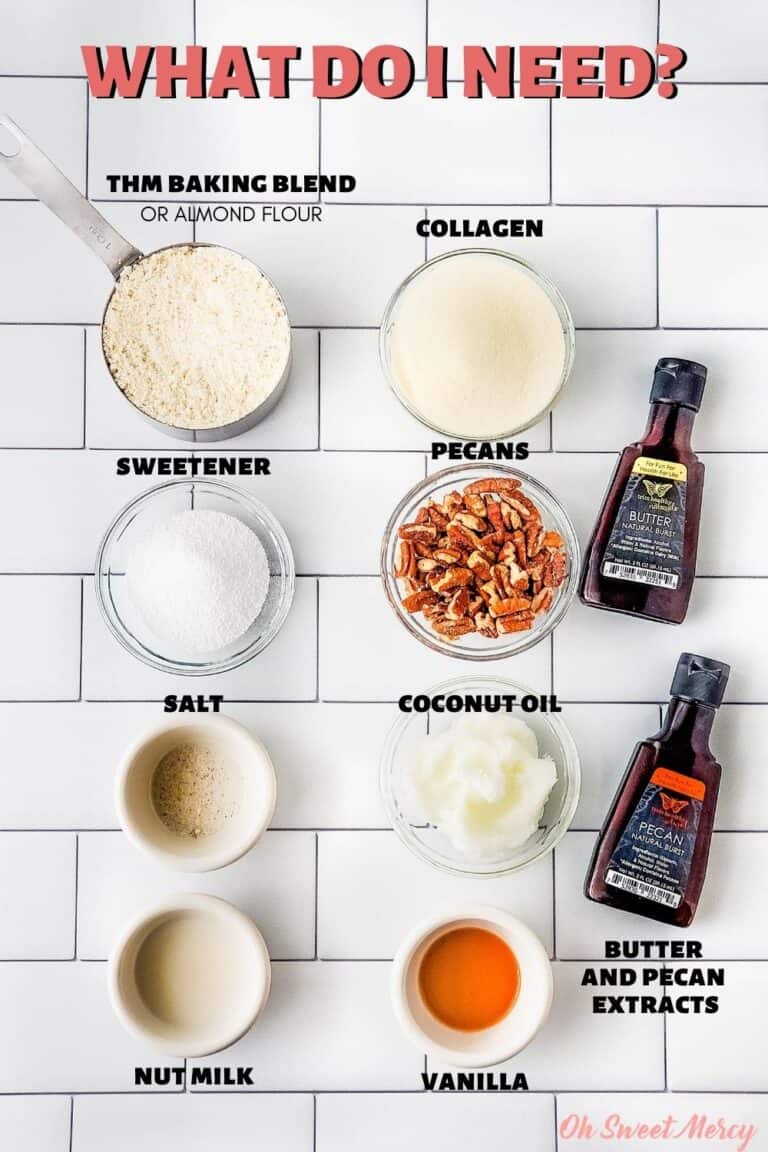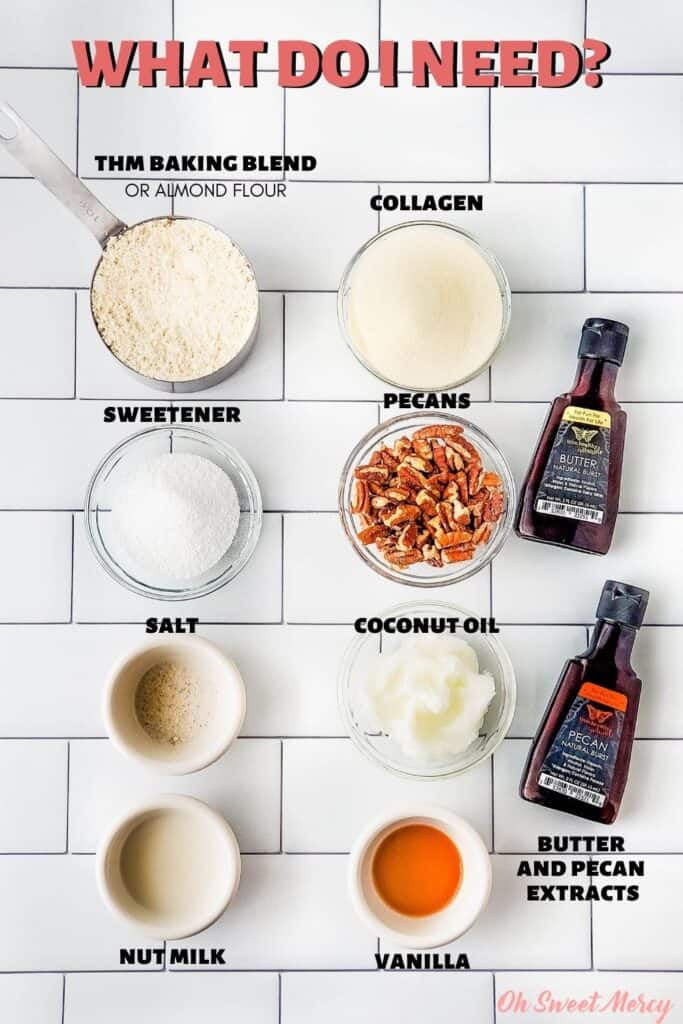 You'll need the following:
THM Baking Blend*
THM Integral Collagen (or your favorite collagen)
Chopped pecans (soaked and dehydrated pecans are awesome in this and super healthy)
Coconut oil (refined or buttery flavored)
Sweetener
Salt
Vanilla extract
THM Natural Burst Pecan (or other pecan extract)
THM Natural Burst Butter (or other butter extract)
Nut milk or water
OPTIONAL: add cinnamon for an absolutely amazing variation
Initially, I made these using THM Baking Blend. I also tested this low carb protein balls recipe using almond flour and almond flour plus oat fiber.
*I've not tried using a homemade baking blend, but it should work fine. Just read the recipe creator's notes on how it compares to THM Baking Blend and make adjustments as needed.
All variations turned out deliciously! The nutrition information at the bottom of the recipe card is based on using THM Baking Blend. For 20 balls, each one has 3.6 grams of protein, 4 grams of fat, and 0.3 grams of net carbs.
For almond and almond flour plus oat fiber, same amount of protein, 6.2 grams of fat, and 0.7 grams of carbs.
Of course, making larger protein balls means the yield (and nutrition info per ball) will change slightly.
No matter how you choose to make them, they're super easy and delicious!
Using Oat Fiber? Choose Wisely!
I am unashamedly a huge fan of THM Oat Fiber. I'd tried another brand and almost gave up on even using oat fiber because it was just awful.
Imagine, if you will, the aroma and taste of stale cardboard box. I don't know about you but I don't want my low carb goodies tasting like stale cardboard box.
Then I tried the THM Oat Fiber and what a game changer. No nasty, stale cardboard aroma or taste. Beautifully light and fluffy! It's the only oat fiber I buy now.
So, if you're happy with your brand of oat fiber, then feel free to use it if you'd like to make the almond flour and oat fiber variation.
If you're not happy with your brand of oat fiber, just leave it out! Either way you get the same amount of net carbs.
That may sound strange, but oat fiber has the same amount of carbs and fiber. This means you're adding 0 net carbs to the recipe, but you get the benefit of the soluble and insoluble fiber it contains.
Can I Use Whey Or Butter?
Absolutely. Just use the same measure of whey or butter as listed below.
I'm working on creating dairy free recipes for a few reasons – Sister and I need to cut back or eliminate it and for those THMs out there that need dairy free recipes.
How To Make My Butter Pecan Protein Balls.
You don't need any fancy equipment to make this recipe. In fact, you don't even need a mixer. I made every test batch with just a spoon and they were mixed and formed in around 15 minutes.
First, make sure your pecans are chopped into small pieces. The bagged chopped pecans at the store are often pretty large in size. If you have Pampered Chef Mix 'n Chop, it's great for this.
Just pour the pecans into your mixing bowl and chop them.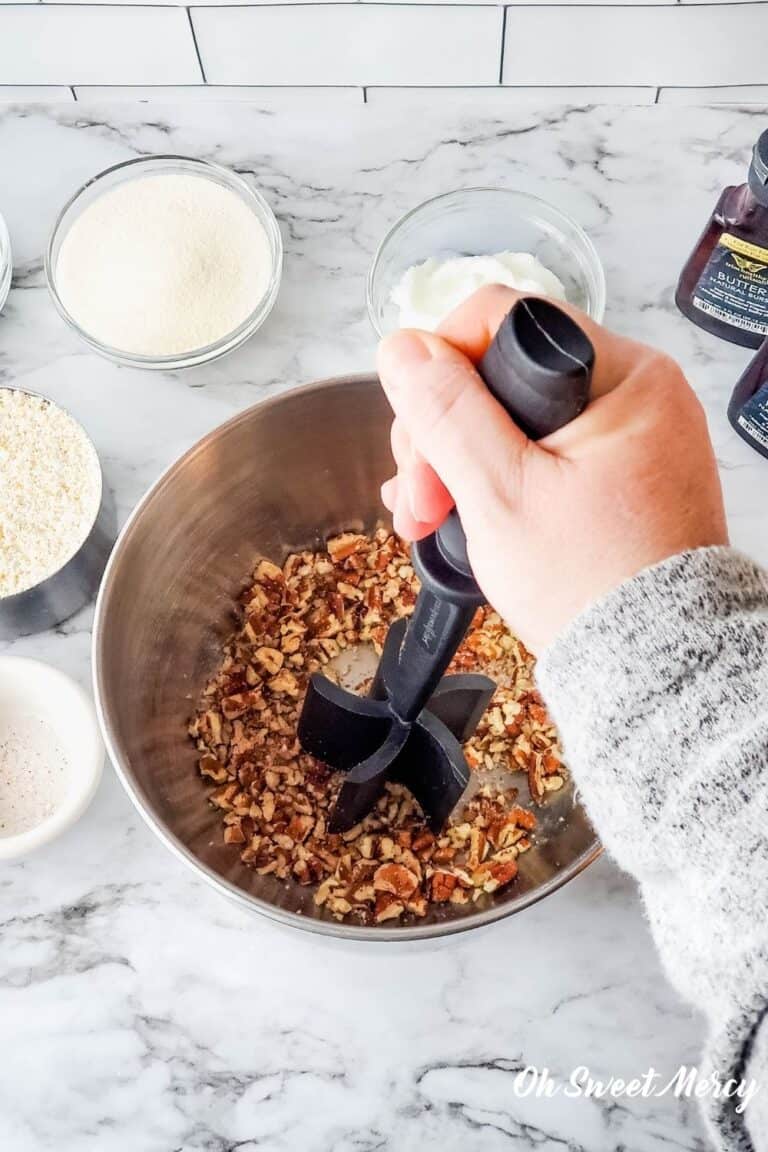 Next, add all your dry ingredients and mix well.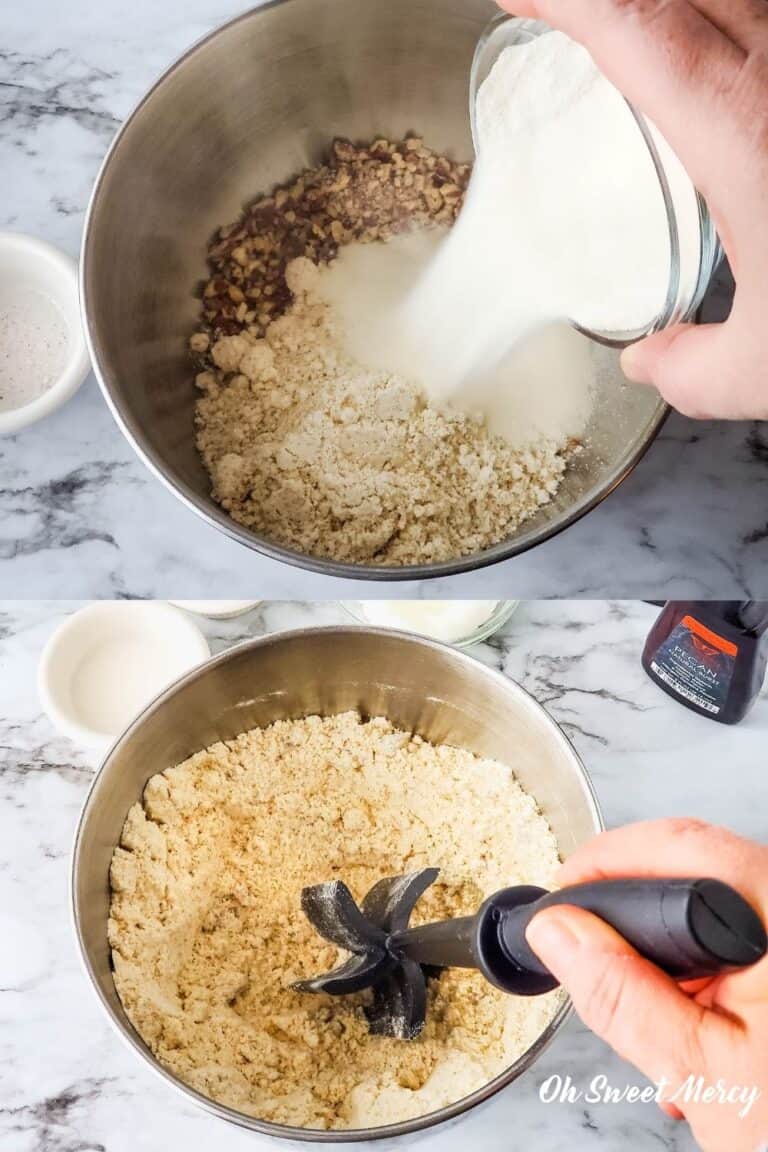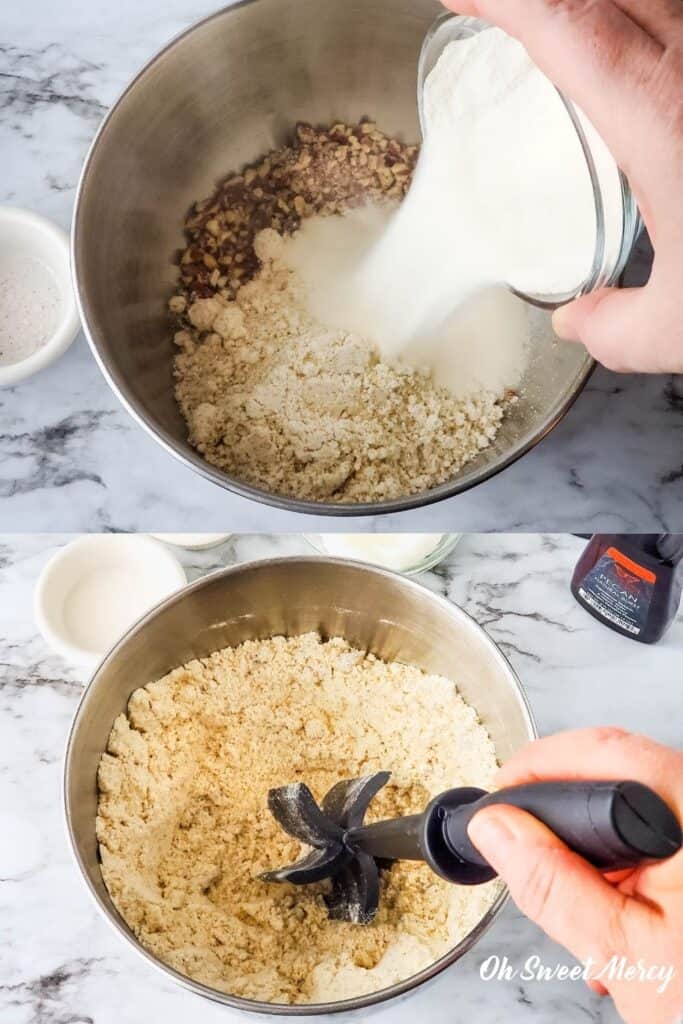 Then, add the coconut oil, extracts, and almond milk (or whatever liquid you're using). Mix until it's the consistency of cookie dough. Add more liquid if needed to achieve this consistency.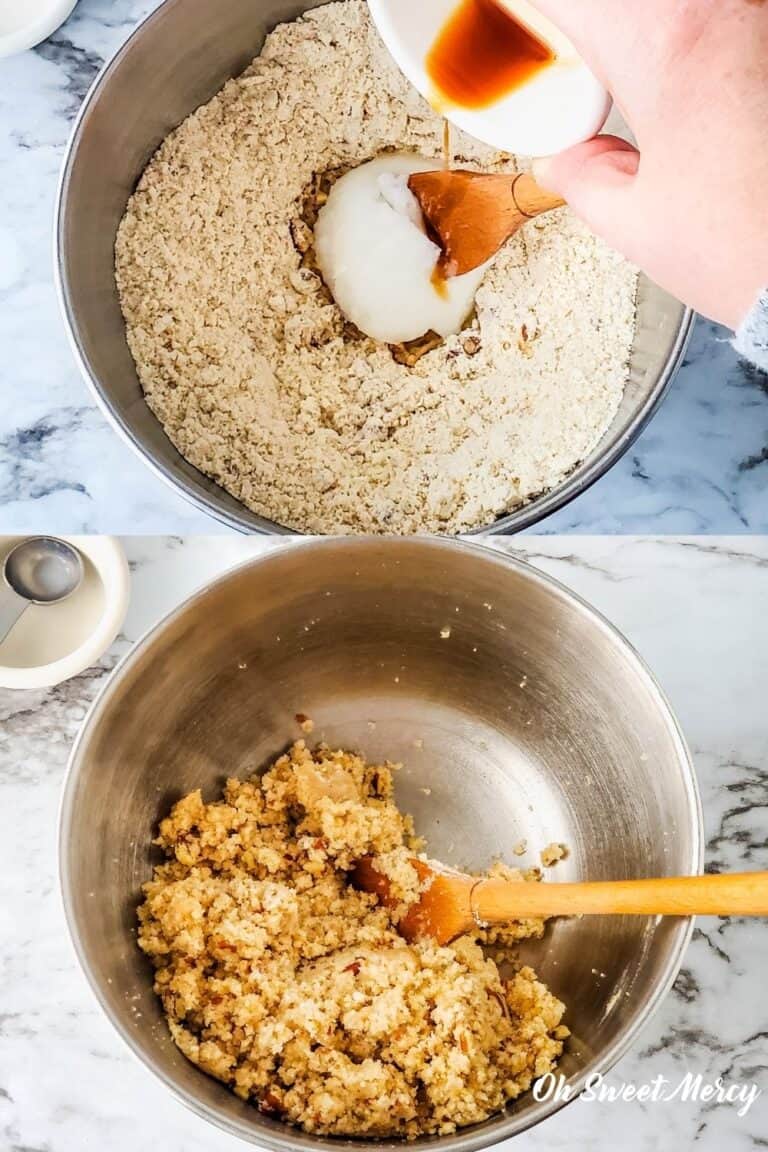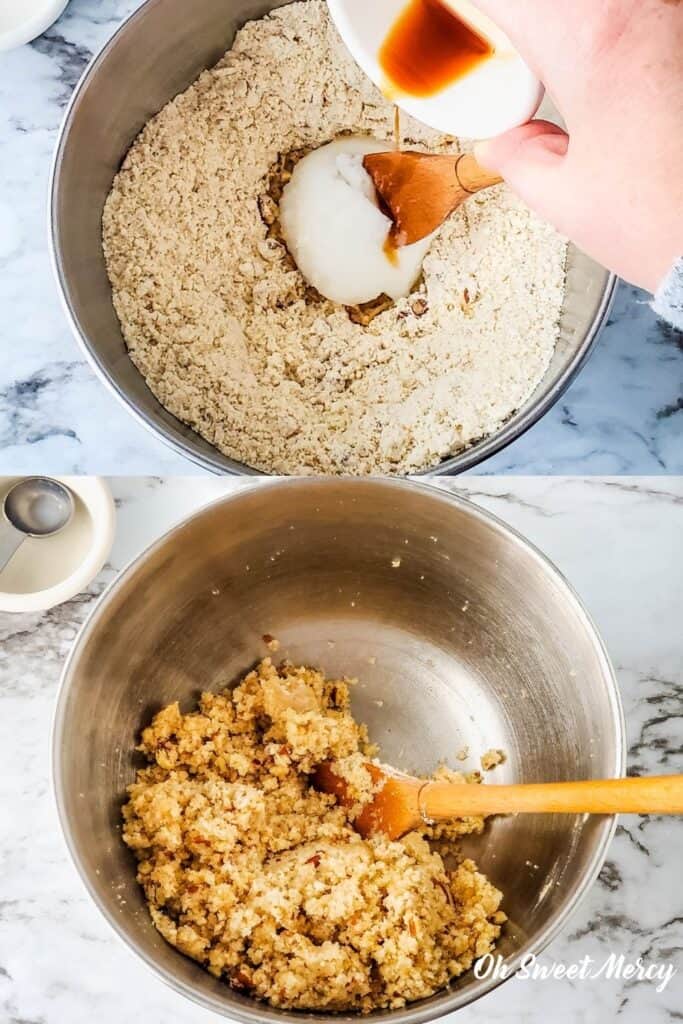 Finally, form into balls (about 2 teaspoons or so per ball or less if you like), press into mini silicone muffin liners, or your favorite silicone mold that's a good shape for protein snacks.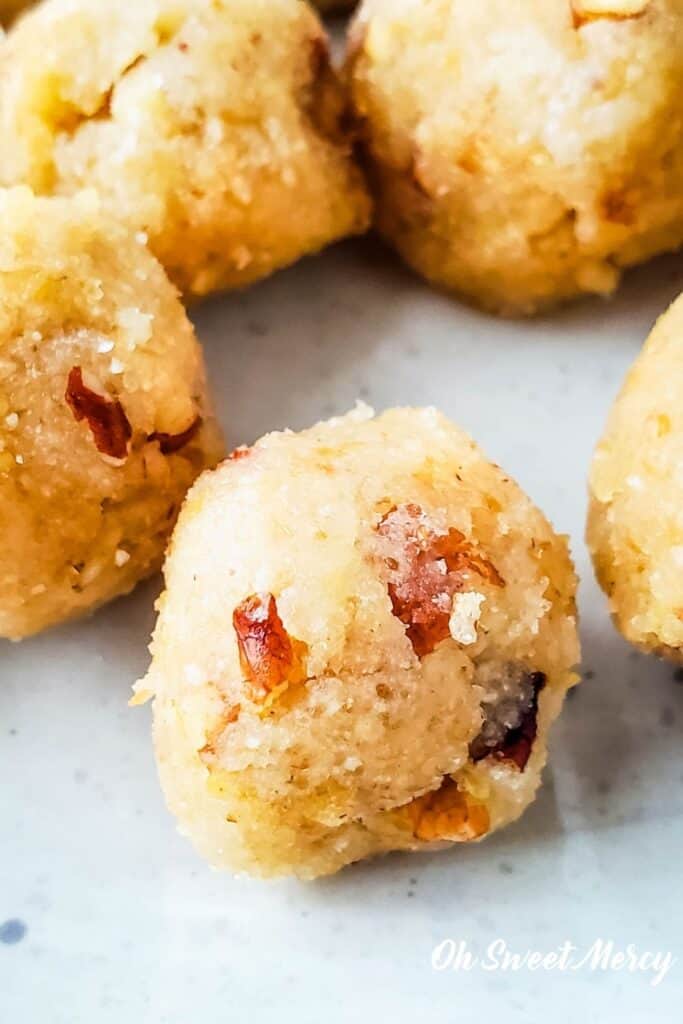 Pop into the fridge for 15 minutes, or freezer for 10, or until firm. Honestly, you can eat them right away, but they're so good cold!
So easy!
How To Fit These Tasty Little Protein Balls Into Your THM Day.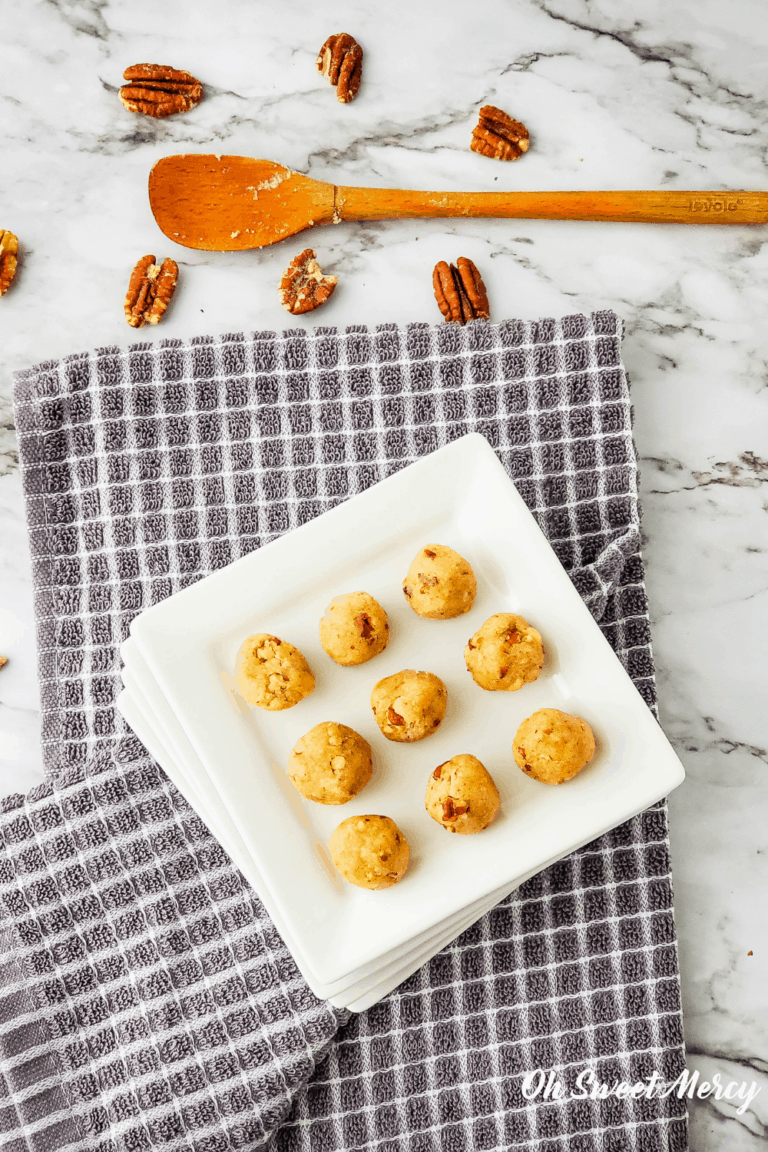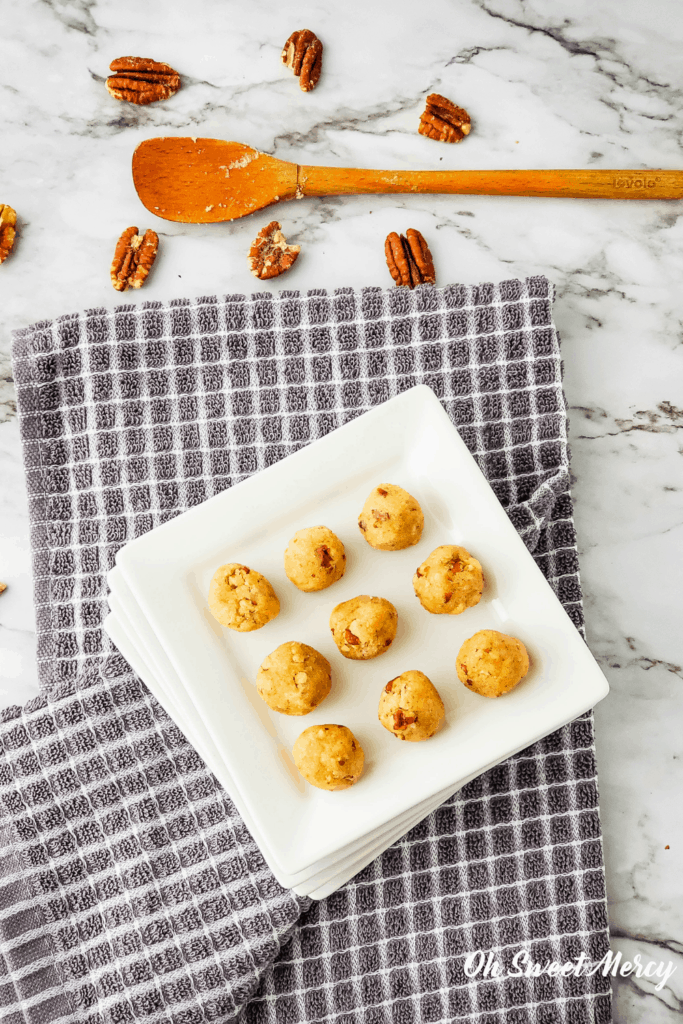 Protein balls are great for busy days. Pop a few in your purse or an insulated lunch bag (add an ice pack on hot days) for running errands or those days you're late getting out of the house.
They make great snacks, and delicious with a hot mug of your favorite beverage:
Technically, one ball (if you've made 20 and used Baking Blend), has only 4 grams of fat so it can be a Fuel Pull. However, you'll have a hard time just eating one!
While they're not heavy on carbs, do keep the carb amounts in mind if you're munching on them while making a meal. Just get a few out and put the rest away so you're not absentmindedly munching!
My kiddos love these, and that's all the approval I need! But, I hope you enjoy them too. And, especially, I hope they help you stay on plan and successful with THM.
PIN IT!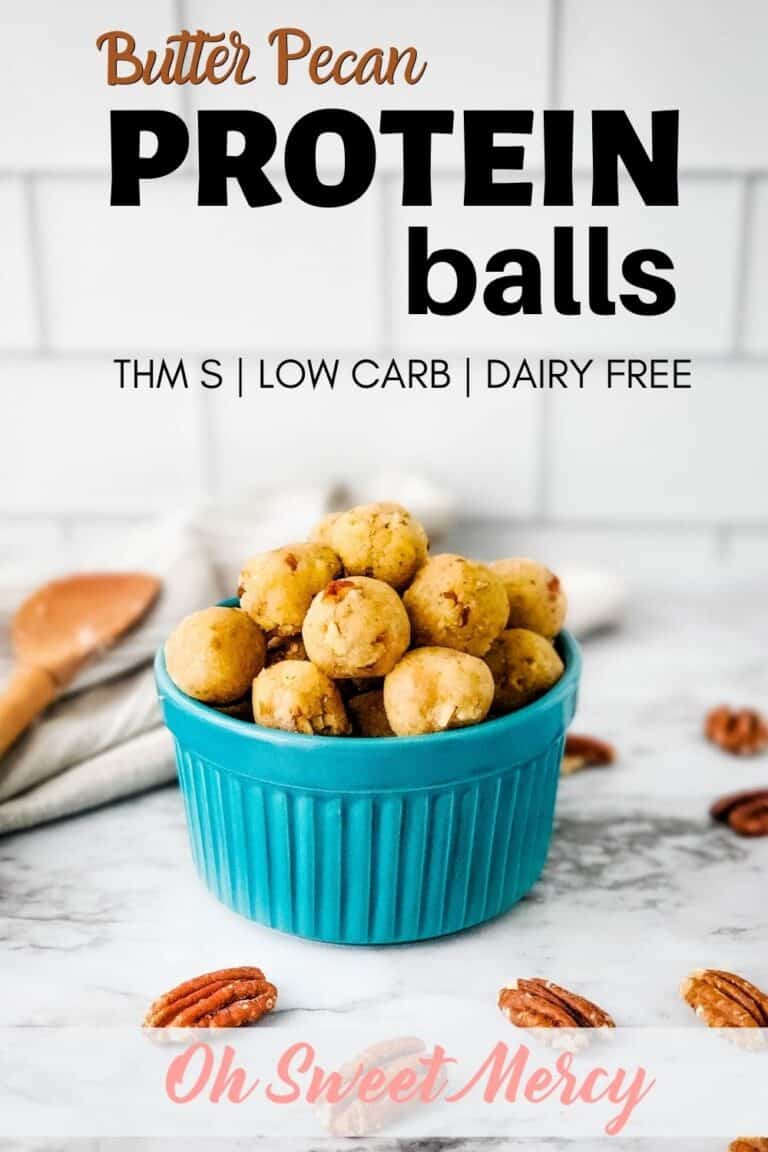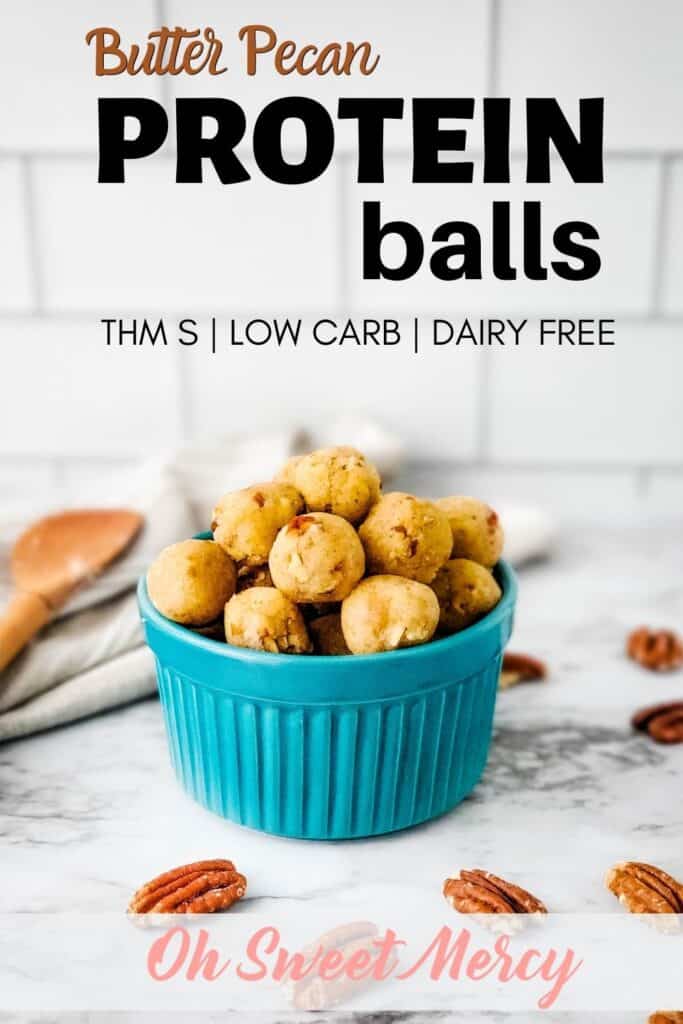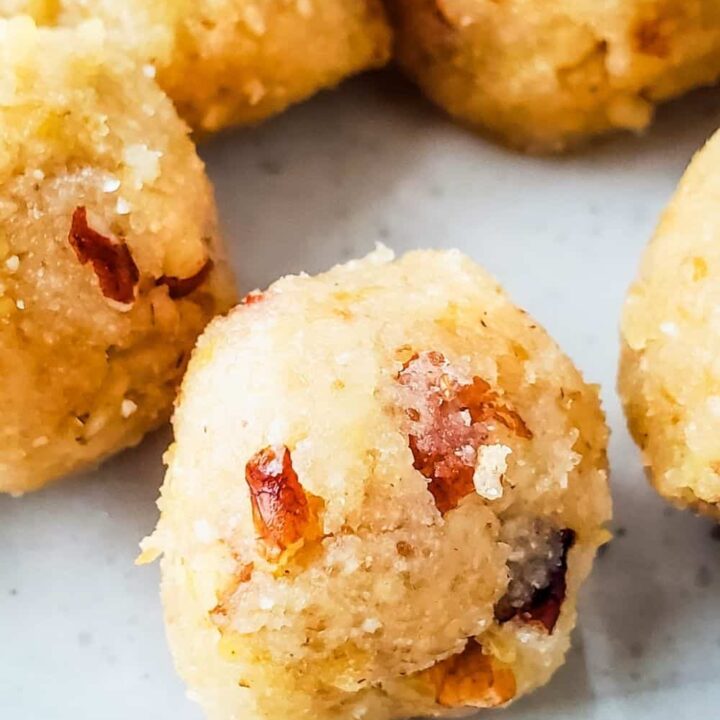 Butter Pecan Protein Balls | THM S, Dairy Free
Yield: Varies - around 20
Prep Time: 15 minutes
Chill Time: 15 minutes
Total Time: 30 minutes
Satisfy your craving for butter pecan treats with these delicious and easy low carb Butter Pecan Protein Balls! They're also dairy free! Less than 1 gram carbs per ball. THM S and keto friendly.
Ingredients
1/3 cup chopped pecans (around 37 grams)
3 tablespoons softened refined coconut oil (or buttery coconut oil)
2 tablespoons granulated sweetener such as my homemade Mercy Sweet or preferred sweetener to taste (see notes)
1 tablespoon almond or cashew milk (or water) or as needed for consistency
Instructions
If you're using bagged, chopped pecans measure 1/3 cup first then chop into smaller pieces.
In a mixing bowl, combine Baking Blend (or other combination of almond flour or almond flour and oat fiber), nuts, collagen, sweetener, salt, and mix well.
Add coconut oil, extracts, and almond milk and mix well until mixture forms a cookie dough-like consistency. Add more almond milk (or other liquid) as needed.
Roll mixture into around 20 balls (about 2 teaspoons mixture per ball) or press into silicone molds. Or make larger ones, but nutrition info is for 20.
Refrigerate for 15 minutes, or until firm. Or, freeze for about 10 minutes or until firm.
Store in a zipper bag or tightly sealed container in the fridge or freezer.
Notes
VARIATIONS:
Almond flour and Oat Fiber - add 1/4 cup oat fiber.
Buttery coconut oil - omit butter extract or reduce to 1/4 teaspoon if you want more buttery flavor.
SWEETENERS:
Gentle Sweet - 1/4 cup
THM Super Sweet - A scant 1 tablespoon measure or to taste
Pyure Organic Stevia - 2 tablespoons
NUTRITION INFORMATION:
The nutrition information below is calculated using THM Baking Blend.
Recommended Products
As an Amazon Associate and member of other affiliate programs, I earn from qualifying purchases.
Nutrition Information:
Yield: 20
Serving Size: 1 ball
Amount Per Serving:
Calories: 51.1
Total Fat: 4g
Saturated Fat: 1.9g
Unsaturated Fat: 1.3g
Sodium: 9.9mg
Carbohydrates: 2.7g
Net Carbohydrates: 0.3g
Fiber: 2.4g
Sugar: 0.5g
Protein: 3.6g