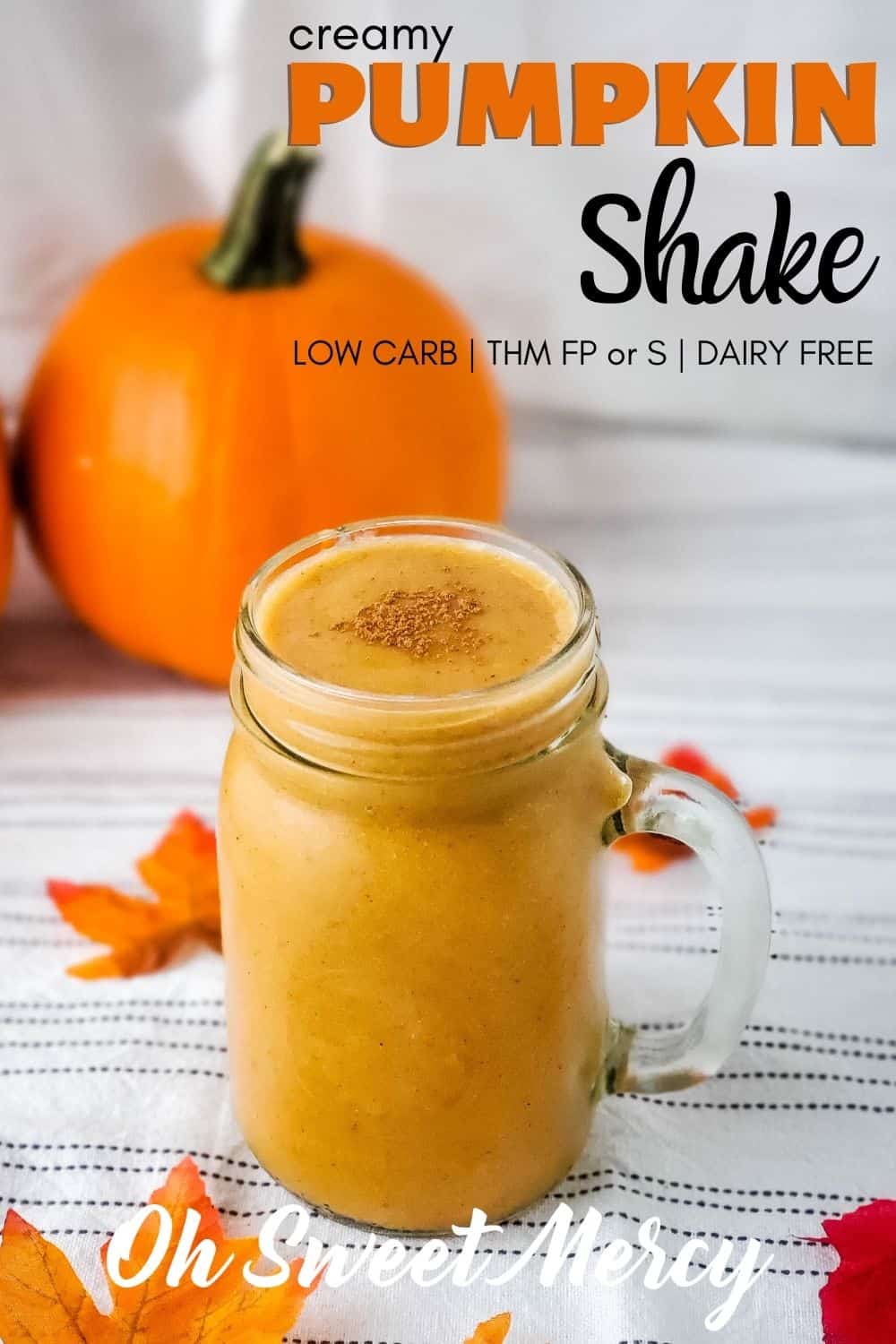 ---
This low carb pumpkin shake may be dairy free but it's creamy and delicious! Make it low fat for a THM FP or with a simple tweak or 2, transform it into a rich, satisfying THM S treat that's perfect any time of year.
---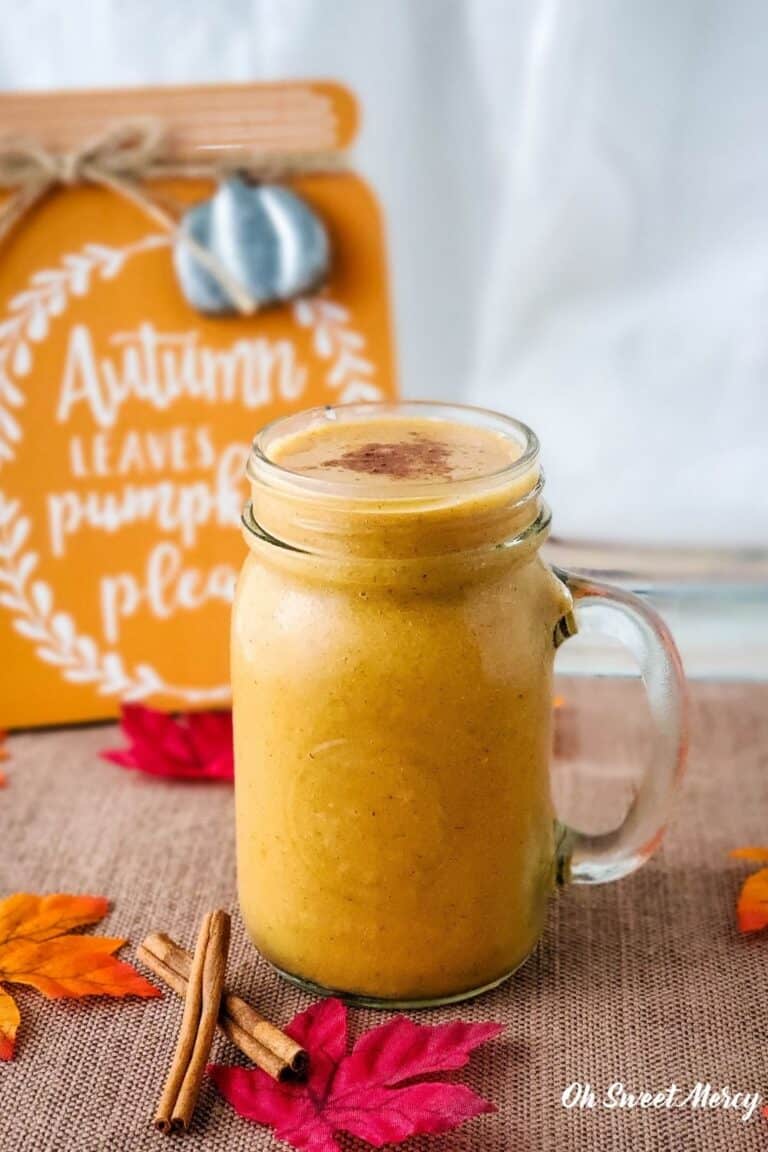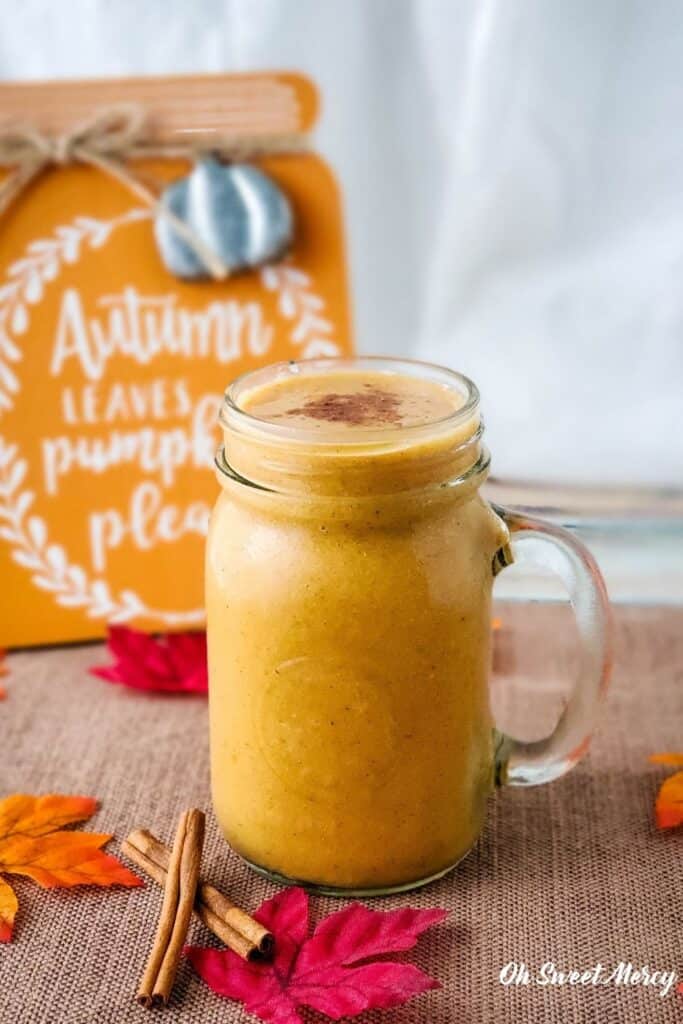 Since Sister is cutting back on dairy, I'm working on more dairy-free recipes. But, I also include tips for using dairy if you don't need to be dairy-free.
One thing I've discovered is pumpkin puree is fabulous for adding body and creaminess without dairy ingredients like heavy cream or cottage cheese. Give my Pumpkin Spice Steamer a try, it's amazingly creamy and also a dairy-free THM FP!
Not only that, it's rich in fiber which helps us feel full. It's also full of vitamins, minerals, and antioxidants that help support our immune and cardiovascular systems, blood sugar, and healthy skin.
What Do I Need To Make This Recipe?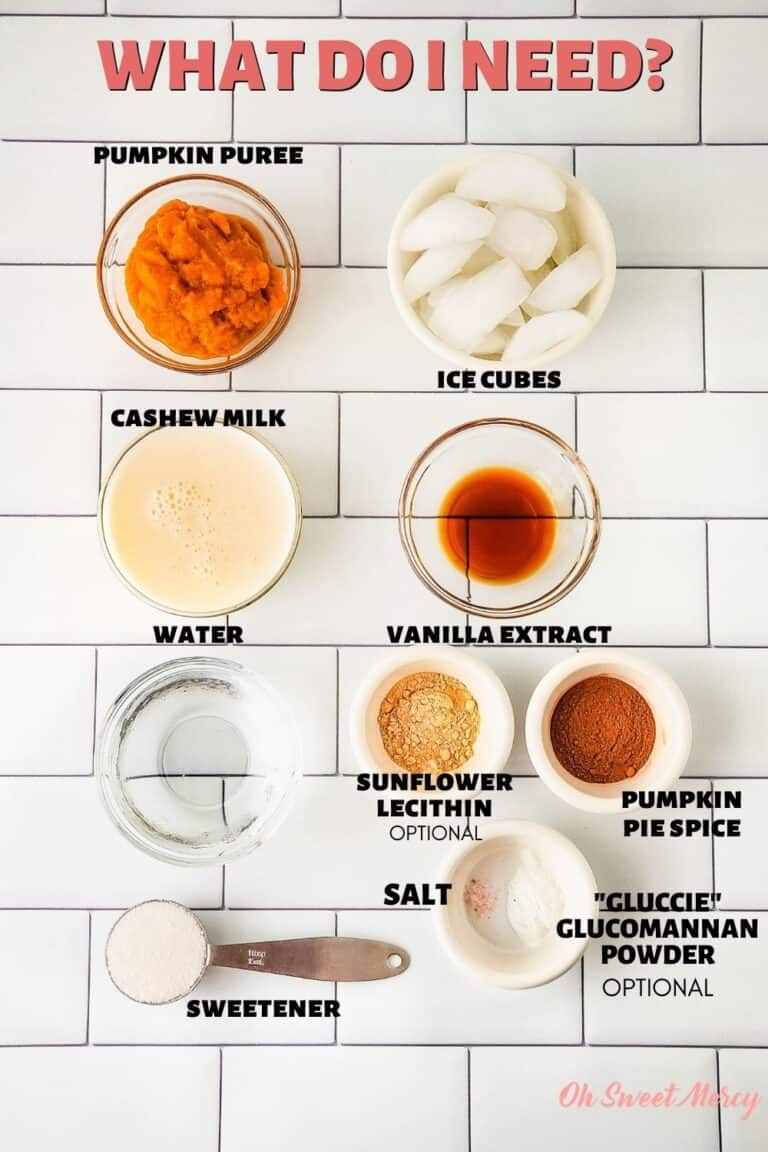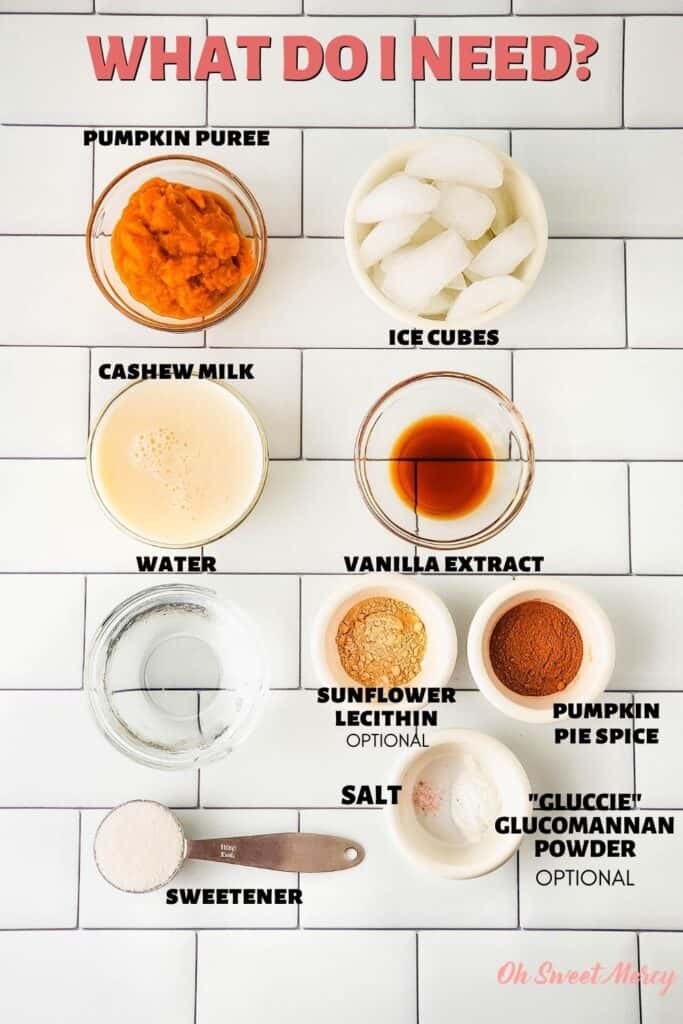 I do my best to create recipes using simple, wholesome ingredients. I do use some special THM ingredients at times, but try to keep them to a minimum as much as possible.
You'll need:
While special ingredients are not absolutely necessary, there is one I use and highly recommend for dairy-free recipes. That ingredient? Sunflower lecithin.
Sunflower lecithin is nourishing to our brains. I don't know about you, but my brain needs all the nourishment it can get!
Lecithin is a type of phospholipid found in pure sunflower seeds and is a natural source of phosphatidylcholine, a natural constituent found in your brain and nervous system. Making sure to eat a diet high in lecithin rich foods (like eggs) and adding Simply Sunflower Lecithin to your diet is a wonderful, natural way to feed your brain. Phosphatidylcholine is also a potent antioxidant that paralyzes the movement of free radicals throughout the body. This makes lecithin a powerful anti-aging tool.

From product description at the THM Store Website
It also helps emulsify and adds a dairy-like creaminess. I prefer THM Simply Sunflower Lecithin and have not tried any other brands. However, I'm sure any quality sunflower lecithin should work fine.
How To Include My Creamy, Low Carb Pumpkin Shake In Your THM Meal Planning.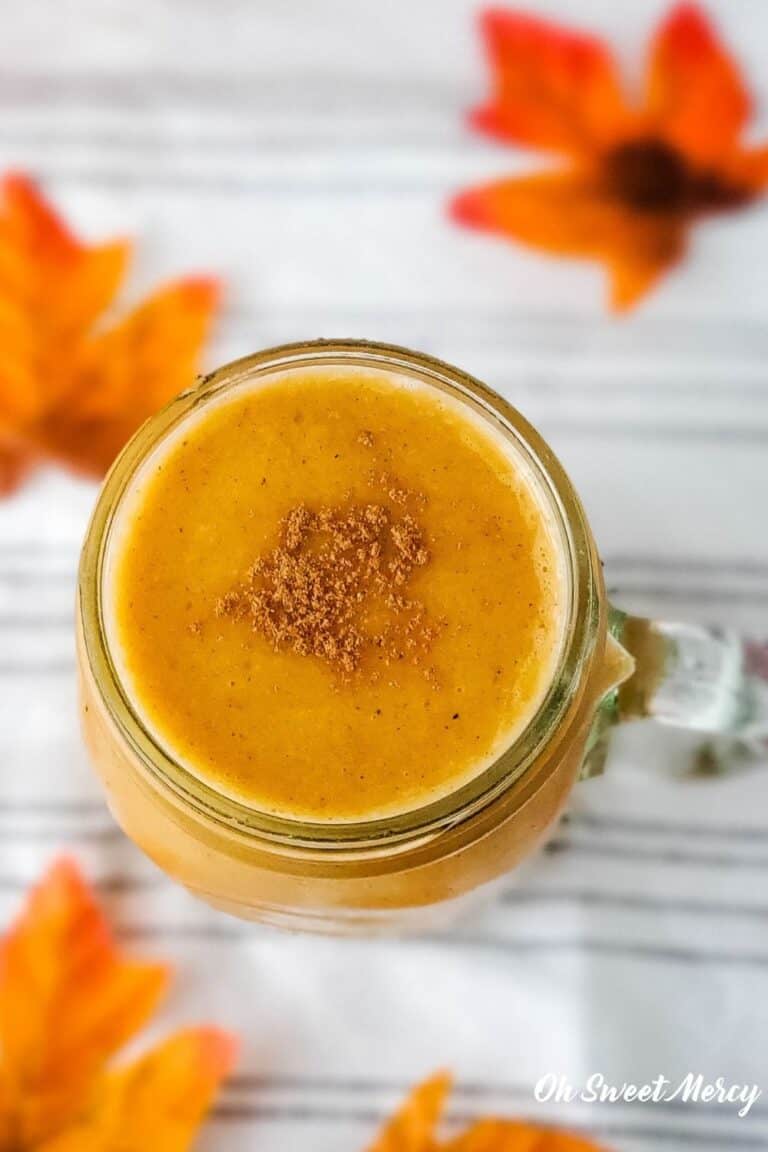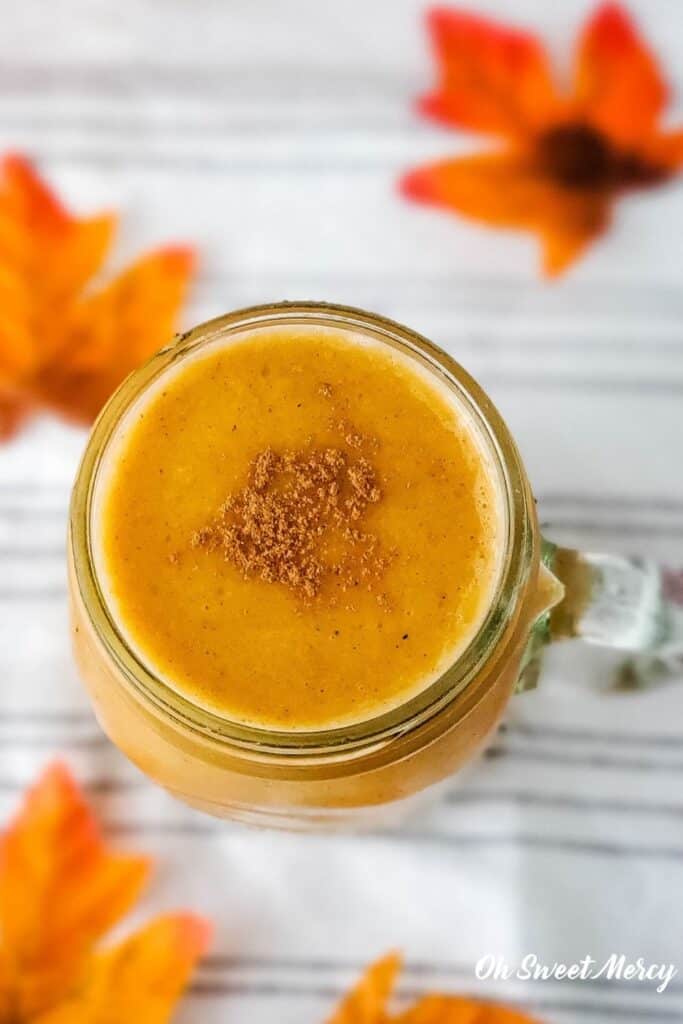 Fuel Pull recipes are low in fat and carbs but that doesn't mean they're flavorless and boring!
This low carb pumpkin shake is creamy, filling, and so satisfying!
While as written it doesn't contain any significant protein source, you can certainly add a scoop of collagen or other on-plan protein powder.
Without the protein powder, it's a lovely after-dinner treat. Since it's a THM FP, it can fit with S, E, and FP meals. Because of the pumpkin, this shake is not OK for Deep S.
Just keep in mind how much fat and carbs are in your meal and the shake to stay within plan guidelines.
You can also just make half a recipe for a dessert size shake.
With added protein it's a great snack or quick meal for those busy days.
Feel like Thanksgiving right now? How about this THM E meal idea:
Maybe you'd like a THM S Thanksgiving-style meal?
Keeping things on the lighter side with a THM FP meal?
Are you excited for a dairy-free pumpkin shake recipe that's THM friendly? I hope you enjoy adding this to your THM journey and it helps you stay on plan!
PIN IT!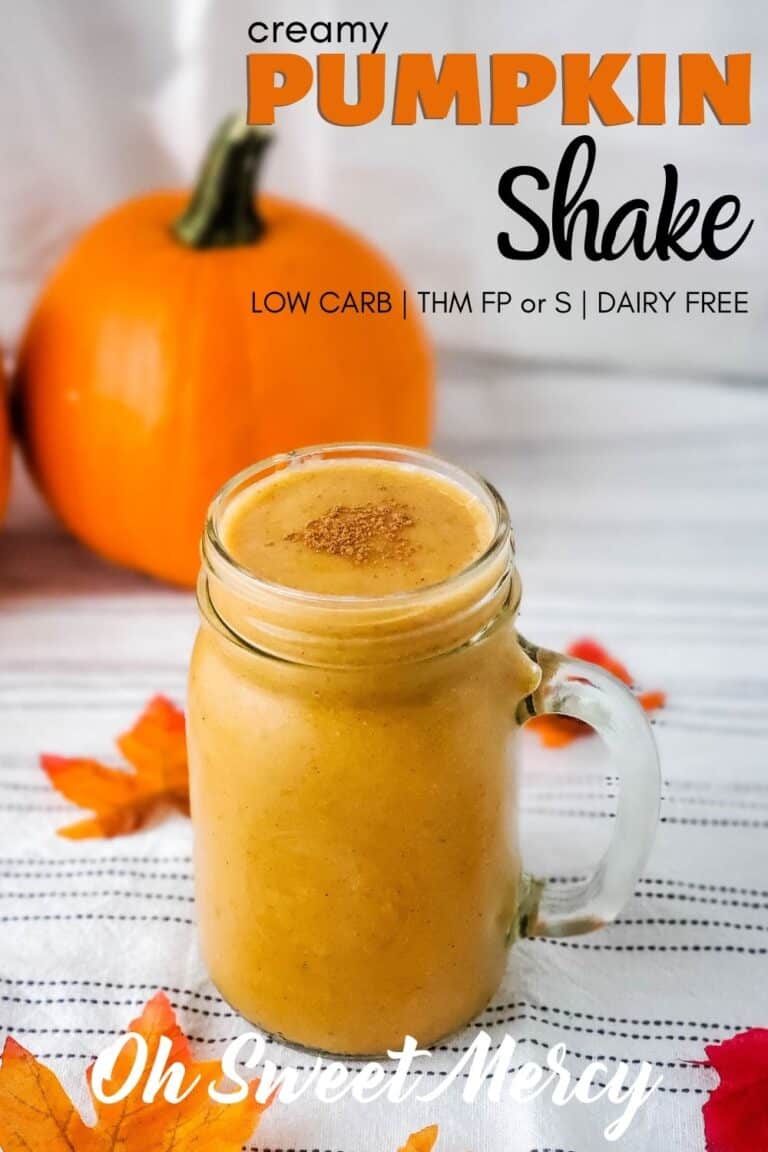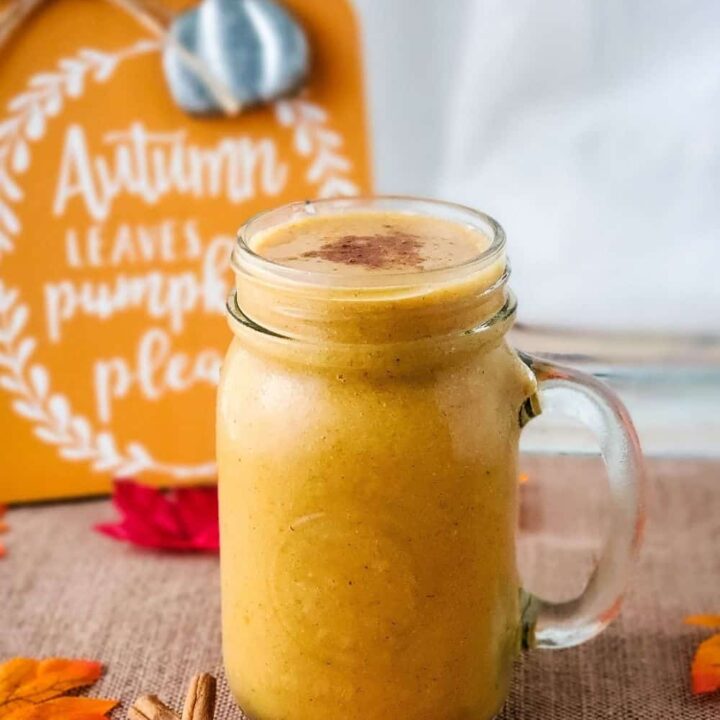 Creamy Low Carb Pumpkin Shake | THM FP or S, Dairy Free
Yield: 1 serving
Prep Time: 7 minutes
Total Time: 7 minutes
Thick and creamy, this low carb pumpkin shake is totally dairy free! Make it THM FP or S style with just a few tweaks. Don't need to be dairy-free? Feel free to add your favorite dairy ingredient(s) if you like. Great as a snack or dessert!
Ingredients
1 cup ice
1/2 cup unsweetened cashew milk (or other on-plan non-dairy milk)
1/2 cup water
1/2 cup pumpkin puree (not pumpkin pie mix)
2 "doonks" high mineral salt (1/16 teaspoon or 2 generous pinches)
OPTIONAL: on-plan protein source, see notes
OPTIONAL FOR THM S: MCT oil as desired
OPTIONAL FOR THM S: coconut milk or coconut cream (unsweetened) for dairy free, or dairy options such as heavy cream or half and half (see notes)
Instructions
Add all ingredients to a blender jar.
Blend until smooth.
Taste and adjust sweetening if desired.
Notes
OPTIONS:
For non-dairy THM S add one of the following:
1 to 2 tablespoons full fat coconut milk or unsweetened coconut cream
1 to 3 teaspoons MCT oil or melted coconut oil
For dairy THM S add one of the following:
1 to 2 tablespoons heavy cream
1 to 2 tablespoons half and half
Protein options include collagen, whey protein powder, or cottage cheese. Use up to 1 scoop of powdered protein sources or 1/2 cup cottage cheese.
Nutrition Information:
Yield: 1
Serving Size: 1
Amount Per Serving:
Calories: 73.8
Total Fat: 3.8g
Trans Fat: 0g
Unsaturated Fat: 2.5g
Cholesterol: 0mg
Sodium: 102.9mg
Carbohydrates: 10.7g
Net Carbohydrates: 4.7g
Fiber: 6g
Sugar: 4.1g
Protein: 2.5g
Nutrition information is approximate and based on the best knowledge available at the time of recipe publication. Your results may vary due to differences in ingredients. You can make your own calculations if this recipe does not include nutrition info by using an online calculator such as https://recipes.sparkpeople.com/recipe-calculator.asp