---
This simple but flavorful egg salad is a perfect make-ahead dish to have on hand for quick and easy snacks and meals. Trim Healthy Mamas love eggs because they are such an easy, affordable source of protein. Low carbers and keto dieters will also love this tasty low carb recipe.
---
Sister's been busy in the kitchen and I had to share her Simple, Savory, Egg Salad recipe with you!
Another egg salad recipe? Yes, but honestly it's mostly so I can tell you about the day I learned that something as simple as onion powder can have fillers added to it. I also know where to get great filler-free spices and I just had to tell you that too! Well, and I'm proud of my girl developing her own recipes!
Fillers. That vague ingredient that can mean anything in the food industry. Like wood pulp. Blech. I'm not saying your spices definitely have wood pulp in them, just that it's possible. When you reach for onion powder, you want onion…not powdered trees, am I right?!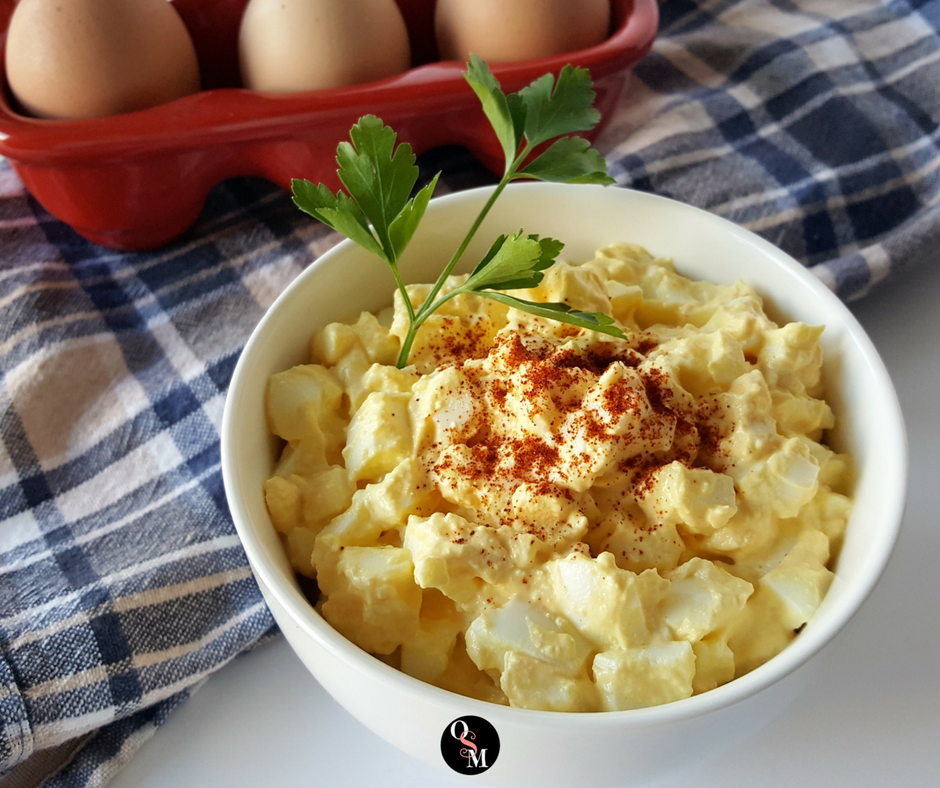 Last Friday, I had a box of goodies from Wilderness Family Naturals delivered.
In that box of goodies were some organic spices. Wasting no time at all and ripping open those bags we were blown away by the thing was immediately noticeable: the aroma.
That onion powder actually smelled more like onions and less like powder!
Grabbing my jar of onion powder from the cabinet I gave them a side-by-side sniff test. My trusty, economical brand of onion powder seemed to have an almost chemical smell. No thank you!
Sister said she couldn't wait to make her egg salad and try out the WFN onion powder. I said "why wait, let's make it right now!"
My Instant Pot means almost INSTANT hard boiled eggs.
We popped some eggs and water into the Instant Pot, set it for 6 minutes, and in about 20 minutes we were eating Sister's Simple Savory Egg Salad. The Instant Pot makes perfectly peelable eggs in about TEN MINUTES!
Sometimes there's a casualty now and then, probably if there's a weak spot in the shell. Chopping that less than perfect egg for egg salad is no big deal.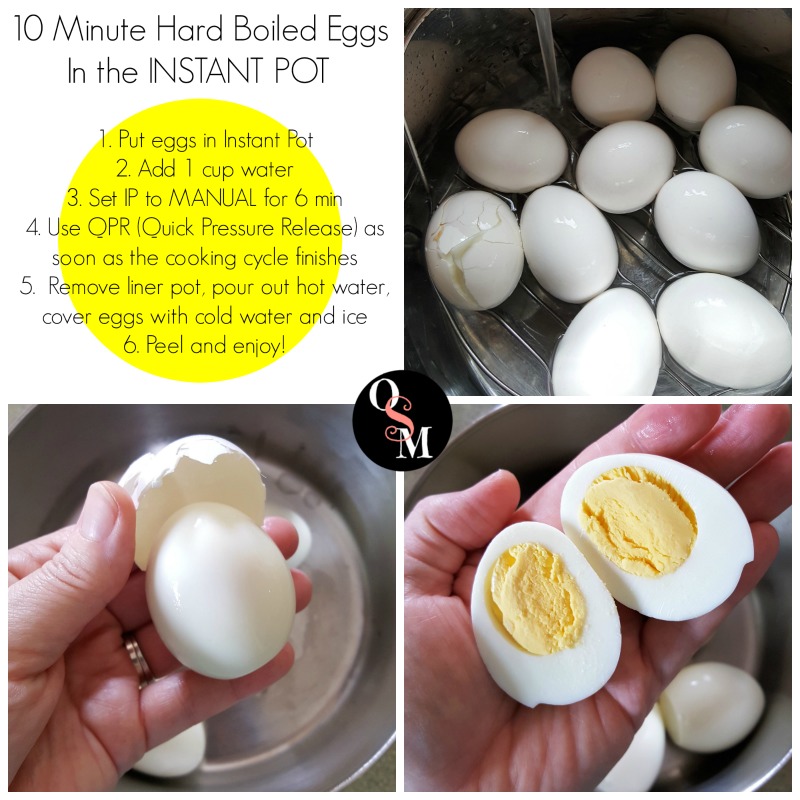 We were also marveling over how much better her egg salad was because the WFN spices really made the difference.
If this sounds like a big infomercial to you, I promise it's not!
I am honestly sharing my excitement over these spices, and Wilderness Family Naturals. Even though I was just recently introduced to WFN (via my bestie, The Homesteading Hippy) I am really impressed with the quality of their products.
In fact, I'm so impressed with their products I joined their affiliate program. Any link to a WFN ingredient in my posts will be an affiliate link, which simply means that if you click on the link and order one of their fine products I may receive a small commission. It costs you nothing extra but helps to support my kitchen antics here at OSM. It's also greatly appreciated!
Many times organic products cost so much more than conventional it's almost impossible to afford them it seems. I compared the price of the WFN onion powder to what I normally buy. It was only about $2 more for a pound, and that's completely affordable in my world. When your onion powder actually tastes like onions you don't need to use as much, too.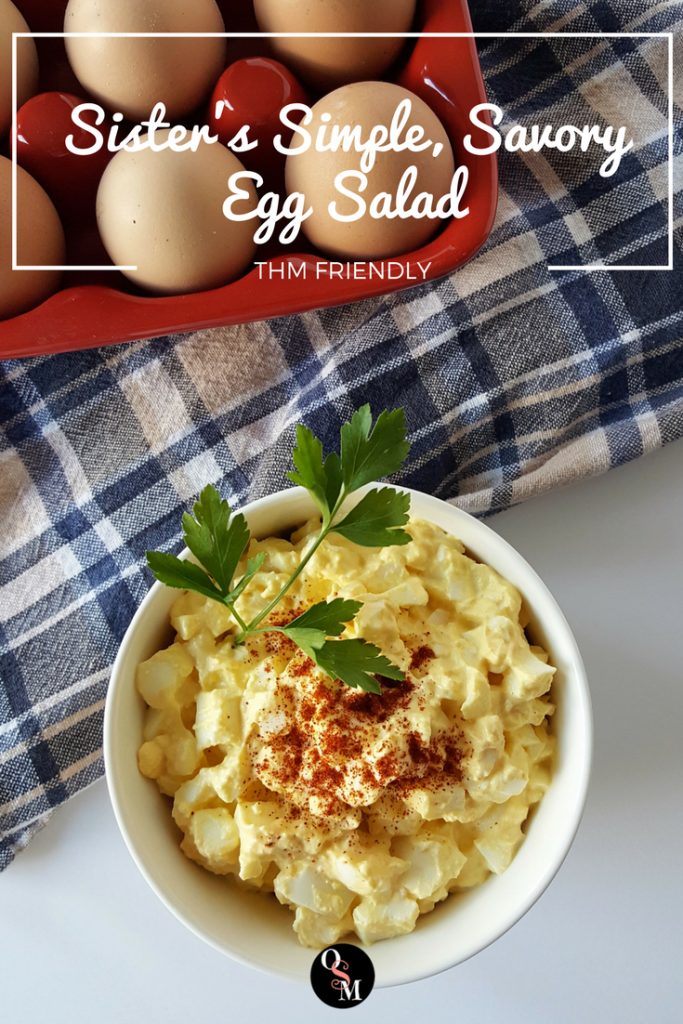 Trim Healthy Mamas, here's how this egg salad fits in your healthy eating plan:
Since we're using whole eggs and mayo, this is a satisfying S recipe. Pair it with low carb options such as:
Low carb Bread in a Mug, wraps, or other on-plan, low carb bread options
On top of a big pile of dark, leafy greens like spinach or lettuce
Non-starchy fresh veggies – cucumbers, celery, pepper strips, a few cherry tomatoes, broccoli, and cauliflower
Fresh berries for your meal's carb source
A spoon – spoons are great! Zero carbs, no gluten or other off plan ingredients 😉
For more details on the plan specifics, you'll need the Trim Healthy Mama plan book. Read my review here!
Let's make some of Sister's Simple, Savory, Egg Salad!
If you prefer or need a recipe without mustard try my Creamy Ranch Egg Salad.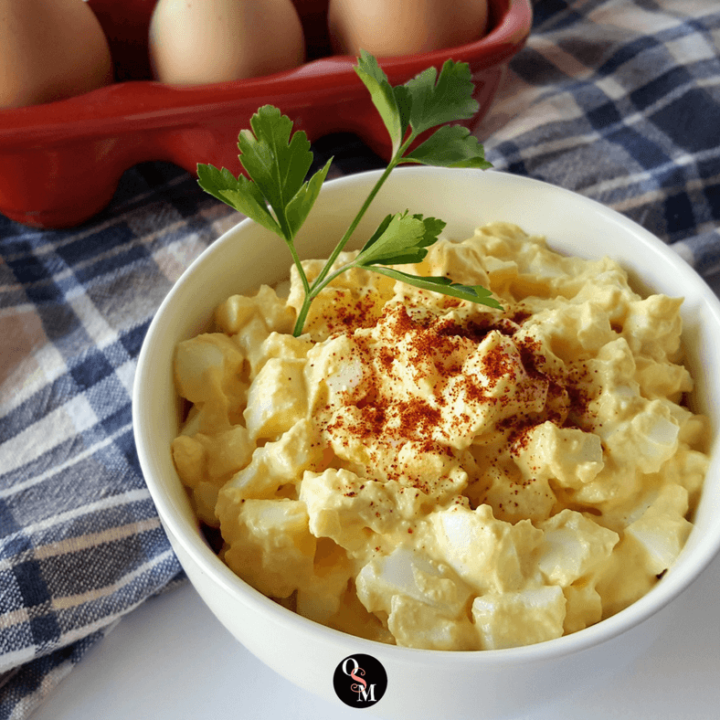 Sister's Simple Savory Egg Salad | THM S, Low Carb, Keto
Yield: 4-6 servings
Prep Time: 10 minutes
Total Time: 10 minutes
This Simple, Savory Egg Salad is quick and flavorful. Perfect for an easy THM low carb lunch (S style) or snack! If you have an Instant Pot you can be eating this in about 20 minutes.
Ingredients
6 to 8 eggs, chopped
4 Tbs mayonnaise
2 to 3 tsp mustard
1/2 tsp WFN garlic powder
Instructions
In a bowl, combine all ingredients and mix well.
Adjust seasonings as desired to suit your tastes.
Enjoy immediately or refrigerate.
Notes
Cook time depends on method of cooking eggs, the 10 minutes listed is for using an Instant Pot.
Sister likes this egg salad with 6 eggs, I prefer 8.
Trim Healthy Mama followers, this is an S style recipe so choose low carb options to round out your meal.
Recommended Products
As an Amazon Associate and member of other affiliate programs, I earn from qualifying purchases.
Nutrition Information:
Amount Per Serving:
Calories: 0
Cholesterol: 0mg
Sodium: 0mg
Carbohydrates: 0g
Fiber: 0g
Sugar: 0g
Protein: 0g
Don't forget to PIN Sister's Simple Savory Egg Salad to your favorite boards!