---
Have you tried pomegranate vinegar yet? It's slightly sweeter than raw apple cider vinegar and to me, less harsh. Paired with your favorite healthy oil, fresh garlic, and herbs it makes a divinely delicious pomegranate vinegar salad dressing. THMs be sure to look for raw, unfiltered, or with the mother on the label.
---
When I discovered the amazing deliciousness of pomegranate vinegar in my Pomegranate Lemonade GGMS I also tried it in a salad dressing. I've been hinting about this recipe and am now finally getting it posted.
The problem with this dressing is that it's not necessarily pretty to photograph. But it tastes amazing! Slightly sweet, a bit tangy, with garlic and herbs…perfect for THM S (and even Deep S) salads.
A salad with the dressing is pretty though…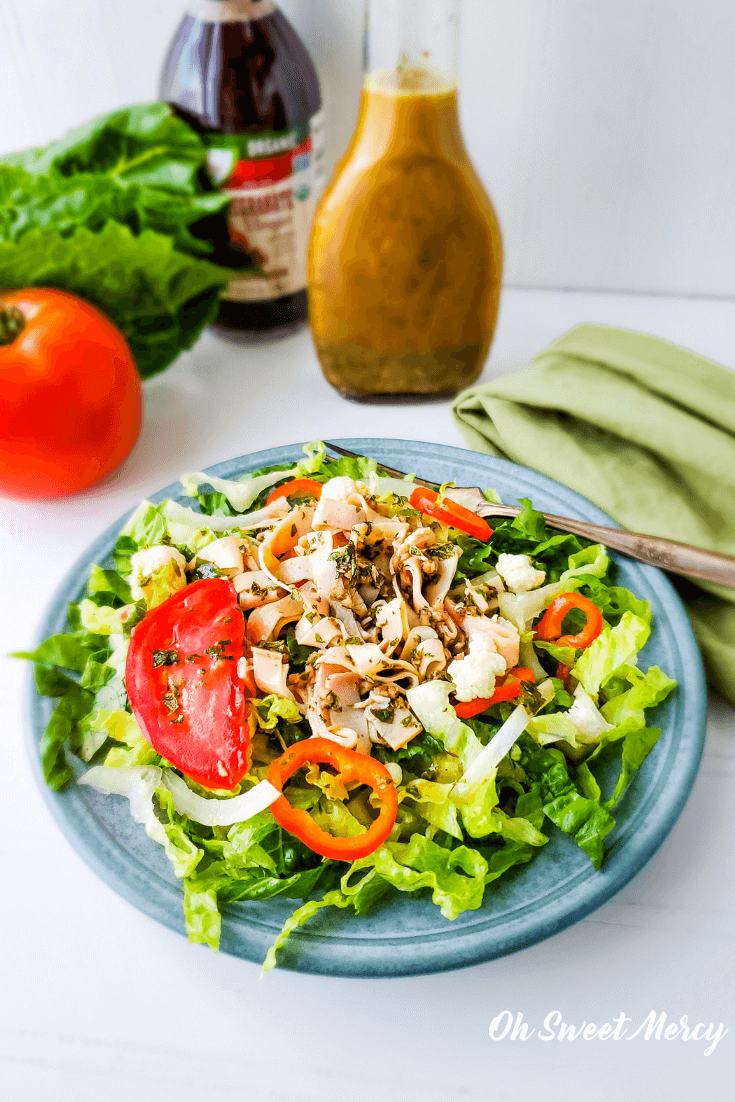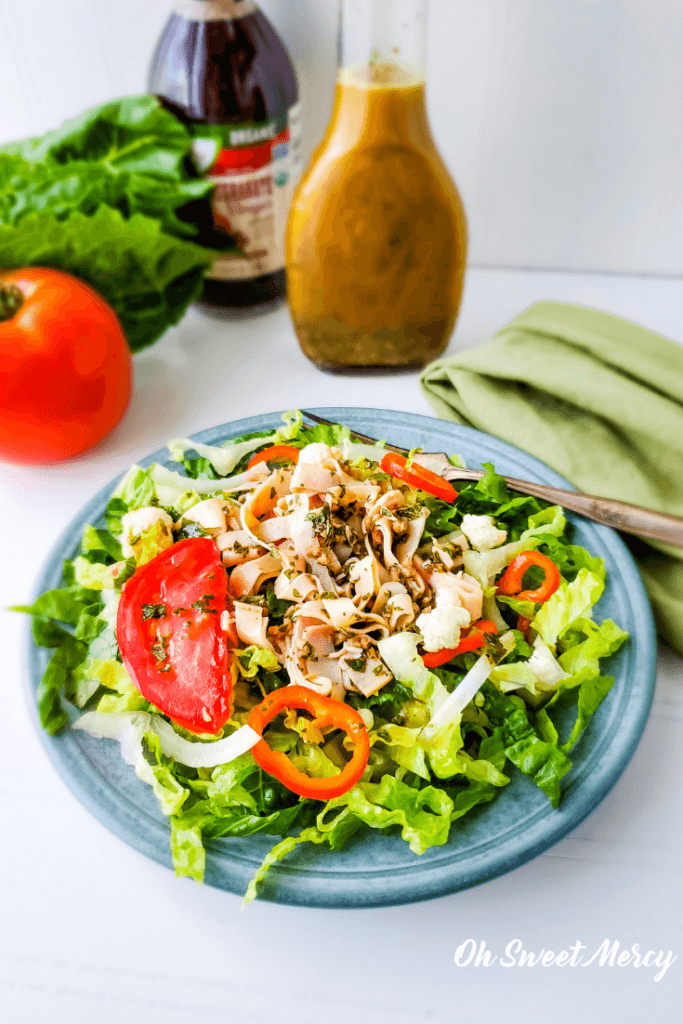 How To Make Salad Dressing With Pomegranate Vinegar.
It's super easy! Just use the pomegranate vinegar like you would ACV (apple cider vinegar) or any other salad vinegar.
I love to use fresh herbs and garlic in my dressings. But sometimes I'm in a hurry and use garlic powder and dried herbs. Both result in delicious pomegranate vinegar salad dressing.
As with all oil and vinegar salad dressings, the oil and vinegar do separate. I add a bit of THM Simply Sunflower Lecithin to help it emulsify and stay mixed a bit longer.
It's purely optional though so if you don't have it or don't want to use it just leave it out.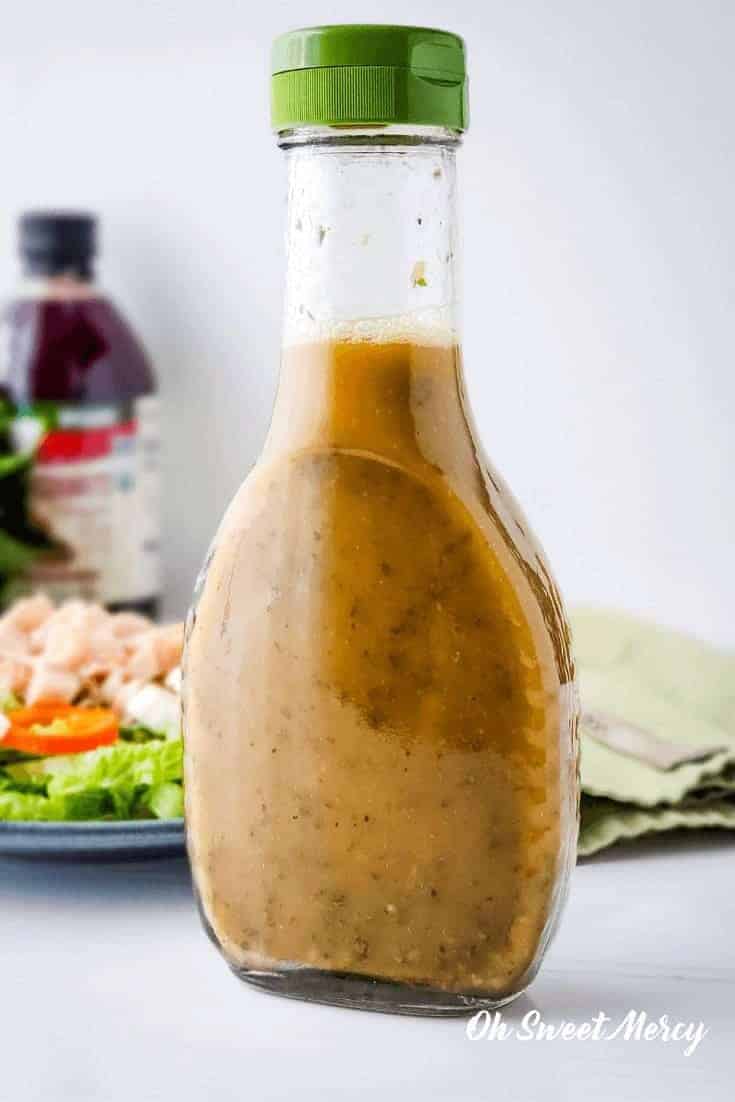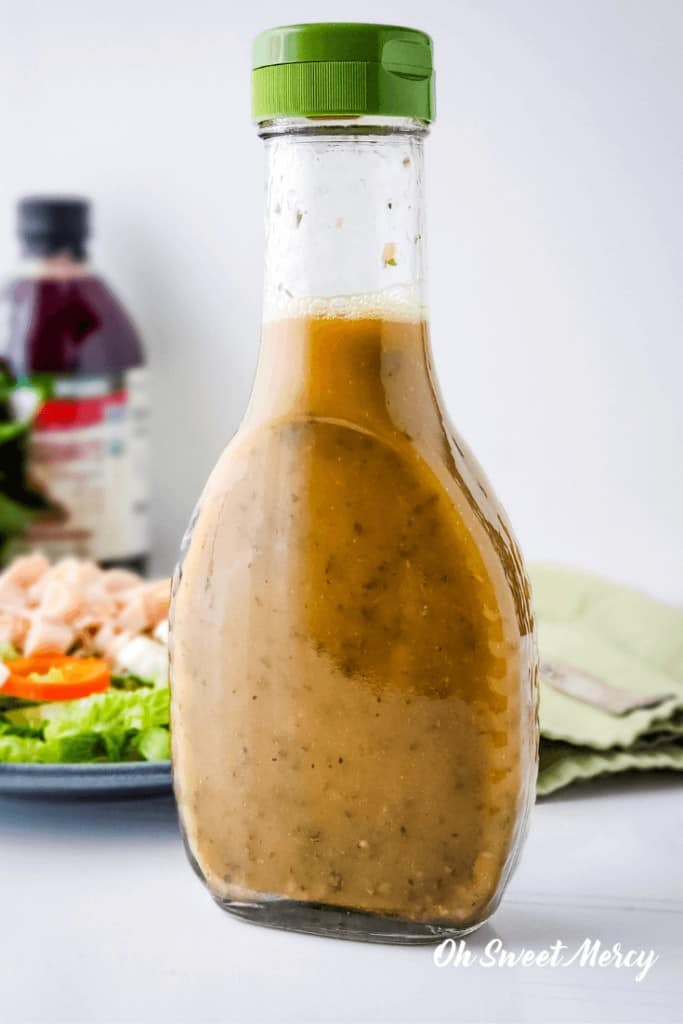 What Oils Are Best For Homemade Vinaigrette Salad Dressings?
Most vegetable oils, while claiming to be "healthy", are actually inflammatory. You'll want to skip the canola oil and choose pure, cold-pressed olive oil.
However, some olive oils can be fake! Here's how to tell if your olive oil is fake.
Not a fan of olive oil? I've got an easy tip for you. It can even help boost your metabolism!
Simply replace part (or all) of the olive oil in a recipe with MCT oil. My two favorite brands are THM MCT Oil and the new organic MCT oil from Wildly Organic.
What Should I look For When Buying Pomegranate Vinegar?
Some pomegranate vinegars are pomegranate infused vinegar. This is not what you want! These "pomegranate vinegars" are usually red wine vinegar with pomegranate juice added.
Not. The. Same.
In addition, they typically have too many carbs due to added sugars or syrups.
Look for a pomegranate vinegar with one or all of the following on the label:
raw, unfiltered
with the mother
2g carbs per serving or less
NO sugars or syrups in the ingredients
Pomegranate juice is ok if it's raw/unfiltered/with the mother and 2g carbs or less per serving
You can find a delicious, organic pomegranate vinegar at Aldi stores (as a special buy item as of the time of this post). I've stocked up for the winter and am hoping they bring it back next summer.
I've also found this organic pomegranate vinegar on Amazon. You may also find other brands at Trader Joes, Whole Foods, or other health food stores.
Should I Use Fresh Or Dried Herbs To Make A Vinaigrette?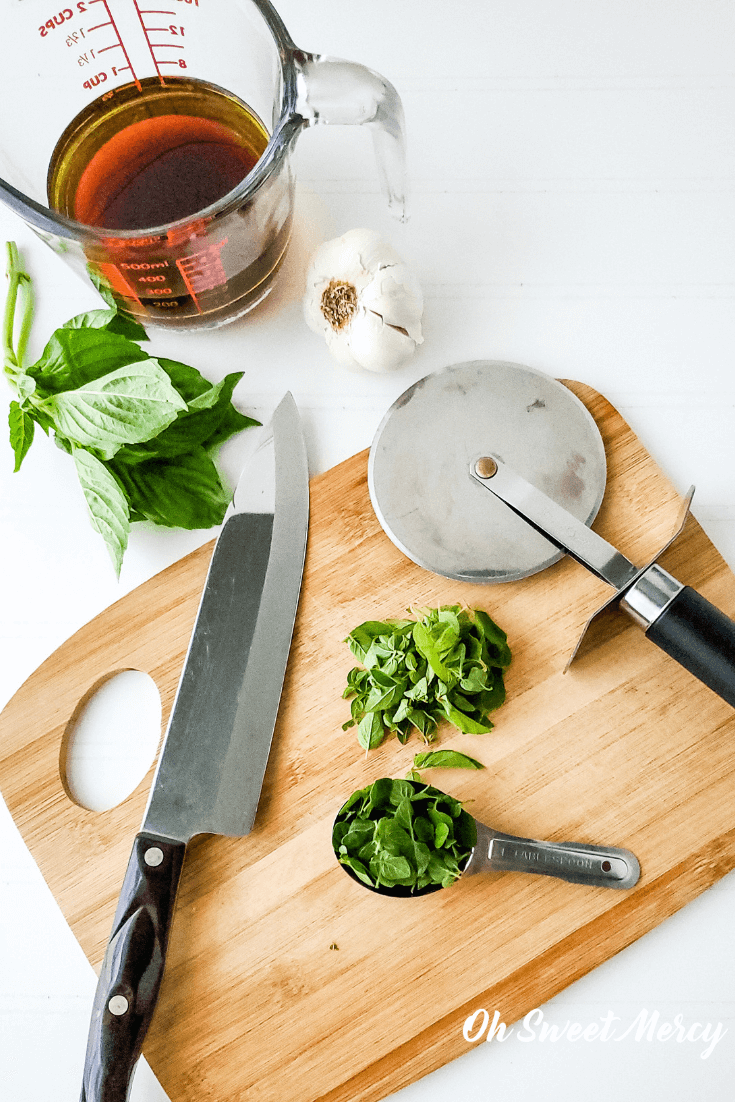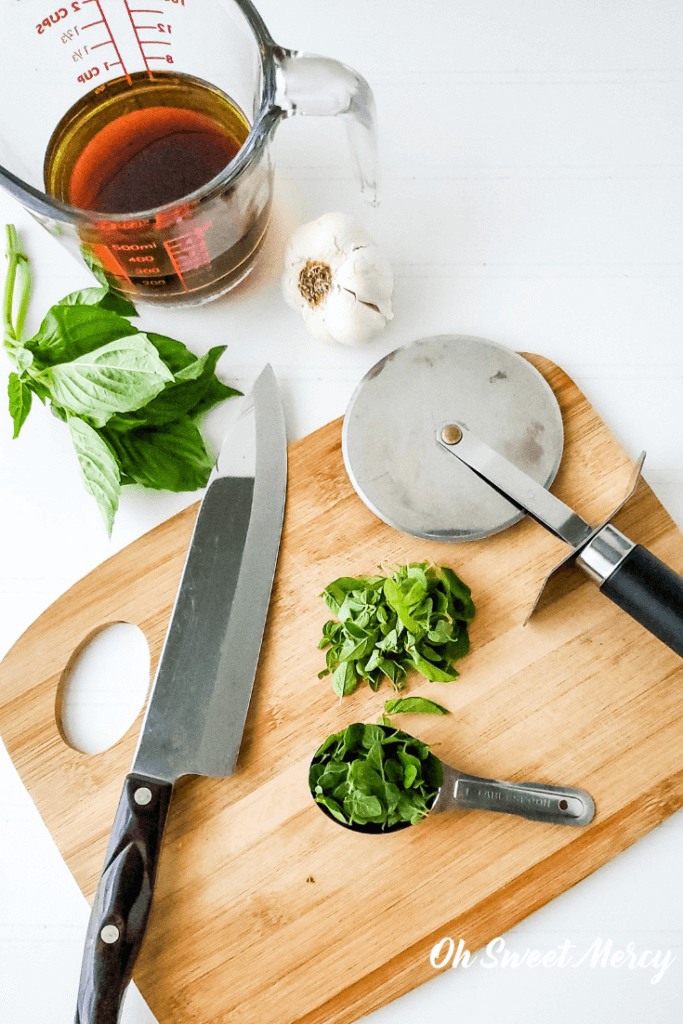 You can use either! In the summer, I have marjoram and oregano growing and sometimes basil.
I love to use fresh herbs and garlic when making homemade salad dressings. Sometimes, though, I'm in a hurry or don't have the right fresh herbs.
PRO TIP:
Chopping herbs is super easy with a pizza cutter (or pizza wheel). Just roll it over the herbs until they're chopped finely.
Substituting dried for fresh herbs is very easy. Just use 1 teaspoon DRIED for every tablespoon of FRESH herb called for in the recipe.
How To Fit This Easy Pomegranate Vinegar Salad Dressing Recipe Into Your Trim Healthy Mama Eating Plan.
This easy homemade vinaigrette is a nourishing, delicious, THM S recipe. You'll want to keep your carbs low in your meals when enjoying this tasty salad dressing.
Use it for…
salads of all kinds
as a marinade
or wherever you enjoy a vinaigrette salad dressing.
One of my favorite things ever is a nice, spicy salmon pan-fried in a healthy oil. Then, served on top of a big salad with a sweet and tangy vinaigrette, like this one.
No matter how you choose to use this fresh, flavorful homemade vinaigrette, it's sure to please!
Pin The Image Below!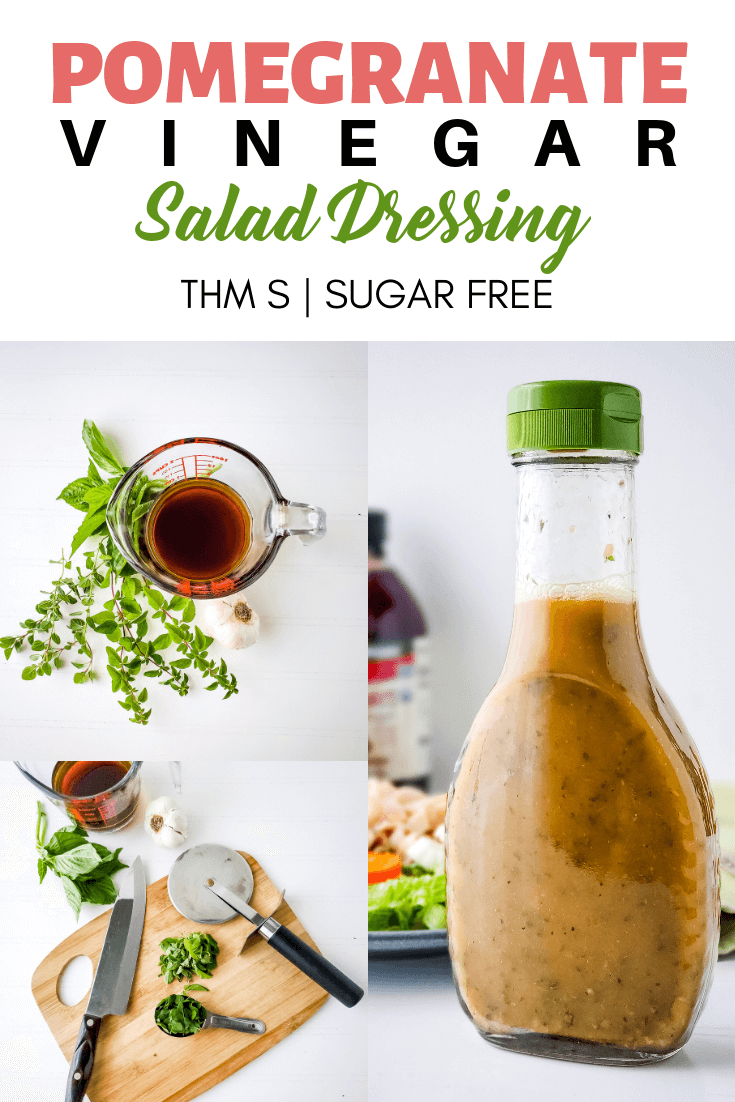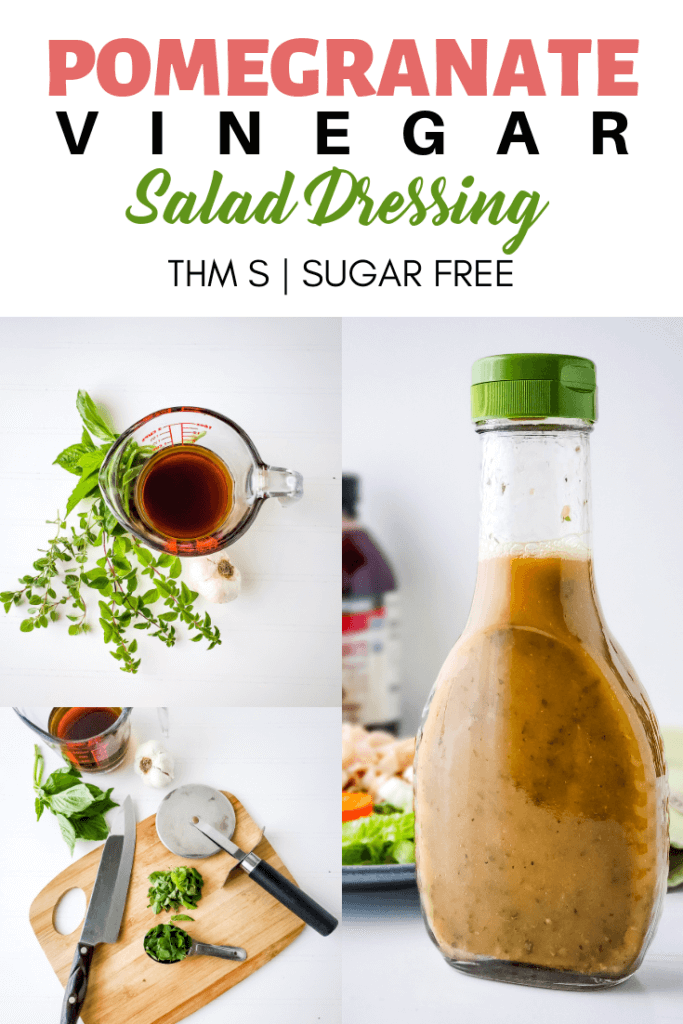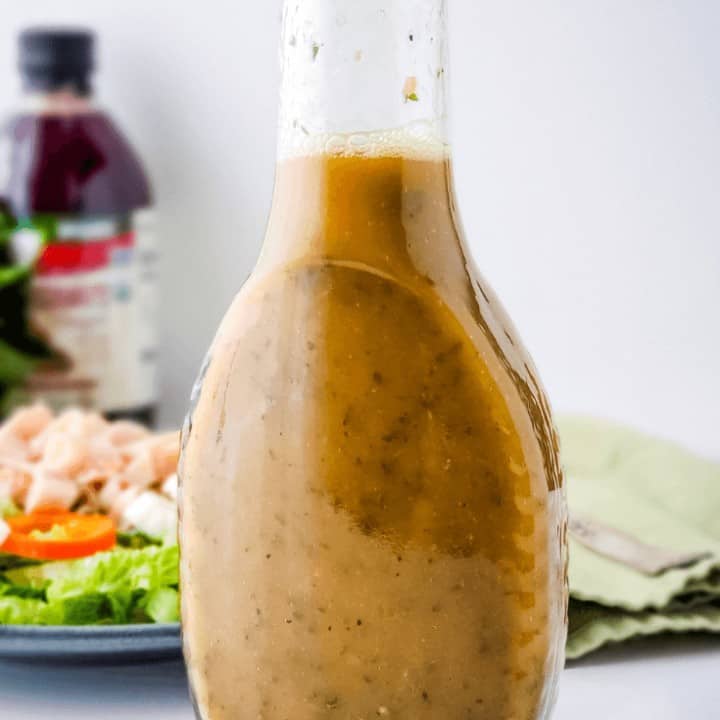 Pomegranate Vinegar Salad Dressing | THM S, Sugar Free
Yield: 1 cup
Prep Time: 10 minutes
Total Time: 10 minutes
Fresh, flavorful, tangy, and slightly sweet this delicious Pomegranate Vinegar Salad Dressing is a delightful change from ACV dressings. Pomegranate vinegar, with the mother, offers similar health benefits to ACV but with a slightly sweeter, less harsh flavor. Sugar free, THM S and Deep S friendly, low carb.
Ingredients
2/3 cup oil (olive or part olive and part MCT oil)
1/3 cup pomegranate vinegar
2 to 3 cloves fresh garlic (or 1/4 to 1/2 teaspoon garlic powder
1 tablespoon fresh marjoram, chopped fine (or 1 teaspoon dried)
1 tablespoon fresh oregano, chopped fine (or 1 teaspoon dried)
1 tablespoon fresh basil, chopped fine (or 1 teaspoon dried)
1/4 teaspoon high mineral salt, or to taste
1/8 teaspoon ground black pepper
Instructions
Combine all ingredients in a glass measure or pint sized mason jar.
Whisk well to combine.
Can enjoy immediately or allow to sit for several hours for more developed flavors.