---
This easy Raspberry Basil Vinaigrette Dressing adds bright, tangy raspberry flavor and healthy fats to your salads. It's a perfect way to dress those non-starchies for Trim Healthy Mamas and others living a low-glycemic lifestyle.
---
There's a secret to making this easy Raspberry Basil Vinaigrette Dressing. Want to know what it is? Raspberry powder. No blender needed with powdered raspberries! Just whisk it all together and there you go.
When looking for raspberry powder be sure to read the label! I came across more than one that had maltodextrin added.
For this recipe I used a Wilderness Family Naturals product I had on hand that is sadly no longer available. However I have found a suitable replacement. This Koyah whole-berry powder is simply made with organic freeze dried raspberries.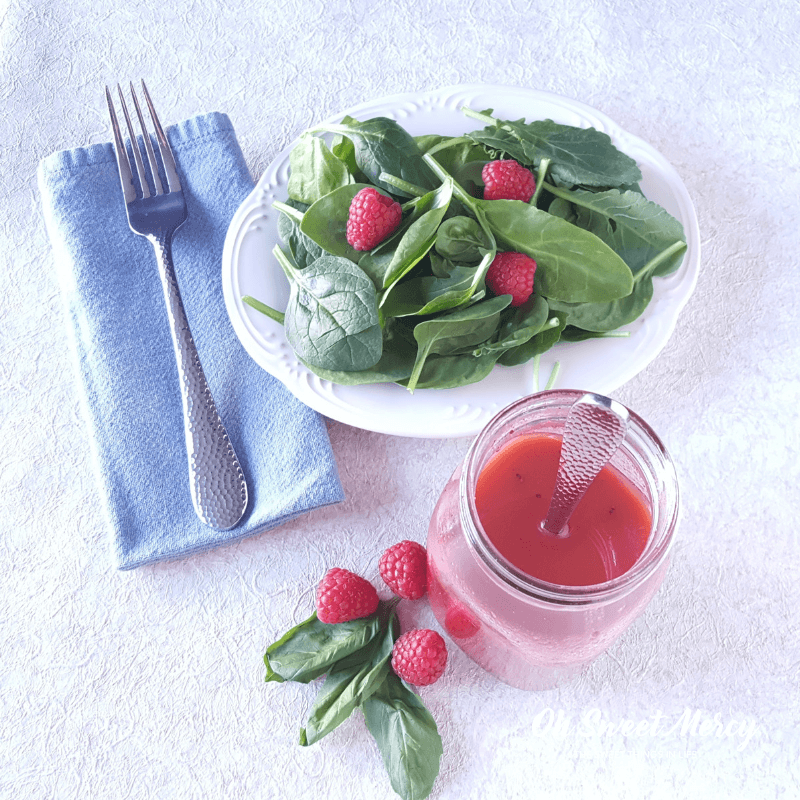 Use Healthy Oils In Your Homemade Salad Dressings.
Make sure to use good quality, healthy oils in your salad dressings! Shockingly, many olive oils are adulterated. Common cooking oils, such as canola, are touted as healthy alternatives to saturated fats but are highly inflammatory.
In addition, canola oil is typically made from a GMO crop treated with glyphosate (Round Up). It's also partially hydrogenated. Sounds like our bodies need an oil change, doesn't it?
You can make this dressing with either all olive oil or a mix of olive and MCT oil. If you're not a huge fan of olive oil based dressings, adding MCT oil will lighten up that flavor. It's also a great source of healthy medium change triglycerides. Alternatively, you could use all MCT oil if you like.
My favorite extra virgin olive oil is from Wilderness Family Naturals. Trim Healthy Mama's brand of MCT oil is also my favorite!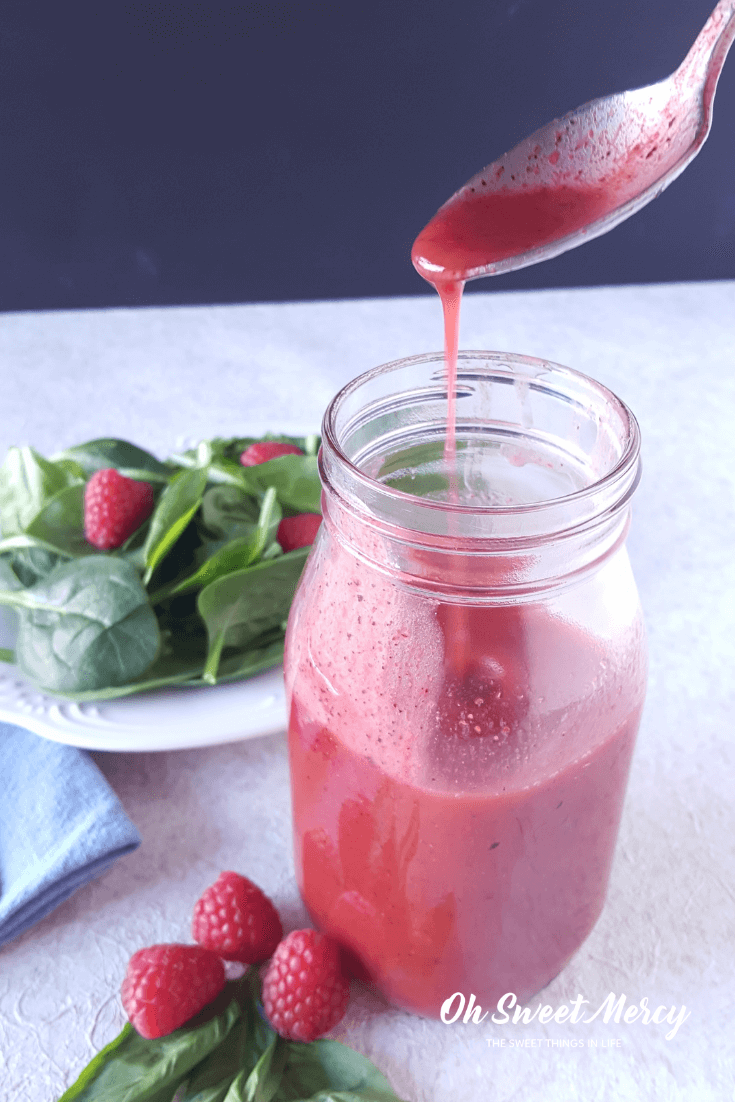 How To Include This Raspberry Basil Vinaigrette In Your THM Meal Plan.
This dressing is an S, Trim Healthy Mamas. Dress your salads with it and make sure to include an appropriate amount of protein in your meal. I made a super simple Raspberry Basil Coleslaw with this dressing and it's absolutely delish!
The whole recipe, which makes 3/4 cup, has approximately 2 grams of carbs. That means each tablespoon has practically zero carbs!
You can also use this dressing as a marinade. It may be December as I write this but I'm already dreaming of a Raspberry Basil Vinaigrette Dressing marinated chicken breast on the grill!
Want more homemade salad dressing recipes? Give my Easy 2 Minute Balsamic Mustard Vinaigrette (another THM S recipe) or Creamy Cajun Ranch Dressing or Dip (a low carb, low fat THM Fuel Pull) recipes a try.
Have You Ever Tried Berry Powders In A Salad Dressing?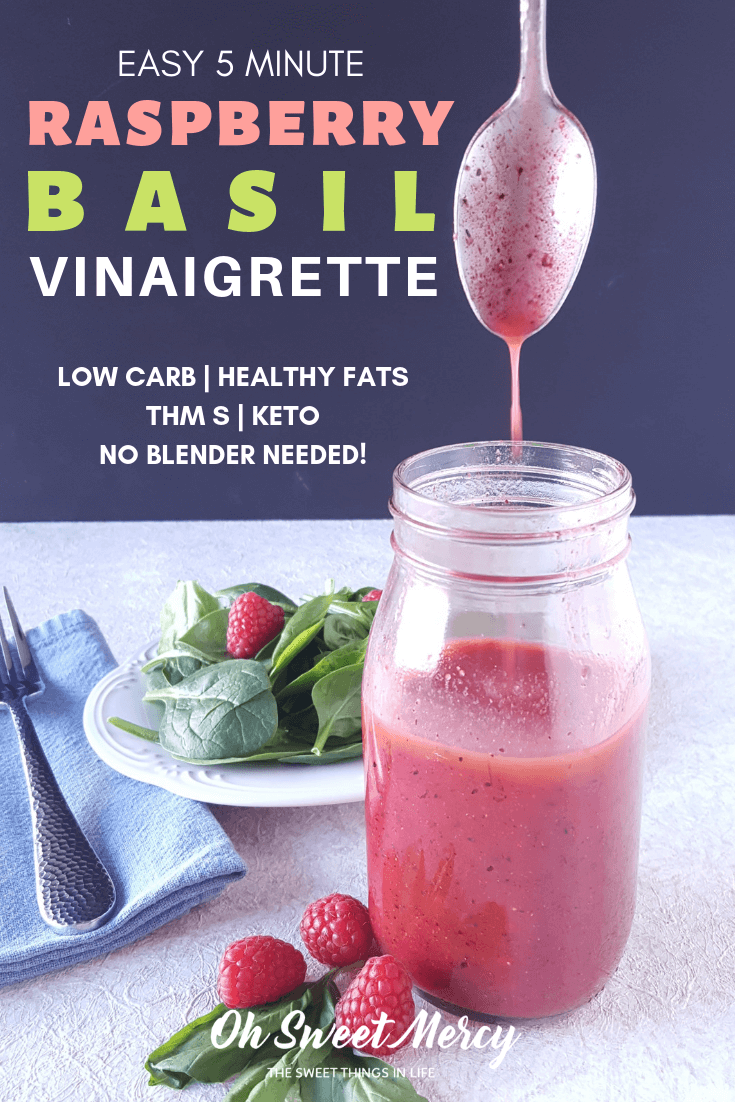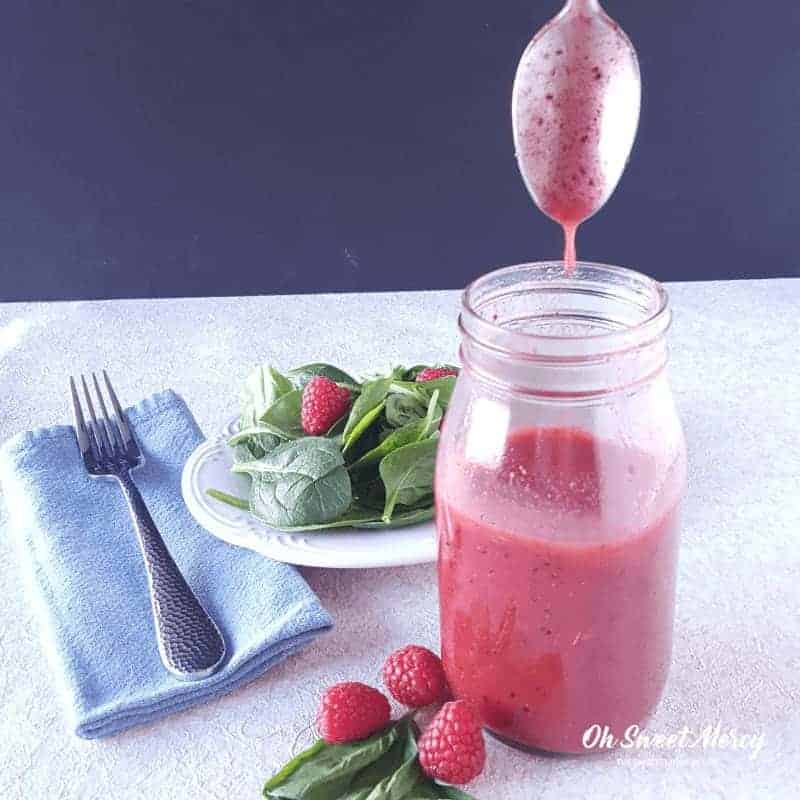 Raspberry Basil Vinaigrette Dressing | THM S, Keto, Sugar Free
Yield: 12 servings
Prep Time: 5 minutes
Total Time: 5 minutes
Bright, tangy raspberry paired with basil makes a delicious vinaigrette. This low carb, sugar free dressing is perfect for THMs, low carbers, and diabetics. It also doubles as a marinade.
Ingredients
1/2 cup olive oil (or 1/4 cup olive oil and 1/4 cup MCT oil)
1/4 cup ACV (apple cider vinegar)
1/8 teaspoon ground black pepper
1 clove fresh garlic (or 1/8 teaspoon garlic powder)
Instructions
Add all ingredients into a pint sized mason jar or other suitable container.
Whisk well until berry powder is completely incorporated.
Can be used immediately but for best flavor allow to sit for 30 minutes or longer.
Notes
Trim Healthy Mamas
You can use your favorite on-plan sugar alternative such as THM Super Sweet or Gentle Sweet. The Sweetener Conversion Chart recommends:
1 tablespoon Super Sweet
3 tablespoons Gentle Sweet (or similar sweeteners)
When using another sweetener, always start with a small amount and taste before adding more.
Recommended Products
As an Amazon Associate and member of other affiliate programs, I earn from qualifying purchases.
Nutrition Information:
Yield: 12
Serving Size: 1 tablespoon
Amount Per Serving:
Calories: 80.5
Total Fat: 9.3g
Saturated Fat: 1.3g
Trans Fat: 0g
Unsaturated Fat: 6.7g
Cholesterol: 0mg
Sodium: 63.4mg
Carbohydrates: 0.1g
Fiber: 0g
Sugar: 0g
Protein: 0g
Nutrition information is approximate and based on the best knowledge available at the time of recipe publication. Your results may vary due to differences in ingredients.