---
Fried okra cooked in red palm oil, paired with blackened salmon, gives you a deeply nourishing and satisfying meal. A drizzle of fresh lemon juice adds brightness and beneficial enzymes. Cooking the okra until it looks ugly is the key! Low carb, keto, paleo, and THM Deep S friendly.
---
Y'all I am not gonna lie – I am not really a huge fan of okra. It's a texture thing for me. But the Mamas in the THM groups rave about roasted okra. Several shared their methods for pan frying it. And it's just so good for you.
I had to try it. Guess what, it's good!
The trick is to make ugly fried okra.
Normally, I'm all about beautiful looking food. Blackened foods aren't necessarily the most pleasing to the eye but this easy Fried Okra and Blackened Salmon tastes so good how it looks takes a backseat.
I'll gladly eat okra if it's ugly because ugly okra means no slime factor. You literally cook the snot out of it. But this photo doesn't look too bad, does it?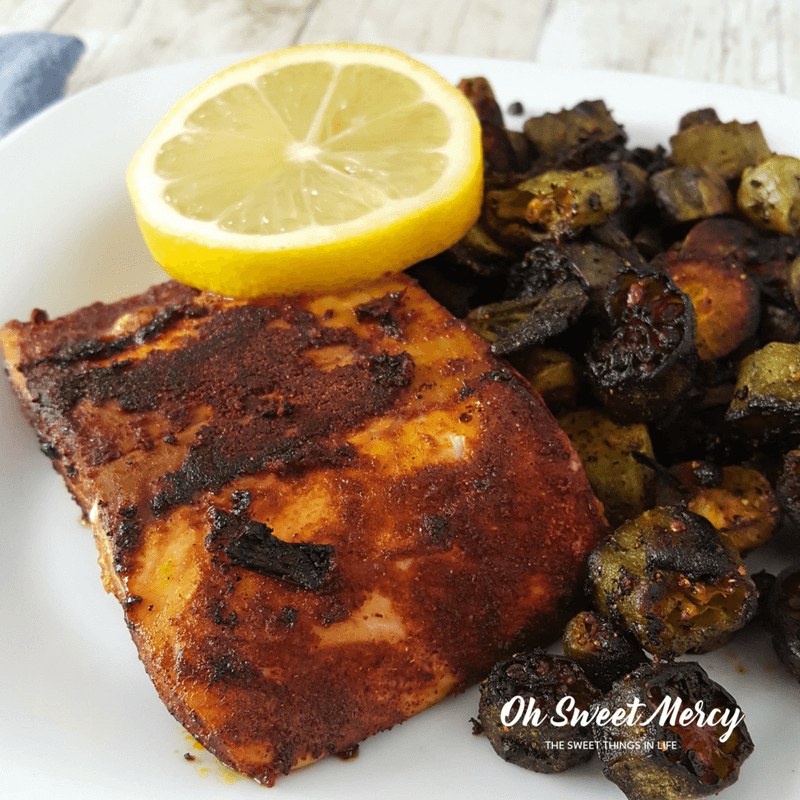 Blackened Is Not Secret Code For "Burned".
While the term blackened may bring to mind something that was forgotten on the stove and burned to a crisp, it's actually a culinary term.
blackened – A cooking technique where meat or fish is usually seasoned with a Cajun spice mixture and then cooked in a cast-iron skillet that has been heated almost red-hot. This technique gives the food an extra crispy crust and sears in the juices. It is also guaranteed to set off your smoke detector–unless the battery is dead! [source]
My exhaust fan was on but the kitchen still got pretty smoky. I didn't crank up the heat until my pan was almost red hot like in the above definition, but it was definitely hot and my salmon (coated with my Spicy Dry Rub) got a nice crust on it. Close enough for me.
Why Eat Okra?
Why would anyone want to eat okra if it's slimy? Okra is really good for you! That "slime" (or mucilage) actually helps coat the gut and ease digestion. So putting okra in smoothies is a great way to eat your okra if your gut needs some healing and soothing.
My absolute favorite smoothie is my Blueberry Lemon Smoothie. The taste of okra disappears and you are left with a lovely, low fat, low carb, antioxidant packed treat.
Other benefits of okra include:
blood sugar control
cholesterol control
great source of vitamin C, K, iron, zinc and other nutrients
hunger control (yay soluable fiber!)
fights fatigue and depression
[source]
The Trim Healthy Mama sisters introduced us to treats like Big Boy Smoothies and Cry No More Brownies, and THMs have been boosting okra sales ever since. You can find those recipes (and more) in the Trim Healthy Mama Cookbook.
Another favorite which uses secret okra is the Queso Chicken Bake in the Trim Healthy Table Cookbook. It's a low fat, healthy carb recipe (designated as THM E on the plan) but doesn't taste low fat at all! Our whole family likes it, though hubby prefers it with shredded lean venison roast.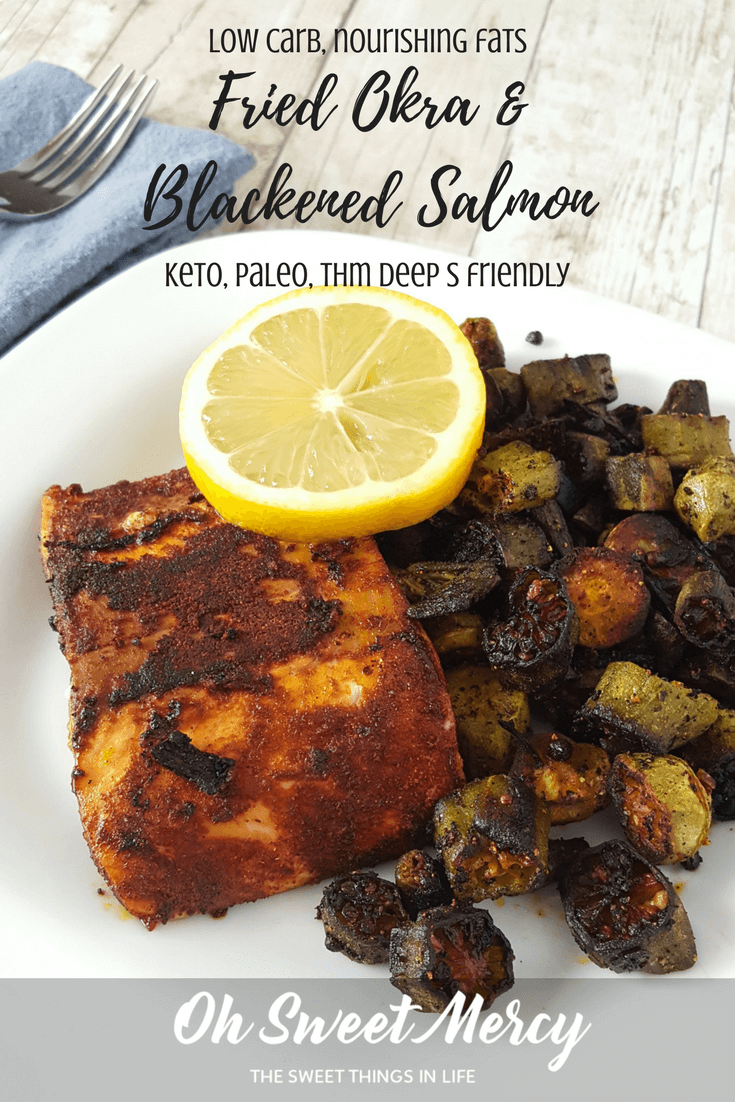 Fried Okra May Not Have The Mucilage But It's Still Packed With Nutrients.
If you are wanting the mucilage effects of okra, you'll want to consume it blended in a smoothie, in a sauce, or gently cooked (not cook-the-snot-out-of-it cooked like this fried okra).
Fried okra still has an impressive amount of nutrients and health benefits. Go ahead and enjoy it fried or roasted. Paired with this easy, spicy blackened salmon you have a deeply nourishing meal.
I love red palm oil (my preferred brand is Wildly Organic) for cooking salmon, meats, and even eggs. But feel free to use butter, ghee, or coconut oil. It's best not to use olive oil here as it will smoke very easily and degrade, which is unhealthy.
Choosing traditional, saturated fats with higher smoke points is the healthiest way to go. Learn more about healthy oils and how to use them in this post.
Do You Like Okra? If You've Never Tried It Will You Now?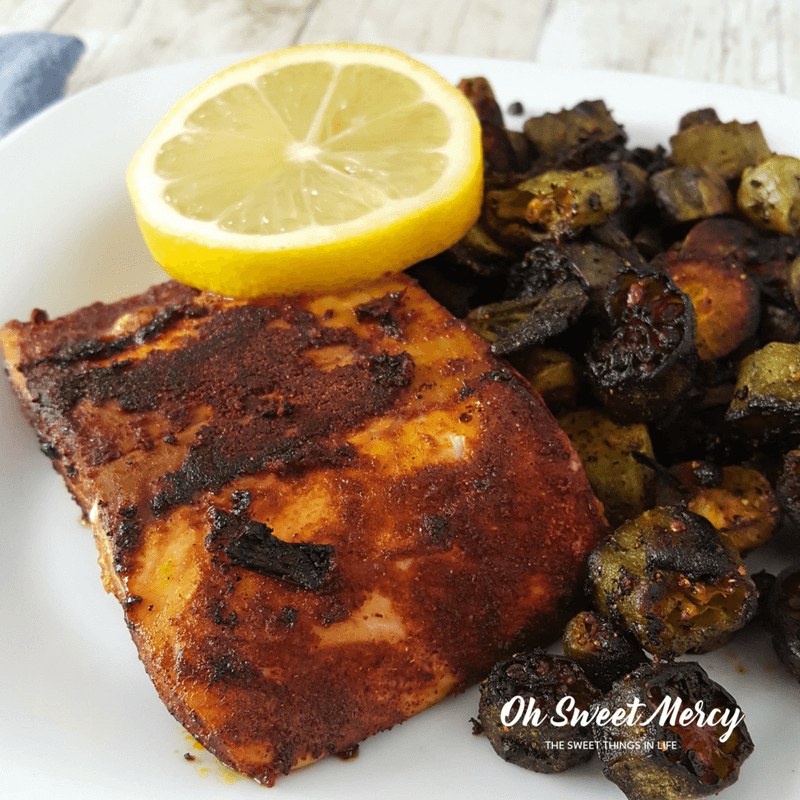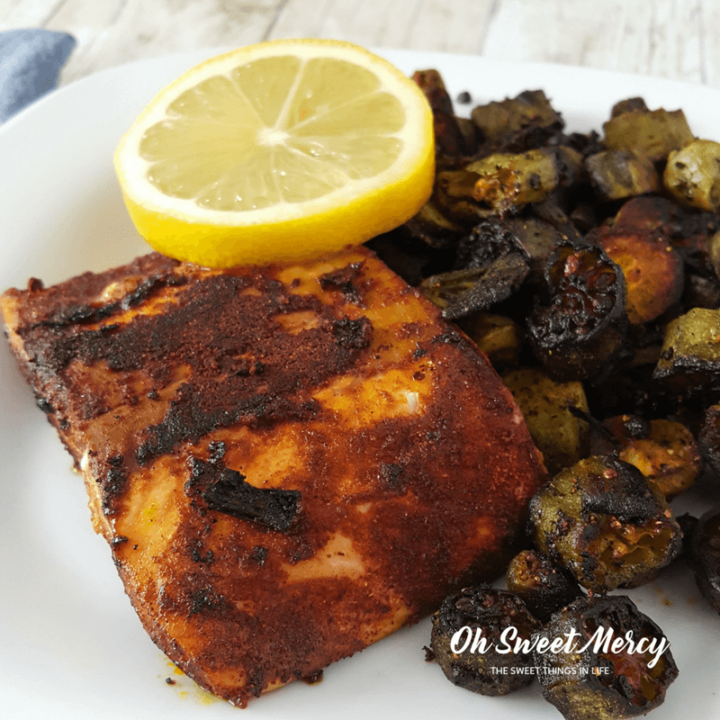 Fried Okra and Blackened Salmon
Yield: 1 or more servings
Fried okra cooked in red palm oil, paired with blackened salmon, gives you a deeply nourishing and satisfying meal. A drizzle of fresh lemon juice adds brightness and beneficial enzymes. Cooking the okra until it looks ugly is the key! Low carb, keto, paleo, and THM Deep S friendly.
Ingredients
1 - 4 ounce portion salmon, per person, thawed if frozen and patted dry
1 tablespoon Spicy Dry Rub, per fish portion (more as needed)
1 tablespoon red palm oil, coconut oil, or butter (plus more as needed)
2 cups frozen, cut okra per person
mineral salt and pepper
Fresh lemon slices
Instructions
Coat fish portion(s) with Spicy Dry Rub and set aside.
In a cast iron skillet, melt fat over medium-high heat.
Add okra and stir to coat.
Cook, stirring occasionally, until okra begins to get dark brown (about 12 minutes).
Sprinkle with mineral salt and a few grinds of black pepper and stir.
Continue to cook until okra begins to blacken, another 3 to 5 minutes or so.
Move okra over to the side of the pan to make room for the salmon (or remove if cooking several pieces of salmon).
Add more fat to the skillet and allow to melt, then add coated fish portion(s).
Cook until edges look firm, then flip and cook through (don't overcook).
Squeeze fresh lemon juice over fish and okra before eating.
Notes
The time to cook salmon varies due to the thickness of the fillets. Thicker fillets will take longer to cook through. 
Trim Healthy Mamas:
If you intend to eat this as a Deep S meal, remember to follow the Deep S guidelines in the Plan Book for the rest of your meal components.
For a regular S meal, enjoy with low carb options.
Nutrition Information:
Yield: 1
Serving Size: Per 4 ounce salmon and 2 cups okra
Amount Per Serving:
Calories: 310.4
Total Fat: 15.5g
Saturated Fat: 6.1g
Cholesterol: 40mg
Sodium: 98.2mg
Carbohydrates: 17.6g
Fiber: 8g
Sugar: 7g
Protein: 23g

Pin This Fried Okra & Blackened Salmon Recipe to Your Favorite Pinterest Boards!