---
These easy Grain Free Stuffed Mushrooms make a perfect appetizer or addition to a party platter. Because they're grain-free low carbers and allergy peeps can enjoy them too. Trim Healthy Mamas these yummy little bites also make a perfect snack!
---
My mom would be horrified to see me publishing a mushroom recipe. I can hear her now…
Daughter, I thought I raised you better than that!
She's just kidding around, of course. For the most part.
For most of my life, I hated mushrooms too.
Like mother, like daughter and all…
It's a texture thing, really. They're so squishy and weird. Yet, I liked cream of mushroom soup in casseroles. Teeny tiny pieces didn't bother me.
My husband loves mushrooms. He loves to hunt them, too. Our daughter has the eye for morels, and we find a few every year. One of these years, we hope to stumble upon the morel motherload.
Because that would make up for the tragic morel misadventure a few years ago.
We drove to one of our favorite Michigan getaways for a weekend of morel hunting.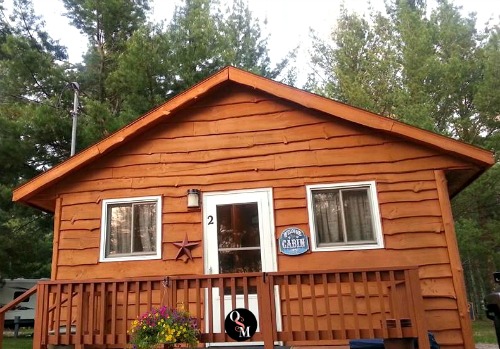 It's a four-hour drive to High Bridge Cabins in Wellston, Michigan. But, Wolfie and Susie make it worthwhile. It's a great little place to stay. Manistee National Forest is a wonderful place to stomp around and enjoy nature, and you're also close to Manistee, Michigan, which has a terrific ice cream shop.
We found one nice-sized morel that year. It was delicious with grilled chicken breast.
About an hour after we left to go home, our Jeep broke down. After several attempts to fix it in the parking lot of an auto parts store, we realized that the only way we were getting home with the Jeep was to have it towed.
Since the tow bill for a three-hour drive would have meant handing over our first born, we made a bunch of calls and finally arranged for someone to come and save us with a truck.
That four-hour drive turned into about THIRTEEN.
A few hundred dollars, and days, later, the Jeep was back in commission.
That was one incredibly expensive morel. Way more than the $30 to $50 or more per pound they're priced at in the local stores and farmer's markets! You'd think I would despise mushrooms now, wouldn't you?
I can't say I love them, or necessarily like them. But I don't pick them out of stuff anymore. And now and then, they just sound good.
Your husband has brainwashed you, daughter!
Hush, mom…maybe you should try one of these Stuffed Mushrooms. They're actually really good!
These grain free stuffed mushrooms won't cost an arm or leg or leave you stranded for hours.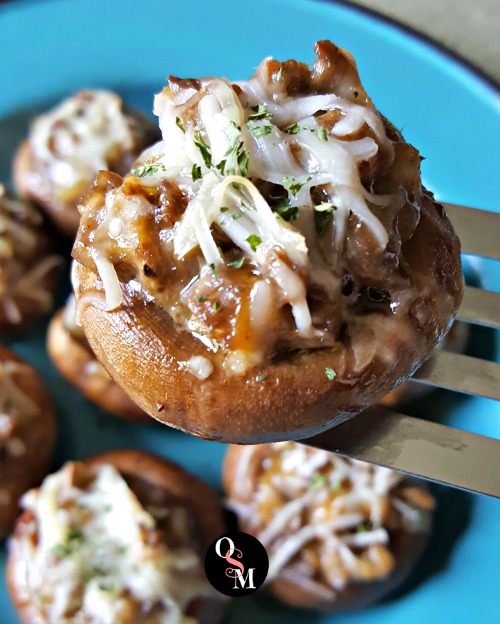 These stuffed mushrooms are simple to prepare and fabulously delicious. I even got a "very good" out of my hubby. He doesn't hand those out often – not much excites him, but mushrooms are one of the foods that he really, really loves.
Most stuffed mushrooms recipes call for breadcrumbs, and I know a mushroom stuffing made that way is tasty. But, if you're gluten free, low carb, a Trim Healthy Mama follower (or all of the above), you want a recipe without breadcrumbs.
I also like to keep things simple and use what I have. Certainly, I could have made a THM friendly bread to use breadcrumbs, but I just didn't feel like doing all that work (and I didn't have the time). These mushrooms still turned out deliciously!
If you need an easy, flavorful, bread-free appetizer idea you'll want to give these a try!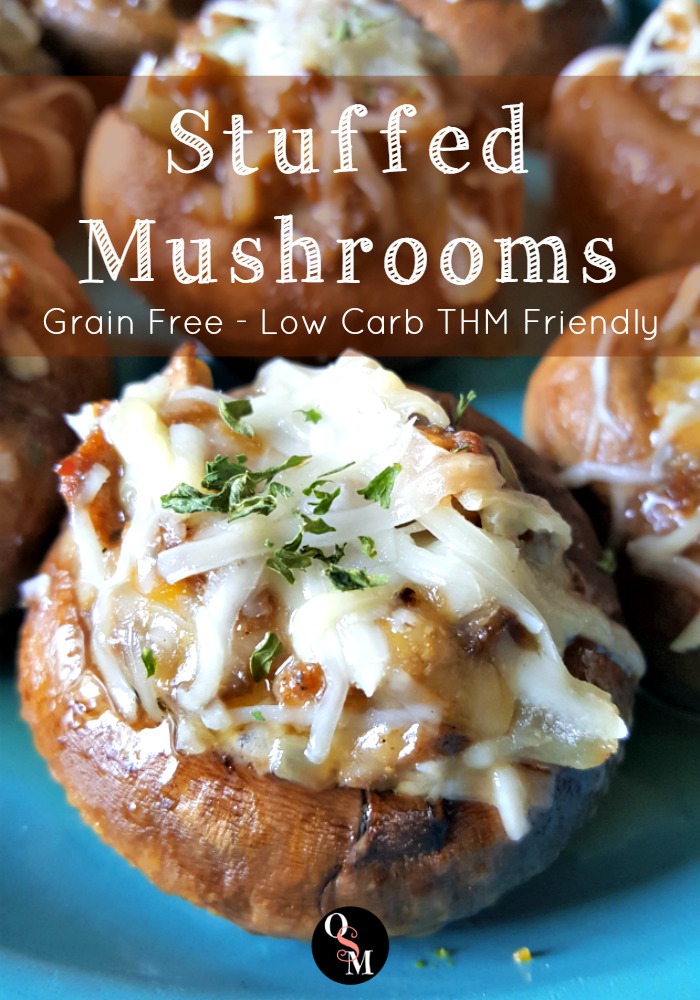 Trim Healthy Mamas, here's how these Stuffed Mushrooms fit with The Plan:
These are an S, Mamas. Zero countable carbs! I made these as an appetizer for my hubby and Mister (Sister takes after Grandma and hates mushrooms) while making supper the other night.
While you certainly CAN pair these with a heavy-S meal, don't do that too often. These Stuffed Mushrooms paired with lean grilled chicken and a big, leafy green salad with plan-approved dressing and fresh berries for dessert would make a satisfying, but not over-the-top on fat, meal.
Learn more about the Trim Healthy Mama Plan by reading my review! Check out my review on the THM Cookbook, too!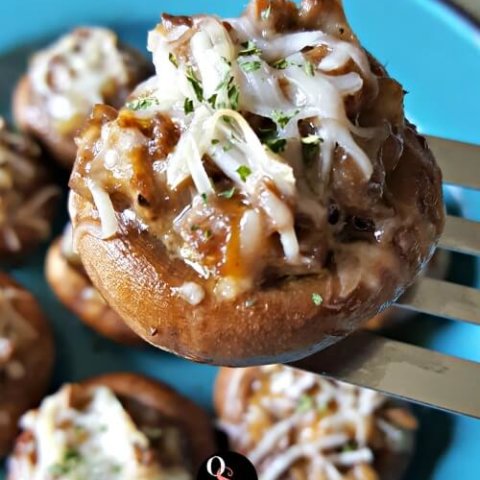 Grain Free Stuffed Mushrooms | THM S, Low Carb, Keto, Grain Free
Yield: approximately 11 stuffed mushrooms
Prep Time: 20 minutes
Bake Time: 20 minutes
Total Time: 40 minutes
These easy, flavorful Grain Free Stuffed Mushrooms are so tasty you'll never miss the breadcrumbs that are usually in stuffed mushrooms. THM friendly (S)
Ingredients
8 oz gourmet stuffing mushrooms (big button mushrooms or your favorite), cleaned, stems removed and diced finely (about 11 mushrooms)
3 tbs diced onion
1/4 c turkey sausage, browned and crumbled
1/4 c shredded extra sharp cheddar cheese
1/4 c shredded three cheese blend (parmesan, asiago, romano) PLUS a couple tablespoons more or so for topping the stuffed mushrooms
1 tbs butter
2 tbs olive oil
Instructions
Preheat oven to 375 degrees
In a skillet, melt butter and add onion
Saute for a few minutes on medium-high heat, until beginning to turn transluscent
Add diced mushrooms, salt, pepper, and garlic powder
Continue to saute for a few more minutes until mushrooms reduce in size
Add turkey sausage and warm through
Remove from heat and stir in cheeses
In a bowl, toss mushroom caps with olive oil until lightly coated. Add more olive oil if needed
Arrange mushroom caps on a baking sheet or in a cast iron skillet
Divide filling evenly among caps (about 1 Tbs each)
Sprinkle a pinch or two of shredded cheese on top of each mushroom
Bake for 20 to 25 minutes, or until they begin to lightly brown
Remove and let set a few minutes before serving
Recommended Products
As an Amazon Associate and member of other affiliate programs, I earn from qualifying purchases.
Nutrition Information:
Yield: 11
Serving Size: 1 mushroom
Amount Per Serving:
Calories: 0
Cholesterol: 0mg
Sodium: 0mg
Carbohydrates: 0g
Fiber: 0g
Sugar: 0g
Protein: 0g

Like this recipe? Please share, your friends will too! Pin to your favorite Pinterest boards!