---
The clever Ground Beef Hack from Pearl stretches your ground beef and adds nutrition. Today I show you how to do this same trick in your Instant Pot! Best of all this Instant Pot Ground Beef Hack takes less than an hour (with maybe 10 minutes of hands-on work) even starting with frozen meat!
---
Pearl recently shared her clever ground beef hack. I couldn't wait to try it! It's truly a brilliant thing of beauty. Plus, our supply of venison is starting to dwindle.
What's this magical hack? Basically, you add volume to your ground beef with chopped up mushrooms. She seasons hers differently so be sure to check out that video in the link above to see how it's done. I just did a very basic, all-purpose kind of seasoning for this.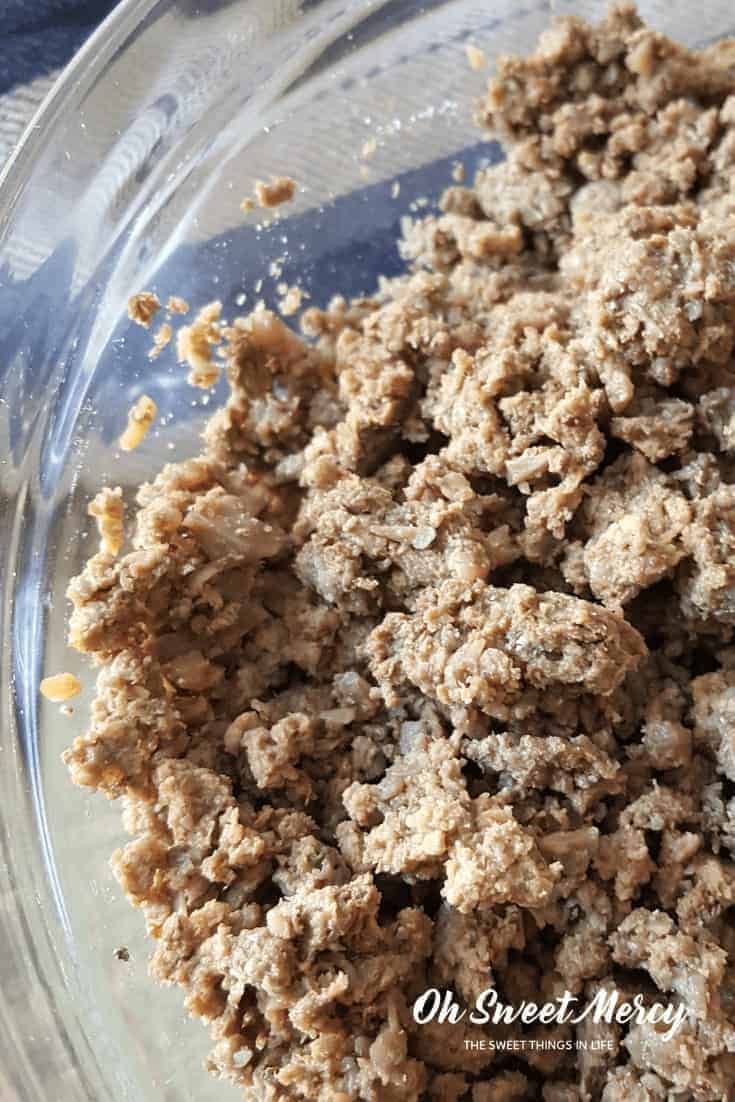 Since Sister does not like mushrooms I had to be all Ninja about this. Ironically, she can spot a morel mushroom a mile away.
That morel-spotting ability also enables her to hone in on a chopped up mushroom in her food like an eagle targeting its prey.
I wanted to try this hack today only one problem – I forgot to get the ground venison out of the freezer.
What to do?
Hack my ground meat while she's still asleep of course. And turn to my magical kitchen helper, the Instant Pot.
Instant Pot To The Rescue Once Again.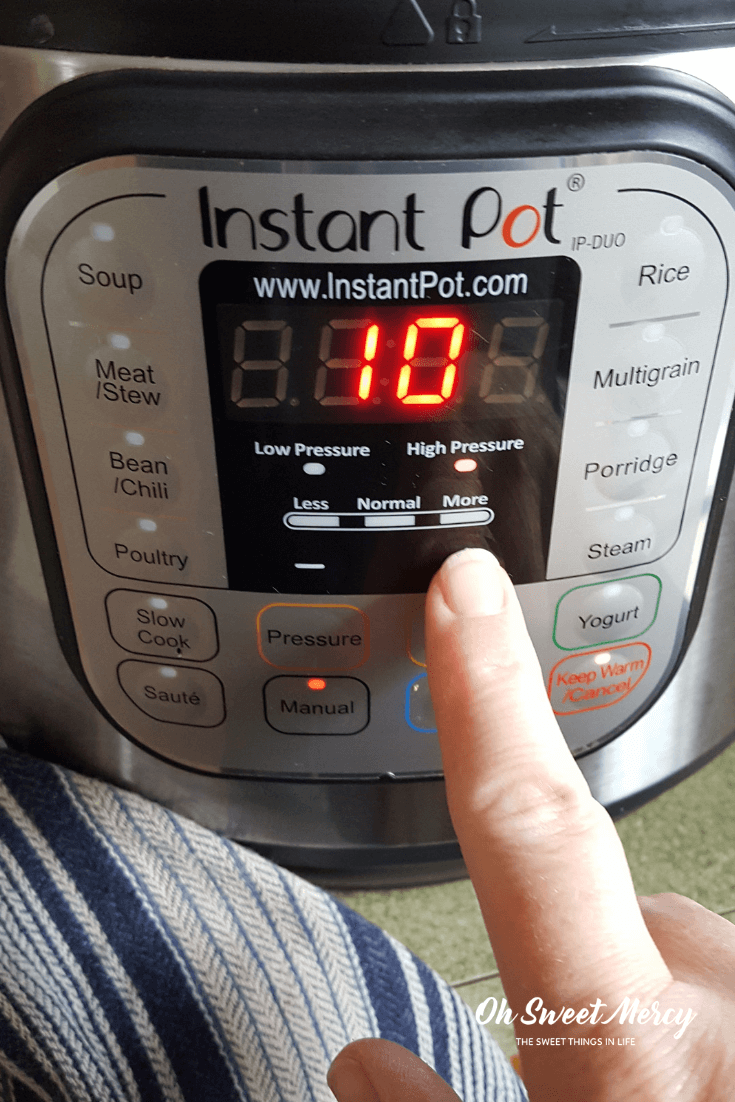 I honestly can't tell you how many times my IP has rescued dinner. For some reason I don't often remember to get the frozen meat out to thaw when I should.
My Instant Pot cooks that frozen meat in no time and no one has a clue that just an hour ago that meat was a solid block of ice.
A pound of frozen ground meat in the Instant Pot for 10 minutes typically results in somewhat cooked meat. The inside is still raw.
So why not throw in those magical hacking ingredients then finish cooking it once the meat is thawed?
I gave it a try and in about 45 minutes I had a little over 3 cups of cooked, ground meat! Just FYI, a pound of ground beef generally yields around 2 cups, so this hack increases your ground beef (or venison) by a heaping cup.
This Instant Pot Ground Beef Hack Is Practically Hands-Off!
If you don't like labor and time intensive tasks, this ground beef hack is just for you. Here's the breakdown of that 45 minutes (more or less):
5 Minutes To Prepare
The best part of using your Instant Pot to hack ground beef? Very little actual hands-on time! It took maybe 5 minutes to put everything in the pot. I used fresh garlic so had to use my garlic press and black peppercorns take a bit to grind.
Additionally, a food processor makes quick work of chopping mushrooms!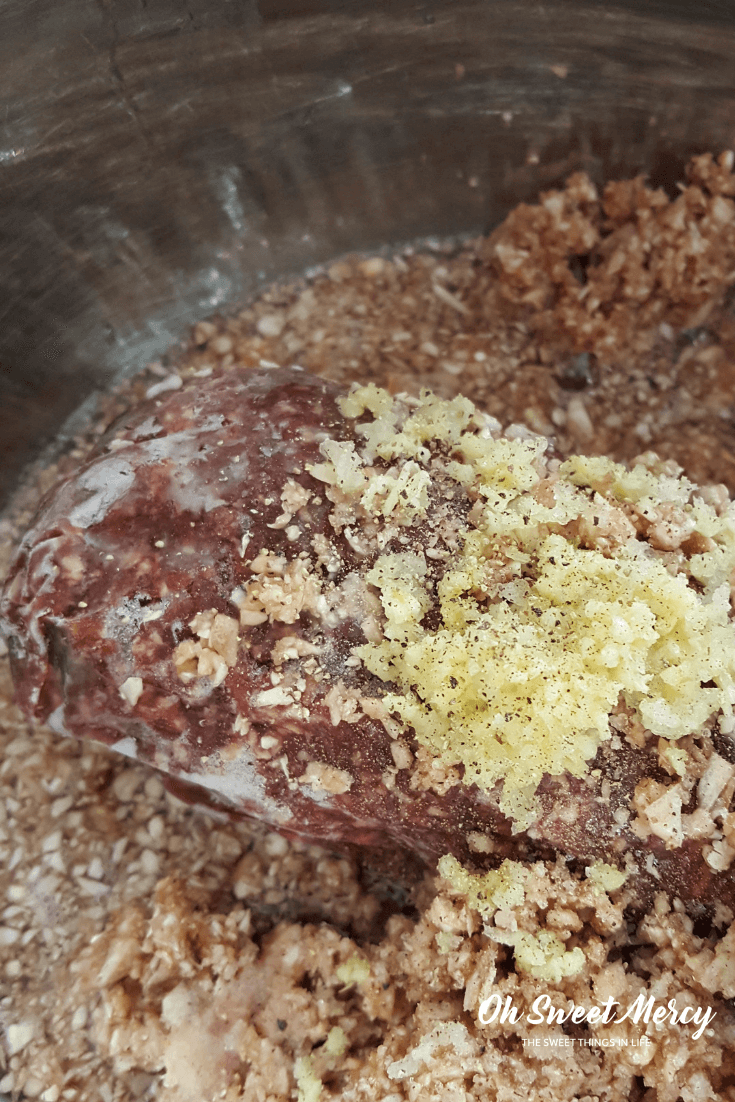 5 Minutes To Pressurize
Frozen meat affects the time it takes an Instant Pot to come to pressure. Using fresh or thawed meat means even less time overall! I used frozen meat directly from the freezer.
10 Minutes Of Cook Time
My experience with frozen hunks of ground meat is that it needs more than 10 minutes to cook all the way through. You could also reduce the cook time somewhat, just remember that you'll need to finish cooking it later.
20 Minutes (Or Less) To Depressurize
It's usually best to let your Instant Pot naturally release pressure when cooking meats. I didn't watch closely so it could have taken less than 20 minutes to depressurize.
The great thing with this is even if you get distracted it's totally fine when you get back to it! The meat may even be completely cooked through, too 😉
3 Minutes To Finish Cooking (Or Less)
After opening the lid on your Instant Pot, switch it to SAUTE and finish cooking the meat. Use a wire masher to break the chunks of meat up into crumbles.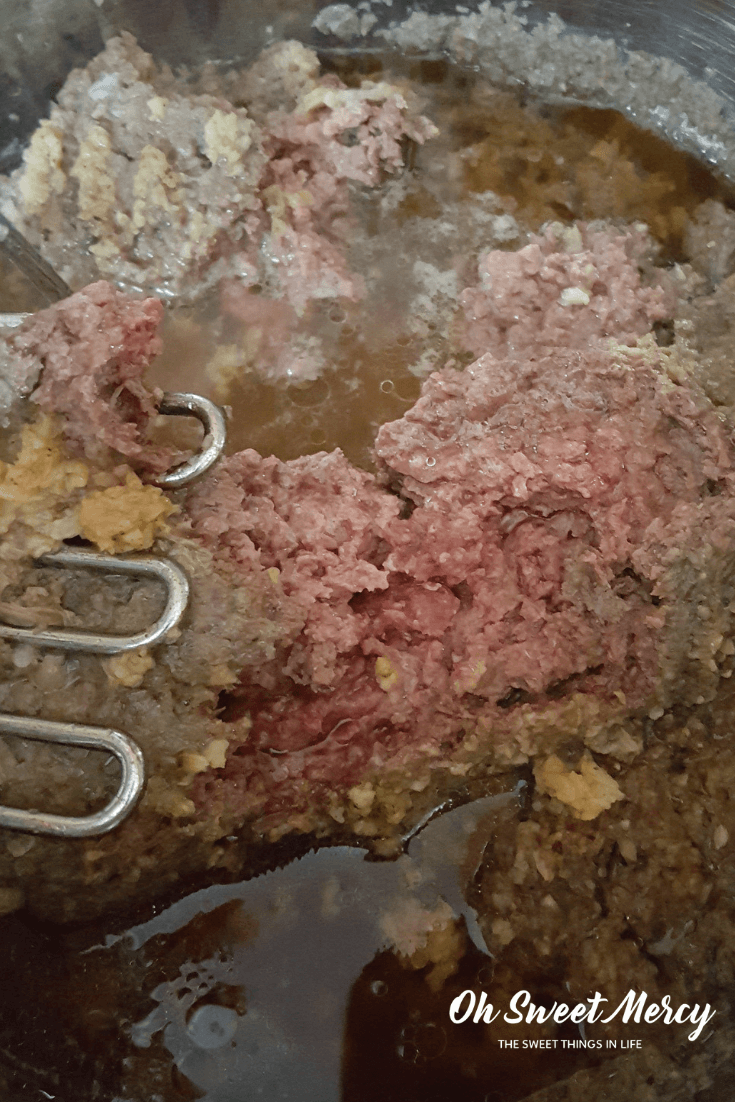 2 Minutes To Strain
There's a lot of juice in the pot after cooking so you'll want to strain that off. Use a fine mesh strainer, especially if your mushrooms are chopped so fine an eagle-eyed daughter can't see them 😉
I just have a small strainer, so if yours is larger it probably won't take 2 minutes.
Again, this is an estimate on how long it took to do. But this should give you an idea that most of the 45 minute time is all on the Instant Pot, not you! 10 minutes of actual work, or less, is all the time commitment you need to make.
Ways To Use Your Hacked Instant Pot Ground Beef
So many ways to use already cooked ground meat, where do I start?
We had my Braised Chipotle Chili for supper the night I hacked my ground vension. No one had any idea they were eating mushrooms, either!
In fact, I asked Sister to taste the meat that I "made ahead for chili later" and tell me if it tastes OK. Her response? "Tastes like meat."
Score! I was a little concerned because it definitely smelled kind of meaty and mushroomy in the kitchen after hacking the ground venison.
Can YOU spot the mushrooms in this ground venison?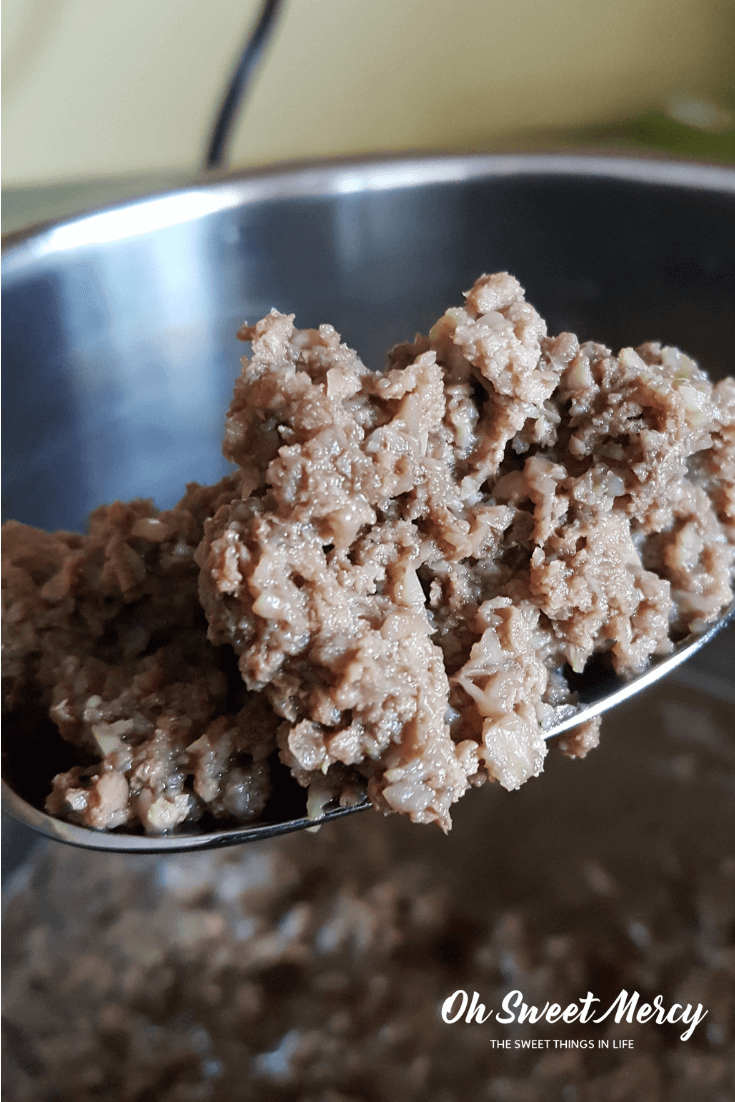 Since it's totally undetectable, here's some great ideas on how to use this hacked ground beef:
Freeze for later in recipe-sized portions, or single serve
Tacos
Sloppy Joes
Soups
Spaghetti sauce
Quick and Meaty Instant Pot Chili (even more quick when you have hacked ground meat in the freezer 😉 )
Big Batch Cooking Helps You Plan Ahead (And Stay On Plan).
The meat you use will determine whether it's suitable for THM S, E, or FP meals. Check the plan guidelines for complete details. Some of the fat will also be strained away thanks to the water in the cooking method, making E and FP friendly meat even easier.
You should never overfill your Instant Pot (or other pressure cooker). Always be mindful of the max fill line inside your pot and follow the manufacturer's recommendations. I would feel comfortable doing 3-4 pounds in my 6 quart Instant Pot myself.
Taking a day once a month to cook up a bunch of ground meat and freezing for later use saves time later! It may also make the difference between staying on plan and going off the rails when life happens.
How Will You Use Your Hacked Instant Pot Ground Beef?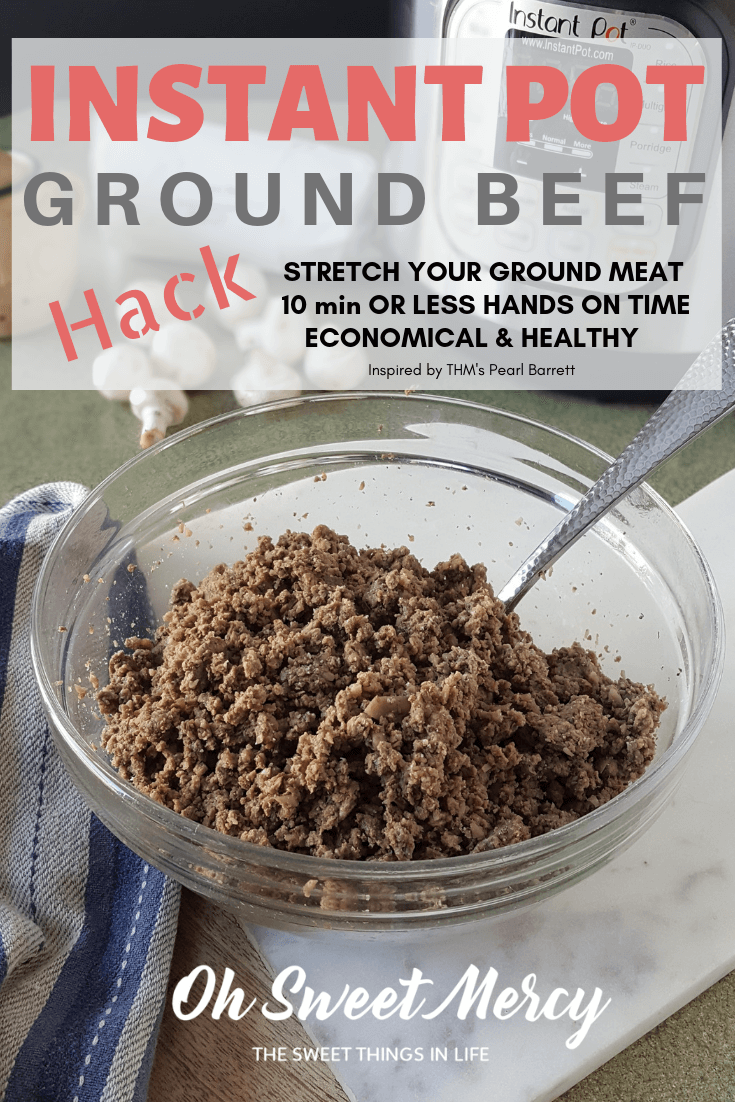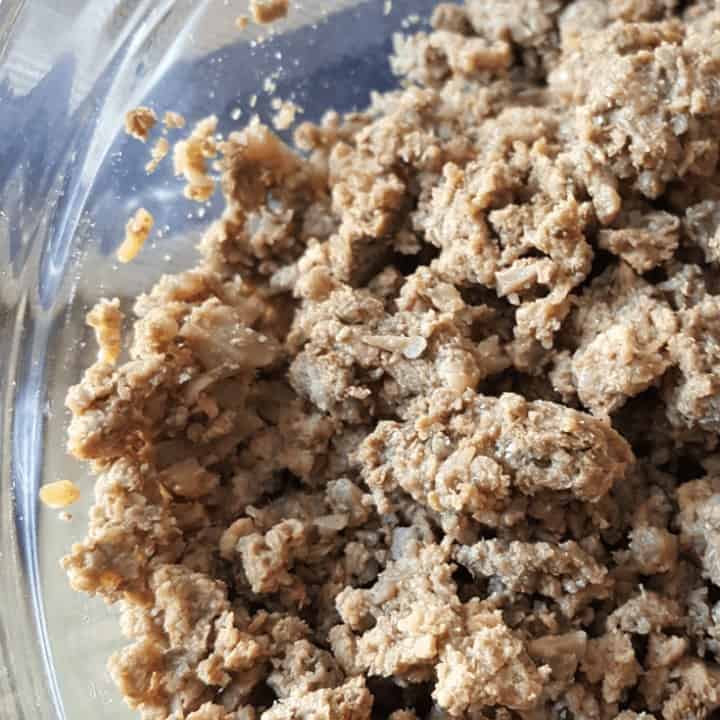 Instant Pot Ground Beef Hack
Yield: A little over 3 cups
Prep Time: 5 minutes
Cook Time: 10 minutes
Additional Time: 30 minutes
Total Time: 45 minutes
Stretch your ground beef or venison using this clever ground beef hack from Pearl (of Trim Healthy Mama fame). Do it even more easily with your Instant Pot, even starting with frozen meat!
Ingredients
1 pound ground beef or venison
8 oz white button mushrooms (or other mushroom of choice)
3 to 4 cloves garlic, pressed or minced
1/2 teaspoon black pepper
1 cup water
Instructions
Place all ingredients into the liner pot of your Instant Pot.
Set valve to SEALING.
Set to MANUAL for 10 minutes.
When cooking is complete, allow to depressurize naturally (NPR, 20 minutes or less)
Remove lid when safe and set pot to SAUTE to finish cooking the meat. Use a potato masher to break it up into crumbles.
Drain juices.
Use as you would any ground meat or freeze for later.
Notes
For every pound of ground meat add 8 oz of mushrooms. Use more if you really like mushrooms.
Only 1 cup of water is needed no matter how much meat you are cooking. It is to help pressurize the pressure cooker and gets drained off after cooking.
Be sure to NOT OVERFILL YOUR INSTANT POT. Consult the manufacturer's recommendations for your particular model.
Can be seasoned any way you like, this is just a basic seasoning that I used.