Like this post and don't want to miss more like it? Be sure to sign up for my newsletter at the end!
---
This Italian Spinach Baked Spaghetti Squash is budget-friendly and mother-in-law approved. It's a delicious low-carb casserole, perfect for Trim Healthy Mama S meals. With a few small tweaks, make it low carb AND low fat for a filling Fuel Pull.
---
Sometimes, you need an easy, budget-friendly meal right?
For many people, that means reaching for the pasta. But, if you're a Trim Healthy Mama follower or on a gluten-free diet that's just not always an option. That's why I heart spaghetti squash so much.
Spaghetti squash is so versatile, so good for you, and since it's cheaper than gluten free pasta it's also good for the budget. Add some dark, leafy green stuff and you've got a very healthy dish. This Italian Spinach Baked Spaghetti Squash is an easy, gluten-free, budget friendly dish that fits perfectly into your Trim Healthy Mama menu.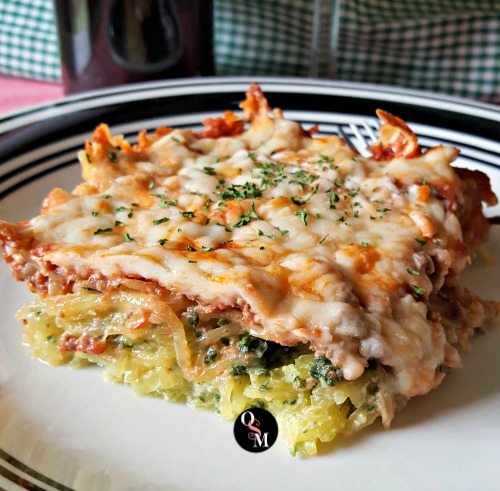 There's a recipe in the Trim Healthy Mama cookbook called Lazy Lasagna that uses spinach instead of noodles. I absolutely love it, but my family not so much. Honestly, I was surprised because so many THMs were raving about how yummy it was and their families just gobbled it up. I even followed one THMs suggestion and pureed the spinach to make it less noticeable.
They noticed.
I have THAT family I guess. But I love them anyway.
Pasta for them, no pasta for you!
Spaghetti was on the menu last night, so I decided to make brown rice pasta for them and spaghetti squash for me. But then I thought about how yummy baked spaghetti is…and I have this delicious smoked provolone just begging to be melted over some Italian-y goodness.
I have a Mock Baked Spaghetti recipe using spaghetti squash but I was thinking of something different. Adding spinach to it, like the Lazy Lasagna recipe, sounded like just what my body was craving.
Learn how to cook a whole spaghetti squash here
This recipe came together quickly as I was preparing my family's supper. I just set aside some ground venison and spaghetti sauce to use in my dish. While the water was coming to a boil for the pasta I popped the Italian Spinach Baked Spaghetti Squash in the oven.
I only had one cup of frozen, chopped spinach and it was very good with just that. If you really like spinach, you could certainly add more. If you have fresh spinach, you could either chop it and mix it into the spaghetti squash mixture or layer it on top before adding the meat and sauce.
You can add more meat if you like but for times when the meat needs to stretch a little farther you'll still have a tasty, filling, and satisfying meal made as written.  A big green, leafy salad, green beans, asparagus or your favorite plan-approved veggies will make a complete meal.
Low carb or low carb and low fat…it's your choice!
As written, this is one of those yummy, satisfying S meals, but it could easily be adapted to fit Fuel Pull guidelines (low fat AND low carb) I plan on trying that in the future. Just make a few adjustments:
Use very lean ground venison (with no added fat) ground turkey, beef, or chicken – 96-99% lean. Or drain then rinse higher-fat meats in hot water. For Fuel Pulls, keep the meat to no more than 3 ounces per serving
Either omit the butter altogether or cut back to 1/2 tablespoon. Add a tablespoon or two of nutritional yeast if you have it for flavor and nutrition.
I used "egg beaters" because I had them on hand and need it to get it used. For an S, a regular egg is fine. For a FP egg beaters work fine, or use egg whites
Bake this without cheese on top, then sprinkle a bit of parmesan cheese on top of your serving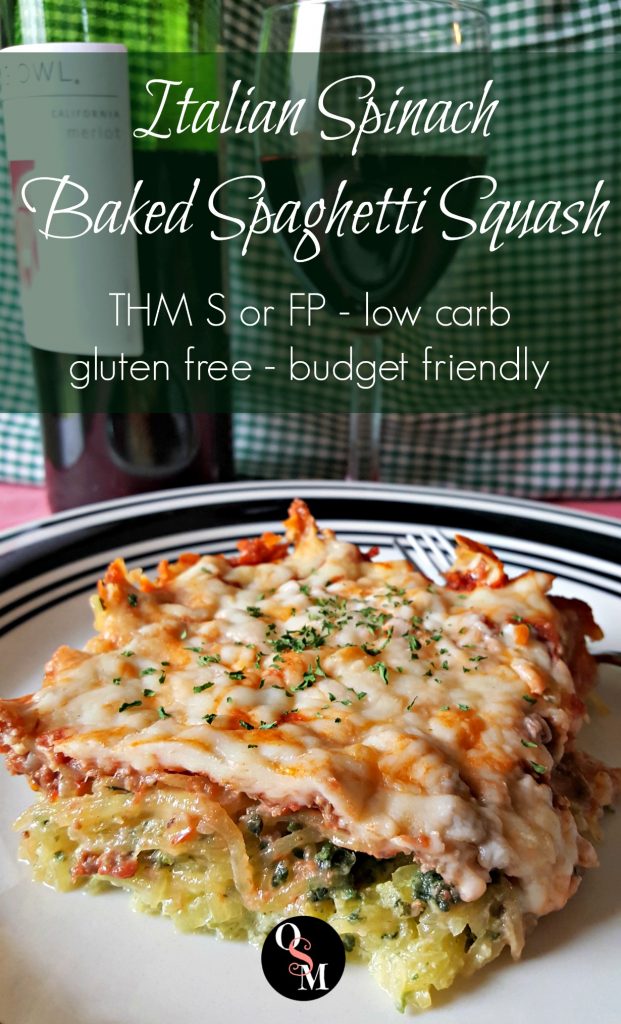 Let's talk about water…
Spaghetti squash and spinach are both watery components. That's part of what makes them good for you, in spite of the inconvenience. There was a small amount of water on the bottom of the dish, but using a slotted spatula and letting it drain a bit before putting it on my plate kept it from being too watery. And since the sauce is on TOP, it doesn't get watered down and you don't lose out on any flavor.
You could squeeze the spaghetti squash well to get out as much water as you can and thaw and squeeze the frozen spinach. I just didn't feel like messing with that!
How to fit Italian Spinach Baked Spaghetti Squash into your healthy eating plan:
Trim Healthy Mamas know that an S style meal is low carb (up to 10 grams net) and a reasonable amount of healthy fats. Pair this with a big, green leafy salad dressed with olive oil and lemon juice, Balsamic Mustard Vinaigrette, or your favorite on-plan dressing. It is filling and satisfying!
If you're going to try it Fuel Pull style, pair it with a big serving of steamed green beans (or your favorite Fuel Pull friendly veggies).
I found one serving to be plenty, but spaghetti squash is one of those veggies you can eat a lot of so a second helping would not be out of order necessarily. I really WANTED another helping, but with the big salad I had I was just too full.
This recipe is for four large servings in an 8″x8″ baking dish. For a 9″x13″ dish, just double the ingredients.
Are you ready? Let's make some magic happen…
Italian Spinach Baked Spaghetti Squash
This delicious low carb, gluten free and THM friendly Italian Spinach Baked Spaghetti Squash is satisfying and budget friendly! It's a scrumptious S, but make a few changes and you've got a tasty Fuel Pull entree.
Ingredients
For the "crust"
4 c cooked and shredded spaghetti squash (about half a large squash)
1 egg (for S version) OR 1/4 c egg beaters OR 1/4 c egg whites (for FP version)
2 Tbs smoked shredded provolone or cheese of choice
1 Tbs butter
1 tsp mineral salt, like pink Himalayan
1 clove garlic, pressed or minced
1 c frozen, chopped spinach
For the topping
1/2 c cooked ground meat (96-99% lean for FP version), seasoned as desired
1 c no sugar added marinara or spaghetti sauce
1 heaping cup shredded smoked provolone or cheese of choice
Garlic powder for sprinkling
Directions
Preheat oven to 350 degrees
Combine spaghetti squash, egg (or egg beaters/egg whites for FP version), 2 Tbs cheese, garlic, salt and butter (melt butter if your squash is cold). Mix well, then add spinach and mix until well incorporated.
Pat into a greased 8"x8" baking dish
Spread sauce over the top
Sprinkle meat evenly over the sauce
Cover with 1 c shredded cheese
Lightly sprinkle cheese with garlic powder
Bake in preheated oven 30-40 minutes or until heated through and bubbly and cheese is lightly browned
Double ingredients for a 9"x13" dish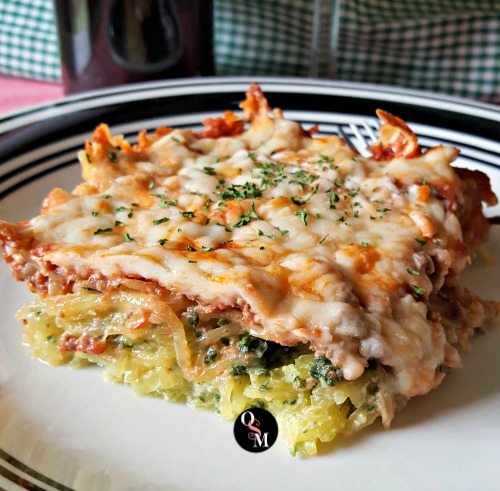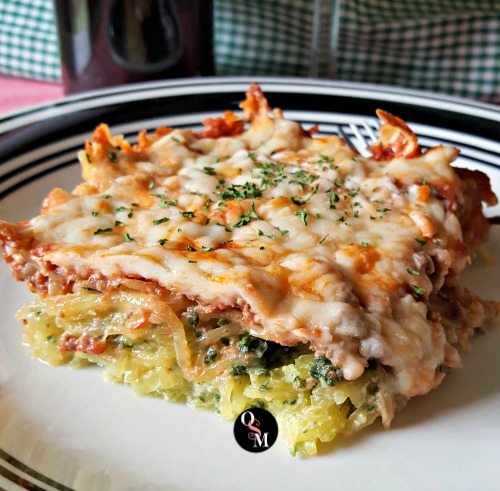 While my recipes are not officially endorsed by Trim Healthy Mama, I do my best to ensure they meet plan guidelines. Always refer to the THM plan book for complete information.

Don't forget to PIN and SHARE this Italian Spinach Baked Spaghetti Squash!