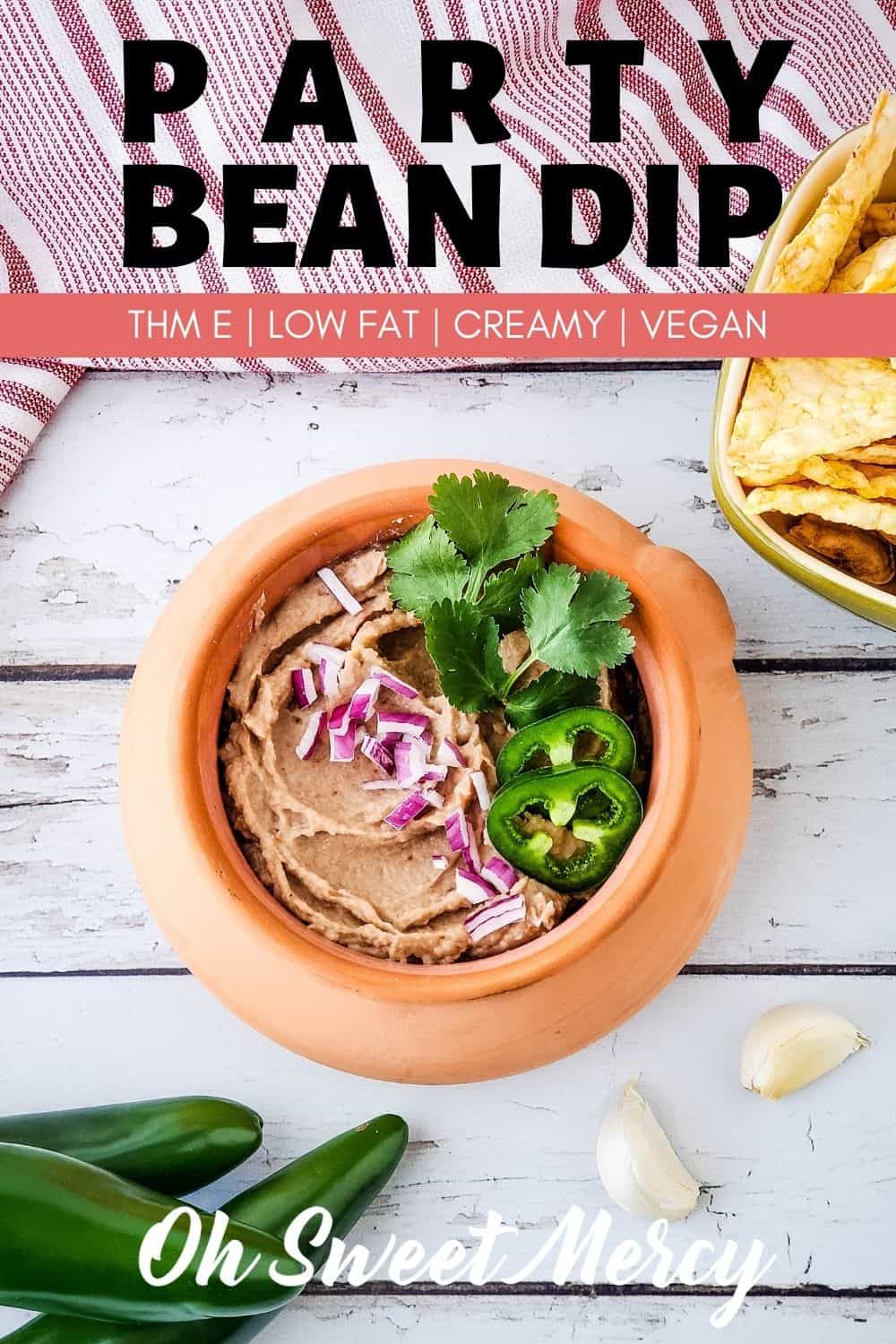 ---
Bean dip may not sound exciting, but my Party Bean Dip is creamy and full of flavor! It's also low on fat, so it's perfect for THMs to serve for a party or other get together. No one will suspect it's diet bean dip! Make it low or no fat for a healthy THM E party dip or snack.
---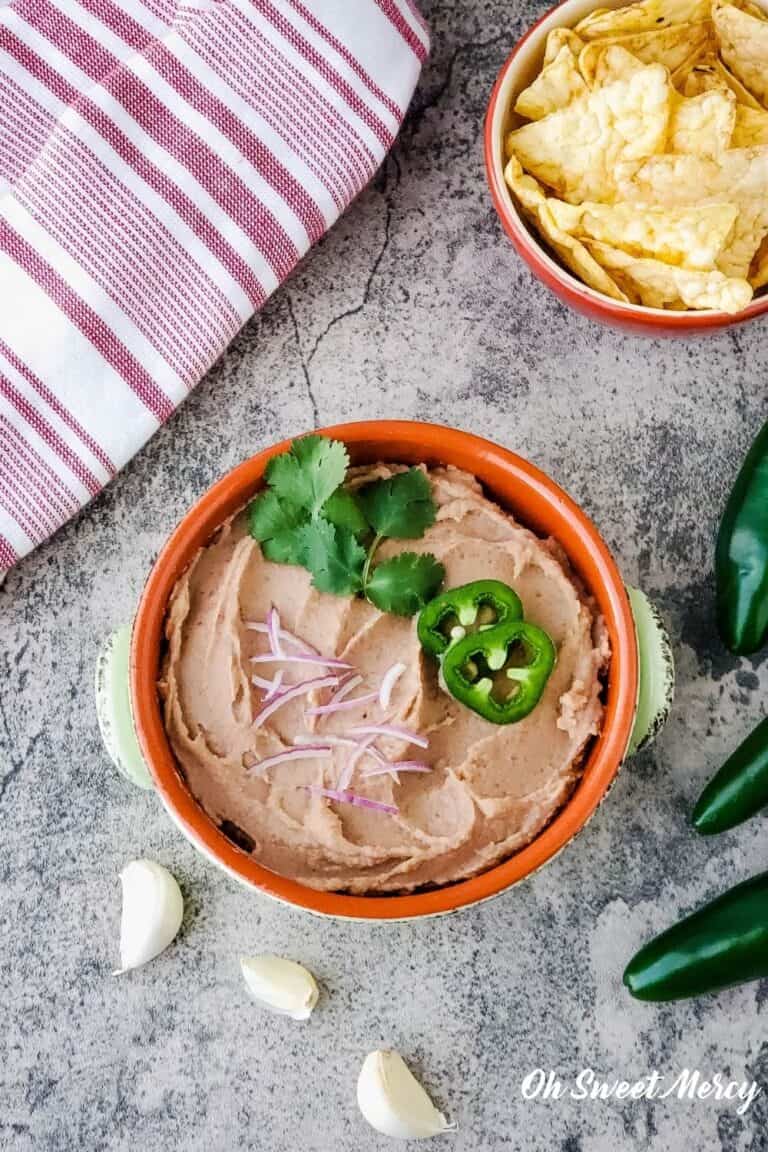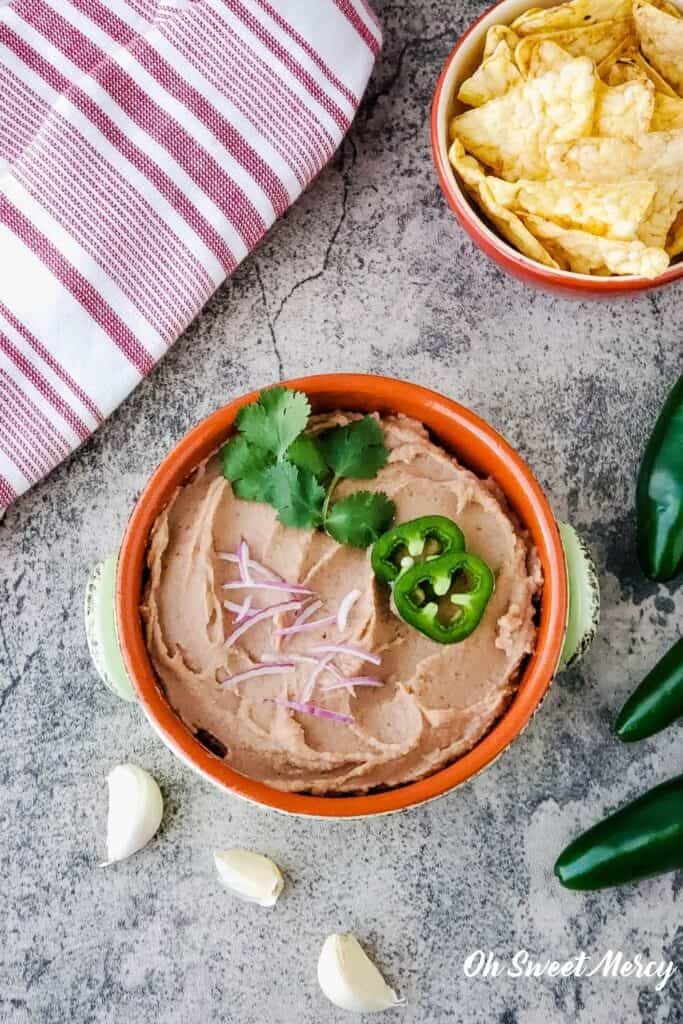 If you've tried those Popcorners chips, you'll love this party bean dip with them! You don't even need to have an actual party to make and enjoy this dip.
It's great as a snack or even part of your meal. I've been known to just have bean dip and some veggies for a light and easy lunch.
The thing with bean dip on the Trim Healthy Mama plan is it needs to be very low fat or fat free to be on plan. Beans are a healthy, slower-burning carb fuel so we have those in our THM E meals.
But, the great thing about this party bean dip is no one will even suspect it's "diet" bean dip! It's creamy and full of flavor, no one misses the added fat that so many other bean dips have.
What Do I Need For This Recipe?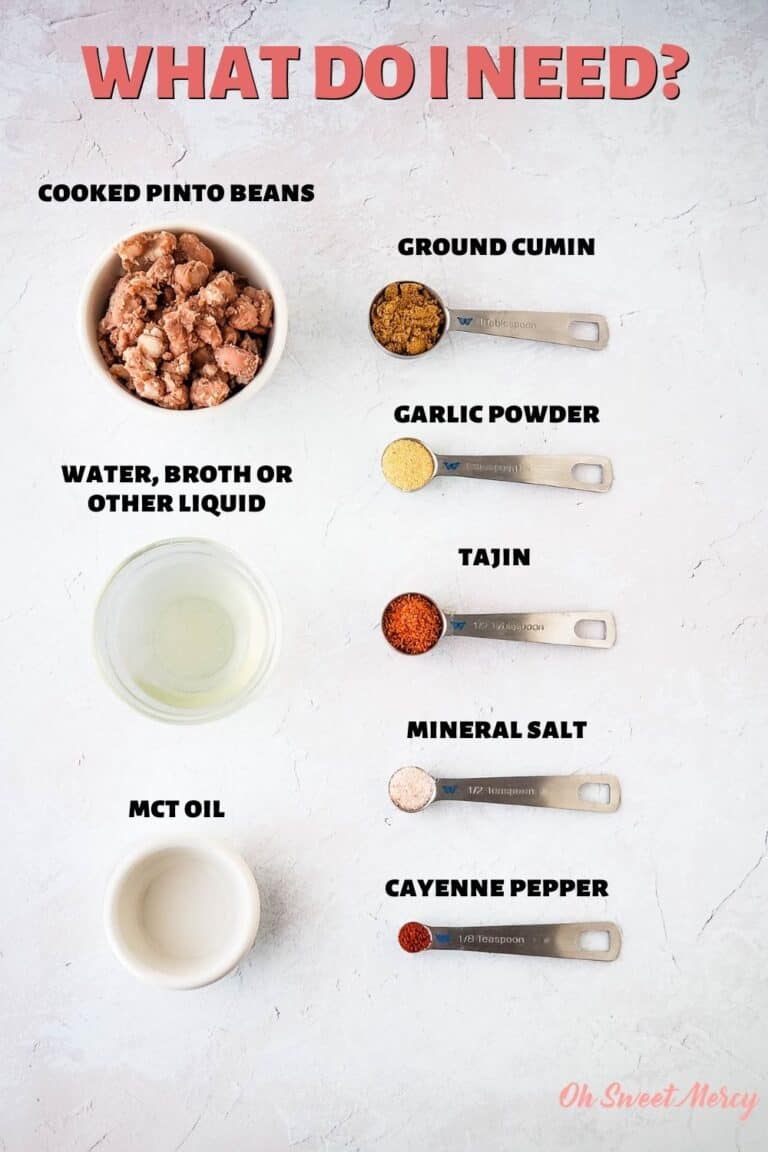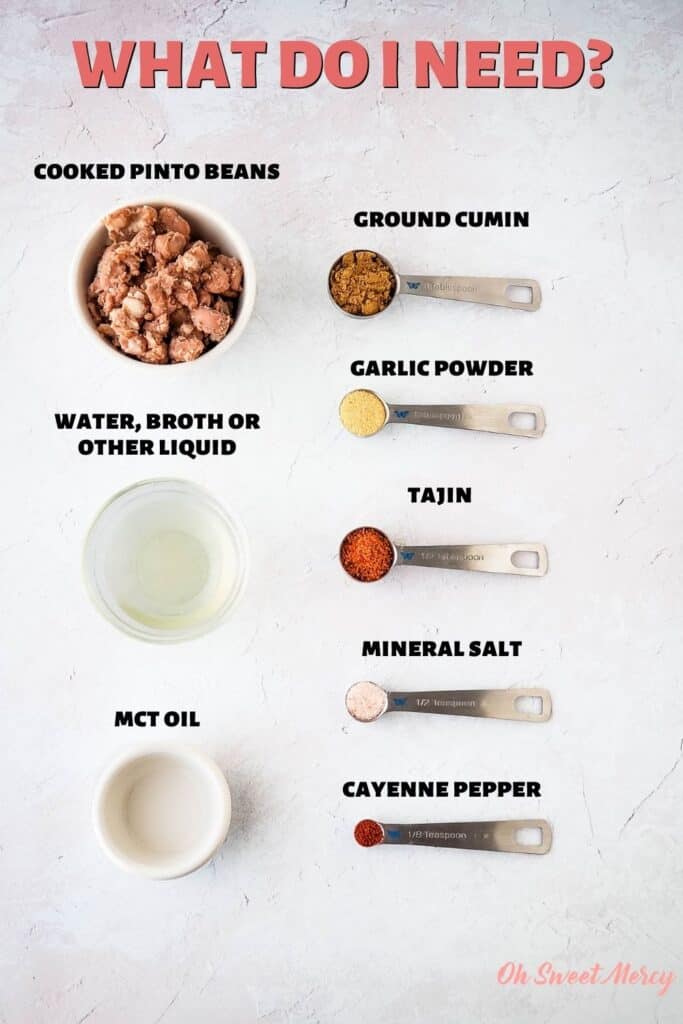 I use pinto beans for this easy bean dip recipe. Any bean should work though so don't be afraid to try another type, like black beans!
You'll need:
Cooked pinto beans
Ground cumin (preferably toasted)
Cayenne pepper (optional)
Salt
Garlic powder
Tajin seasoning (or chili powder and lime juice)
MCT oil (optional)
Water or fat free broth (I use the liquid leftover from cooking the beans)
That's it! So easy, all you need is a little time and something to puree the beans and mix all the seasonings into it.
Can I Use Dry Beans?
Absolutely, and it's my preferred way to make this recipe. It will take a bit longer so be sure to plan ahead. Or, keep soaked, cooked beans in the freezer for quick prep later on.
Soaking also cuts down on the cooking time! Get your beans soaking before bed and they're ready to cook in the morning. Soaked beans cook for 7 to 9 minutes in the Instant Pot, though I recommend cooking them a bit longer. The softer they are, the easier it is to make your bean dip creamy and smooth.
While you don't absolutely HAVE to soak beans overnight (or for 8 hours), nutritionally it's best to do so. It also helps make them more digestible and cuts down on the gas production.
Using a pressure cooker to cook dry beans is super easy, even when not soaked. Consult your Instant Pot, Foodi, or other pressure cooker's manual on how to cook dry beans.
Or, use the stove top quick-soak method. Simply add (to a large pot) sorted and rinsed beans and cover with 2″ of water. Bring to a boil then boil for 2 minutes. Remove from the heat, cover, and let sit for 1 hour.
Drain and rinse them, then cook using whatever method you prefer.
Can I Use Canned Beans?
Yes, absolutely! Drain the beans well (I usually rinse canned beans) then warm them in a pot on the stove with a small amount of water or broth to soften them further.
Drain (reserving some of the liquid) and then let cool a few minutes before adding to the bowl of your food processor.
I used beans I cooked myself in the recipe below and had 4 1/2 full cups of beans. If using canned beans you'll need 3 15-ounce cans of pinto beans. That will give you a little over 4 1/2 cups but this recipe is very forgiving. Just adjust the seasonings if needed.
Do I Need A Food Processor?
A food processor makes this recipe super quick, easy, and creamy so if you have one use it! I have this Cuisinart 8 cup model and it makes this bean dip super creamy.
However, when I first created this recipe I didn't have a food processor. I used a stick blender. It might take a bit more work but it will get the job done.
Most blenders work fairly well, too. Just be sure to add enough liquid to keep the mixture moving. You'll probably have to do this in small batches.
Finally, if you like texture in your bean dip, just use a fork or potato masher.
How To Fit This Party Bean Dip Into Your THM Meal Plans This Week.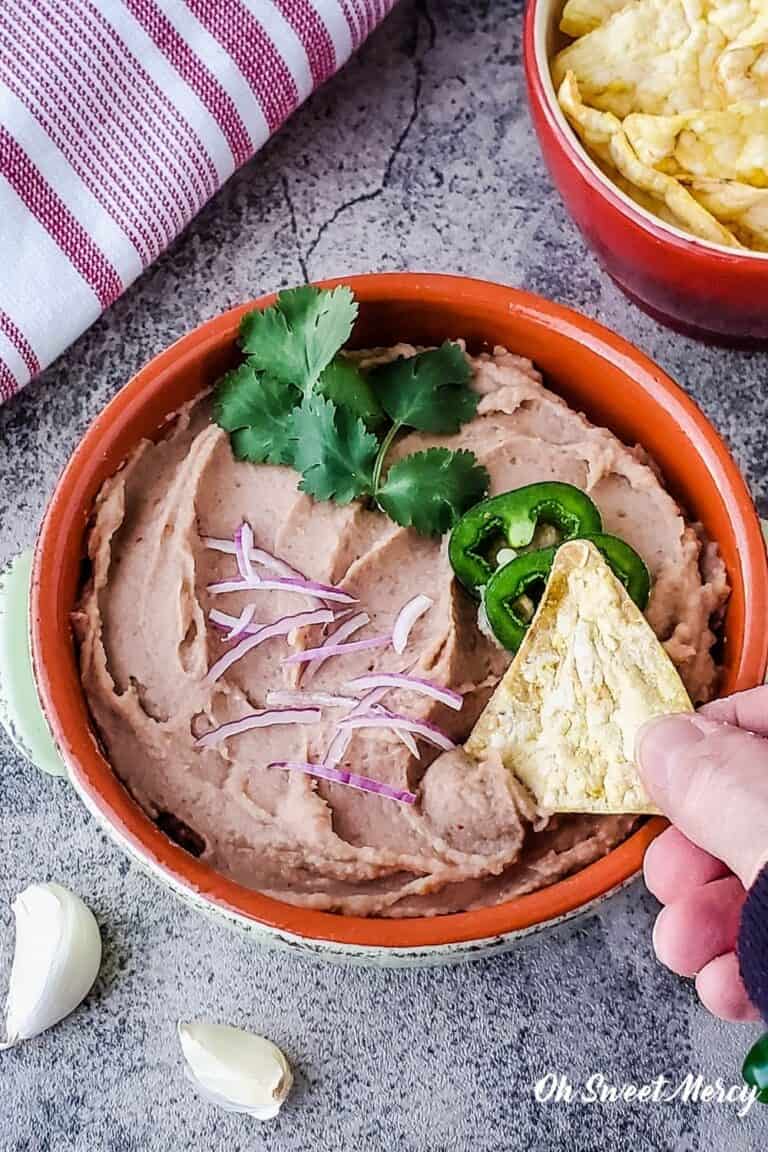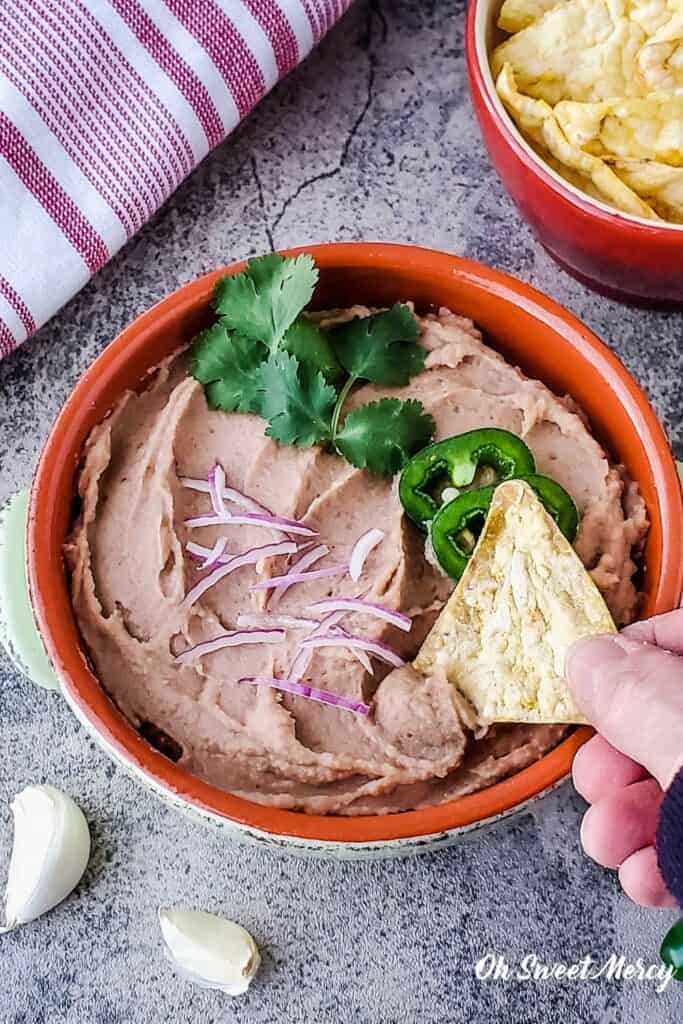 Since beans are an energizing carb source, they're considered a THM E fuel. While you can have up to 1/4 cup cooked beans in a THM S meal, it's best to keep them for E meals most of the time.
Make it fat free and you have room on your plate for those precious added fat grams in E meals. You can top with a sprinkle of cheese, for example.
Your THM E party plate might look like this:
Of course, this is easiest when your party is at home and you've made the food, right?
When you're somewhere else and have to make the best choices you can, look for fresh veggies and fruits and lean proteins if possible.
Or, enjoy a Crossover (XO). They're still on plan, just not quite as conducive to weight loss.
Need more party food ideas? I've got over 90 THM Friendly Game Day Recipes for you with ALL the fuel types!
PIN IT!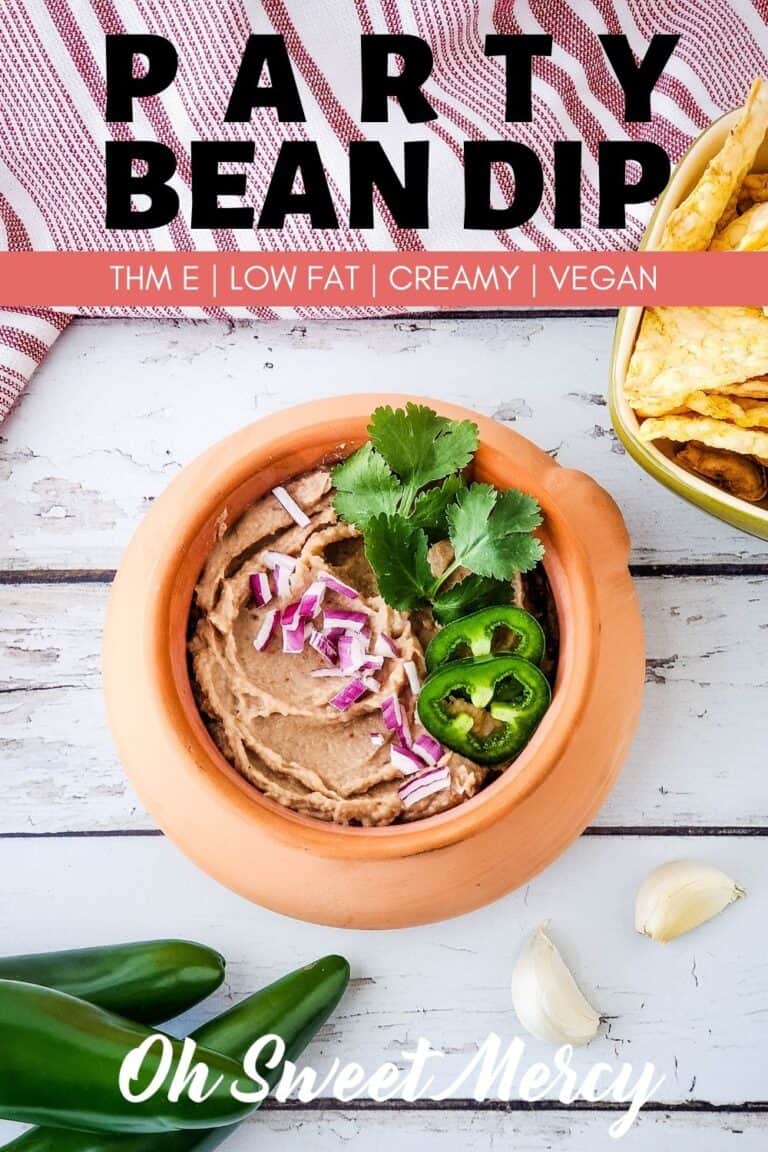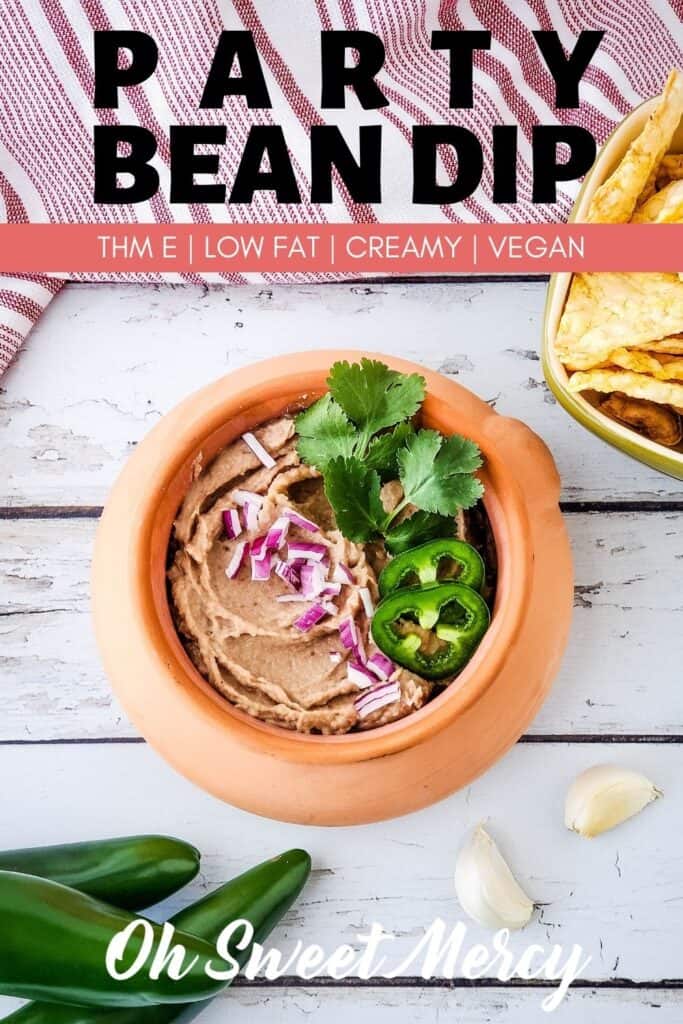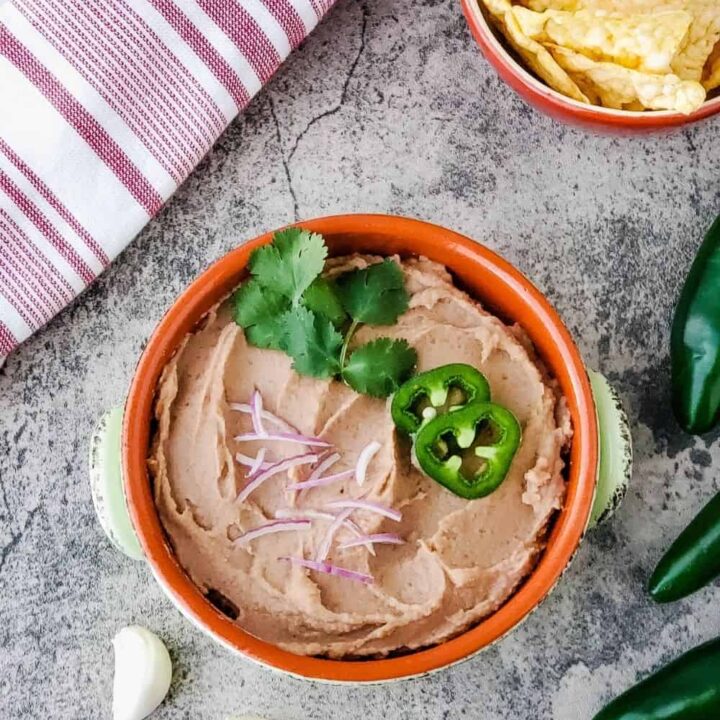 Party Bean Dip | THM E, Low Fat
Yield: 9 cups
Prep Time : 8 hours
Cook Time: 1 hour
Total Time: 9 hours
An easy, healthy, Trim Healthy Mama friendly recipe for bean dip, perfect for parties or potlucks! **Prep time includes overnight soaking of beans**
Ingredients
4 1/2 cups cooked pinto beans (1 c dry pinto beans = 2 to 2 1/2 c cooked)
2 teaspoons ground, roasted cumin, more or less to taste
2 teaspoons Tajin seasoning (see notes for alternative)
1 teaspoon garlic powder
Up to 1 tablespoon of healthy fat, such as MCT oil, neutral coconut oil or grassfed butter *OPTIONAL
1/4 teaspoon cayenne pepper, more or less to taste *OPTIONAL
Water, fat free broth or the liquid left from cooking beans, as needed for consistency
Instructions
Combine all ingredients in the bowl of a food processor and puree beans until smooth, adding liquid if needed to achieve desired consistency
Alternatively, puree in a blender or use a stick blender.
Serve warm, cold or room temperature with chips, veggies, etc.
Notes
TAJIN SUBSTITUTION
If you don't have Tajin, use 1 to 2 teaspoons chili powder and 1 to 2 tablespoons lime juice, or to taste.
Recommended Products
As an Amazon Associate and member of other affiliate programs, I earn from qualifying purchases.
Nutrition Information:
Yield: 16
Serving Size: 1/4 cup
Amount Per Serving:
Calories: 77.1
Total Fat: 1.2g
Saturated Fat: 0.9g
Trans Fat: 0g
Unsaturated Fat: 0g
Cholesterol: 0mg
Sodium: 209.9mg
Carbohydrates: 12.9g
Net Carbohydrates: 8.6g
Fiber: 4.3g
Sugar: 0.3g
Protein: 4.3g
Nutrition information is approximate and based on the best knowledge available at the time of recipe publication. Your results may vary due to differences in ingredients. You can make your own calculations if this recipe does not include nutrition info by using an online calculator such as https://recipes.sparkpeople.com/recipe-calculator.asp