It's been a little over a month since I started Trim Healthy Mama, and it's high time I start posting some recipes!
Since I'm going to a family get together today, I thought I'd share this recipe I whipped up for Party Bean Dip. It's totally THM friendly and super easy…on top of tasting great! Everybody wins, right? Now you can make an on-plan dish for a party or potluck, and no one will even know it's "diet" food. I love Covert Cuisine 😉
read my review of Trim Healthy Mama here
This Party Bean Dip only has five ingredients, too.
And a couple are totally optional. Once you get the beans soaked and cooked it only takes a few minutes to put together. So remember to soak your beans the night before and give yourself an hour to an hour and a half for the beans to cook. You don't need to wait until they cool, necessarily. If you are using a blender to puree the beans, you might want to let them cool a bit to avoid the lid popping off and hot bean puree flying everywhere.
Since I don't have a blender or food processor, I used my stick (immersion) blender.
I wasn't sure how well it would work, but it did a great job of quickly turning my pintos into a mostly smooth, creamy puree. I don't mind a few pieces of beans here and there. It gives it a nice, rustic texture. I am not, after all, a commercial bean processing factory. If texture is an issue for you, just puree it longer.
The star seasoning in this Party Bean Dip is roasted, ground cumin.
You don't HAVE to use roasted cumin, but it's better if you do. I quickly dry-roasted some cumin seeds in my cast iron skillet. They say "roast in pan until fragrant." Cumin is already pretty fragrant, so also look for a nice, roasty brown color. It should only take about five minutes over medium heat.
Grind those beautiful, roasty cumin seeds in a mortar and pestle, if you have one.
Sure, it takes a little more work, but if you have a beautiful mortar and pestle that you got from your awesome mother-in-law, you look for opportunities to use it as often as you can. If you don't have one, you can find one here, or use a spice grinder like this one.
Add the cumin, sea salt, pressed garlic, cayenne pepper and mix well.
I give the amounts I used in the printable recipe below, but if you're not crazy about cumin, add a small amount at a time to suit your taste. Same with the cayenne. If you really like it spicy, add a lot. You could also add fresh chopped jalapeno peppers for some real kick. Or if you're just completely crazy, throw some Ghost Peppers in there. Come back and comment if you do, as I am not crazy and will never put Ghost Peppers in my Party Bean Dip!
Now, taste the Party Bean Dip and adjust the seasonings, if necessary.
Add some fat if you want. You can leave out the fat completely and it will still be good. But, some good, quality healthy fats make a bean dip so much better. It gives it a roundness, or fullness, and makes it so satisfying.
You can add up to three teaspoons (not TABLESPOONS) of fat (such as neutral coconut oil or grassfed butter).
Start by adding a teaspoon at a time until it tastes like you'd like it. I never used to measure before, or pay attention to how I combined my fats and carbs, and even though I was eating good ones, I was still not losing weight because I combined them improperly. I'm much more wise now, thanks to Trim Healthy Mama!
Once it tastes fabulous, put it in a bowl and serve immediately if you like it warm.
Or refrigerate until party time and reheat in the oven…or just serve it cold or room temperature. You can eat this with plan-approved chips or dunk some fresh veggies in it. Or just eat it by itself! If you're used to cheese on your beans, be sure to remember that if you add any fat to the beans, you're going to be limited in how much cheese you can add to keep it in "E" territory. Leave the fat out if you want to add cheese, and use a good quality, low fat cheese.
Printable Recipe: Party Bean Dip – Trim Healthy Mama Friendly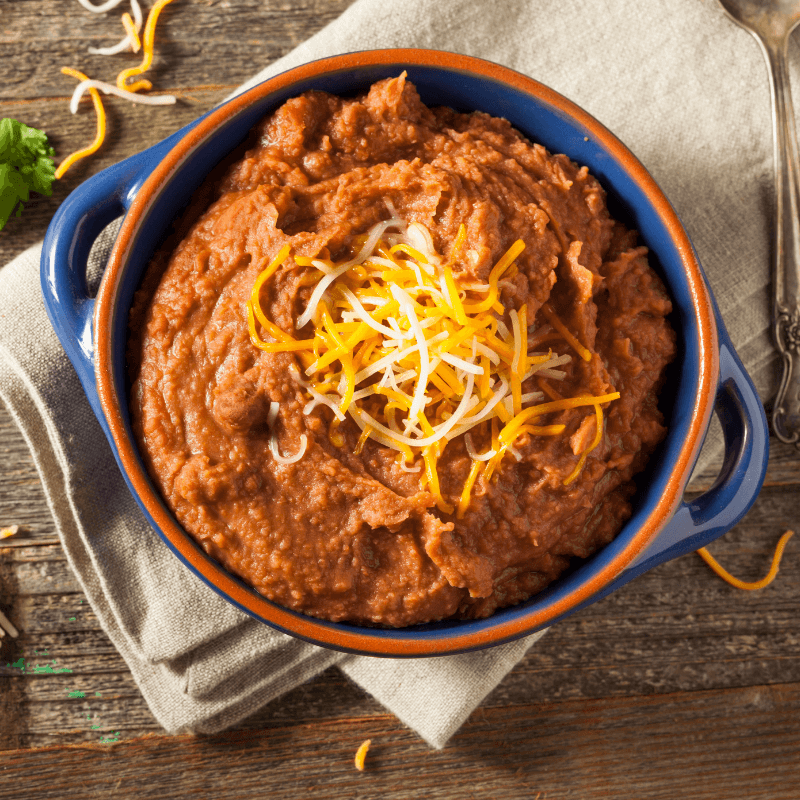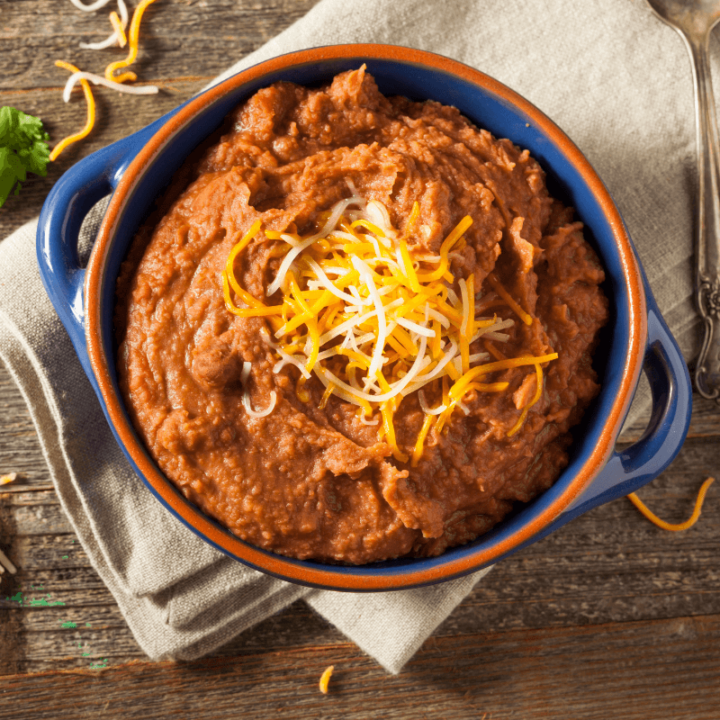 Party Bean Dip | THM E, Low Fat
Yield: 9 cups
Prep Time: 8 hours
Cook Time: 1 hour
Total Time: 9 hours
An easy, healthy, Trim Healthy Mama friendly recipe for bean dip, perfect for parties or potlucks! **Prep time includes overnight soaking of beans**
Ingredients
9 c cooked pinto beans (1 c dry pinto beans = 2 to 2 1/2 c cooked)
2 tsp sea salt, more or less to taste
2 tsp ground, roasted cumin, more or less to taste
1/4 tsp cayenne pepper, more or less to taste *OPTIONAL
Up to 3 tsp of healthy fat, such as neutral coconut oil or grassfed butter *OPTIONAL
Water, fat free broth or the liquid left from cooking beans, as needed
Instructions
Soak pinto beans, drain and cook in fresh water for about an hour to an hour and a half, until beans are very soft
Drain beans, reserving up to a cup of liquid
Using a stick (immersion) blender, food processor or regular blender, puree beans until smooth, adding liquid if needed to achieve desired consistency
Add salt, cumin, optional cayenne and optional fat to taste
Serve warm, cold or room temperature with chips, veggies, etc.
Notes
Omit fat for fat free bean dip. Up to 3 tsp of fat can be added for a Trim Healthy Mama E dish. Remember that if you add fat to the beans, be careful of adding cheese or other toppings that include fat.
Nutrition Information:
Yield: 36
Serving Size: 1/4 cup
Amount Per Serving:
Calories: 95
Total Fat: 1g
Saturated Fat: 1g
Trans Fat: 0g
Unsaturated Fat: 0g
Cholesterol: 1mg
Sodium: 167mg
Carbohydrates: 16g
Fiber: 5g
Sugar: 1g
Protein: 6g
Nutrition information is approximate and based on the best knowledge available at the time of recipe publication. Your results may vary due to differences in ingredients.