---
Do you have turkey leftover from Thanksgiving? If you've also got cooked spaghetti squash on hand, then you've got the makings for a delicious, low carb turkey hash!
---
If you have been following the blog lately, you may have noticed my love affair with spaghetti squash. Ever since I realized that this low carb wonder is a perfect replacement for potatoes, I've been dreaming of ways to eat it.
My post on How to Make Squashbrowns has turned out to be very popular, and this recipe for Turkey Hash with Spaghetti Squash is a spin-off from that.
Turkey hash is also a wonderful way to use up those Thanksgiving leftovers!
I had made a spaghetti squash casserole for Thanksgiving and kept some plain, baked spaghetti squash to use for squashbrowns. But, I woke up on the day after the feast hungry for more of that deliciousness. And I had all these leftovers…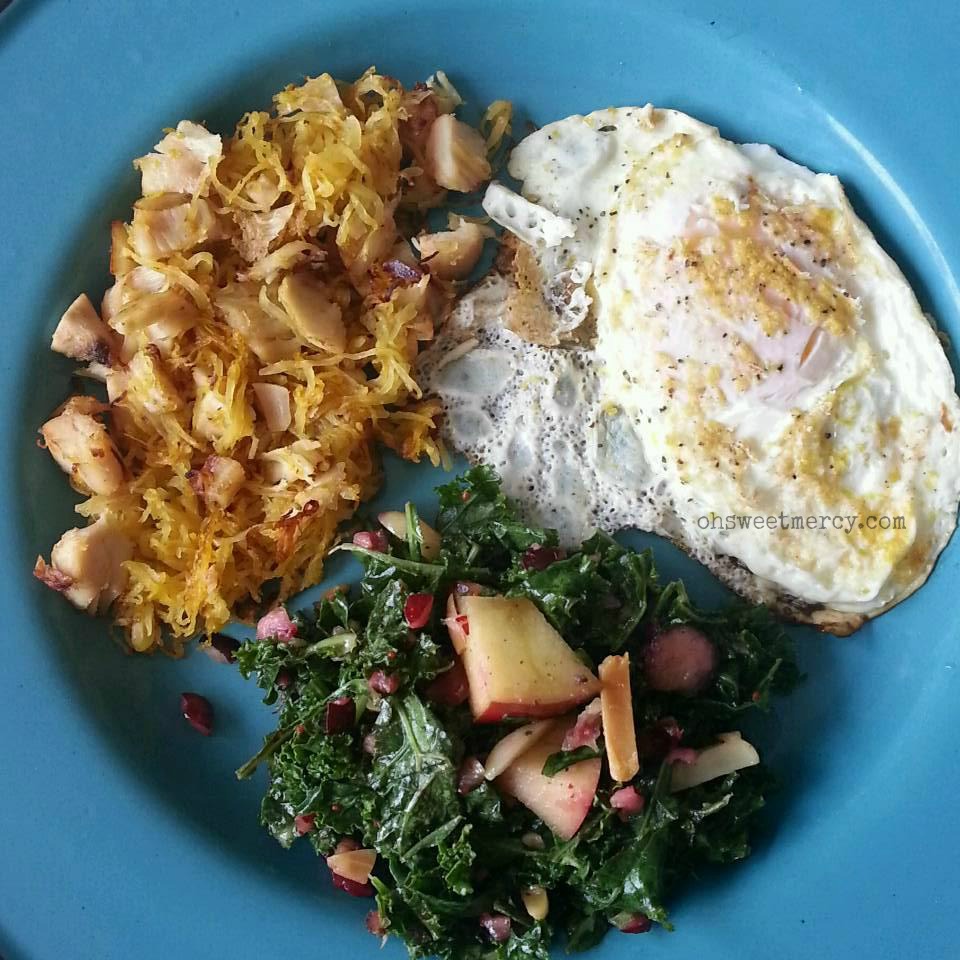 If you're a "dump cook" like me, then a breakfast hash…or just hash any time, really…is a perfect dish for you to make. It's so simple, delicious and frugal! You just throw together a variety of ingredients and voila! You have hash.
A hash dish generally has these components, so let your imagination run wild:
A starch, such as potatoes. If you're a low-carber, this is a no-no! Spaghetti squash is a perfect, low carb substitute
Vegetables, if desired
Meat, also if desired
Seasonings. Really not optional, in my opinion!
How to Make Easy, Low Carb Turkey Hash with Spaghetti Squash.
The key to getting spaghetti squash to brown nicely is to first squeeze out all the water you can. Trust me on this, you don't want to skip this step, no matter how time consuming it may appear.
It really doesn't take that long at all for a single serving, but will take a bit longer for a larger amount. Also, remember that your spaghetti squash will be reduced by about half, so plan accordingly if making more than one serving. I typically pack a half-cup measure with spaghetti squash for one serving.
Heat your cast iron skillet while squeezing out the water in your spaghetti squash. Right before adding the squash to the skillet, melt some butter or coconut oil in the skillet.
Spaghetti squash takes a bit of time to brown, so you want to add delicate ingredients like kale or fresh garlic in the last few minutes of cooking. If you want to add vegetables that take longer to cook, such as broccoli, go ahead and add them with the squash.
Add cooked meats during the last few minutes to warm them.
Don't forget to season to your taste!
If your leftover turkey is already flavorful, your turkey hash may only need some simple salt and pepper. Don't be afraid to try something spicier…like Cajun seasoning! If you're a Trim Healthy Mama follower, the cayenne pepper in Cajun seasoning will be a welcome metabolism booster.
I just made a very simple turkey hash…spaghetti squash, turkey, Cajun seasoning, nooch (nutritional yeast) and a bit of salt and pepper. I was hungry and didn't feel like messing around with veggies. If I had felt like it, I could have added…
Onion
Celery
Kale
Chopped cranberries
Instead I opted to have, on the side with my turkey hash, another favorite Thanksgiving leftover: Kale Apple Salad. I'm going to have to post that lovely thing soon! I intended to have an S meal, but the apples in the kale salad made it an S helper. Still on plan! Stick to S friendly fruits such as berries if you'd like to have a fruit with your turkey hash if it's made for an S style meal.
Another must for a delicious THM S hash breakfast is, of course, a nice dippy egg. That's where the yolk is warm and runny, and mixing that golden goodness with a bite of spaghetti squash turkey hash is Oh. Sweet. Mercy. Good.
That's all there is to making a delicious, healthy, low-carb turkey hash with spaghetti squash. Eat it for breakfast, lunch, dinner…even a snack. Your body, and your grocery budget, will thank you!
Trim Healthy Turkey Squash, Made 3 Ways!
Trim Healthy Mamas, you can make this S, E, or FP depending on what you add:
For an S, use either white or dark meat, liberal fat for cooking, and non-starchy veggies.
For an E, 1 teaspoon added fat for cooking, turkey breast only, plus a cup of a starchy veggie such as steamed butternut squash or 3/4 c of a grain such as soaked, brown rice or quinoa.
For a FP, 1 teaspoon added fat for cooking, turkey breast only, plus liberal non-starchy veggies.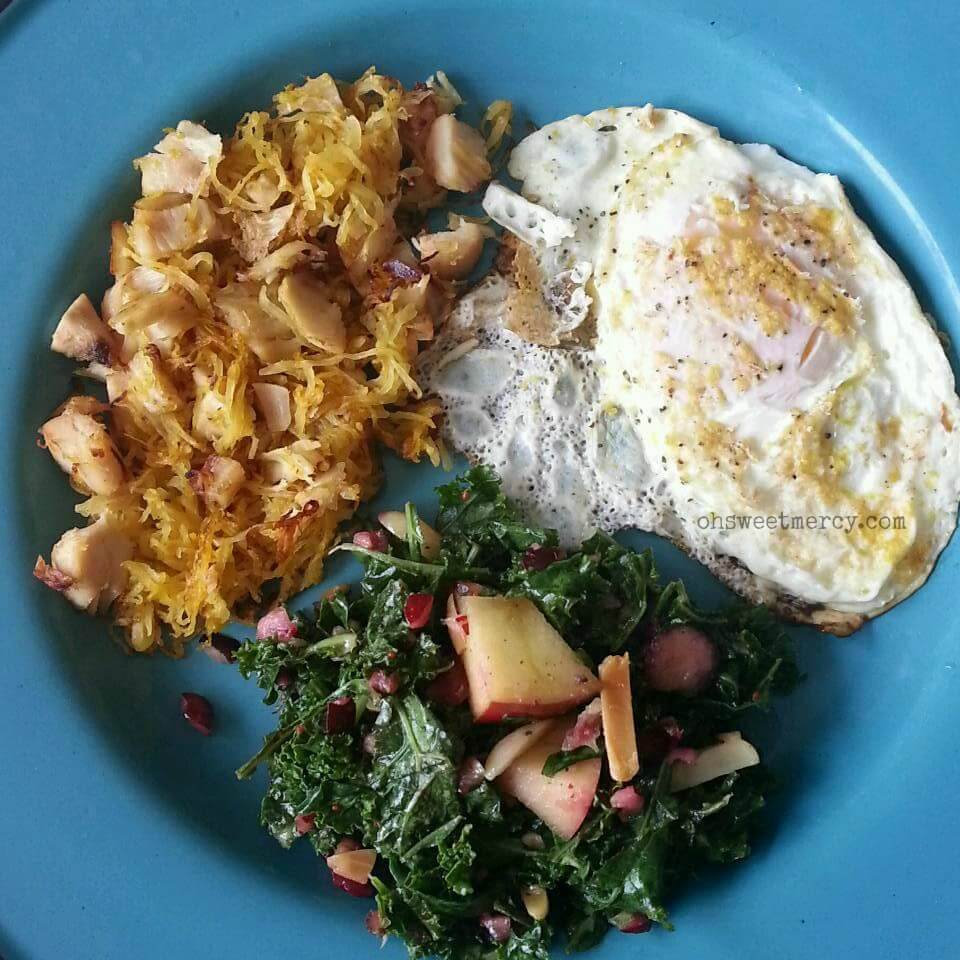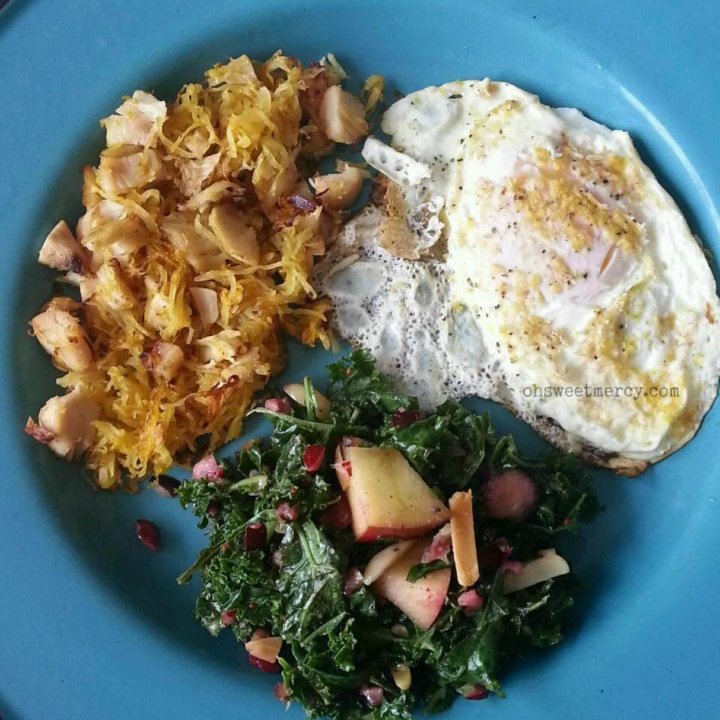 Low Carb Turkey Hash | THM S with E and FP Options
Yield: 1 to 4 servings
Prep Time: 10 minutes
Active Time: 20 minutes
Total Time: 30 minutes
This easy, low carb turkey hash is a great way to use up Thanksgiving leftovers. Just add some turkey and your favorite veggies to the skillet with some cooked spaghetti squash and you've got turkey hash!
Ingredients
Multiple Servings (4)
2 cups tightly packed (4 ups before squeezing and draining)
2 to 4 cups veggies, as desired
2 cups or more cooked turkey
Salt, pepper, and other seasonings to taste
1 tablespoon butter, coconut oil or red palm oil for cooking
Single Serving
1/2 cup tightly packed, squeezed and drained spaghetti squash (1 cup before squeezing and draining)
1/2 cup or more cooked turkey
1 cup low carb veggies - mushrooms, garlic, onion, broccoli, cauliflower, zucchini, kale or other greens - whatever your heart desires
Salt, pepper, or other seasonings to taste
2 teaspoons butter, coconut oil, or red palm oil for cooking
Instructions
Squeeze and drain the spaghetti squash very well.
Melt cooking fat in a hot cast iron skillet.
Add any veggies that take a while to cook along with spaghetti squash.
Cook for several minutes, until the squash begins to brown.
Add cooked turkey and any delicate veggies, such as garlic or kale, then cook until turkey is heated through, about 5 minutes.
Season and serve.
Notes
THM Notes
This is an S style recipe. Using 1 teaspoon fat, turkey breast, and non-starchy veggies would make this a Fuel Pull! For an E, use 1 teaspoon added fat, turkey breast, and add a cup of starchy veggies such as steamed butternut squash.
Recommended Products
As an Amazon Associate and member of other affiliate programs, I earn from qualifying purchases.
Nutrition Information:
Yield: 4
Amount Per Serving:
Calories: 0
Cholesterol: 0mg
Sodium: 0mg
Carbohydrates: 0g
Fiber: 0g
Sugar: 0g
Protein: 0g
Be Sure to Pin this Low Carb Turkey Has to Your Favorite Pinterest Boards!