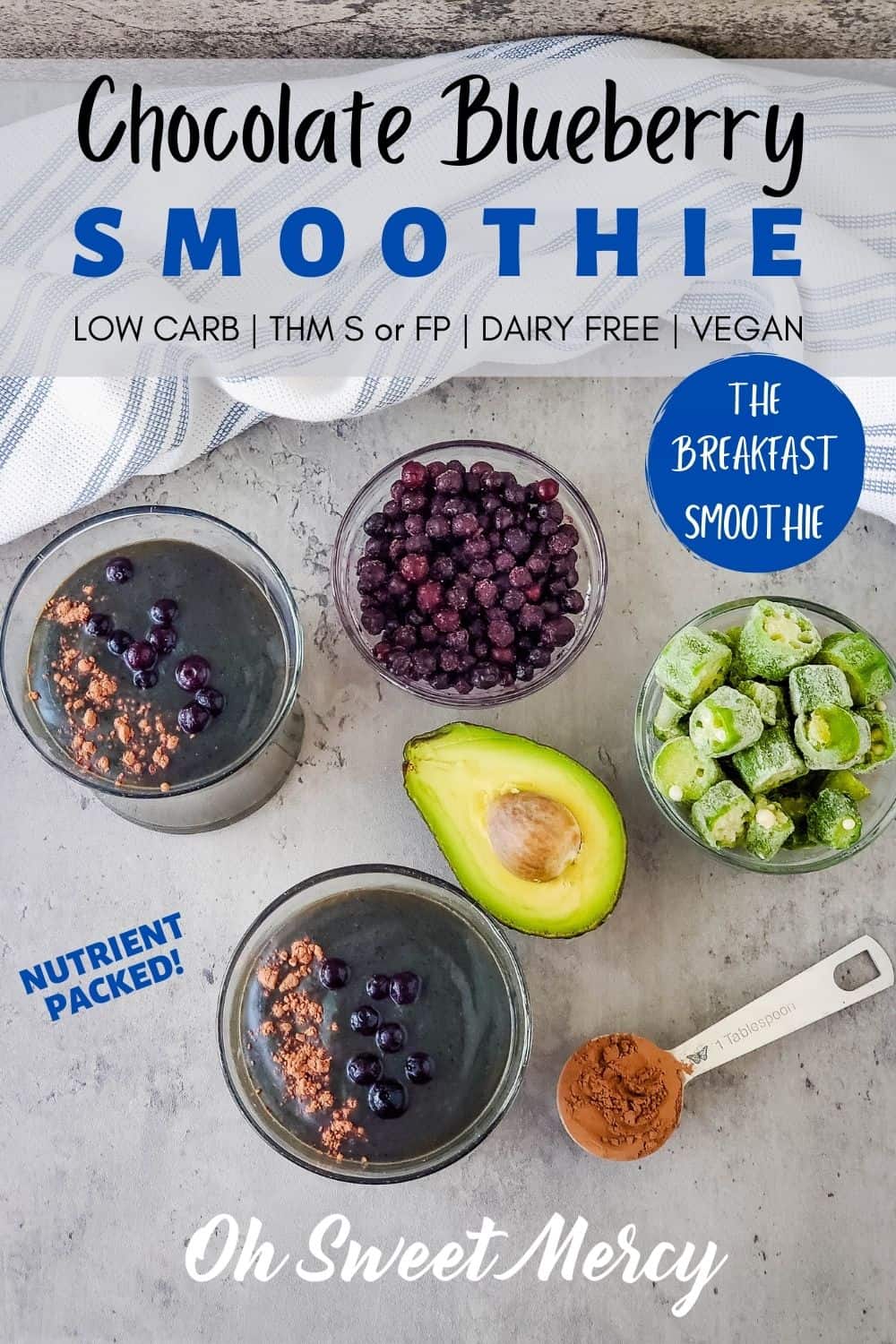 ---
This chocolate blueberry smoothie (aka The Breakfast Smoothie) is packed with nutrition which gives it superpowered goodness. It's dairy free, vegan, and easy to customize to suit your dietary needs, too. Trim Healthy Mamas, this is a great way to get superfoods into your day! Tweak it just a bit to suit THM FP or E as well.
---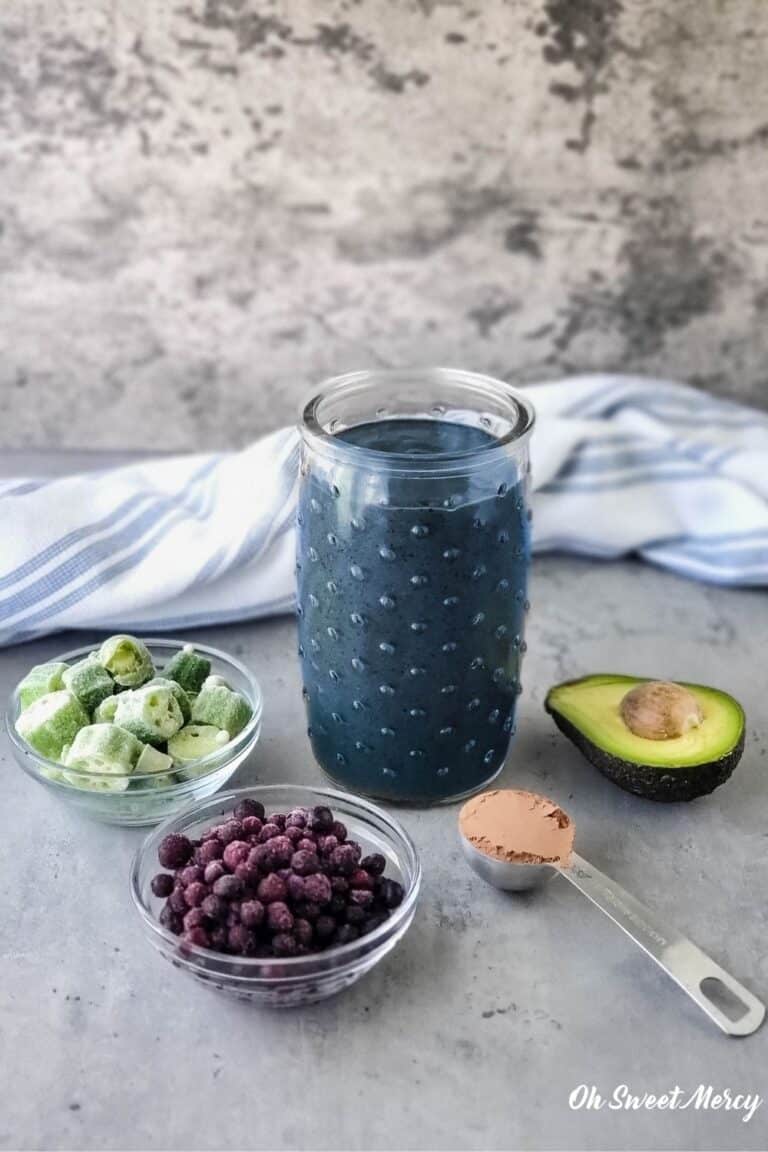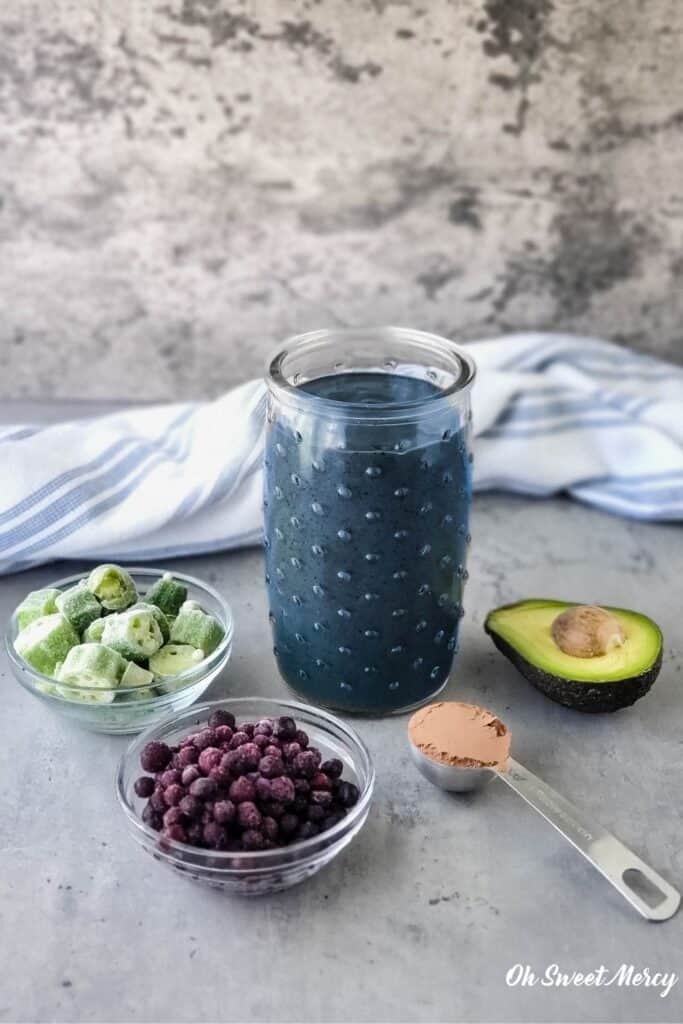 If you've been following me lately then you might know I've been avoiding a bunch of foods. Thanks to a recent food sensitivity test, many of my most-used THM ingredients are now off the table.
So, that means getting creative with the foods I can have. This smoothie is The Breakfast Smoothie I've been eating almost every day for several weeks.
I can't think of a time when I've ever eaten the same thing every day for weeks on end. I'm way too much of a free spirit for that kind of predictability!
But, I literally crave this every day. My body must need all the superfood goodness I pack in there!
So, I'll keep making it as long as I crave it.
WHAT YOU NEED TO KNOW ABOUT THIS SMOOTHIE: it's VERY thick! I love a thick smoothie so if you don't, use more liquid or less of the ingredients that thicken. Some ingredients can be omitted with no problems but may affect the consistency so play around with it! Also, adding greens powders to this makes it an…interesting…color!
What Do I Need For This Recipe?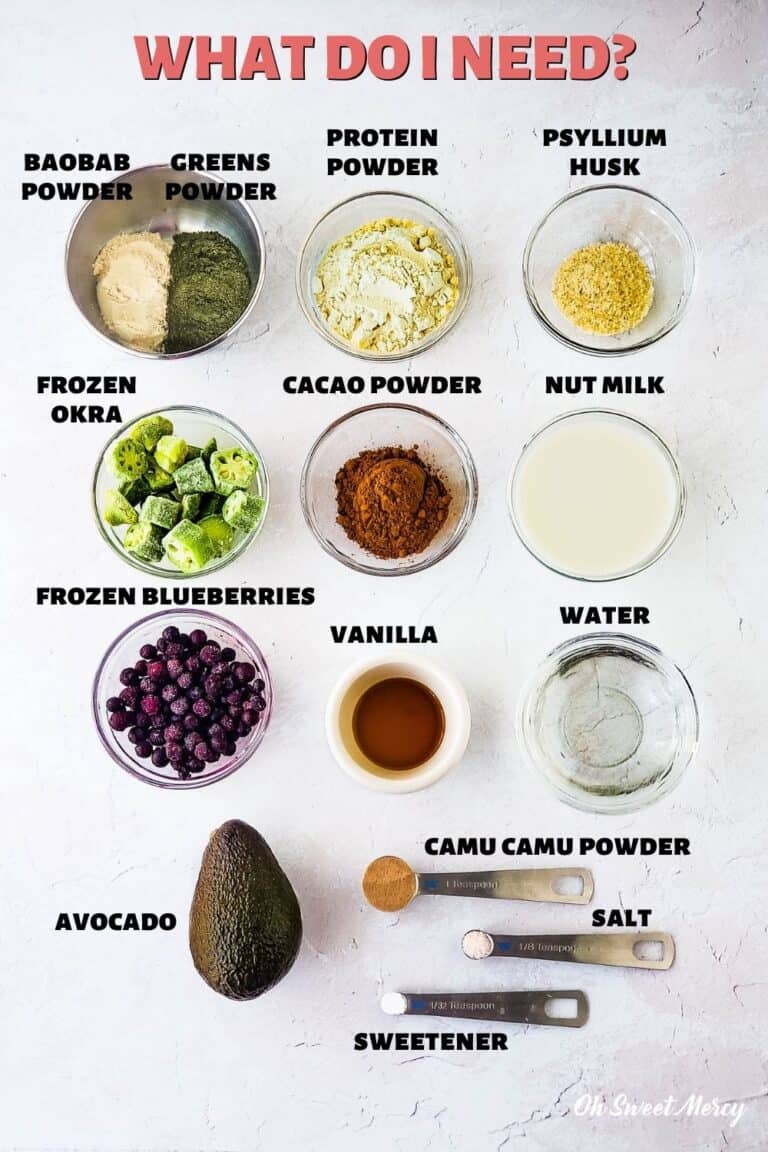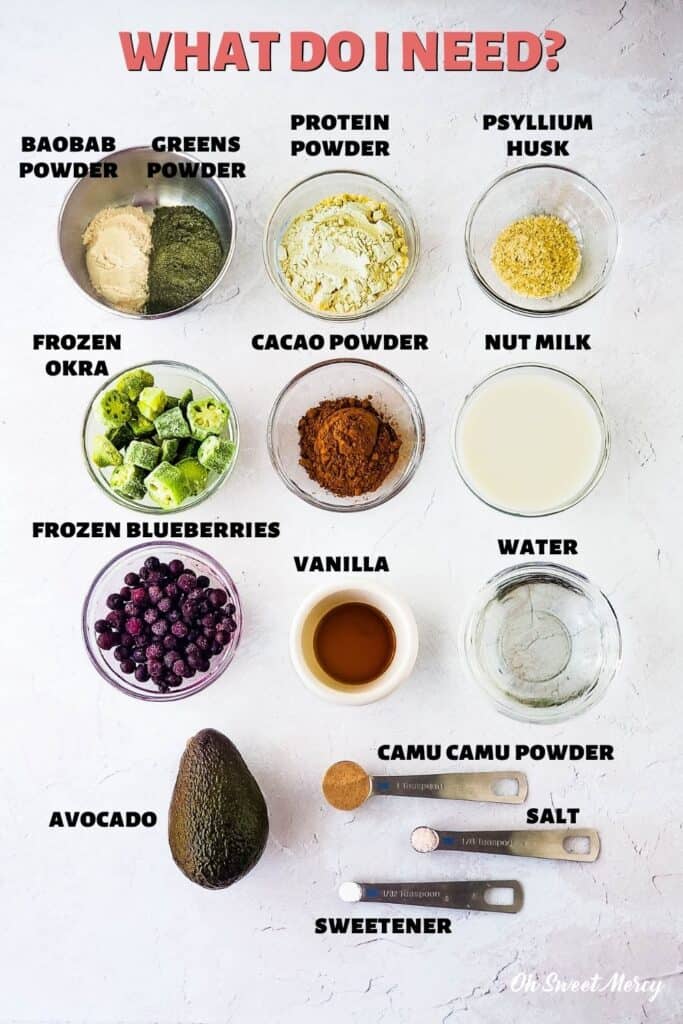 Have you ever thought of making a chocolate and berry smoothie? Chocolate and blueberries may sound strange, but they pair delightfully.
In fact, this smoothie was subconsciously inspired by the Whip of Wonders recipe in the original THM plan book (page 403). My initial intention was just putting as much nutrition in my morning meal as possible while making it easy and portable.
I was pleasantly surprised that it's reminiscent of one of my favorite THM recipes!
As written, Whip of Wonders is considered an S Helper (SH). But, my smoothie recipe is an S and easily tweaked to be FP or even E. Here's what you need:
On-plan non-dairy milk (almond milk is fine, I often use hemp milk or homemade cashew milk)
Water (can use all nut milk or all water, too)
Frozen okra
Frozen blueberries (I prefer wild but regular works just fine)
Avocado (I use the mini avocados, they really add a lovely creaminess to this smoothie)
Raw cacao powder or cocoa powder
Baobab powder (can be optional)
Dynamic Duo Greens Powder (can be optional)
Psyllium husk (can be optional)
Camu Camu powder (can be optional but gives great tartness plus extra vitamin C)
Stevia or preferred sweetener
Vanilla extract
Cinnamon – optional, 1/2 teaspoon or so
I know that looks like a lot of ingredients but don't be intimidated! It really doesn't take long to throw together. Also, you can omit several of these ingredients if you don't or can't have them.
Okra, baobab, Dynamic Duo, and/or psyllium husk can be omitted if you prefer. You just might need to add ice or a thickener, such as "gluccie" to get a nice, thick smoothie.
Plus, if you portion out the ingredients it's even easier! Just grab, dump, blend, and go. I often drink this on my way into work, and I'm not a morning person at all so complicated just doesn't work for me.
I measure out dry ingredients into separate containers. Then, do the same for the frozen berries, okra, and avocado and pop them in the freezer. That makes making this protein shake recipe super quick when I need to get my breakfast made and start my day.
These 12 ounce food and meal prep containers are the perfect size to prep ahead your smoothie ingredients.
I love my Aldi "bullet" blender. Just blend it up, let it set a bit while I'm getting the rest of my things around, then take off the blade part and screw on the black ring for the rim. I definitely recommend that so you don't get smoothie all over your hand reaching for it in the car if you take it to go!
There are quite a few bullet-type blenders out there, such as the NutriBullet, Ninja Personal Blender, and BlendJet. Do you use one? Let me know below what kind and what you like (or dislike) about it! Eventually my trusty Aldi Ambiano personal blender will give up the ghost and I'll need to replace it.
What On Plan Plant-Based Protein Powder Do I Use?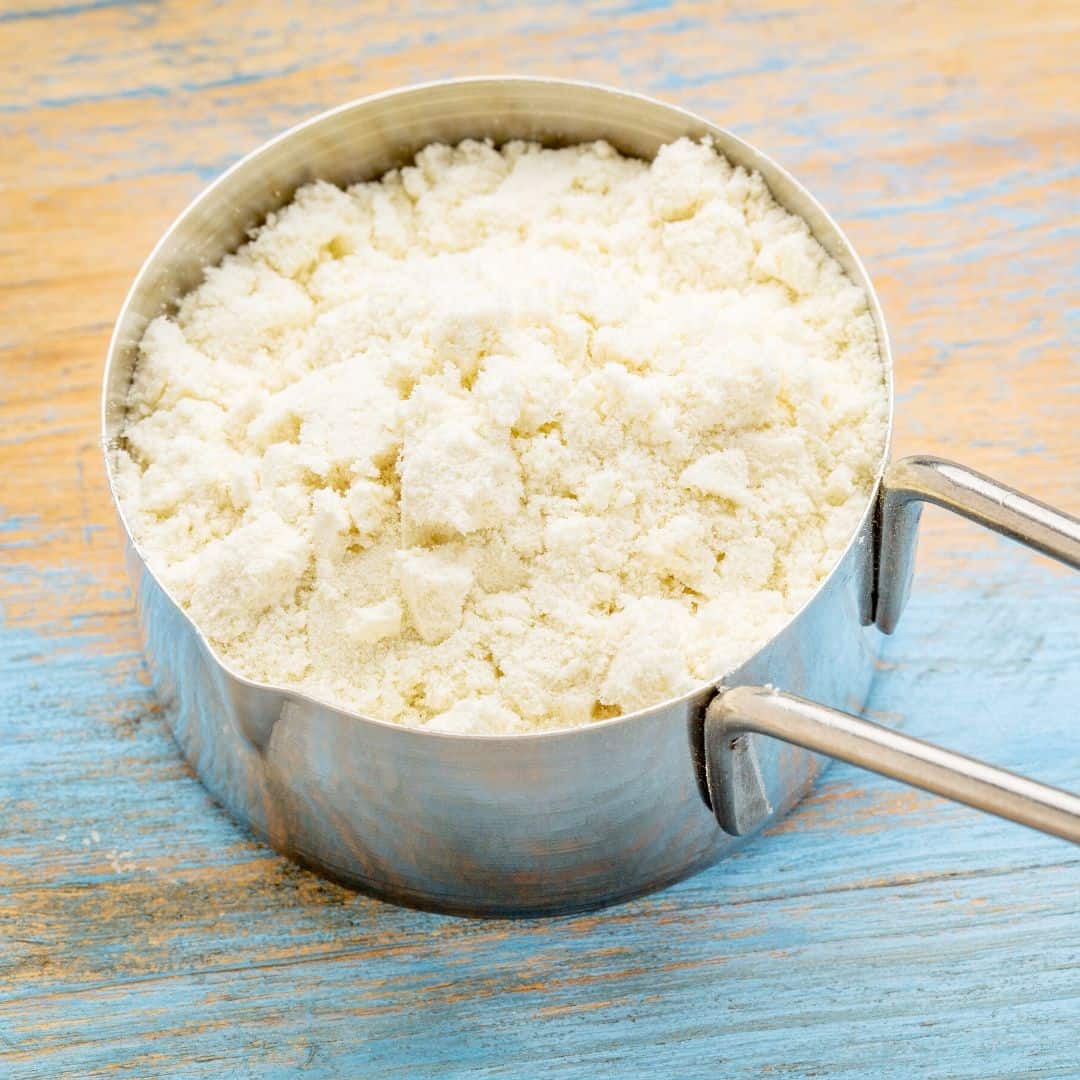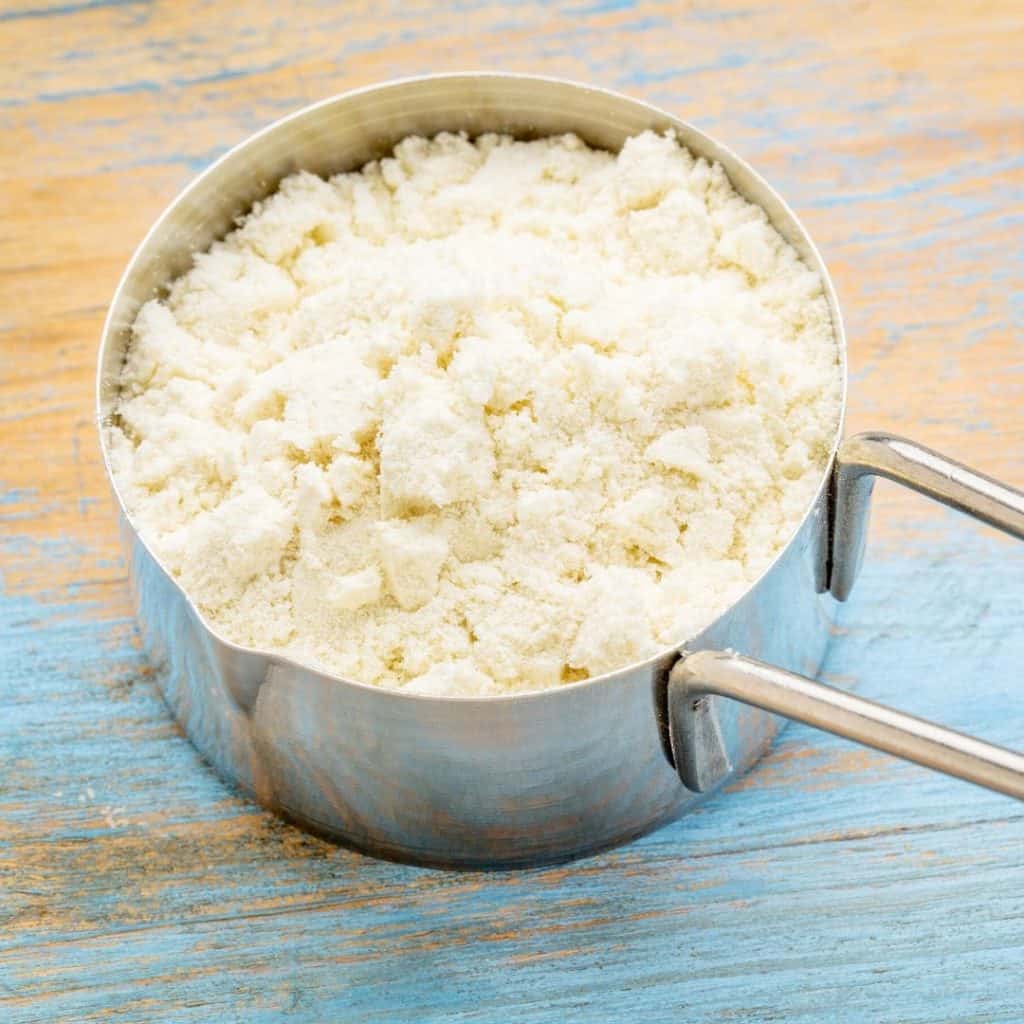 Since whey is a no for me and I'm limiting collagen for a while that means I don't have as many options for proteins in my smoothies.
Some people use egg white powder, which I'm sure would be much smoother than this. But, eggs are a no for me right now, especially the whites.
I've found both Orgain and VitaminWay at a local grocery store. Both taste pretty good, but both are kind of gritty. It's not as noticeable in a smoothie, thankfully! But I do notice it a bit.
I also just tried the True Goodness brand from Meijer. It's ok, but like the others a bit gritty.
Just be sure to read the labels carefully on any vegan protein powder you're considering, if you're a Trim Healthy Mama follower, to make sure it's suitable for THM.
What should I look for in a vegan protein powder?
Choose one that's either unsweetened or sweetened with on-plan sweeteners such as stevia, monkfruit, or erythritol. Added sugars should be no more than 2 grams per serving, and no off-plan ingredients like sucralose, aspartame, or maltodextrin.
I'm a big fan of simple, minimal ingredients so I look for a short ingredient list with words I can pronounce. Of the two I've tried VitaminWay has the fewest ingredients: Non-GMO, Gluten Free, Organic Pea, Brown Rice, and Pumpkin protein, natural flavors, and stevia.
The Meijer brand also has simple, minimal ingredients and not crazy expensive, either. It contains pea and hemp protein, natural flavors, stevia, and sea salt.
These Chocolate And Blueberry Smoothie Ingredients Are Nourishing And Good For Your Gut!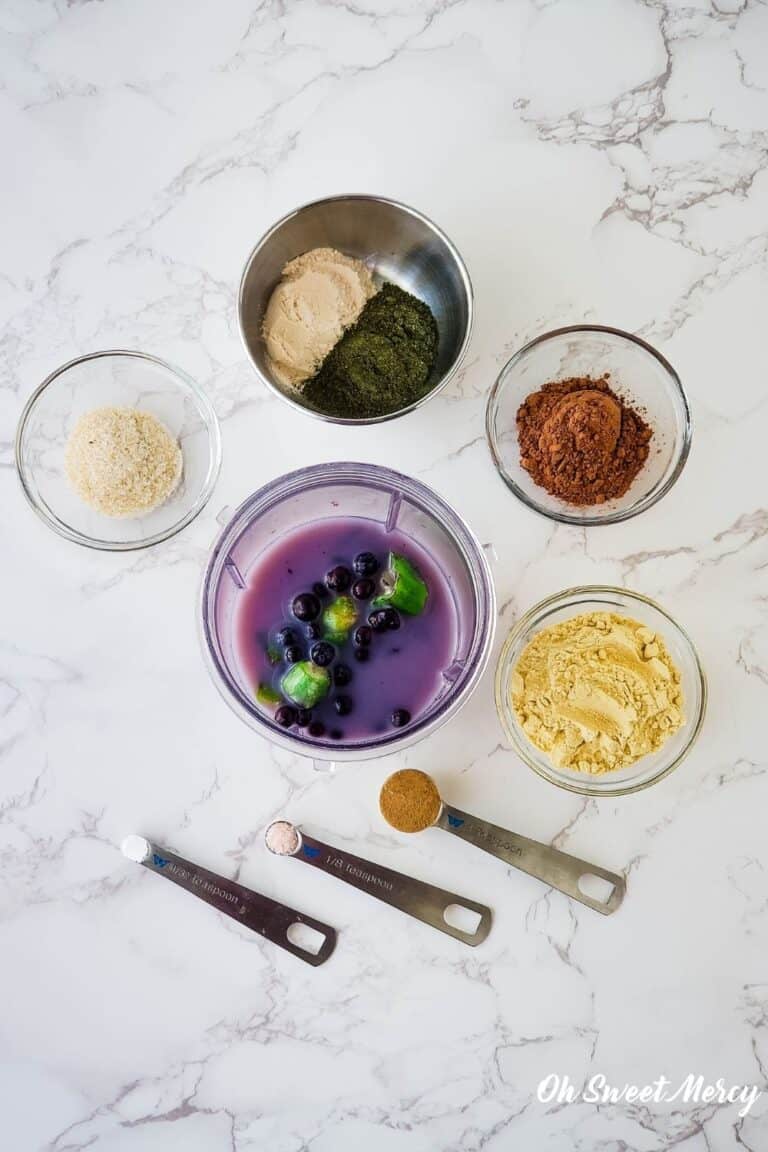 I use quite a few ingredients (especially powders) in this smoothie. I just started adding this and that to my smoothie, mostly for the nutritional benefits, but ended up loving this combination of ingredients.
And, since I crave it I think my body also loves it.
Wondering why I use these ingredients? Here's why:
Okra
Many people are put off by the "slime factor" in okra but that's one of the best things about it! At least as far as your gut is concerned. That slime is called mucilage and helps soothe and coat the gut.
Okra has also been shown to help diabetics control blood sugar.
And, numerous "okra challenges" among THMs over the years – where you eat at least 1 cup of okra a day for a period of time – result in scales moving!
Baobab Powder
Baobab is one of my favorite superfood ingredients. The powder comes from the fruit of the baobab tree, which grows in Madagascar.
The fruit dries on the tree and is simply ground up! No chemical extraction or other complicated and possibly unhealthy processing needed.
It's a great source of vitamin C and…
…has five times the fiber of oats, and higher antioxidant levels than any food on the planet (8 times that of the super berry Acai, and more than both blueberries and pomegranates combined!) It has more than twice the calcium of milk, double the magnesium and iron of spinach and is loaded with six times the potassium of bananas.

THM Baobab Boost Powder
It's also considered a prebiotic fiber, which is food for probiotics! It helps keep your gut healthy
Psyllium Husk
Psyllium husk is a great source of fiber – in fact, that's really all it is. It's used in low carb baking and making Wonder Wraps and other tasty, on-plan treats.
Adding to a smoothie not only increases your fiber intake but also helps thicken it. And, it helps your gut function better by forming a viscous gel in the intestines to…ahem…move things along.
The soluble fiber of Psyllium aids is digestion, satiates the appetite and has a stimulating effect on the metabolism. It is a gentle fiber that maintain bowel regularity instead of adding to the problem. Now this simple ingredient is not only kind to your bowels, but also to your taste buds.

THM Whole Husk Psyllium Flakes
These three ingredients in particular help create a thick smoothie. If you like yours less thick, either use more liquid or cut back on the amount of any or all of them.
Dynamic Duo Greens Powder (And Alternative Option).
Pearl mentioned in one of the Poddies that using Dynamic Duo Greens Powder is excellent when working on healing the gut. I'm still searching for which podcast that was so I can link here, but she recommended working up to 2 tablespoons a day if I remember correctly.
FAIR WARNING. Adding this deep, dark, green powder to your chocolate blueberry smoothie will make it look a bit unpleasant. But it doesn't affect the taste at all, at least in my opinion. I really like it though!
If you're scared of using Dynamic Duo, start out with a small amount like a teaspoon – or even 1/2 teaspoon. Work your way up to the full amount over time.
This ingredient is completely optional though, so if you don't like it or don't have it no worries!
What Can I Substitute for Dynamic Duo Greens Powder If I Don't Have It?
Dynamic Duo is simply half moringa powder and half spirulina powder. You can either make your own half and half mixture or even use one or the other. Both do make a "dynamic duo" of nutrition though so use both if you can!
How about some more recipe ideas for your Dynamic Duo Greens powder?
Many people are hesitant to try this deeply nourishing greens powder. That's understandable, I get it! But, I've got a couple other recipes that use Dynamic Duo, give those a shot!
Secret Peppermint Chocolate Protein Balls | THM S, Low Carb
Secret Blueberry Smoothie | THM E, Low Fat
How To Fit This Blueberry And Chocolate Protein Shake Into Your THM Day.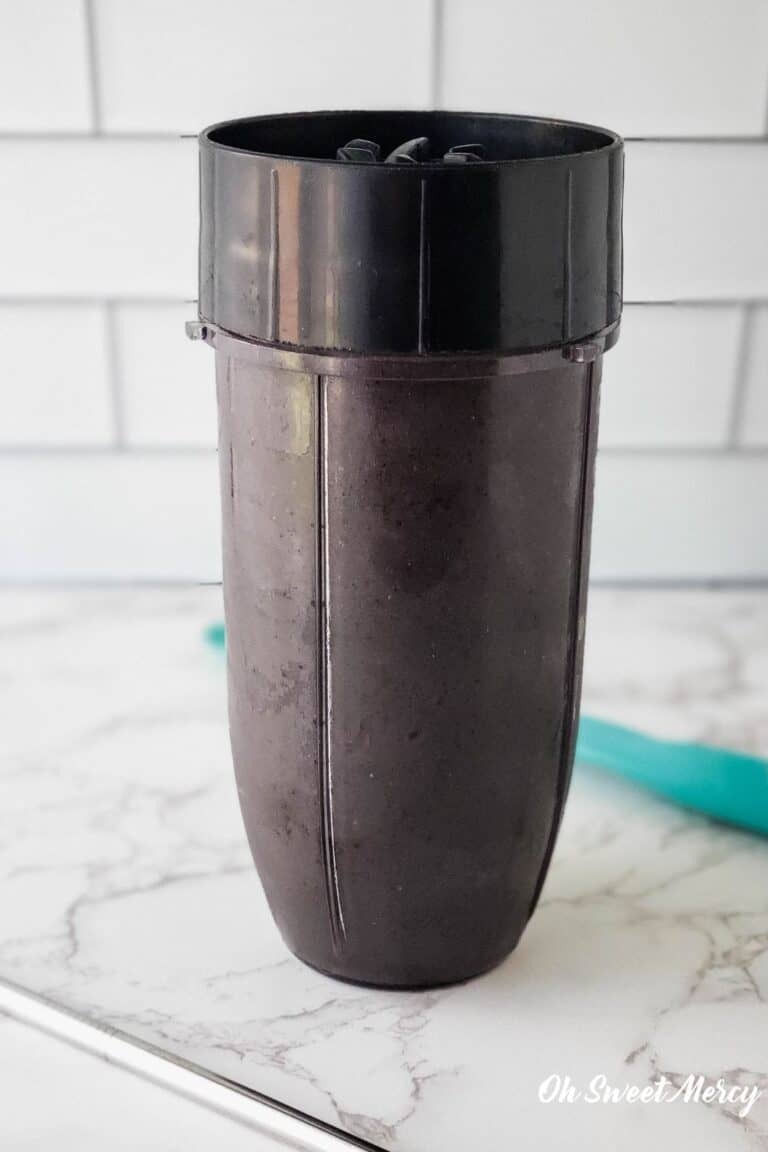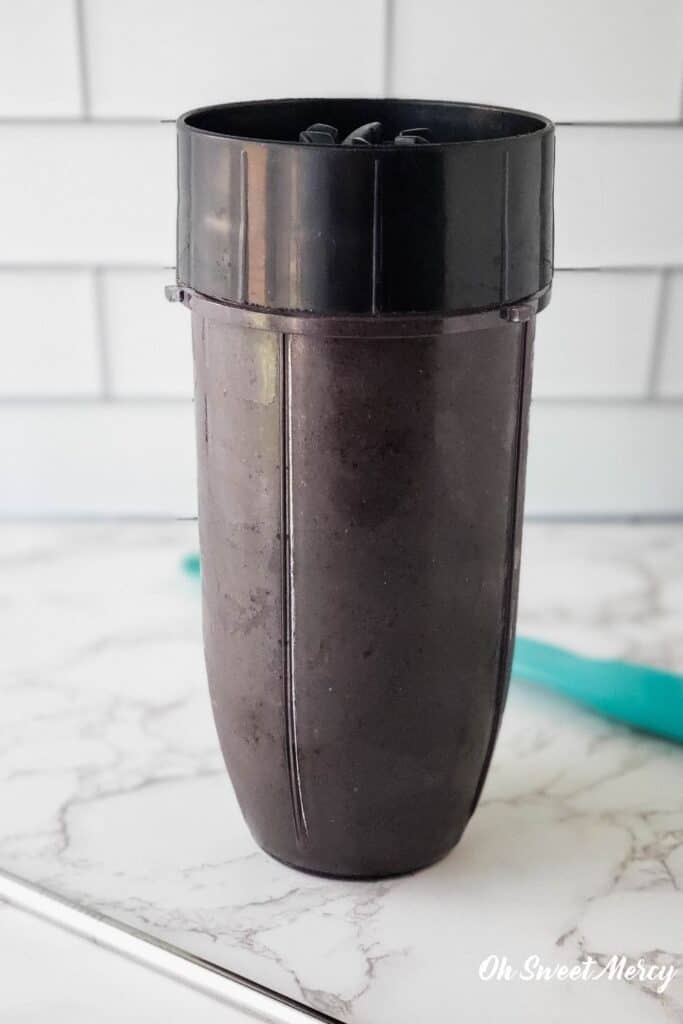 This smoothie is easily tweakable to fit S, E, and FP guidelines! It's perfect for busy, on-the-go mornings. And, it's just as delicious later in the day.
Here's my recommendations:
For a THM S Smoothie – make it as written. Omitting some of the powders or okra won't affect this fuel type at all.
Want a THM E? You want to reduce the fat for this one. You can omit the avocado and use nut milk. If using avocado, use half the amount (this will be about 5g of added fat) and only water instead of nutmilk. Increase blueberries to 1 cup (this is your E fuel).
How about a THM FP? In this case, you want low fat AND low carbs. So, keep the blueberries amount to 1/2 cup, as written. Then, decrease the fat as for an E (as above).
All these powdered ingredients are just my preference, and I hope you like this smoothie if you try it! It's filling and satisfying for me and starts my day off well every time I drink it.
I'm also thinking about throwing some beets or beet powder in there. Because why not? I'm not crazy about beets but I love this Strawberry Beet Smoothie (made with beet powder). And, beets are great for your circulatory system. I love packing tons of nutrition into one meal.
Eat smarter, not harder, right?
PIN IT!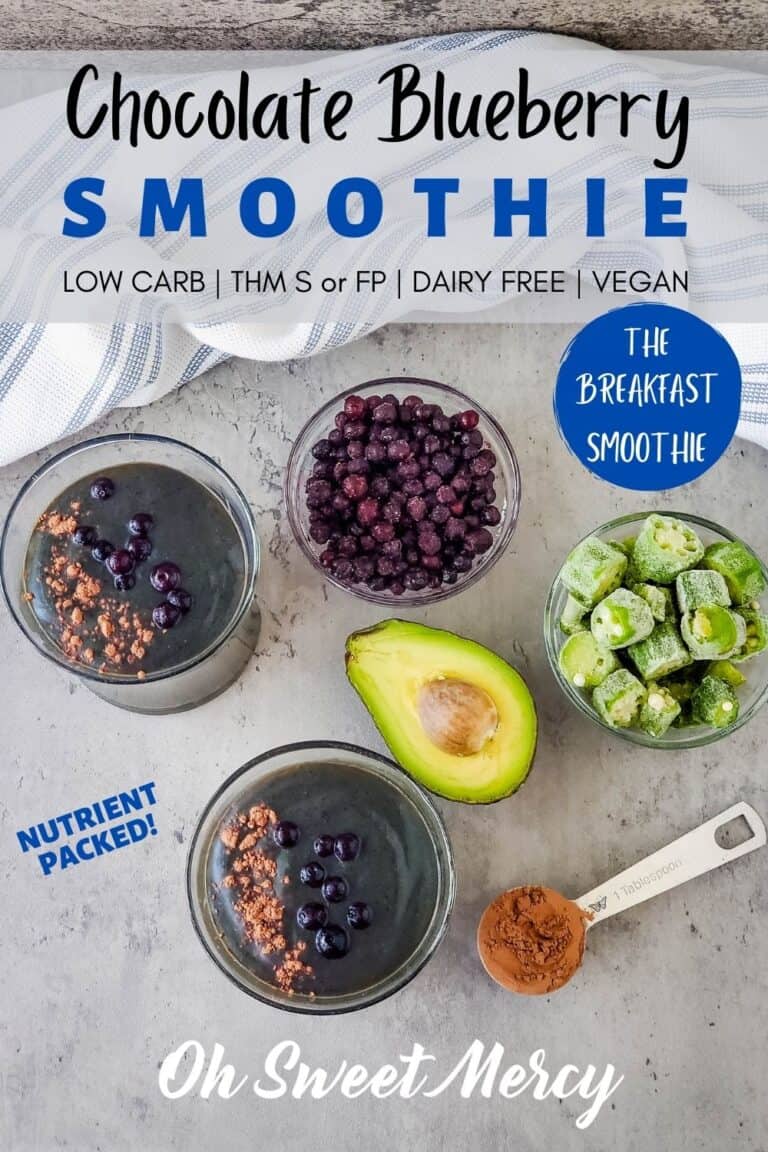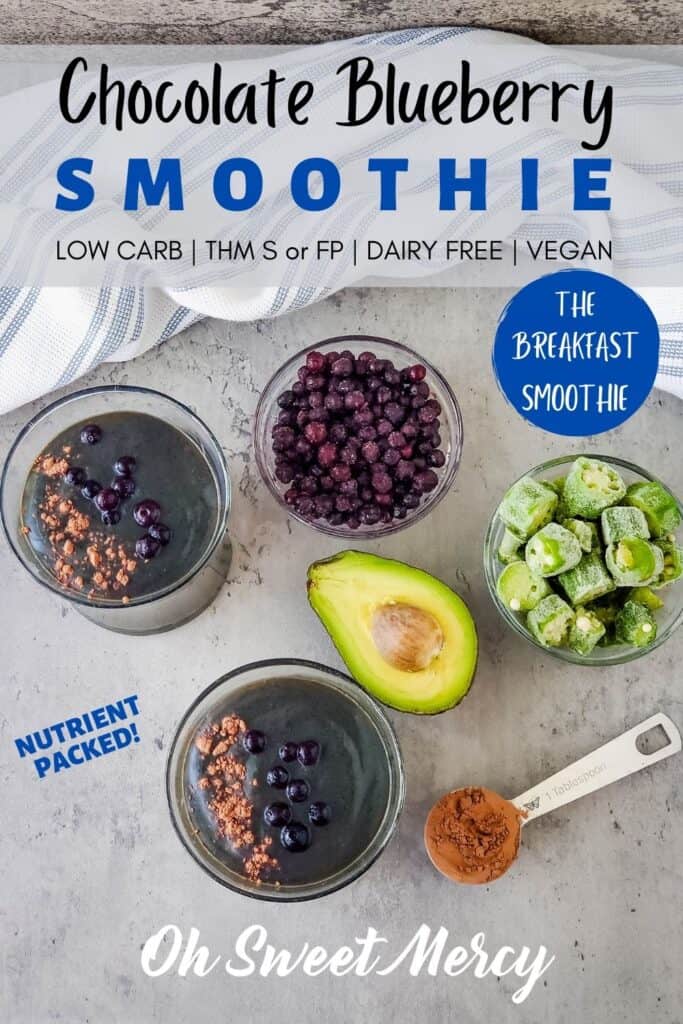 SCROLL BELOW RECIPE FOR COMPREHENSIVE NUTRITION LABEL!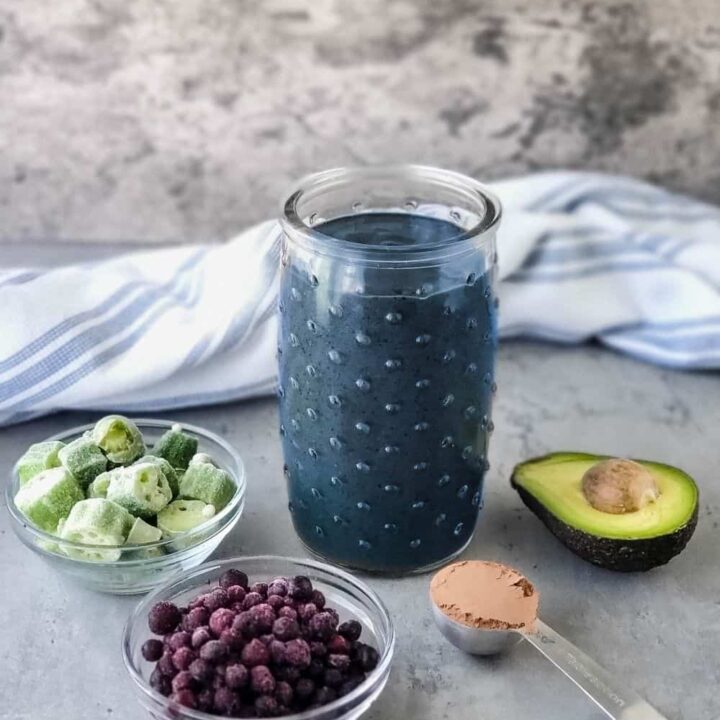 Chocolate Blueberry Smoothie | THM S, Dairy Free
Yield: 1 serving
Prep Time: 10 minutes
Total Time: 10 minutes
Extra thick and creamy and packed with nutritious anti-inflammatory goodness, this delicious chocolate blueberry smoothie satisfies that chocolate crave.
Ingredients
1/2 cup cashew milk or other non-dairy milk of choice
1 cup water (or use all water if desired)
1/2 cup frozen blueberries
1/2 cup frozen okra
1/2 mini avocado
1/2 teaspoon cinnamon (optional)
1 teaspoon Camu Camu powder
1 teaspoon pure vanilla extract
4 doonks of THM Pure Stevia Extract (or sweetener of choice to desired taste)
2 generous pinches of high mineral salt
Instructions
Add all ingredients to your blender jar and blend until smooth and creamy. I usually let it blend about 1 minute.
You may need to stop and scrape the sides once or twice.
Add additional water if it's too thick.
It will thicken a bit more as it stands.
Notes
You can use any type of protein powder you prefer, it will just change the flavor and possibly consistency depending on what you use.
You can also omit the protein powder if you're having this as part of a meal that already contains sufficient protein.
Increase okra if desired to 1 cup, you may need more liquid.
Any of the powders (except cacao powder/cocoa) can be omitted as desired but the consistency may be affected. You may need to add ice or gluccie to thicken without the baobab and psyllium husk.
Baobab and Psyllium Notes
If you're new to using these ingredients, it's often best to start with small amounts to allow your body to adjust to them. They're high in fiber and fiber is "nature's broom" 😉
THM S
Make as written. The avocado and nut milk contain your S fuels.
THM E
Increase blueberries to 1 cup. Either use all nut milk and a small amount of avocado or use 1/4 mini avocado and all water to keep your fat grams in the E range.
THM FP
Make as an E as far as fat goes but keep blueberries to 1/2 cup.
Nutrition Notes
The computer-generated nutrition information includes carbs that we wouldn't otherwise count, such as those in cacao powder and non-starchy veggies like okra.
Recommended Products
As an Amazon Associate and member of other affiliate programs, I earn from qualifying purchases.
Nutrition Information:
Yield: 1
Serving Size: 1 serving
Amount Per Serving:
Calories: 311
Total Fat: 10.6g
Saturated Fat: 1.5g
Unsaturated Fat: 7g
Sodium: 509.8mg
Carbohydrates: 31.2g
Net Carbohydrates: 15.3g
Fiber: 15.9g
Sugar: 8.9g
Protein: 24.5g