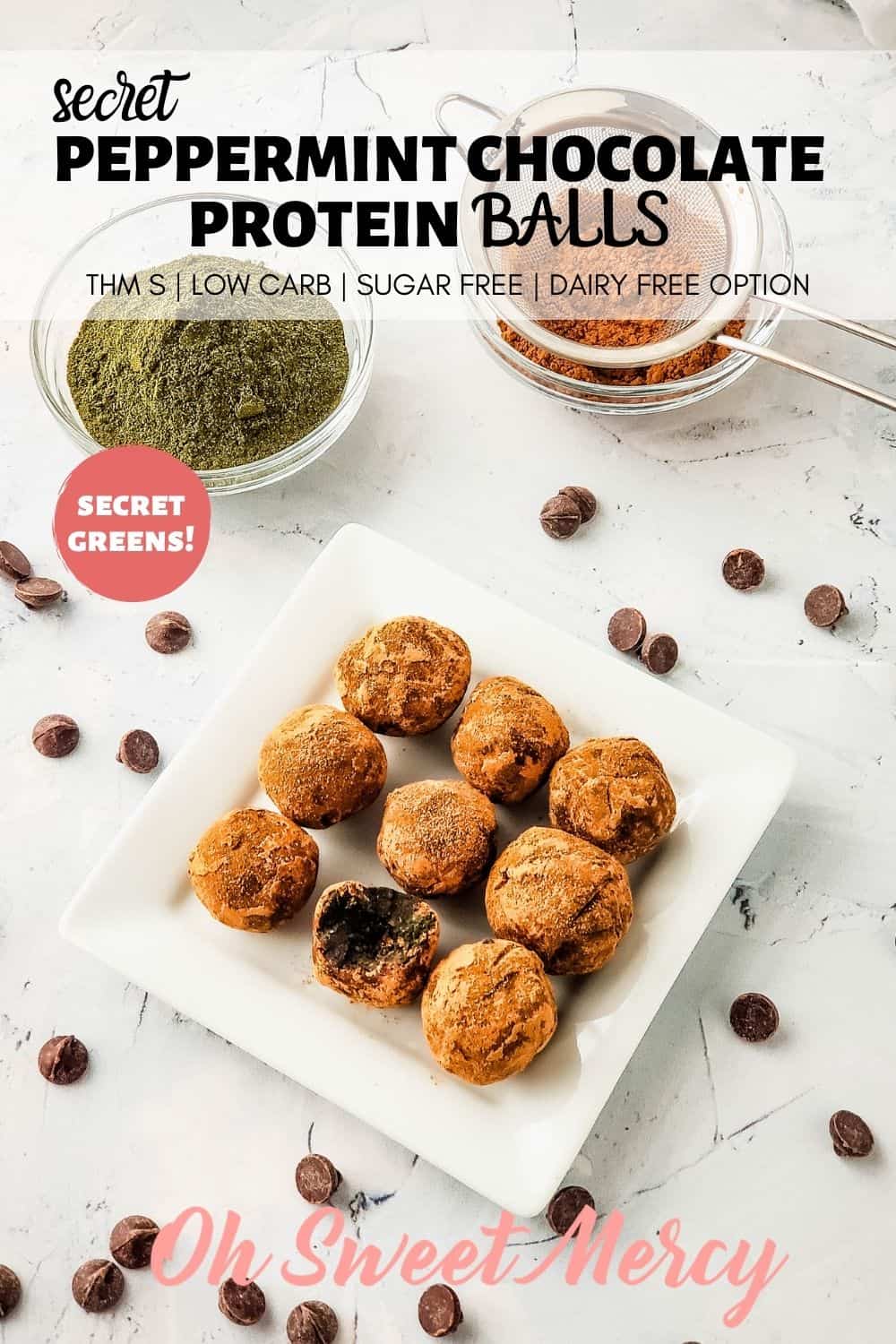 ---
I've got low carb, pepperminty chocolate protein balls studded with chocolate chips…and a secret ingredient! Just mix a little of the new THM Dynamic Duo Greens Powder into these easy little protein bites for a fun and tasty way to get the goodness of spirulina and moringa into your day. Low carb and sugar free and easy to make with dairy free option.
---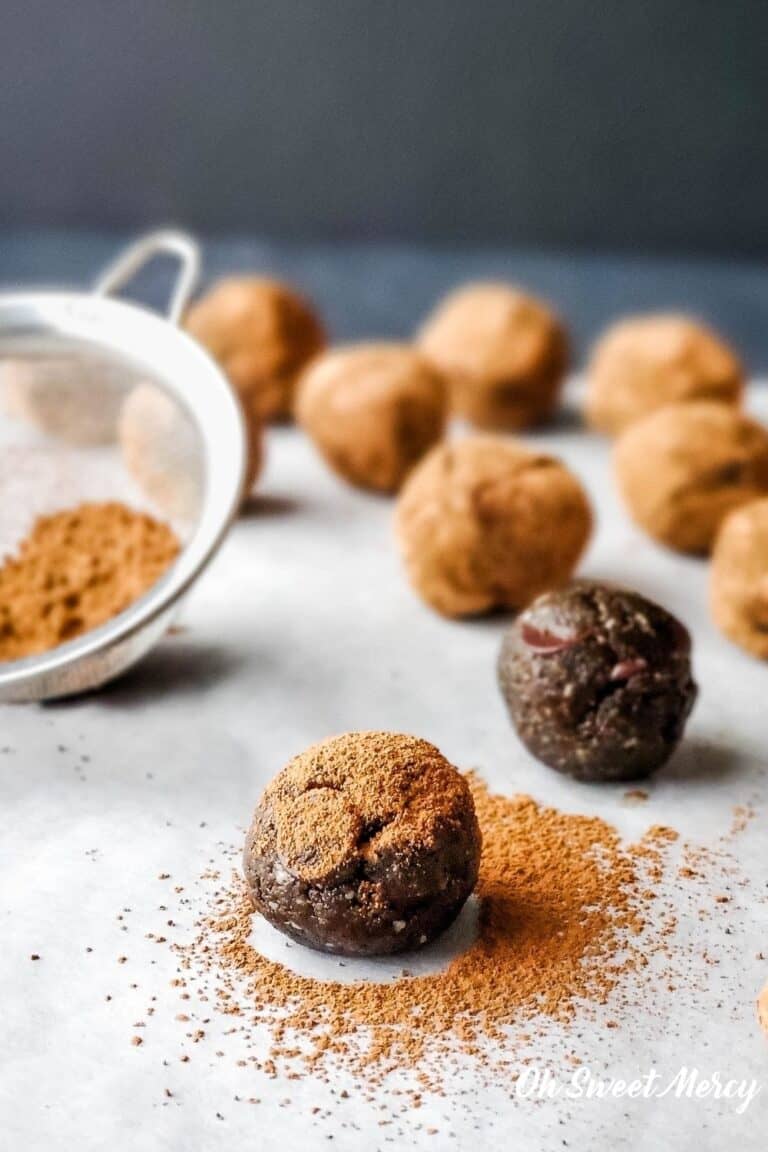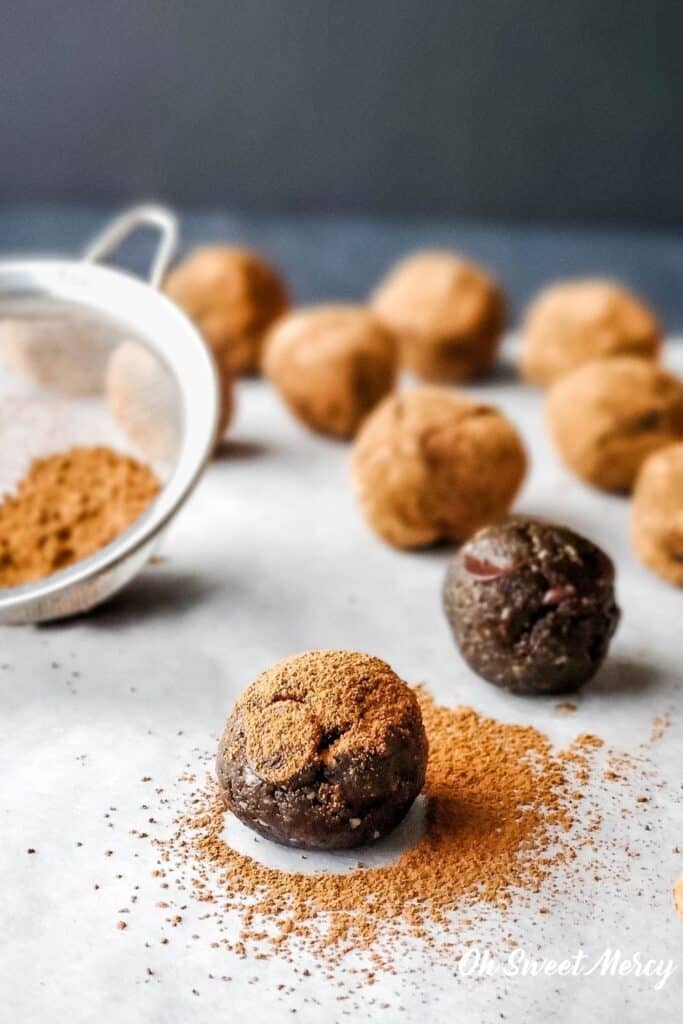 When I heard about the new Dynamic Duo Greens Powder from THM I couldn't wait to try it! I first made the drink on the package, super simple and delicious.
This greens powder does taste green, of course. I've used spirulina and moringa before and love them both. Some people might find the flavor a bit too green for them.
Hiding them in a chocolatey, pepperminty protein ball is one way to consume this dynamic duo of super healthy greens. If you like the green flavor, use 1 to 2 tablespoons.
If you're not so keen on it, or are learning to like it, use 1 to 2 teaspoons to start with.
Either way, you're getting the healthy benefit of these two super green foods in a tasty, THM friendly snack.
What Do I Need For This Recipe?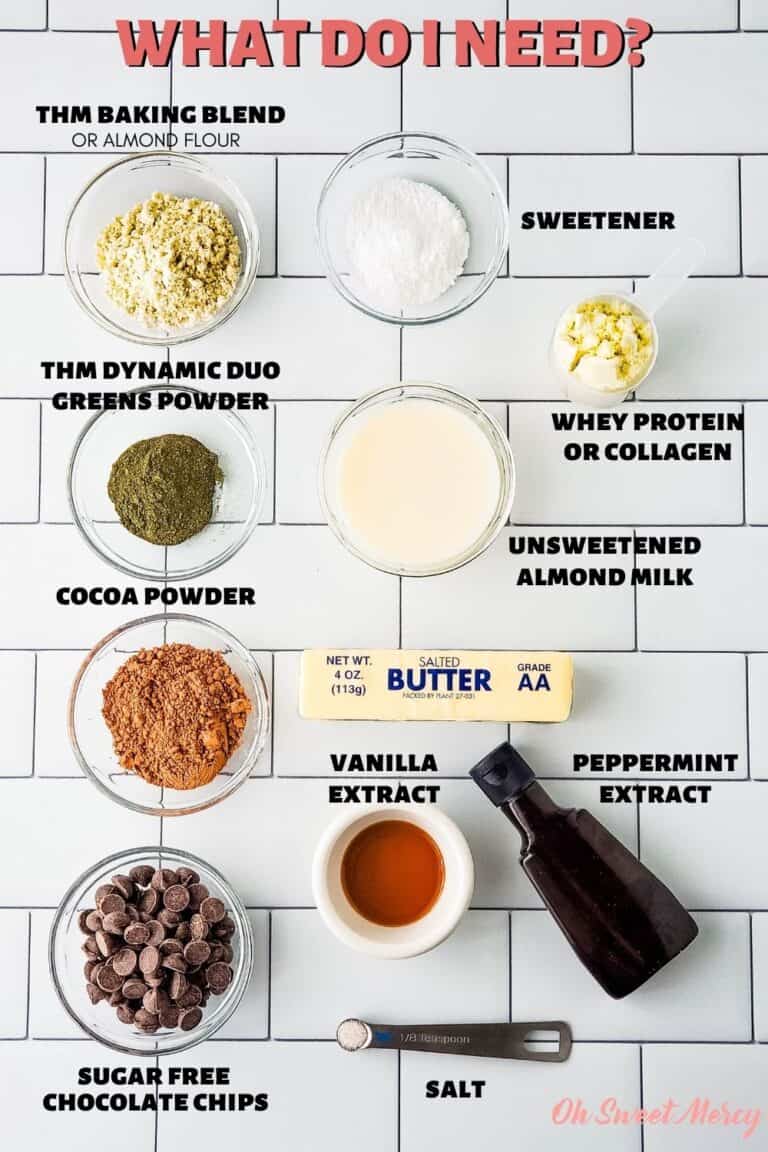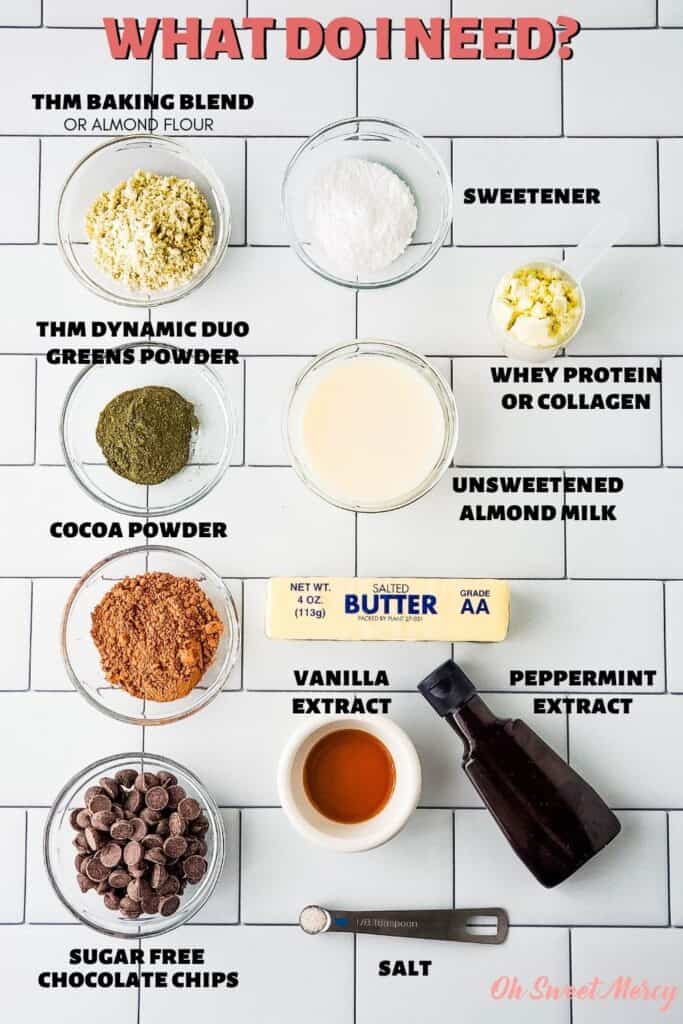 Make these easy low carb peppermint chocolate protein balls two ways: with THM Baking Blend or with almond flour.
Can I Use Almond Flour Instead Of Baking Blend?
Yes, you can! Be aware though that you'll need much less liquid. When I tested this version I only needed about 4 tablespoons versus the 8 I needed with Baking Blend.
This is because Baking Blend includes some thirsty ingredients like coconut flour and oat fiber. They soak up the liquid making more necessary to get the correct consistency.
Be sure to check the NOTES section in the recipe card below.
What's So Great About Moringa And Spirulina?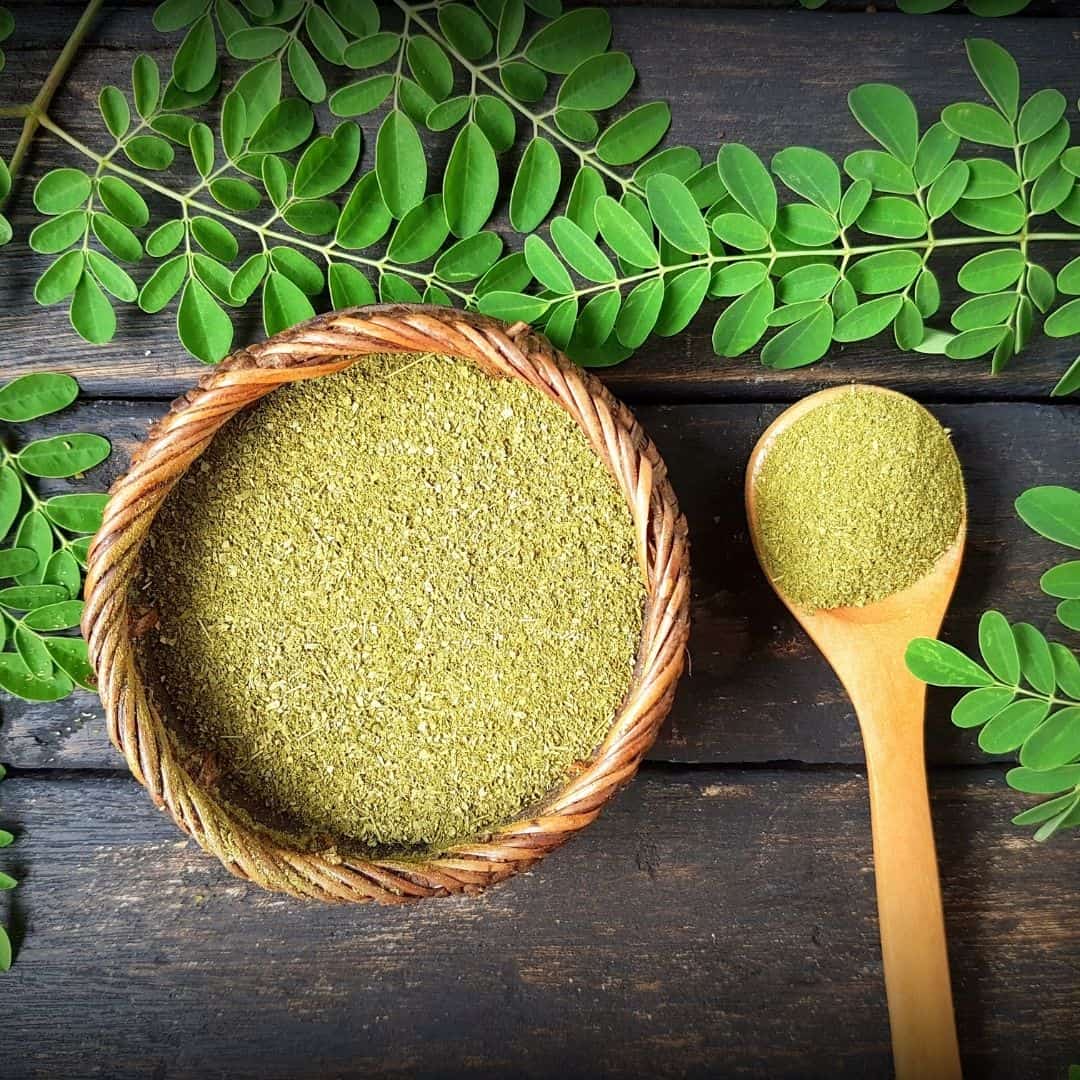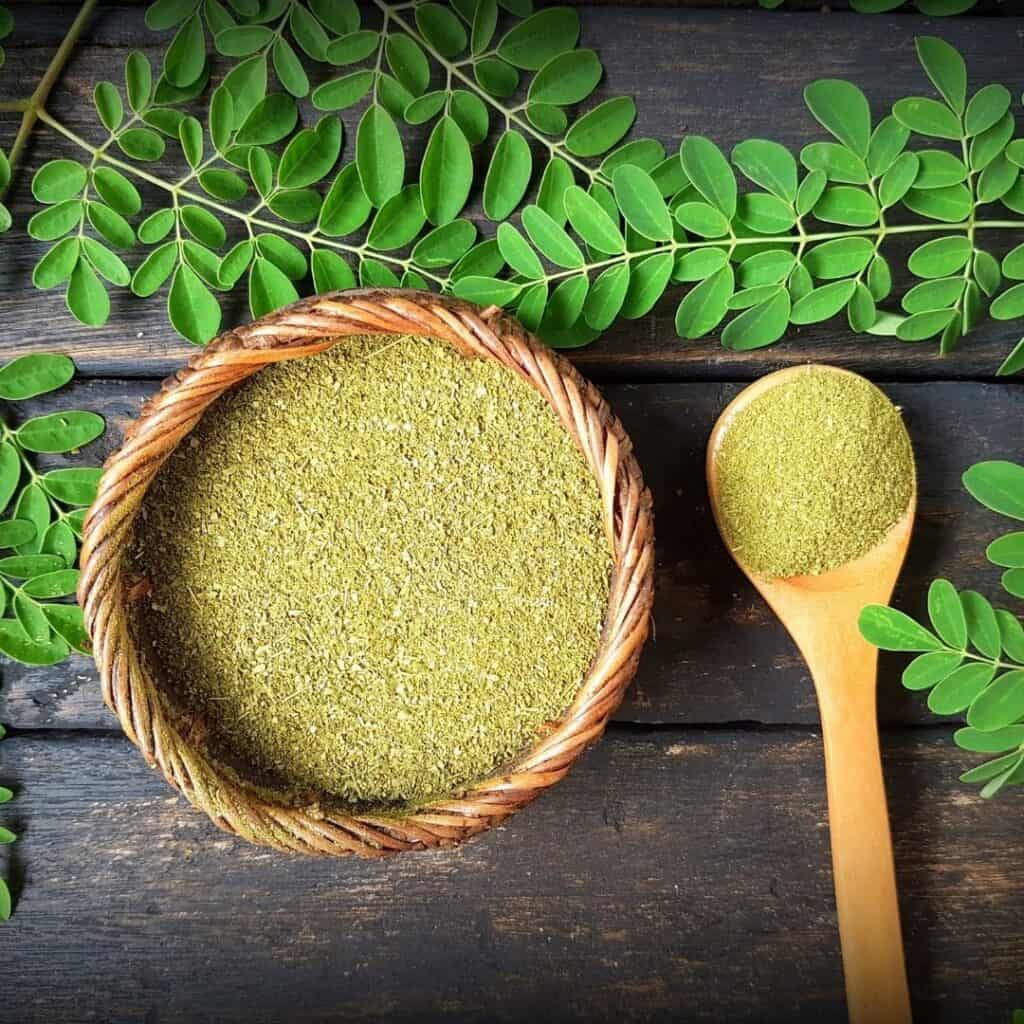 These two deeply nourishing ingredients are powerhouses! They're rich in nutrients that cleanse, detoxify, and energize.
Moringa has been used to treat malnutrition in third world countries because it is so rich in nutrients.
The leaves are rich in minerals, vitamins and other essential phytochemicals. Extracts from the leaves are used to treat malnutrition, augment breast milk in lactating mothers. It is used as potential antioxidant, anticancer, anti-inflammatory, antidiabetic and antimicrobial agent.

…moringa is said to provide 7 times more vitamin C than oranges, 10 times more vitamin A than carrots, 17 times more calcium than milk, 9 times more protein than yoghurt, 15 times more potassium than bananas and 25 times more iron than spinach [1]. The fact that moringa is easily cultivable makes it a sustainable remedy for malnutrition.

Source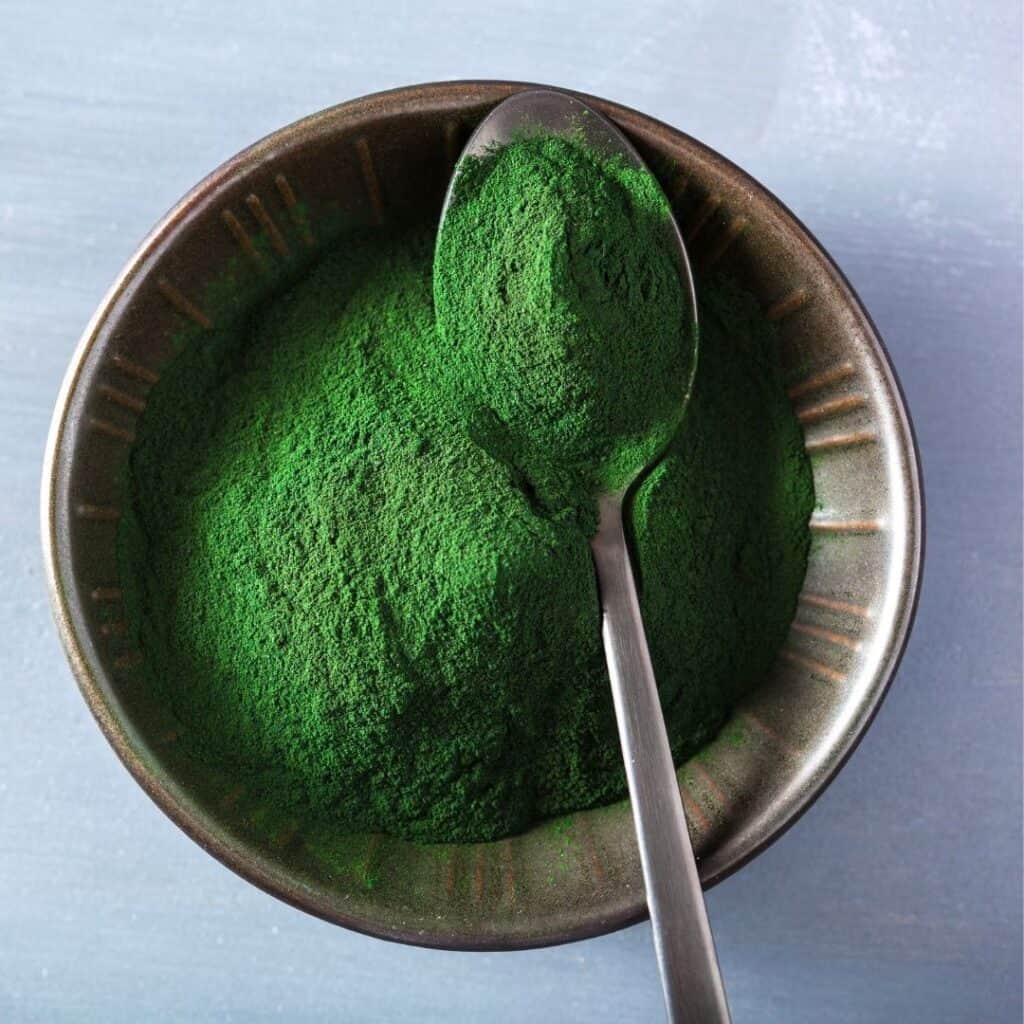 Spirulina is known to help detox heavy metals, lower blood pressure, reduce cholesterol, boost energy, and more (source).
It's rich in minerals and nutrients as well. Per 100 grams, it contains over 57 grams of protein! It's a good source of potassium, phosphorus and copper and more (source).
Combining these 2 powerful greens means even more nutritional punch for you.
What Does Dynamic Duo Greens Powder Taste Like?
Well, it's very green and tastes it. No sense in trying to say it doesn't! Some people say it tastes grassy. I find moringa has a bit of a nutty taste, too.
A little goes a long way! According to the package, Dynamic Duo is designed to be laced in recipes and treats that ease it down gently and make it surprisingly enjoyable.
That means it's best to use in small amounts.
These sugar free chocolate peppermint protein bites, with Dynamic Duo inside, are a great way to get a bit of that powerhouse nutrition in your day.
Of course, if you just can't handle the taste there's another option. Use a capsule filling machine and take it that way!
Note: if you eat Biblically clean, remember that many times gelatin capsules are made with pork (porcine) gelatin. It's not always indicated on the label. Look for either veggie caps or bovine (cow) gelatin capsules to avoid pork-based gelatin capsules.
Tips For Making These Sugar Free Peppermint Chocolate Protein Balls.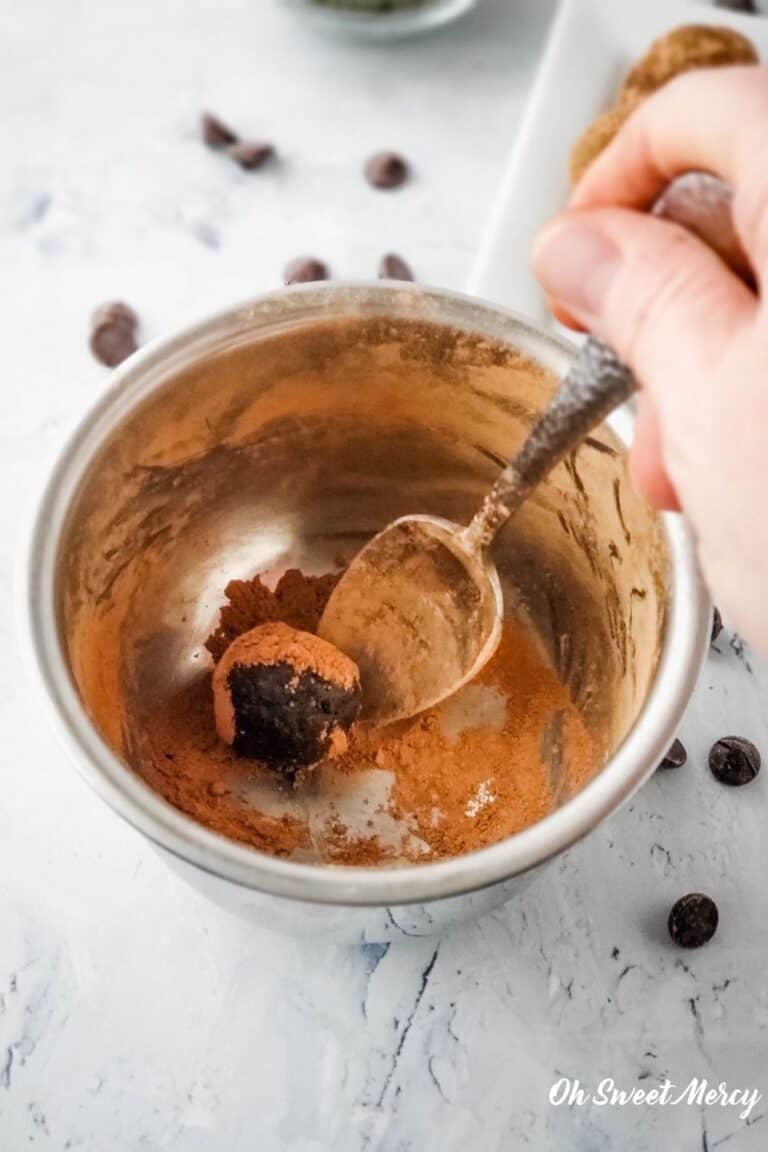 Make sure your butter (or ghee or coconut oil) is room temperature…or softened if it's cold in your kitchen.
Mix your dry ingredients together first (if you're rolling the balls in a coating mix that separately).
Cut your fat into the dry protein ball mixture with a fork or pastry blender. Or, use a hand mixer.
Add the liquid in small amounts, a tablespoon at a time or so, until the mixture comes together as a dough. NOTE: if using Baking Blend, you'll need to use more liquid than if using almond flour.
Roll in sweetened cocoa powder or powdered erythritol, if desired. Or, roll in shredded coconut or crushed nuts. Do a little of each for a nice variety.
How To Fit This Recipe Into Your THM Meal Planning.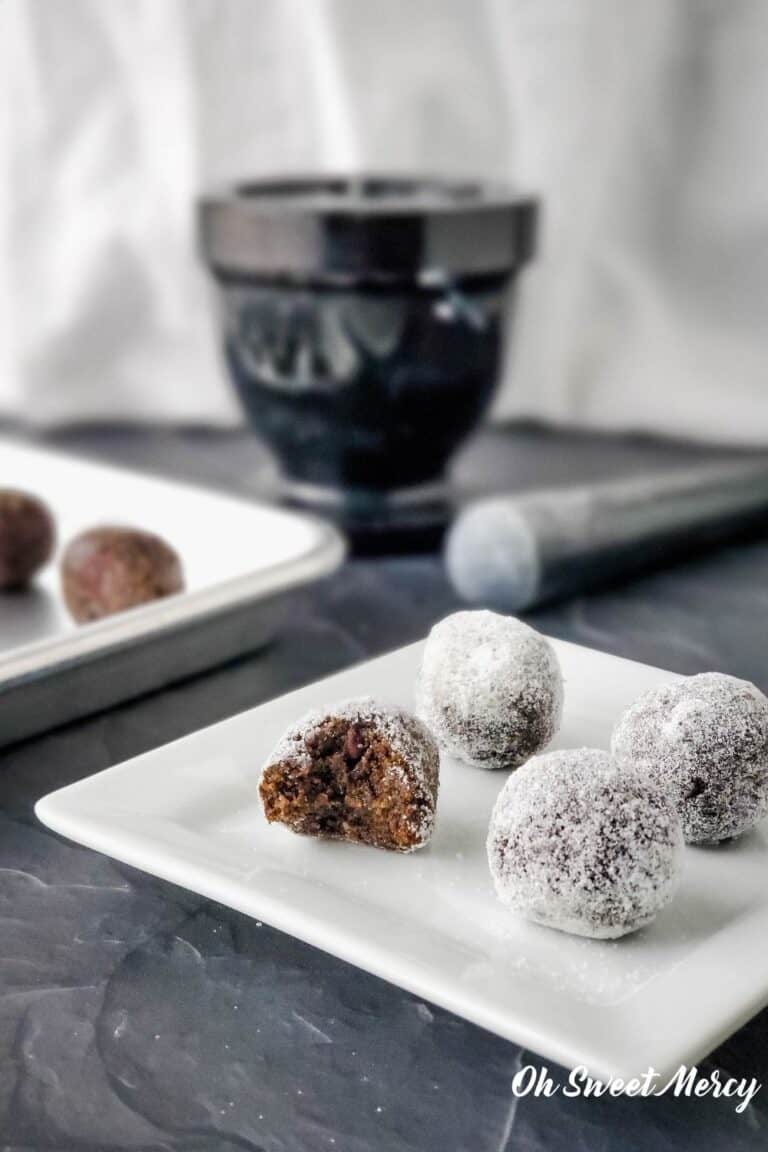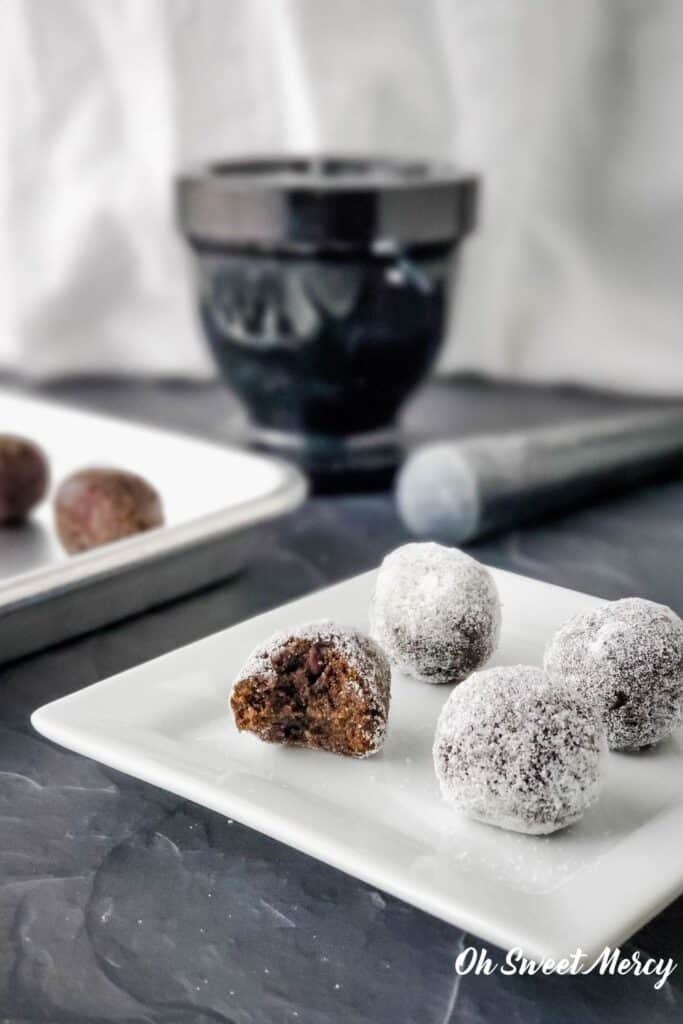 These sugar free peppermint chocolate protein balls can be a Fuel Pull if made with THM Baking Blend. They have 2.9 g of fat and less than 1 gram of net carbs.
However, don't eat more than 2 in a Fuel Pull setting. As part of an E meal or snack, 2 would use up your added fat allowed.
In general, I'd just consider these an S. You can have 3 or 4 or so and not worry about fats or carbs.
If using almond flour, keep them as an S. You'll actually have more carbs and fat using almond flour versus Baking Blend. It's all nut flour without the benefit of the ingredients in Baking Blend, such as oat fiber, to lighten it up.
Enjoy these dark chocolate protein balls with a secret punch of greens power, with a mug of your favorite hot beverage this winter, as a snack. I think they're delicious with my dairy free Peppermint White Hot Chocolate.
Need a little something sweet after a meal? They make an easy dessert, too. Just be mindful of the fats and carbs in your meal and select an appropriate number to have as a sweet finish.
Too busy for a meal in the morning? Grab a few of these and add some collagen to your coffee (or tea) for a quick meal you can eat on the go.
Pack in your purse or bag for running errands, heading to the gym, or other on-the-go tasks. In fact, pack them as part of a THM snack box!
You can also change the extract used in this recipe if you like, such as caramel or coconut. Get creative!
Do you like making protein balls? I've got a delicious Butter Pecan Protein Balls recipe for you, too. It can also be made dairy free.
Pin It!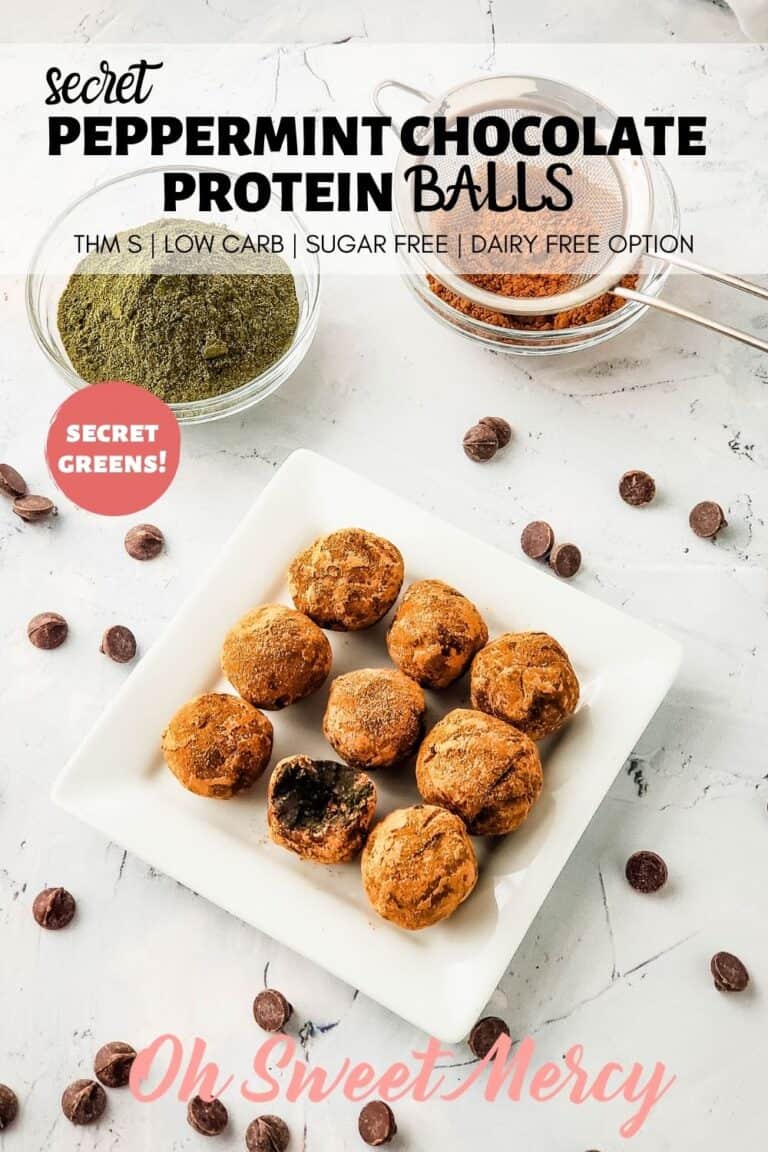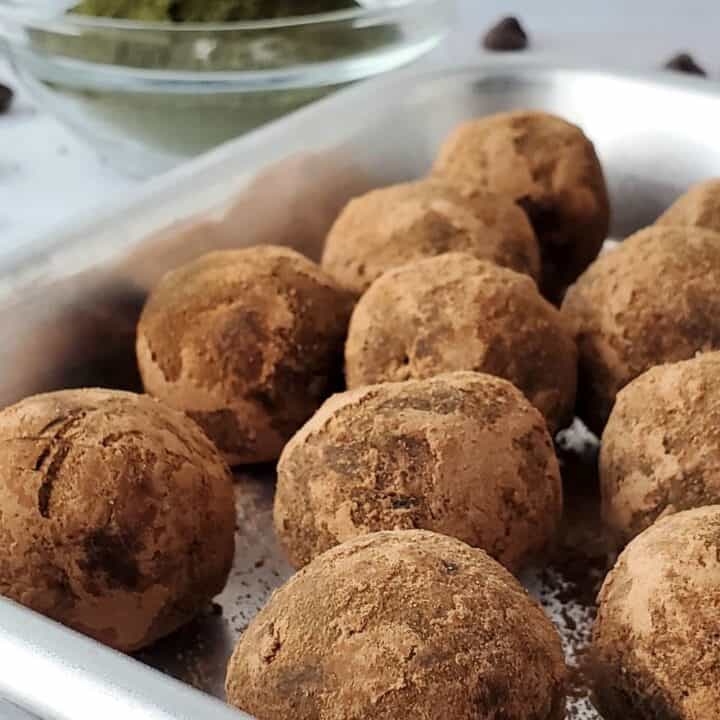 Secret Peppermint Chocolate Protein Balls | THM S, Low Carb
Yield: Varies, about 30
Prep Time: 30 minutes
Chill Time (optional) : 20 minutes
Total Time: 50 minutes
I've got low carb, pepperminty chocolate protein balls studded with chocolate chips…and a secret ingredient! Just mix a little of the new THM Dynamic Duo Greens Powder into these easy little protein bites for a fun and tasty way to get the goodness of spirulina and moringa into your day. Low carb and sugar free and easy to make with dairy free option.
Ingredients
1/8 teaspoon high mineral salt
1/4 cup softened butter, coconut oil, or ghee
4 to 8 tablespoons unsweetened almond milk (use up to 4 for almond flour, see notes)
2 teaspoons pure vanilla extract
1/2 to 3/4 teaspoon peppermint extract
Coating options
1 tablespoon cocoa plus 2 teaspoons THM Gentle Sweet
3 teaspoons powdered erythritol
Shredded coconut
Chopped nuts
Instructions
In a mixing bowl, combine the Baking Blend (or almond flour), cocoa, whey or collagen, sweetener, greens powder, and salt and mix until well combined.
Cut in the fat with a fork or pastry blender until it's well incorporated and there's no big clumps of fat left.
Add the extracts, chocolate chips, and half the almond milk and mix (for the almond flour version you'll probably only need about 4 tablespoons all together).
Add more almond milk, a tablespoon at a time, until the mixture comes together into a fairly unsticky dough.
Roll into balls using a heaping teaspoon or so of dough.
Roll in coating(s).
Eat right away or refrigerate if you like them firmer.
Store in a tightly covered container in the fridge or freezer.
Notes
Dynamic Duo Greens Powder Notes
If you're not used to using dark green powders like morninga or spirulina, the taste may be a little overwhelming to you and discernable in this recipe if you use the full 1 to 2 tablespoons. If you're afraid you might not like it, make a smaller batch and only add 1 or 2 teaspoons to start.
My daughter could really taste it (using 2 tablespoons) and said it tasted like a vegetable, not unpleasant necessarily but noticeable. I don't find it that noticeable myself but I also eat more dark green things than she does and love moringa and spirulina both.
Sweetener Notes
I love dark chocolate and these are not as sweet as some chocolate treats you might be used to. Feel free to increase the sweetener to your taste preference, of course.
Nutrition Notes
Nutrition info below is calculated using THM Baking Blend and 2 tablespoons Dynamic Duo Greens Powder.
If using almond flour instead, per ball (if you have 30 total):
CALORIES 54.5 FAT 4.3 SODIUM 4.3 CARBS 2.2 FIBER 1.1 SUGARS 0.4 NET CARBS 1.1 PROTEIN 2.7
Nutrition Information:
Yield: 30
Serving Size: 1 ball
Amount Per Serving:
Calories: 41.6
Total Fat: 2.9g
Saturated Fat: 2g
Trans Fat: 0g
Unsaturated Fat: 0.3g
Cholesterol: 0mg
Sodium: 10.4mg
Carbohydrates: 3g
Net Carbohydrates: .8g
Fiber: 2.2g
Sugar: .4g
Protein: 2.7g
Nutrition information is approximate and based on the best knowledge available at the time of recipe publication. Your results may vary due to differences in ingredients. You can make your own calculations if this recipe does not include nutrition info by using an online calculator such as https://recipes.sparkpeople.com/recipe-calculator.asp