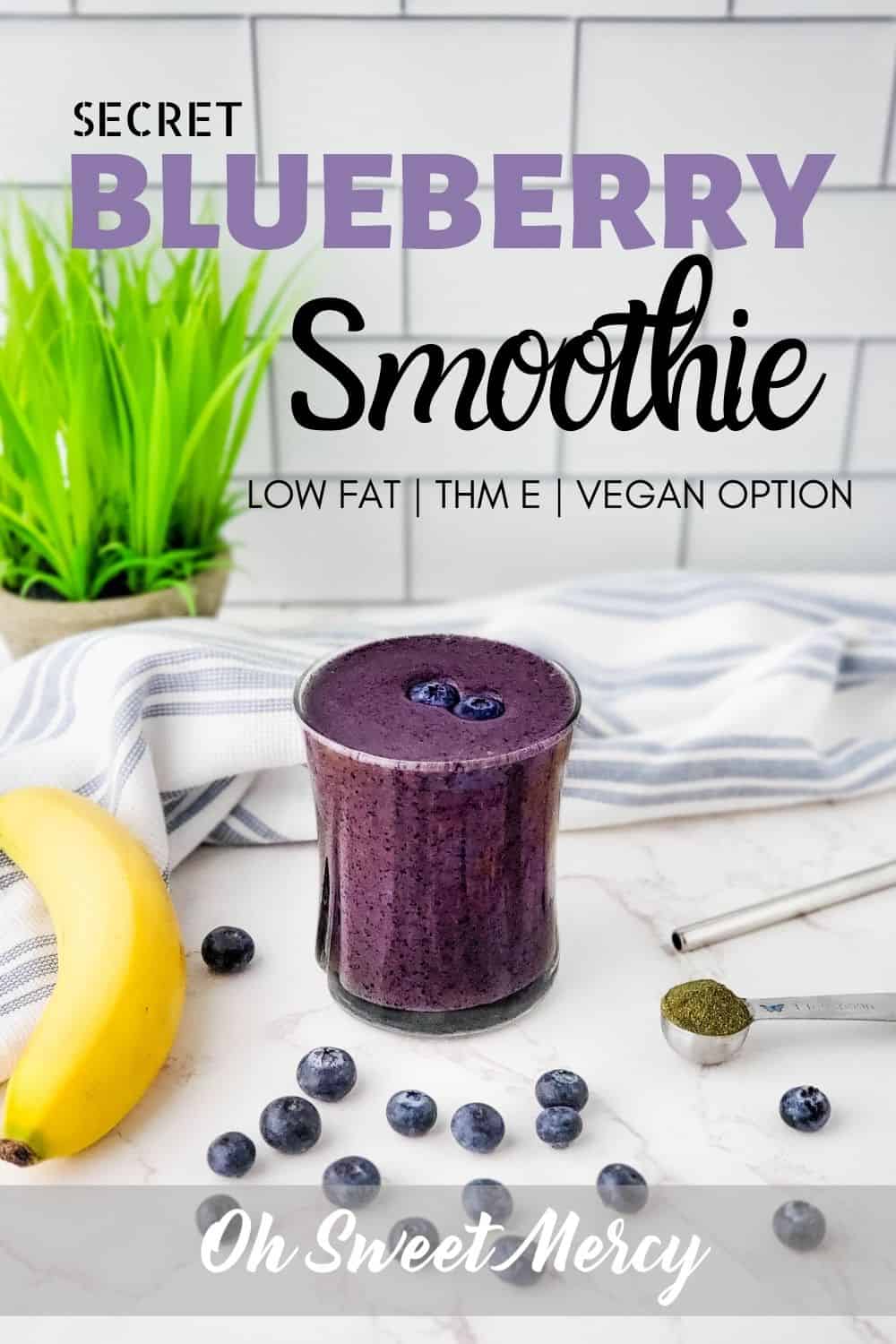 ---
My easy low fat blueberry smoothie is a tasty THM E recipe and perfect for a quick infusion of slimming, healthy carbs. Add a bit of a secret, healthy ingredient (that's not okra) for an even more powerful nutrition punch! No thickeners needed, either!
---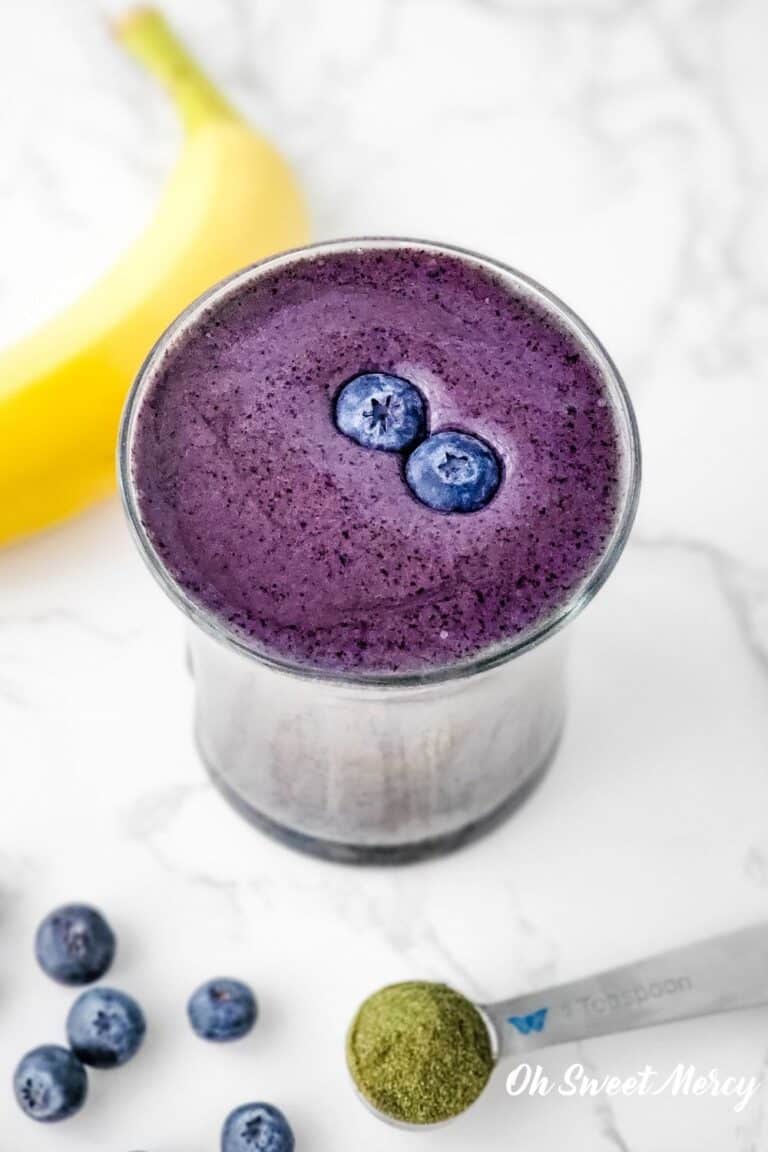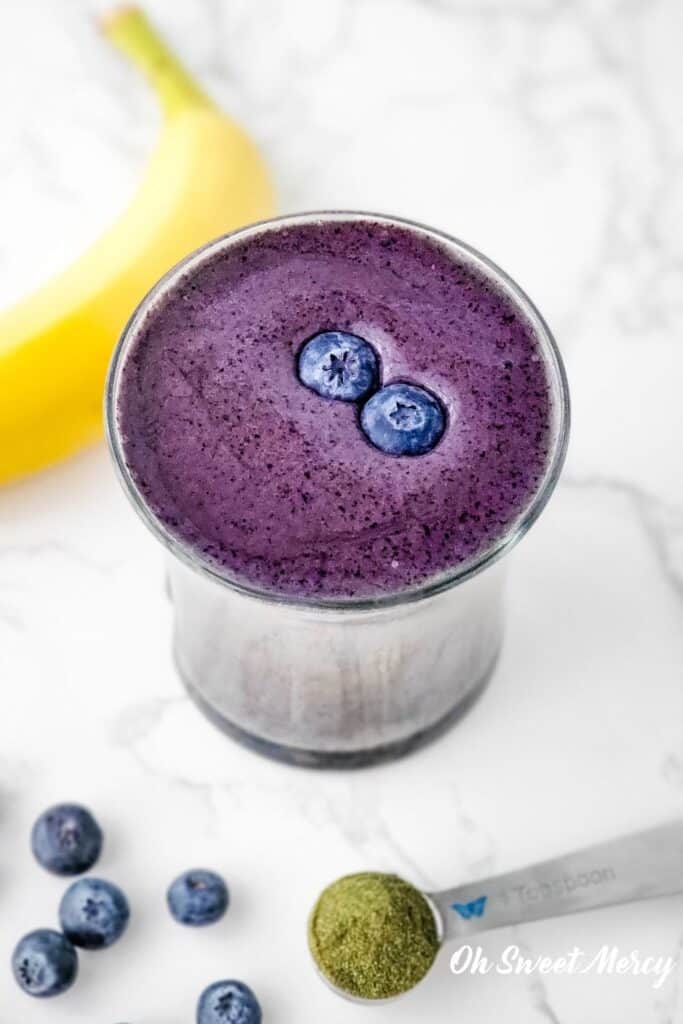 This easy, low fat blueberry smoothie has a secret – but it's not okra! Many THM shakes and smoothies that say "secret" in use okra as the secret ingredient. I've got one on the blog if that's what you're after but give this one a try too!
If you've had my Secret Peppermint Chocolate Protein Balls then you probably know what the secret is. They taste like Thin Mints and people are loving them!
So what's the secret ingredient?
What Do I Need For This Recipe?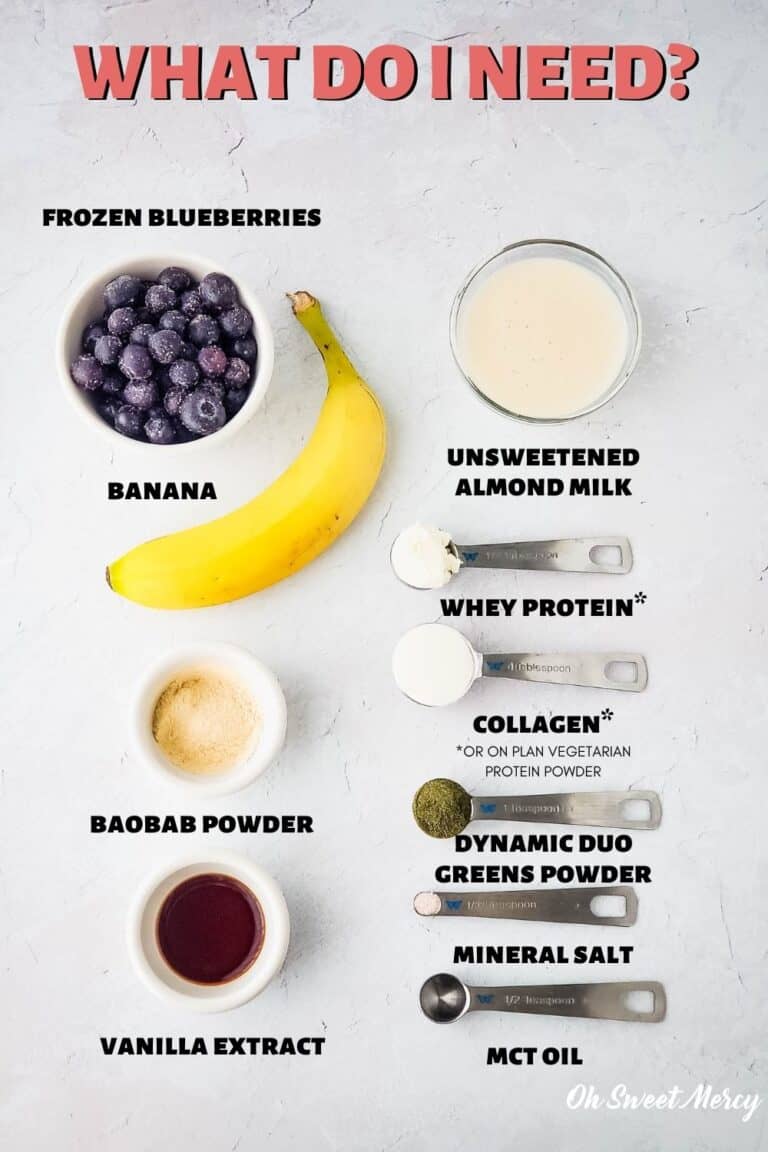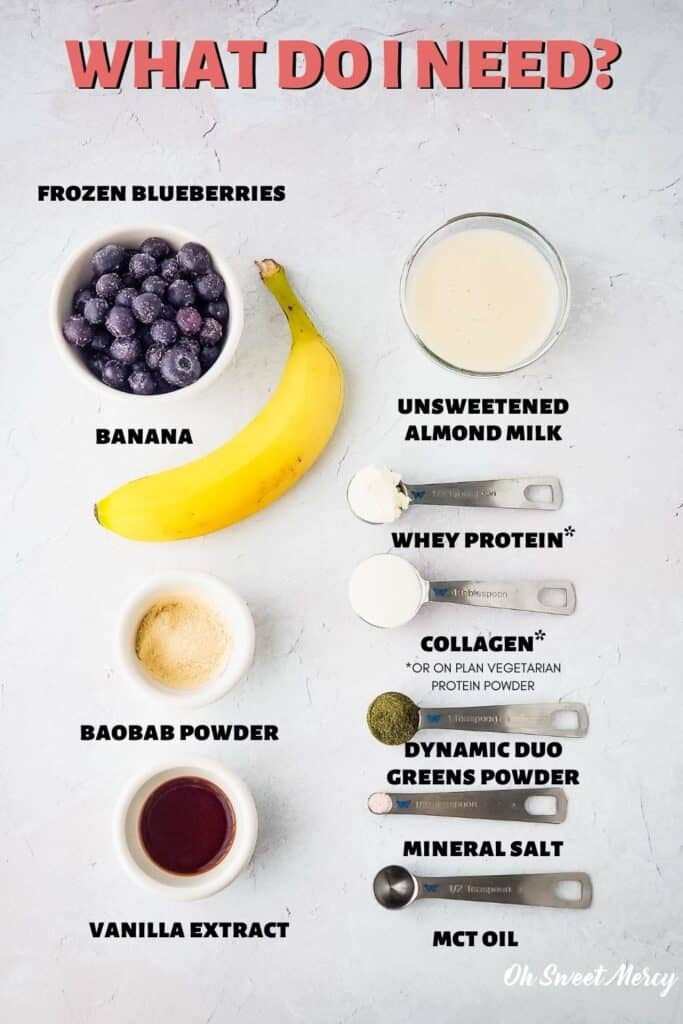 Can you spot the secret ingredient in the photo above? I'll give you a hint: it's really green and called Dynamic Duo Greens Powder! You'll also need:
Frozen blueberries
Banana
Unsweetened almond milk
Dynamic Duo Greens Powder (adding the secret ingredient again in case you're skimming and just reading the list)
Vanilla extract
Do I Have To Use…
You may be wondering if you have to use some of the ingredients listed. Some of them aren't essential, but they do give some extra nutrition to your smoothie so consider adding them if you can.
Baobab powder – adds vitamin C, fiber, and minerals. Great for supporting your immune system! It also helps thicken your smoothie without using a low carb thickener like xanthan gum.
Dynamic Duo Greens Powder – it's the "secret" in this recipe so without it you'll just have a blueberry smoothie. But, this blend of moringa and spirulina packs a powerful punch! It helps support your body's detox system, provides antioxidants, as well as vitamins A, B1, B2, B3, E, K, copper, iron, magnesium, calcium, potassium, and manganese.
If you don't have Dynamic Duo Greens Powder, you can use moringa or spirulina or make your own 50/50 blend with half of each.
Collagen – adds protein, which helps keep blood sugar stable when eating healthy carb fuels. It also helps support the immune system and nourishes hair, skin, nails, and joints.
Whey protein powder – also adds protein, helps increase the fat-stripping hormone glucagon, supports immune function, muscle growth and recovery after exercise, energy, mood, and more! Read Serene's thoughts on whey protein and what whey is best.
MCT oil – this fast-burning oil helps boost metabolism! It also has the fewest calories of any oil. Leave this out if you're having other fats in your THM E meal.
While you can omit one or all of these ingredients, remember that it will change the taste a tiny bit as well as the nutritional benefits.
Also, you do need protein with your E foods so if you're omitting the collagen or whey be sure to add some lean protein along with your smoothie.
Why No Sweetener?
The banana in this smoothie provides plenty of natural sugar. However, if you find this low fat blueberry smoothie not sweet enough for your taste, feel free to add an on-plan sweetener to your tastes.
I personally find it plenty sweet and don't add sweetener.
How To Include This Low Fat Secret Blueberry Smoothie In Your THM Meal Planning.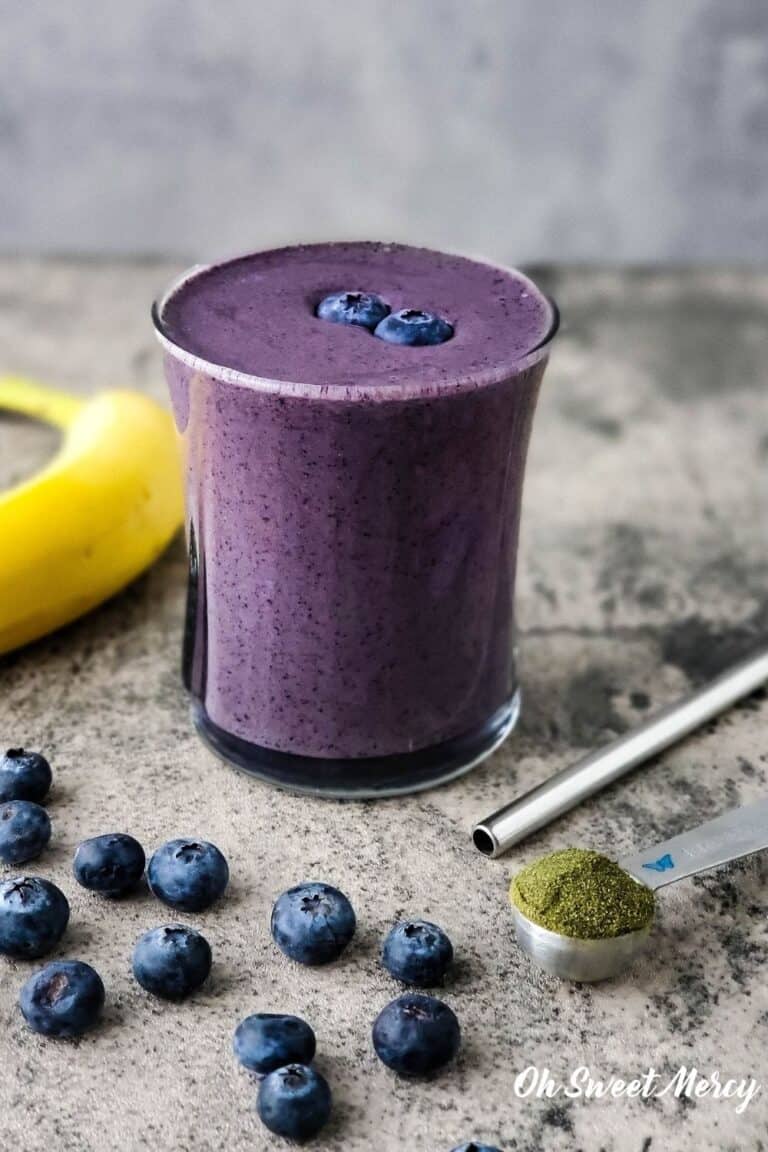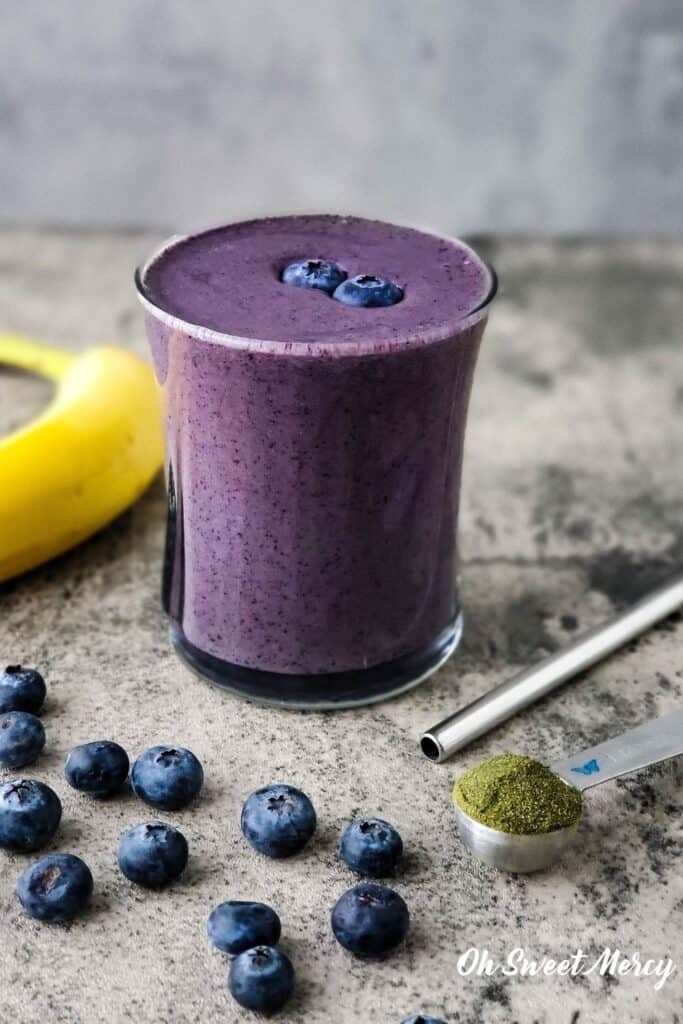 Since this is a THM E recipe, we keep our added fats very low and make sure to center our meal around healthy, ultra-lean protein.
This low fat blueberry smoothie can be made with the added MCT oil or without. Make it without if you're having this smoothie as a dessert and have other added fats in your THM E meal.
Here's a sample meal idea to try:
If you're having my secret blueberry smoothie as a snack, be sure to add the protein (whey and collagen, or one or the other) and MCT oil. Or, add very lean protein in some other form along with your smoothie.
My Light and Lovely Snack Box (one of several DIY Snack Box ideas) contains cooked egg whites and makes a great companion snack for your blueberry smoothie made without protein powders.
While THM doesn't encourage replacing meals with shakes and smoothies, sometimes there are those days, right?
Busy days with no time to cook leave us either grabbing something off plan out of the fridge or hitting the drive through. This smoothie whips up quickly to help you stay on plan and avoid temptation!
Pin It!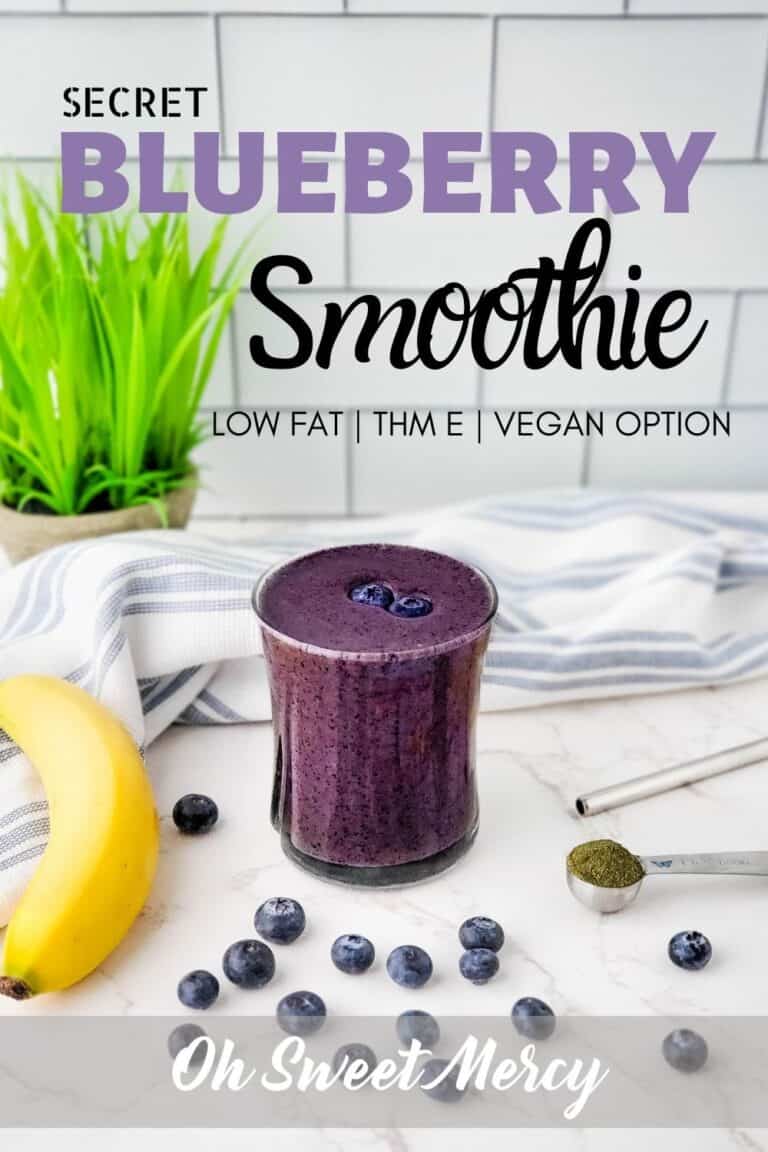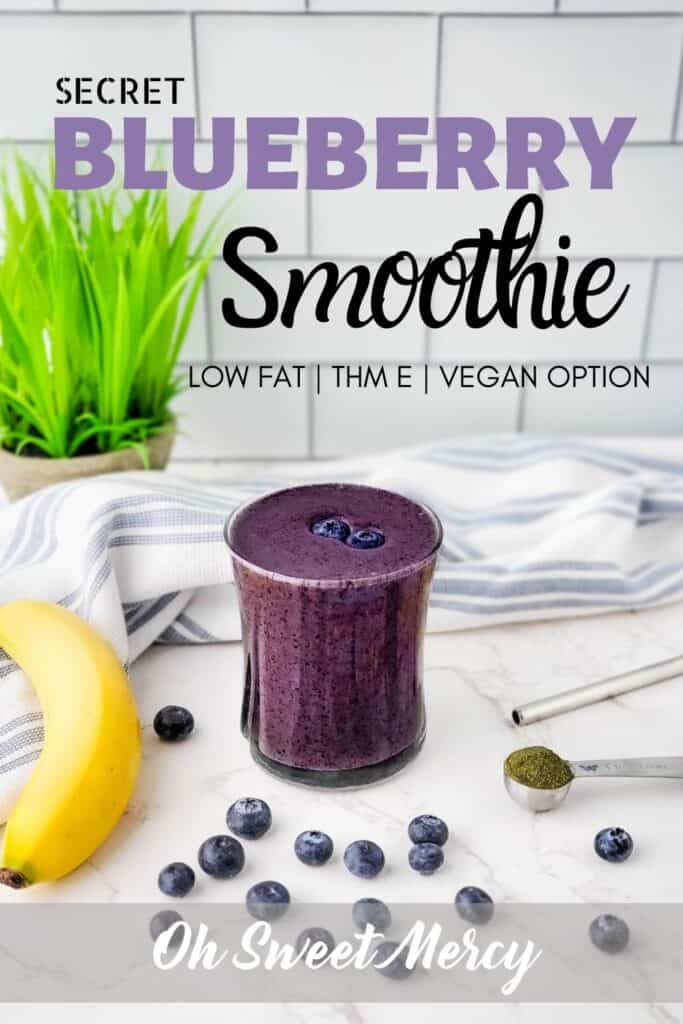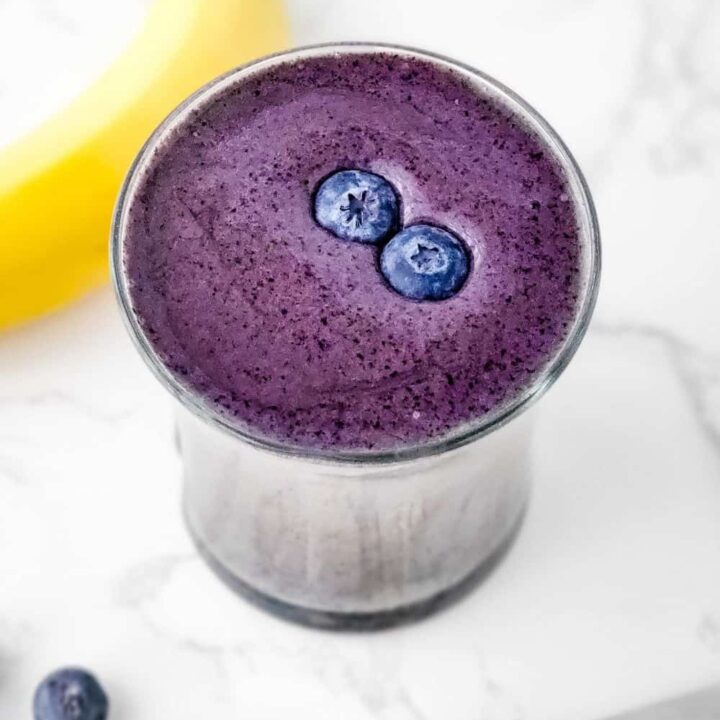 Secret Blueberry Smoothie | THM E, Low Fat
Yield: 1 serving
Prep Time: 5 minutes
Total Time: 5 minutes
This easy, low fat blueberry smoothie has a secret - deeply nourishing greens powder plus other healthy ingredients that help you trim down and boost your health. A delicious THM E source of slimming carbs that blends up in minutes.
Ingredients
1 cup blueberries, frozen
1/2 small banana (1/4 cup or so of slices)
1/2 cup unsweetened almond milk
1/2 teaspoon MCT oil, optional
Sweetener, to taste if desired
Instructions
Add all ingredients to a blender jar.
Blend until smooth and completely blended.
Taste and add sweetener and blend briefly to mix, if needed.
Notes
Whey And Collagen Notes:
Use any combination of whey and collagen in the amount you desire. Or, omit all together - just make sure to have lean protein with your smoothie in some form.
For a snack, a tablespoon of each or 2 tablespoons of 1 is fine.
For a meal use enough of both/one to equal at least 20 grams of protein.
MCT Oil Notes:
If having as dessert with a THM E meal that has added fat, omit the MCT oil.
If having as a snack, add the MCT oil if you like.
Recommended Products
As an Amazon Associate and member of other affiliate programs, I earn from qualifying purchases.
Nutrition Information:
Yield: 1
Serving Size: 1
Amount Per Serving:
Calories: 290.5
Total Fat: 4.9g
Saturated Fat: 2.3g
Trans Fat: 0g
Unsaturated Fat: 2g
Cholesterol: 0mg
Sodium: 155.5mg
Carbohydrates: 30.7g
Net Carbohydrates: 24.1g
Fiber: 6.6g
Sugar: 18.3g
Protein: 33.1g
Nutrition information is approximate and based on the best knowledge available at the time of recipe publication. Your results may vary due to differences in ingredients. You can make your own calculations if this recipe does not include nutrition info by using an online calculator such as https://recipes.sparkpeople.com/recipe-calculator.asp