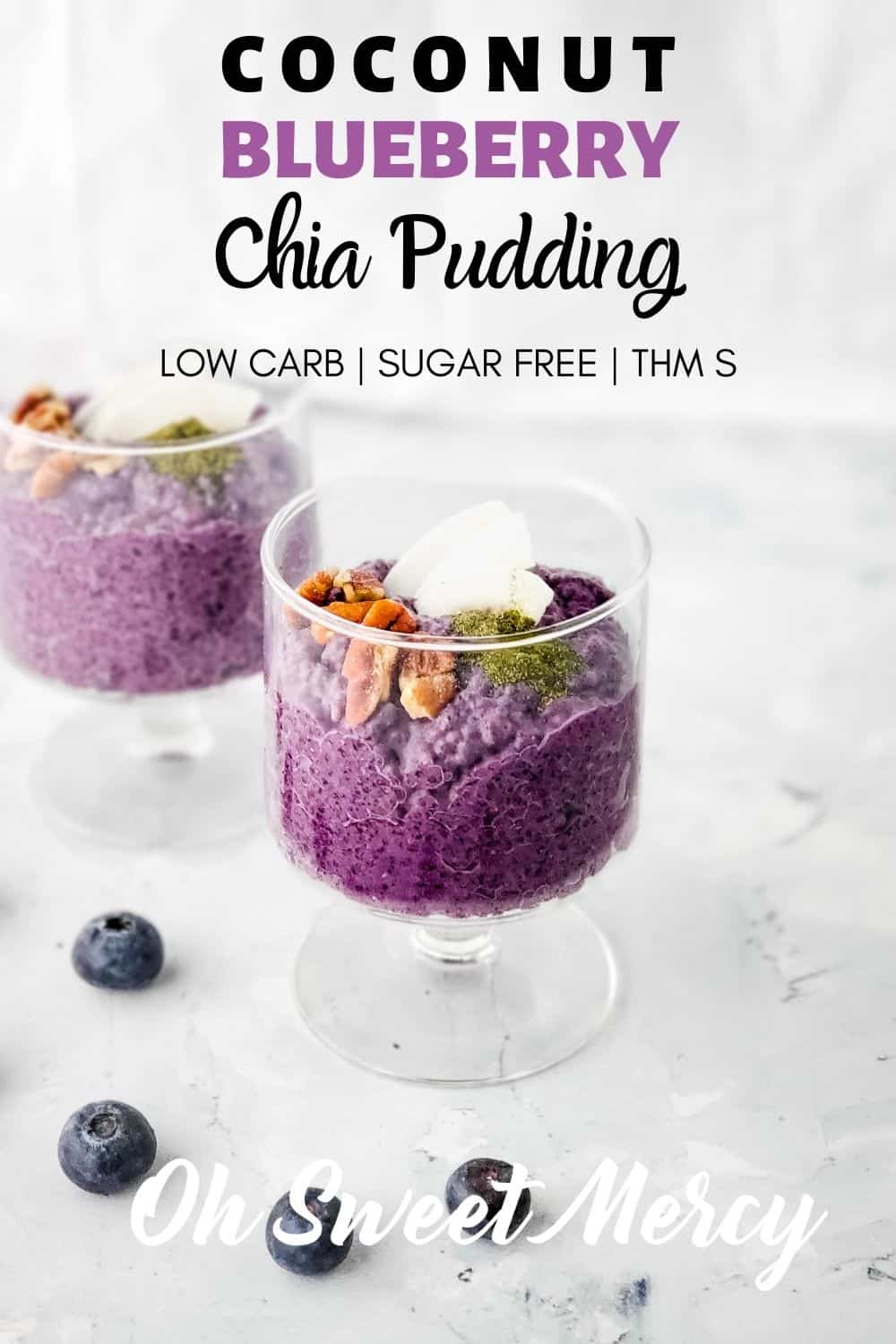 ---
Sweet blueberries in rich coconut milk combined with chia seeds means a healthy, plant-based, nutrition-packed breakfast or snack. This dairy free coconut blueberry chia pudding is perfect for making parfaits and prepping ahead for the week. THMs, it's also a perfect place to stir in some Dynamic Duo Greens Powder for an added boost of nutrition.
---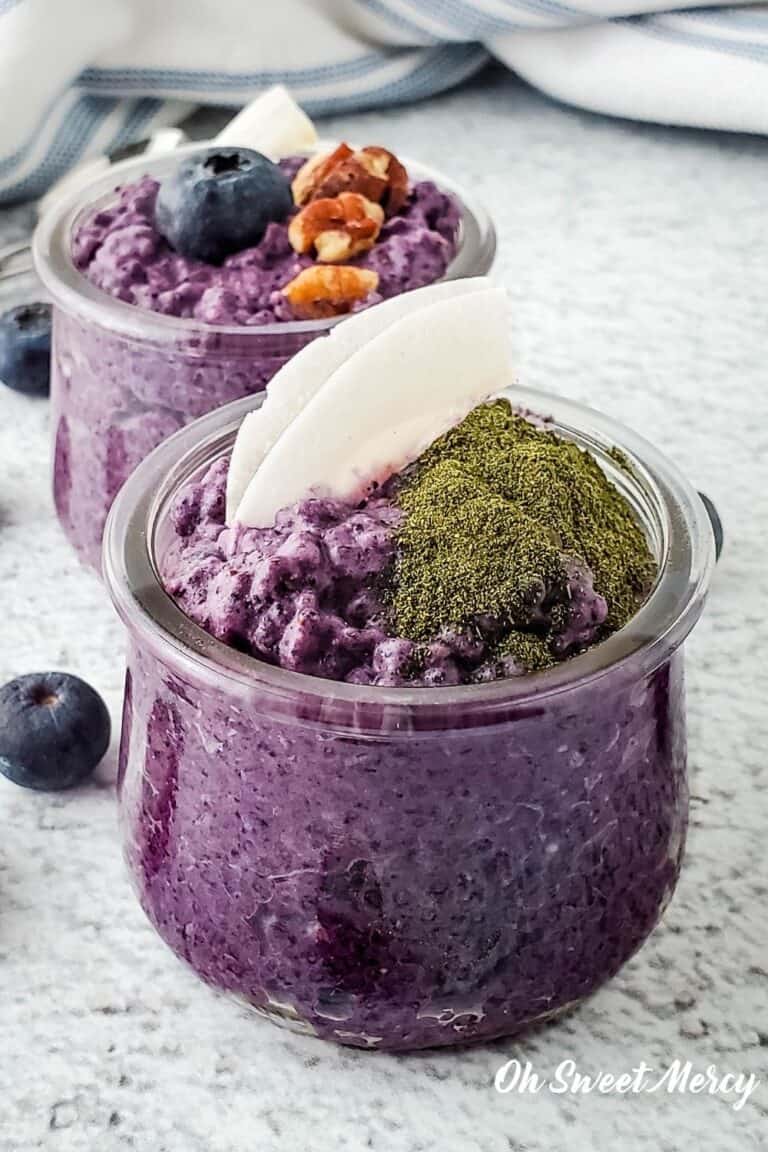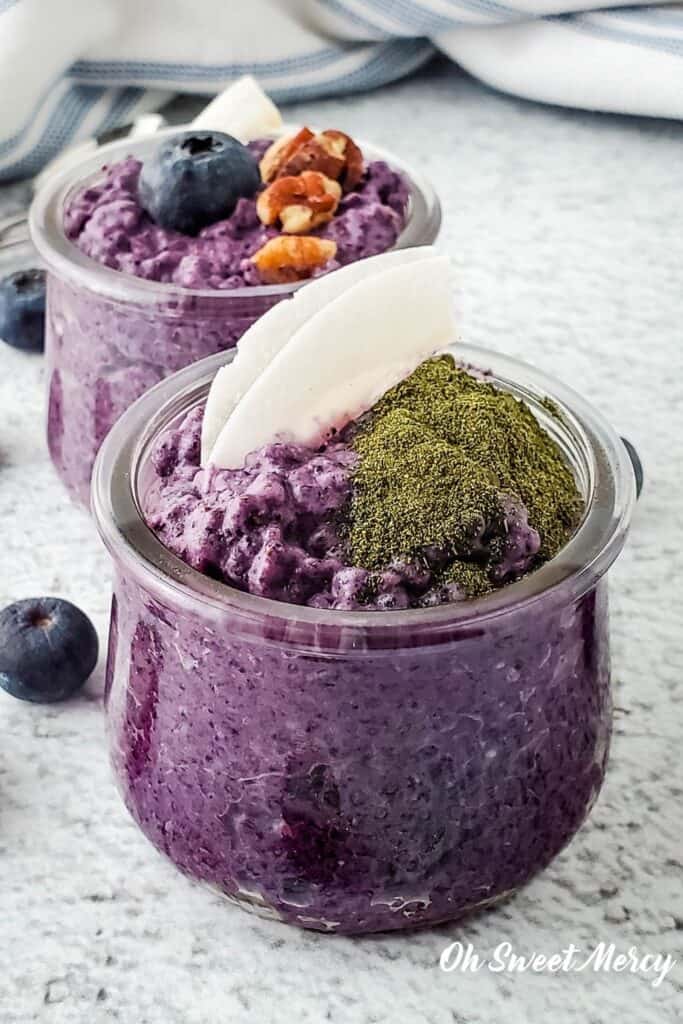 Chia seeds are not just for Bob Ross Chia Pets. I have one, actually, thanks to my little brother.
True to form, I can not grow anything on it of course. I should have taken a photo of my sad, bald, terra cotta, Bob Ross Chia Pet. But, I'm sure you can imagine the sadness.
These tiny little seeds are actually packed with healthy nutrition and are a wonderfully versatile ingredient for THM recipes. This is especially true if you want more plant-based meals and snacks in your THM journey.
Chia absorbs up to 10 times their weight in liquid, making a gel-like substance. This makes them wonderful for thickening puddings, shakes, and smoothies.
And, just like flax, they also can work as an egg replacer in many recipes.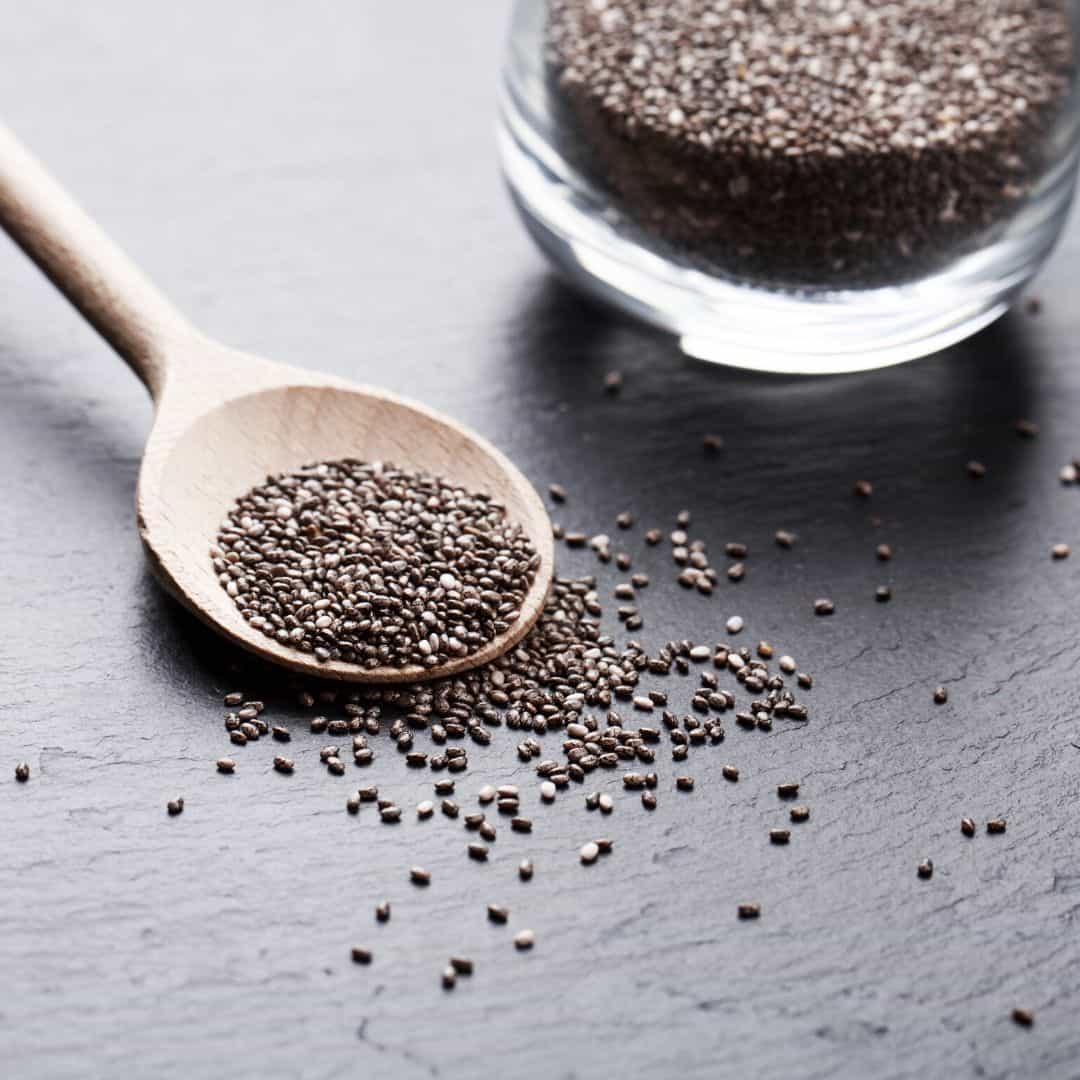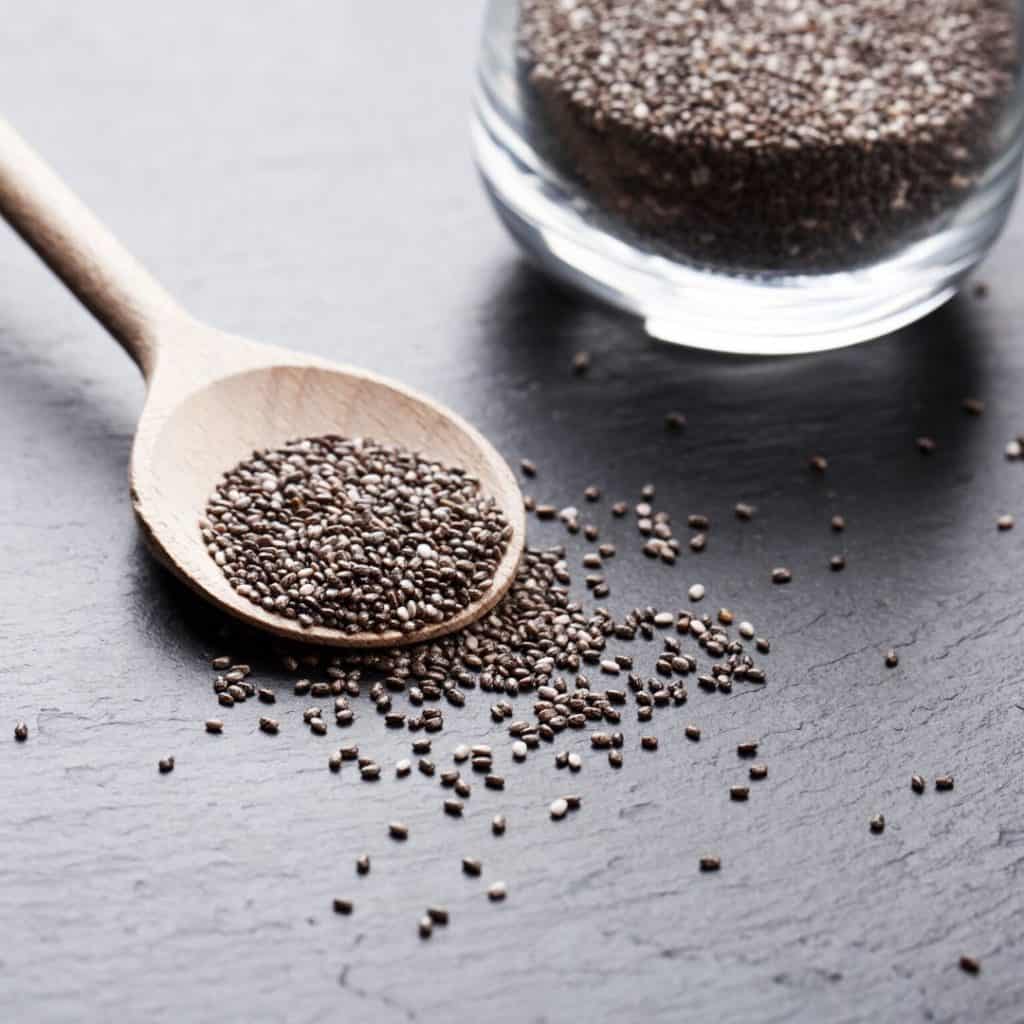 Two tablespoons of chia seeds (1 ounce or 28 grams) contain about 140 calories, 4 grams of protein, 11 grams of fiber, 7 grams of unsaturated fat, 18% RDA for calcium, and trace minerals including zinc and copper. They are the richest plant source of omega-3 fatty acids. Chia seeds are a complete protein, containing all nine essential amino acids that cannot be made by the body.

Source.
What Do I Need For This Recipe?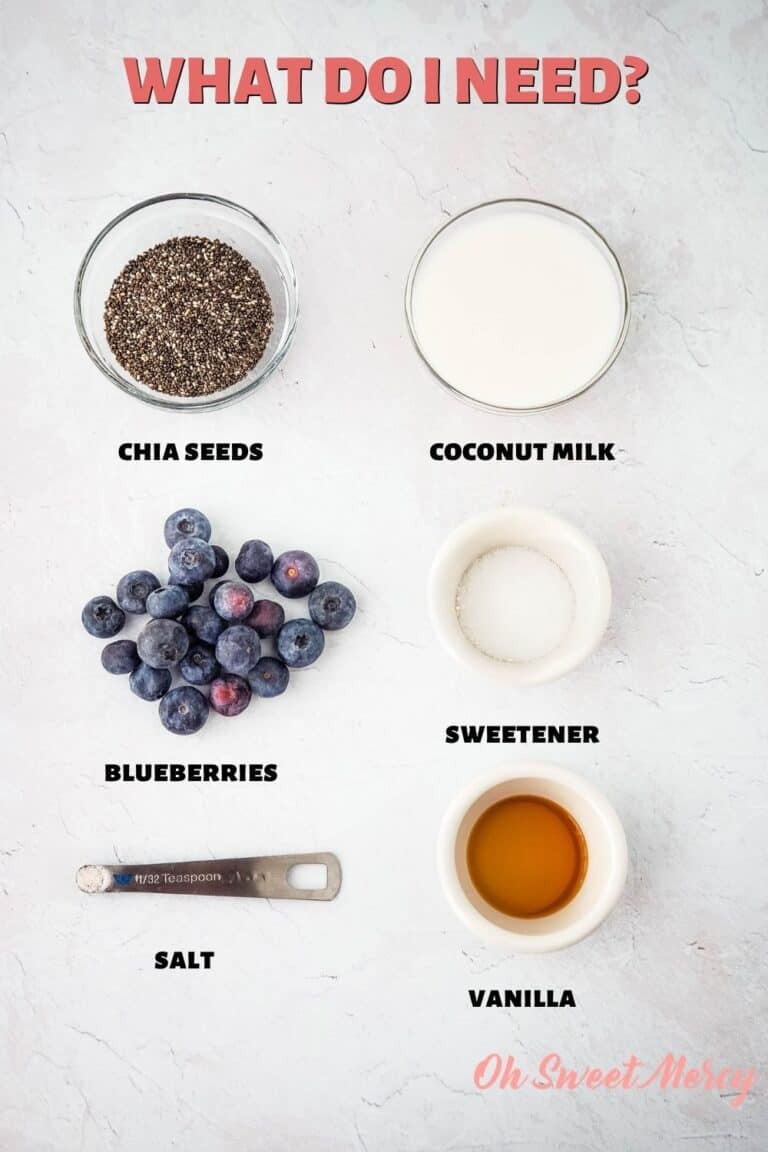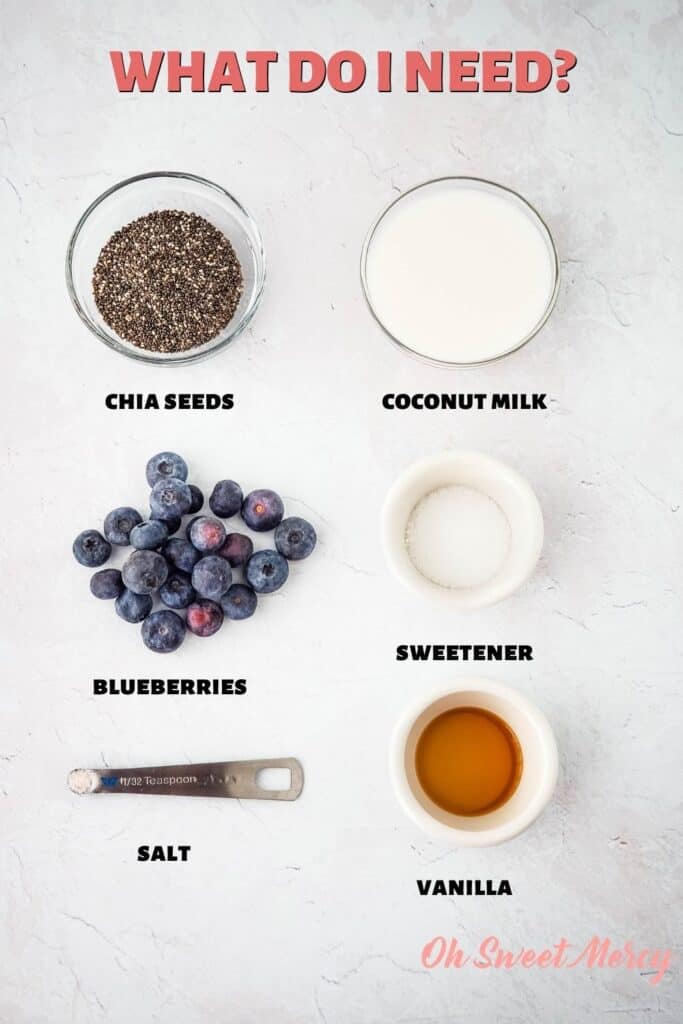 This one is super simple! Just a few whole food ingredients and, THMs, it's an NSI (No Special Ingredients) recipe. Unless, of course, you consider chia seeds a special ingredient.
Coconut milk
Blueberries (fresh or frozen)
Vanilla extract
Sweetener
Salt (optional)
I used full fat canned coconut milk. You can actually use any kind of on-plan non-dairy milk, especially if you want to lighten it up a bit.
Using the full fat coconut milk makes this a higher-fat recipe. It's also nice and thick, which is the way I like it. For a looser pudding, add almond milk or water to thin it down to your preferred consistency.
If your blueberries are really sweet, you may not even want additional sweetener. Since they're out of season at the moment, store bought blueberries aren't as delicious as when they're in season (and picked right off the bushes of the local blueberry farm).
Fresh or frozen blueberries work just fine.
NOTE: some people like to blend their chia seeds with the rest of the ingredients. I prefer them whole, but if you want feel free to blend all the ingredients together.
How To Fit My Dairy Free Coconut Blueberry Chia Pudding Into Your THM Meal Planning.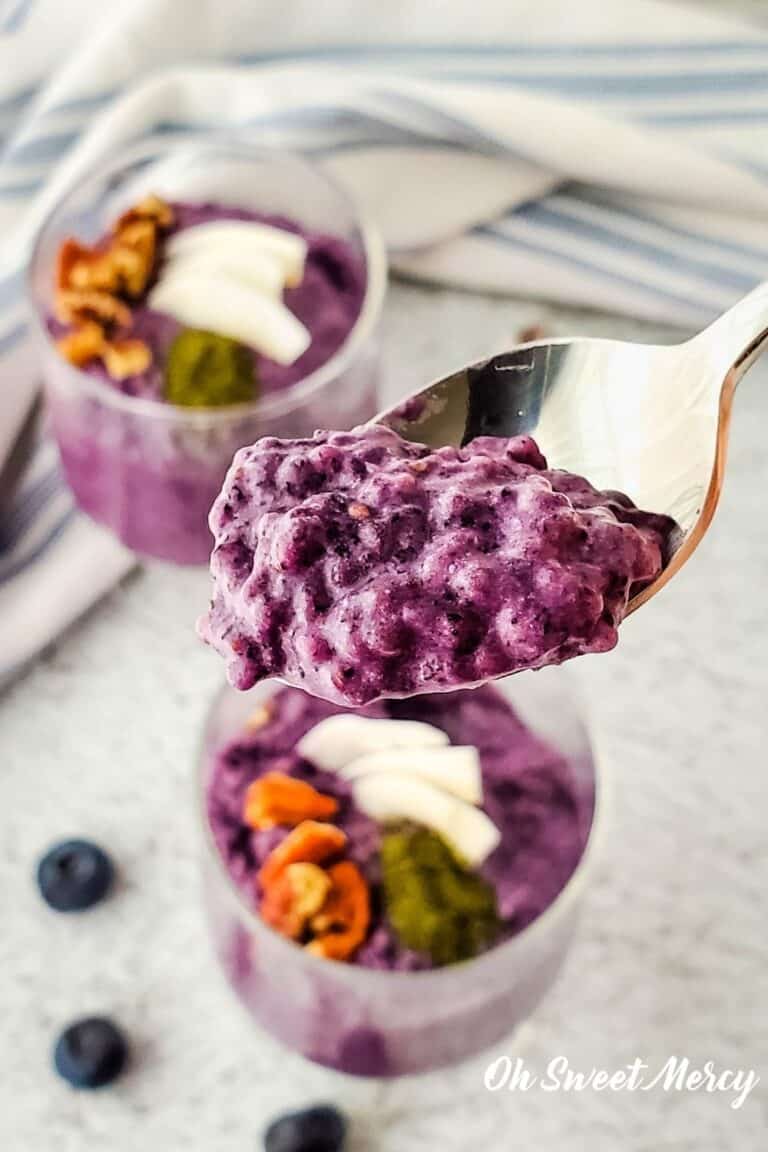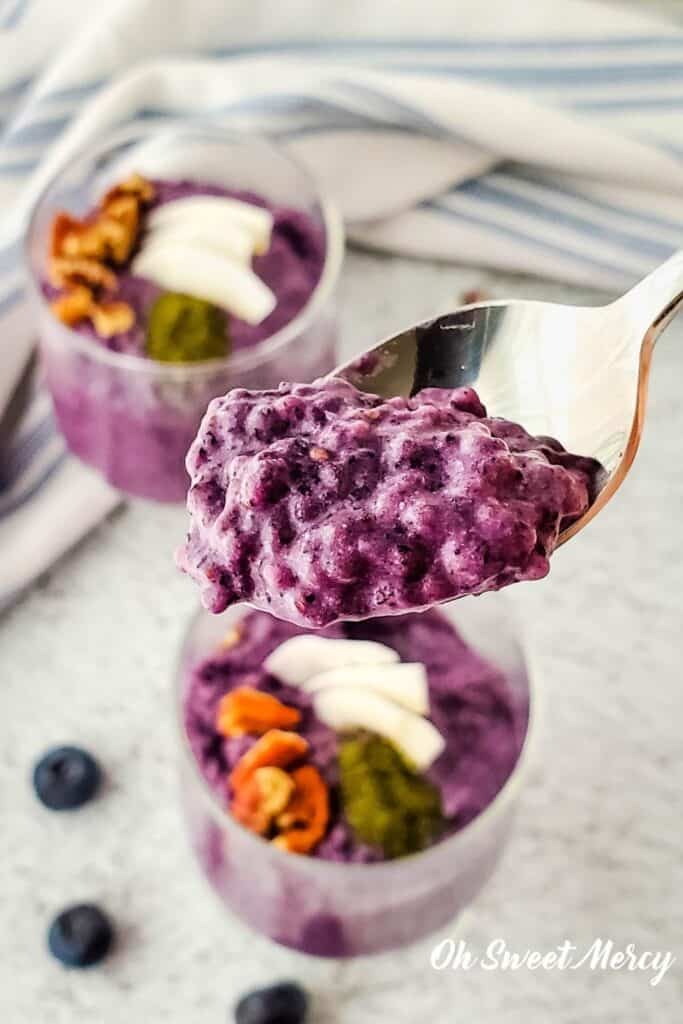 As written, this yummy recipe is a THM S. Since it's on the higher side with fats, keep that in mind when choosing other foods to enjoy with it.
This recipe makes 4 half cup servings with 3.3 grams of protein each. The protein in chia seeds is considered a complete protein. This means it contains the 9 essential amino acids our bodies can not make.
The fiber in chia seeds also helps us feel full as well as feel satisfied longer. So, if you're not a big breakfast eater, one serving of this might be just fine for you.
If you need more for breakfast, keep your meal additions on the low carb side since it's rich in healthy fats.
Consider adding:
As is, it's fine for a snack between meals. Just make sure you're keeping enough time between S and E foods.
If you'd like this for dessert, again I recommend a lighter meal as it's higher in fats. Your meal might look like…
Sweet Tea Grilled Chicken Breast
Side salad dressed with fresh lemon juice and spritz of olive oil
Steamed Broccoli
Coconut Blueberry Chia Pudding
Delicious, filling, and satisfying! There are so many ways to enjoy healthy, slimming foods on THM. I hope this recipe helps you stay on plan and hit your goals this year!
PIN IT!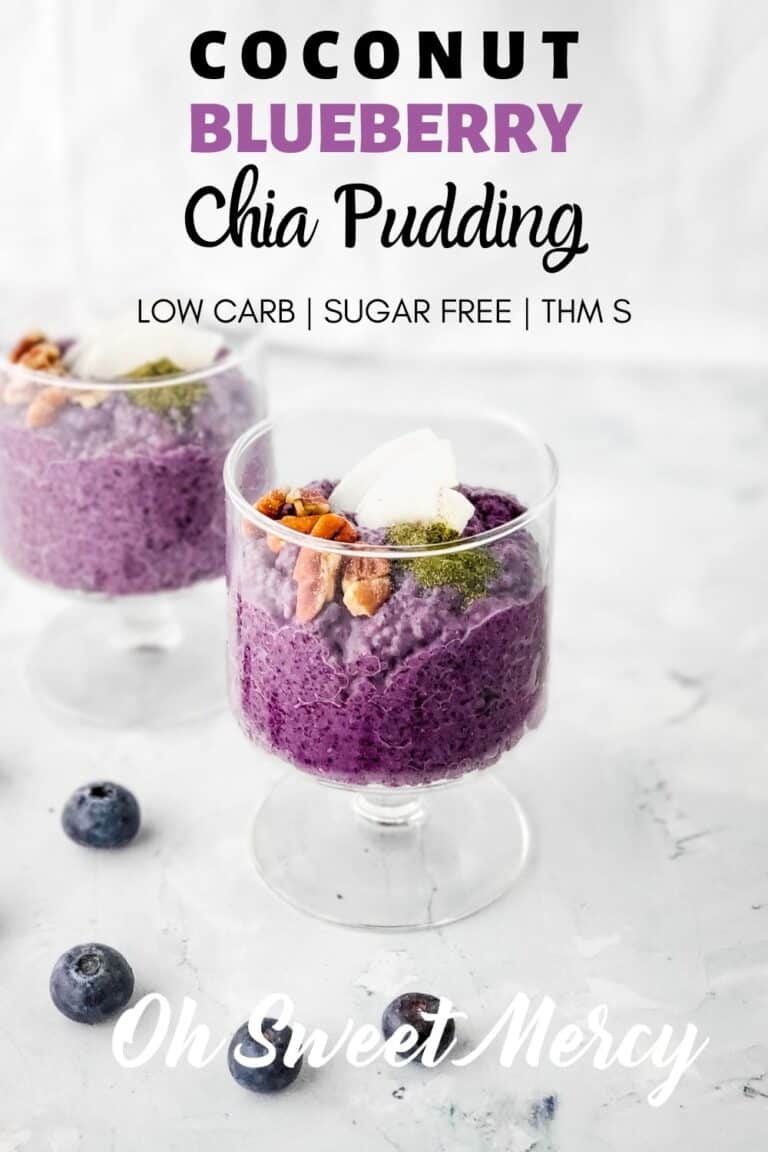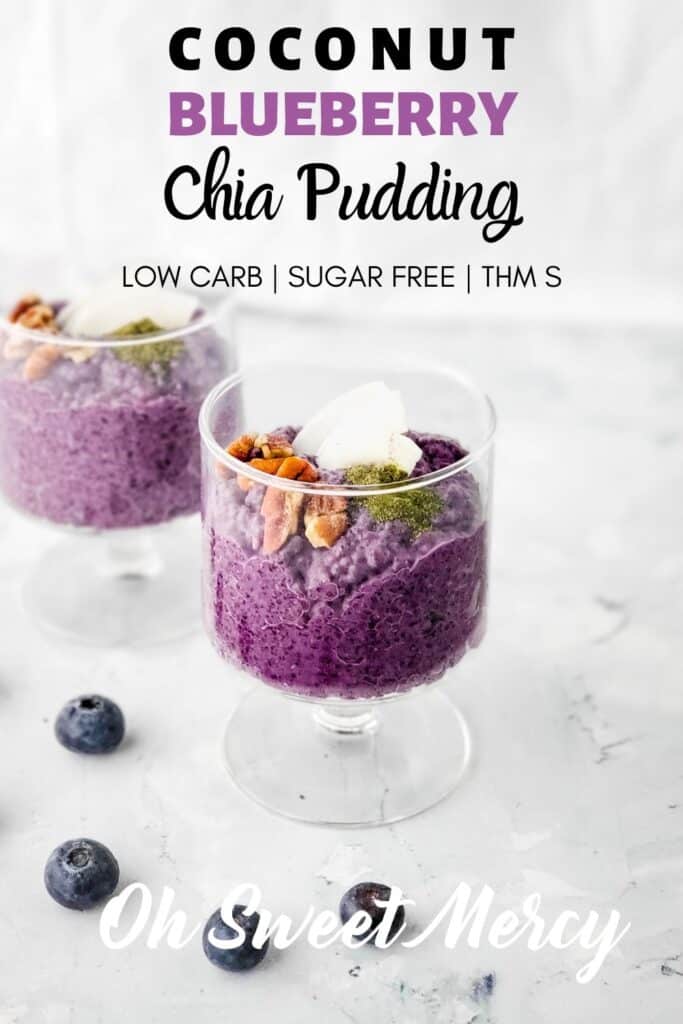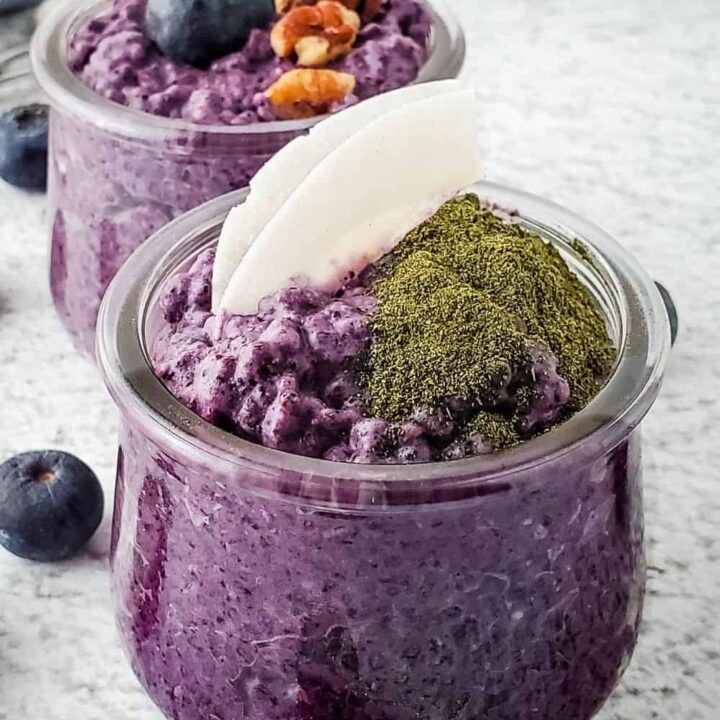 Coconut Blueberry Chia Pudding | THM S, Dairy Free
Yield: 4 half cup servings
Prep Time: 5 minutes
Chill Time: 30 minutes
Total Time: 35 minutes
Sweet blueberries in rich coconut milk combined with chia seeds means a healthy, plant-based, nutrition-packed breakfast or snack. This dairy free chia pudding is perfect for making parfaits and prepping ahead for the week.
Ingredients
1 cup full fat coconut milk
1 cup blueberries, fresh or frozen
1 teaspoon granulated stevia based sweetener, or preferred sweetener to taste
Instructions
Add coconut milk, blueberries, vanilla, sweetener, greens powder (if using) and salt to blender jar (optional: add chia seeds now).
Blend until blueberries are fully pureed.
Add chia seeds (if you didn't blend them in the mixture already) and stir to mix.
Pour into single serving containers, or a container that will hold 2 cups of liquid.
Refrigerate 30 minutes or overnight.
Top your serving with chopped nuts, coconut, more berries, more greens powder, cacao nibs, etc. if desired.
Notes
Some people like to blend the chia seeds in. I like a kind of "tapioca" style pudding so I leave them whole. After 30 minutes the pudding is set but the seeds are still a little bit crunchy. They'll be softer after over night in the fridge.
For a looser pudding, add almond milk or water to thin to your preferred consistency.
GRANULATED STEVIA BASED SWEETENER means a product like THM Gentle Sweet, THM Super Sweet, Pyure Organic Stevia, my homemade Mercy Sweet, or any sweetener blend consisting of stevia and a sugar alcohol such as erythritol.
As always, start by adding a small amount and add more if needed. I used 1 teaspoon Pyure in developing this recipe, which is similar in sweetness, to me, as THM Super Sweet.
Recommended Products
As an Amazon Associate and member of other affiliate programs, I earn from qualifying purchases.
Nutrition Information:
Yield: 4
Serving Size: 1/2 cup
Amount Per Serving:
Calories: 198.8
Total Fat: 15.5g
Saturated Fat: 9.1g
Trans Fat: 0g
Unsaturated Fat: 3.6g
Cholesterol: 0mg
Sodium: 17.9mg
Carbohydrates: 11.8g
Net Carbohydrates: 6.1g
Fiber: 5.7g
Sugar: 4.2g
Protein: 3.3g
Nutrition information is approximate and based on the best knowledge available at the time of recipe publication. Your results may vary due to differences in ingredients. You can make your own calculations if this recipe does not include nutrition info by using an online calculator such as https://recipes.sparkpeople.com/recipe-calculator.asp