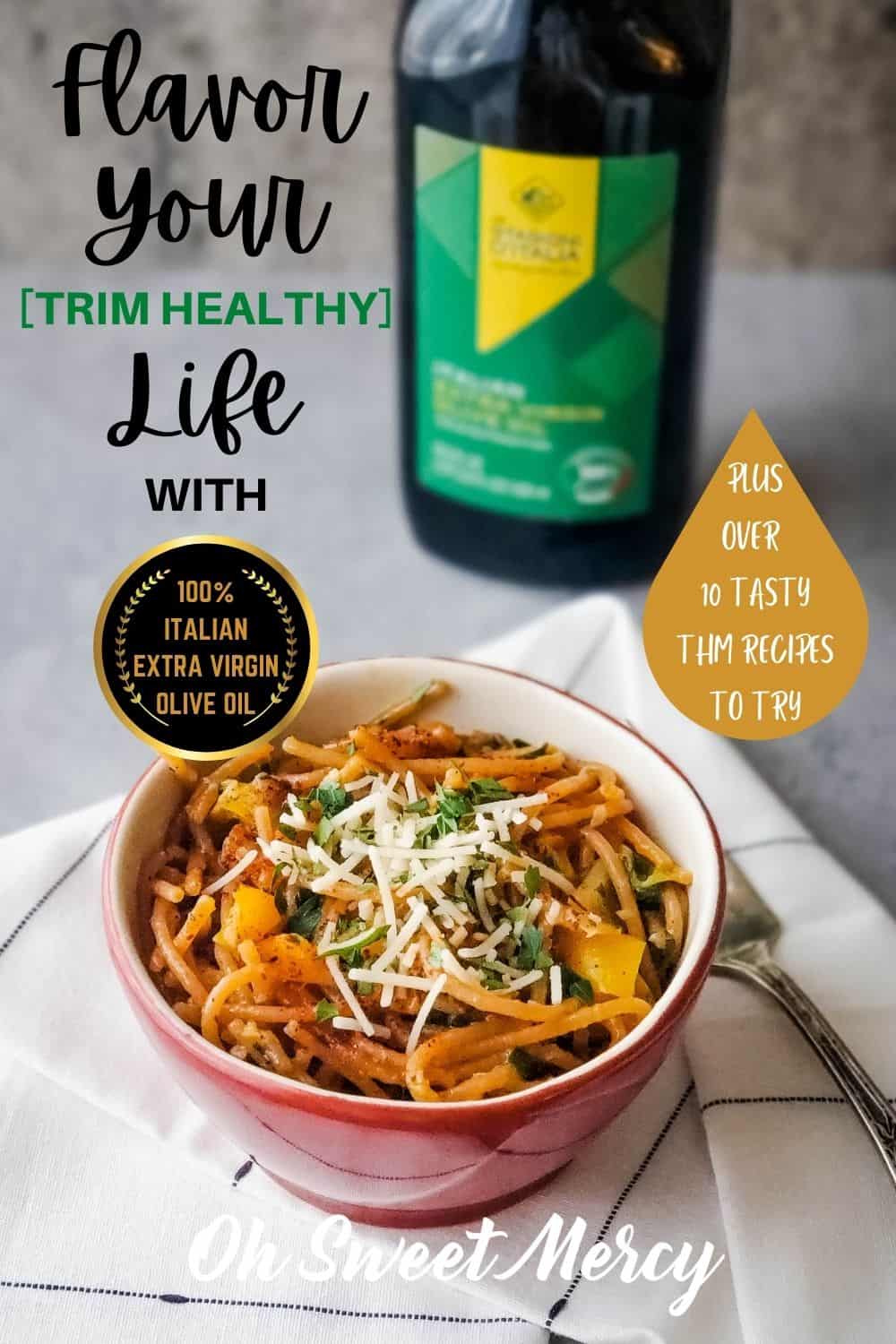 ---
Want to learn more about authentic extra virgin olive oil from Europe? Then let me enlighten you! I've been selected to participate in the Flavor Your Life campaign and have the important details for you, like how to make sure it's authentic. Learn how (and why) healthy oils like EVOO are essential to the Trim Healthy Mama plan and check out 10+ THM friendly recipes using olive oil.
---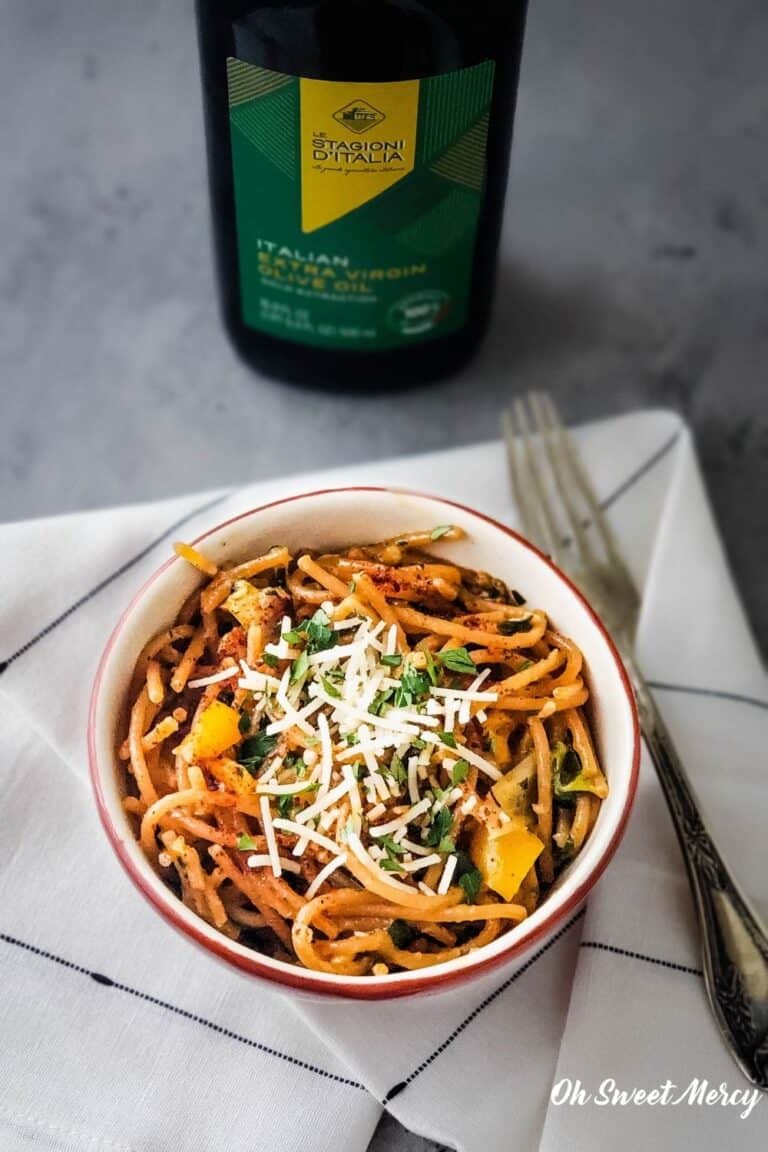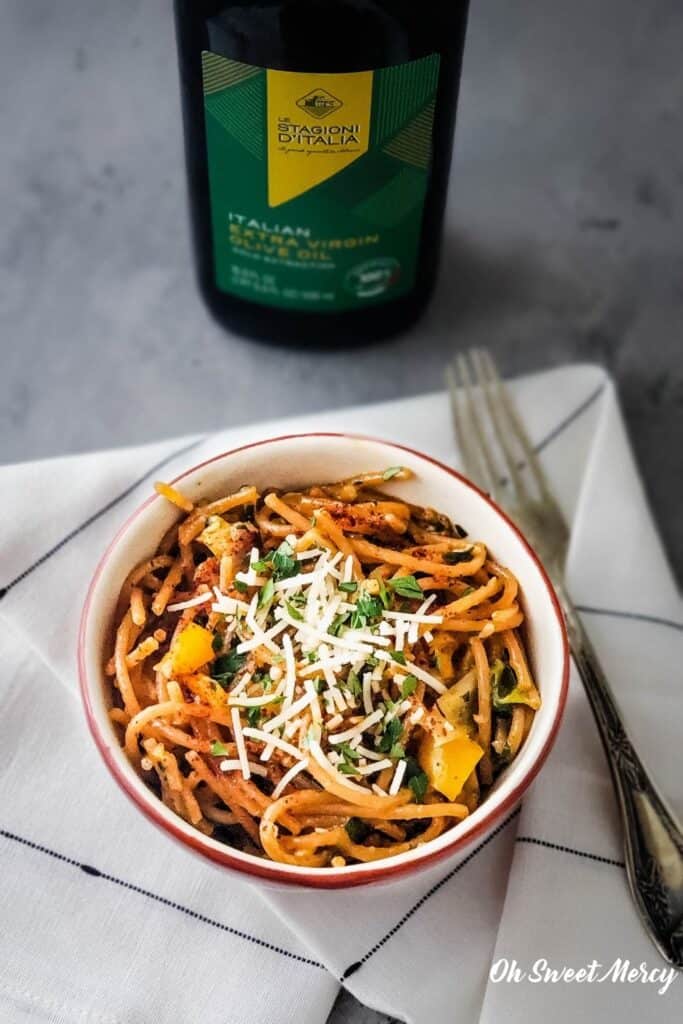 Disclosure: I received this product for free from Moms Meet (momsmeet.com) to use and post my honest opinions. Compensation for this post was provided and this page may contain affiliate links.
One of the things I love about the Trim Healthy Mama way of eating is its focus on healthy fats. So much of the foods we think are healthy actually contain refined oils that are inflammatory. Check out the Choose Good Fats section of the Trim Healthy Mama Plan Book (page 29) for an overview on fats and oils on the THM plan.
Including healthy oils and fats in your diet can help reduce inflammation, which actually can help you lose weight. It also helps strengthen the immune system. But, like anything else, quality matters so it's important to understand how to choose a good quality olive oil.
Olive oil contains heart-healthy monounsaturated fats, polyphenols, and antioxidants and is a delicious way to get those healthy compounds into your body.
I'll be sharing some tidbits of info below, but the Flavor Your Life website has even more details so check it out!
What Is Extra Virgin Olive Oil?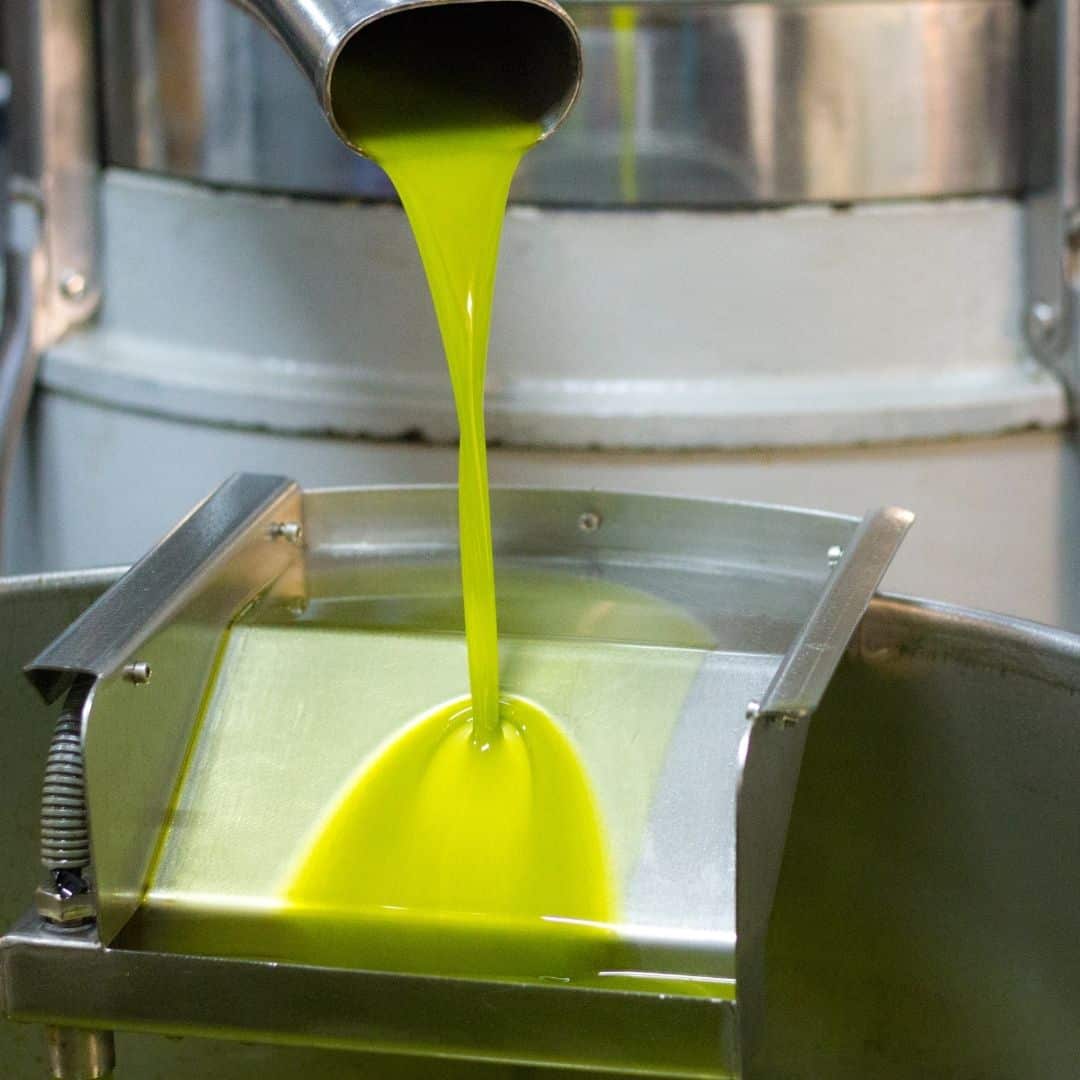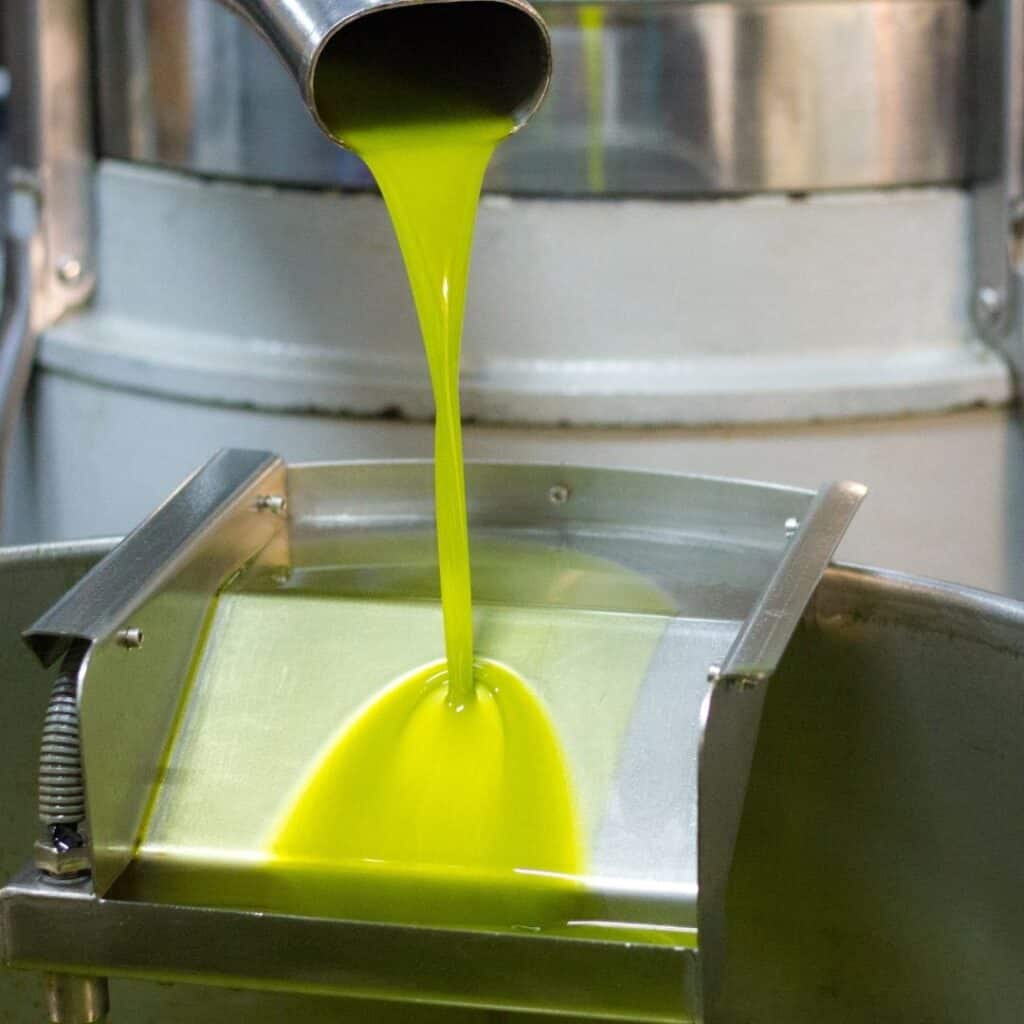 Extra virgin olive oil is actually the juice of olives, obtained by the first cold pressing. There are no heat or chemicals used.
There are specific criteria for an olive oil to be classed as extra virgin, and even a panel of expert tasters to taste and judge the various characteristics expected in such an oil.
Acidity must be below 0.8%, or virtually free of acidity. By the way, this has nothing to do with the pH level or taste, but percentage of oleic acid. This is a fatty acid and higher levels indicate improper production and rancidity.
Trained experts taste for defects as well as the attributes of a good quality extra virgin olive oil such as fruitiness, bitterness, and spiciness. If it doesn't have the right taste and balance, it won't be classed as extra virgin.
How Do I Know If My Olive Oil Is Authentic?
Olive oil is a pure, healthy fat BUT not all olive oils are created equally. Long ago I read that many supermarket brands of olive oils are not what they claim to be – 100% extra virgin olive oil. But how can you know if an oil is authentic or not?
First, look for a QR code on the label. If there, you can trace its origin. Also look for a country of origin.
When considering European-sourced olive oil, check the label for the European Union PDO (Protected Designation of Origin) certification, which is more strict than PGI (Protected Geographical Indication).
Why Choose European Olive Oils?
Farming olives for oil is an ancient profession that's been around for thousands of years. During that time farmers have learned how to cultivate hundreds of varieties of olive trees. Even better, they've learned to optimize these varieties for the terrain and environmental conditions.
This, in turn, has resulted in delicious flavor profiles which vary by region. That means many choices in which to flavor your life with this ancient oil.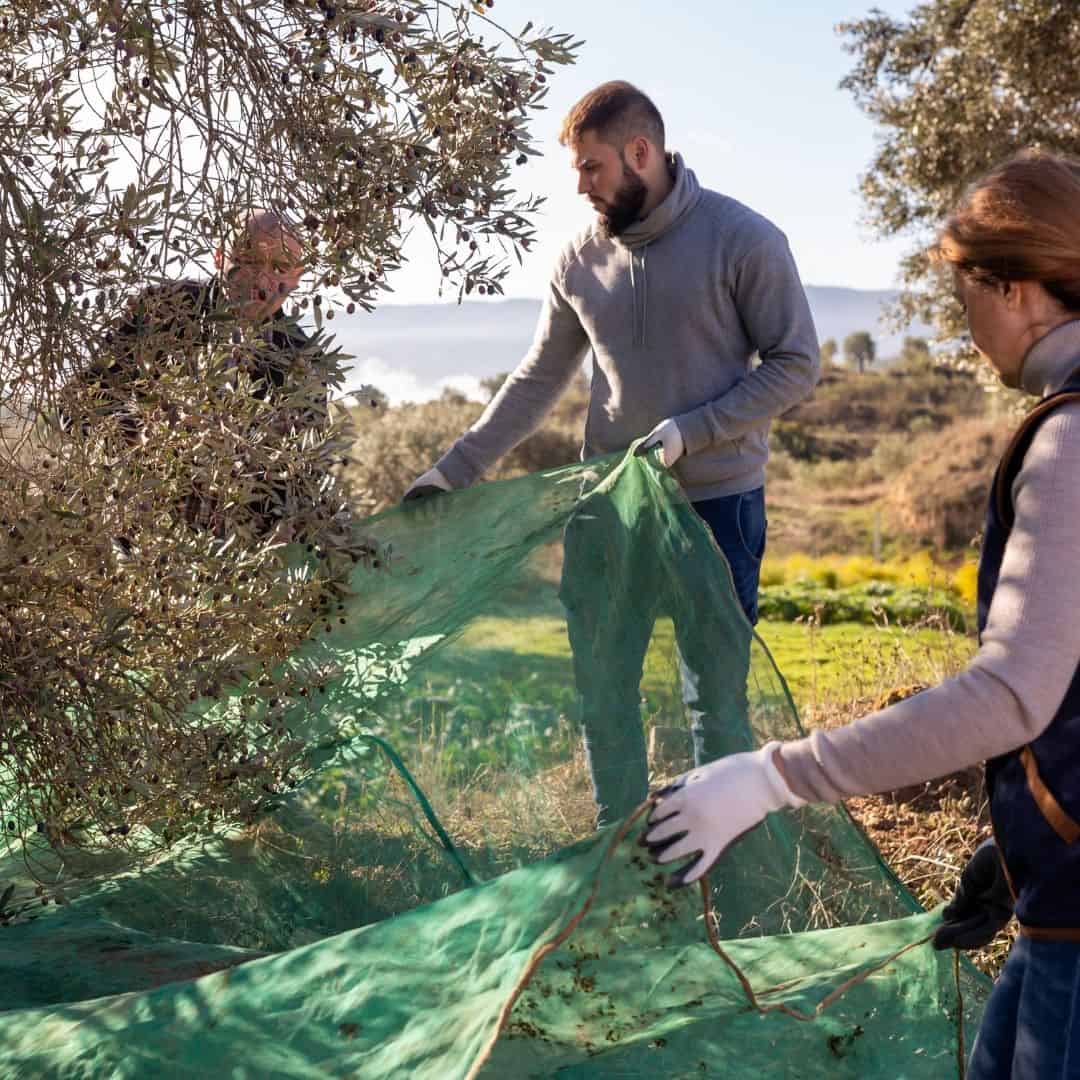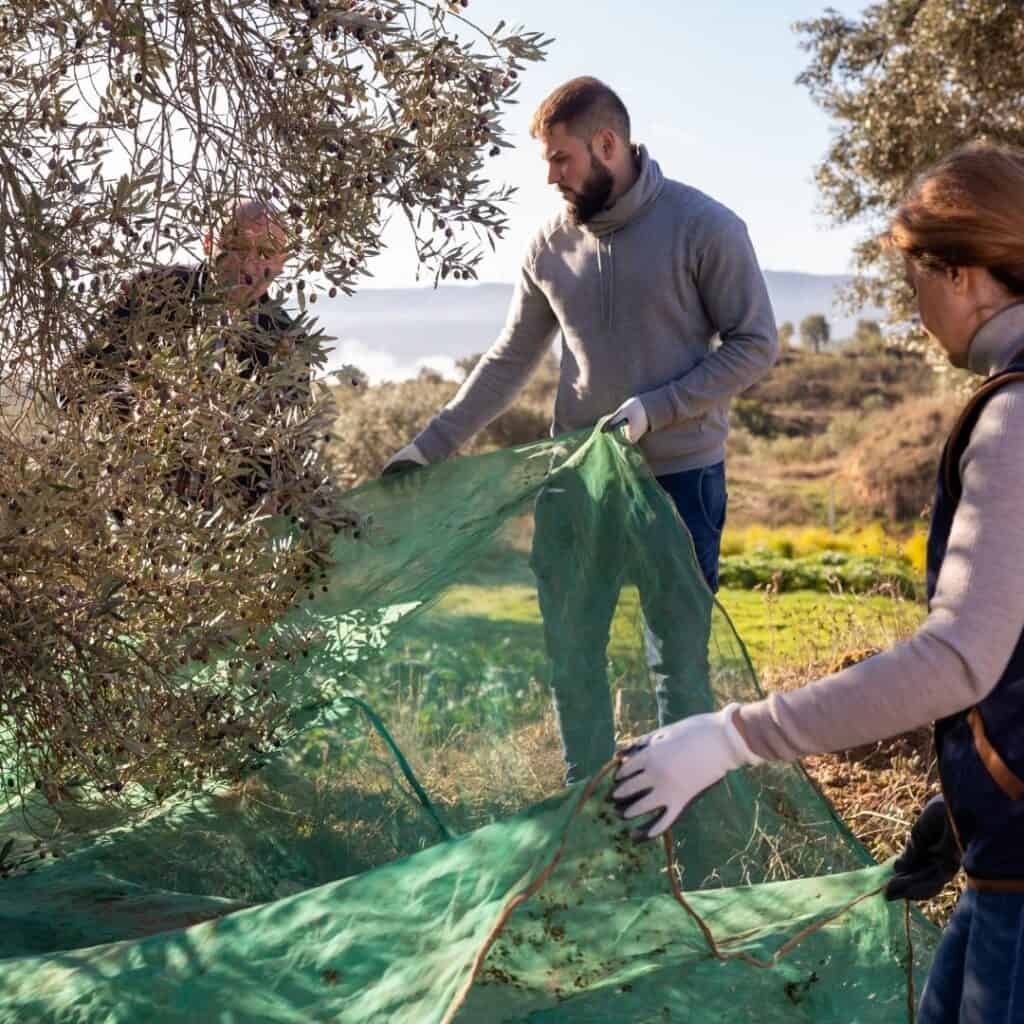 How Do I Use 100% Italian Extra Virgin Olive Oil?
There are many ways to use olive oil, of course. What comes to mind immediately? Salad dressings, perhaps. But, we can do more than just dress our big bowls of non-starchy veggies with it.
Since there are so many different types of EVOO (extra virgin olive oil), experiment with different types for different occasions.
Delicate oils are best used in salad dressings or drizzled over mild foods. Try some on vegetables, fish, eggs, or potatoes.
Robust oils are best with hearty foods that can stand up to the intense flavor. Think steak or spicy foods.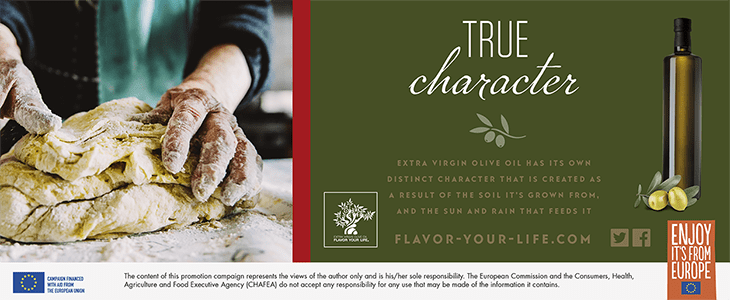 Can I Cook With It?
I'll be honest – I didn't cook with olive oil for many years because I had read that heating the oil caused it to oxidize and break down, which is unhealthy.
One thing I learned from the Flavor Your Life campaign is that 100% Italian Extra Virgin Olive Oil has a smoke point of 400 degrees Fahrenheit. That's quite a bit higher than I thought!
When it comes to frying foods, I wouldn't fill a deep fryer with it. But, I do use a bit of olive oil for roasting veggies in the oven or air fryer and some quick sauteing in a skillet. There's truly nothing like onions, mushrooms, and fresh garlic sauteed in a good-quality olive oil.
Not comfortable cooking with olive oil? No problem! It's wonderful for salad dressings – even fruit salads. Or flavor with your favorite herbs as a lovely dipping oil for breads.
If you're a THM, use a low carb bread option or enjoy an occasional Crossover. Fresh sourdough bread dipped in an herb-infused EVOO is definitely worth it!
TIP: I also like to rub it into my skin when I'm using it in the kitchen, especially in the cold, dry, winter months. Also, a simple salt scrub of coarse sea salt or epsom salt and olive oil works wonders on rough skin!

Or, try one of these easy recipes: All-Natural Kitchen Hand Scrub, Mint Sugar Scrub Bridal Shower Favors (or just make it for yourself if you don't need bridal shower favors), DIY All Natural Brown Sugar Facial Scrub, or this Simple Homemade Salt & Lemon Body Scrub, which doesn't call for sugar.
How Do I Store Extra Virgin Olive Oil?
Good quality oil should be carefully stored, as air and light can cause the oil to decay. Follow these tips to ensure your delicious, healthy olive oil stays fresh:
Store in a cool, dark location (57 degrees Fahrenheit is best)
Keep the lid tightly closed to keep air out
Even though it's handy, don't keep your oil by the stove or oven, it gets too warm
Once opened, consume within 6 months or less
Comparing Olive Oils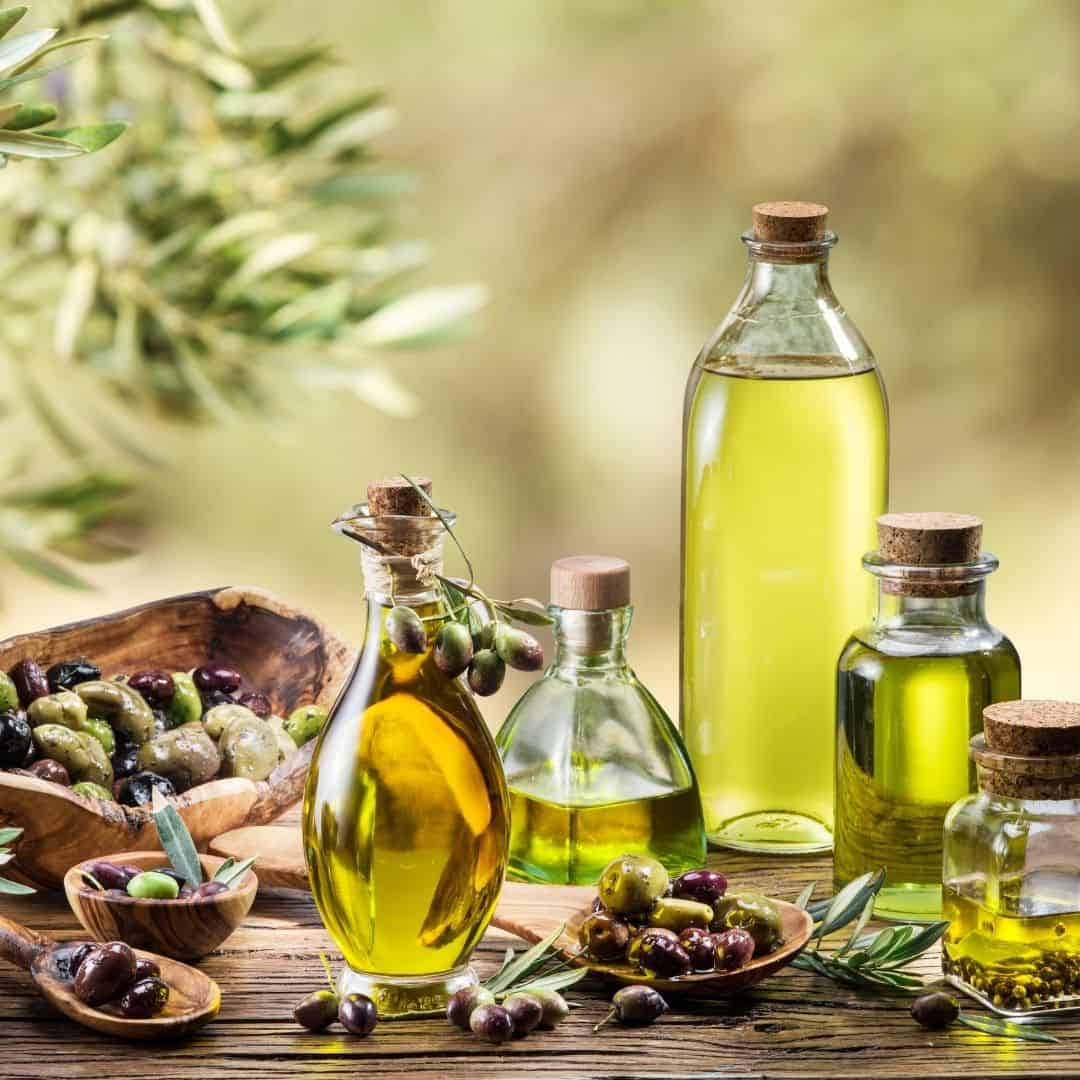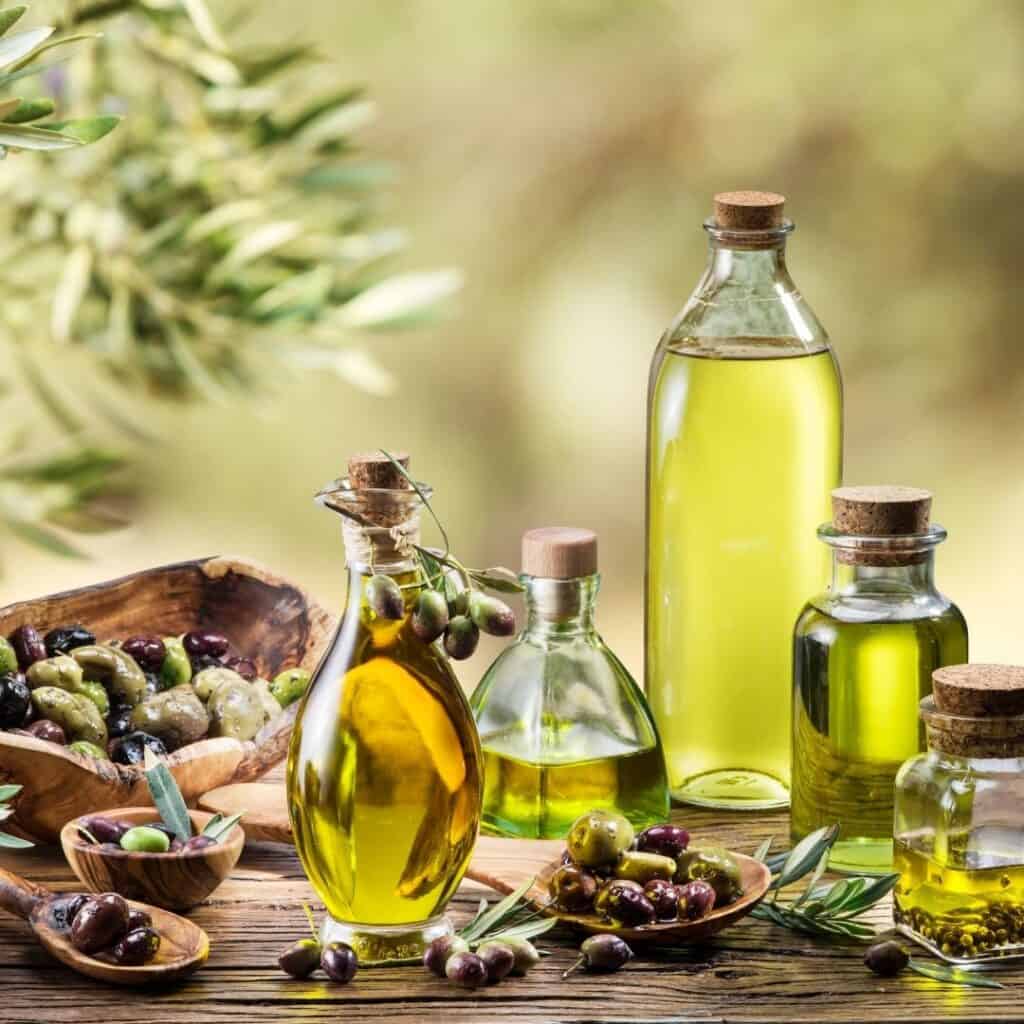 The Flavor Your Life campaign sent me a 500 mL bottle of Le Stagioni D'Italia Italian Extra Virgin Olive Oil to sample. I already had a bottle of organic olive oil from Aldi in my cupboard so it was great to compare the two.
First, it wasn't exactly an even comparison. The Aldi oil label showed several possible countries of origin on the back, but the front said Spain and Tunisia.
Spanish olive oil tends to be a golden yellow color with fruity and nutty notes. On the other hand, Italian olive oil is more dark green and has herbal and grassy notes.
While I didn't notice a huge difference in the color (the Aldi brand was noticeably lighter) the aroma and flavor of each matched the regions they were from. The Aldi (Spanish/Tunisia) oil had more of a fruity flavor and aroma. The 100% Italian Extra Virgin Olive Oil was definitely more herbal and grassy in aroma and flavor. It also had a slight bitterness, which I enjoyed.
This cold-pressed, 100% Italian Extra Virgin Olive Oil has a short, fully traceable supply chain. It's naturally vegan, gluten free, and contains no additives or preservatives. Its robust flavor is reminiscent of artichoke and almond, with a medium bitter and spicy aftertaste. You'll also notice a green, ripe, fruity aroma with a leafy feel.

It typically retails for $19.99 for a 500mL bottle.
Which is better? I'd say that depends on your tastes. Both are European in origin but have different flavor profiles. Some like a stronger flavor while others prefer milder flavored olive oil. I like both but would use each differently depending on how strong of an olive oil flavor I desired.
Also, the foods you pair with the oil make a difference. This quick read has a handy chart showing some possible food pairings for your European olive oil.
Now, How About Some Tasty, THM-Friendly Recipes For Your 100% Italian Extra Virgin Olive Oil?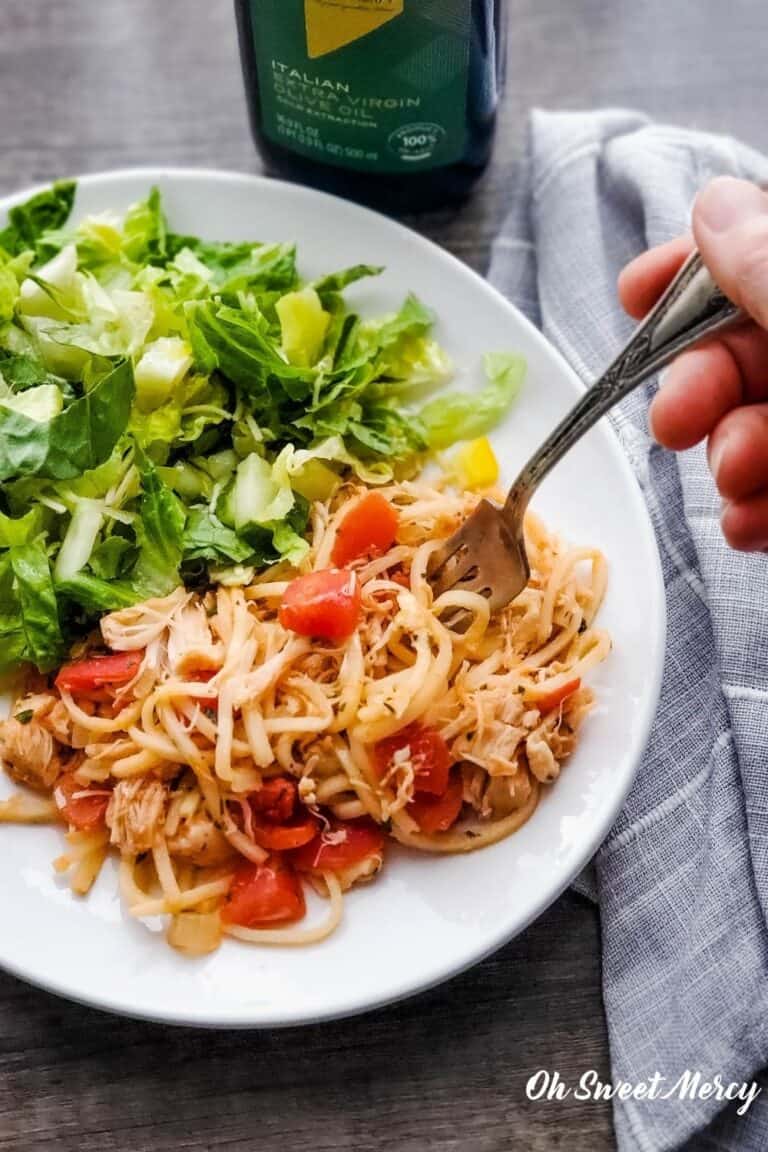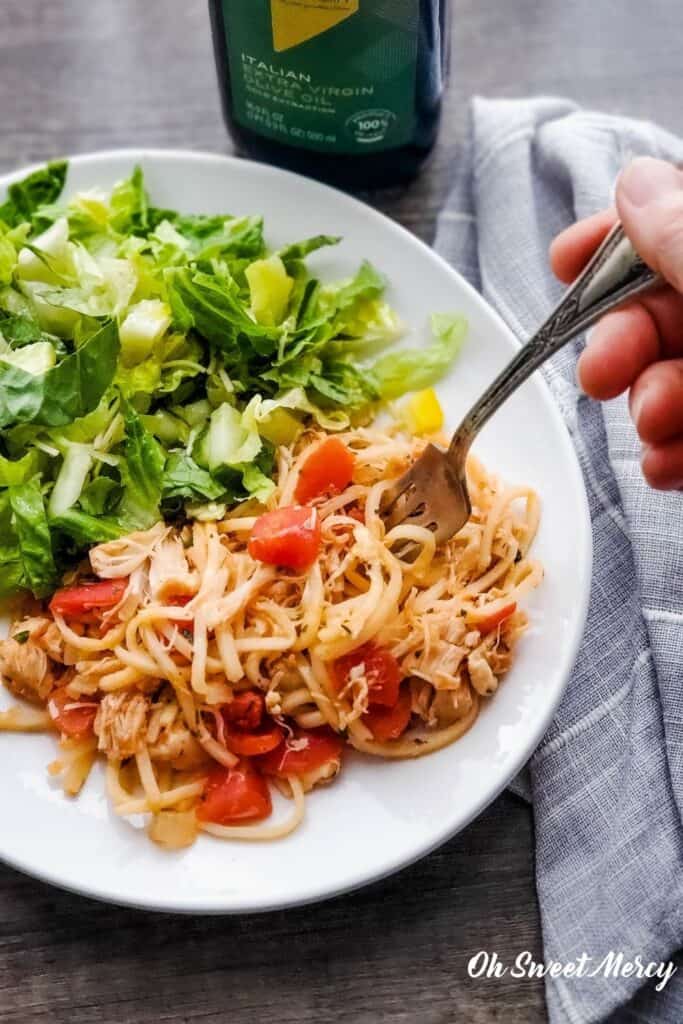 One of the things that came with my sample bottle of 100% Italian Extra Virgin Olive Oil was a set of recipe cards. While some of the recipes called for ingredients I don't eat, I did try a few that were easily adjusted for my food sensitivities and the THM plan.
They were simple but so delicious! I'm sure the excellent olive oil made a big difference, too.
Here's what I tried:
Pasta With Tuna In the photo above I used chicken but will also try with tuna – instead of pasta I used hearts of palm "pasta" for a low carb THM S. Very delicious, and Mister enjoyed it too.
Garlic Roasted Vegetable Pasta – I used the veggies I had on hand: onion, yellow bell pepper, zucchini, and shiitake mushrooms. For the pasta, I used red lentil spaghetti, making this a XO (Crossover).
It was so good! I'll definitely make it again and use a low carb pasta option for an S meal. You definitely want to use a good amount of olive oil for this. I did cut back a bit on the amount of oil, though, as I need a bit less fat in my diet now.
I also used dairy free Parmesan style shreds and added a squeeze of fresh lemon. Mister really liked this one too.
On my list to try was Spaghetti With Kalamata Olives and Capers, but I ended up not having time to try it. I most definitely will though, it sounds so delicious. I'll use an on-plan low carb spaghetti option for the pasta and the dairy free Parmesan again. Really want to try this one!
There are quite a few recipes on the Flavor Your Life website so be sure to look at them. Many can be tweaked to fit THM or food allergies/sensitivities, too.
I've got some recipes perfectly suited for 100% Italian Extra Virgin Olive Oil, and these are all on-plan for THM. You may need to make substitutions if you have food allergies or sensitivities.
10+ Delicious THM Friendly Ways To Use Olive Oil
Olive oil is a delicious and healthy fat to include in your Trim Healthy Mama eating plan (or any healthy eating style). Try these recipes and enjoy!
Fresh mozzarella marinated in olive oil infused with sundried tomato, basil, and garlic -- a delightfully delicious snack or appetizer! It's super easy to make, just add all the ingredients to a pint sized mason jar, secure a lid, and shake it up. Then, a chill overnight in the fridge and it's ready for your snacking pleasure.
Sweet and tangy with a bit of smoky heat, this low fat Chipotle Lime Roasted Sweet Potato Salad is sure to be your new go-to! Full of flavor means you won't miss the fat. It's delicious warm or cold and makes the perfect side for a low fat THM E meal. Roast your sweet potatoes in the oven or air fryer!
This Balsamic Brussels Sprouts Salad is so easy to make! Toss shaved brussels sprouts together with toasted pecans, fresh herbs, Parmesan, red onions, and a sweet 'n tangy balsamic vinaigrette for a delicious low carb side. Trim Healthy Mamas be sure to read the Recipe Notes on serving size.
Combine low carb spaghetti squash with garden fresh tomatoes, cucumbers, onions, and fresh basil then toss with a tangy vinaigrette and garnish with goat cheese (or parmesan). You get the fresh taste of summer without the carbs! THM S or FP, and dairy free if you need it.
This sweet and tangy Raspberry Basil Coleslaw is the perfect low carb side dish for all your favorite main dish proteins. Enjoy the fresh flavors of summer all year long.
This simple, real food Mediterranean Tuna Zucchini Salad is light, refreshing, and bursting with flavor and nutrition. Naturally low carb, healthy fats, no processed ingredients and quick to prepare. Perfect for THM, low carb, diabetic, and paleo diets.
Bright, fresh, tangy, and sweet that's what this citrus salad dressing is all about! Made with fresh lemon juice, olive oil, and just a few seasonings it takes almost no time to prepare. This easy salad dressing recipe is perfect for your salads (even Deep S, Trim Healthy Mamas) whether they be lettuce, chicken, turkey, or even tuna! Plus, it stays emulsified like a store-bought dressing!
Bright, tangy raspberry paired with basil makes a delicious vinaigrette. This low carb, sugar free dressing is perfect for THMs, low carbers, and diabetics. It also doubles as a marinade.
Grill (or pan fry) this mild, delicious, Mediterranean cheese until it's soft inside and golden brown on the outside. Top with fresh tomatoes, red onion, your favorite fresh herbs, drizzle with olive oil and balsamic vinegar, then finish with your favorite salt. Divine! Low carb, THM S and keto friendly.
My 5 Minute Homemade Pizza Sauce is almost as fast as opening a jar of store bought sauce but with no added sugars or unwanted ingredients. And, no cooking! Just mix it up and use it. Perfect for all your THM pizza needs!
Lemon and dill pair perfectly with salmon. This easy, wholesome air fryer recipe is ready in less than 20 minutes! THM FP or S.
Simple, flavorful, and delicious this easy roasted chicken and broccoli sheet pan dinner is ready in 30 minutes or less. Seasoned with herbes de provence and olive oil, it's a delicious THM S (and Deep S) weekday meal.
PIN IT!
Use the image below to pin this post to your favorite Pinterest boards.