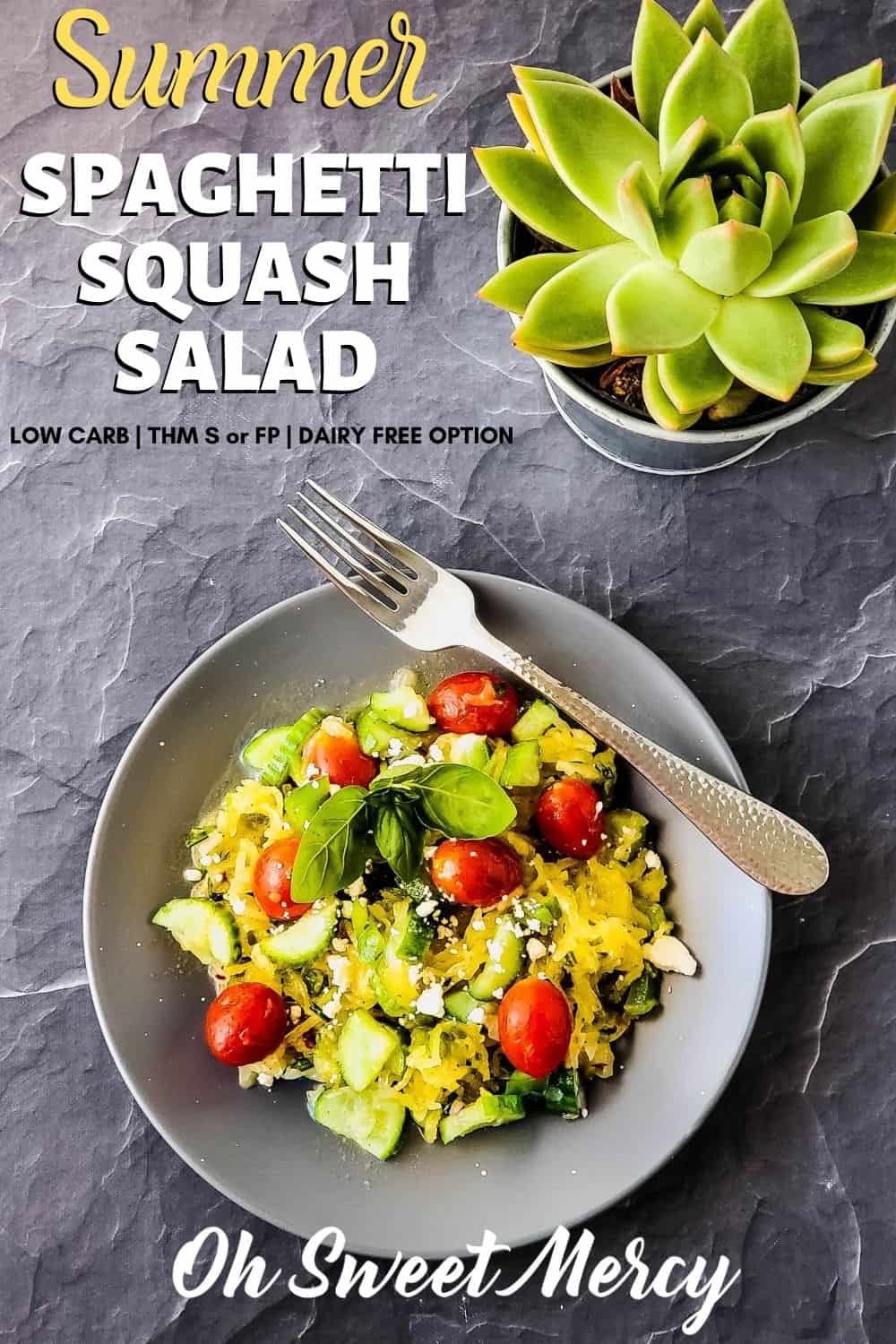 ---
Spaghetti squash is a fantastic substitute for carb-laden regular pastas. My Summer Spaghetti Squash Salad combines your favorite flavors of summer — tomatoes, cucumbers, and fresh basil — with a tangy vinaigrette and a bit of goat cheese. Delicious as a snack or a side dish for whatever's on the grill.
---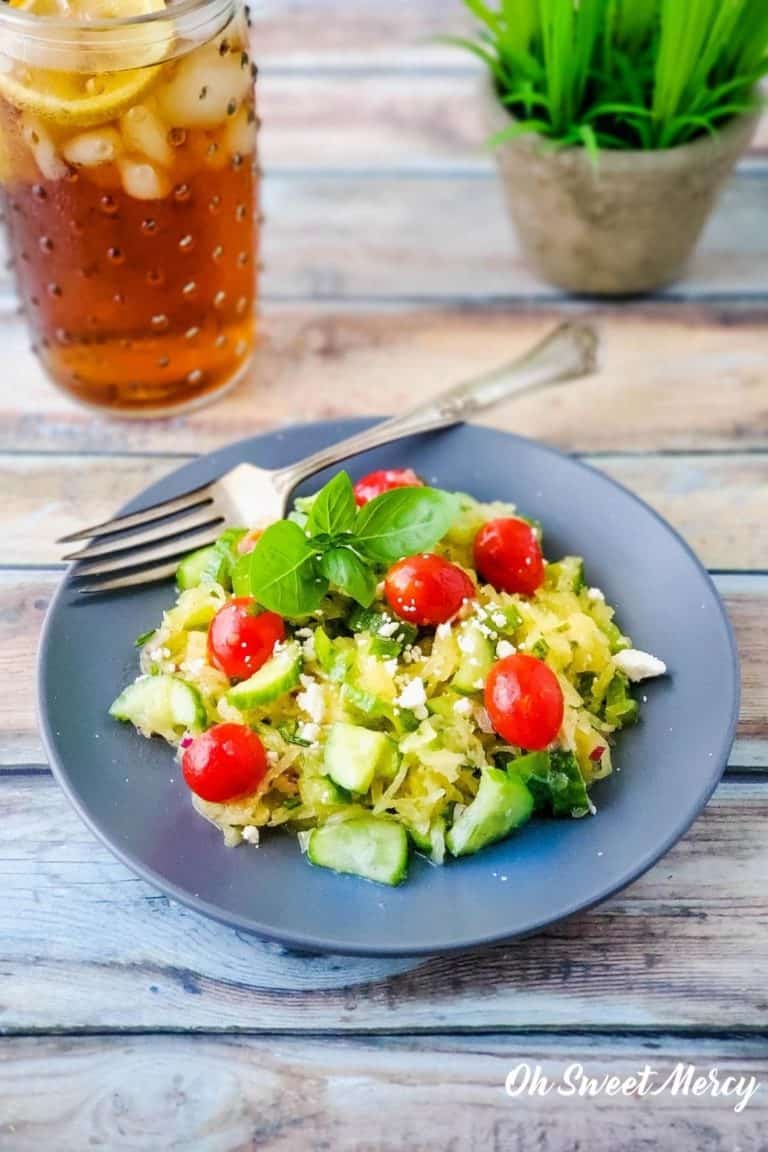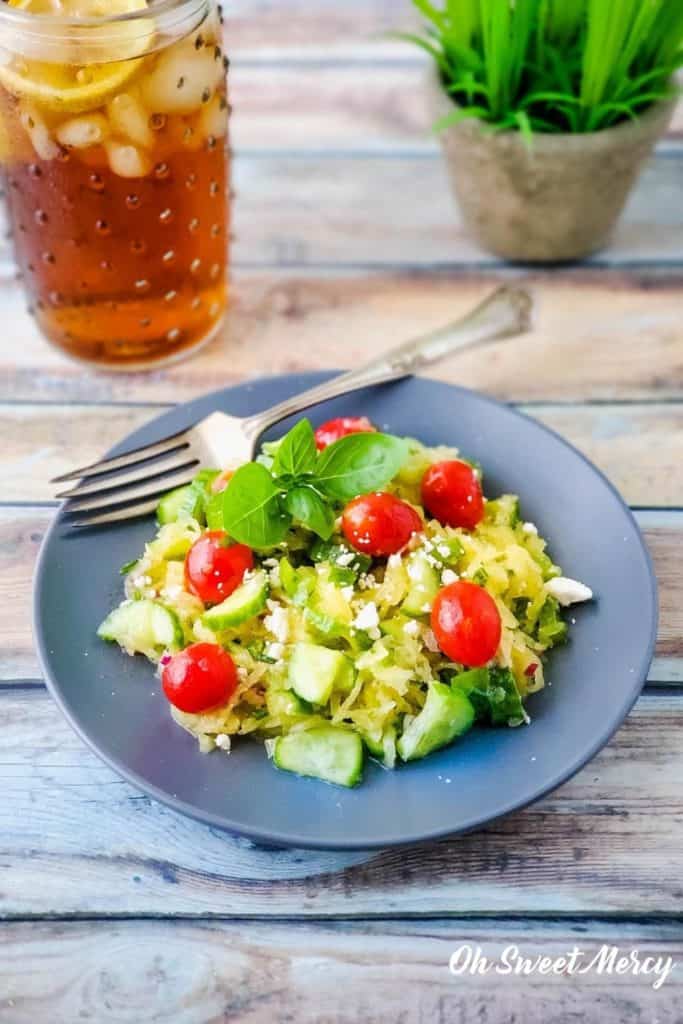 Confession: I've never really liked pasta salad. I'm not sure why…always been a big fan of pasta! Maybe because it's cold?
BUT I love this easy Summer Spaghetti Squash Salad! I don't find the texture of the cold squash as off-putting as cold, regular pasta.
Also, there's nothing like garden-fresh tomatoes, cucumbers, and basil and combining those simple summer flavors in a low-carb "pasta" salad is a no-brainer.
What's In This Fresh, Summer Salad?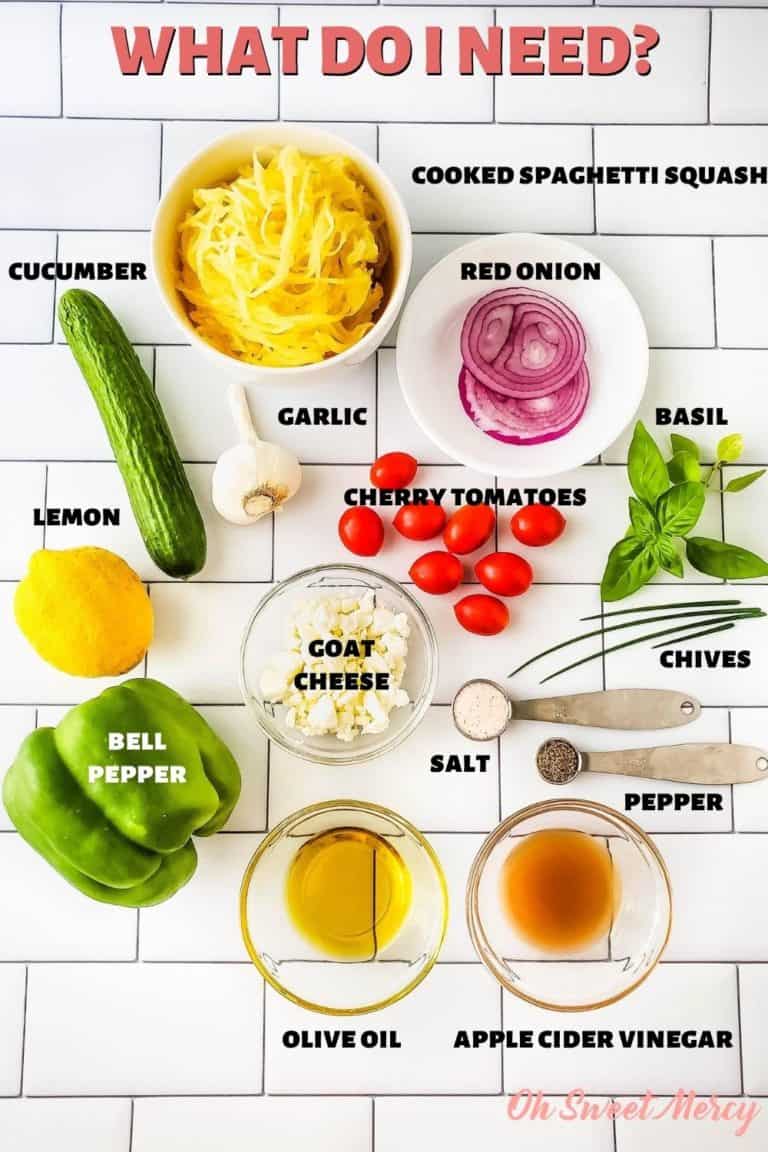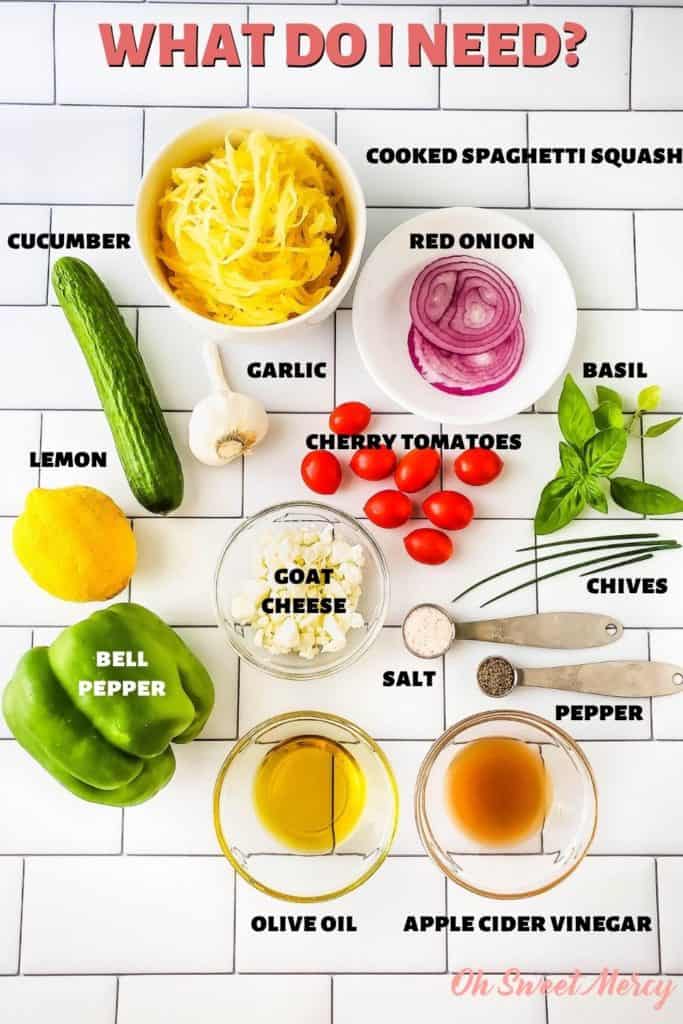 I like to use simple ingredients as often as possible. So, that's what you'll find in this spaghetti squash salad recipe.
Leftover cooked spaghetti squash is perfect for this recipe. However, you can certainly cook one just to make this!
IMPORTANT TIP: drain your cooked spaghetti squash in a colander or fine mesh strainer. Place a heavy bowl or plate on top to help squeeze out as much liquid as possible.

The finished salad will still get a bit watery after it sits for a while but is still delicious. You just want to try and minimize this as much as possible.
If you have access to locally grown produce, choose those over store-bought if possible. This gives the best flavor and nutrition.
A Word On Cheese.
I've added a bit of crumbled goat cheese as a garnish. You can also use feta, which is more firm, or parmesan if you prefer.
In addition, it's perfectly delicious without cheese! If serving to a crowd where dairy allergies or sensitivities may be an issue, serve the cheese on the side for those who'd like some.
How To Fit This Summer Spaghetti Squash Salad Into Your THM Meal Plan This Week.
As written, this is a Light S for a 1 cup serving. For a FP, have 1/2 cup (this will meet your added fat grams for the meal).
Since it's lighter in fat it's a perfect side dish for a nice, grilled steak, burger or dark meat chicken.
And, having a richer dessert won't mean you're going way overboard on fat. Because cheesecake…right?
No Bake Chocolate Chip Cheesecake with Peanut Butter Crust
Chocolate Covered Cheesecake Bites
Minty Matcha No Bake Cheesecake
Strawberry Mascarpone Tart (ok, not cheesecake but still a rich, delicious dessert)
Or, a Strawberry Freezer Pie (with Chocolate Crust).
I'd still add some more non-starchies to my meal though, because they help fill us up, give us fiber, and are an important part of THM success.
Here's a sample menu option for a summery THM S meal:
Summer Spaghetti Squash Salad (1 cup)
Grilled asparagus
To make this THM FP style, omit the cheese and limit portion size to 1/2 cup. Your added fat grams for a FP or THM E meal are in this salad so keep that in mind when putting the rest of your meal together.
For example:
Fuel Pull Meal
4 ounces lean baked fish
Summer Spaghetti Squash Salad (1/2 cup)
Fresh broccoli, cauliflower, celery and Easy Ranch Dressing for dipping (omit oil to make fat free)
1 cup fresh strawberries
Or, with a THM E meal…
Spaghetti Squash Salad (1/2 cup)
Steamed green beans
Fresh sliced peaches
This spaghetti squash salad recipe gets more flavorful as it sits so don't be afraid to make it the day before. It should last about a week (just add the cheese before serving).
Have you ever made a pasta salad with spaghetti squash?
PIN IT!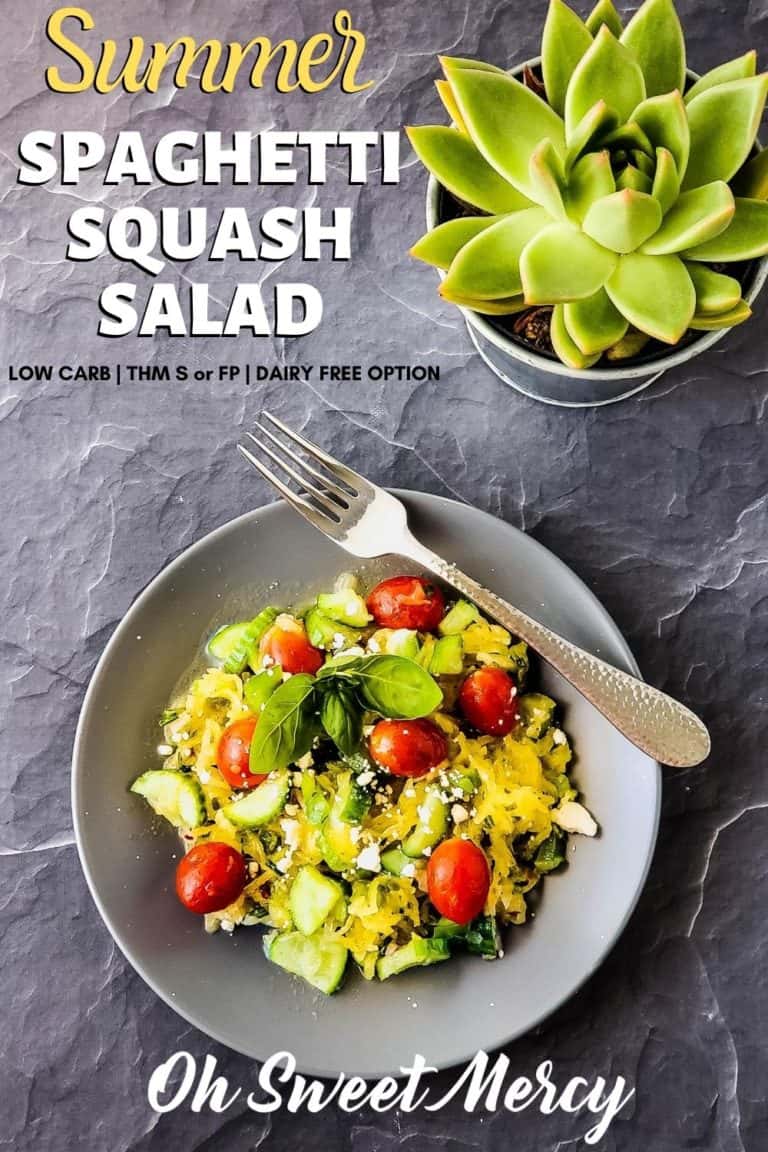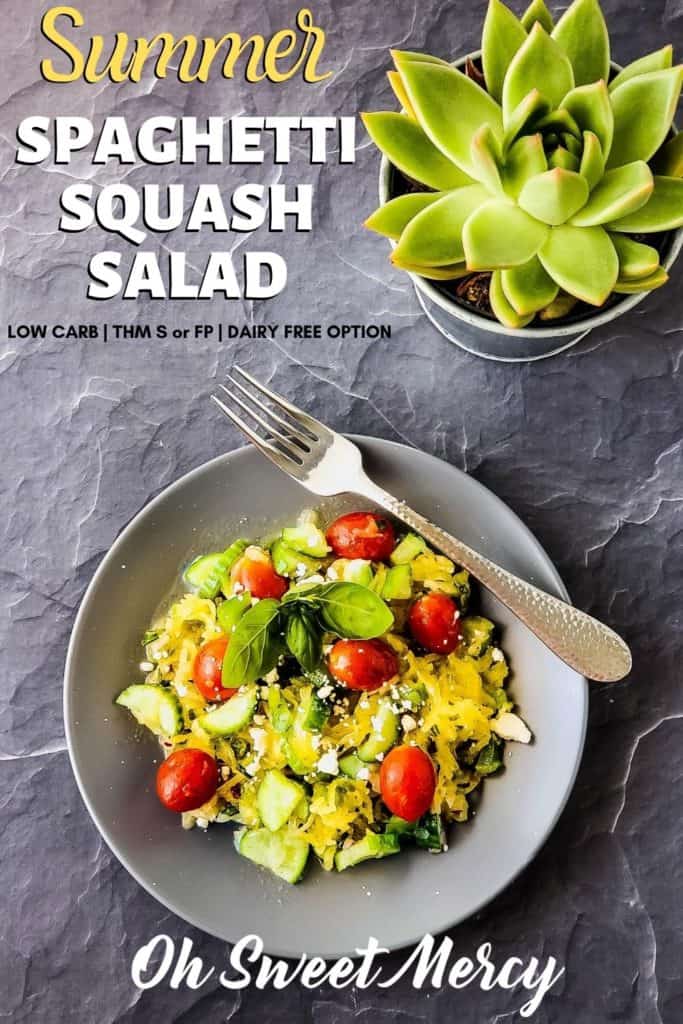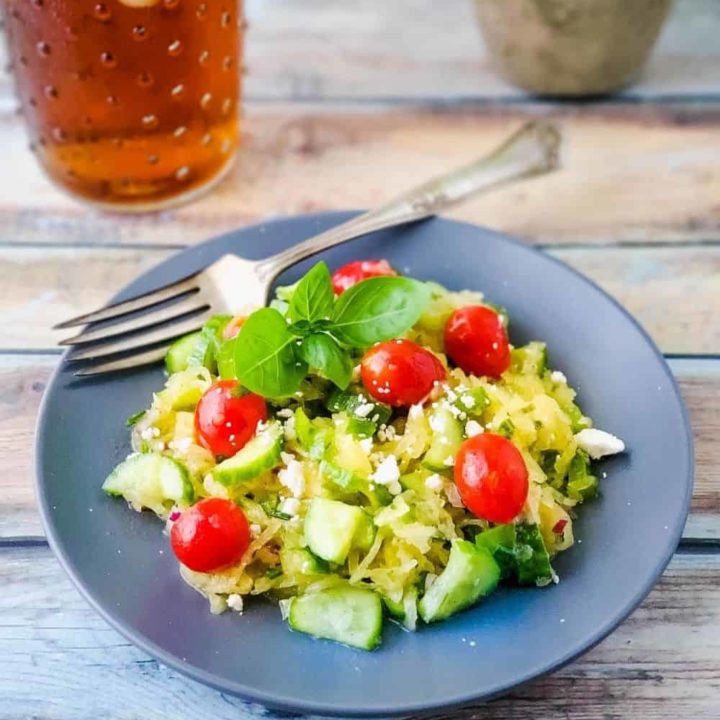 Summer Spaghetti Squash Salad | THM S or FP, Low Carb
Yield: 4 cups
Prep Time: 20 minutes
Chill Time: 1 hour
Total Time: 1 hour 20 minutes
Combine low carb spaghetti squash with garden fresh tomatoes, cucumbers, onions, and fresh basil then toss with a tangy vinaigrette and garnish with goat cheese (or parmesan). You get the fresh taste of summer without the carbs! THM S or FP, and dairy free if you need it.
Ingredients
2 cups cooked spaghetti squash
1 cup chopped mini cucumbers (2)
1 cup cherry tomatoes
1/4 cup red onion, chopped
1/4 cup bell pepper, chopped
1/4 cup fresh basil leaves, chiffonade
2 tablespoons goat cheese crumbles, feta, or parmesan for garnish
1 tablespoon fresh chives, snipped or chopped
Vinaigrette
3 tablespoons olive oil
Juice of 1 lemon (2 tablespoons or so)
1 tablespoon raw ACV (apple cider vinegar)
1-2 cloves fresh garlic, minced or pressed
1 teaspoon high mineral salt
1/4 teaspoon ground black pepper
Instructions
Place spaghetti squash in a colander or fine mesh strainer to drain, putting a heavy plate or bowl or other weight on top to help squeeze out as much liquid as possible.
Meanwhile, chop your veggies and herbs. To chiffonade basil, stack several leaves and roll into a little bundle. Use a very sharp knife to slice the bundle into little ribbons.
Whisk together the oil, lemon juice, ACV, garlic, salt, and pepper.
Add the strained spaghetti squash, chopped veggies and herbs, and vinaigrette into a mixing bowl. Mix well.
For best flavor, allow to chill at least 1 hour.
Give the salad a good stir then garnish with cheese if desired before serving.
Keep covered in the refrigerator for up to a week.
Notes
Trim Healthy Mama Notes
1 cup serving is a THM S.
1/2 cup serving, without cheese, is a THM FP.
If having this salad for a FP or THM E meal, keep in mind that your entire added fat grams for the meal are in a 1/2 cup serving.
Recommended Products
As an Amazon Associate and member of other affiliate programs, I earn from qualifying purchases.
Nutrition Information:
Yield: 4
Serving Size: 1 cup
Amount Per Serving:
Calories: 143.8
Total Fat: 11.5g
Saturated Fat: 2.1g
Trans Fat: 0g
Unsaturated Fat: 8.7g
Cholesterol: 4.4mg
Sodium: 105.5mg
Carbohydrates: 10.4g
Net Carbohydrates: 8g
Fiber: 2.4g
Sugar: 4g
Protein: 2.1g
Nutrition information is approximate and based on the best knowledge available at the time of recipe publication. Your results may vary due to differences in ingredients. You can make your own calculations if this recipe does not include nutrition info by using an online calculator such as https://recipes.sparkpeople.com/recipe-calculator.asp