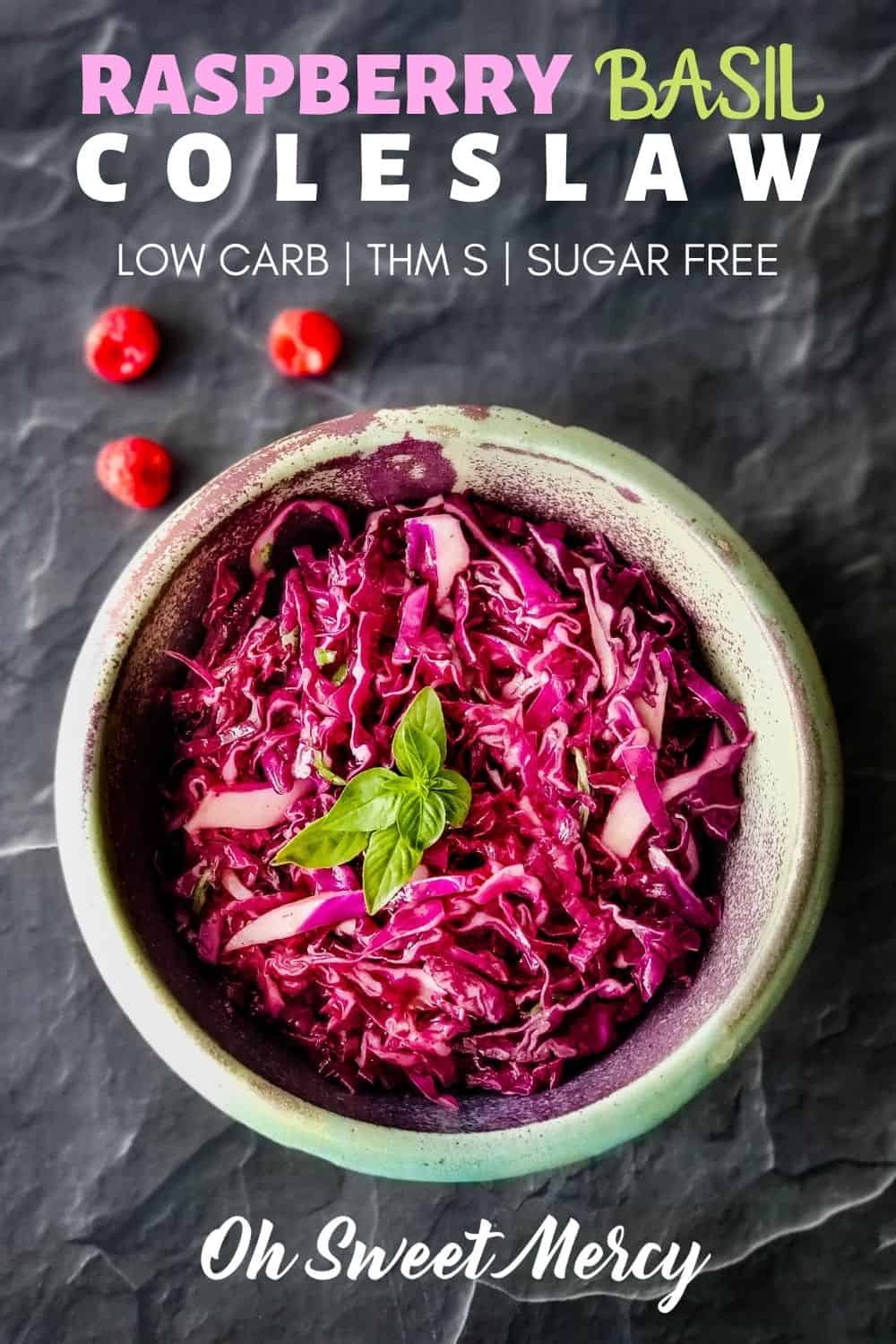 ---
Deep, rich colors in fruits and veg mean more antioxidants, did you know that? That's why I've chosen red cabbage for this delicious sweet and tangy Raspberry Basil Coleslaw. Featuring my easy 5 minute Raspberry Basil Vinaigrette Dressing it's perfect for Trim Healthy Mamas, keto and low carb dieters, and diabetics. While summer fresh berries and basil give the best flavor, this easy red cabbage coleslaw recipe is fabulous any time of year!
---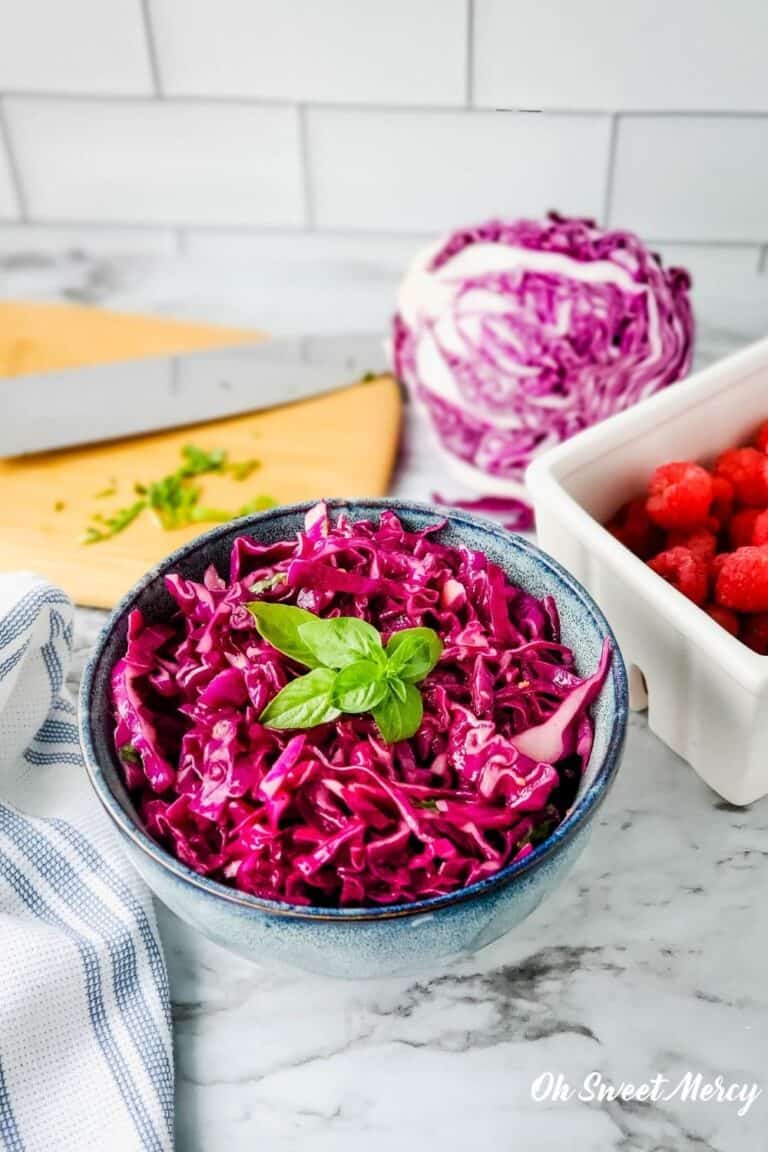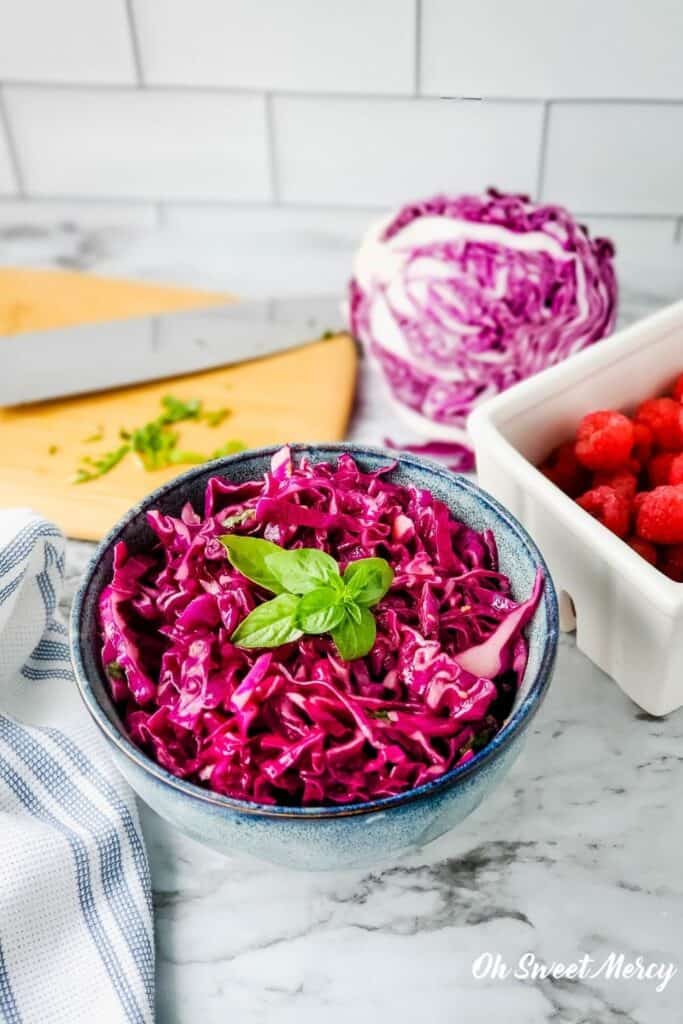 Ever since whisking up my Raspberry Basil Vinaigrette I've been looking for ways to use it…on all the things because right now it's my favorite dressing!
This easy red cabbage slaw was a natural of course. It's also a great way to get those nonstarchies into your day.
This low carb, sugar free, red cabbage coleslaw could not be more simple! Simply mix the dressing with the shredded cabbage and there you go. Add fresh basil for more basil flavor if you like, too.
Many coleslaw recipes have onions and you can certainly add them if you want. I purposely left them out for 2 reasons.
For one, it's one less ingredient to fuss with. And for two, onions are more carby so keeping them out of the mix means less carbs overall.
What Do I Need For This Recipe?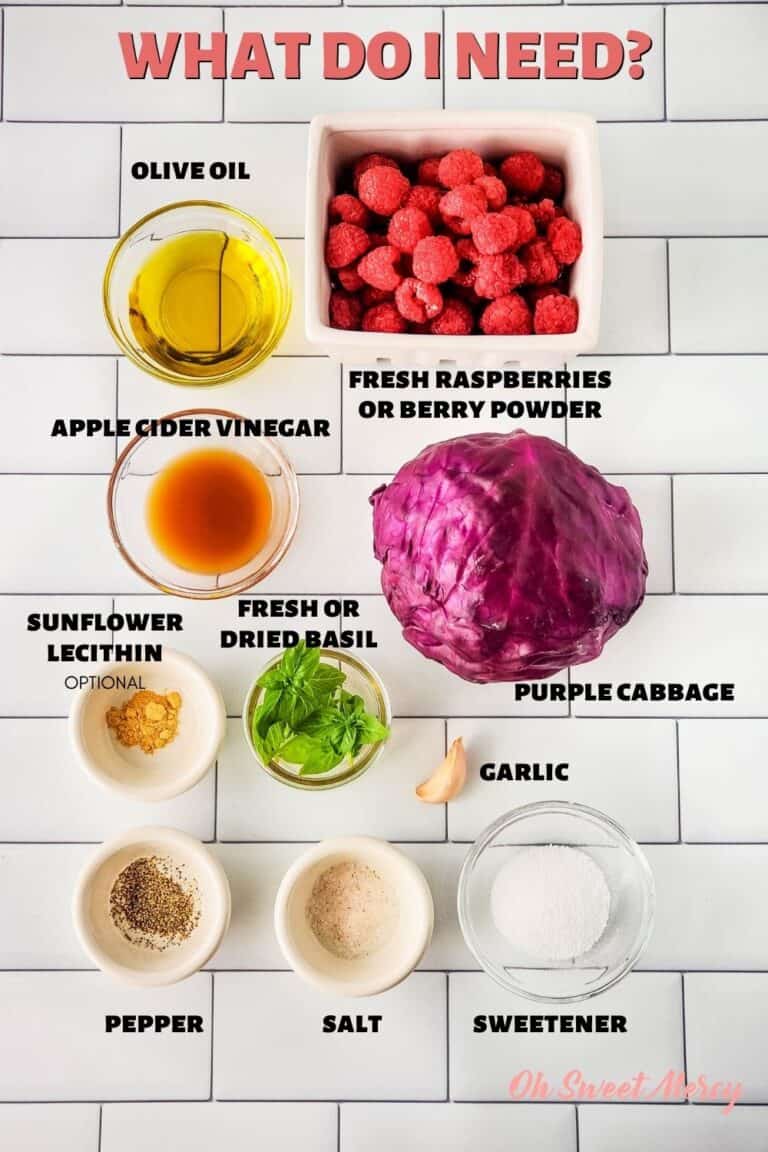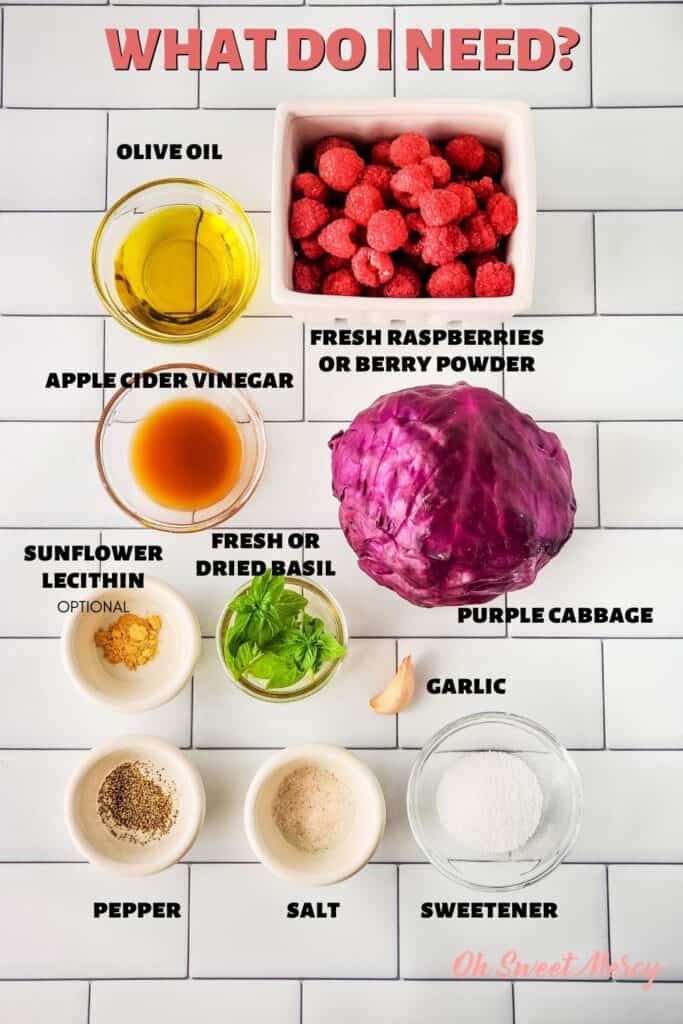 Basically, you just need 2 or 3 ingredients: purple cabbage, some of my Raspberry Basil Vinaigrette Dressing, and salt (if you like).
I've included the dressing ingredients in the photo above so you know what you need. You only need 1/4 cup for the recipe so you'll have leftover dressing for salads later.
If you use fresh basil, chiffonade it before adding to the coleslaw.
How To Chiffonade Basil.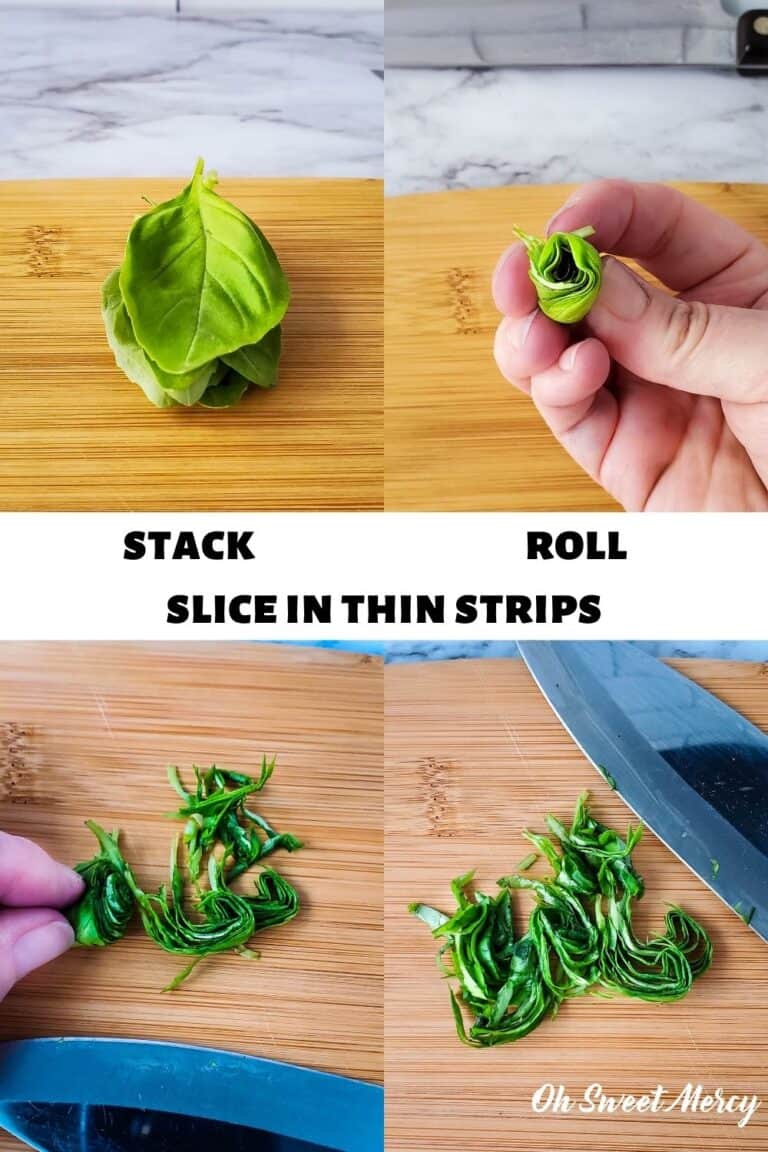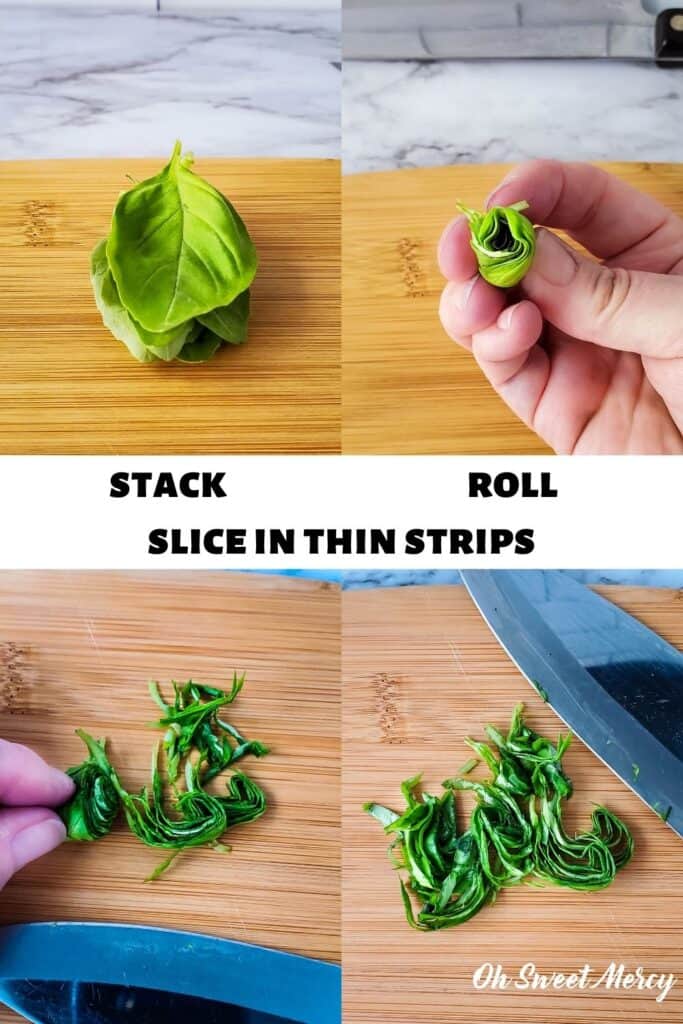 Chiffonade? What in the world is that? It's a fancy word for cutting fresh herbs into thin strips.
It's super easy, don't let that fancy name make you nervous. If you can use a knife, you can chiffonade the herbs.
First, stack your fresh basil leaves on top of each other. It's easiest to chiffonade basil with larger leaves.
Next, roll the stack into a tube. Start at the tip of the leaves.
Finally, slice the tube of basil leaves into thin strips.
That's all there is to it!
How To Fit This Raspberry Basil Coleslaw Into Your THM Meal Plans.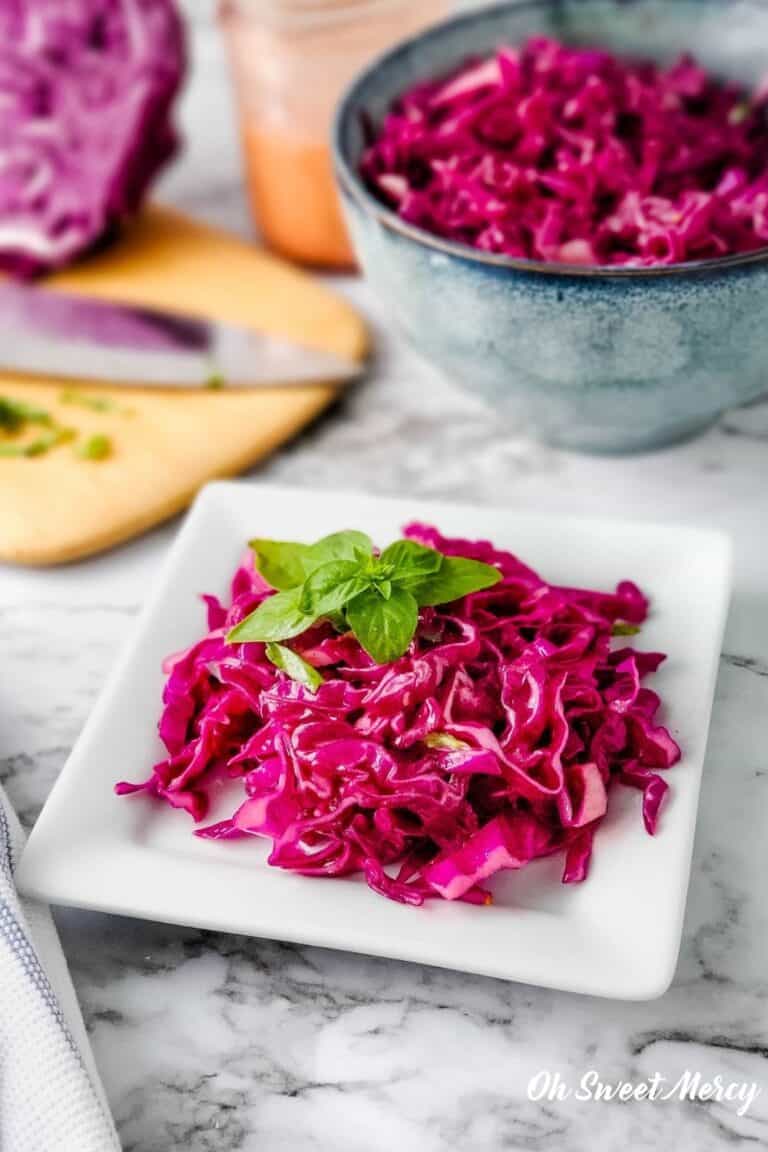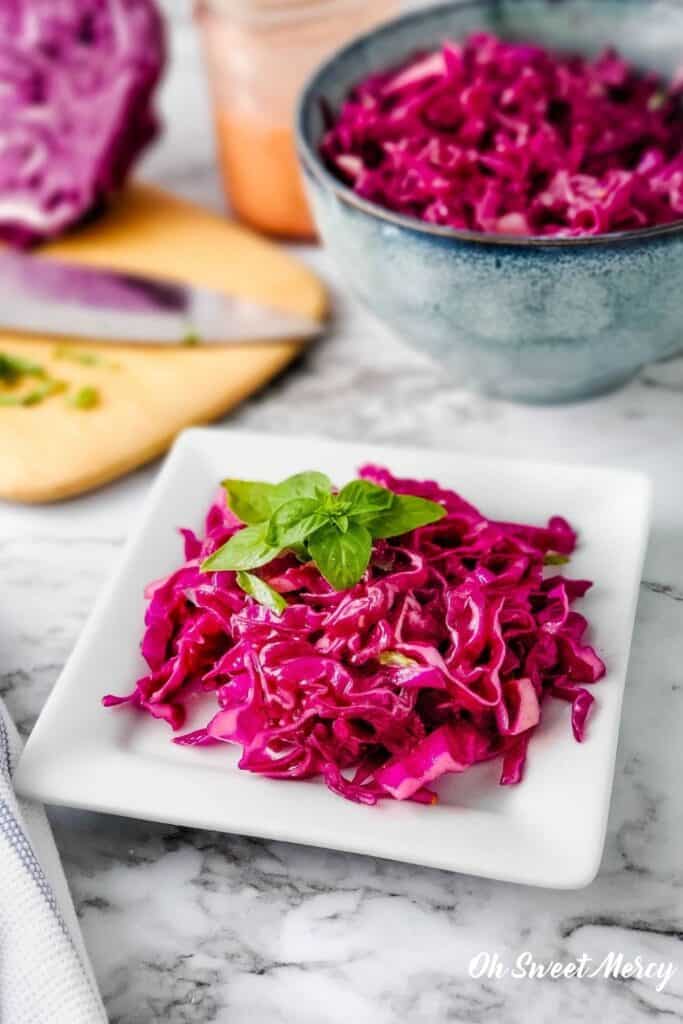 Since this simple low carb coleslaw recipe is made with healthy fats it's a perfect non-starchy side dish for your THM S meals. Remember to start with a good, healthy protein too.
Your favorite fish, steaks, even chicken breast or thighs make a lovely compliment to my Raspberry Basil Coleslaw. My Sweet Tea Grilled Chicken is a family favorite, here.
Try adding it to a cold meat sandwich on your favorite low carb bread for some tangy, crunchy goodness. If you like rye bread, I've got a great gluten free, low carb Mock Rye Bread (or Mock Rye Cocktail Bread if you want fancy finger sandwiches).
If you're a lover of coleslaw and need an egg-free, low carb, and low fat version (THM Fuel Pull or FP) I've got that too. Check out my Creamy No Mayo Coleslaw.
What Will You Pair With This Simple Low Carb Slaw?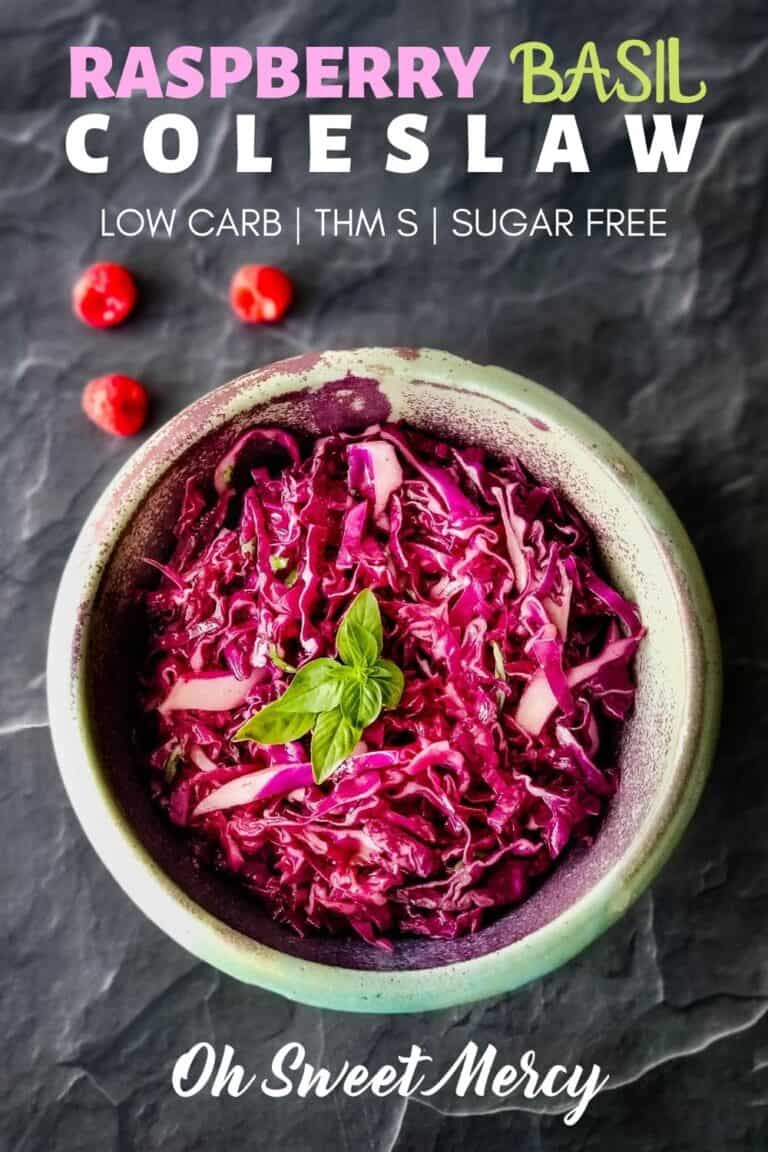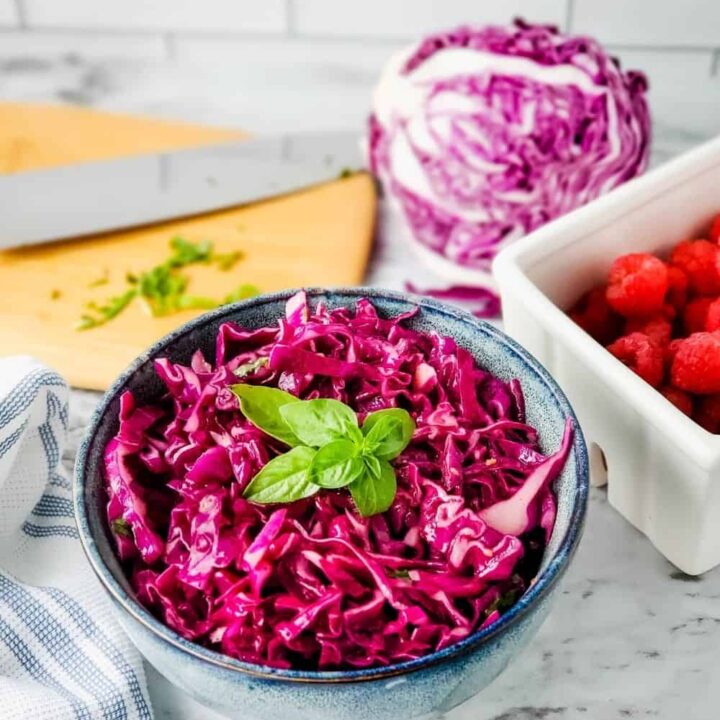 Raspberry Basil Coleslaw | THM S, Keto, Sugar Free
Yield: 4 cups
Prep Time: 5 minutes
Total Time: 5 minutes
This sweet and tangy Raspberry Basil Coleslaw is the perfect low carb side dish for all your favorite main dish proteins. Enjoy the fresh flavors of summer all year long.
Ingredients
4 cups shredded red cabbage
1/4 teaspoon high mineral salt (optional)
Fresh basil (optional)
Instructions
In a mixing bowl, combine all ingredients.
Enjoy right away or refrigerate until ready to serve.
Notes
For more lovely basil flavor, add fresh basil (chiffonade or chopped).
Prep time is for preshredded red cabbage, plan for more time if you're shredding it yourself.
Recommended Products
As an Amazon Associate and member of other affiliate programs, I earn from qualifying purchases.
Nutrition Information:
Yield: 4
Serving Size: 1 cup
Amount Per Serving:
Calories: 105.5
Total Fat: 9.3g
Saturated Fat: 1.3g
Trans Fat: 0g
Cholesterol: 0mg
Sodium: 247mg
Carbohydrates: 6.1g
Fiber: 2g
Sugar: 3g
Protein: 2g