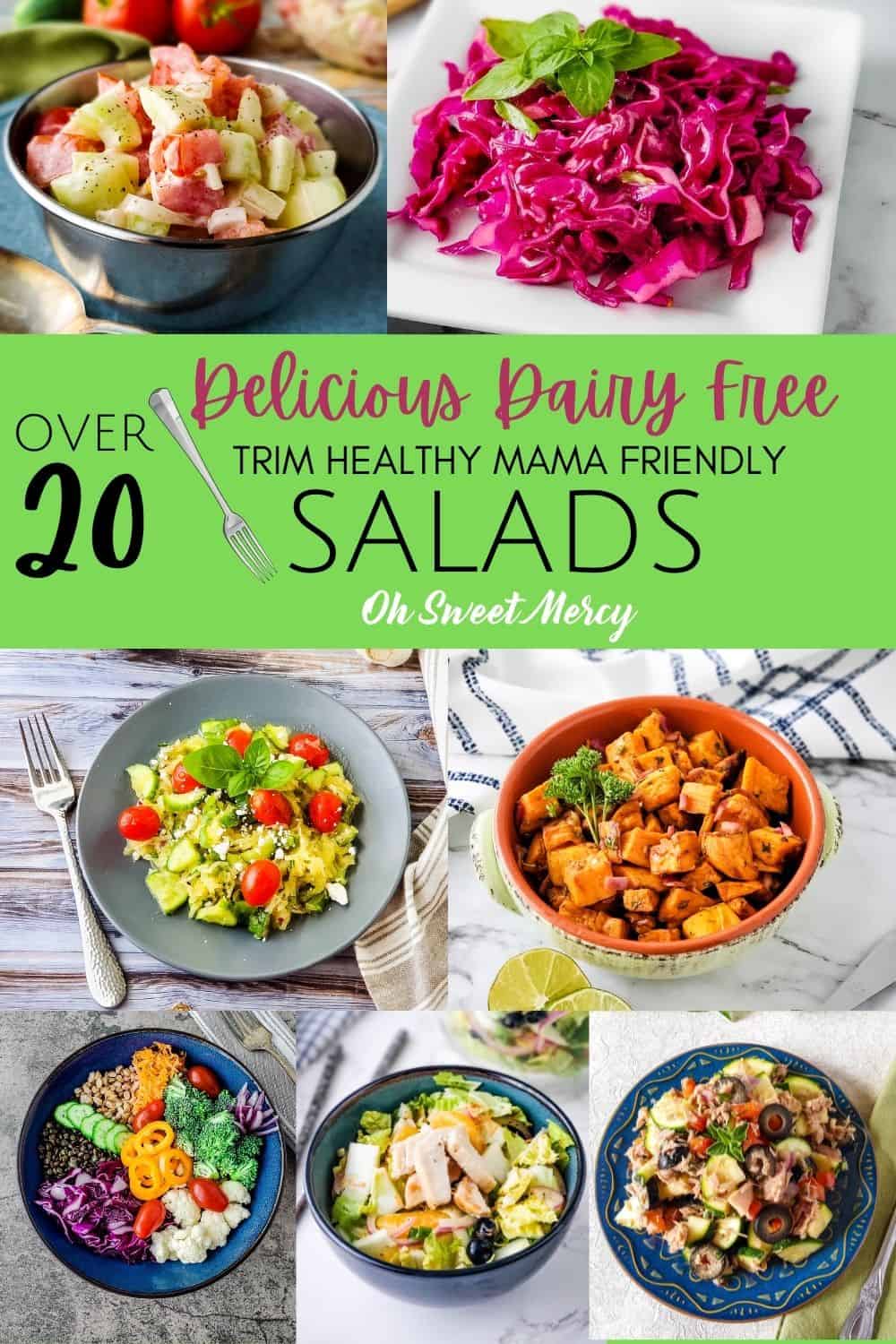 ---
While salads are often thought of as summer foods, they're a delicious choice any time of year. I've put together a collection of healthy, THM friendly and dairy free salads for you to try. Meet your plant-based eating goals with these easy, fresh, healthy salads all year long – and not just lettuce salads, either!
---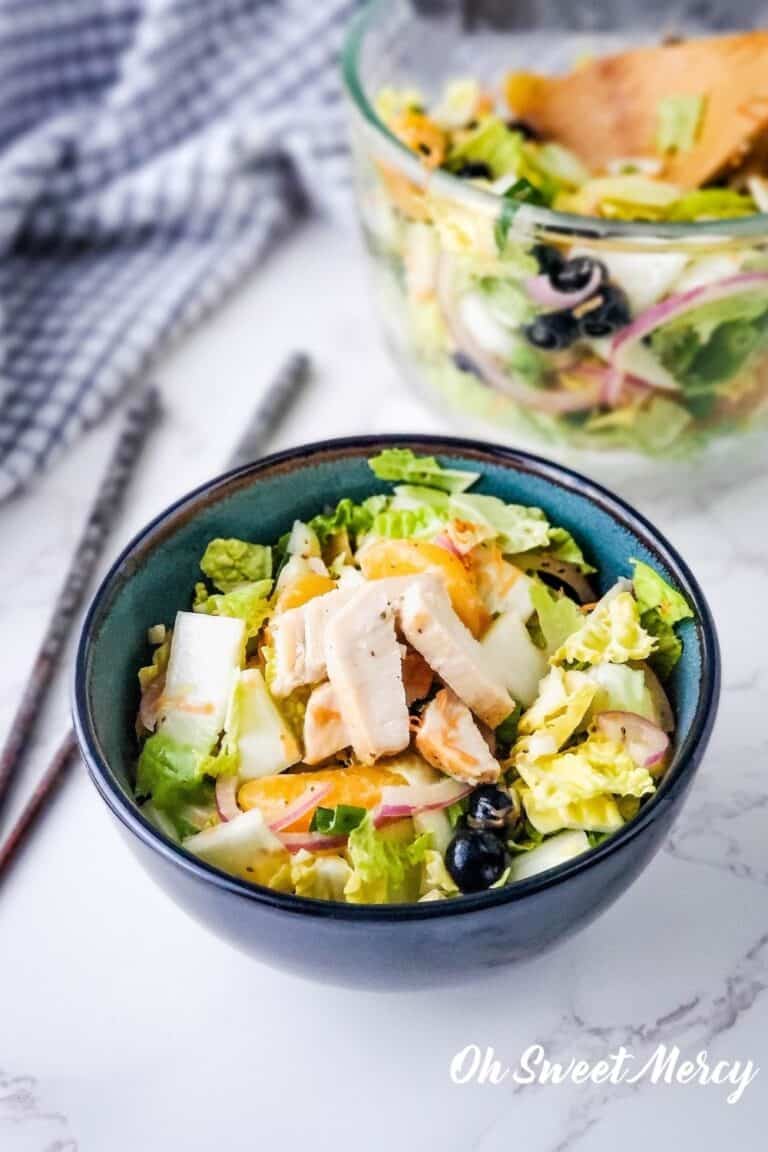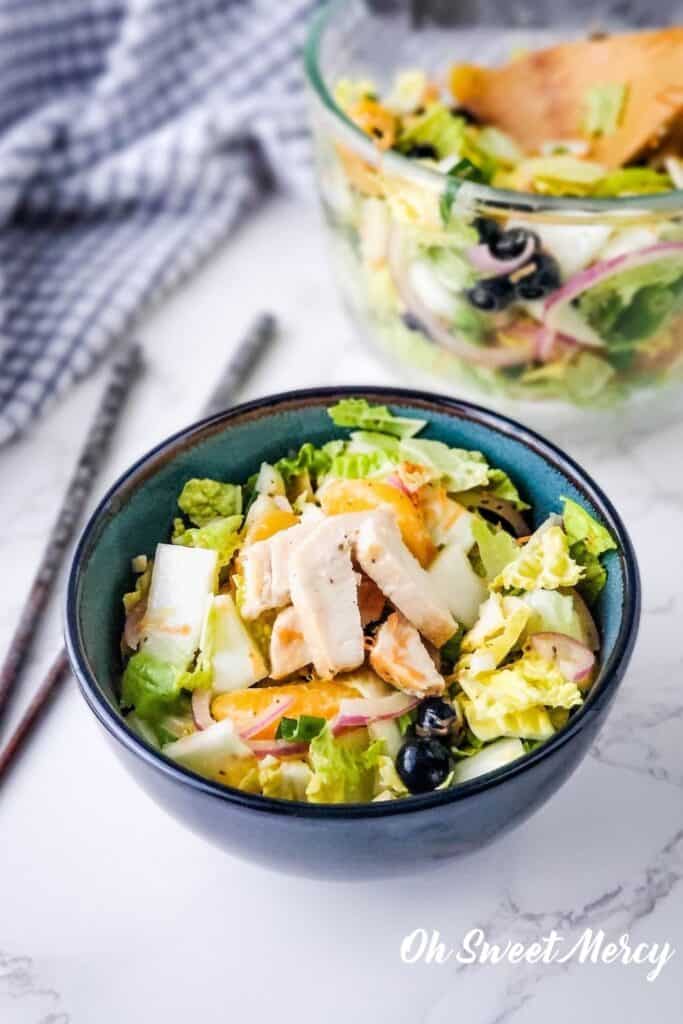 What comes to mind when you think of salads? Rabbit food? Only for dieters? Not winter weather worthy? I've got a round up of delicious salads that will prove all those myths wrong!
Salads don't just have to be lettuce-based, either! I've included my favorite grain bowl recipe, plus other non-lettuce or leafy green salad recipes, because it's basically a big salad with grains.
As far as I'm concerned, if it's a big pile of veggies with a dressing that's a salad.
The dictionary definition of salad validates my opinion:
A dish of raw leafy green vegetables, often tossed with pieces of other raw or cooked vegetables, fruit, cheese, or other ingredients and served with a dressing.
The course of a meal consisting of this dish.
A cold dish of chopped vegetables, fruit, meat, fish, eggs, or other food, usually prepared with a dressing, such as mayonnaise.
Since there are a growing number of Trim Healthy Mama plan followers choosing to eat dairy free, I've put together a tasty list of healthy, plan-friendly, dairy free salads to enjoy.
Of course, you don't have to be dairy free to eat these salads! But when you're trying to navigate the challenges of eating a dairy free diet it's helpful to have a list of dairy free salad recipes to go to when you're wanting a salad.
Do You Have To Eat Salads On THM?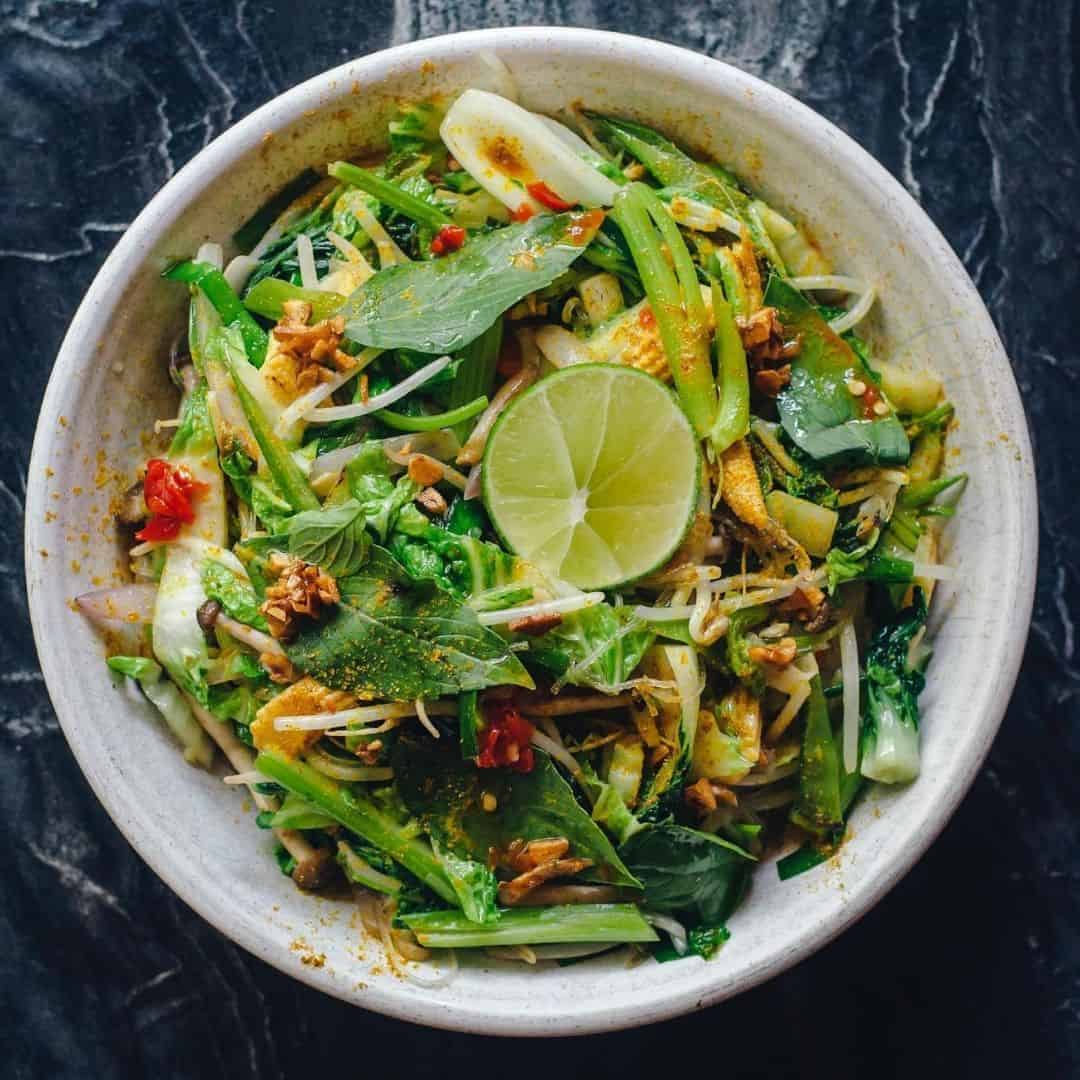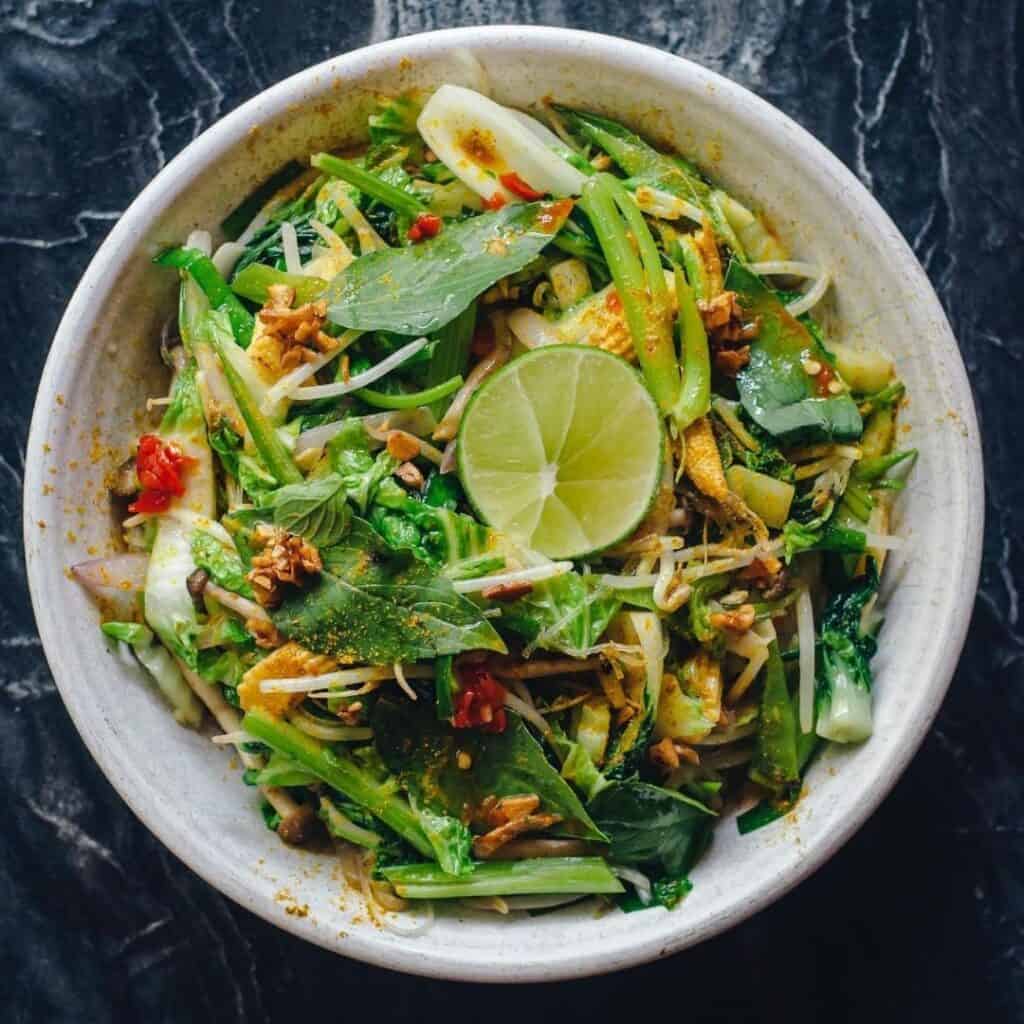 No, you don't HAVE to eat salads on the Trim Healthy Mama plan. However, they're a great way to get all the food groups on your plate. And a very beautiful, colorful way to eat those nutrients you need.
If you absolutely hate salads, don't force yourself to eat them. Do try to get some veggies into your meals in other ways, though.
Vegetables, especially non-starchy veggies, are a big part of a balanced, healthy diet. They provide fiber, which helps fill you up and keep your digestive tract running smoothly. Veggies also provide nutrients essential for a healthy immune system.
How To Fit Dairy Free Salads Into Your THM Meal Plan.
Whether on the side or the main star of your meal, salads work just like any THM dish by being mindful of how you combine fats and carbs:
Choose a THM fuel type: S, E, FP are the main types. Or an SH or XO if you need
Anchor with protein if a main dish, if a side dish protein isn't always necessary
Choose a protein that fits with your fuel type – ultra lean for E and FP such as grilled chicken, any type for S
Include lots of non-starchy veggies
For THM E salads, include nourishing carb options such as sweet potatoes, rice, quinoa, beans or legumes, even fruits
Choose a low fat dressing for THM E and FP salads
Enjoy a liberal amount of healthy fats in your dressing for a THM S salad
Need Some Dairy Free Salad Dressing Recipes?
While creamy, dairy-based dressings taste lovely if you're avoiding dairy you need some other options, right?
Expand your tastes and try something not-ranch!
THM S = low carb/keto THM FP= low fat & low carb
Creamy Citrus Salad Dressing THM S
Raspberry Basil Vinaigrette THM S
Low Carb Thousand Island Dressing THM S
Easy Pomegranate Vinegar Salad Dressing THM S
Asian Sweet & Tangy Salad Dressing THM FP
Want something creamy? Give these a try:
Creamy Garlic Salad Dressing THM S
Whole 30 Caesar Salad Dressing THM S
Give One Of These Delicious Healthy Salad Recipes for THM A Try!
Important: some of the recipes below are not from THM bloggers. I've added my suggested substitutions in the description of each recipe if it's needed. As with any recipe from outside of an official THM source, always check ingredients carefully and make changes as needed.
20+ Delicious Dairy Free Salads for THM
Enjoy these delicious, dairy free salads all year round and make eating the rainbow a regular thing. Trim Healthy Mama friendly recipes to help you stay on plan.
PIN IT!
Pin the image below to your favorite salad recipe boards on Pinterest!