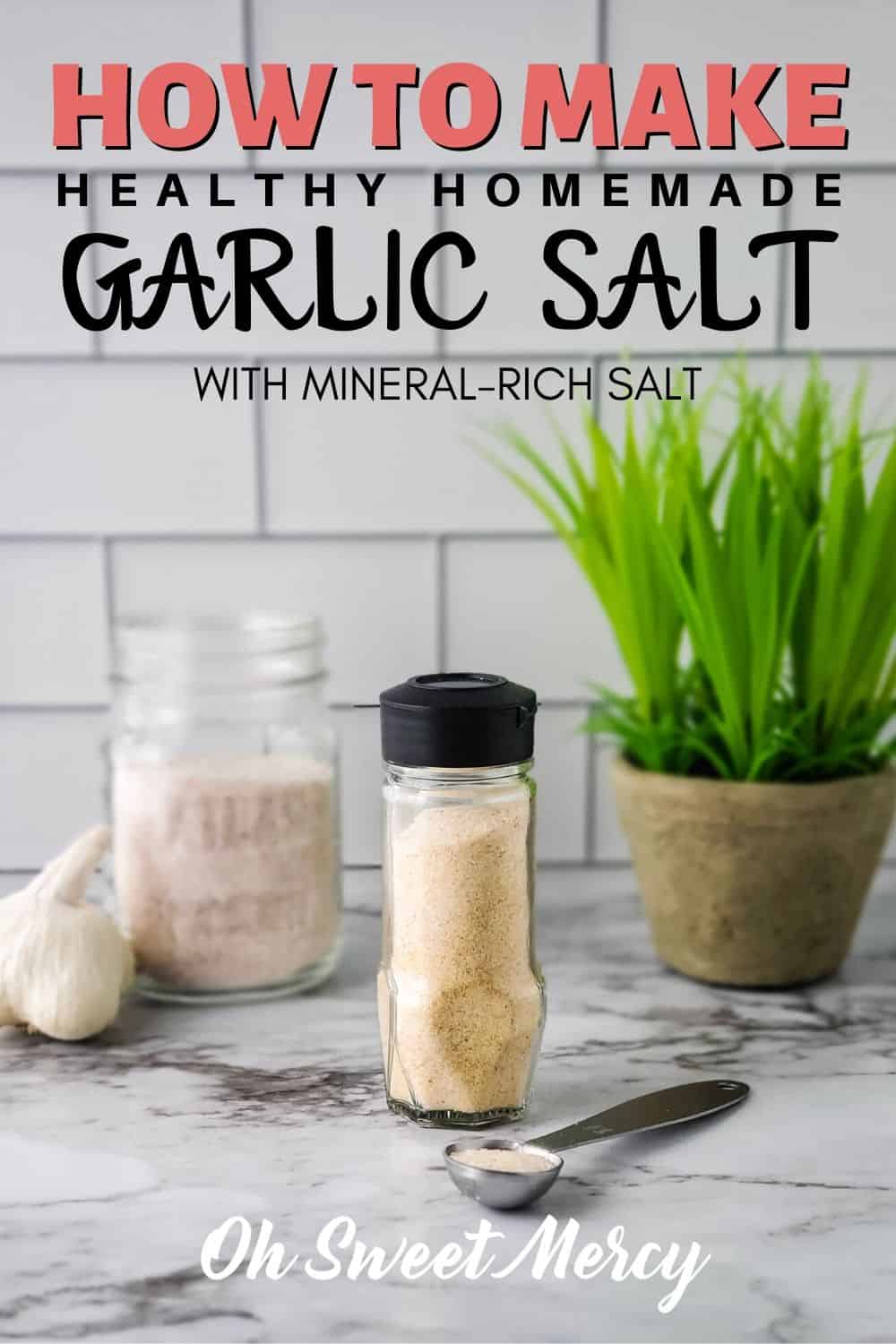 ---
Out of garlic salt? Don't panic! Make your own homemade garlic salt with this easy recipe. Make it even healthier by using high-mineral salt. Perfect for seasoning meats, vegetables, soups, stews, and all the things. And, save money too. Your body and budget will both thank you!
---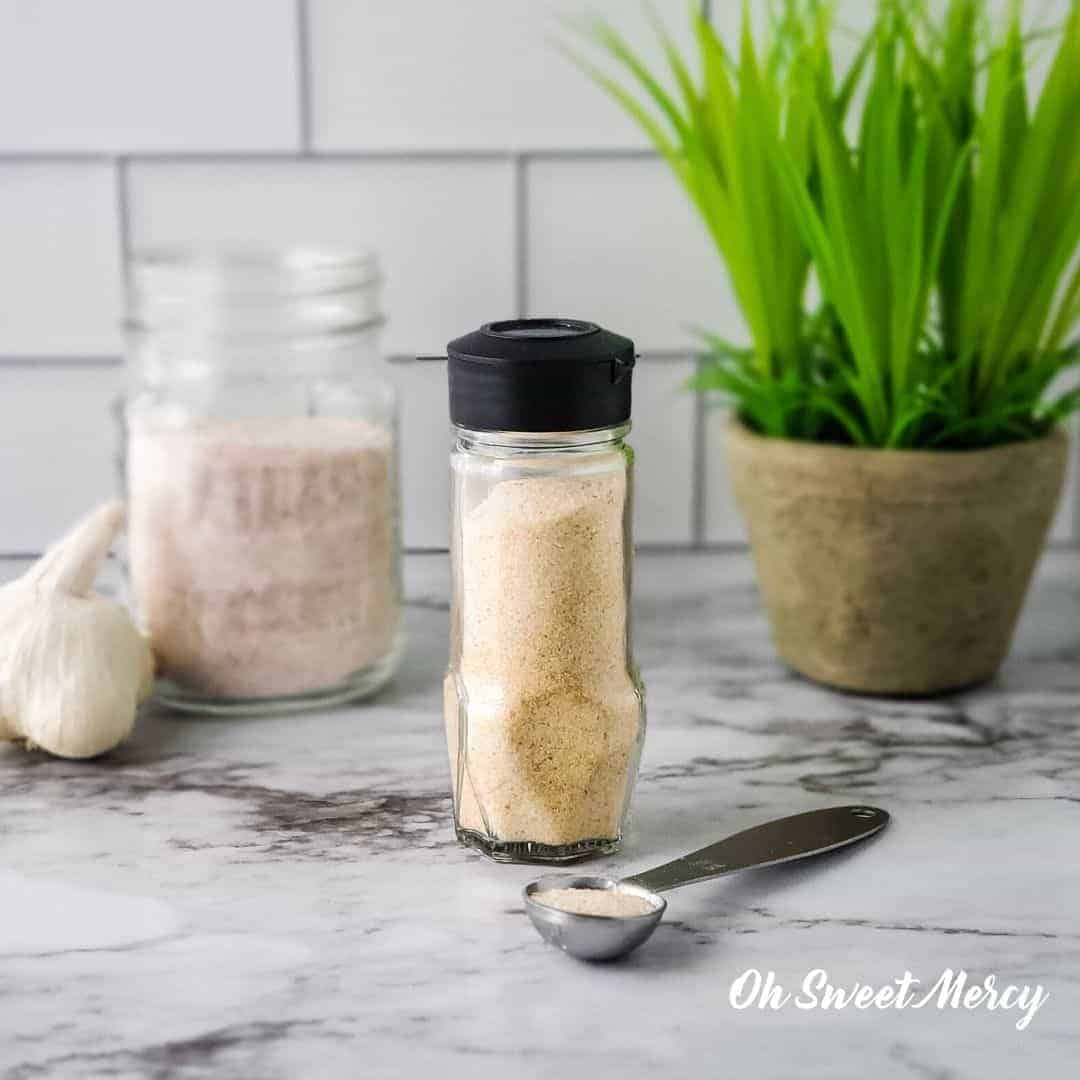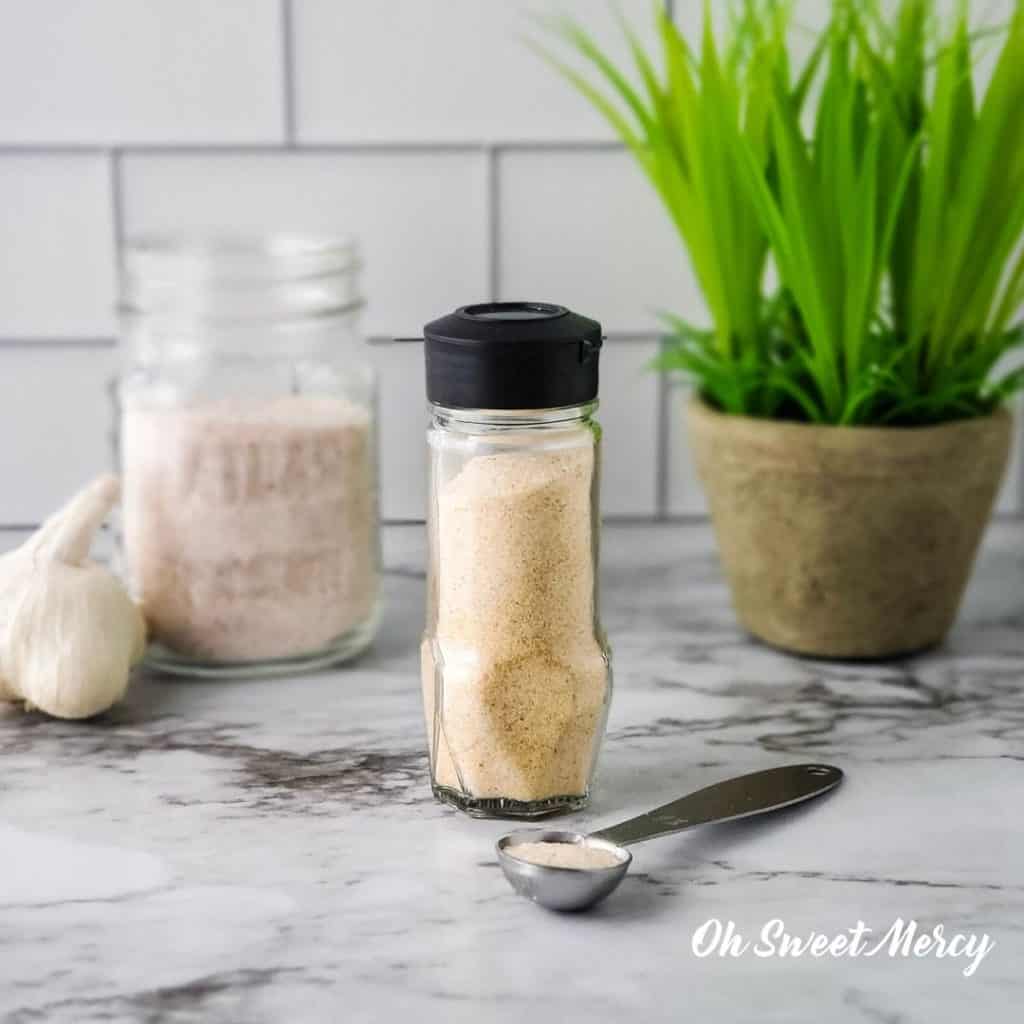 When you run out of garlic salt and can't get to the store to get more, you need an easy recipe to make your own.
This recipe is hardly a recipe, really. It's super simple! Just get the right ratio of garlic powder to salt and you've got garlic salt.
But, you might consider making your own all the time. Here's why…
Use Healthier Salt To Make Homemade Garlic Powder.
Many years ago, I quit using store bought garlic salt. I just simply added garlic powder and salt separately to whatever I'm cooking.
Why would I do that when store-bought garlic salt is so easy? The salt used in store-bought garlic salt is not ideal. I've since switched to using high-mineral salt instead of regular white table salt.
Table salt has been effectively stripped of all beneficial trace minerals. Our bodies need those minerals to function properly!
So, I now use pink Himalayan salt. It's my favorite!
There are many different types of salt, too. Here's a great article for more info: The Different Types of Salt and the Problem with Table Salt. You can also purchase high quality salt from Wildly Organic.
Make your own seasonings, salad dressings, and condiments! It's easy! I have several recipes for you in my Seasonings and Condiments category.
Even though I still generally grab the salt and garlic powder separately, there are times when using garlic salt is just easier. Having a healthier homemade garlic salt on hand is great!
How To Make Homemade Garlic Salt (The Healthier Way).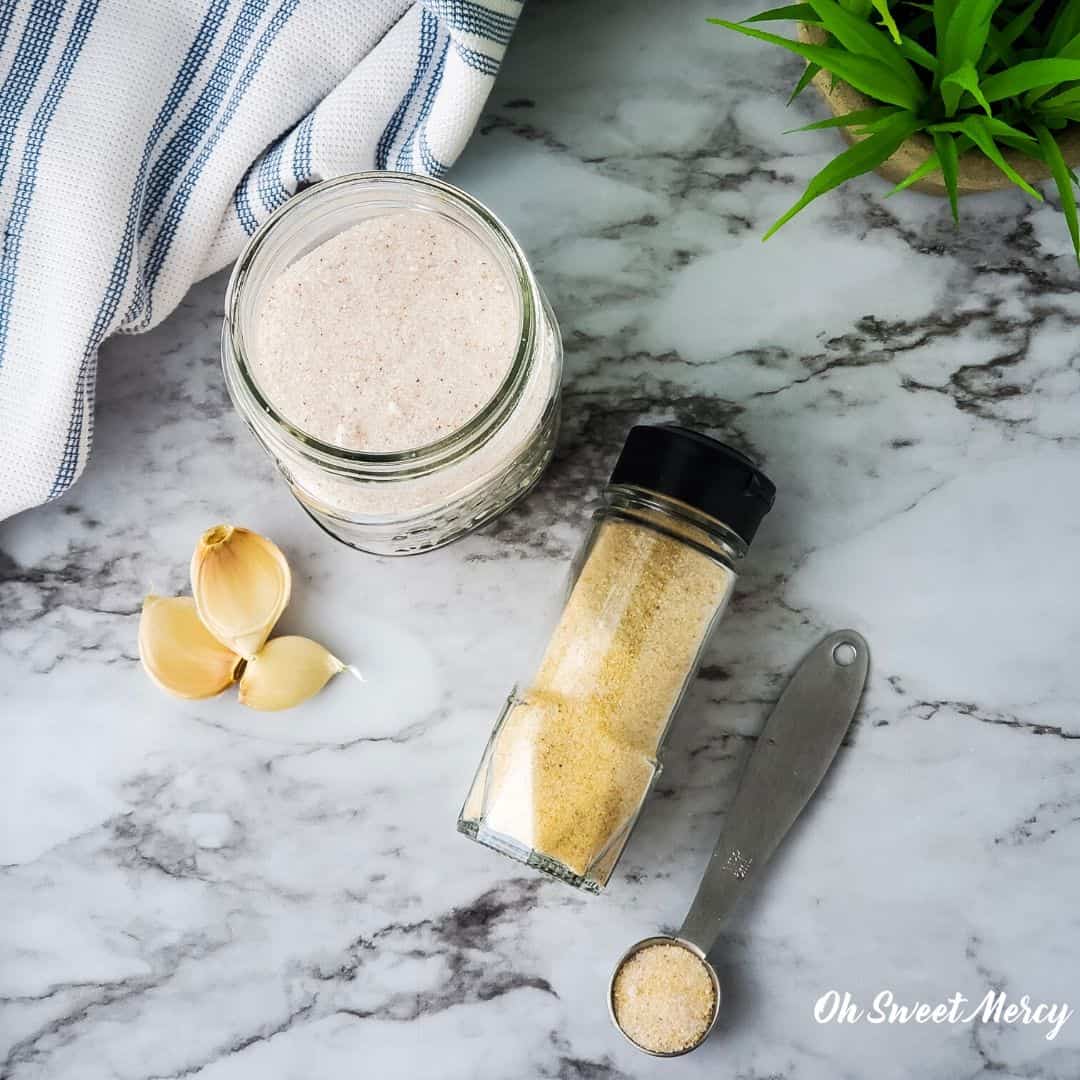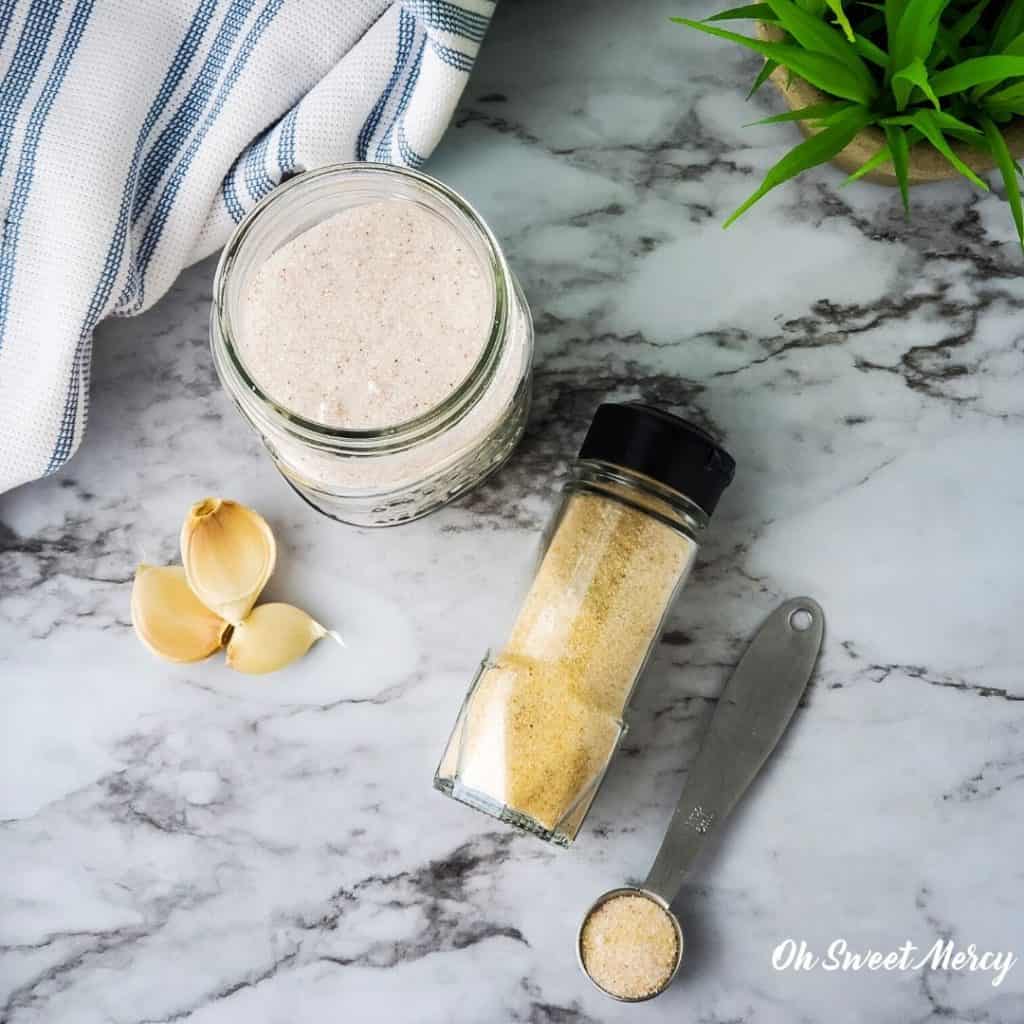 You just need to know the right ratio of garlic to salt. Then you can make a little or a lot depending on your needs.
The ratio is 1 part garlic to 3 parts salt. Mix it well with whisk for even distribution. If there are any lumps be sure to break them apart.
As an example, to fill a small spice jar that I have, 1 tablespoon of garlic powder plus 3 tablespoons of salt filled it perfectly.
The result is 4 tablespoons, or 3 ounces, of garlic salt.
Use this healthy homemade garlic salt anywhere you'd use store-bought. Here's a few easy recipes to try:
PIN IT!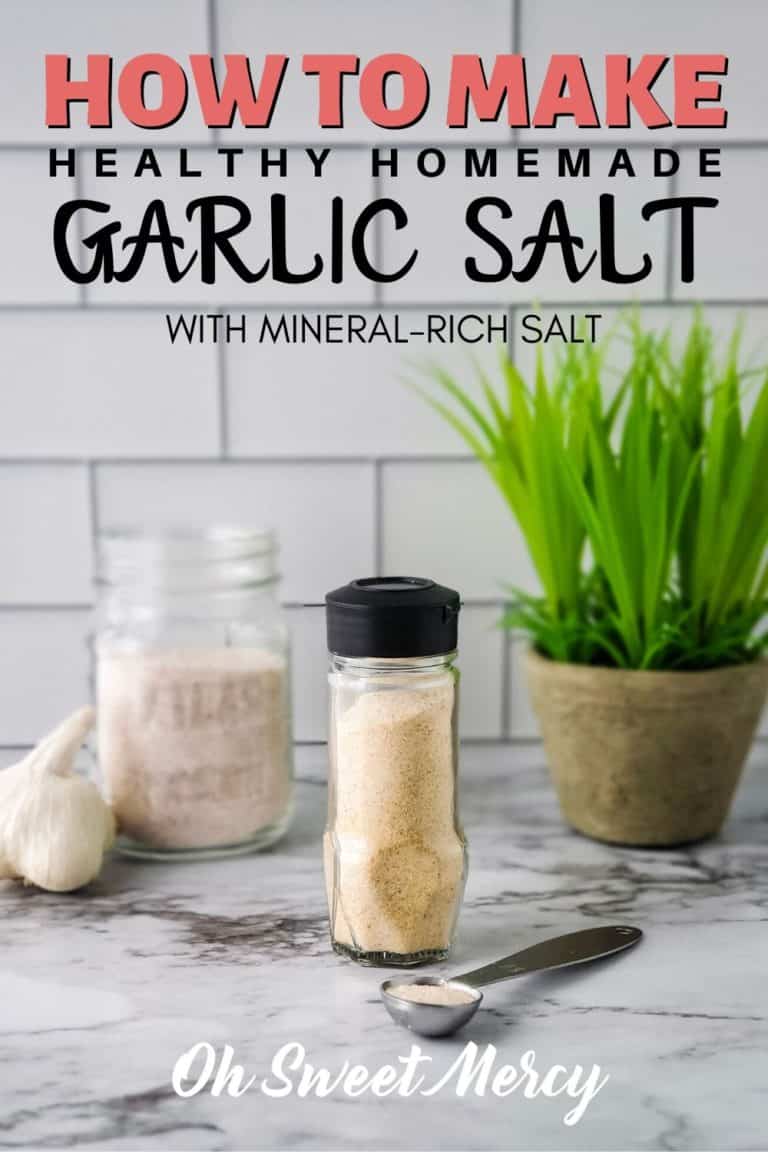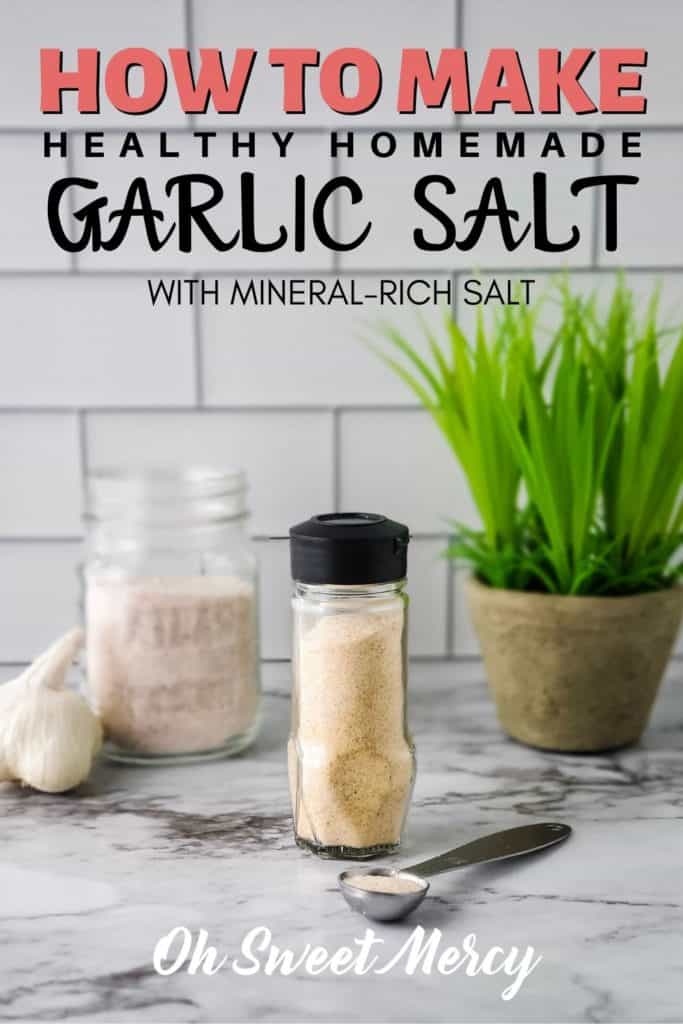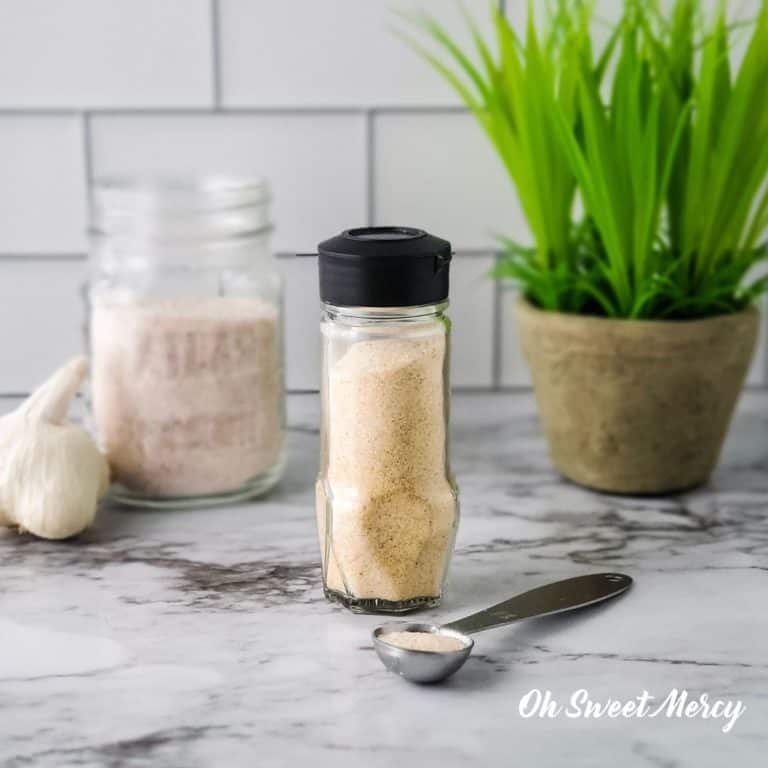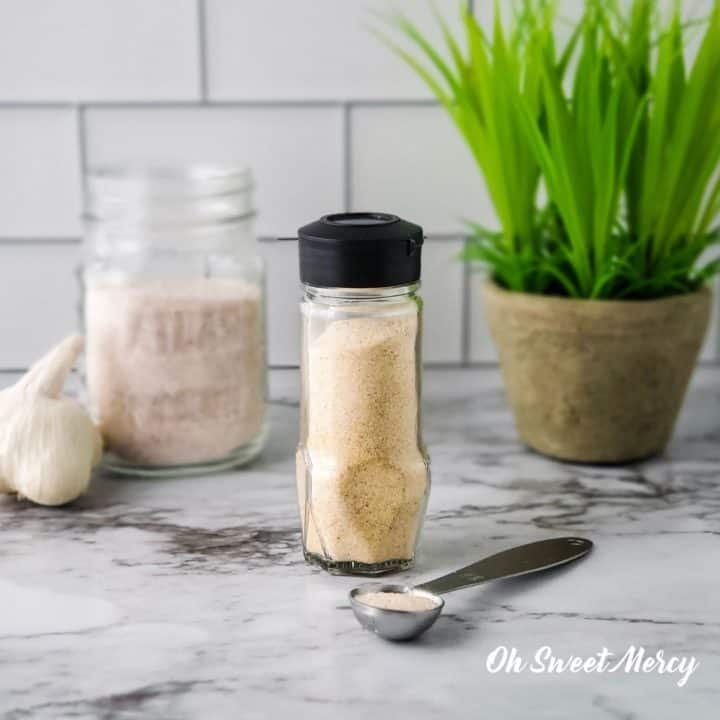 Homemade Garlic Salt | Healthy, Frugal, Easy
Yield: 4 tablespoons or 3 ounces
Prep Time: 5 minutes
Total Time: 5 minutes
Easily make your own healthier garlic salt with this simple recipe. Make a little or a lot, and you choose the type of healthy salt to use.
Ingredients
1 tablespoon garlic powder
Instructions
Mix together, making sure to break up any clumps.
Pour into a clean, empty spice jar or other container with an airtight lid.
May need to shake before using since there is no anti-caking agent added.
Notes
The ratio for making garlic salt is 1 part garic powder to 3 parts salt.
Recommended Products
As an Amazon Associate and member of other affiliate programs, I earn from qualifying purchases.
Nutrition Information:
Yield: 40
Serving Size: 1/4 teaspoon
Amount Per Serving:
Calories: 1
Total Fat: 0g
Saturated Fat: 0g
Trans Fat: 0g
Unsaturated Fat: 0g
Cholesterol: 0mg
Sodium: 476mg
Carbohydrates: 0g
Fiber: 0g
Sugar: 0g
Protein: 0g
Nutrition information is approximate and based on the best knowledge available at the time of recipe publication. Your results may vary due to differences in ingredients. You can make your own calculations if this recipe does not include nutrition info by using an online calculator such as https://recipes.sparkpeople.com/recipe-calculator.asp