---
Nothing could be easier than this bright, fresh, 4 Ingredient Lemon and Chive Chicken Salad! Just mix together 4 simple, whole food ingredients and you've got a light and refreshing sandwich or wrap filling. Or just pile on top of dark leafy greens if you like.
---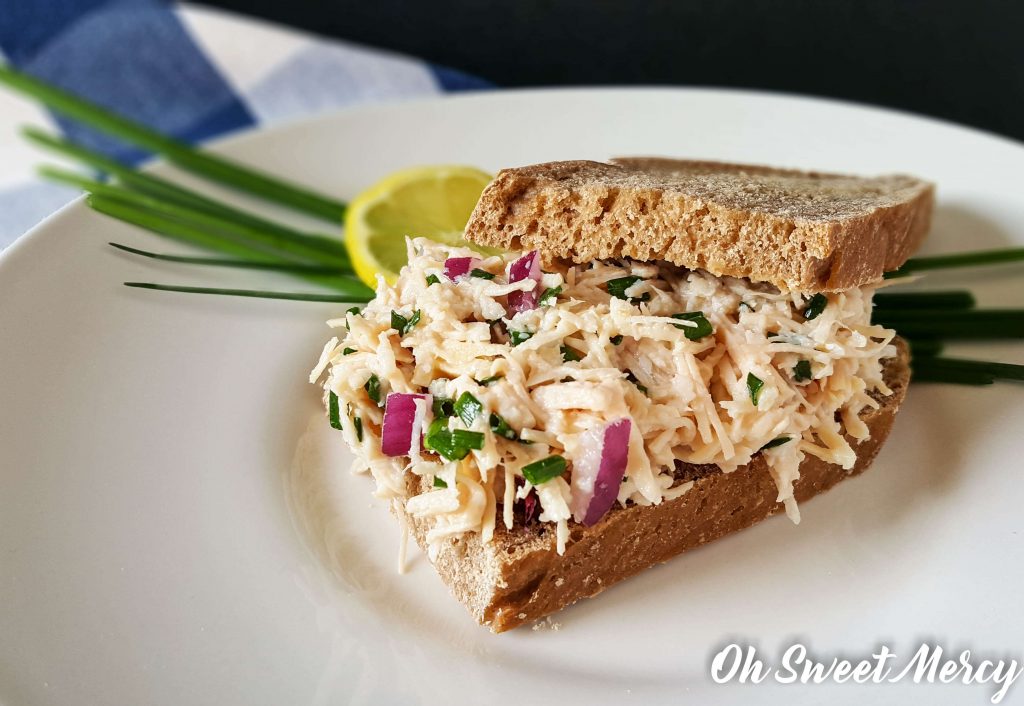 THM's aren't afraid of fat (But they are sensible about it)!
One of the best things about the Trim Healthy Mama plan is that they believe in using healthy, traditional fats. Fake butter and overly processed vegetables oils are highly inflammatory in the body and that can lead to a whole host of health problems.
Butter and coconut oil have been vilified for years but more and more people are realizing the common sense in consuming foods that are real, not fake. Perhaps that's why we're seeing the "experts" shouting COCONUT OIL IS EVIL! again?
Trim Healthy Mama has an excellent rebuttal to the AHAs fearmongering campaign against coconut oil, I encourage you to read it and share it with your family and friends! And take a little time to "follow the money" then decide…
Even though THMs embrace the goodness of healthy fats, we're also not just snacking on sticks of grassfed butter or slurping down a mason jar full of coconut oil. Because balance.
Besides, we know that mason jars were made for things like Good Girl Moonshine!
Chicken breast, the multipurpose protein.
Chicken breast is a wonderful, all-purpose protein. It's naturally a Fuel Pull and E friendly meat because it's very lean. Chicken breast also works equally as well in an S setting (where we get to have all the fats).
This easy Lemon and Chive Chicken Salad can be made to suit any style thanks to the versatility of this lean protein. Originally I made it with no added fat, making it E or FP, but simply adding a tablespoon of olive oil transforms it into a satisfying S option.
How to add my Easy Lemon and Chive Chicken Salad to your THM Menu.
It really couldn't get any more simple! I suggest making it with no added fat and then adjusting your accompanying foods to suit whatever fuel type you need.
Deep S Tip: Leave out the onions (try celery instead), add a tablespoon of olive oil and serve on top of a big pile of fresh, dark, leafy greens to make a perfect Deep S option during a Fuel Cycle! You may want to add a bit more lemon juice if you add olive oil.
Need a delicious low fat E meal? Make a sandwich with on-plan sourdough or sprouted bread and serve with fresh veggies and an E fruit or dessert like my Mango Lime Instant Pudding.
For a surprisingly filling Fuel Pull meal, try making the Wonder Wraps in the first THM cookbook (pg 205) or the wraps in my Chicken Florentine Wonders recipe to stuff this chicken salad in, enjoy with Creamy Fire Roasted Tomato Soup and a Fuel Pull dessert such as the Choco Chip Baby Frap on pg 421 of the THM cookbook.
Try a satisfying S meal, include a big old salad filled with non-starchy veggies and a healthy dose of olive oil and lemon juice or ACV for dressing (or try my Balsamic Mustard Vinaigrette). A cup of fresh berries (be sure to watch serving size on blueberries!) with a drizzle of fresh cream for dessert will leave your belly feeling happy!

Let's Make some Easy Lemon And Chive Chicken Salad!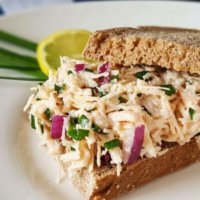 Lemon and Chive Chicken Salad
Yield: 2 servings
Prep Time: 5 minutes
Total Time: 5 minutes
Light, bright, and refreshing this low fat Lemon and Chive Chicken Salad is easy to make and suitable for any THM fuel type! Just 4 ingredients makes it simple and healthy.
Ingredients
8 oz of shredded chicken breast (such as one 12.5 oz can, drained)
2 tablespoon fresh, snipped chives
1 tablespoon diced red onion (omit for Deep S)
4 teaspoons fresh lemon juice (or more to taste)
Instructions
In a small bowl combine all the ingredients until mixed together well.
Enjoy!
Notes
As written, this is suitable for E or FP. Adding the optional olive oil will increase calories to 245 and fat to 16.1 grams.
Recommended Products
As an Amazon Associate and member of other affiliate programs, I earn from qualifying purchases.
Nutrition Information:
Yield: 2
Serving Size: 1/2 cup
Amount Per Serving:
Calories: 125
Total Fat: 2.1g
Cholesterol: 90mg
Carbohydrates: 1.31g
Fiber: 0.1g
Sugar: 0.2g
Protein: 26.1g
Please pin this easy 4 ingredient Lemon and Chive Chicken Salad to your favorite recipe boards!