---
These little low carb pizza bites make perfect snacks or party foods. Just cheese, sauce, and your favorite pizza meats and veggies are all you need! But be sure you use finely shredded mozzarella, that's the key to getting them to stay together in one delicious little bite.
---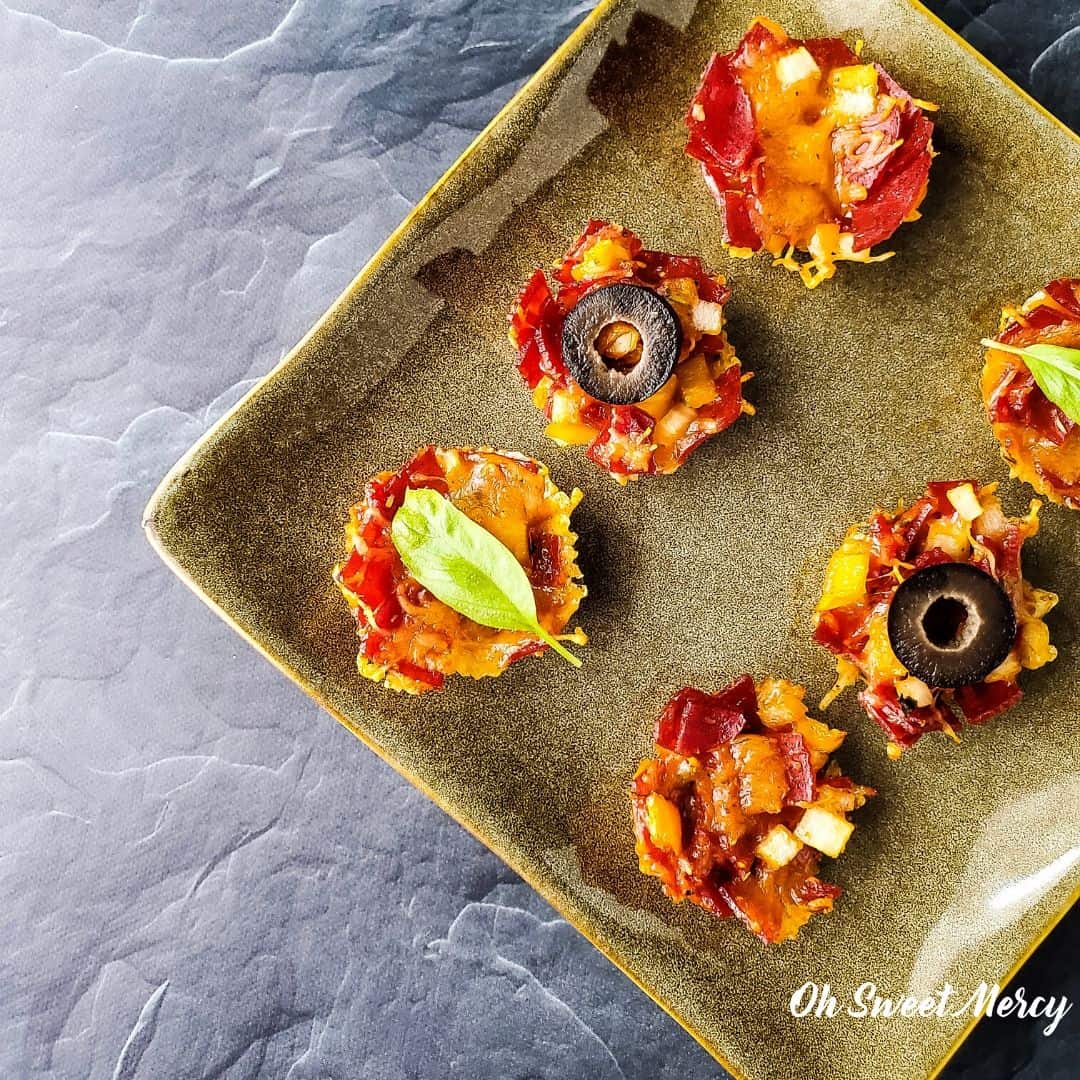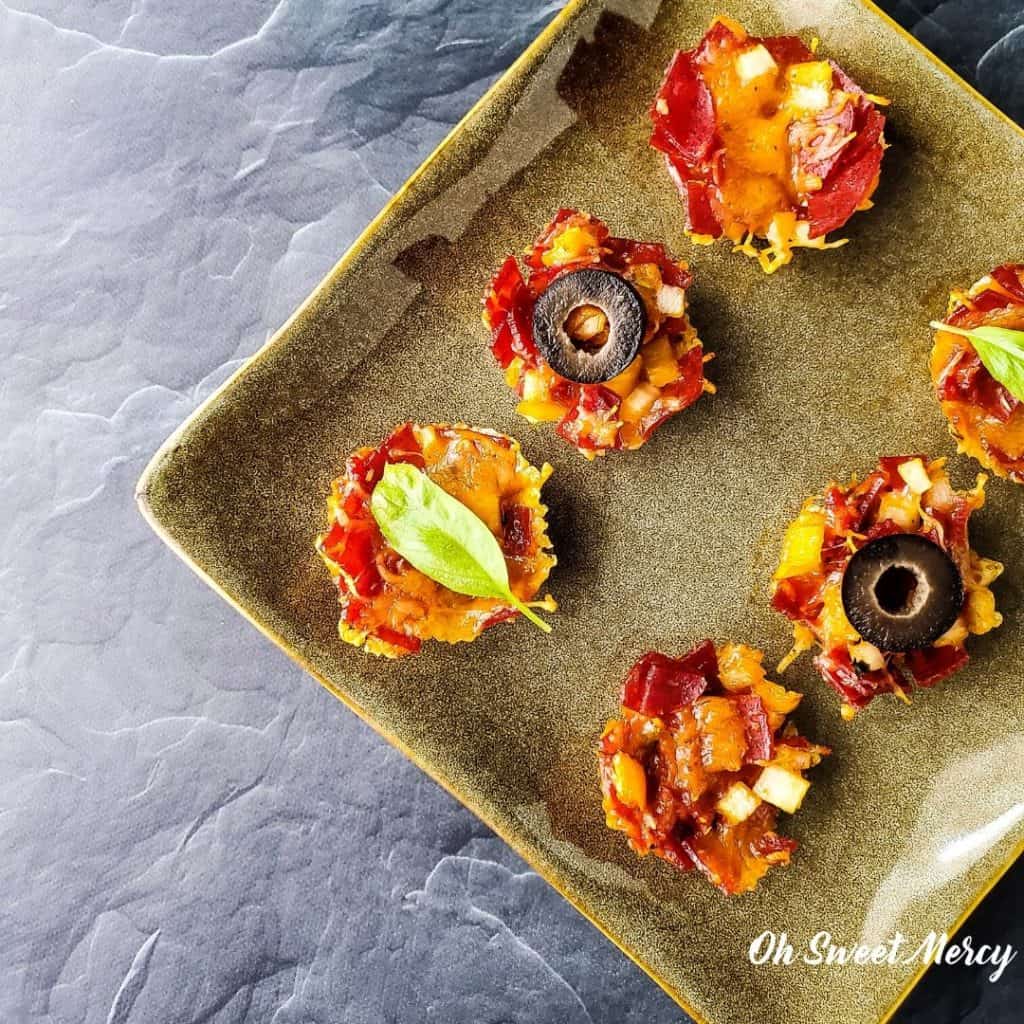 Do you have party plans in the near future? Need an easy appetizer that anyone can enjoy?
Say hello to my little low carb pizza bites, then! They're a crowd-pleasing snack or appetizer because…
They're low carb – perfect for THMs, keto and low carb diets, and anyone who loves the taste of pizza.
No gluten! There's no crust in these little pizza bites so no need for almond flour or Baking Blend, either.
Customizable! The recipe below is how I like them but feel free to use your favorite pizza toppings. Make several different varieties and make all the pizza lovers happy at your next party.
How To Make Perfect Low Carb Pizza Bites.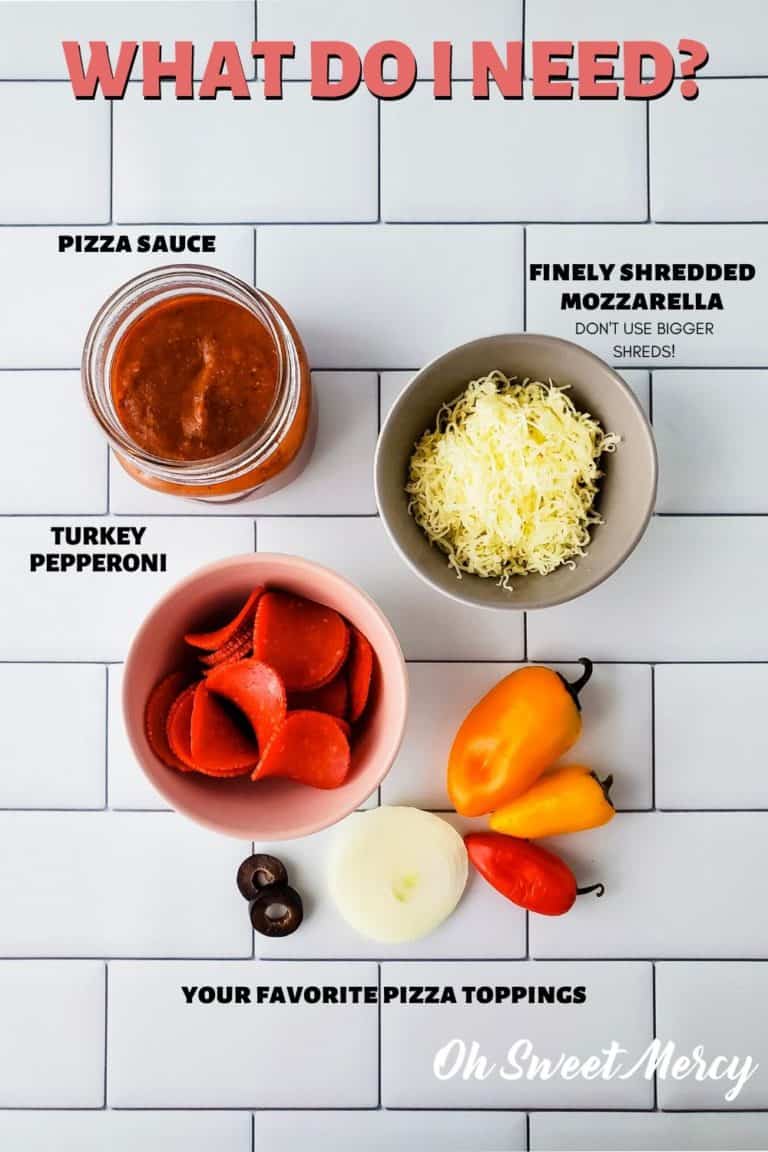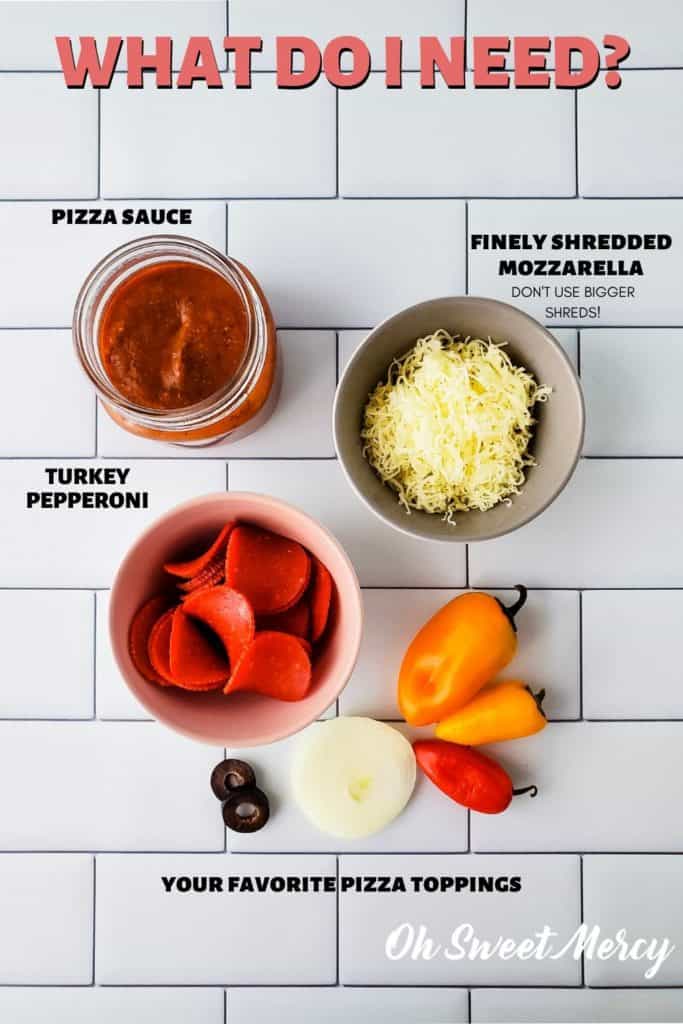 There's a couple key things to remember when making low carb pizza bites. Here's what I learned in my experiments:
Chop The Pepperoni. Just Do It.
My initial vision was lining the mini silicone muffin cups with slices of turkey pepperoni.
Yeah, that did not work. If you want to fiddle with a bunch of tiny appetizers, you go right ahead. Not me!
I simply take a stack of several pepperoni pieces and cut it in thirds one way, then thirds the opposite way. You end up with tiny little squares.
If you're doing a big batch for a party, a food processor makes the work much quicker. But for just one batch it didn't take much time at all to cut it with a knife.
Too Much Sauce Is Not Your Friend.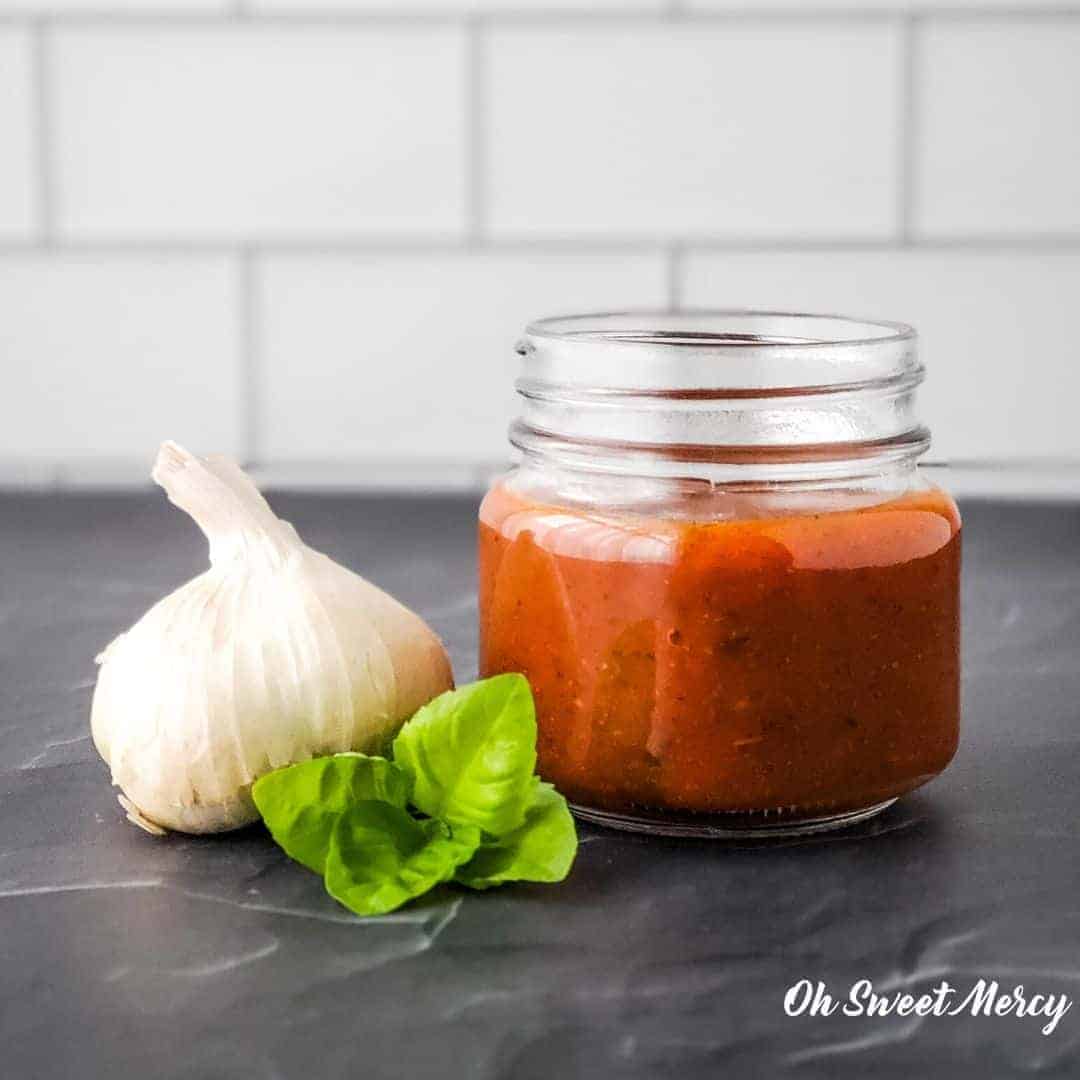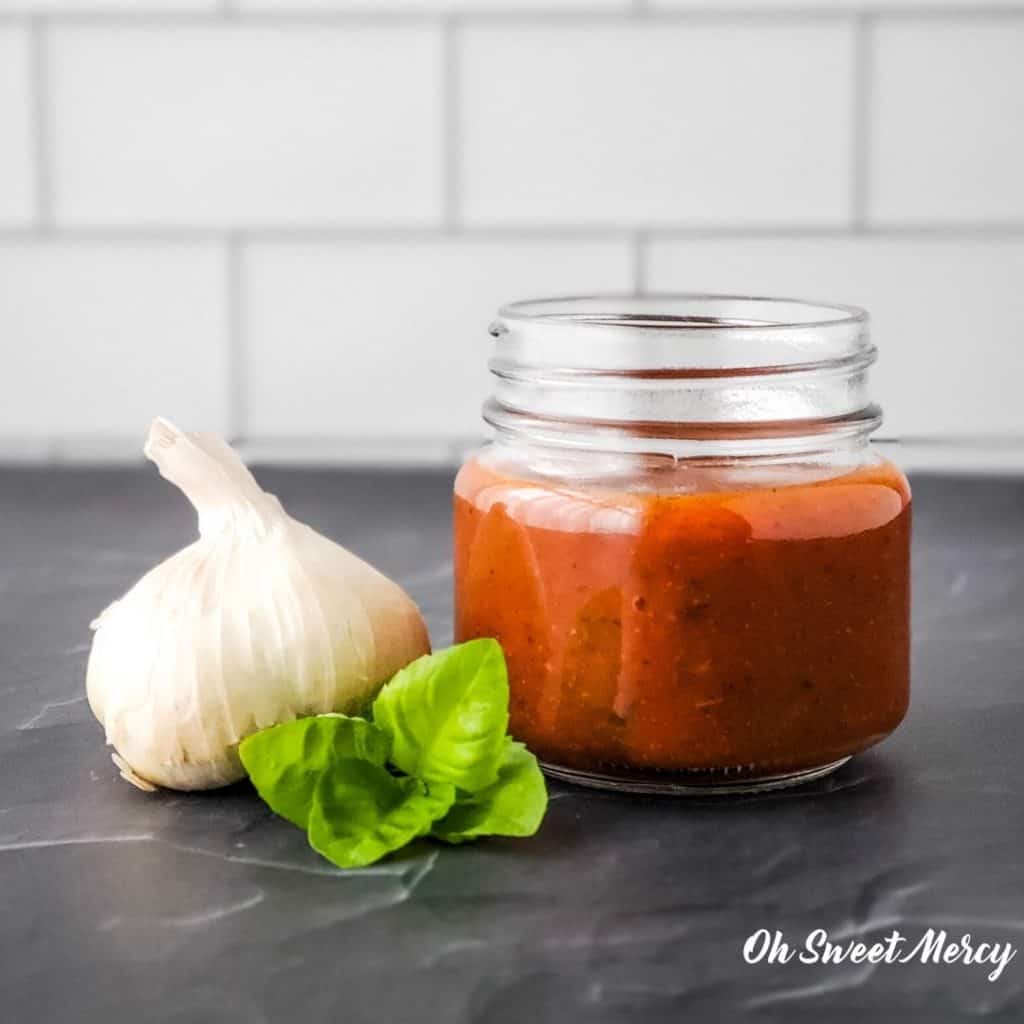 I figured out that too much sauce is not a good idea. It makes them just…well, sloppy and messy. Very tasty though!
Boo. The sauce is one of my favorite parts about pizza! Especially my super easy, no-sugar, 5 Minute Pizza Sauce.
If you like super sauce on your pizza, go ahead and add more. But, be prepared to use a fork to eat them. Or, just slurp them out of the little muffin liners.
Use The Finely Shredded Mozzarella Cheese.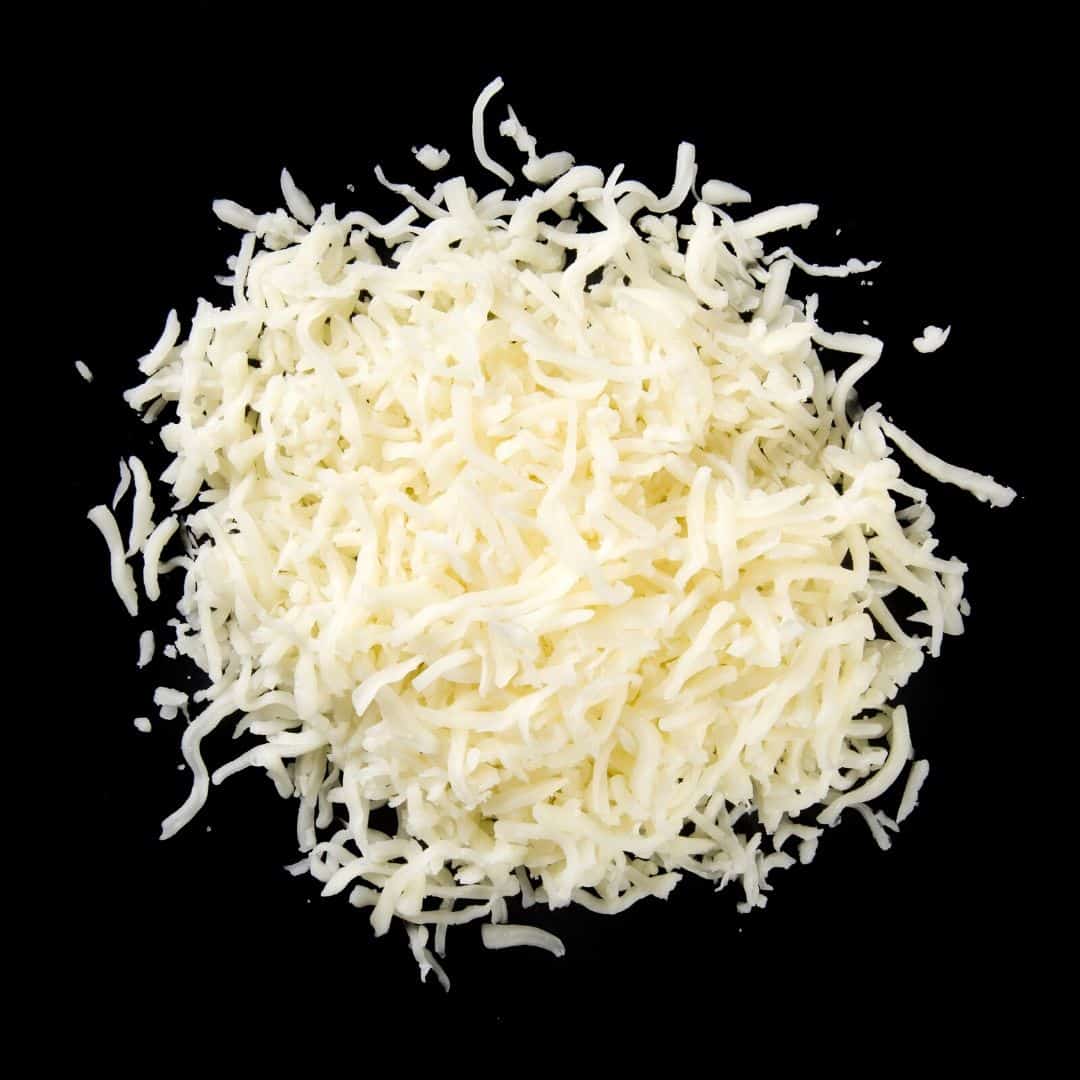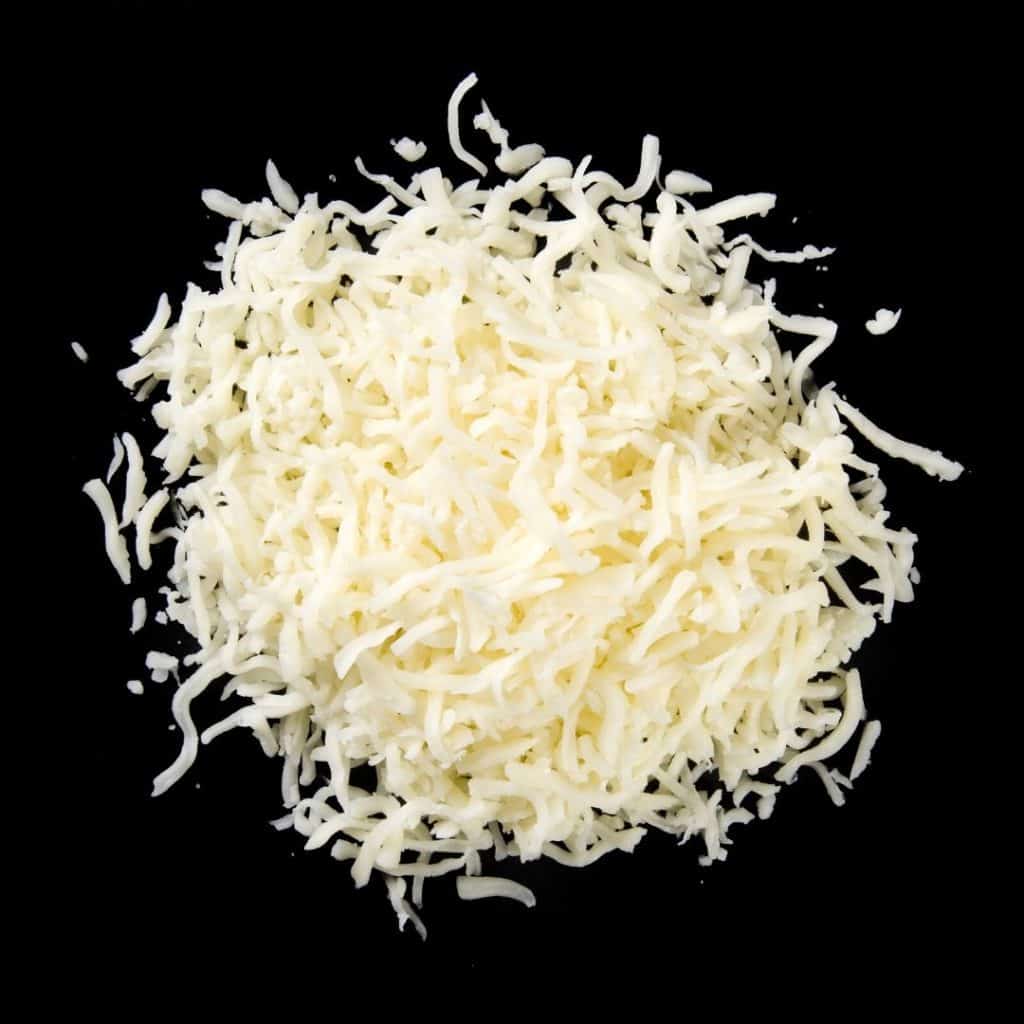 You'd think cheese is cheese, right? Big shreds…little shreds, who cares? Well, apparently these little mini pizza bites care!
I'm not sure why I tried finely shredded but it seemed like a good idea at my next recipe testing session.
That's totally the ticket. It's usually labeled fancy shredded mozzarella.
After pondering that for a bit, I figured the smaller shreds melt more quickly and are more evenly distributed among all the ingredients. That allows it to kind of act like glue and hold all the glorious pizza things together.
I buy blocks of cheese and shred it myself, usually just a hand grater. But for large amounts of cheese I pull out my handy food processor and it makes super quick work of that task.
You certainly can use preshredded cheese if you like. I'm just not a fan of the cellulose and whatever they put in pre-shredded cheese to keep it from sticking together.
Can You Make Low Carb Pizza Bites In An Air Fryer?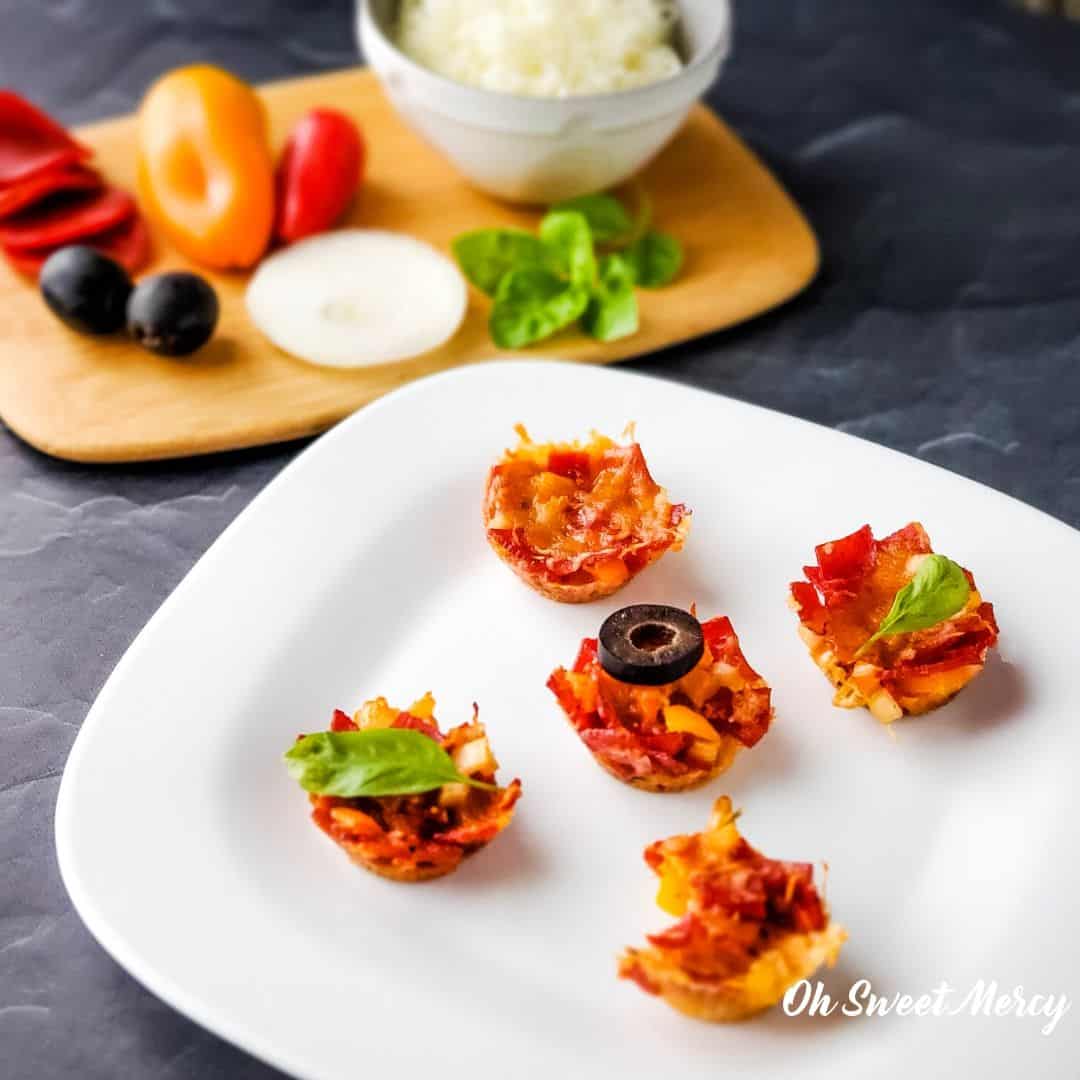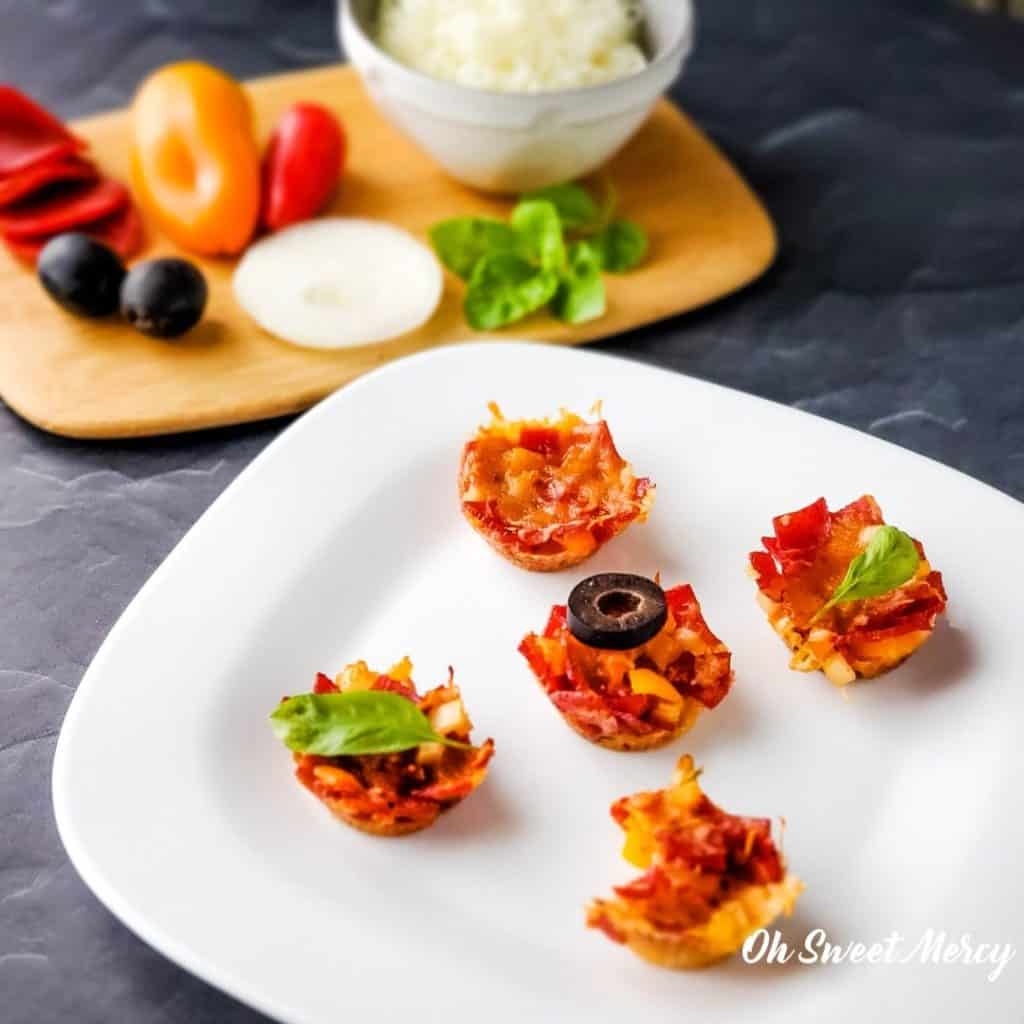 Why, yes you can! It also takes less time, too. On average, oven baking takes around 15 minutes. In my Ninja Foodi, it took just 5.
If you're wanting to make a lot of these for a party the oven is probably the best method. You can do more at a time then.
But, if you're just making them as a snack for yourself, pop a few in the air fryer and you've got a delicious, low carb, gluten free, pizza snack in no time.
Additionally, you could even make this ahead of time and keep the filled muffin cups in the fridge. Then just grab what you want and pop them in the air fryer.
Need more air fryer recipes? I'm working on adding more to the OSM recipe collection: Air Fryer Falafel with Creamy Tahini Sauce (E).
Also, check out Wonderfully Made And Dearly Loved's for more creative, healthy, THM (and party) friendly air fryer recipes, like Air Fryer Guacamole Bites.
Are These Low Carb Pizza Bites Better Hot Or Cold?
Yes. As in they're delicious either way.
If you love cold, leftover pizza then you'll love these mini pizza bites cold, too. They make great snacks to pack in a THM Snack Box, lunches, etc.
How To Fit My Low Carb Pizza Bites Into Your THM Meal Plan.
These yummy little mini pizza bites are a THM S. Enjoy in a low carb setting.
So, for your next party (or any time you've got the crave for pizza), whip up these cute little low carb pizza bites!
Pin It!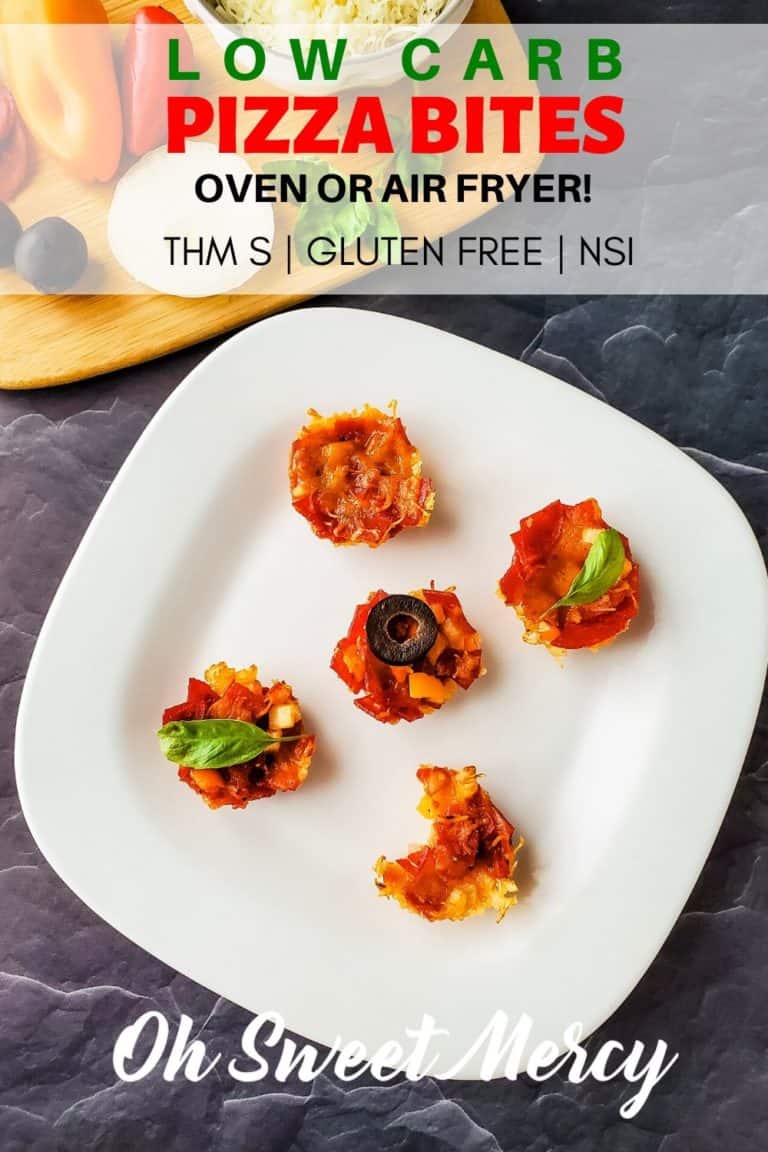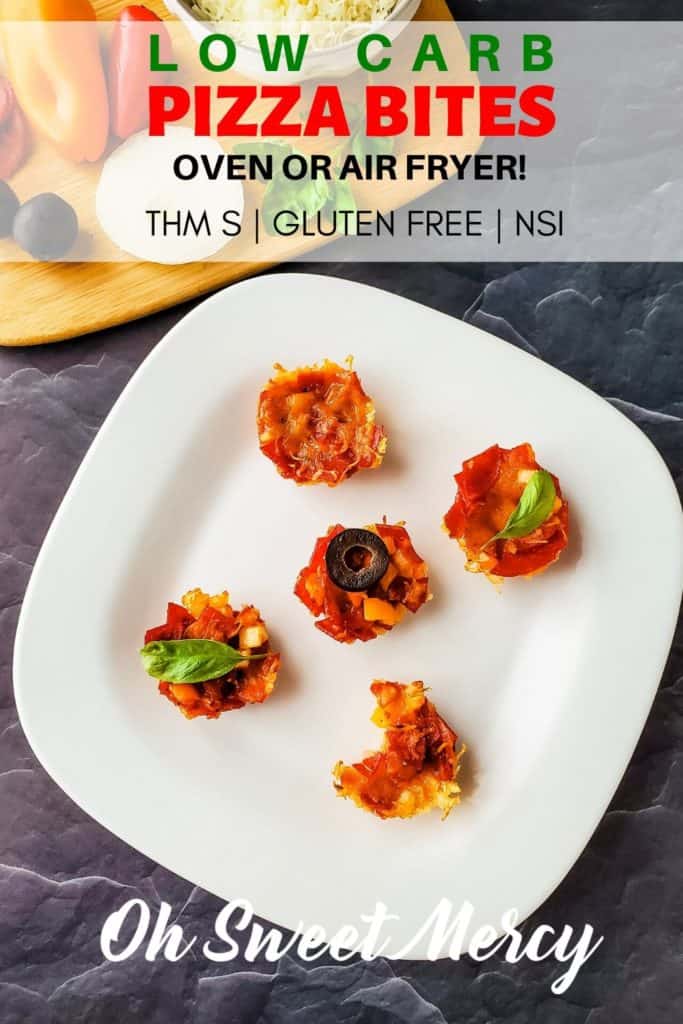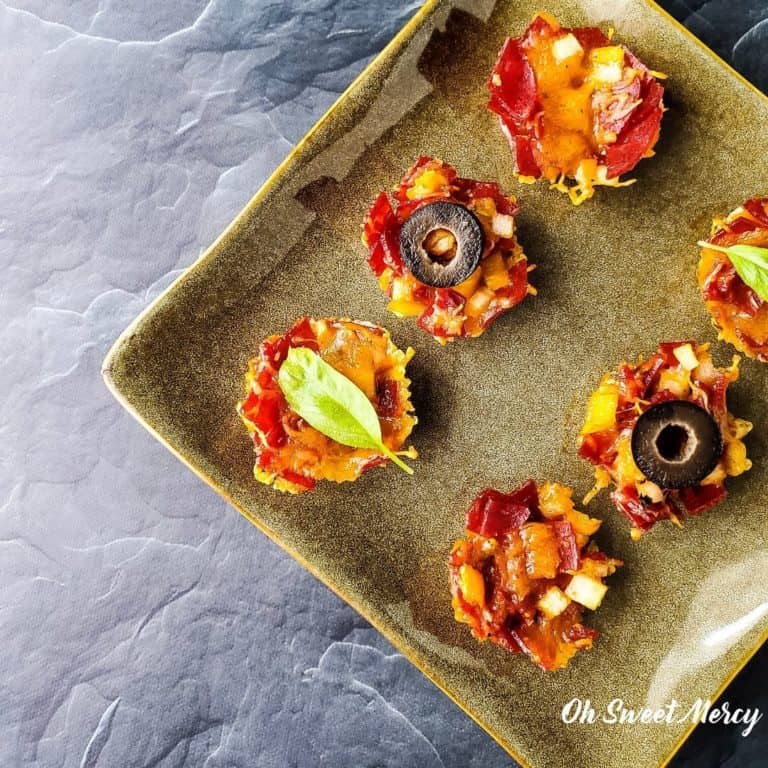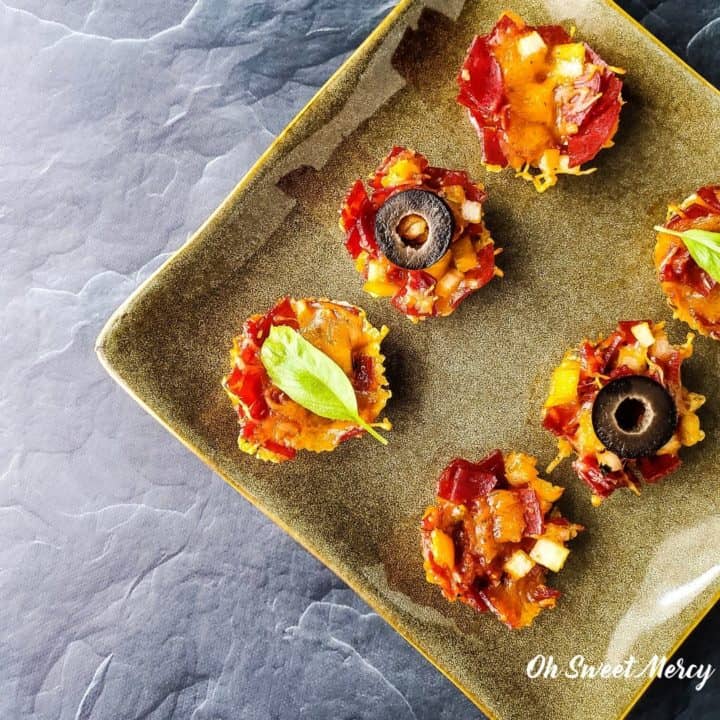 Low Carb Pizza Bites | THM S, Gluten Free
Yield: 24
Prep Time: 15 minutes
Cook Time: 15 minutes
Cooling Time: 5 minutes
Total Time: 35 minutes
Super simple low carb pizza bites that everyone will enjoy! Just pepperoni, cheese, a bit of sauce, and your favorite toppings all mixed together and baked into a little bite sized treat.
Ingredients
1 cup FINELY shredded or fancy mozzarella cheese (do not use the bigger shreds if buying pre-shredded cheese)
2 tablespoons diced onion
1 5-ounce package turkey pepperoni
2 tablespoons diced peppers
2 tablespoons 5 Minute Pizza Sauce (or your favorite sauce)
Instructions
Preheat oven (or air fryer) to 350.
Mix all ingredients together until everything is well coated with pizza sauce. It shouldn't be saucy, but you should see most of the cheese have some sauce on it.
Fill your silicone muffin cups with a heaping spoonful of the mixture and press down. They will shrink down some as they bake.
Continue until all cups are evenly filled.
OVEN: bake for 15 minutes or until bubbly and lightly golden brown.
AIR FRYER: bake for 5 minutes or until bubbly and lightly golden brown.
Remove from oven or air fryer and allow to cool at least 5 minutes before handling to remove from the muffin cups.
Remove and enjoy!
Notes
Feel free to use your favorite pizza toppings, such as mushrooms, olives, etc.
I have not tried this with ground turkey sausage but that should work as well. I'd try about 1 1/2 cups of cooked ground turkey sausage.
Or, add some ground sausage in with the pepperoni for a meatier pizza bite.
Recommended Products
As an Amazon Associate and member of other affiliate programs, I earn from qualifying purchases.
Nutrition Information:
Yield: 24
Serving Size: 1 bite
Amount Per Serving:
Calories: 36
Total Fat: 2g
Saturated Fat: 1g
Trans Fat: 0g
Unsaturated Fat: 1g
Cholesterol: 11mg
Sodium: 185mg
Carbohydrates: 1g
Net Carbohydrates: 0g
Fiber: 0g
Sugar: 1g
Sugar Alcohols: 0g
Protein: 3g
Nutrition information is approximate and based on the best knowledge available at the time of recipe publication. Your results may vary due to differences in ingredients. You can make your own calculations if this recipe does not include nutrition info by using an online calculator such as https://recipes.sparkpeople.com/recipe-calculator.asp