---
Craving the classic flavors of pb & j? Wisely watching your carbs? My easy peanut butter and jelly smoothie satisfies that craving! It's creamy, delicious, and satisfying. Trim Healthy Mamas, make it Fuel Pull or S style! Makes a great snack, dessert, or even a meal on busy days.
---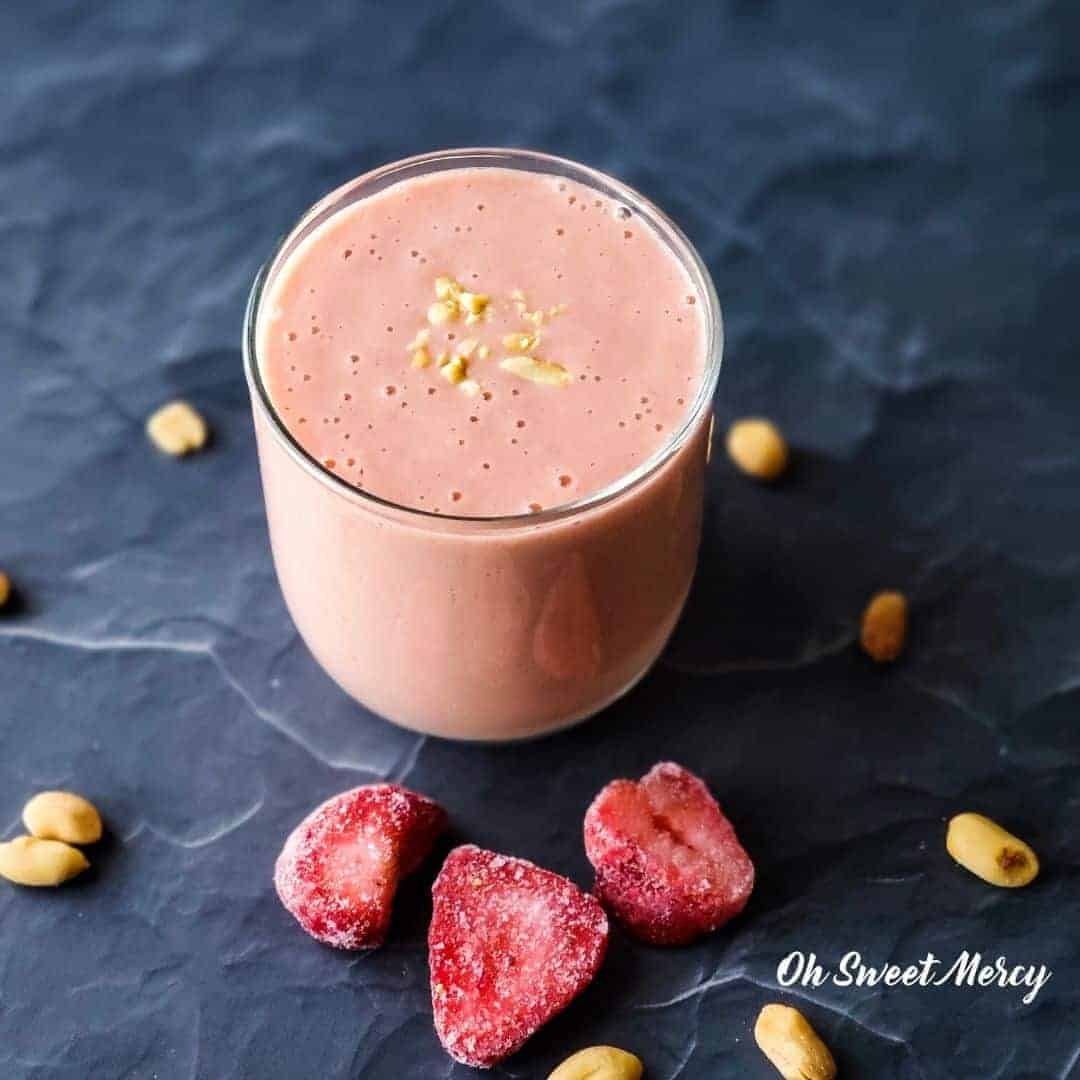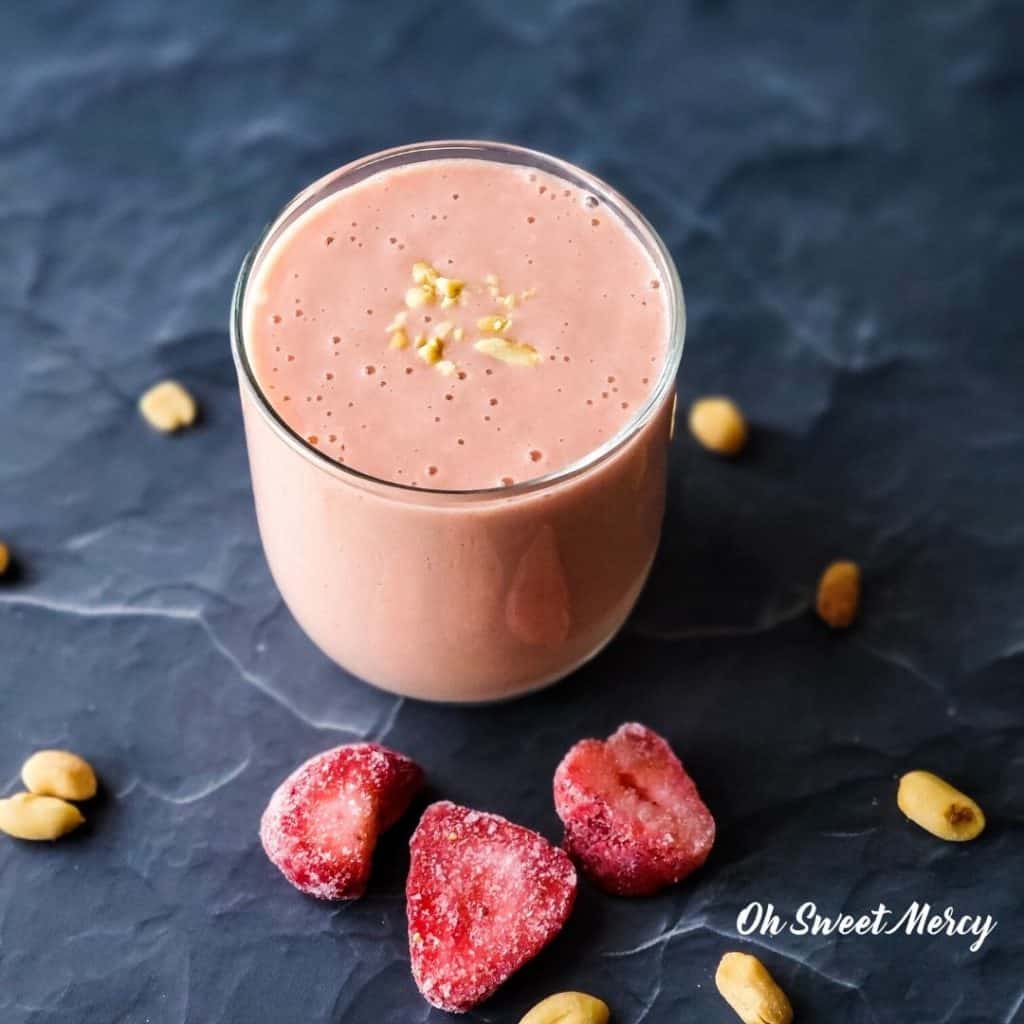 My daughter (Sister) has never liked jelly, consequently she's never had a good old-fashioned pb & j. But I have and now and then get a craving for one.
As a Trim Healthy Mama, I can still have a peanut butter and jelly sandwich:
As a healthy THM E: sprouted bread, Peanut Junkie Butter and Slim Belly Jelly from the 1st THM cookbook (page 481 and 478).
A THM Crossover: sprouted bread, no-sugar peanut butter, Slim Belly Jelly.
Or as a THM FP: WWBB (Wonderful White Blender Bread – Trim Healthy Table, page 242), Peanut Junkie Butter, Slim Belly Jelly
You can also use a plan-approved store bought, all-fruit jelly such as Polaner's if you can find it. I haven't seen Polaner's All Fruit in our grocery stores in years.
I can also have a pb & j as a smoothie, which is great for after exercise, a snack, or dessert.
Easy Peanut Butter and Jelly Smoothie: Mister Approved.
My son (Mister) and I went to the gym the other day. When we got back I was craving both peanut butter and jelly and a smoothie.
I had strawberries, almond milk, and peanut powder so I figured I'd throw them in the blender and see what happens.
Mister is a huge fan of pb & j. So, I was shocked when he turned his nose up at my idea for a pb and j smoothie!
But, I got him to try it. One sip and he ran off with my smoothie.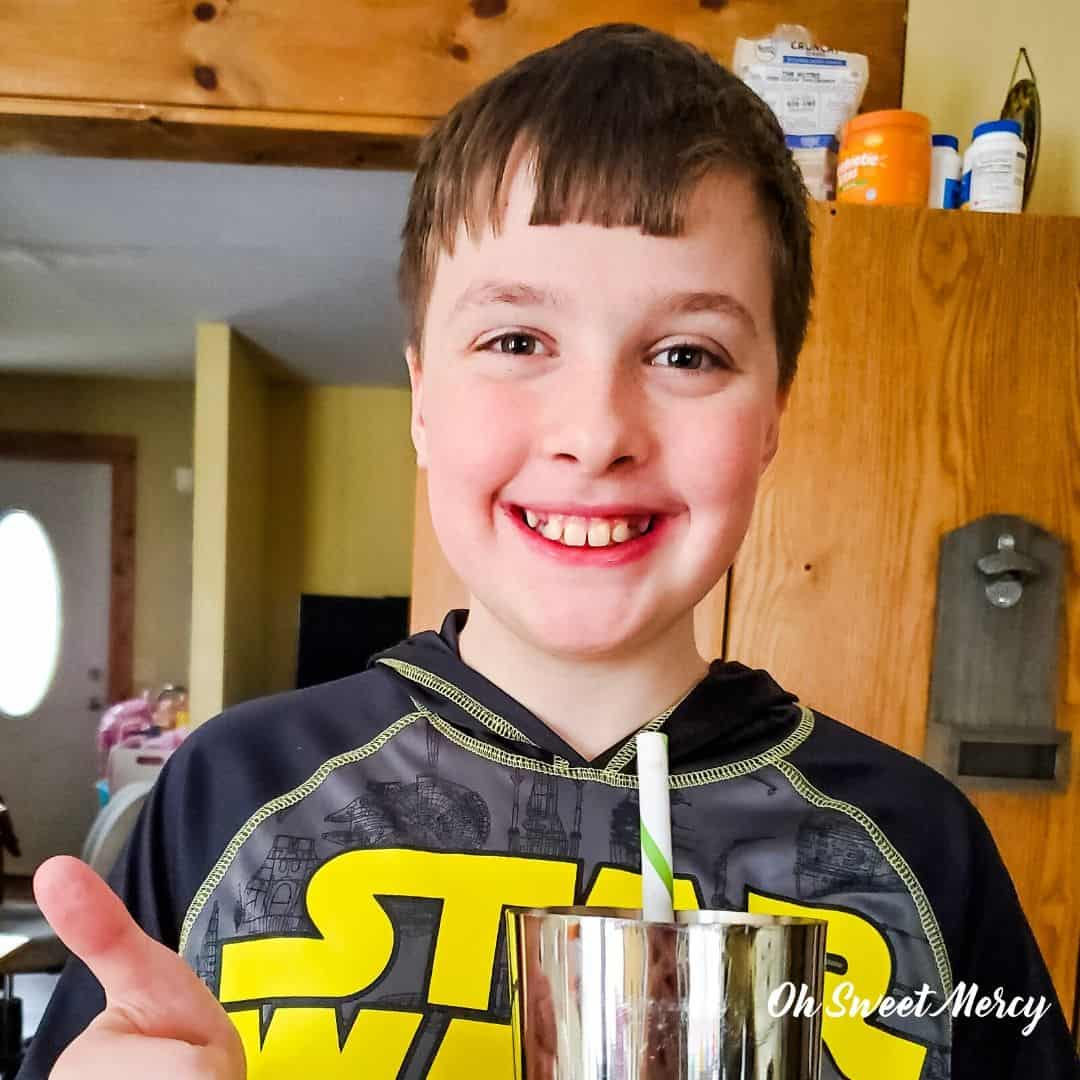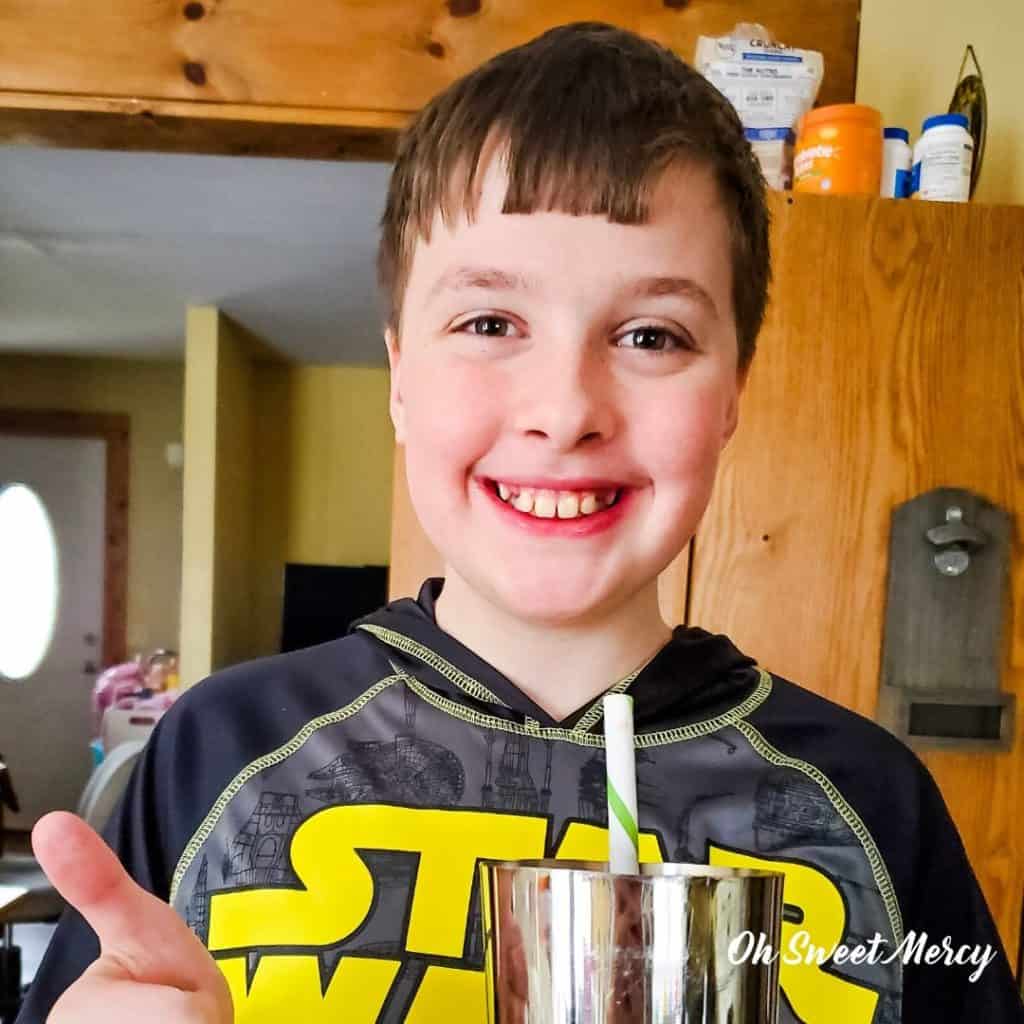 That's OK, it's good for him and I just made another. It seriously only takes maybe 5 minutes.
How To Make A Peanut Butter and Jelly Smoothie (THM Style).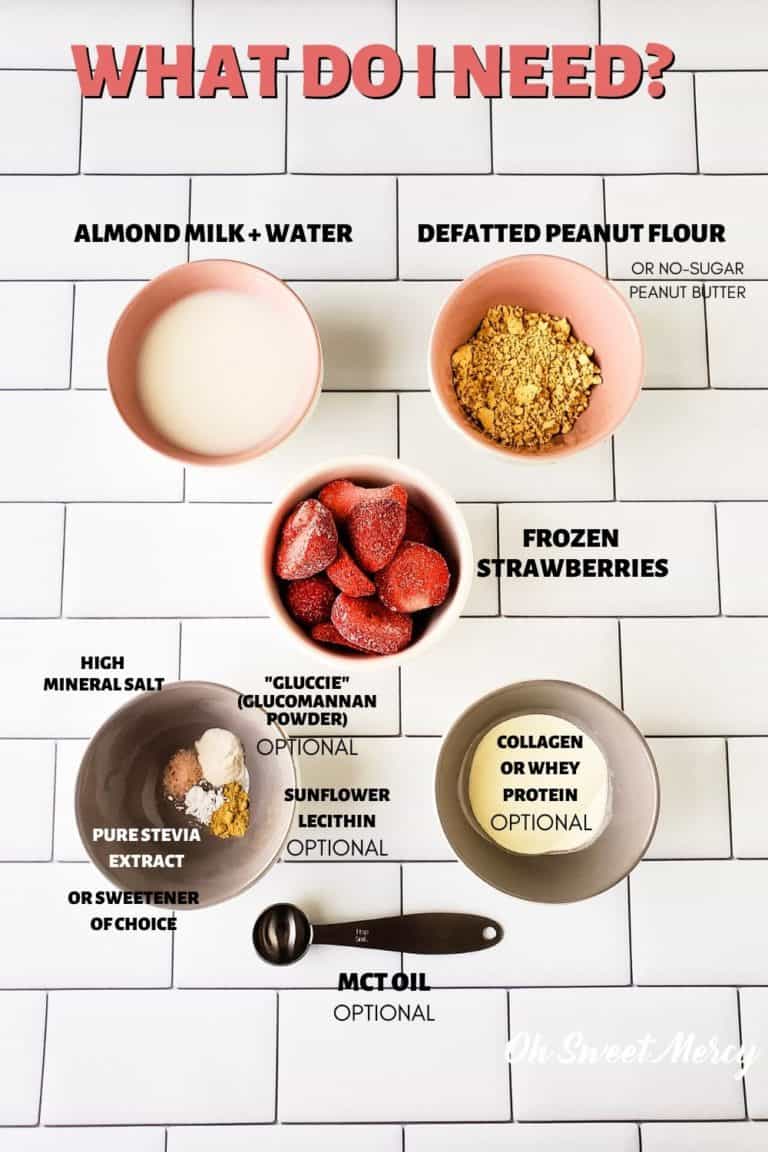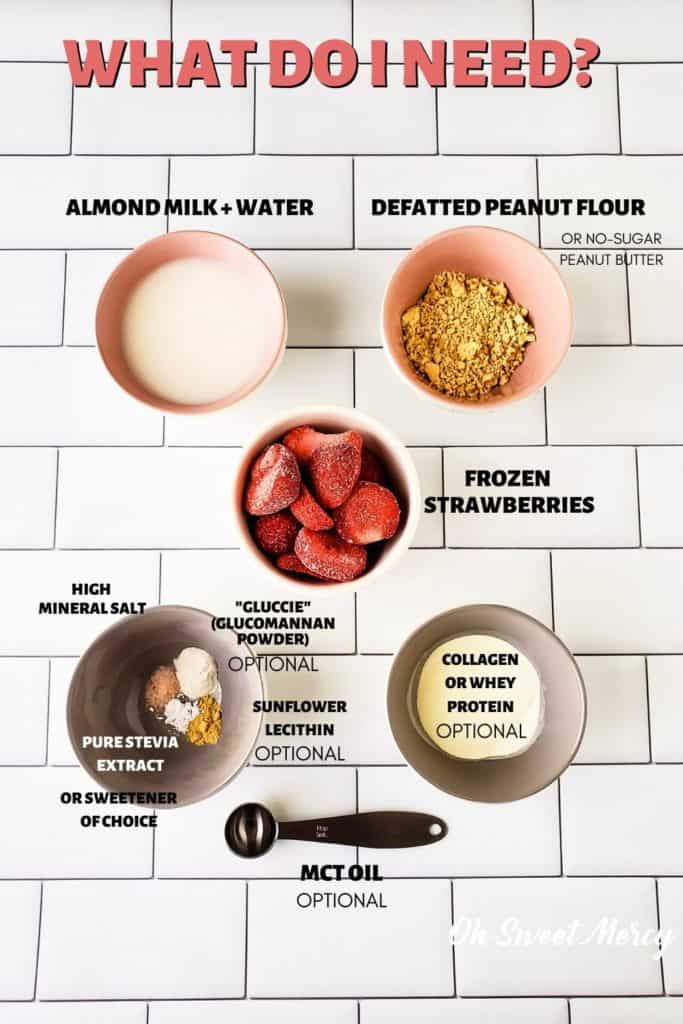 The THM plan guidelines are great for making a healthy pb and j smoothie. Here's 3 things to decide before making your smoothie:
PICK YOUR BERRY – I use strawberries but any frozen berries will work. Remember that in an S or FP setting, blueberries are limited to 1/2 cup.
PICK YOUR PEANUT BUTTER – for a low fat, low carb THM FP use THM Pressed Peanut Flour (or any peanut powder, just make sure it contains no added sugar). For an S style pbj smoothie, choose natural, no-sugar added peanut butter.
PICK YOUR PROTEIN (optional) – If you like, add an on-plan collagen or whey protein powder. I find that collagen results in a stronger berry flavor. Whey makes it more fluffy and a softer, creamier berry flavor.
Next, add all your ingredients into the blender and blend until smooth. So easy!
More Frozen Blender Beverages You'll Love
Best Ways To Include Smoothies In Your THM Meal Plan.
Smoothies are so easy! When we're busy, it's easy to rely on them for our meals instead of something that you need to chew.
But, THM is not like those diet plans that center around meal replacement shakes at all. Enjoy your smoothies! Just remember to eat an actual meal most of the time.
That said, smoothies and shakes are great for after a workout (especially if you add collagen or whey protein).
They're perfect for when you're not super hungry but need to eat something.
And, when life is all cray-cray, a smoothie is the perfect solution to staying on plan.
I recommend making this FP style more often. It's just as delicious made with peanut powder as with actual peanut butter.
If you want to make it an S while using peanut powder, just add some MCT oil or heavy cream.
However you make it, you're sure to love this take on the classic pb & j flavors of your childhood. Your kids will love it too…unless they're like Sister, of course.
PIN IT!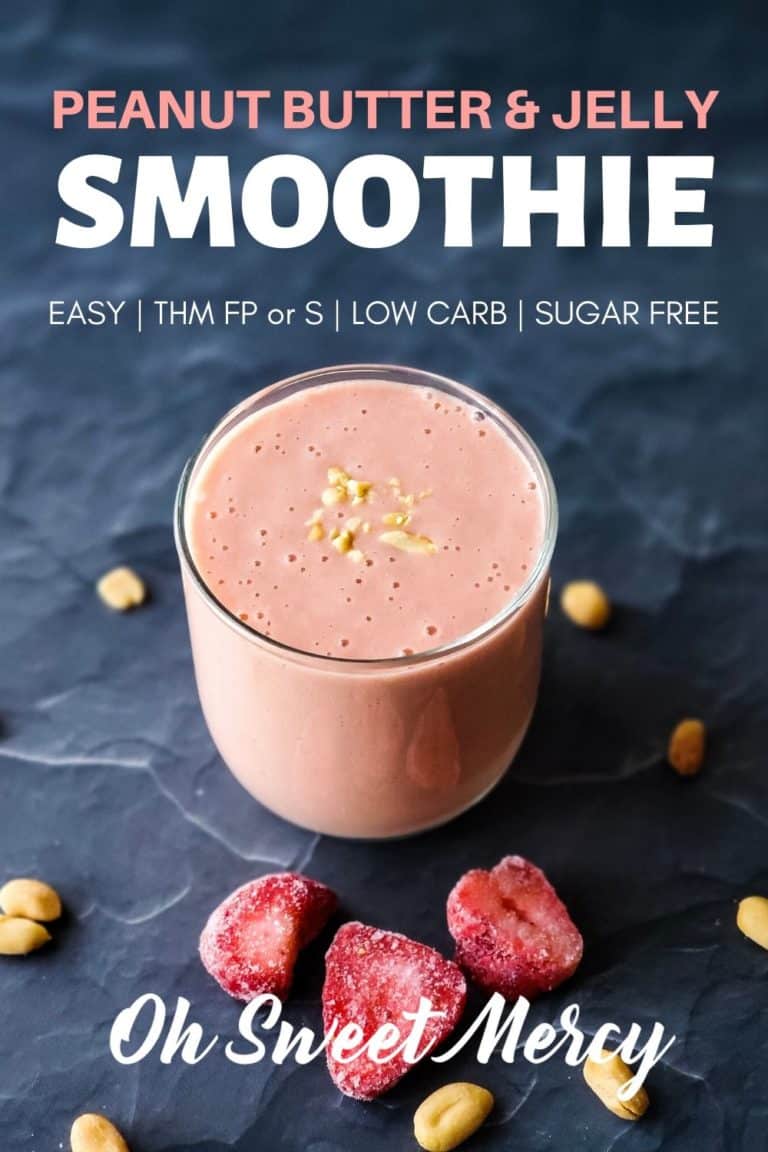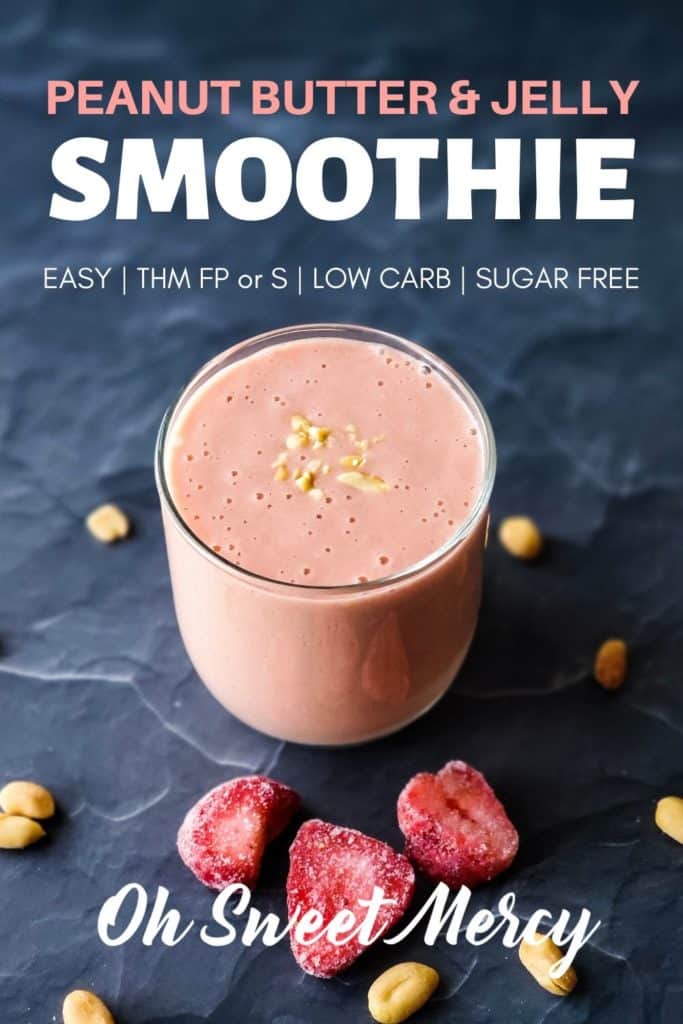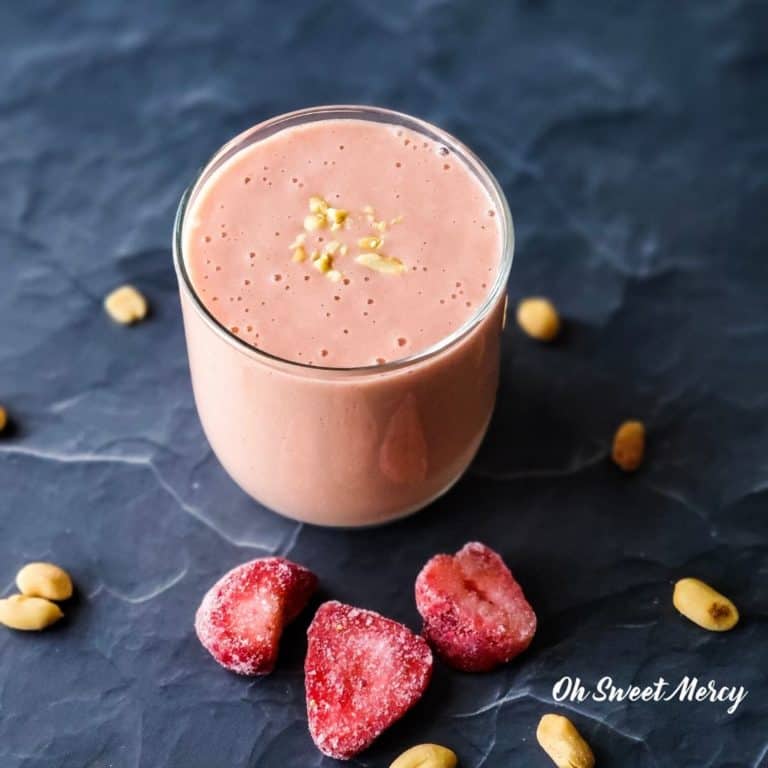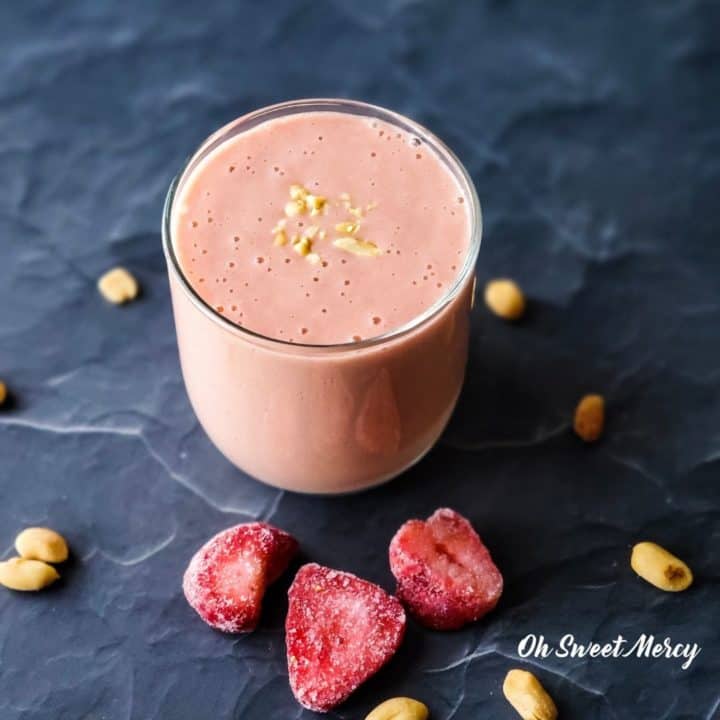 Easy Peanut Butter And Jelly Smoothie | THM FP or S
Yield: 1 serving
Prep Time: 5 minutes
Total Time: 5 minutes
The classic flavors of pb & j without the bread and carbs! Make it THM FP (low fat and low carb) or THM S (low carb). Perfect as a snack, dessert, or a meal on busy days.
Ingredients
1/2 cup almond milk
1/2 cup water
3 doonks THM Pure Stevia Extract or 2 teaspoons granulated stevia or to taste
1 cup frozen strawberries or other berries (1/2 cup blueberries)
Instructions
Put the ingredients in the blender in the order given, except for the whey protein, if using.
Blend until smooth.
If using whey, blend first then add whey and pulse to mix well.
Notes
NUTRITION NOTES
Nutrition calculated using Integral Collagen and no MCT oil. Adjust as necessary according to your ingredients.
Recommended Products
As an Amazon Associate and member of other affiliate programs, I earn from qualifying purchases.
Nutrition Information:
Yield: 1
Serving Size: 1
Amount Per Serving:
Calories: 318
Total Fat: 3g
Saturated Fat: 0g
Trans Fat: 0g
Unsaturated Fat: 2g
Cholesterol: 5mg
Sodium: 346mg
Carbohydrates: 17g
Net Carbohydrates: 11g
Fiber: 6g
Sugar: 7.2g
Sugar Alcohols: 0g
Protein: 17.3g
Nutrition information is approximate and based on the best knowledge available at the time of recipe publication. Your results may vary due to differences in ingredients. You can make your own calculations if this recipe does not include nutrition info by using an online calculator such as https://recipes.sparkpeople.com/recipe-calculator.asp