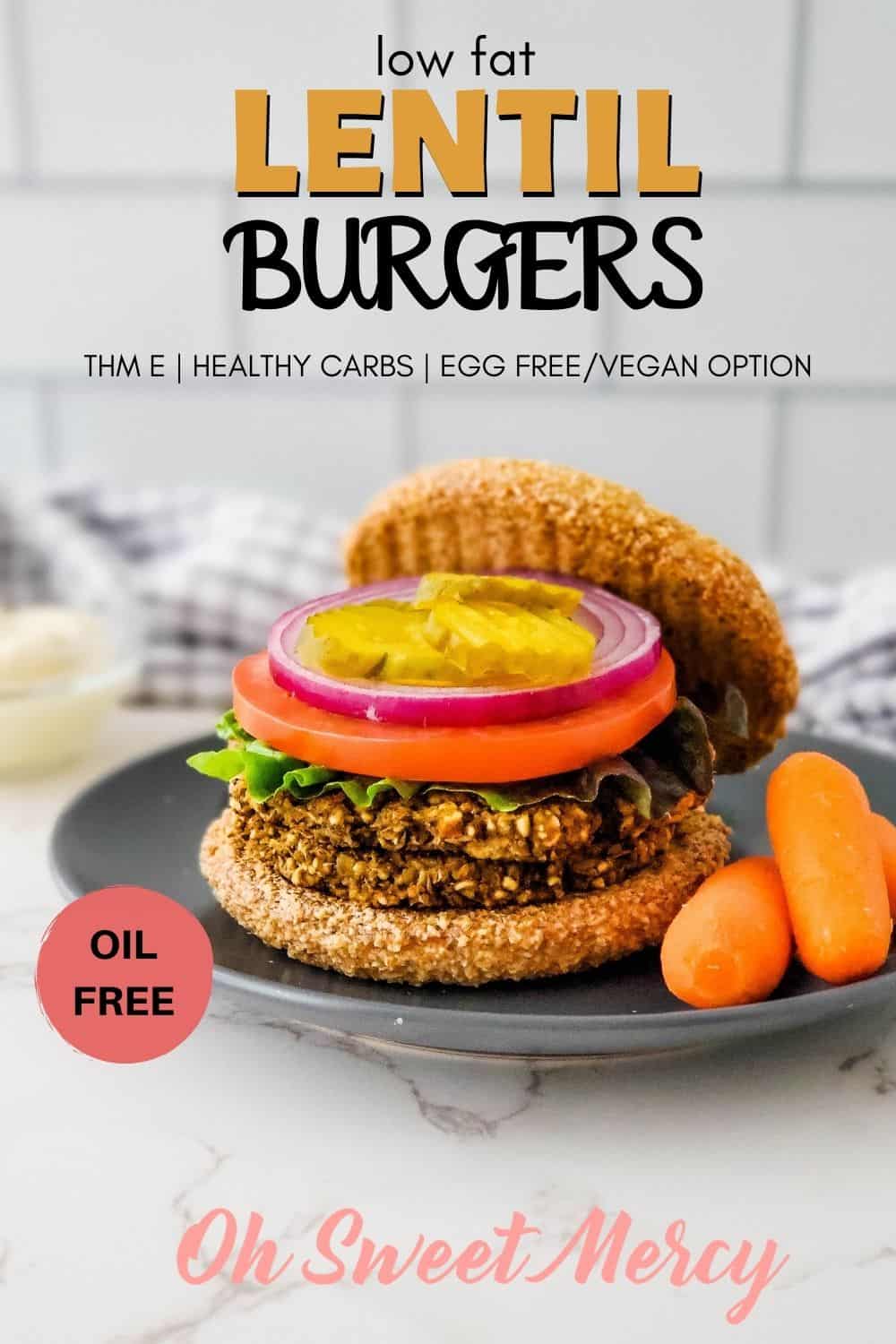 ---
Looking for more meatless meal ideas? My easy lentil burgers are fabulously delicious! Crispy on the outside, soft and creamy on the inside, and packed with hearty umami flavor – no dry, flavorless veggie burgers here! They also freeze well and are perfect for meal prep and quick meals later on. Trim Healthy Mamas, this is a healthy and satisfying low fat E recipe (with an eggless/vegan option) you're sure to love – my teenage boy devours them!
---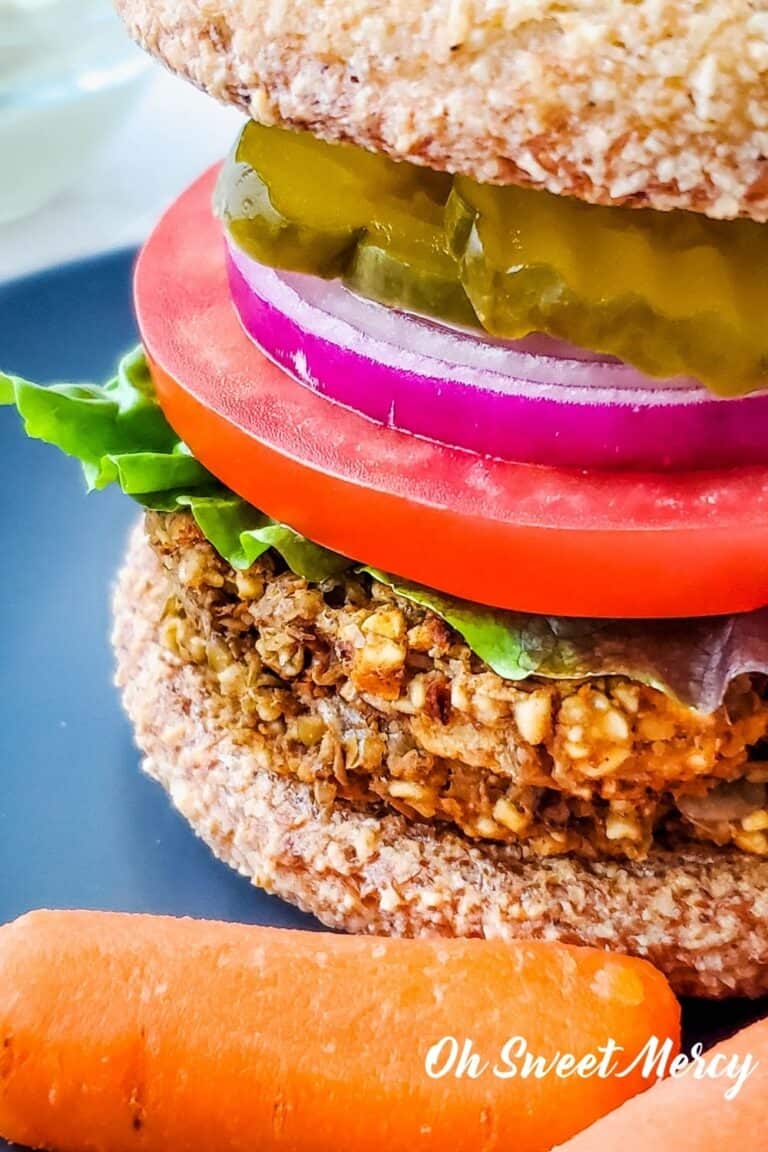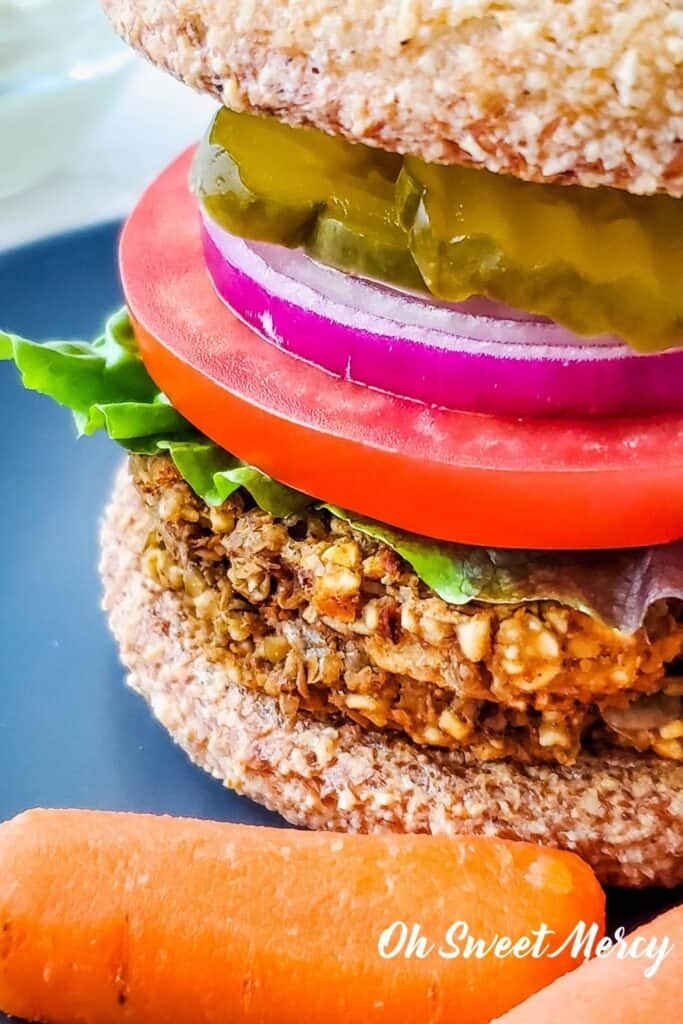 When your 13 year old carnivore son says "mom, where are the lentil burgers I want some for lunch" you know your recipe is a winner!
Even more so when non-THM and even non-vegetarians love them! I've been talking up these low fat lentil burgers for several days because I love, love, love them and I hope you love them too.
They cook up crispy on the outside but soft and creamy on the inside and have a deliciously hearty, umami flavor. Of course they don't taste just like beef (I'm not competing with the fake meat companies) but they are every bit as satisfying.
Several months ago I set out to create a THM-friendly lentil burger recipe. I've found that I just feel better when I eat less meat – especially red meat. Plus, including more plant-based meals (and recipes on the blog) is a current goal I have.
Since lentils are a healthy carb source they're considered a THM E fuel. And with THM E meals, we keep our added fat very low.
This recipe is added-fat free, the tiny amount of fat in the nutrition notes in the recipe card is naturally occurring in the ingredients and do NOT count toward the added fat allowance for a THM E meal.
Why Lentils Are One Of My Favorite Carb Sources.
The humble lentil is an unsung hero in my opinion. Lentils are cheap, easy to prepare, packed with nutrition, and one of the best sources for natural folate.
Folate is essential for healthy methylation, and if you have the MTHFR gene mutation, your body's methylation process is hindered.
This mutation makes it harder for methylation to occur which can limit your body's ability to properly convert homocysteine into methionine. Higher homocysteine levels in your body are something you do not want. They are an indication of inflammation.

Source: Get Methylating Soup recipe from THM
One of the best ways to support this important process in our bodies is with healthy foods.
That's where lentils really shine! They're a wonderful source of natural folate.
I can tell you – my body LOVES lentils. I just feel GOOD when I eat them. And this easy, delicious low fat lentil burgers recipe is just one way I consume these healthy little legumes.
Another of my favorite ways to eat lentils is this super easy and frugal Simple Seasoned Lentils recipe. It's great as a side dish or add ultra lean meat like cooked chicken or turkey breast (or ground).
I've got some ideas for more lentil recipes, too and so excited to create more yummy, healthy, THM-friendly lentil dishes for you.
What Do I Need For This Recipe?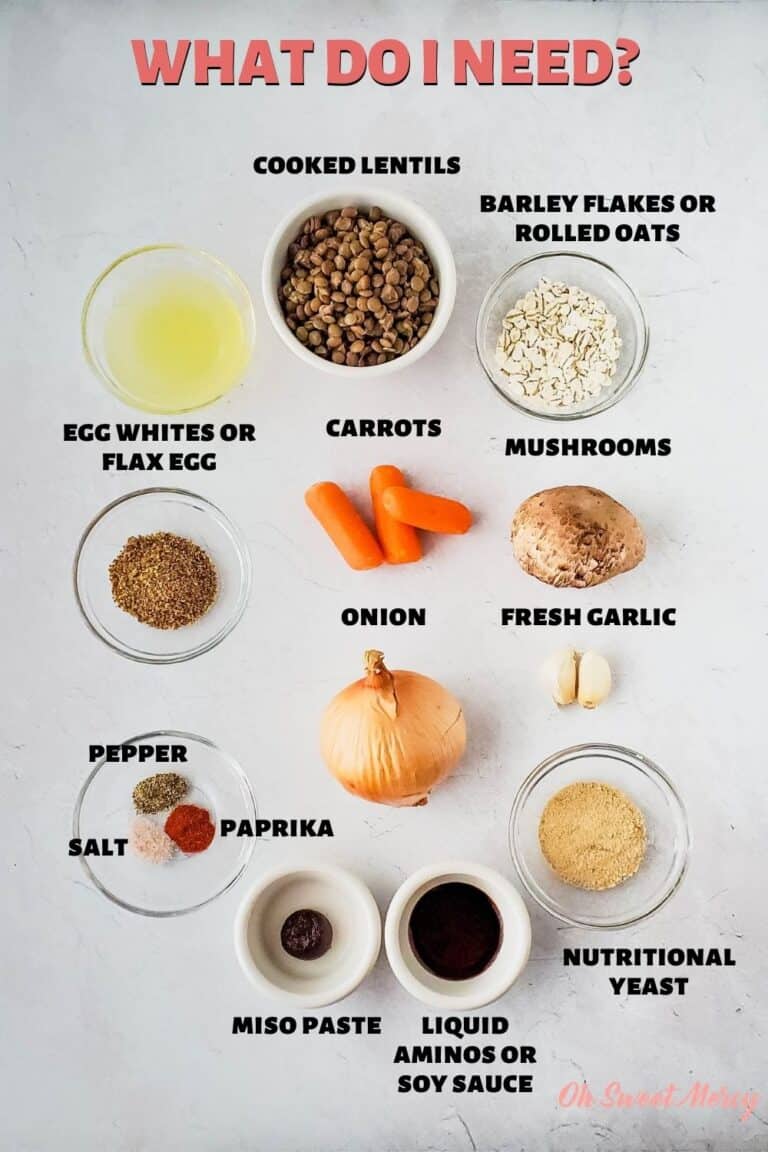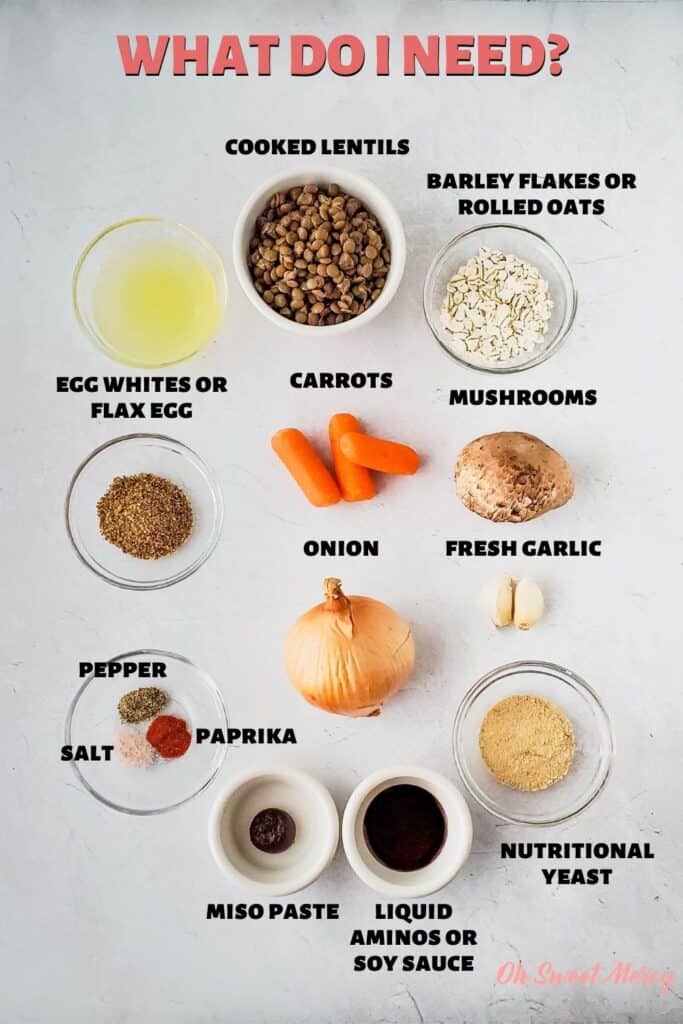 The ingredients list for these tasty low fat lentil burgers may look a bit long, but this recipe comes together pretty quickly – especially if you already have cooked lentils on hand.
You'll need:
Barley flakes or rolled oats
Cooked lentils, green or brown
Onion
Fresh garlic
Carrots
Mushrooms
Egg whites (or flax eggs)
Salt
Bragg's Liquid Aminos
Miso paste (I used medium brown miso)
Paprika
Black pepper
Nutritional yeast (unfortified is best, especially if you have the MTHFR mutation. The THM brand is unfortified and delicious!)
Combining lentils with a grain like barley or oats makes a complete protein, too!
Barely Flakes Are Best For Blood Sugar Balance.
I recently came across barley flakes at a local bulk store. Intrigued, I bought a bag and looked into how to use them.
Turns out that barley is gentler on blood sugar! That's perfect for anyone on THM, but especially those who are diabetic or pre-diabetic.
Oats work perfectly fine, though, if you can't find barley flakes.
Can I Use Soaked Barley Flakes Or Oats?
While I have not tried using wet, soaked grains in this recipe my initial thought is that it might be too wet of an ingredient. This could change the texture of the veggie burgers quite a bit.
If you want to try it I suggest possibly backing off on the egg whites. And, scale down the batch so if it doesn't turn out like you like you're not wasting ingredients!
There is, however, a fabulous method that works perfectly every time for making Presoaked Oats. This makes soaked and dehydrated oats, ready to use any time and perfect for these low fat lentil burgers. I love having these oats on hand!
Unfortunately, it did not work so well with the barley flakes.
Barley flakes are considerably harder than rolled oats so I think that's the problem. You can try using soaked and dehydrated barley flakes however, be aware that they may be difficult to process in a food processor for this recipe.
How To Use A Flax Egg In This Recipe.
I wanted to try an egg-free version for those who can't have eggs and immediately thought of a flax egg.
While I wasn't sure how well it would work, I was surprised to discover that I actually liked this version even better!
Making a flax egg is super easy! For each egg you need, mix together 1 tablespoon ground flax meal and 2.5 tablespoons of water.
Let it sit for 5 minutes, or until ready to use.
How To Make My Fabulously Delicious Low Fat Lentil Burgers.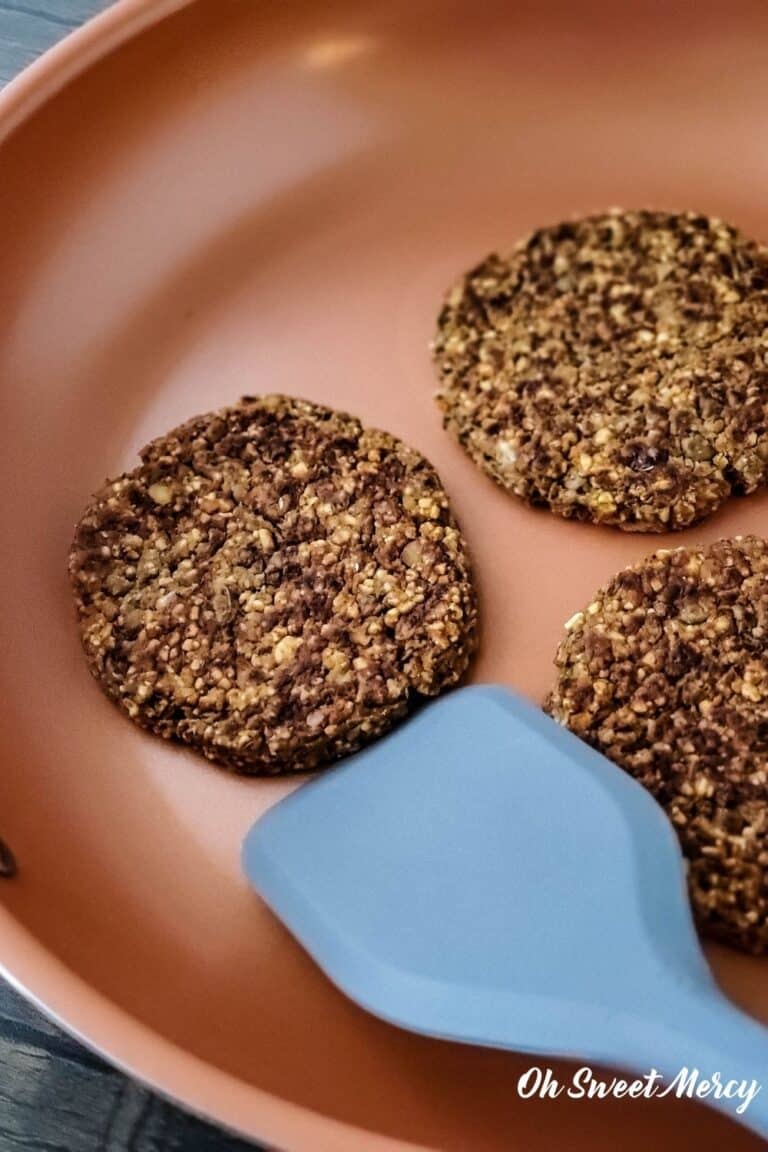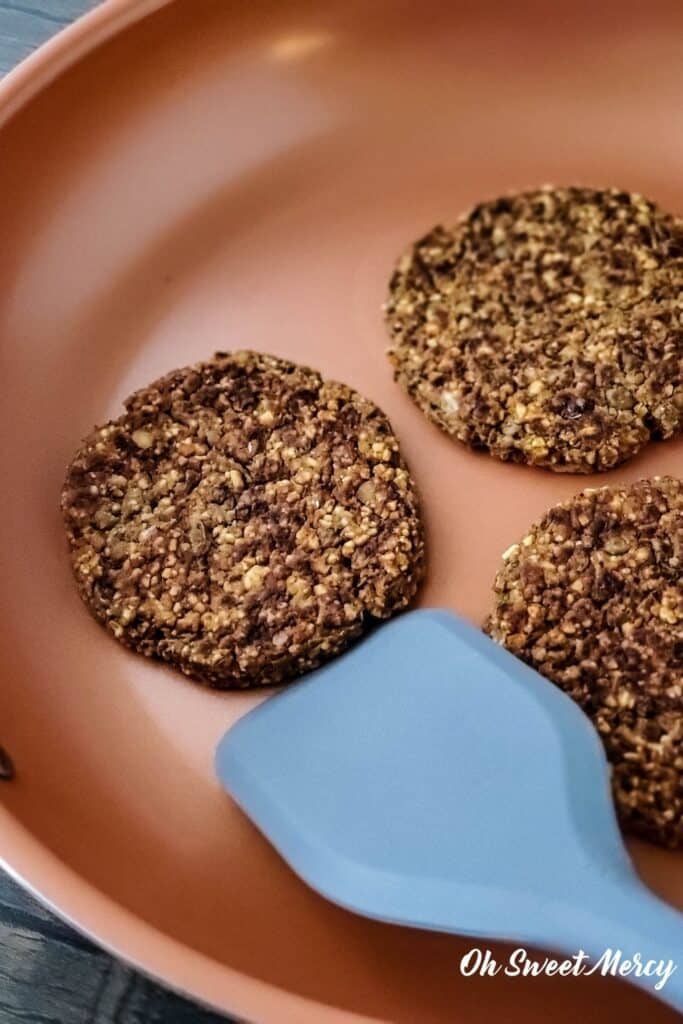 I intended to have lovely process photos in this section but the photos I thought I had are gone! Since so many of you are eagerly awaiting this recipe I'm just going to go ahead and publish it and I'll update this ASAP with photos showing the texture of the ingredients for you visual peeps. Sorry! #bloggerlife
If you're using a flax egg, get that ready first. If you're baking the lentil patties, preheat your oven to 350 degrees and prepare your baking sheets with parchment paper.
These tasty low fat lentil burgers are really pretty easy to make, especially if you have a food processor. I've had the best success processing the barley and veggies individually before combining everything together.
Since there's a big range of textures and sizes in the ingredients, processing them individually yields the best results in my opinion. You don't want to turn the mushrooms into a paste while trying to get your carrots the right size, right?
I start with the barley flakes and process them for about a minute. They won't break down into a flour in my food processor in that time, you want tiny pieces.
If using oats, be sure to not turn them into flour!
Remove that to a mixing bowl. Then, process the rest of the veggies individually, adding to the mixing bowl as you go.
I process the onion and garlic together until they're very small pieces.
The carrots I've found quicker and easier to process if they're cut into thirds first.
I prefer the mushrooms processed into very tiny pieces but you can break them down however you like.
After all the veggies are processed, add everything back into the bowl of the food processor. Add the remaining ingredients and pulse to mix together, stopping to scrape down the sides occasionally, until well mixed.
You don't want to turn this into a paste so don't go too crazy. It's fine to have some whole lentils in the mixture. You just want everything mixed together evenly.
Can I Make This Recipe Without A Food Processor?
Yes, you can! You have a few options:
If you're using a blender, just pulse carefully a few times until the veggies are broken down to small pieces.
Going the knife or knife and grater route? No problem. Just cut everything into small pieces. If you're using a grater to shred the carrots, take a knife and give the shreds a good chop into little pieces.
It sounds like a lot of work, but if you're cooking your lentils anyway you've got some time to kill! Work on this while your lentils cook.
Making The Lentil Burger Patties.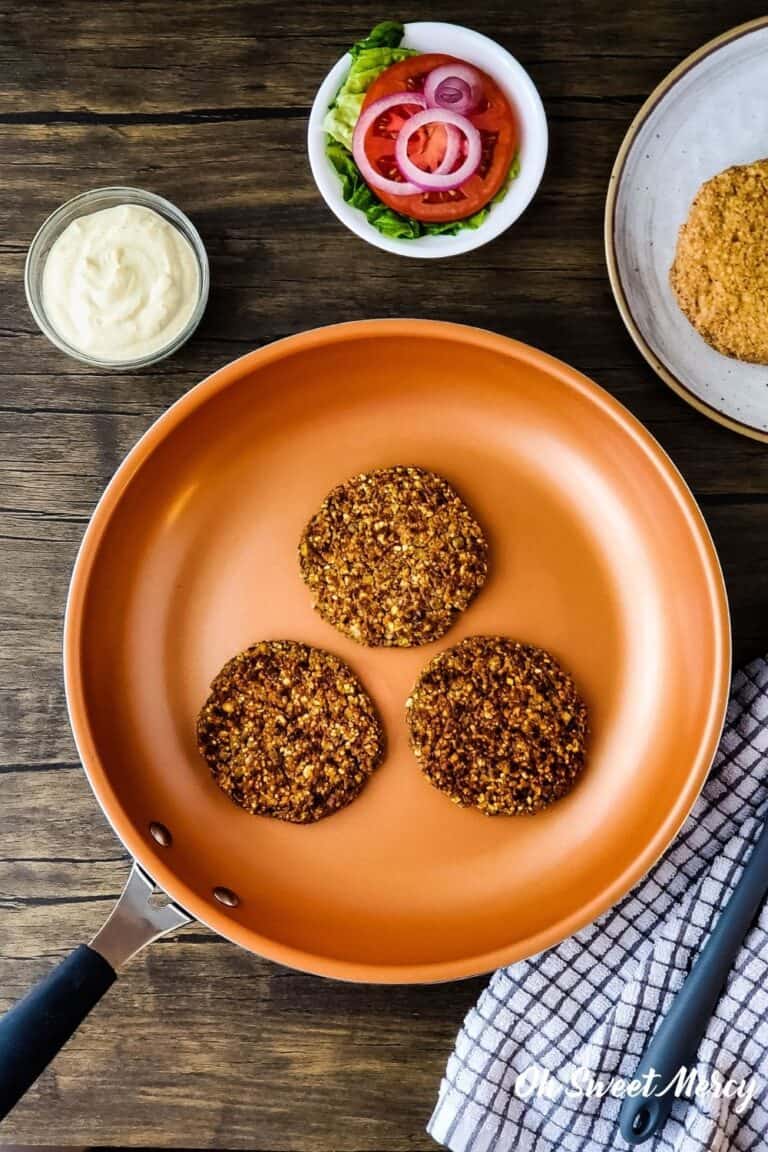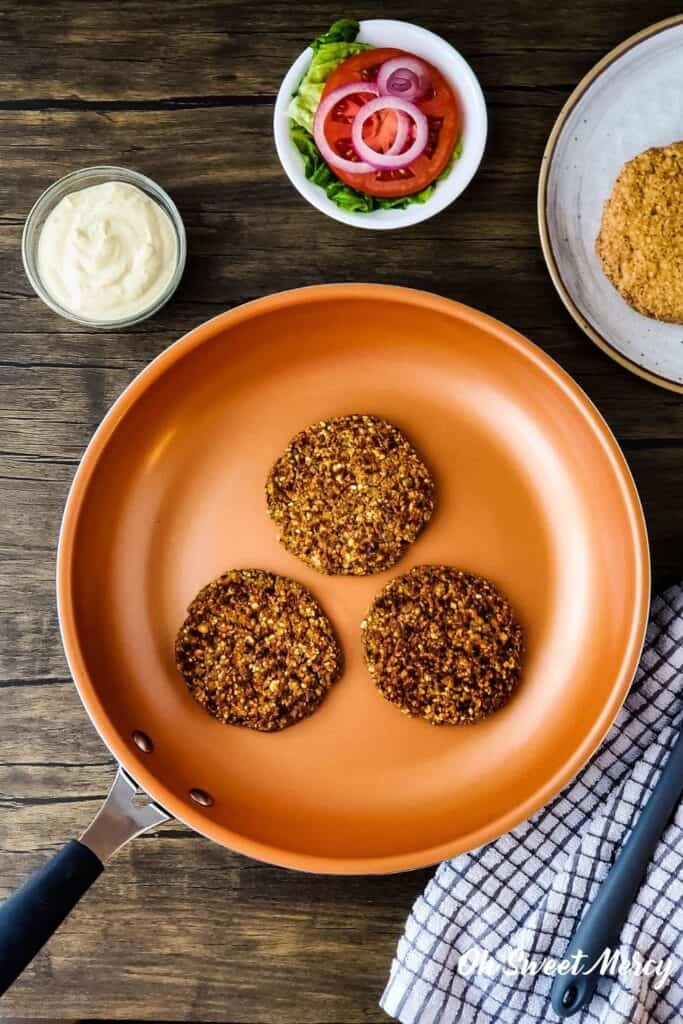 Next, pop the mixture out and either form it into a patty shape in your hand or place the mixture into your skillet and use the back of the measuring cup to press and flatten it into shape.
I use a 1/4 cup measure to scoop out the mixture and level it to get 16 burgers out of a batch. If you're heavy-handed with the measuring you won't get that many, but you can make them as thick or thin as you like.
I use a silicone spatula to neaten up the sides so it looks all nice and perfectly round. It doesn't take long but if you're not that fussy no worries!
Cooking The Lentil Burgers.
First, you'll want to preheat your skillet if you're cooking on the stove top. I use a ceramic-coated skillet. These skillets can be a little fussy, preheat to medium or just under.
If you're using a cast iron skillet, make sure it's:
Well-seasoned. (Need tips? Learn how to season cast iron cookware here)
Heated to medium high.
Very lightly coated with butter or coconut oil, or lightly sprayed with healthy cooking spray to keep them in THM E territory.
Cook for 5 to 6 minutes, then gently flip and continue cooking until the other side is lightly browned. Another 3 to 4 minutes should do it.
Baking is also a great option! You can do several patties at once and cut down on the cooking time. Preheat your oven to 350 degrees and line your baking sheets with parchment paper.
For baking, shape your lentil patties and place on the baking sheet. Pop in the oven and bake for 30 to 40 minutes, flipping halfway through. 30 minutes should be plenty but as all ovens vary, bake until they're done enough for your tastes.
Can You Freeze Lentil Burgers?
Yes! I made quite a few while recipe testing and popped them in the freezer. They reheat well with a quick minute or so in a skillet or air fryer (sorry I don't have a microwave).
I asked a wonderful lady to test this low fat lentil burgers recipe (thanks Melissa! You're the best!) and she said she used to make black bean burgers years ago and would freeze the patties first, then cook.
While I haven't tried this, I did look up freezing lentil patties and many people do that. You just form your patties and put on a baking sheet and pop in the freezer for about 3 hours or so. Then, remove and store in a zipper bag or freezer container.
I'll be making more this coming week so I can get those photos I mentioned above and will give it a try myself.
They should keep well for a couple months or longer. I had some this week that I froze November 24th last year and they were just fine.
How To Fit My Fabulous Low Fat Lentil Burgers Into Your THM Meal Plan.
Since these lovely, low fat lentil burgers are made with a THM E fuel, keep your added fat very low to comply with the THM guidelines for E meals.
You'll notice that for a 16-burger batch, each lentil burger has less than 8 grams of carbs. This does not mean it's a Fuel Pull! It's still an E fuel.
Using 1/4 cup mixture to make your burgers makes it easy to have a pulled-back E meal or eat a pretty large meal without going nuts on the carbs. They'll be on the thinner/smaller side.
TIP: If you want thicker or bigger burgers, use 1/2 cup. You'll get 8 burgers out of the batch instead of 16.
You'll likely find 4 lentil burgers (made with 1/4 cup mixture each) is plenty filling and comes in close to 32 grams of carbs. I wouldn't add bread in this situation myself.
Also, if you choose to use a sprouted bread roll for a burger bun, 1 or 2 lentil patties won't push you over the limit of carbs for E meals. Any THM-friendly E sandwich bread works as well.
I generally eat these with lettuce "buns" or over a pile of chopped lettuce or greens as I don't do well with a lot of grains. I've gotten used to eating burgers over the years without buns anyway so it's not a big deal for me.
What Kind Of THM-Friendly Condiments Are Good On A Lentil Burger?
Since this is a THM E food, you want condiments that are low in added fat. My favorite thing to top it with right now is a "dijon mayo" I whipped up.
Fat free Skyr or Greek yogurt
Dijon mustard
1/2 teaspoon mayo (for single serving, optional)
A dusting of pure stevia extract (or sweetener of choice to taste, optional)
Sprinkle of salt
It's creamy, flavorful, and tastes wonderful with the lettuce, tomato, red onion, and pickles I usually add.
Any low fat, on-plan condiment that sounds good to you should work just fine! Here's some options:
Always, always, always remember to include plenty of non-starchies with your meals as often as you can! Fresh veggies and a low-fat dip (crunchy is great if you like to eat chips with your burgers) or warm veggies like cooked green beans or steamed broccoli are great options.
A side salad also works, just make sure to keep your fat grams in the THM E range when choosing a dressing. A spritz of olive oil and fresh lemon juice is simple, refreshing, and delicious.
Whew, that is a LOT of information, isn't it? If you know me at all you know that's how I roll. I hope I've laid out this post in a way you can easily find what you're looking for.
If not, I'm always happy to answer questions! Leave a comment below – your questions always help other readers – or use the Contact Me form to send me an email.
Have you ever had lentil burgers? I'd love to hear what you think of my recipe, I love them so and hope you do too!
PIN IT!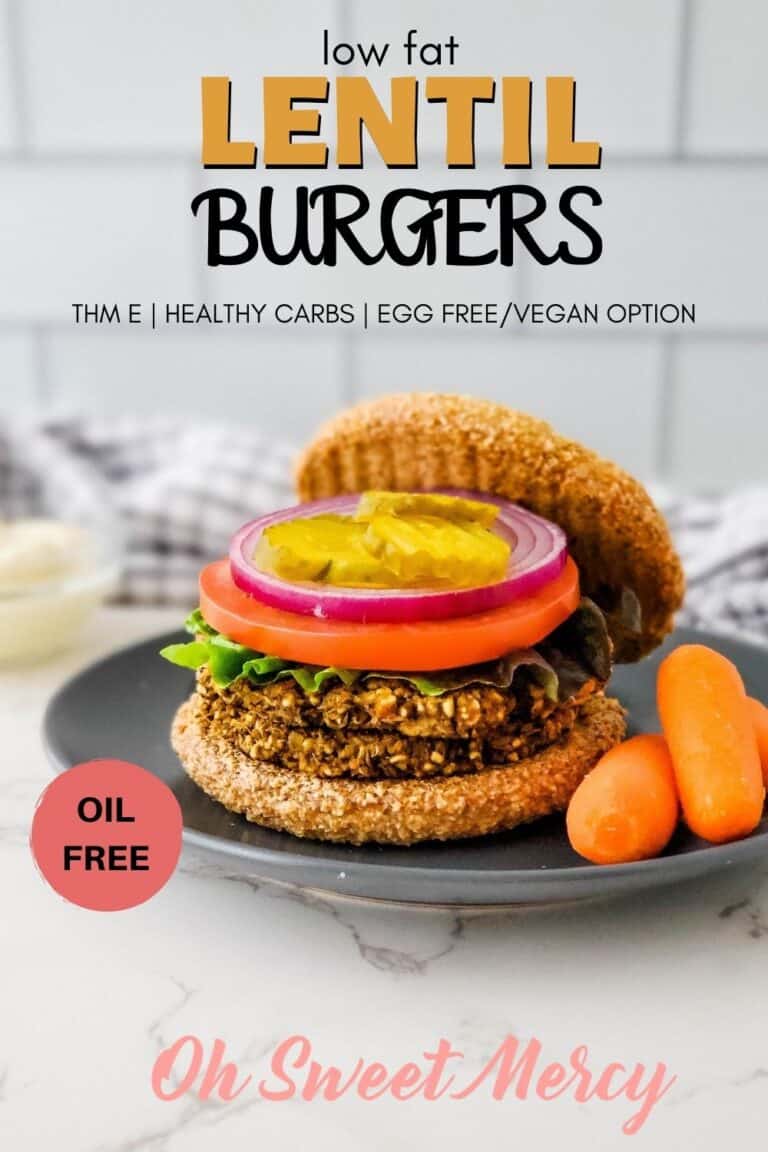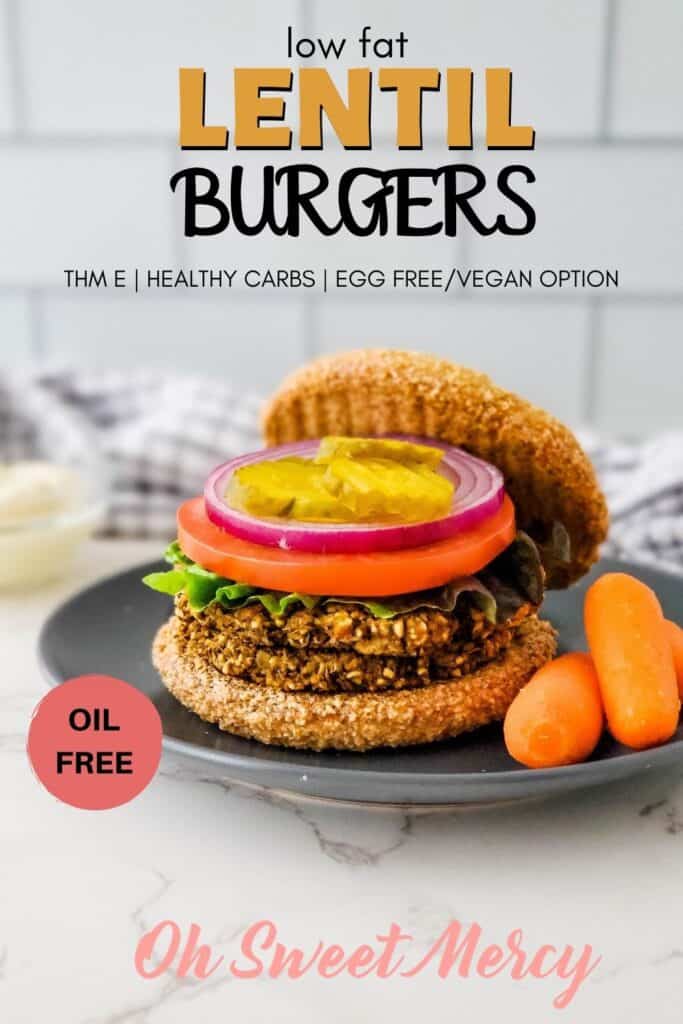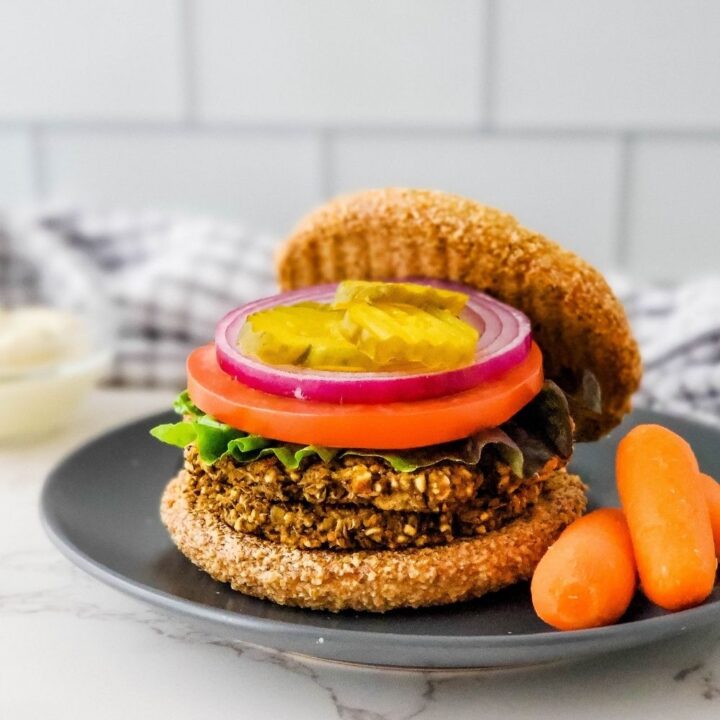 Low Fat Lentil Burgers | THM E, Vegan Option
Yield: 8 to 16
Prep Time: 20 minutes
Cook Time: 40 minutes
Total Time: 1 hour
Crispy on the outside and soft and creamy on the inside, these flavor-packed lentil burgers are a delicious, low fat, THM E meatless meal option. Make them thin or thick, pan cook or bake. They're great for meal prep to make quick, healthy meals happen! Even carnivores will love them. No oil plus a vegan option.
Ingredients
1 small onion
2 cloves garlic (or to taste)
1 c shredded carrots (about 10 - 12 baby carrots
4 good sized fresh mushrooms, I like baby bellas
6 tablespoons egg whites (OR 2 tablespoons ground flax plus 5 tablespoons water for egg-free/vegan version)
2 cups cooked, cooled green or brown lentils (1 cup dry, you'll have a little more than 2 cups cooked)
1 teaspoon miso paste (I used medium brown)
1 teaspoon paprika
1/2 teaspoon black pepper
Instructions
If using a flax egg, combine 2 tablespoons ground flax meal and 5 tablespoons of water in a small bowl and set aside.If baking, preheat oven to 350 and line baking sheets with parchment paper.
If using a flax egg, combine 2 tablespoons ground flax meal and 5 tablespoons of water in a small bowl and set aside.
In a food processor, process barley or oat flakes to small pieces. Barley flakes will take longer running on high. Oats break down much quicker, be careful not to create flour! Pulse several times instead. (See notes for no food processor options)
Remove to a mixing bowl.
Repeat with remaining veggies, processing individually into small pieces then removing to mixing bowl before moving on to next veggie.
After all veggies are processed, add everything back into the food processor along with the lentils, egg whites (or prepared flax egg), and seasonings.
Pulse several times to mix well, scraping down the sides if needed. You don't want to make a paste so don't go overboard.
When well-mixed, form into patties (I use a level 1/4 cup for 16 patties) and cook in a preheated ceramic nonstick skillet (heat to medium or just under for best results) or very lightly oiled cast iron skillet heated over medium-high, in batches of 4 if possible.
Cook for 5 or 6 minutes (a few minutes longer for thicker patties) until lightly browned, then carefully flip and cook 3 or 4 minutes or until lightly browned on the bottom
FOR BAKING: bake at 350 for 30 to 40 minutes, flipping halfway through baking time.
Notes
No Food Processor
Use a blender - either regular or bullet type - to individually process the barley or oats and veggies carefully until they're in small pieces.
Mix everything together in a mixing bowl until well combined, mashing some of the lentils as you stir.
OR just use a knife and/or box grater to chop everything into small pieces.
Recommended Products
As an Amazon Associate and member of other affiliate programs, I earn from qualifying purchases.
Nutrition Information:
Yield: 16
Serving Size: 1, 1/4 cup patty
Amount Per Serving:
Calories: 66
Total Fat: 0.3g
Saturated Fat: 0g
Trans Fat: 0g
Unsaturated Fat: 0.1g
Cholesterol: 0mg
Sodium: 73mg
Carbohydrates: 12g
Net Carbohydrates: 9g
Fiber: 3g
Sugar: 1g
Protein: 4.5g
Nutrition information is approximate and based on the best knowledge available at the time of recipe publication. Your results may vary due to differences in ingredients. You can make your own calculations if this recipe does not include nutrition info by using an online calculator such as https://recipes.sparkpeople.com/recipe-calculator.asp