---
Say hello to your new favorite fall (and holiday) dessert, Trim Healthy Mamas! My No Bake Pumpkin Pie with Gingersnap Crust pairs light, airy, creamy, fall-spiced pumpkin filling with the warming spice of a buttery gingersnap-flavored crust. All without sugar or gluten (or baking)! Perfect for taking to family dinners, holiday parties, and potlucks to avoid the temptation of sugar-laden, off-plan desserts.
---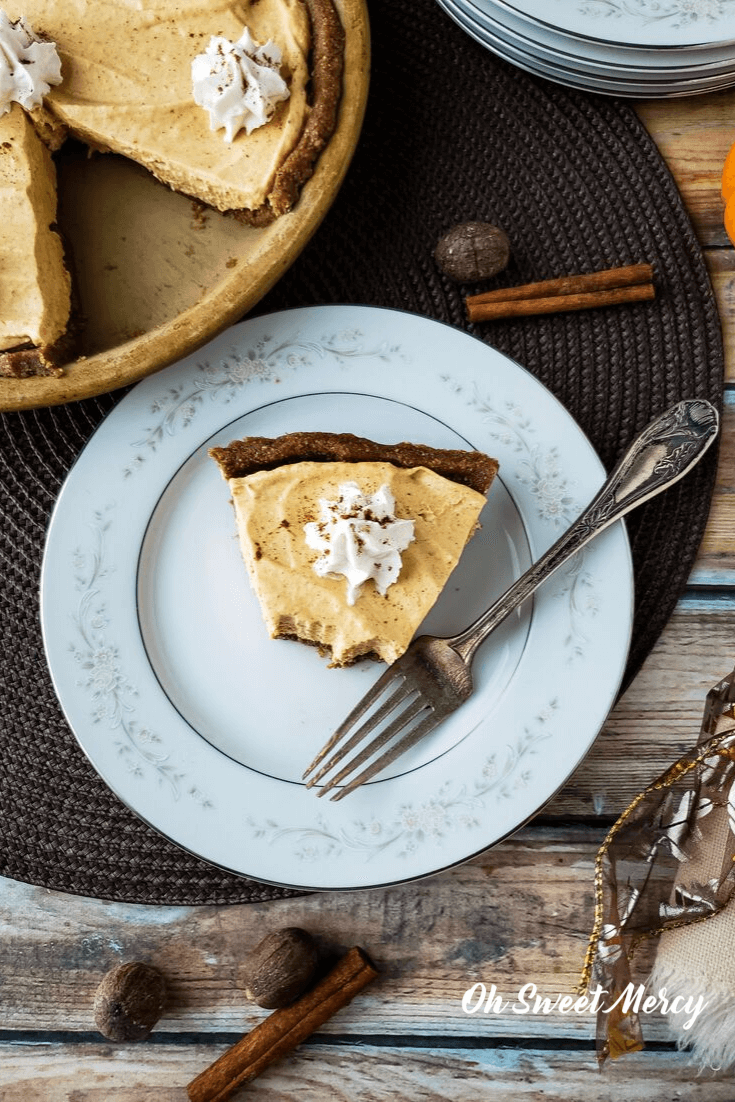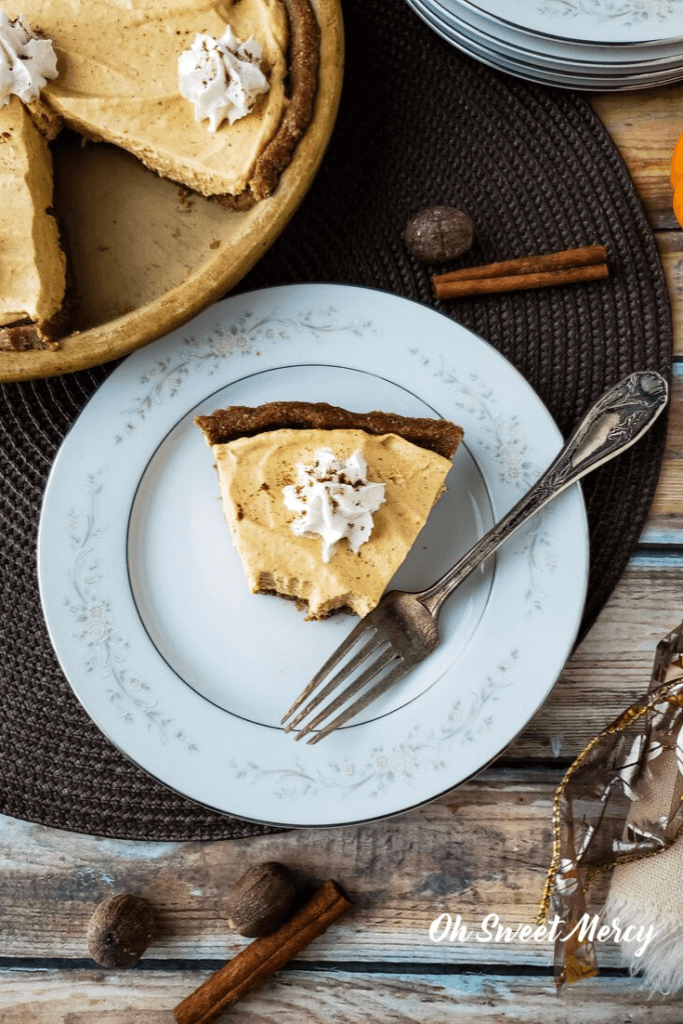 I am so excited to share this recipe with you! The initial testing of it didn't go quite right at first but then I nailed it.
And not in a Pinterest fail sort of way.
You see, I was trying to not include gelatin in this no bake pumpkin pie recipe to keep it super simple. Not everyone has gelatin on hand all the time. In addition, it's another step in the making of this low carb pumpkin pie.
I also wanted to try to lower the Heavy S aspect of it – Trim Healthy Mamas, that's those S meals with lots of cream cheese, heavy cream, nuts, etc. We're not afraid of those yummy ingredients however, we still want to be reasonable.
While I did use some whipped heavy cream I also tried adding 0% Greek yogurt. It was tasty, but just wasn't quite right.
For one, when you served a slice of it, the filling was all schloopy. That's a made-up word for loose and spilling all over your plate.
That is so not what we want in a no bake pumpkin pie! Each slice needs to hold its shape. It needs to feel more like pumpkin pie and less like pumpkin pie flavored yogurt.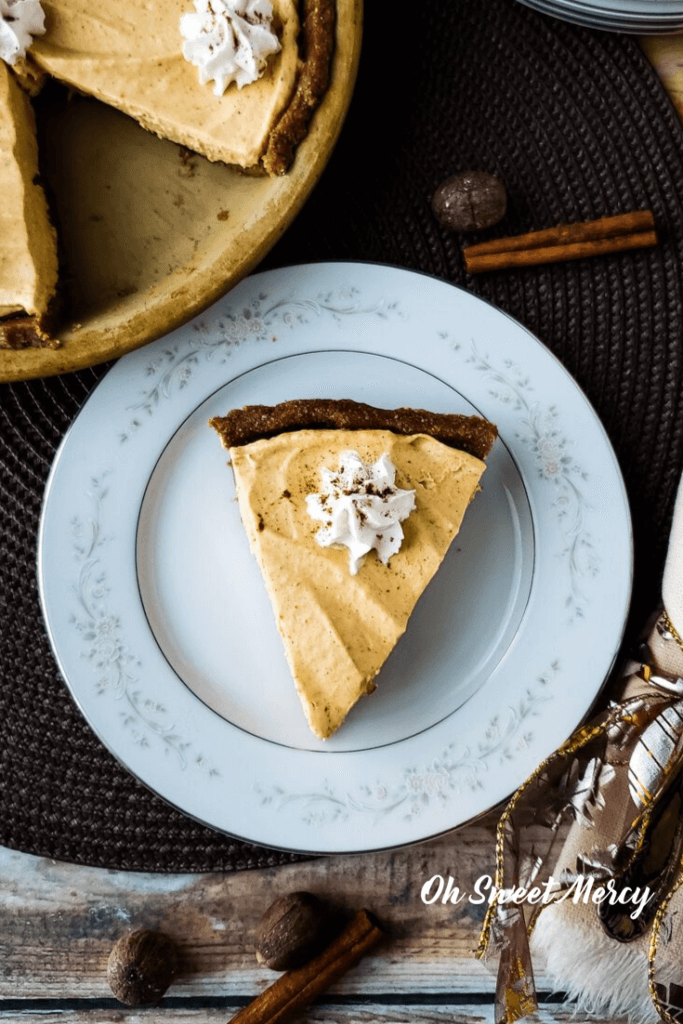 It also needs to taste more like pie and less like yogurt! While this version was delicious, it was too yogurty. So, back to the drawing board.
How To Make The Perfect No Bake Pumpkin Pie – Low Carb Style.
For one, the filling has to be creamy, pumpkiny, and full of all the pumpkin spice flavor. It needs to hold up well when sliced, too, including the crust.
We also need a healthy sugar alternative! Using an erythritol and stevia sweetening blend, such as THM Super Sweet Blend is perfect. Mister said it didn't even taste sugar free!
Feel free to substitute appropriately with your favorite on-plan sweetener if you don't have THM Super Sweet Blend.
Are you ready? Let's start with the crust…
1-2-3 Pie Crust.
Many regular no bake pie crusts are made with graham crackers. In the case of a gingersnap crust, gingersnap cookies are used.
However, gingersnaps and graham crackers are not on-plan for THM. They're made with sugar and wheat flour, and gluten-free versions use high-glycemic flours such as rice flour, tapioca starch, or potato starch.
My gingersnap-style crust is simply made with almond flour, butter, sweetener, and my easy gingerbread spice mix. It has the warming, molasses-y flavor of gingersnaps and pairs perfectly with the creamy pumpkin pie filling.
That's right, no actual gingersnaps were harmed in the making of this pie! If you have low carb gingersnaps that are on-plan for THM you could use them, I'm sure.
Simply mix the dry ingredients together…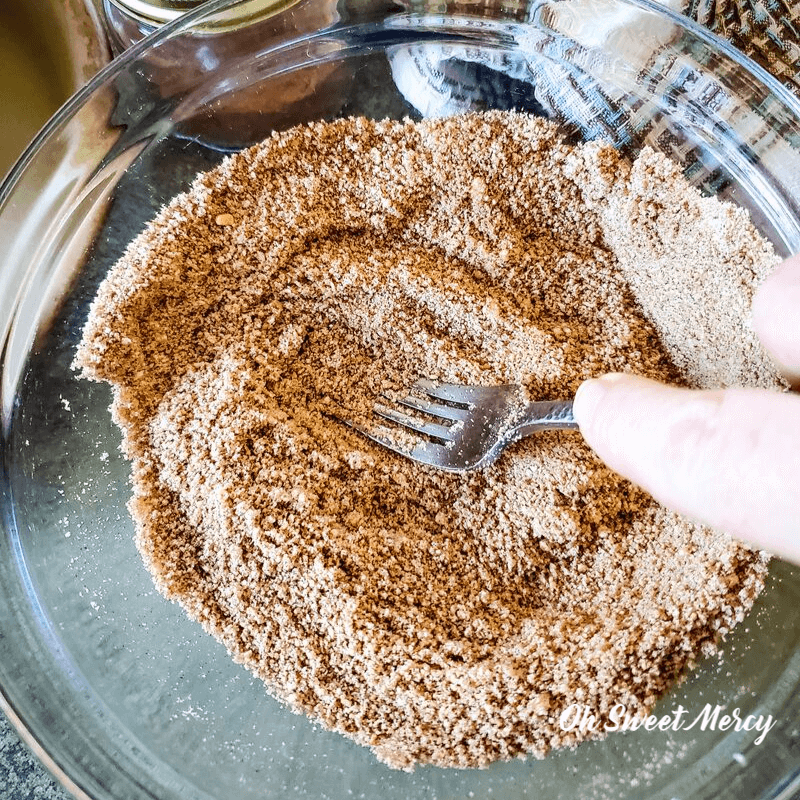 Add melted butter and molasses…just a small amount of molasses is used to keep this within plan guidelines.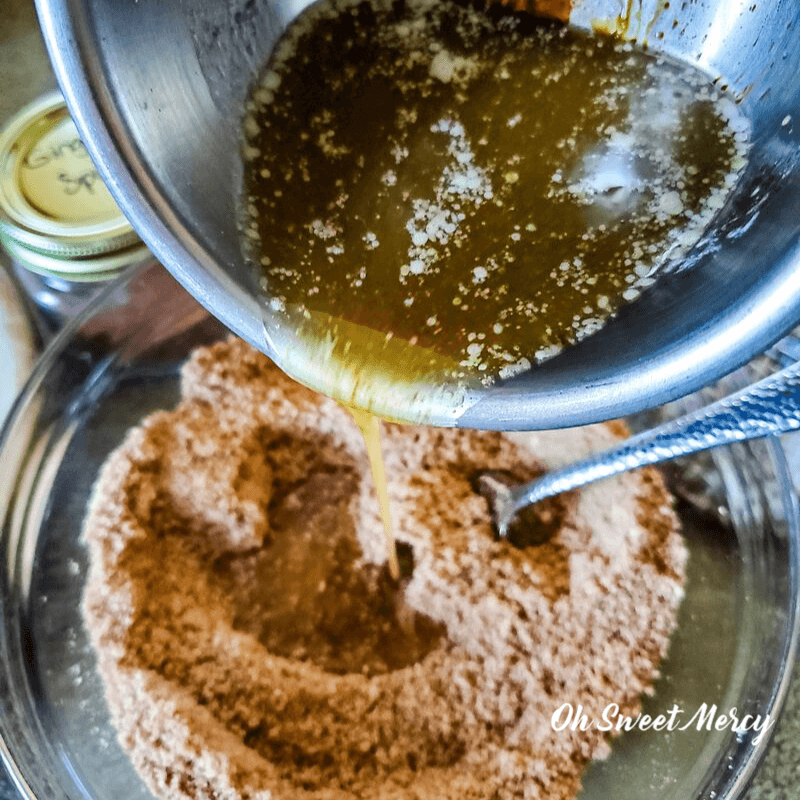 Then press into your standard pie plate and pop into the fridge or freezer while you make the filling. I used a 10″ stoneware pie plate from Pampered Chef.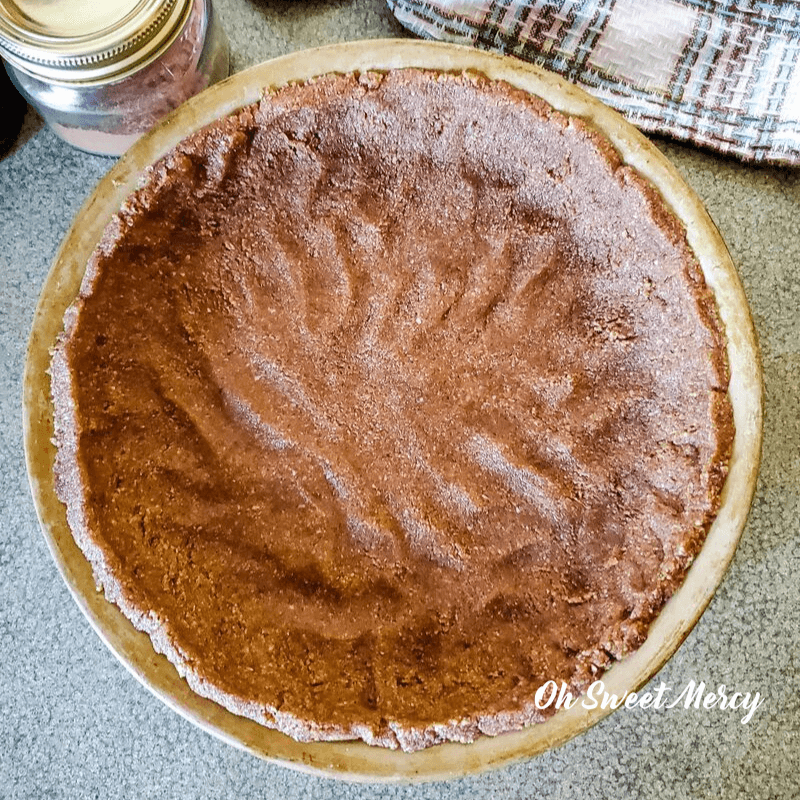 Making The Best No Bake Pie Filling.
Now, time for that creamy, pumpkin-spicey pie filling. There's just a few steps to this process and they're easy!
Bloom The Gelatin.
To achieve all the flavors and textures to make the best no bake pumpkin pie (while still trying to keep the Heavy S ingredients to a minimum) gelatin is the perfect ingredient.
This extra step really doesn't take long and isn't complicated at all. The first thing you want to do is bloom the gelatin in a bit of almond milk in a small saucepan. Get this started then get out your other ingredients.
It may look odd at first and like it's not going to work. In fact, it may look alarming.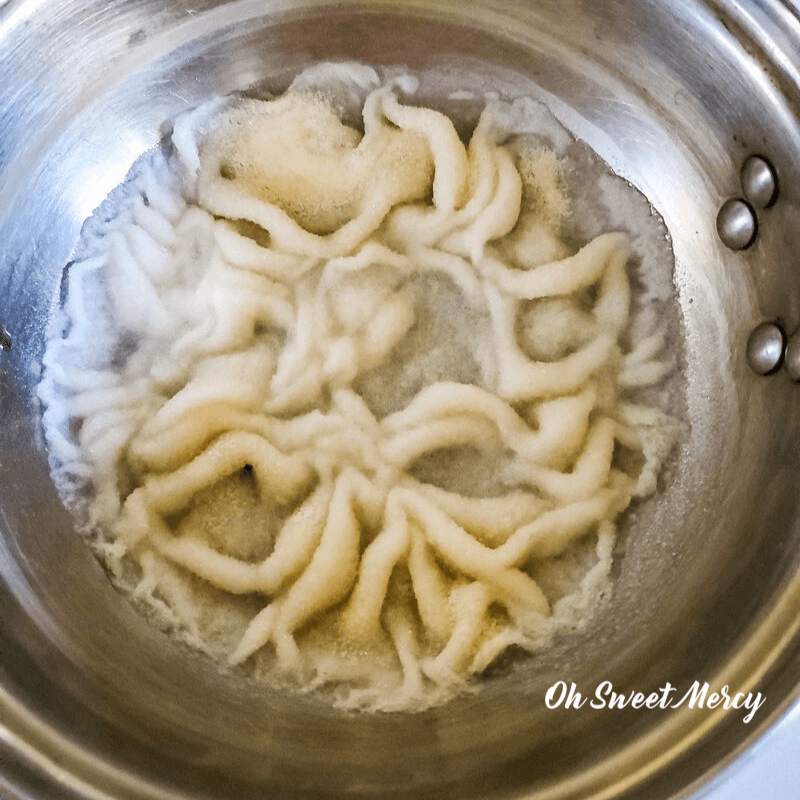 But don't worry, there's an easy way to dissolve the gelatin into a nice, creamy mixture. We'll get to that in a minute…
Mix The Pumpkin Pie Filling Base Together.
Beat the yogurt, cream cheese, sweetener, and vanilla until well mixed.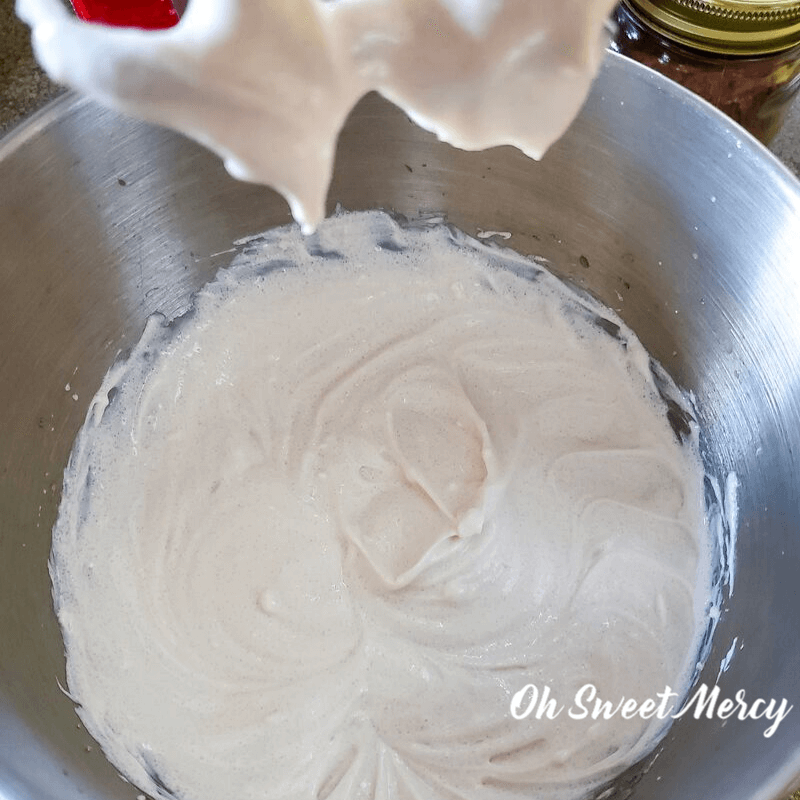 Add the pumpkin and spices and beat to mix well. My homemade pumpkin pie spice blend gives it the pumpkin pie flavor you crave this time of year.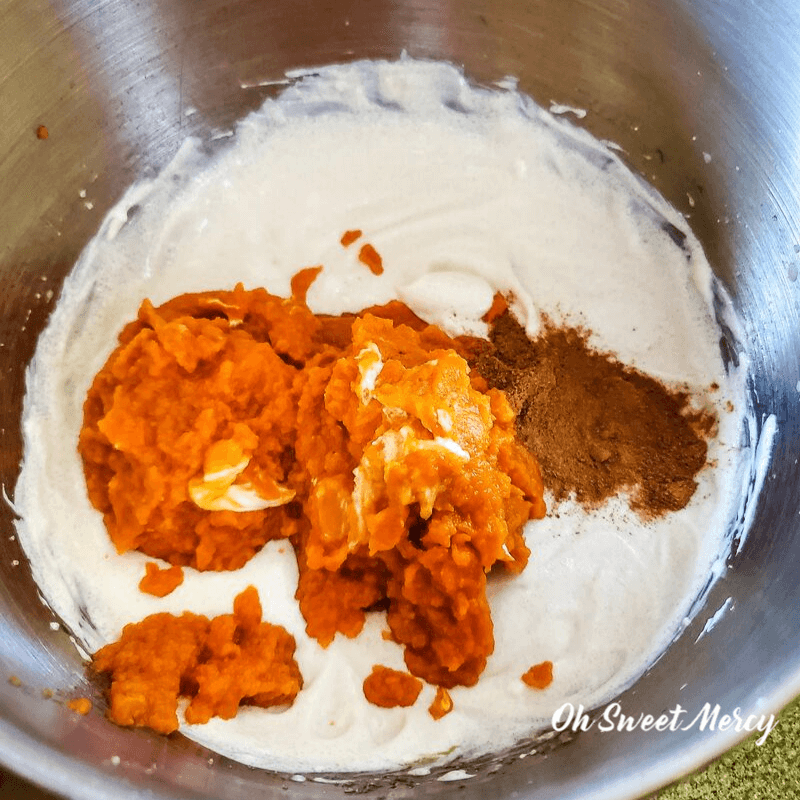 Next, whip the heavy cream.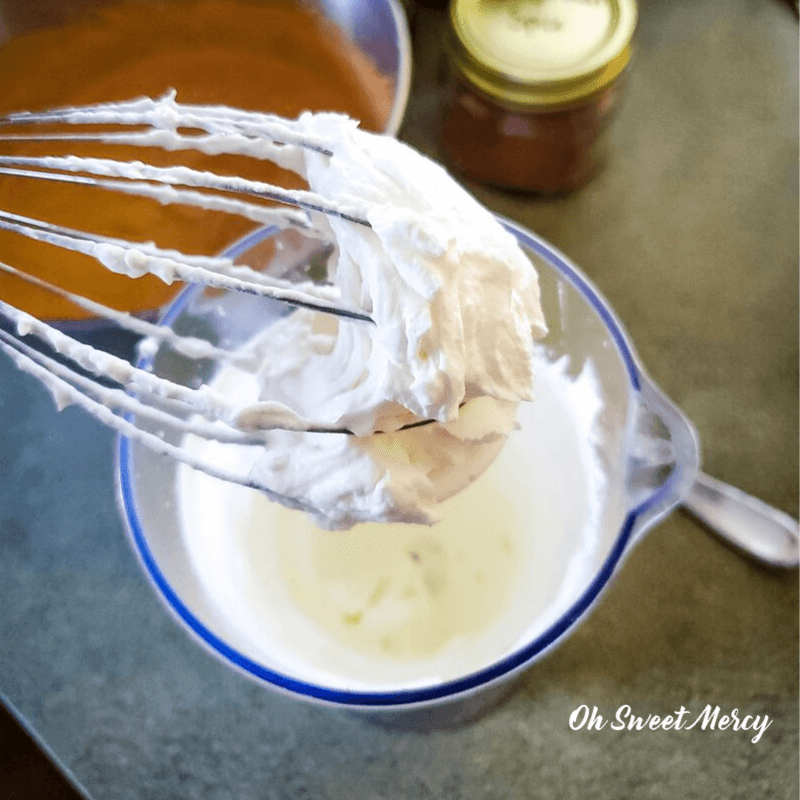 How To Dissolve The Gelatin And Add To The Filling.
Back to our weird-looking, bloomed gelatin. Whisking it makes it look impossibly clumpy but a little heat is all we need to smooth things out.
Just gently warm it, over medium heat, while whisking until it's smooth and creamy. This literally takes less than a minute.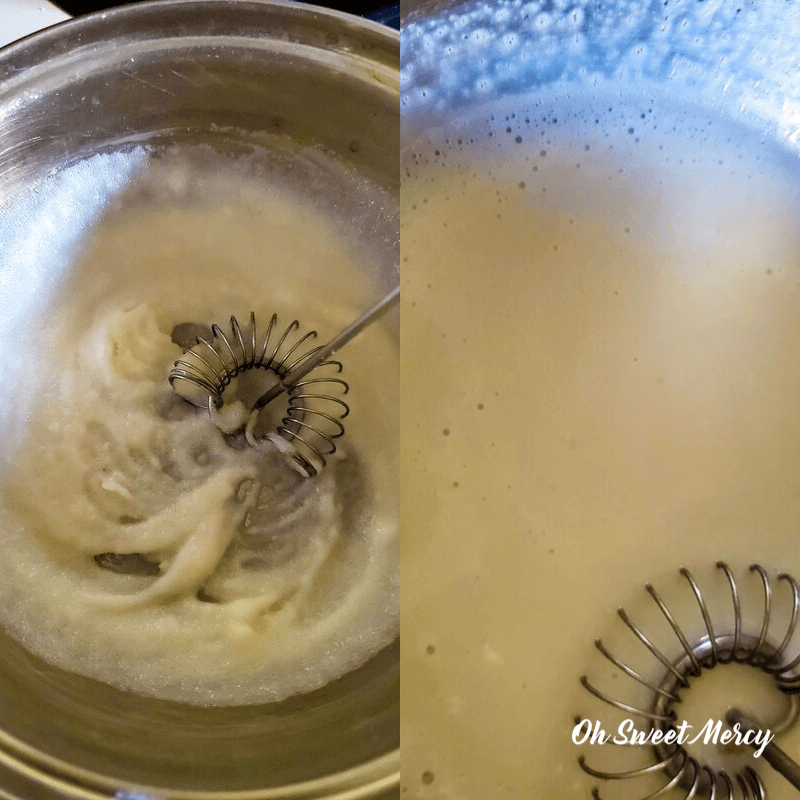 Add the gelatin to your pie filling mixture and mix well.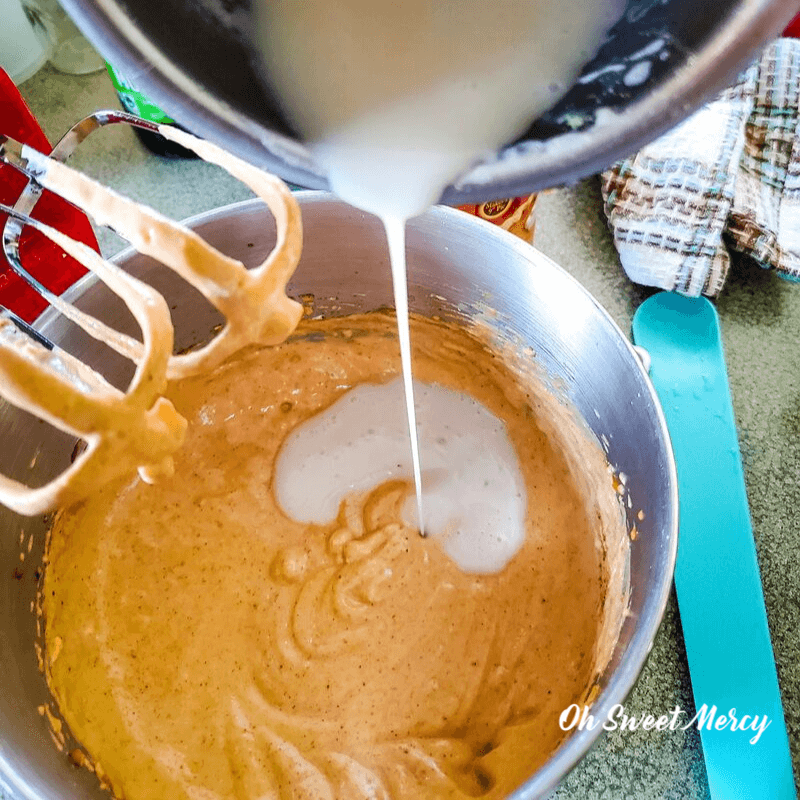 Finally, fold the whipped cream into the pumpkin mixture.
Try not to over mix it. It's fine if there's a few bits of whipped cream not totally mixed in. You don't want to lose the air in the whipped cream, which helps it have that light, airy texture!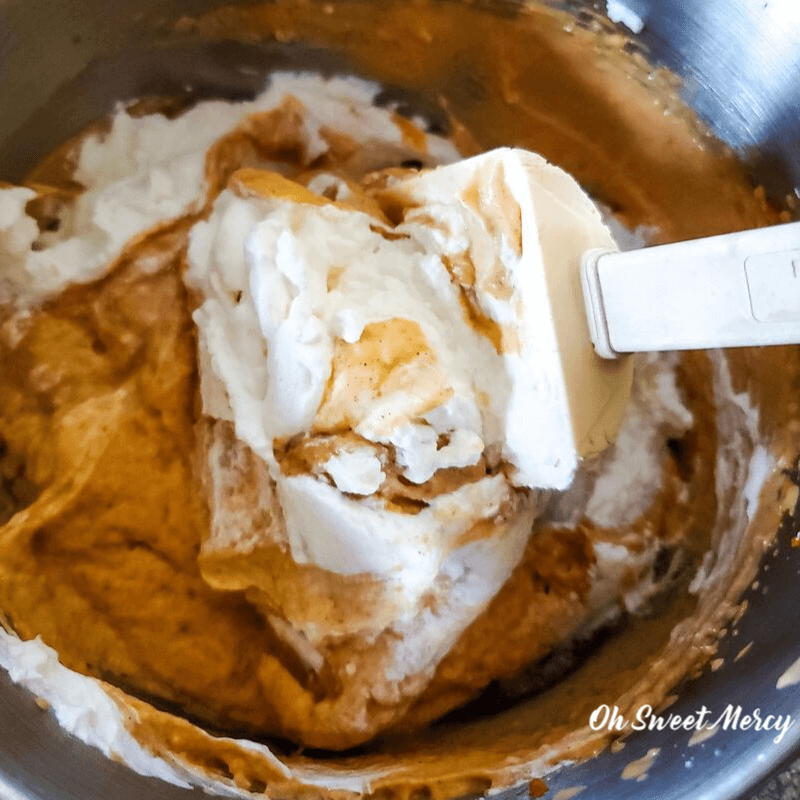 The result is a light, airy, and creamy pumpkin pie filling.
Pour the pumpkin mixture into the prepared crust and spread it evenly.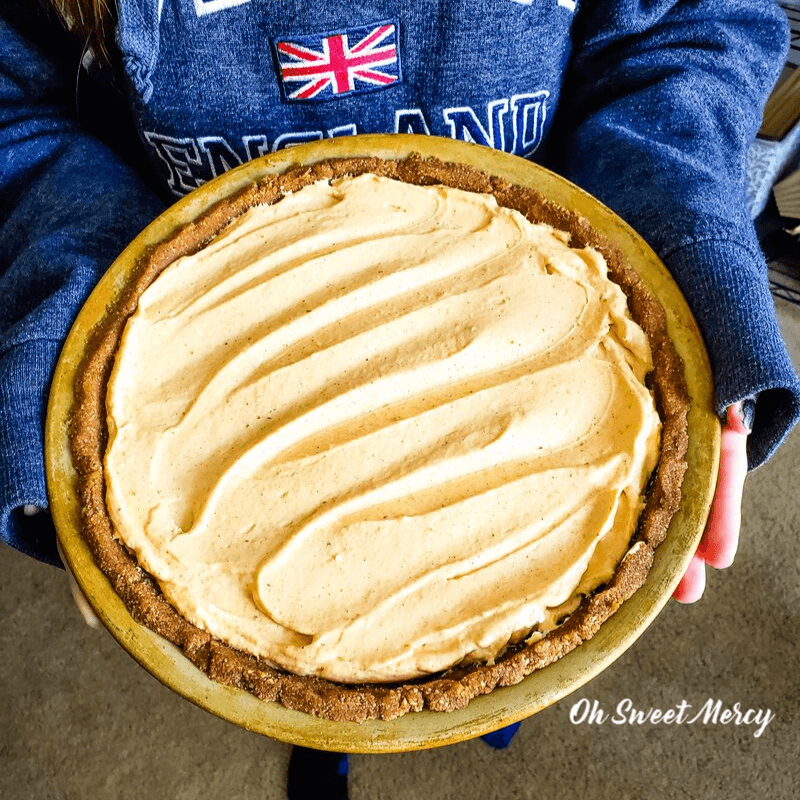 Pop the pie into the refrigerator for at least an hour, 2 or 3 is best if you have time.
Finally, before serving, garnish this pie with piped-on dollops of real whipped cream and sprinkle with your favorite spices.
While you may be tempted to pile on the whipped cream, it really isn't necessary! Since there's some in the filling you get that pumpkin-pie-slathered-in-whipped-cream taste already.
In fact, this pie is delicious with just a sprinkling of fall-ish spices, such as nutmeg, pumpkin pie spice, or the gingerbread spice. That also helps keep this dessert a bit less Heavy S.
A Few Words On Gelatin…
By adding gelatin not only do you get the perfect texture and slice, you get the benefits of grassfed beef gelatin. These benefits include improved skin, digestion, and immune system support.
While you can use regular gelatin from the store (which is pork-derived), grassfed beef gelatin is healthier. I don't use pork products so I can't say how pork gelatin compares to beef.
My favorite gelatin brands are THM Just Gelatin and Great Lakes Beef Gelatin. If you like gelatin recipes try my Lemon Turmeric Gummies! They're perfect for supporting your immune system all year round.
How To Include This Low Carb No Bake Pumpkin Pie Recipe Into Your THM Menu Plan.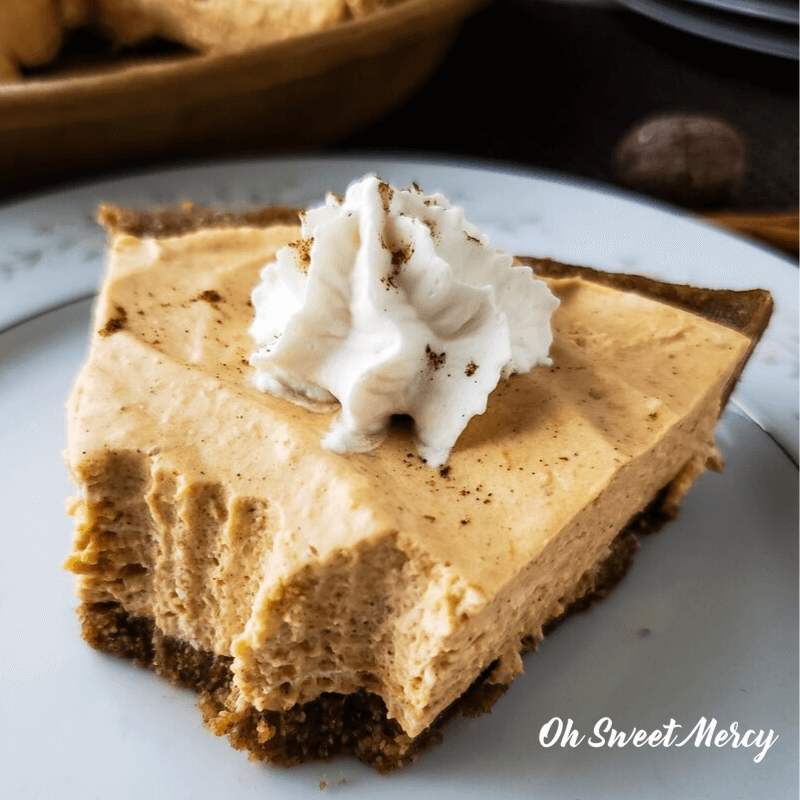 As I mentioned above, this is a THM S recipe. More specifically, it's on the Heavy S side due to the heavy cream, cream cheese, and nut-based crust.
As such, this is not the best dessert to have after a Heavy S meal, such as a cheesy, comfort-food casserole. Remember, too much Heavy S foods usually cause a stall in weight loss.
It is, however, perfect after a Light S meal, such as baked chicken thighs and steamed, buttered broccoli.
If you eat a Fuel Pull (low in fat and carbs) such as baked chicken breasts, steamed green beans, and a salad with a dressing of fresh lemon juice, you can still enjoy this tasty pie. Your meal will then become an S because the pie is an S.
Finally, eating a THM E meal (low fat, healthy carbs) then having a piece of this no bake pumpkin pie will turn your E meal into a Crossover. Those are on plan, just not as conducive to weight loss!
This pie is perfect for taking to family holiday dinners, workplace holiday parties or carry-ins, church potlucks, etc. Everyone will enjoy it and you'll have a super-satisfying, on-plan dessert to keep you away from the off-plan temptations on the buffet.
PIN THE IMAGE BELOW TO YOUR FAVORITE PINTEREST BOARDS: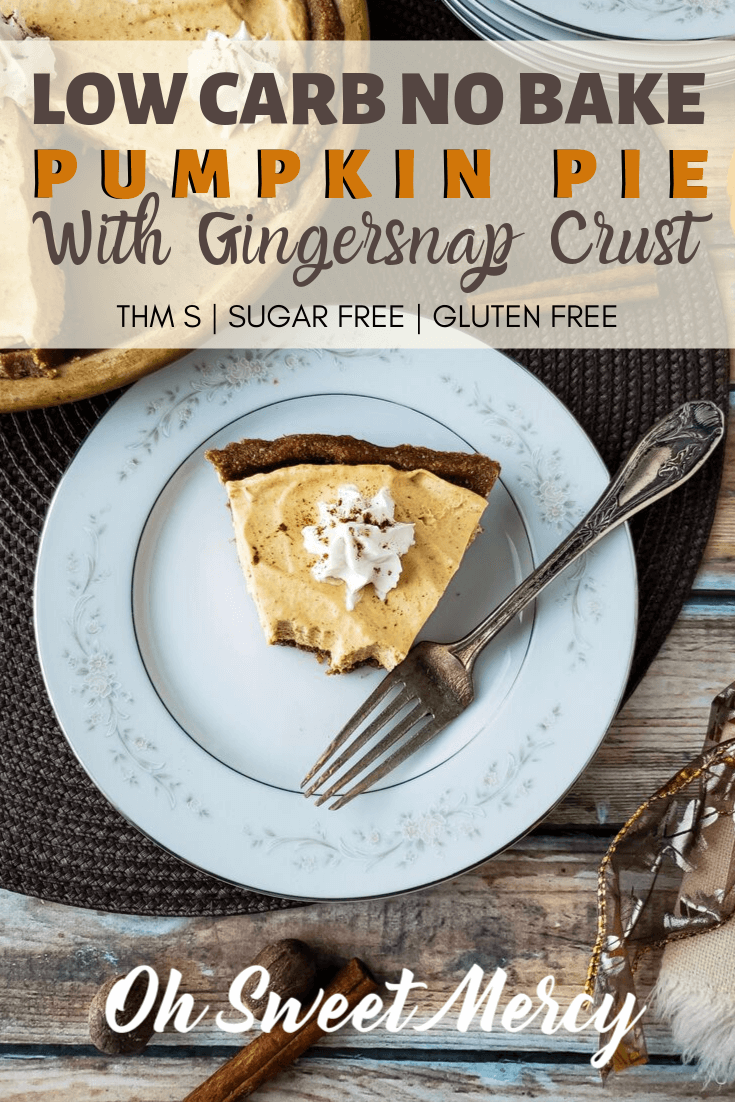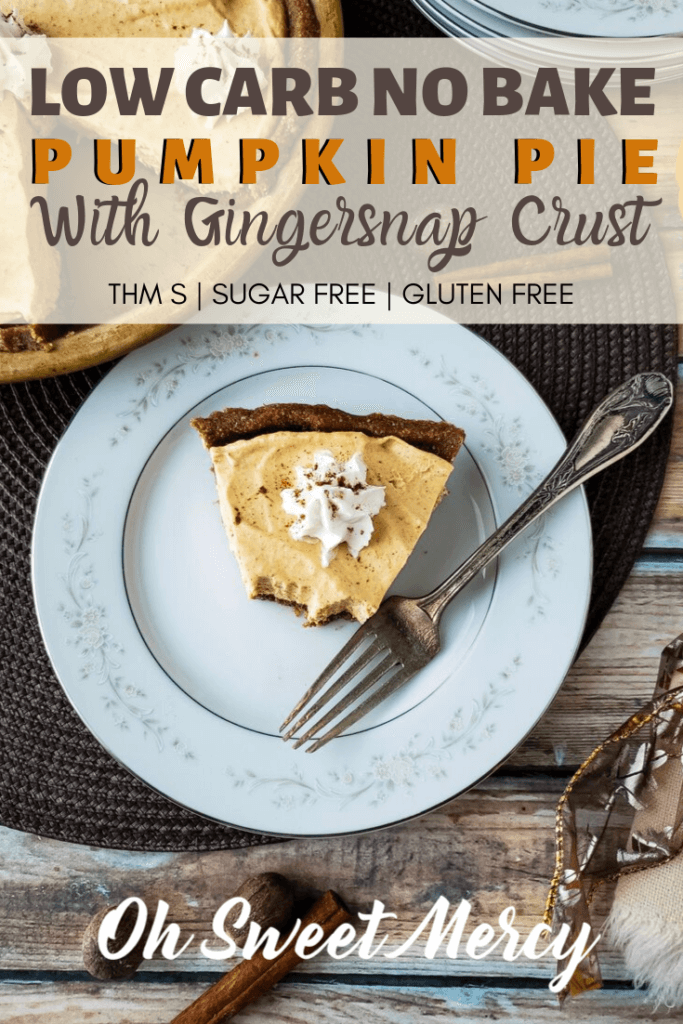 No Bake Pumpkin Pie with Gingersnap Crust | THM S, Low carb
Yield: 8 servings
Prep Time: 30 minutes
Chill Time: 2 hours
Total Time: 2 hours 30 minutes
Light and airy, creamy pumpkin filling atop a gingersnap-like crust, this easy no-bake pumpkin pie is perfect for your fall dessert needs. Or any time of year, really! Gluten free, sugar free, THM S, and keto friendly!
Ingredients
No Bake Gingersnap Crust
1 1/2 cups almond flour
1/4 cup melted butter
1 teaspoon molasses
Pumpkin Pie Filling
2 1/2 teaspoons grassfed gelatin
3 tablespoons unsweetened almond milk
1/2 cup 0% Greek yogurt
4 oz l/3 less fat cream cheese
2 teaspoons vanilla
3/4 cup pumpkin puree
1/2 cup heavy whipping cream (you'll need more if you want to top the pie with whipped cream)
Instructions
Make The Gingersnap Crust
Melt butter over medium-low heat.
In a mixing bowl, whisk together the almond flour, sweetener, and spices making sure to break up any clumps of almond flour.
Mix the molasses well into the butter then pour into the almond flour mixture.
Stir well with a fork until fully incorporated.
Press into a standard pie plate.
Refrigerate while making the pie filling.
Make The Pumpkin Pie Filling
In a small sauce pan add the almond milk and sprinkle the gelatin over it to bloom and set aside.
In a mixing bowl, mix together the yogurt, cream cheese, sweetener and vanilla.
Add the pumpkin puree and gingerbread spice and mix well.
Whisk the gelatin and almond milk together and heat on medium until the gelatin has fully dissolved. It should be smooth and creamy looking with no lumps. Don't heat it too much, just enough to fully dissolve the gelatin.
Add the gelatin mixture to the pumpkin mixture and mix well.
In a separate bowl, whip the heavy whipping cream until stiff peaks form.
Fold the whipped cream into the pumpkin mixture until well mixed but be careful not to overmix it. It's fine if there's a few white spots of whipped cream not mixed in completely.
Pour mixture into your prepared pie crust, smoothing it out evenly.
Refrigerate 2 to 3 hours.
Pipe whipped cream, if desired, on the top and sprinkle with your favorite fall spice or spice blend to garnish (gingerbread spice, pumpkin pie spice, cinnamon, nutmeg, etc.)
Notes
Mister said the crust needs more ginger so if you really love a gingery gingersnap crust add a pinch or two more ginger.
Recommended Products
As an Amazon Associate and member of other affiliate programs, I earn from qualifying purchases.
Nutrition Information:
Yield: 8
Serving Size: 1/8th of pie
Amount Per Serving:
Calories: 211.6
Total Fat: 19.2g
Saturated Fat: 6.4g
Unsaturated Fat: 2.7g
Cholesterol: 25.8mg
Sodium: 99.9mg
Carbohydrates: 13.8g
Net Carbohydrates: 4g
Fiber: 2.3g
Sugar: 1.5g
Sugar Alcohols: 7.5g
Protein: 6.3g